The Allure of Japanese Independent Watchmaking: Part Three — Hajime Asaoka
The Art Deco perfection of Hajime Asaoka has got me smitten
I'm not stretching the truth if I proclaim the self-taught watchmaker Hajime Asaoka to be our collective eye-opener to the allure of Japanese independent wathmaking. At least this was my first look into the quiet world of Japanese Independent Watchmaking. Asaoka-san is a one-man band, nay I'd even call him a solo string orchestra, such is his increasing influence outside Japan. As his creations are highly limited in their production, and many of them a piece unique, the budget stretch to one of Hajime Asaoka's creations might be too far for many. For us mere mortals, Part Four of our story on Japanese Independent Watchmaking will cover his enigmatic sub-brand Kurono Tokyo. so stay tuned, as this will surely whet your appetite for intrinsic hand-applied details and Art Deco dial art.
A Japanese Watchmaking take on Art Deco with a large-balanced twist
I would say that my fascination with the work of Hajime Asaoka blossomed after finding a short film on youtube the 2017 Baselworld showing his skeletonized Chronograph, where the few watches on display and his effusive, quiet demeanor won me over. And yes, you read my introduction correctly, Hajime Asaoka is a product designer from Kanagawa, educated at the Tokyo University of the Arts, but not as a Watchmaker. Learning from the George Daniels book and Youtube tutorials with machines bought from eBay, even with the well-known Japanese self-discipline Asaoka-san's story is rather impressive. Let me add, that from his debut in 2005 as an independent watchmaker, it took him a mere four years to develop an in-house Tourbillon. Now how far did your jaw drop?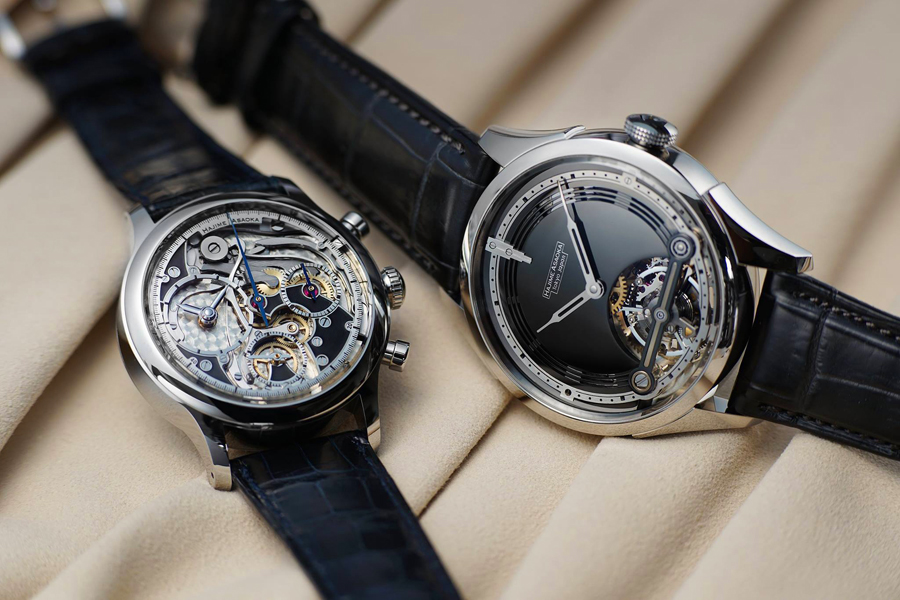 Perfection stems from obsession
His predilection for obsessive detail work has made me watch his hypnotic, small youtube and Instagram clips many times over. Like his deft touch in hand painting a luscious cherry red seconds hand tip, a mere 10 seconds that tells you about a passion for perfection. Asaoka-san made a small workshop in his home in Tokyo, filled with European lathes and machines. He works slowly, meticulously, and with a pure focus on the end result. This has resulted in a small portfolio of references that span the skeletonized beauty of his Chronograph, to Art Deco chic. The balanced, elegant Art Deco charm is something you will recognize in the language of his accessible brand Kurono. My personal affinity stems from the non-conformity of his style language, with deep roots in the 1940s and 50s. His is a strong and indefinable Japanese dialect that simply underlines the allure of Japanese horology.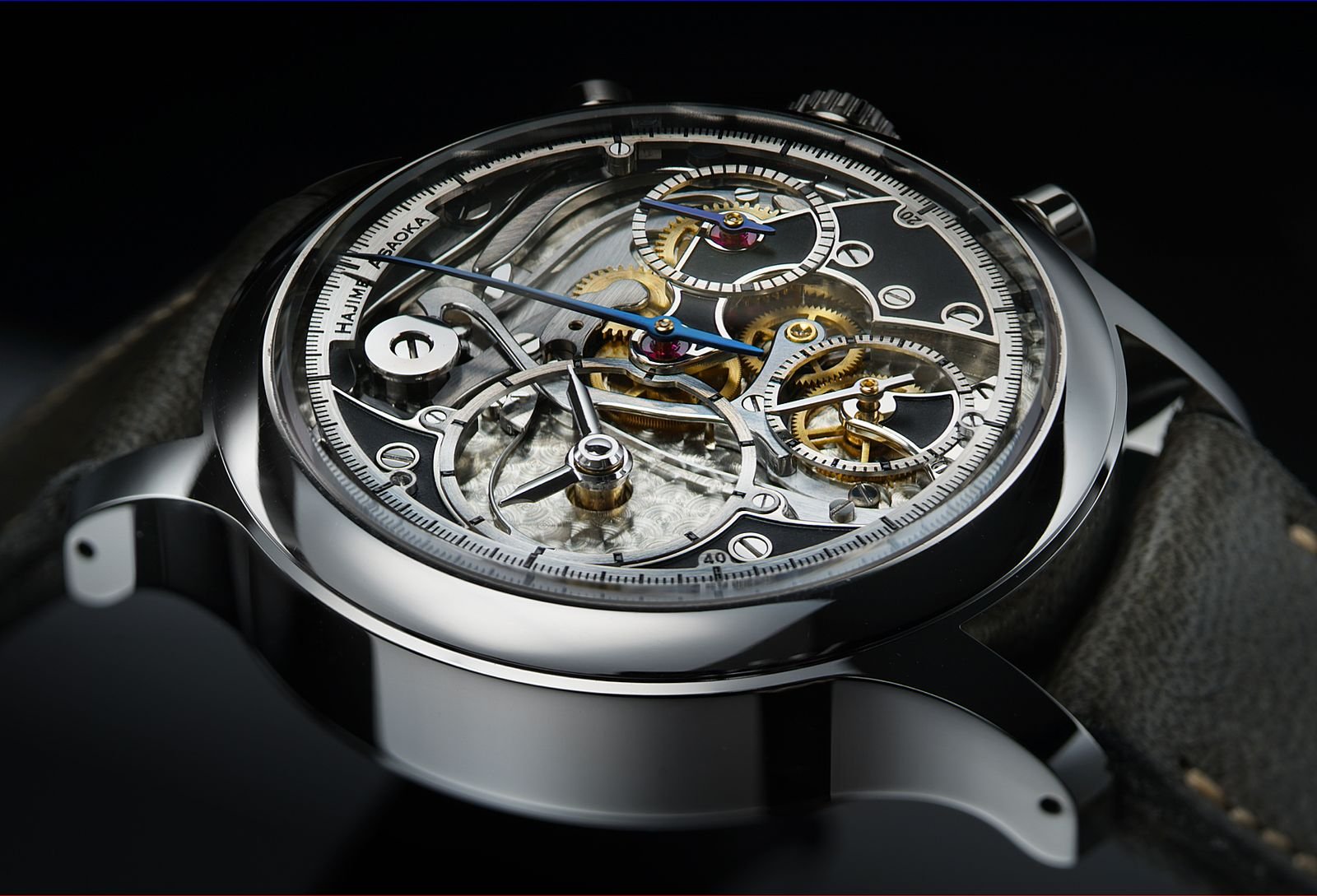 The 2017 skeletonized Chronograph
This was the fifth official timepiece from his basement atèlier, and his evolving signature style is instantly recognizable. Asaoka-san preceded the size reduction trend, and perfection lies within this goldilocks 37-38mm size. Suffice to say the small diameter must have presented a formidable challenge in itself. Imagine the frankly mind-bending concept of developing a chronograph movement as a self-taught artisan within a tight space. Turn the chronograph around, and face a wide expanse of cool steel mainplate resolutely brushed with vivid vertical striations. It is industrial-looking with its quirky off-center recessed single screw head, and a massive, broad-legged balance bridge. Soft and rather chubby, it looks like no other, holding the pièce de résistance of a massive 15mm balance wheel, slowly twirling at an 18,000 vph in its free-sprung splendor.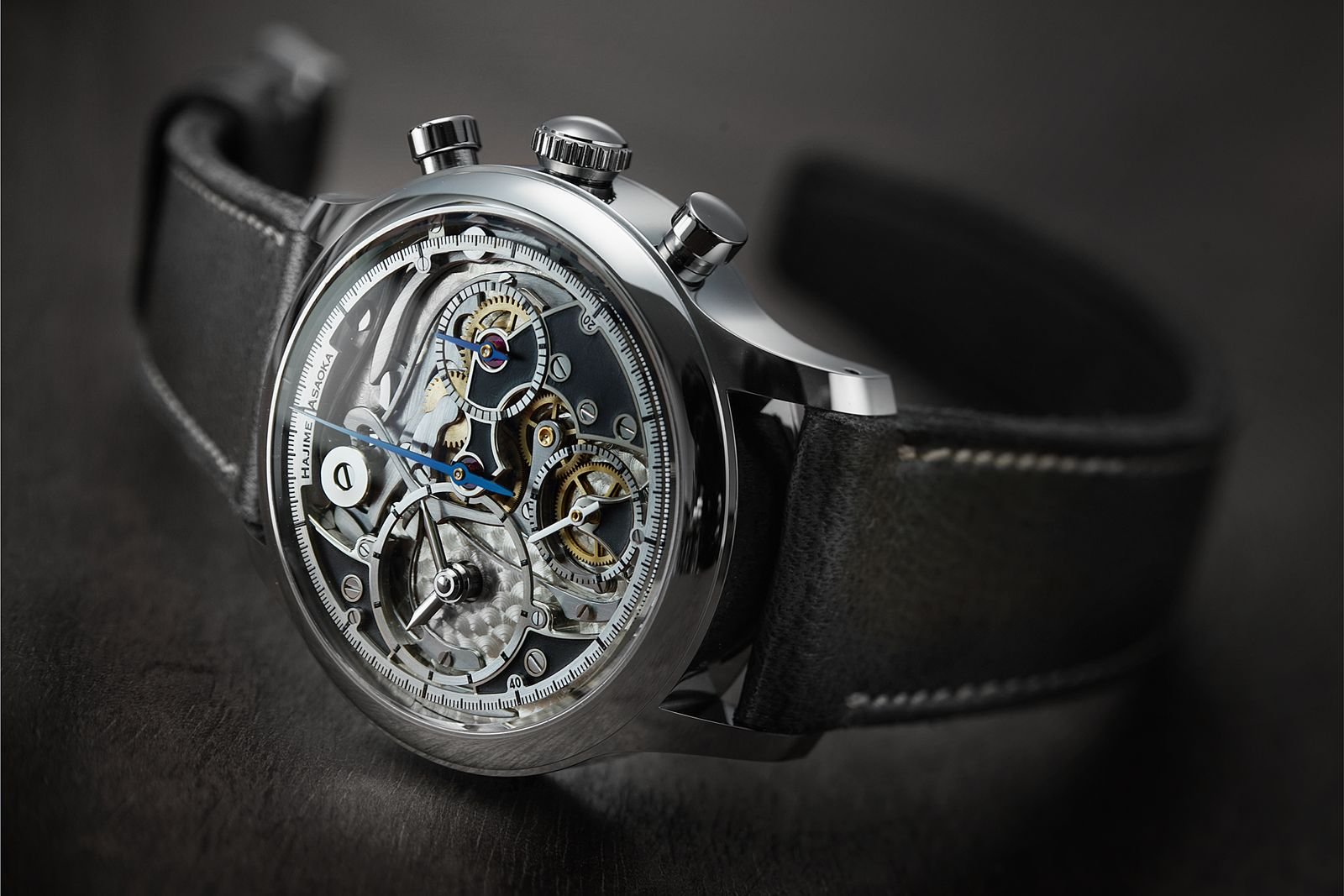 The allure of an open-worked dial
The dynamic sweep of the proportioned case is softly rounded, making the case back a perfect example of what counterpoints of finissage does to catch the eye. The pebble-smooth case back is perfectly juxtaposed to the strict formality of the movement. But I'll be honest with you, I did start at the restrained elegance of the back only for the open-worked dial to have even more of an impact. Akrivia-esque in its traditionalist layout, it has a solid dose of steampunk within it, missing from the Art Deco elegance of later pieces from Asaoka-san, and is all the more fascinating for it. A visible column-wheel caliber steals the show with its traditional look, while the dial elements themselves are nothing but.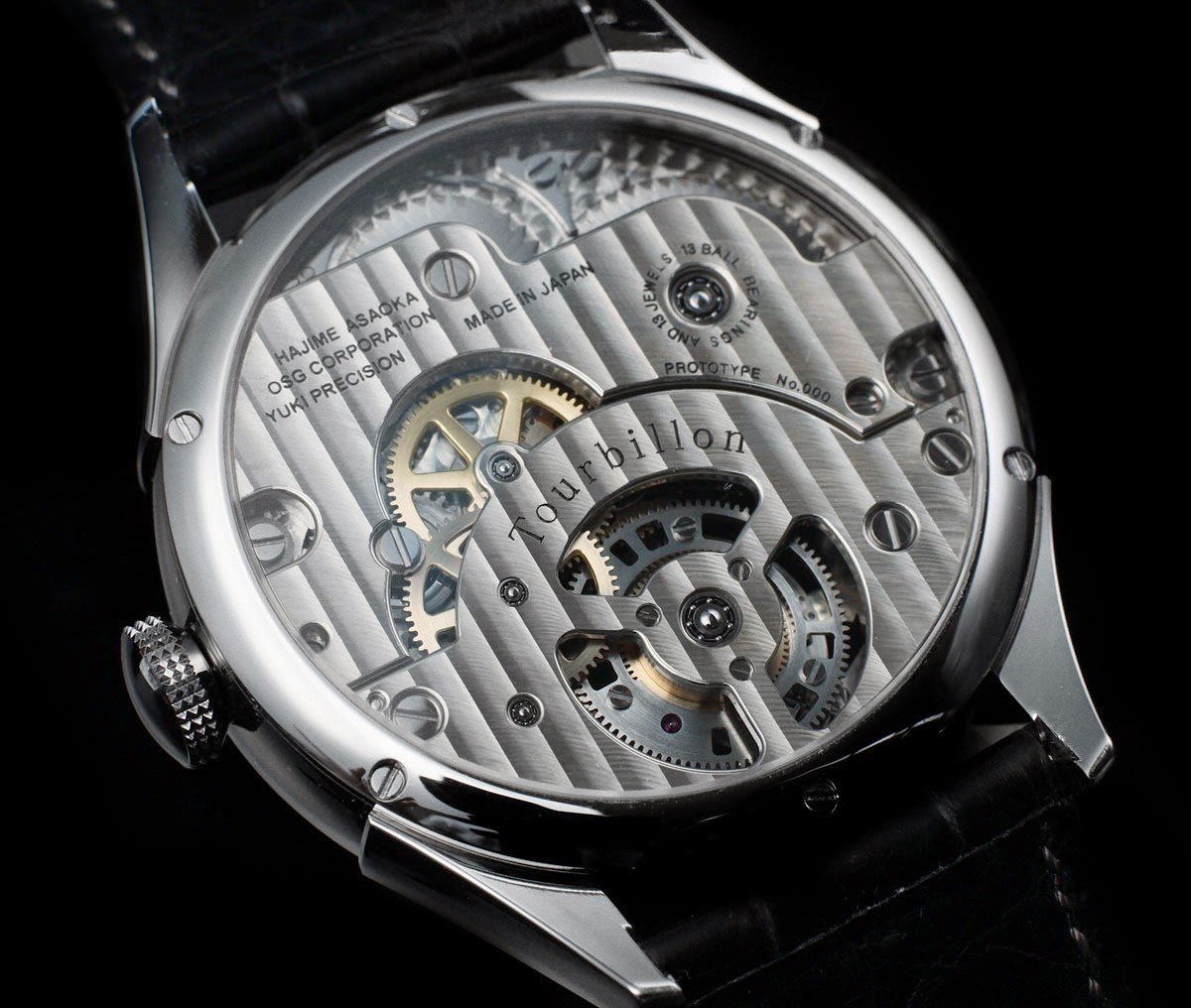 Bare metal chic
Steel chapter rings with sharp black detailing guide the eye, from the outer seconds track and registers. The hour and minute hands sit inside a stark metal void at 9 o'clock. Stubby hand-polished sword hands draw your gaze, in stark contrast to the maximalist lower right quadrant of the busy dial. It is almost as if Hajime Asaoka started populating the dial then hesitated. The black, matte lacquered bridges framing and encroaching on the minute counter and running seconds are superb. Asaoka-san then perhaps stopped, to decide that the top half and time of day-register should remain unfulfilled.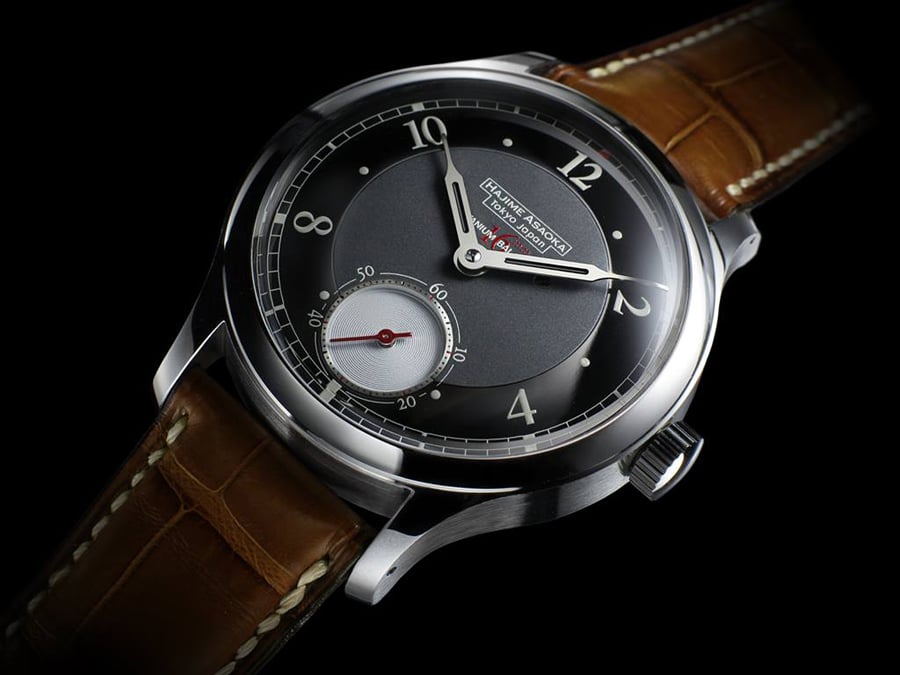 A vision of the creator's thought process?
Is the dial made to visualize the layers of his thought process through its semi-assemblage? Brass gears are showing through the open registers and there is a delicious pop of blued hands. The question of what Asaoka-san means with his almost unfinished dial lingers. This will stay with the owner of this smooth, polished case, like a Japanese philosophical thesis on the value of time. At its creation, the price was 12 million Yen, a figure high enough for me to stay away from the currency converter.
The Tsunami
What could be the reasoning behind Hajime Asaoka naming his most timeless, elegant Art Deco wristwatch after the polar opposite? A Tsunami represents chaos, for me, this is a pure oasis of calm. In its tuxedo-ish design, it picks up on his well-known Art Deco style and preference for dark dials. In the atèlier of Asaoka-san, this is very much a made-to-order piece. This Tsunami no.001 comes across as demure with some cheeky pops of cherry red, becoming more audacious with Tsunami no.002. We can see a hint of the unborn Kurono sub-brand, and the Tsunami sits in a svelte 37mm case.  For such an elegant Art  Deco design, the Tsunami 001 has strong pulling power.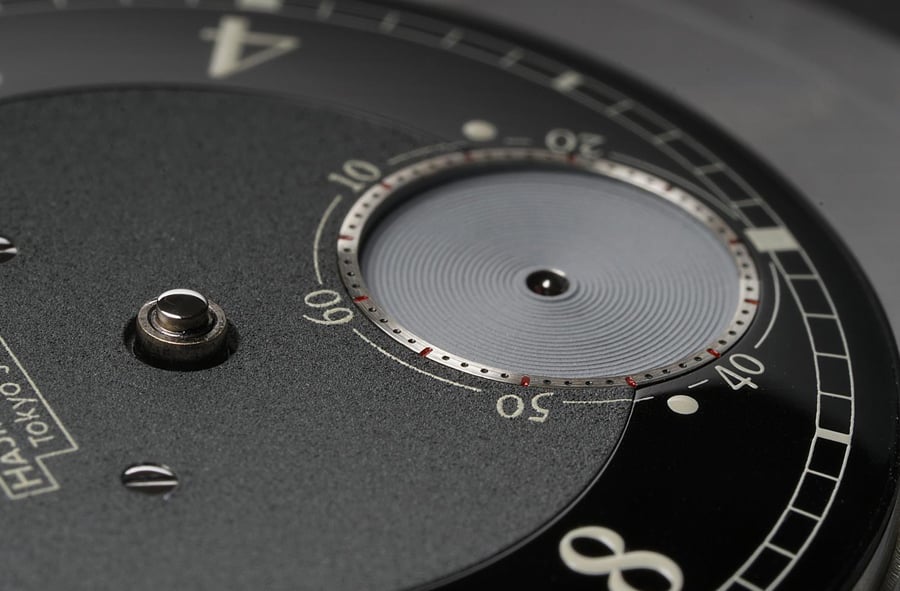 Japanese Art Deco panache
The well-known trait of a large totemized 12 o'clock index is present, traversing the sweeping décor of the outer circle. The dial architecture is formal, with added whimsical decor for the pure joy of decor. Instead of strict minimalism, we see Art Deco elegance as a celebration of wrist-worn art. You might associate tough-looking syringe hands with a pilot's watch, but they sit perfectly matched to the bold graphics.
The Tsunami 002 is for me the perfect example of the quiet yet still exuberant style of Hajime Asaoka
Pad-printed perfection in pin-sharp framed silver text, the Hajime Asaoka logo is sharp. Balanced by the large small-seconds register, it is another sign of Asaoka-san enjoying the graphic quality of large visuals. And yes, this is something we'll revisit under the case back.
The perfect example of a signature style?
The Tsunami 002 is for me the perfect example of the quiet yet still exuberant style of Hajime Asaoka. Some might even call the Tsunami the number one ambassador for Japanese independent watchmaking. I do love the blue and red details added to lift the bi-color dial, and that seconds pointer? It has a particularly lickable candy quality in its glossiness, pirouetting around the Japanese zen-garden scape of the snailed register. I don't know about you, but I'd happily stand up as a dial-a-holic. This domed, multi-lacquered dial is traditional but resolutely different, setting the standards rather high for the movement side, and you will not be disappointed.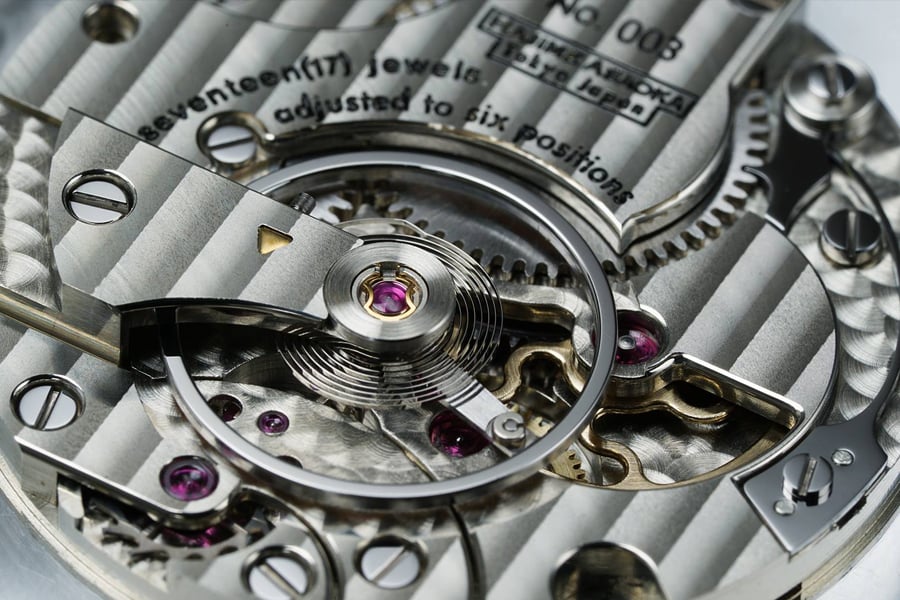 A balance wheel of desire
The large free-sprung balance wheel is it. It's the focal point, a vivid reminder of the life within a movement, and is mesmerizing. A bold version of Côtes de Geneve gives life to the bridges, helped by the dynamic anglage. Vying for attention is the octopus-shaped brass wheel. This is clearly visible beneath the massive balance wheel and another sign of Hajime's vivid creativity. The caliber might not stand up to the loupe scrutiny as Dufour anglage but has oodles of charm.  At $30,000 this semi-handmade 37mm piece of Japanese Independent Watchmaking is well worth a year or three waiting impatiently.