The Art Of End Links — Often Overlooked But Crucial Bits Of Your Watch
We don't talk about end links enough, my fellow watch lovers. Let's change that!
I recently purchased a Doxa SUB 200 as a fun summer watch. I showed it to my colleague Gerard this morning, and we ended up discussing the end links more than any other part of the watch. And that includes the crazy bright yellow dial! It might sound silly, but I find that the end links often make or break a bracelet watch for me. The humble end link is so often obviously a compromise or an afterthought.
However, when end links are done right, they can make such a big difference. This is true not just for the fit of the watch but also for the overall aesthetic congruence. So let's explore the art of the end link. Let's see what sets apart the good, the bad, and the ugly.
Bridging the gap
There is an obvious reason why there are so many bad end links out there. It has to do with the fact that many watches in the more accessible segments are comprised of generic parts, especially bracelets. In fact, you will find examples in all segments. A brand might get its own case designs made, but oftentimes, they are then paired with generic externally sourced bracelets. Needless to say, the end link is then both literally and figuratively bridging a gap.
The end links have to neatly fit both the watch case and the bracelet. But when the two are stylistically even slightly off, they will inevitably turn out awkward. In the worst case, they will match neither the bracelet nor the case in design language.
Things are a bit easier when everything is designed in-house. When you design a proprietary case and bracelet, there is no excuse for the attaching parts to be bad. They should blend with the case design and flow into the bracelet naturally.
Adding length
End links can be divided into male and female styles. The male style has a protruding "center link" sticking out. Female end links accept the first center link from the bracelet. Male end links in particular can add length to a watch. As you may know, the lug-to-lug length of a watch is probably more important for wearability than its diameter. The way the end links stick out and angle down has a major impact on the fit of the watch.
The Omega Speedmaster Moonwatch is a great example. The previous generation had long male end links. The current generation, however, is fitted with short female end links. On my smallish 17cm wrist, that made the difference between an awkward fit and a great fit. If you tried the old one and found it too big, I urge you to give the current model a try.
End links with tool access
End links are best when they fit really tightly between the lugs. The less movement there is, the more solid your watch will feel. This can make it very tough to take the bracelet off, though, and even tougher to put it back on later.
An often overlooked quality of a good end link is ample room for strap tools. You need some space to put a (preferably rather substantial) spring bar tool in there. Some are so tight that you can only get them out with tweezer-style tools. You need to compress both sides of the spring bar at once. Modern Rolex bracelets are a prime example. Still, the solid feel is so nice that it is a trade-off I would happily make.
There are many end links out there with absolutely tiny tool-access points. These force you to use very thin tools, which are more prone to bending or breaking. Luckily, brands are acknowledging that we love to change straps more and more. Quick-release systems like those used by Cartier and Zenith can make life a lot easier. As long as you can still fit generic spring bars and straps, that is. It is not such a great thing if it strong-arms you into a brand-owned ecosystem of straps.
From hollow to solid end links
Most modern watches are fitted with solid end links. This means they are machined out of a solid block of steel or precious metal. It has not always been that way. For the longest time, end links were basically folded sheets of steel. One could even adjust their fit by just squeezing them a little flatter or bending them open.
Solid end links have really attributed to the — you guessed it — solid feel of modern bracelets. They add heft and are less likely to jingle than a vintage bracelet with hollow end links. This development went hand in hand with the bracelets themselves becoming solid. Many aficionados love the jingly feel of a vintage bracelet. Nevertheless, there is no denying that a solid bracelet on solid end links is more rugged long-term. Unless the internal pins are first to wear out, of course.
Faux links
Most end links are designed to look like they are part of the bracelet. Oftentimes, they are fitted with a stamped pattern to resemble the actual links. Many vintage examples are even fitted with a separate little polished plate on top to look like the polished center links. When the faux links are done poorly, it can really cheapen the look of the watch.
When done right, as on many modern bracelets, it looks as if the bracelet flows into the case. This requires some serious machining and finishing to pull off. You have to make a solid piece of steel look like three or more separate pieces. When done right, the end links optically almost disappear. When done poorly, they really stand out.
Closing thoughts
In short, there is a lot that can be messed up when it comes to end link design. And when they are done right, no one notices. The humble end link, then, is a bit of a hurdle for designers, especially when compromises have to be made with externally sourced parts. Still, a proper set of end links might not take center stage, but it certainly can lift a good watch to greatness. Think of your most comfortable bracelet watch. I am pretty confident it will have a really good end link design.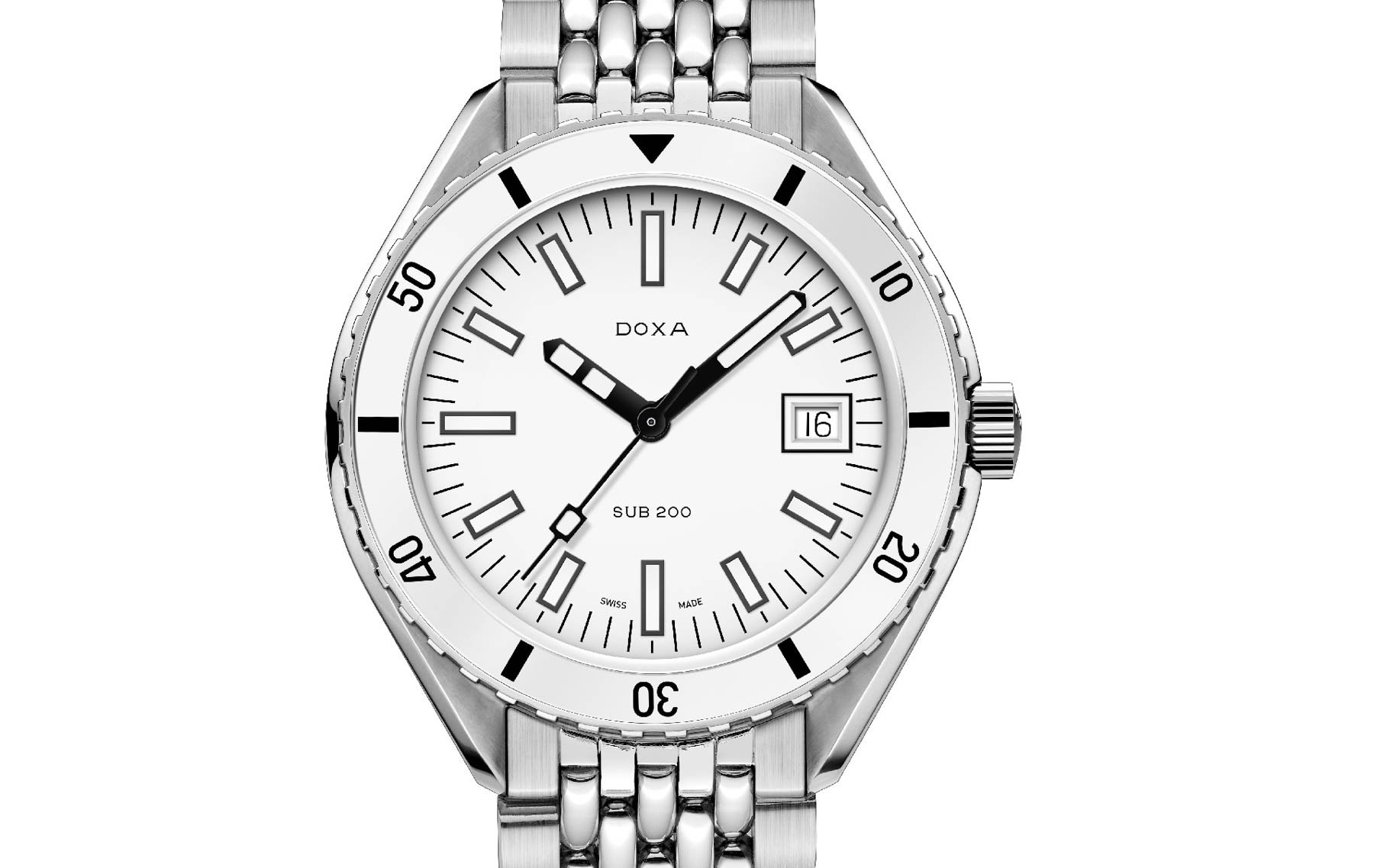 So what about my Doxa SUB 200? Well, stay tuned for a full review, but here are my two cents on the end links. I love how short they are, making for an awesome fit on the wrist. Aesthetically, though, there is a bit of an issue. They measure 19mm, jumping to a 20mm bracelet instantly. I do not know where and why the compromise crept in, but there is a compromise here. Enough to start a conversation between Gerard and me. Enough to inspire an article on end links in general.
I am curious to hear your thoughts. What are the best and the worst end links you have experienced? Let me know in the comments.
You can also find and follow me on Instagram @time_travelers_journal