The Baltic Aquascaphe Dual Crown Is A Diver In A Legendary Compressor Case
Hands-on with a modern and affordable take on a charismatic concept
The compressor case was a patented case design by Ervin Piquerez, a swiss case maker (EPSA) who sold his cases to a number of different brands such as Hamilton, Bulova, and Longines. Now, sixty years after the invention of the case, Baltic comes up with the Aquascaphe Dual Crown.
Ah, the beauty of simplicity. The trusted compressor case bars hostile water trying to invade the watch case with a technically clever construction that is quite straightforward. The case uses a sealing method with an O-ring that becomes more water-tight the deeper the watch goes, because the building external pressure of the water compresses the O-ring further. And when the watch is out of the water the O-ring doesn't have full pressure so it can relax and stay in shape. Regular periods of leisure time really help in extending the lifespan of that vital component. O-rings are like people; who would have thought?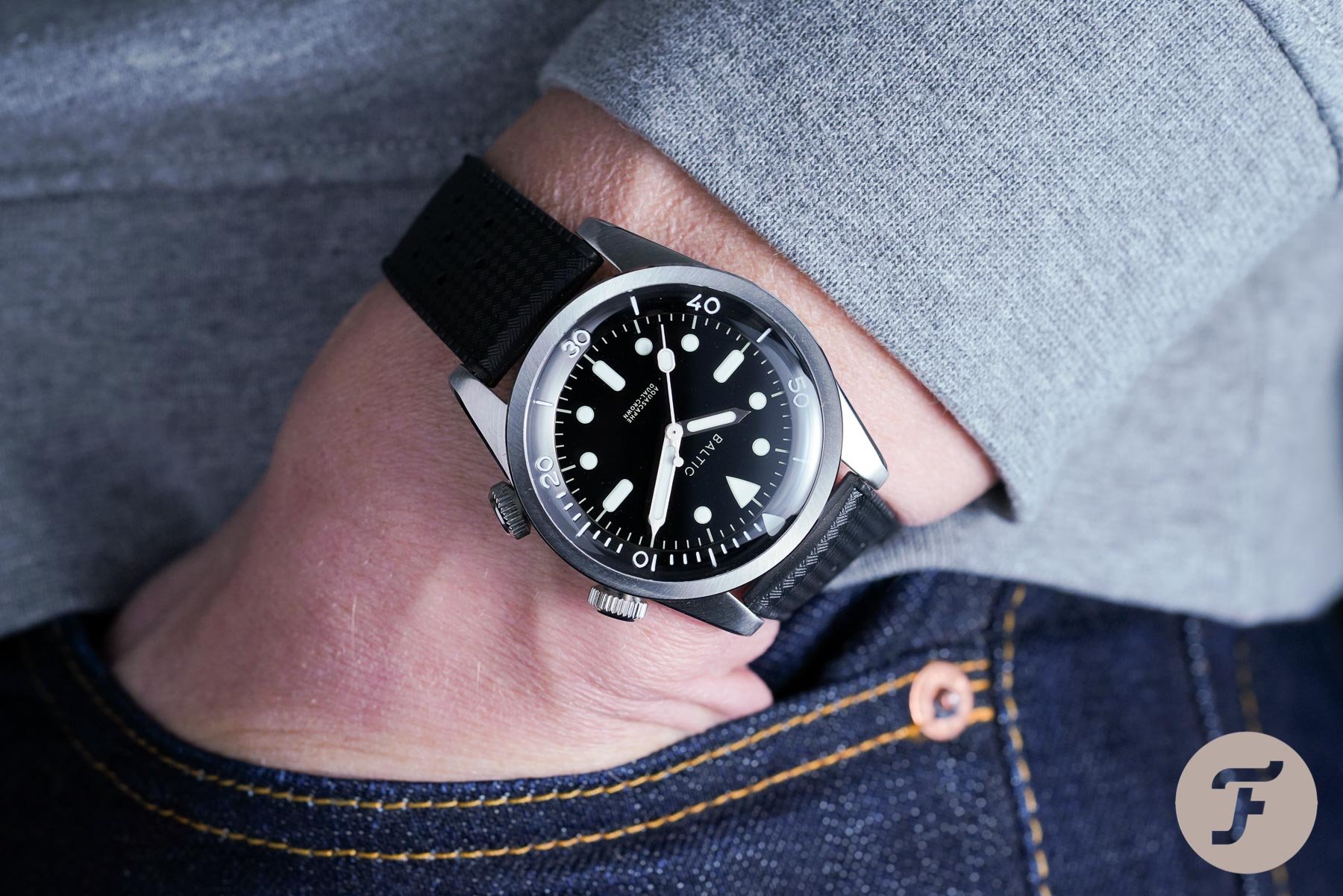 Stumbling upon a compressor case
Baltic is a French watch brand founded by Etienne Malec and he finds inspiration for his timepieces in history. And when you dive into the history of watches sooner or later you're going to stumble upon a diver's watch with a compressor case with twin crowns. And as you may know, he already found a diver with one crown that became the Aquascaphe Diving Watch.
And now we have the Baltic Aquascaphe Dual Crown. Baltic wants to offer timeless pieces of the highest quality for fair prices. The brand also wants to be fully transparent. And that means that Baltic has no problem in showing that the case housing parts and movements come from specialty manufacturers in Hong Kong and that the straps are all sourced and manufactured in France. The assembly and adjustment are done in the brand's atelier in Besançon, France. Let's see what the Aquascaphe Dual Crown is like in real life.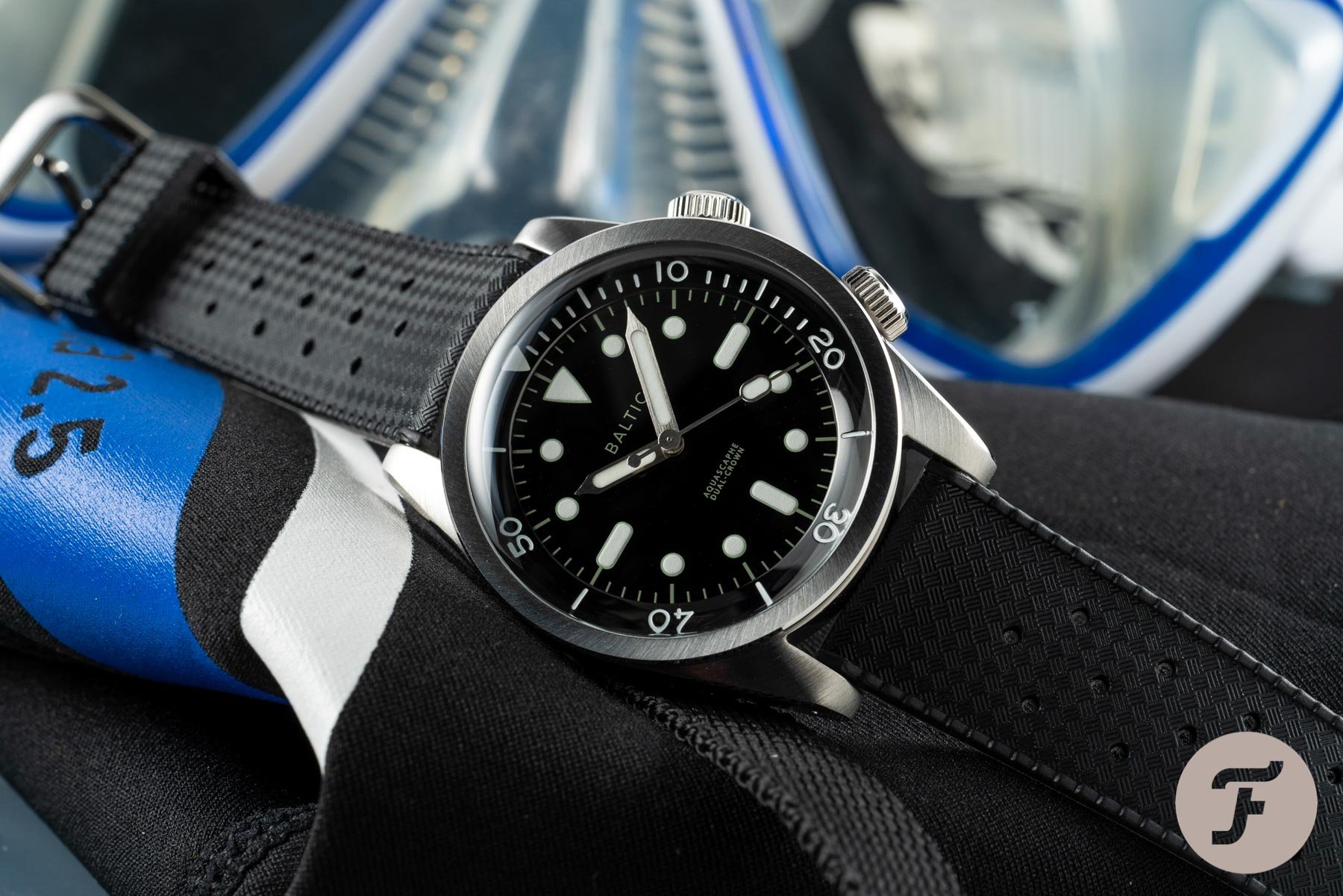 First impression
There's no way of getting around the crowns at 2 and 4 'o clock. The 2 o'clock crown connects to the bidirectional internal bezel, which encircles the dial beneath the sapphire crystal (treated with anti-reflect coating on its underside). The Aquascaphe Dual Crown is every inch a compressor. The crown turns very smoothly and has a robust feel. The same can be said about the watch itself. It pairs smooth looks with a solid touch. In my opinion, that's exactly what I want and expect from a compressor.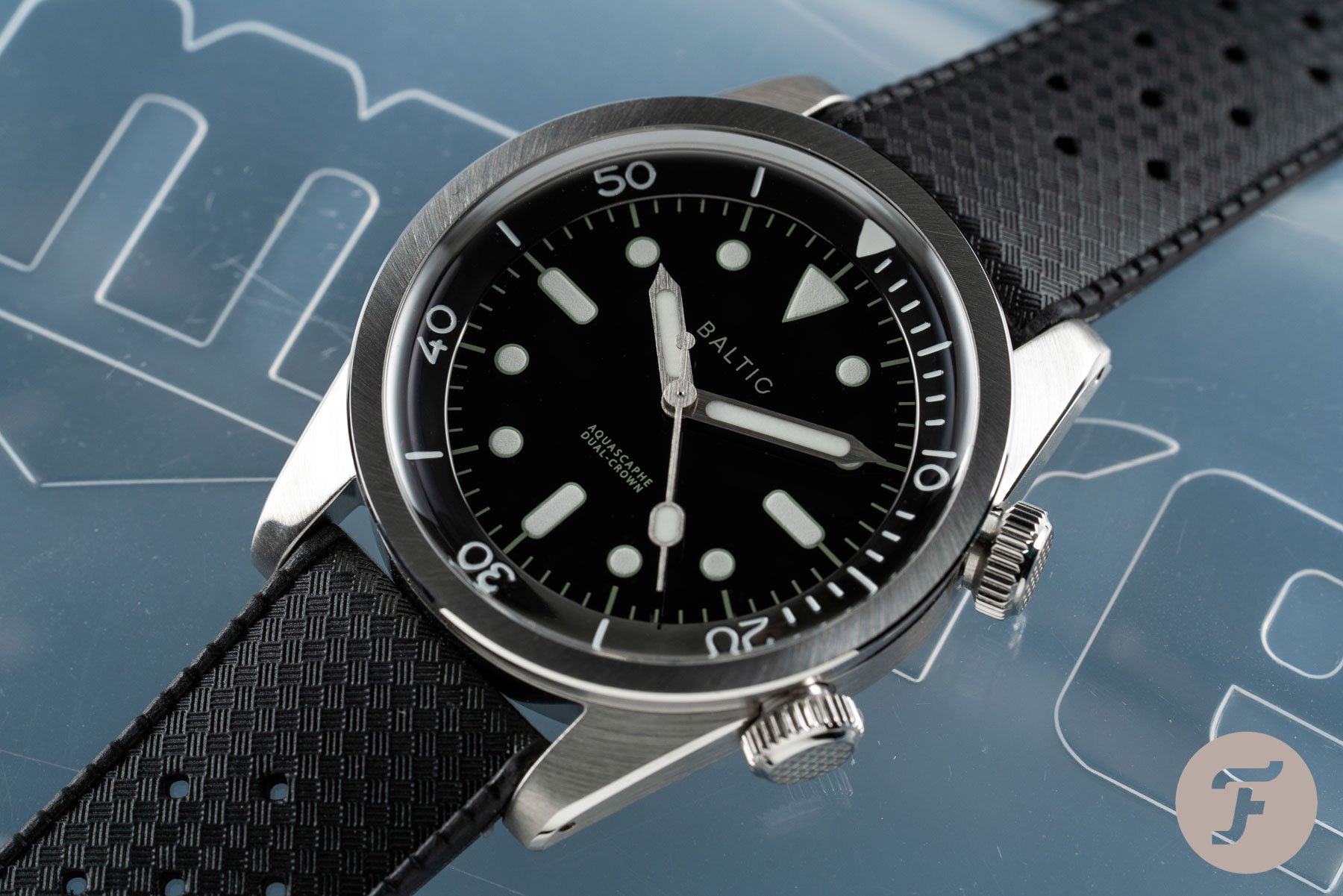 The 316L 39×11.9mm steel case is water-resistant to 200 meters and doesn't disappoint. Finishing is on point. I like the polished chamfers and the circular brushed lugs.
What I liked best is the curved finishing of the bezel called "brushed tourbillon"…
But what I liked best is the curved finishing of the bezel called "brushed tourbillon". You need a loupe to fully appreciate it, but even without a magnifying glass, you can tell it's not just a brushed finish. A more contemporary version in black PVD is also available by the way.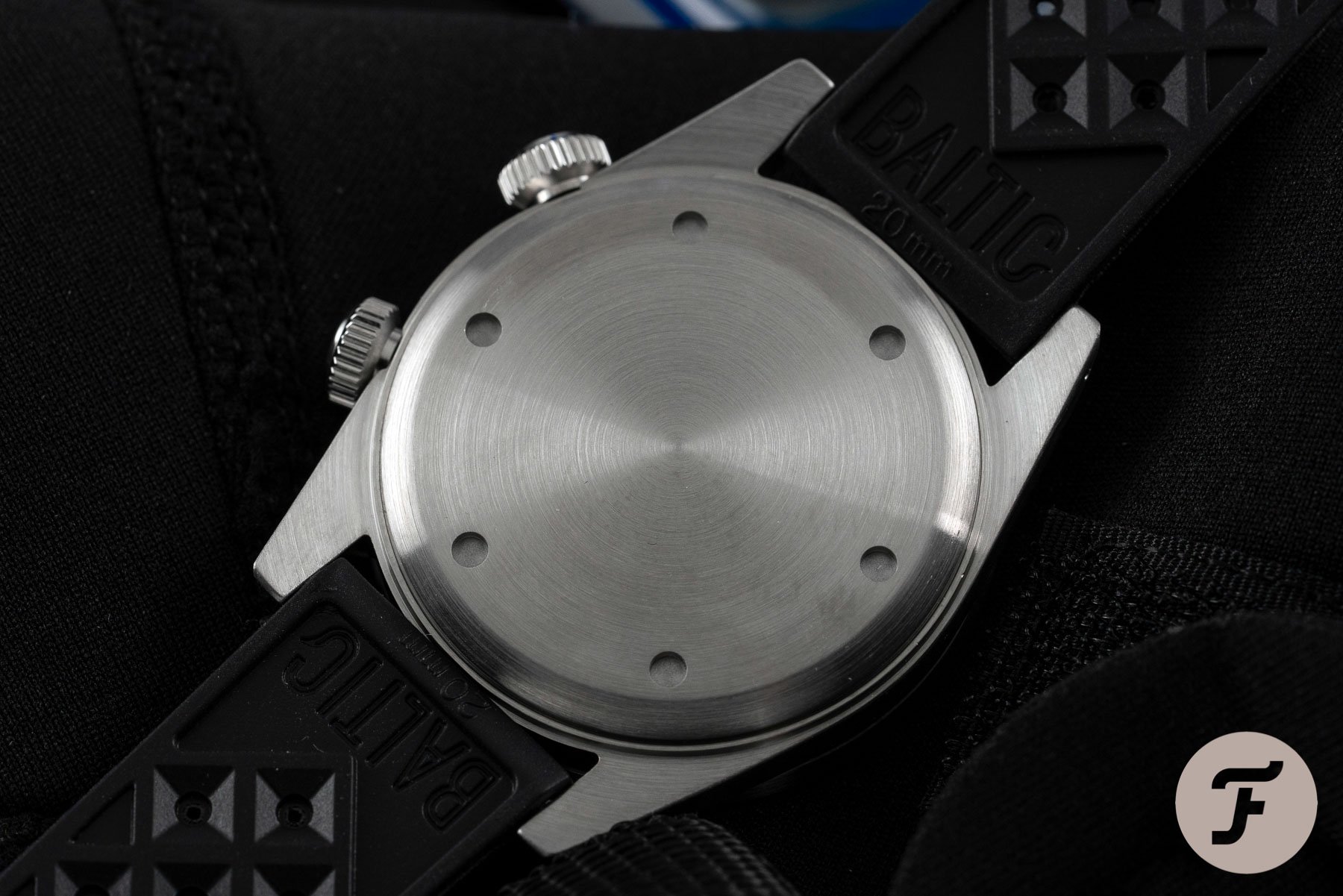 No "blasphemy" on the dial
Having a date window on a watch like this Aquascaphe Dual Crown is considered blasphemy in purist circles. Probably also at Baltic headquarters because the dial is uncluttered. Straight-forward functionality works best in a diving instrument meaning large indexes and hands are covered with Super-LumiNova BGW9 ensuring optimal readability in the dark. BGW9 is white during the day and glows blue in the dark. Two dial finishes are available, glossy black or blue sunray. I tried the most introverted one; the black version.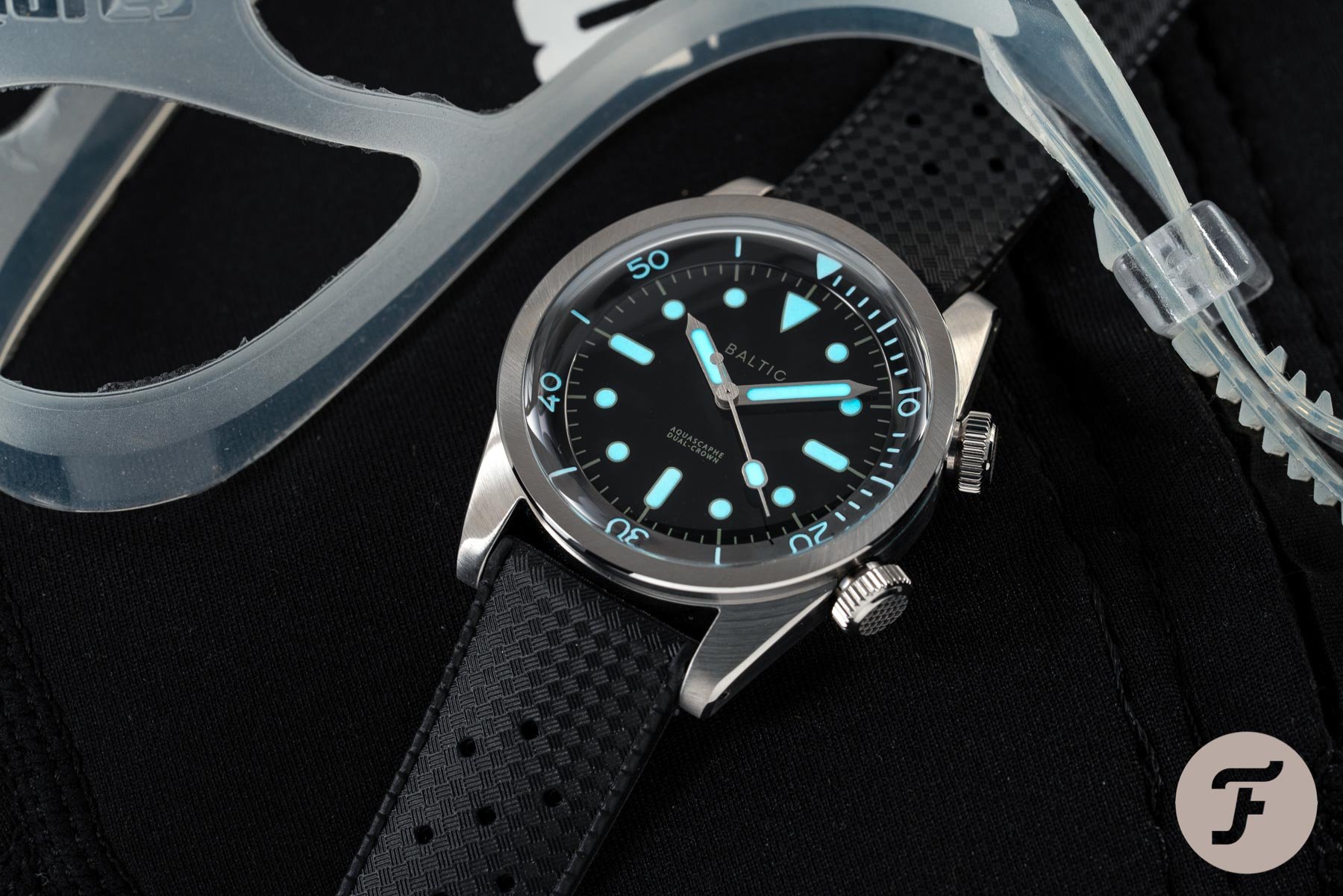 Forget about it
The 39mm case and the comfortable, perforated tropic-style rubber strap with pin buckle make you forget you're wearing the watch. It's a sober configuration. And that's not a bad thing at all. Because this Baltic is a watch you wear for you, not to draw attention. But you could easily turn that around by pairing it with a colorful NATO or a rugged aftermarket leather strap. A 20mm strap, that is.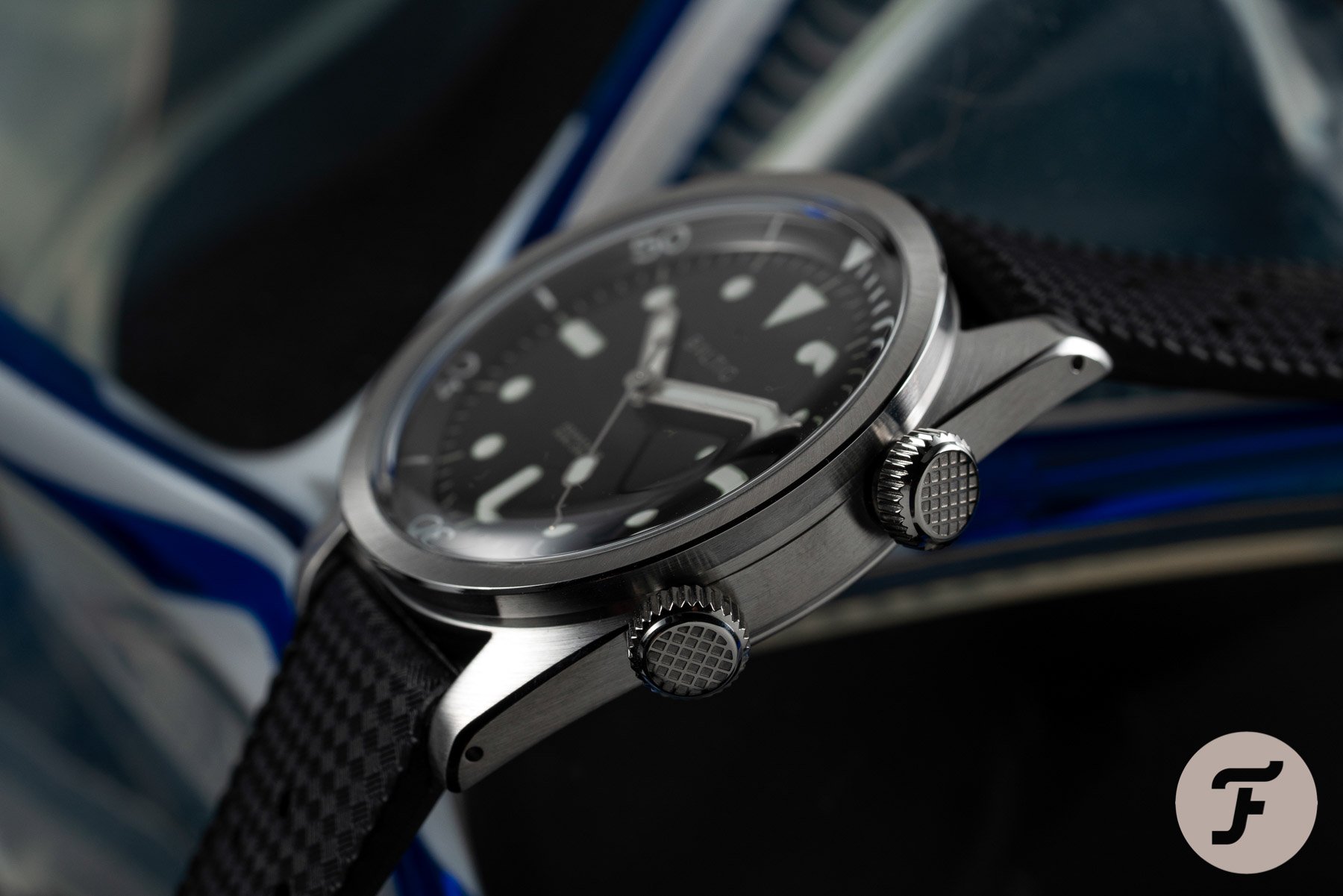 What you won't forget is that you have paid €550.00 – a hundred euro more if you didn't make your mind up during the pre-order discount-days – for a very nicely finished watch that feels solid. And the movement won't let you down either since it's a proven automatic Miyota 9039 with 42 hours of power reserve and hacking seconds.
When you want vintage but insist on care-free modern build quality…
If you want the Legend Diver-look for less, when you don't mind it doesn't say Hamilton or Bulova on the dial, or when you want vintage but insist on care-free modern build quality, the Baltic Aquascaphe Dual Crown is a no-brainer.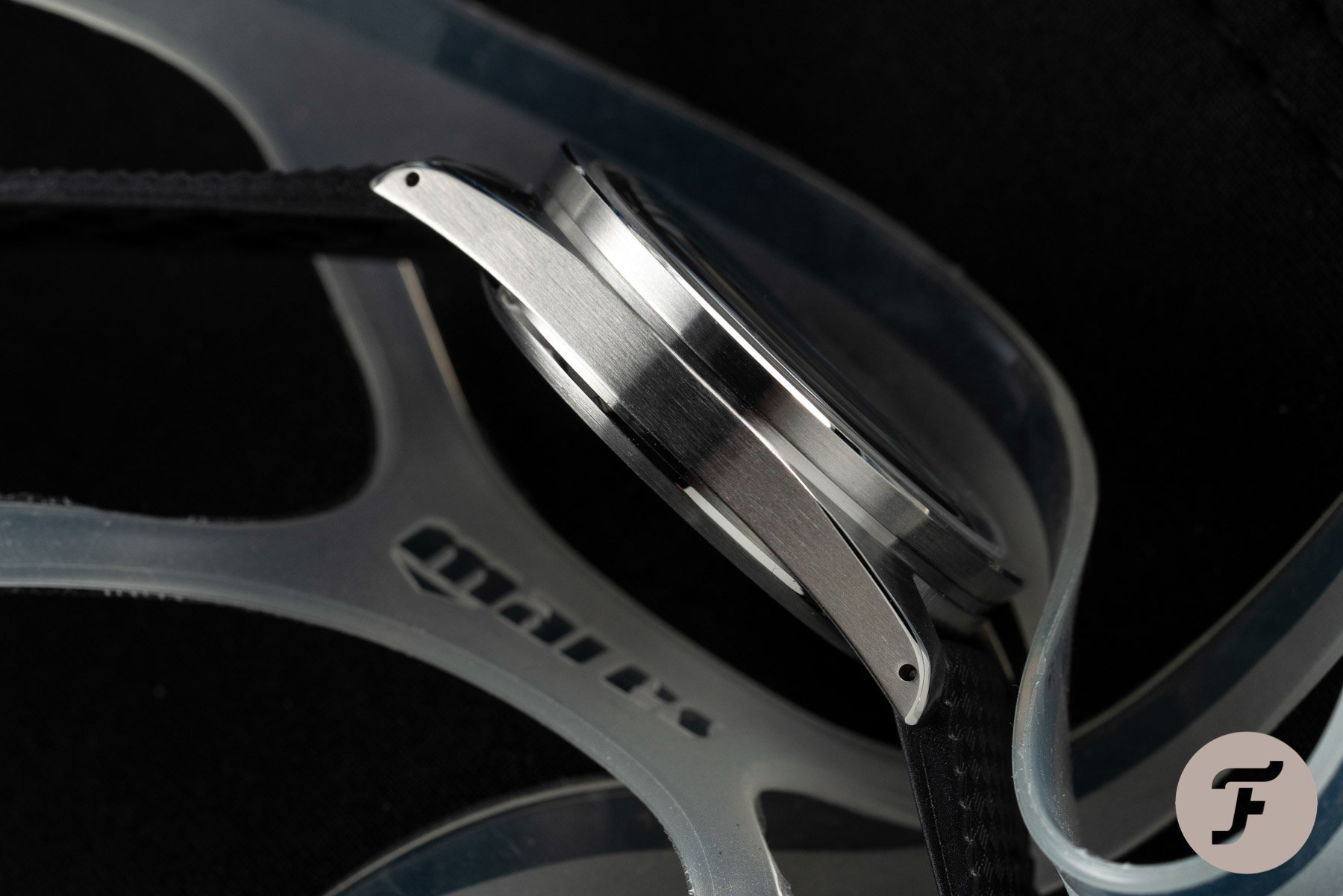 (Pre-)order, price, and delivery
Pre-orders started April 14th (that's today) and will remain open for a period of twenty days. During that time, the watch will be available for the tempting pre-order price of €550. After that period the price jumps up to €650. Place your order on the official Baltic website and your Aquascaphe Dual Crown should arrive in September of this year.
Please find and follow me on Lex Stolk • Instagram