The Best Vintage Omega Speedmaster To Buy In 2021
Will you settle for a caliber 321 or 861?
"Which vintage Omega Speedmaster should I buy today?" We get this question a lot. And a lot doesn't mean once per week, but at least a dozen times per week. It is also a very valid question, as it can be quite a minefield out there. Especially with today's prices on these watches, you need to be careful. But it is a very personal question, which applies not only to vintage Omega Speedmasters but also to watches in general.
It's very difficult to advise you what to buy, as it's an incredibly personal decision. I might like and buy a watch for a completely different reason than you do. But at least I can give you a rundown of some of the options and tell you my preferences when it comes to buying a vintage Omega Speedmaster. And let me add "today," as well. Things might be completely different in a few years from now. They certainly were very different when I started collecting vintage Omega Speedmasters. When I bought my first Speedmaster, a reference 145.012-67 with caliber 321, it was about 50% of the price of a new Moonwatch at retail, and even cheaper than a pre-owned example with caliber (1)861. Would I buy the 145.012 again if I were new to vintage Speedmasters? Probably not. But I will explain why later.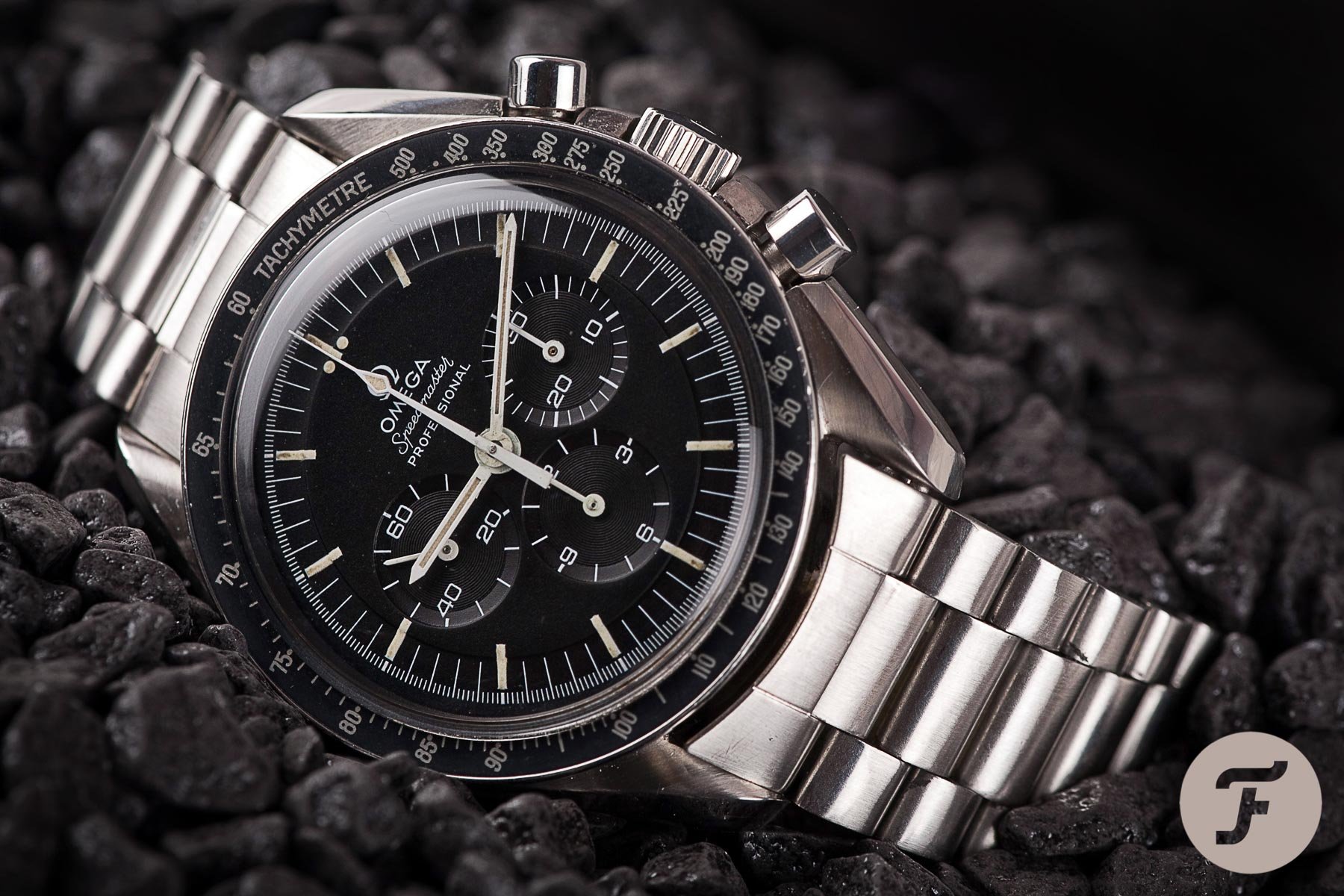 Buying the best vintage Omega Speedmaster
What exactly does "best" mean when it comes to a vintage Speedmaster? Is it the price, the condition, the best bang-per-buck, or the oldest Speedmaster you can find? I would say it is a combination of these factors, but that the condition is the most important one for me. Not the box and papers, not a caliber 321, and not even a DON bezel. Rather, the one that is in the best condition for your budget. I have written it before, and I will write it again: I would rather buy a mint-condition, caliber 861 Speedmaster Professional than a caliber 321 Speedmaster Pre-Moon that looks like it has been run over by a train.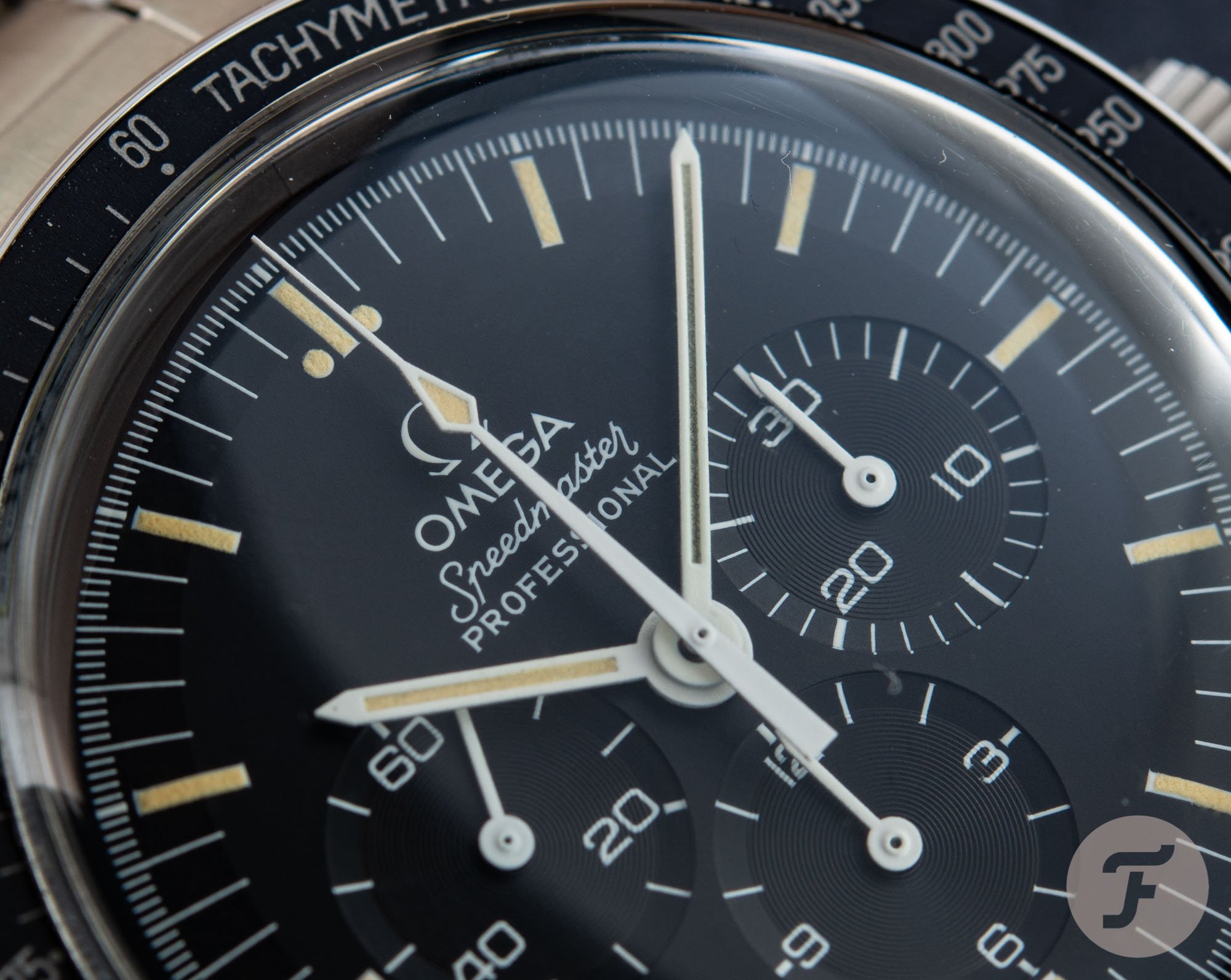 Take this with a grain of salt, but you know what I mean, I guess. There might be an exception to all of this, though. When there's a special connection or association with the watch of your choice, the condition may be less important. Was it owned or worn by a loved one or a special person in your life? If so, the condition is not necessarily a decisive factor. But if you are just browsing Chrono24, auction sites, and forums, for example, the condition should always rule.
Three options out there
In my opinion, there are three categories to choose from if you're in the market for a vintage Omega Speedmaster:
Models with caliber 321
Models with caliber 861
A non-Moonwatch model
There are some exceptions, of course, but this is pretty much it for me. And in each of these categories, there are a plethora of choices. In my opinion, a Speedmaster Mark II is super nice. I also like the Mark 4.5 with Lemania 5100-based movement, and even the clunky Speedmaster 125. But, if you don't have a Speedmaster yet, I think I'd go with one of the other two categories before getting a non-Moonwatch model.
Speedmaster with caliber 321
A Speedmaster with caliber 321 is something truly special, for sure. However, to find one in good condition these days, you're going to need some serious cash. The most affordable vintage Omega Speedmaster with caliber 321 would be the reference 145.012. It was the last one to use this column-wheel chronograph movement before its replacement by caliber 861. I'm not including the new Speedmaster Calibre 321 here, of course — I'm only talking about vintage references. A Speedmaster Professional 145.012 in good condition, with bracelet, will set you back between 9,000 and 12,000 Euro. There will be cheaper and more expensive ones as well, but the bulk is in this price range. The higher end of this reference is also where the next reference (105.012) starts. For examples in excellent condition, prices for these references edge on €18,000.
An asymmetrical case is my favorite
The 105.012 is one of my favorite references, not only because it was used on the Moon by Buzz Aldrin, but also because some had this double-bevel case back.
This was also the first Omega Speedmaster to use the 42mm asymmetrical case with crown guards, and therefore, it was the first to have the "Professional" designation on the dial. Enthusiasts know this reference as the fourth generation of the Speedmaster — the first being the CK2915, the second being the CK2998, and the third being the 105.003. Omega re-used the case design of that fourth generation for the 2019 Apollo XI limited editions, the 2020 Silver Snoopy Award, and the current Speedmaster Professional Moonwatch Master Chronometer.
But also here, even though the 105.012 is my preference, a 145.012 in amazing condition for the same price as a 105.012 in so-so condition would be my choice. And this applies to all other vintage caliber 321 references. I know a straight-lug case from the first three generations of Speedmasters is a sought-after thing, but I prefer a very nice vintage Omega Speedmaster 105.012 over a 105.003 in poor condition.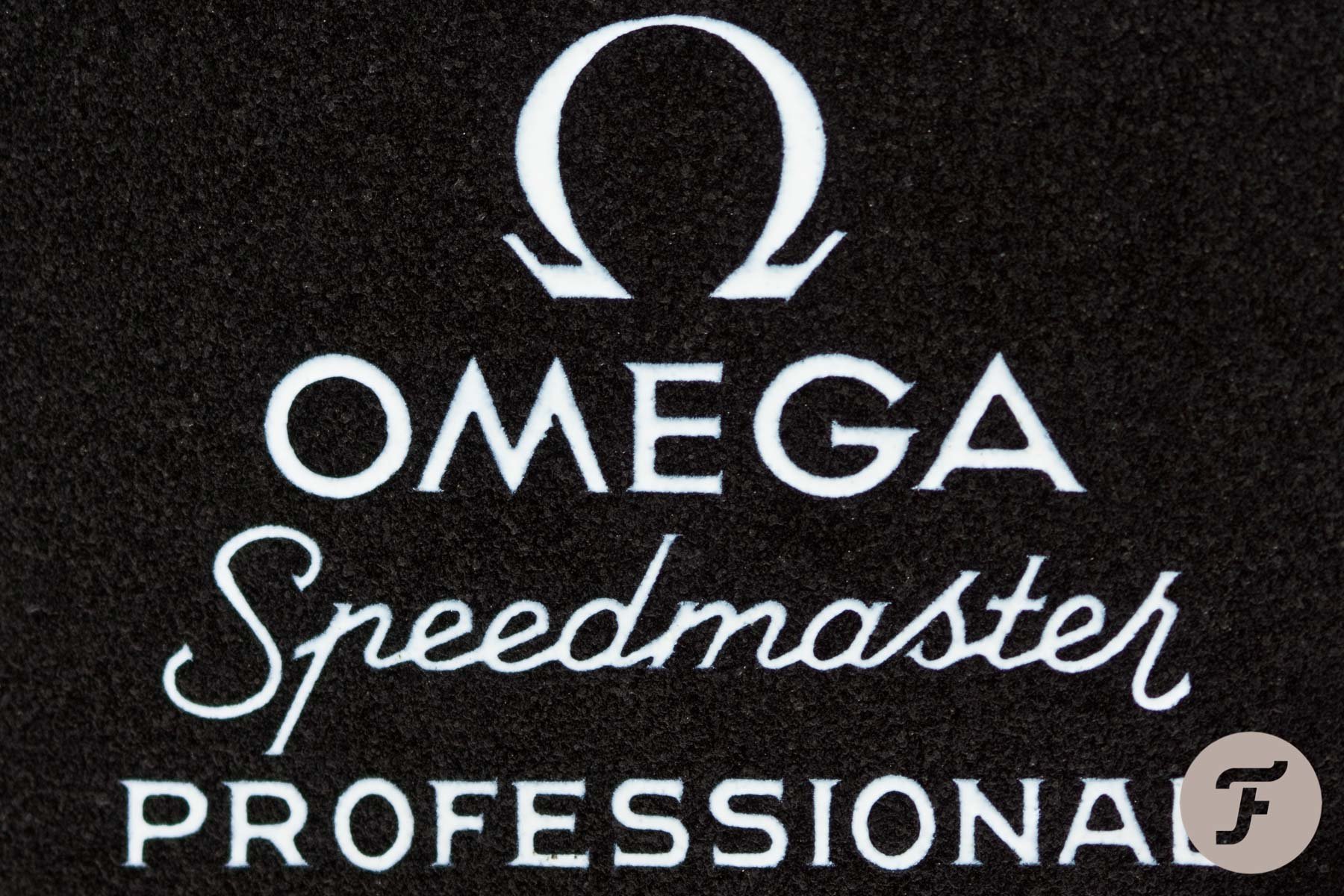 Speedmaster with caliber 861
The vintage Omega Speedmaster Professional with caliber 861 is another category, I would say. It made its debut in 1968 in the reference 145.022-68, powered by the then-new caliber 861, and with the applied Omega logo still on the dial. Omega used the 145.0(0)22 reference number for the Speedmaster Professional until 1988. Starting that year, the brand began using a different coding system for its reference numbers, and the 145.0(0)22 became the reference 3590.50.
From that moment on, the number 145.022 was still used, but as a reference or part number for the case of the watch. Together with the later 3570.50 (in production from 1997 to 2020), the reference 145.022 was used for an incredibly long time. This means that there are quite a few small updates and iterations of the Speedmaster Professional 145.022. Although you could say that its successor, reference 3590.50, could also be considered vintage by now, I want to stay with the 145.022 for this article (and choice).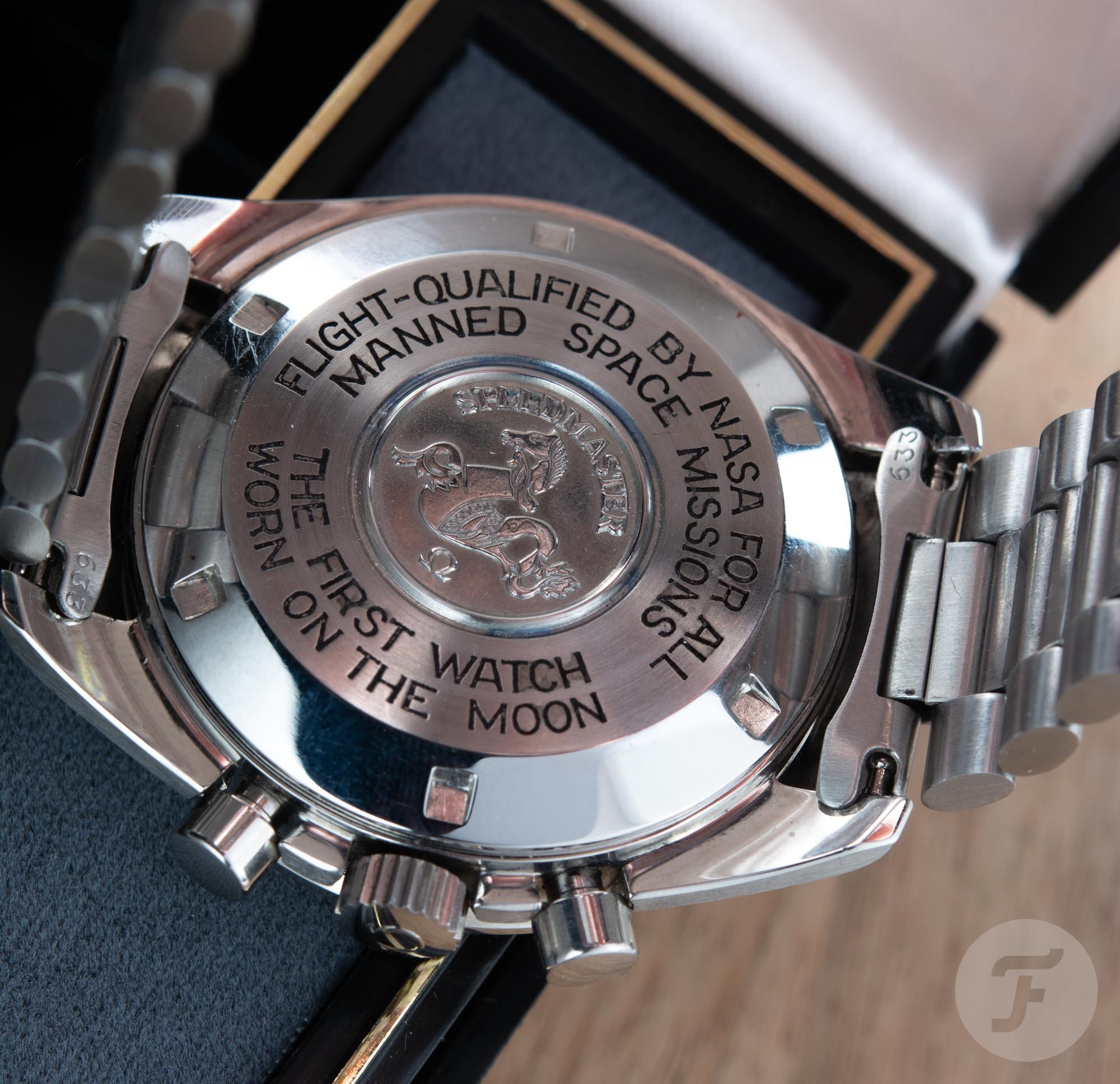 Numerous iterations of the 145.022
In 1969, Omega introduced the 145.022-69. It had a printed Omega logo on the dial, and aside from some of the special/limited editions and today's Moonwatch with sapphire crystals, it stayed that way. The fun thing about the 145.022 references is that there are some very nice variations. The first models of the 145.022 basically had the same case backs as the previous Speedmasters, with a large hippocampus engraved in the center accompanied by the word "Speedmaster".
In 1971, Omega started to use case backs with an inscription to commemorate the moon landing. At first, these featured a straight script in two different versions — the rarer of the two with a mention of "APOLLO XI – 1969". Later on, they featured the circular engraving as we still know it today. Then, there was a very short moment in 1971 when the case backs had just the Speedmaster wording and the hippocampus medallion with no additional engraving at all. This is known as the "Non-NASA" model. As if that's not enough confusion or possibilities, there are also different bezels and dials. The famous "Dot Over Ninety" bezel was used for a while on the 145.022-69, but definitely not on all watches with this reference.
The 145.022-68, 145.022-69, and 145.022-71 were also the only iterations of the 145.022 that had a step dial. Although the -xx iterations give a good indication of the production year, that is not always the case. There's no -72, -73, -75, -77, -79, for example. A watch produced in 1977 is a 145.022-76, and a 145.022 from 1974 can be a very late 145.022-71 but also an early 145.022-74. The serial number, found on the movement (but not to be confused with the caliber number of the movement), is the most helpful thing when it comes to determining the year of production. We explained the differences between most 145.022 iterations and how the serial numbering system works in this article.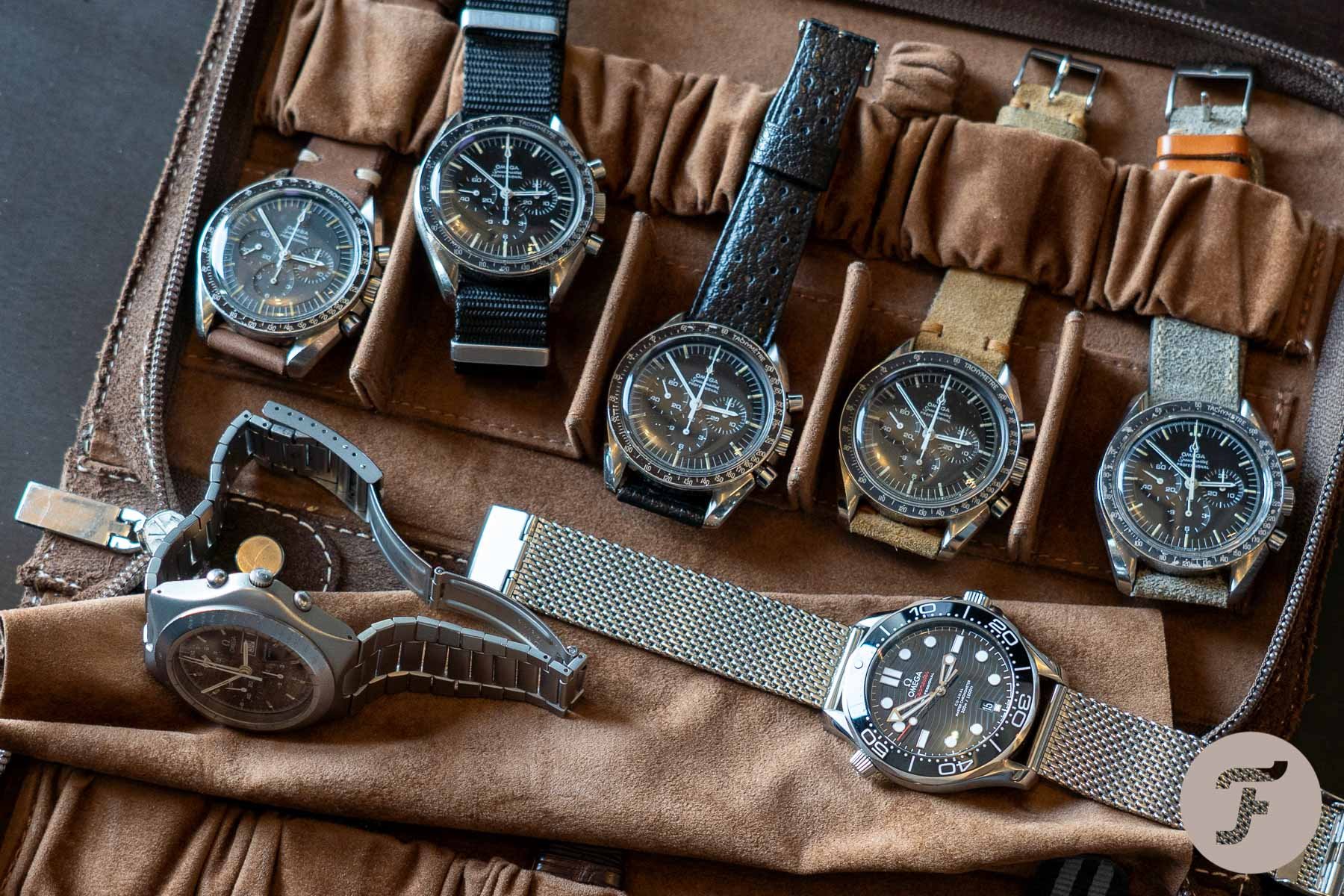 So, what's the best vintage Omega Speedmaster for me?
In my opinion, there's not a definitive "best" vintage Omega Speedmaster you should buy in 2021, as it depends on so many factors. That said, I would always go for the one in the best condition you can afford. That's my definitive advice on this matter.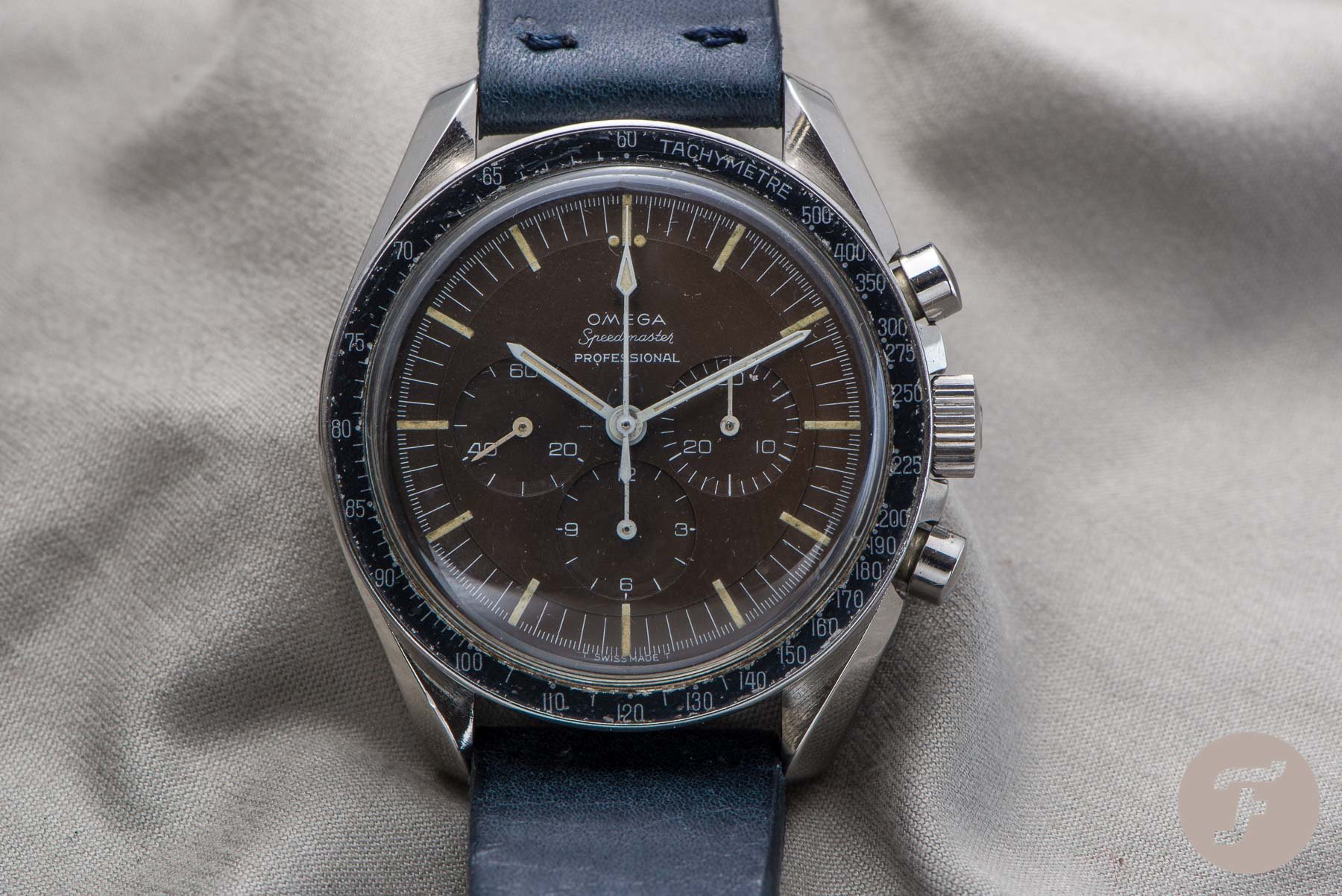 My personal pick for a Speedmaster with caliber 321
But, in order not to disappoint you, I will also tell you which ones I find most interesting today in the first two categories mentioned. For the third category, I always apply the same basic rules as for the others. But with these non-Moonwatch models, it also comes down to a specific preference for design.
For the vintage Omega Speedmaster with caliber 321, believe it or not, my pick is neither the CK2915 nor the CK2998. Prices have gone berserk on these, so it's almost impossible to purchase one in good condition for a price that makes the slightest bit of sense. Therefore, my pick would be the Speedmaster Professional 105.012-65, believed to be the reference used by Aldrin (and Armstrong) during Apollo XI. What's also important to me is that it has the double-bevel case back, a design cue I really enjoy. These watches have become expensive, but I don't think they've reached the ceiling yet. Compared to some other vintage chronographs out there, they still make sense.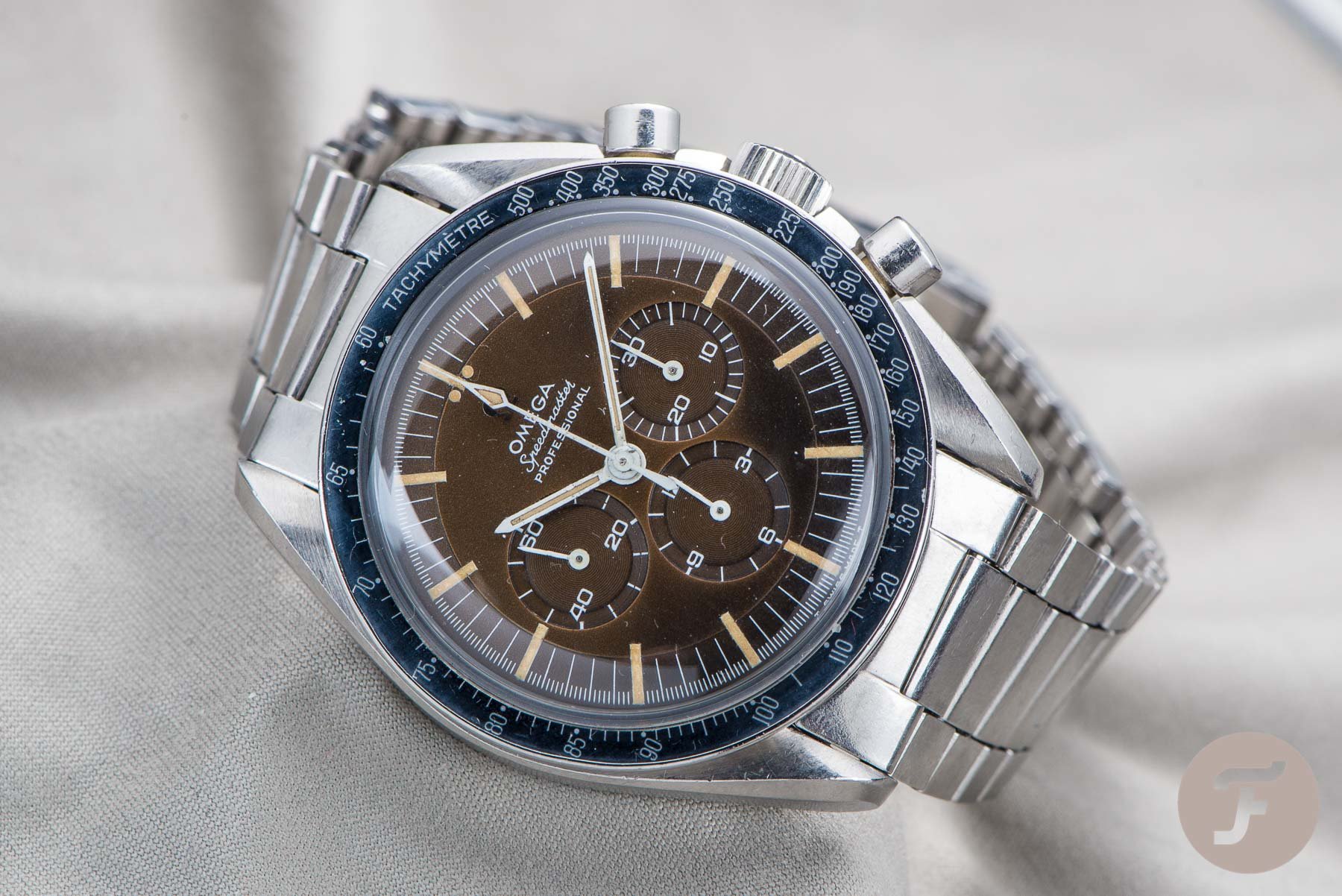 That said, the condition is everything. So I'd rather have a 145.012 with caliber 321 in amazing condition than a poor-looking 105.012, despite the double-bevel case back. Rest assured that astronauts have also used the 145.012 on the moon, just not during Apollo 11. Michael Collins had a 145.012-68 as "the loneliest man in history" though, as he had to circle around the moon during Apollo 11.
My pick for a Speedmaster with caliber 861
If I had to buy one vintage Omega Speedmaster Professional with a more limited budget, the 145.022 would be my pick. But which one? In this situation as well, I'd rather have a perfect, caliber 861-equipped Speedmaster reference 145.022-68/69/-71 with a step dial than an older reference with caliber 321. Part of the fun in wearing a Speedmaster is that it should look nice, right? It's also important that it works flawlessly. The good thing is that when a Speedmaster has some mechanical issues, a watchmaker can fix them in most cases, even with caliber 321.
When it comes to aesthetics, it is a little more difficult, as not all parts are still being made in the same way (or with the same appearance) as they used to be. Here's the originality element that often comes into play. Do you prefer a Speedmaster that looks to be in perfect condition, but that has wrong or period-incorrect parts, such as a bezel or handset? Or do you accept a watch in worse condition with all period-correct components? Unfortunately, having a watch with all period-correct parts wasn't always as important as we think it is today. During the course of time, many bezels and hands have been replaced by later ones during service, simply because until 20-25 years ago, nobody cared. This is why I'm so repetitive with my mantra: buy the best condition watch that your budget allows.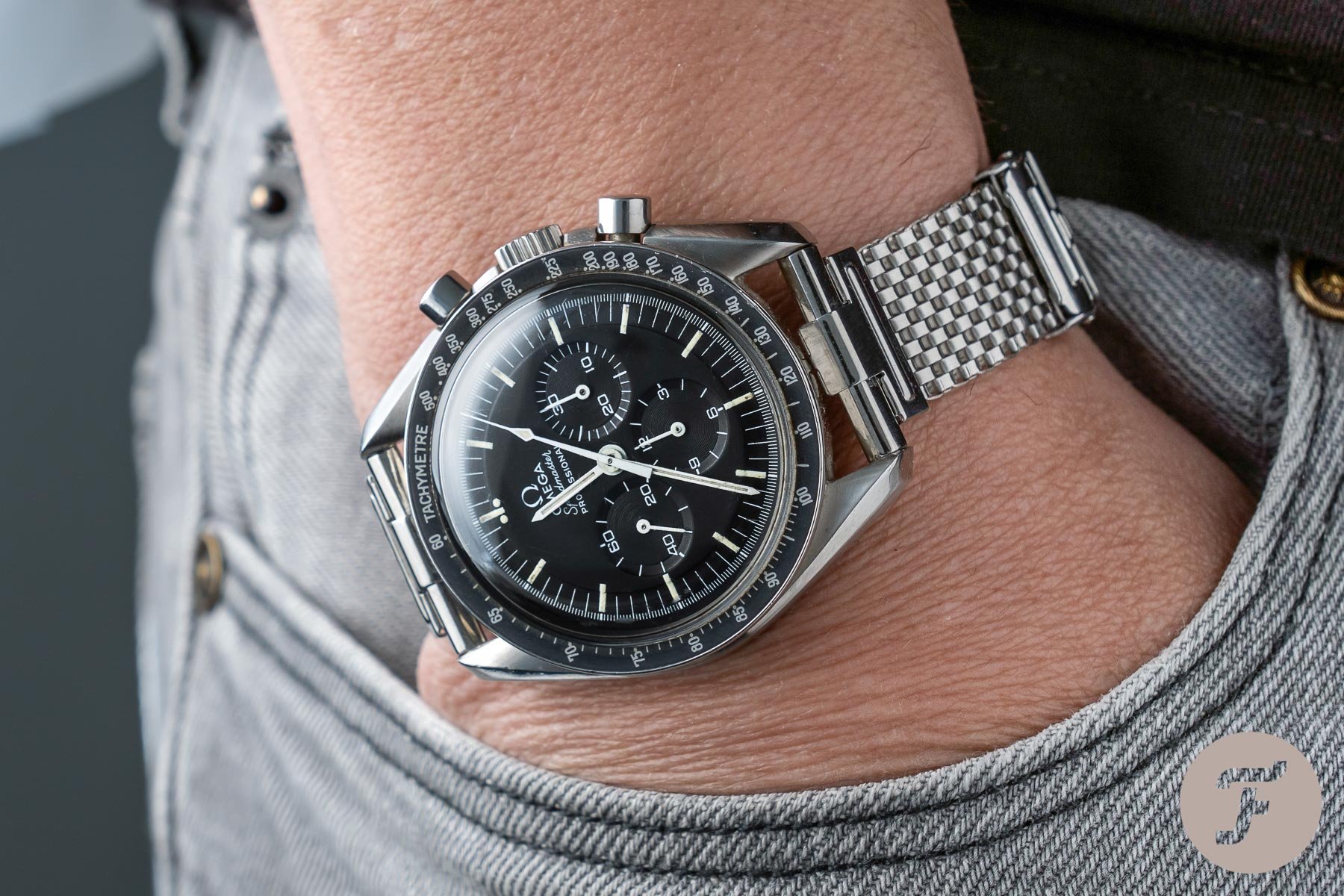 Don't just take my word for it
In my personal collection, I have vintage Omega Speedmaster watches that are not that good. For example, I have a few 145.022 models in my own collection. In general, I prefer the 145.022 with a step dial over the later references without it. One of my 145.022-69s has a step dial. Some of its parts, however, are authentic but not period-correct. Then, I have a 145.022-76 that is in absolutely pristine condition. It was basically a deadstock piece that I was able to source. I take more pleasure in wearing that pristine 145.022-76 without the fancy step dial and DON-bezel than I do with a watch in so-so condition.
The price of a later 145.022-74, 145.022-76, or 145.022-78 in very good condition is not that different from an early 145.022 in average or fair condition. With the Speedmaster Professional 145.022, you get yourself into the world of (vintage) Speedmasters without having to spend 5-digit prices. There's a wide variety of iterations available, and when it comes to the signs of aging that these watches show, there will also be quite a bit to choose from.
In the end, you must decide what's most important to you in a vintage Omega Speedmaster.
*I didn't specifically mention any Speedmaster bracelets. That said, I would always try to source a Speedmaster on its original bracelet, or at least a period-correct one. Adding one later might become quite an expensive quest.