The Blue Wave
A Skeletonized Chronograph Based On A Historic Movement By Grieb & Benzinger
The Fratellowatches regulars probably know that I am more into sports watches than classic watches, which – almost – naturally results in a bit more coverage on sports models here. However, I just got a note from Grieb & Benzinger about their Blue Wave time piece. It is a unique and one time only time piece and for 87.500 euro it could be yours. Aside from the price tag, this is a classic looking time piece that could be the one of my choice.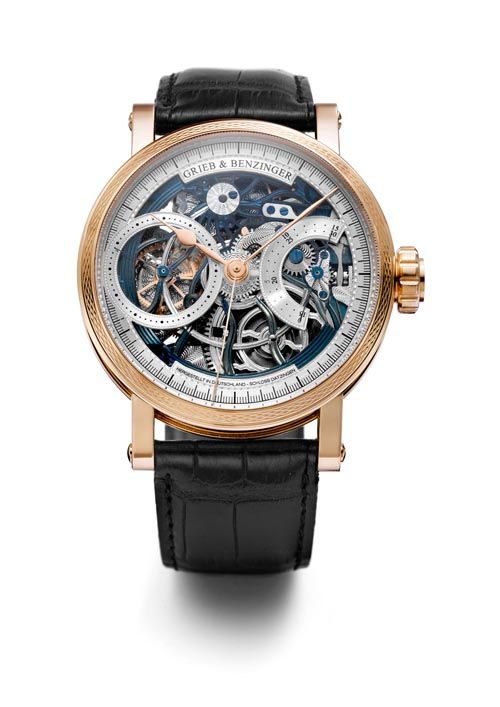 In the Blue Wave watch ticks a vintage movement by Minerva which dates back to approximately 1920-1925. Grieb & Benzinger completely disassembled this movement and restored it bit by bit. The base plate of the movement has been skeletonized by hand to its bare minumum of what a base plate can be. After this process, the base plate received the guilloché treatment and has been coated with blue platinum.
The watch bears 34 steel screws and these have all been hand polished and classically tempered a cornflower blue over an open flame. Hence, this 18ct gold monopusher skeletonized chronograph time piece has been christened The Blue Wave.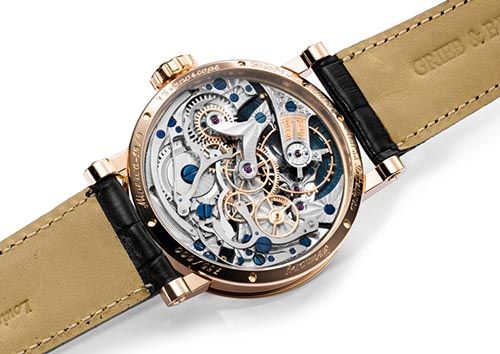 The hours of work and love that has been put into this impressive time piece must be tremendous. Their official website www.grieb-benzinger.com will give you more insight of the Grieb & Benzinger team, their passion and projects.