The Chuck Maddox Homage Watch : Omega Seamaster Pro Chrono Diver Titanium
"This is not an elegant dress chronograph, this is a bruiser of a tool watch and likely will not fit under anyone's shirt cuff unless you have a wrist the size of Michael Jackson's and are wearing Arnold Schwartzenegger's shirt." – Chuck Maddox (27th of May, 2003)
Photograph by Chuck Maddox
A few weeks ago I was in New York City and met with Bill Sohne (collector of fine time pieces and moderator of the Omega forum of PuristsPro) for a coffee and a small chat about watches. We discussed a lot of watches, including this Omega Seamaster Professional Chronograph in titanium (ref.2298.80) he bought, also known as the SeMPC Ti. Bill told me that during his long friendship with the legendary Chuck Maddox, he had to hear about this SeMPC Ti every once in a while, as it was one of Chuck's favourite watches to wear or at least to have in his 'rotation programme'. Also, Bill told me that he did a write-up on this watch just recently for his forum, on the 2nd anniversary of Chuck Maddox passing (click here to read it) on the 12th of May.
As Chuck once wrote for a mailing list regarding Omega watches: "……there are some that are kept close at hand because they are favorites.  I have a couple of 3-position cases that I have "go-to" watches,  I have three Omega Go-To's: My SeMPC (my all weather watch of choice if the forecast is for heavy weather), my 145.012-67 c.321 Pre-Moon, and my 1950's no-Model Omega square pusher (mainly because it's bracelet is of a length I can wear it on either wrist). "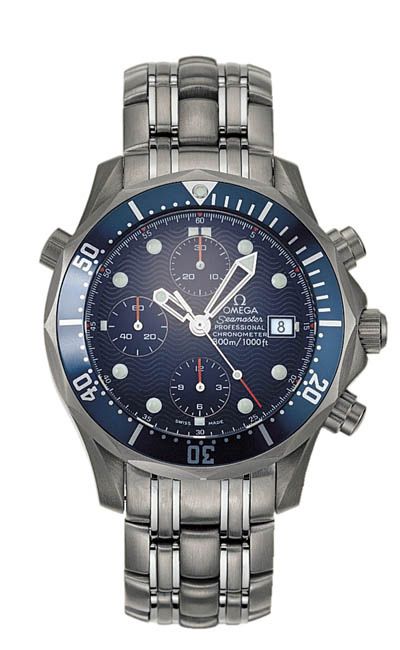 Listening to Bill, I realized that I recognized his story pretty well. From 1999 till 2008, I had a lot of contact with Chuck Maddox. Mostly by e-mail and AIM and not always with the same frequency, unfortunately. He had mentioned his SeMPC Ti to me, but as it was made out of titanium and has this ETA/Valjoux 7750 movement, I didn't pay much attention to it. Both are not my style, at least I thought so. In 2000, I tried the stainless steel version of this watch, but besides being beyond my budget, it was too thick to fit under my cuff. I went for the 'James Bond' ref.2531.80 (which I reviewed here, in 2000) instead.
When I got back home from New York, I immediately started looking around for a SeMPC Ti diver watch. I also visited the ChronoMaddox website and read this article Chuck wrote in 1999, about this exact same watch. His enthusiasm about this watch works very catching, at least to me. In the following quoted paragraph, Chuck sums up the ref.2298.80 SeMPC Ti:
"The Seamaster Pro Chronograph is attractive because it is the watch that "has it all"… Chronometer rating, Automatic Winding mechanical movement with excellent durability and parts availability, Chronograph, Calendar, Helium Release Valve, Sapphire Crystal, an absolutely incredible bracelet w/divers extension & twin push button safety release, non-slip caseback, available in a variety of material's: dial/bezel colors, great water resistance rating, and the show stopper: the unmatched ability to operate the chronograph underwater without compromising the Water Resistance of the watch. No other mechanical watch boasts that feature. Jeff Huber and I (among many many others) say it's the best sports chronograph on the market, and you know what… People don't argue that point with us."
After a day of strawling the auction sites, Chrono24 and a list of on-line dealers, I actually found one on an on-line Dutch marketplace. Located at a jeweller store nearby my home town, I immediately made an appointment to go there and check-out this SeMPC Ti.
To make a long story short, I bought it for a fair price, including the box and booklets. No warranty card unfortunately, but the 6,00,xxxx number tells me it is dated 1996 (correct me if I'm wrong). Although I thought that this watch would be a nice homage to Chuck Maddox, I actually find myself wearing it quite a lot.
The bracelet looks a bit out dated (introduced in 1993), it wears comfortable. Same goes for the titanium, although I don't like watches that are too light for their size, this one is actually still a heavy weight at 142.7 grams. At least compared to my other time pieces. The Valjoux 7750 movement was probably the biggest hiccup, but the wobble is not as annoying as I thought it would be. For the readers unfamiliar with this movement, it only winds in one direction and the rotor spinning in the other (free) direction results in a wobble on the wrist you might feel and could consider it annoying.
It seems that I can live with all these facts after all 🙂 Chuck was right in his summary quoted above, it is a chronograph that has it all.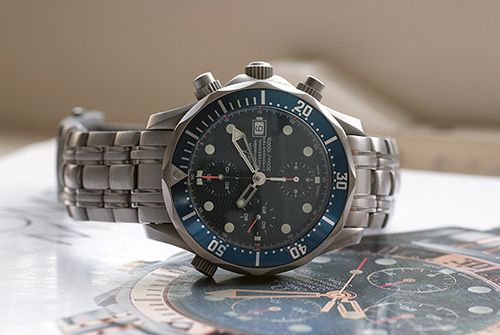 Photograph of my own SeMPC Ti Diver, on top of Kreuzer's 'Omega Designs' book.
Although the late Chuck Maddox will forever be linked to Speedmasters and vintage Heuers, together with Bill Sohne I consider this ref.2298.80 SeMPC to be the Chuck Maddox Homage Watch.