Baselworld is a funny place. You have the big brands, the smaller brands and, then, you have the little surprises. Appointments are often back-to-back, but we sometimes find ourselves with small blocks of time that aren't really long enough to make it back to the press center but not short enough to walk directly to the next meeting. So…we wander. And so it was that we stumbled upon Dodane – a brand from Besancon, France best known for its 1950's Type 21 flyback pilot's watches for the Ministry of Defense. They're incredibly collectible now and while the brand makes models in this general style today – and is still owned by the family, it was this year that they chose to announce a reissue. This is a beauty; so let's take a quick look at the limited edition Dodane Type 21 Reissue.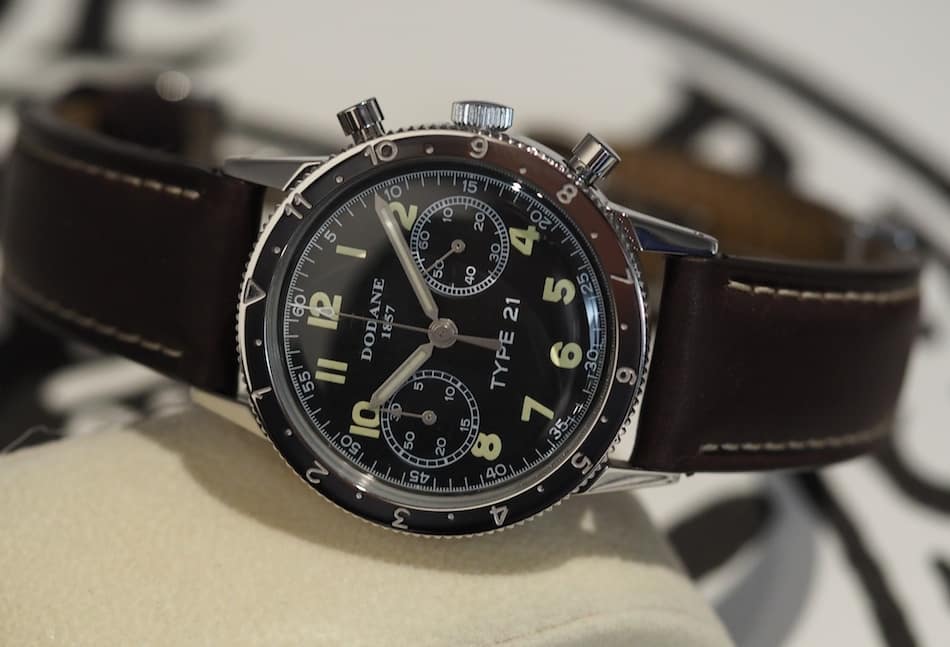 Reissues are tricky subjects and the matter of the Dodane Type 21 Reissue is no exception. However, I came away impressed with what the French marque is done as its extremely faithful in all but one of the departments – the movement. Originally, the watch was issued with the manual wind Valjoux 23 modified with a flyback function. Finding a substitute movement today is tough business, so Dodane chose to use a Dubois-Depraz 2030 automatic with flyback. As you'll see this makes for a slightly thicker case than in historic models.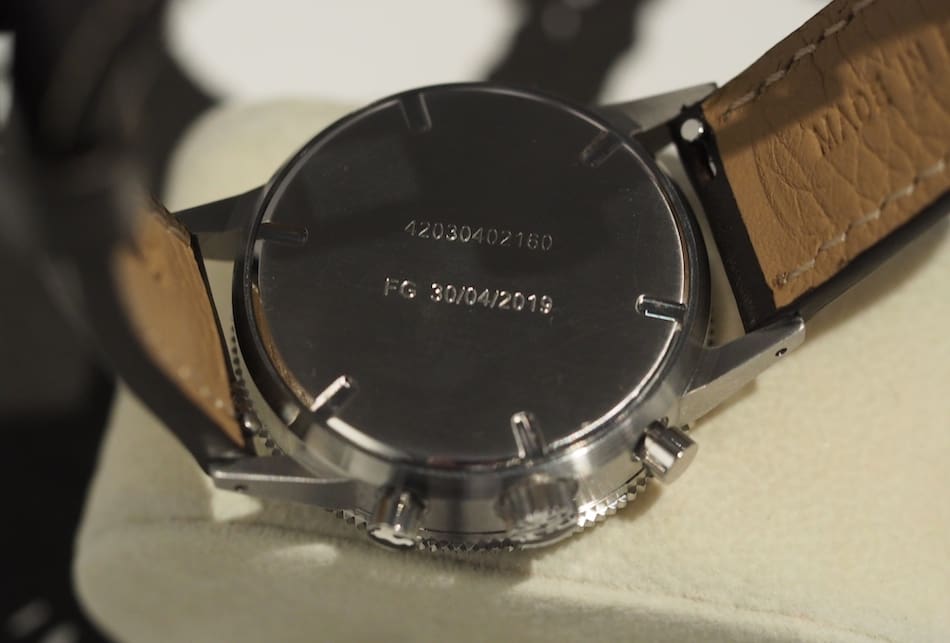 At 37mm, the Dodane Type 21 Reissue is exactly the same as its ancestor. It features 18mm lugs and can be ordered in either polished or matte stainless steel (both the rotating bezel and case are finished in whatever style you choose). The crystal is domed acrylic, but Dodane is working on a similar option in sapphire.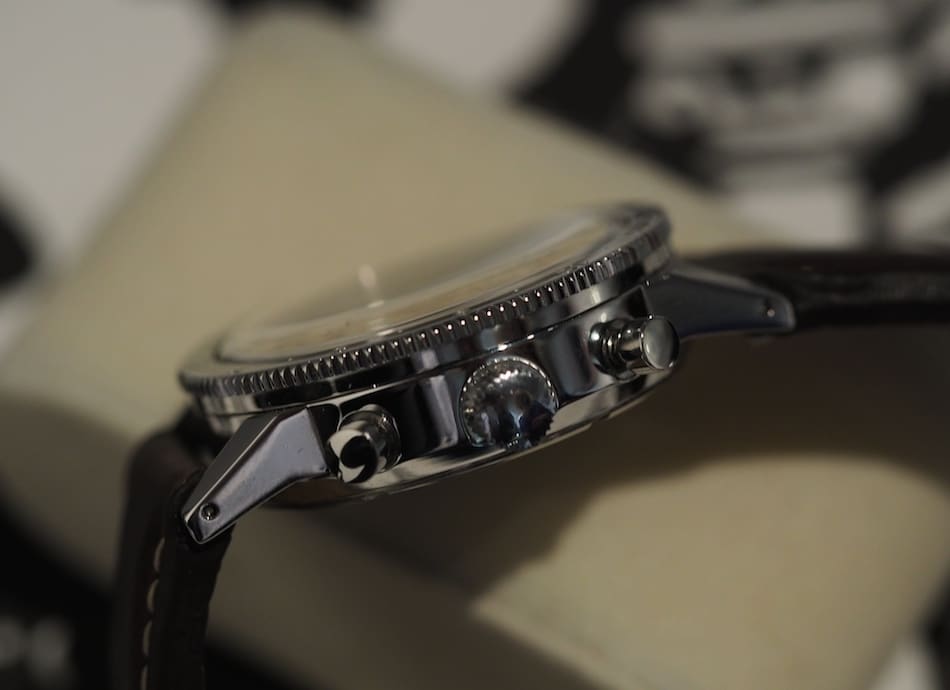 As mentioned, the Dodane Type 21 Reissue is limited. 160 pieces of each case finish will be produced and as mentioned, it's up to the owner to decide on the crystal material. The price is where things become difficult. At 5900 Euros, this is clearly directed towards the pilot's watch fanatic and one who perhaps has a large collection of the various Type 2X watches. On the plus side, while I didn't photograph the packaging, it's a large and beautiful wood box.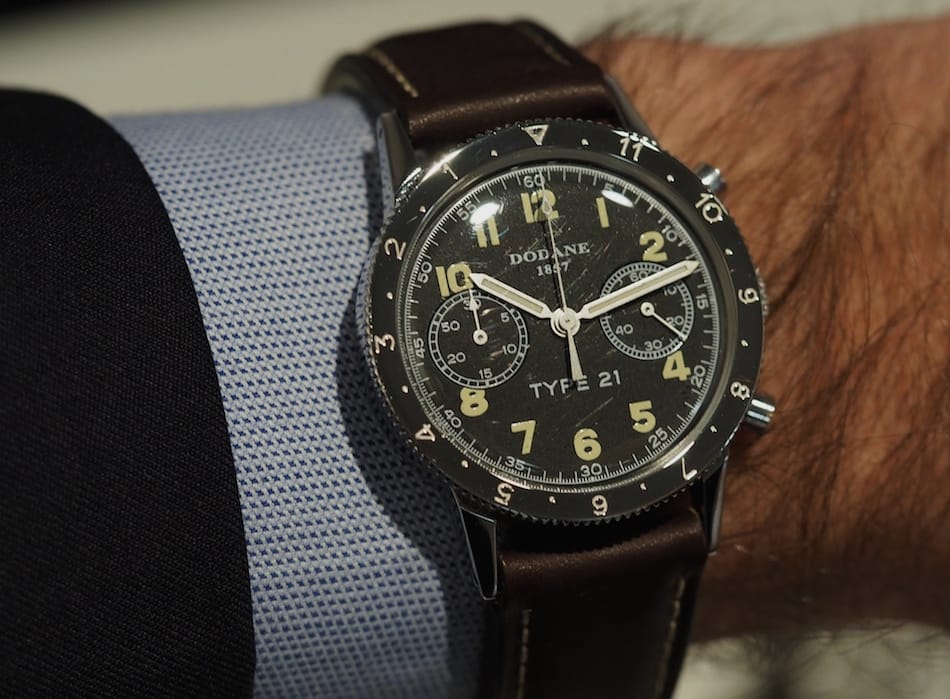 On the positive side, the Dodane Type 21 Reissue is seriously attractive. The dial is a literal copy of the original (one was in the booth). And while some may complain about vintage looking lume, it looked appropriate on this model. The size, for me at least, is perfect and I'm happy that the brand chose not to upsize it. The crystal was spot on in terms of its dimensions and adds a warmth to the look that only acrylic can provide. Furthermore, the case finishing was also in line with vintage models I've seen on forums and elsewhere.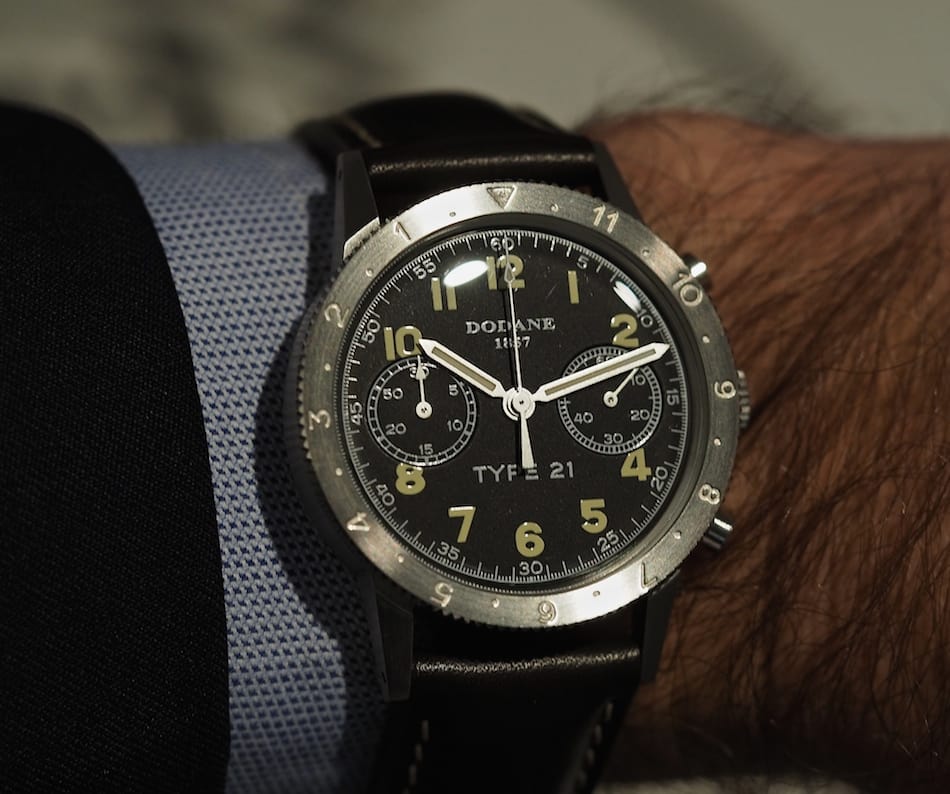 Overall, aside from using a modern and thicker movement, the watch should please vintage enthusiasts. Yes, the price is high, but if nothing else, it was great to meet the ancestors of a longstanding brand in order to take a look at this niche piece.
More can be found about Dodane here.

Michael has worked in the Automotive Industry and is currently in the Electronics Industry. When he's not cruising at 30,000 feet, he calls Germany home. Michael became interested in watches at a young age through the influence of his father. His interests lie in a wide array of watches, but he has a real passion for vintage chronographs.

Latest posts by Michael Stockton (see all)