The Evolution Of James Bond's Omega Seamaster Watches — Then And Now
We take a closer look at the 2531.80 and the NTTD 300M
I can't believe it is already two years ago that I was visiting Matera to see the set of No Time To Die. A beautiful village in Italy, where parts of the James Bond movie have been shot. It was there, where Omega showed us (I was there together with Hodinkee's Ben Clymer and Revolution's Wei Koh) the new Seamaster 300M No Time To Die edition.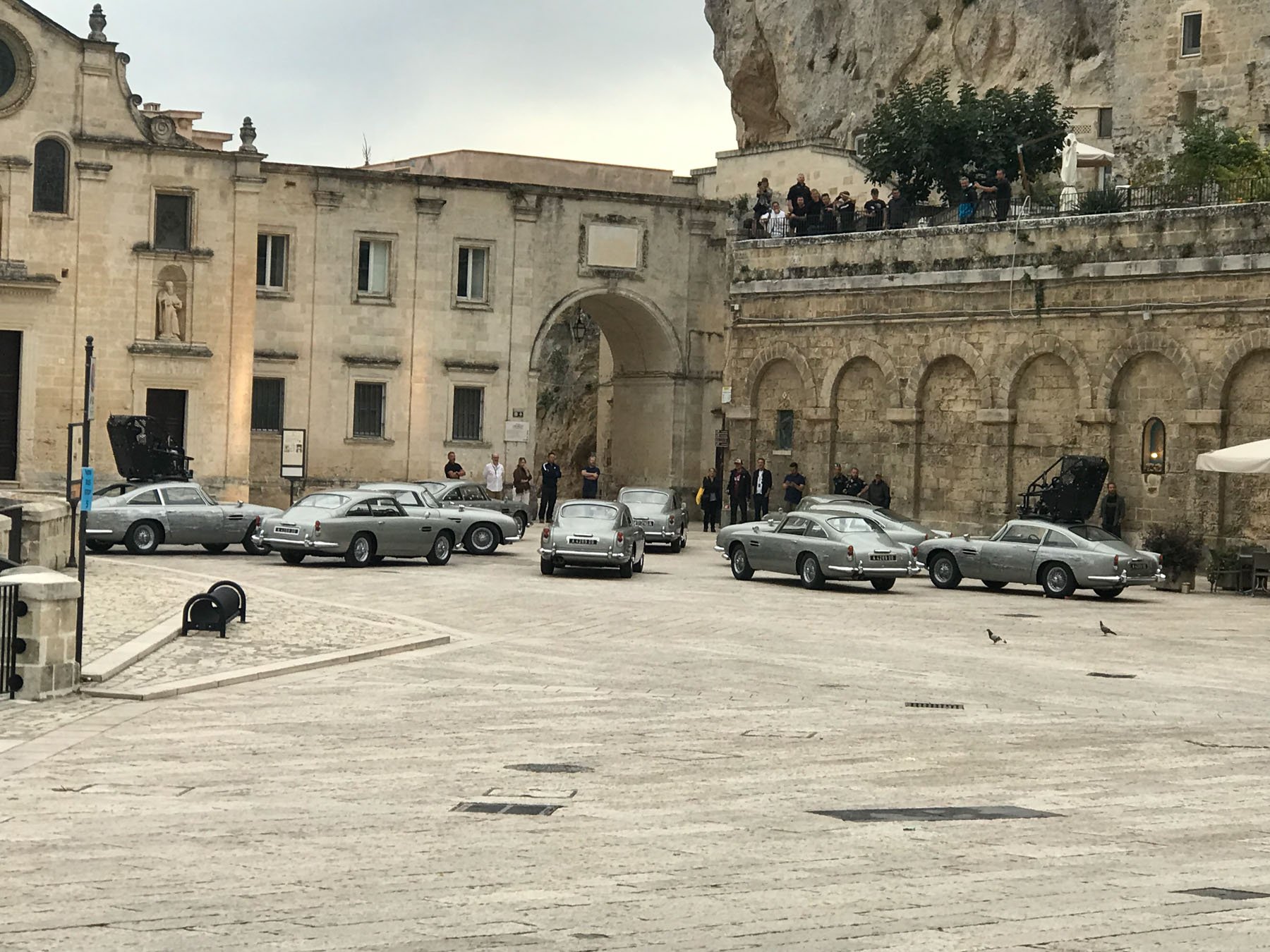 We were also invited to come to the set, where the crew (including Daniel Craig) were working on the scene with the Aston Martin being under fire. An incredible experience and I even ended up with some shells that were used during the opening scene (no worries, they were given to me, I didn't pick them up from the ground).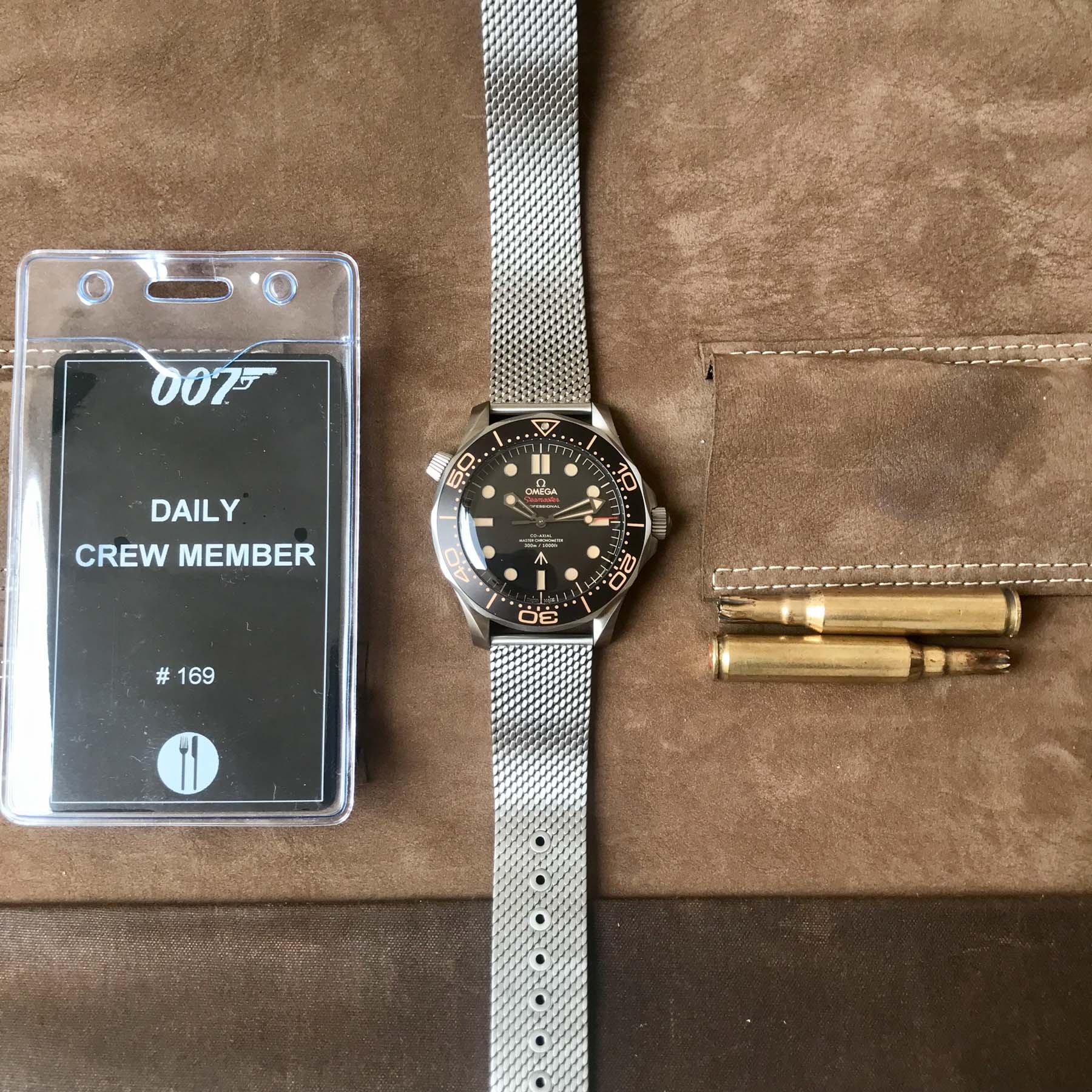 It was in Matera where Omega showed us the new Seamaster 300M that was made with and for Daniel Craig to be featured in No Time To Die. The official release was later that year, in December, with an introduction event in New York that we also attended (as can be seen here). We also did a hands-on review of the new Seamaster 300M NTTD watch here, but I thought it would also be interesting to see what has changed in Bond's watch since the first Omega's featured on 007's wrist and today's.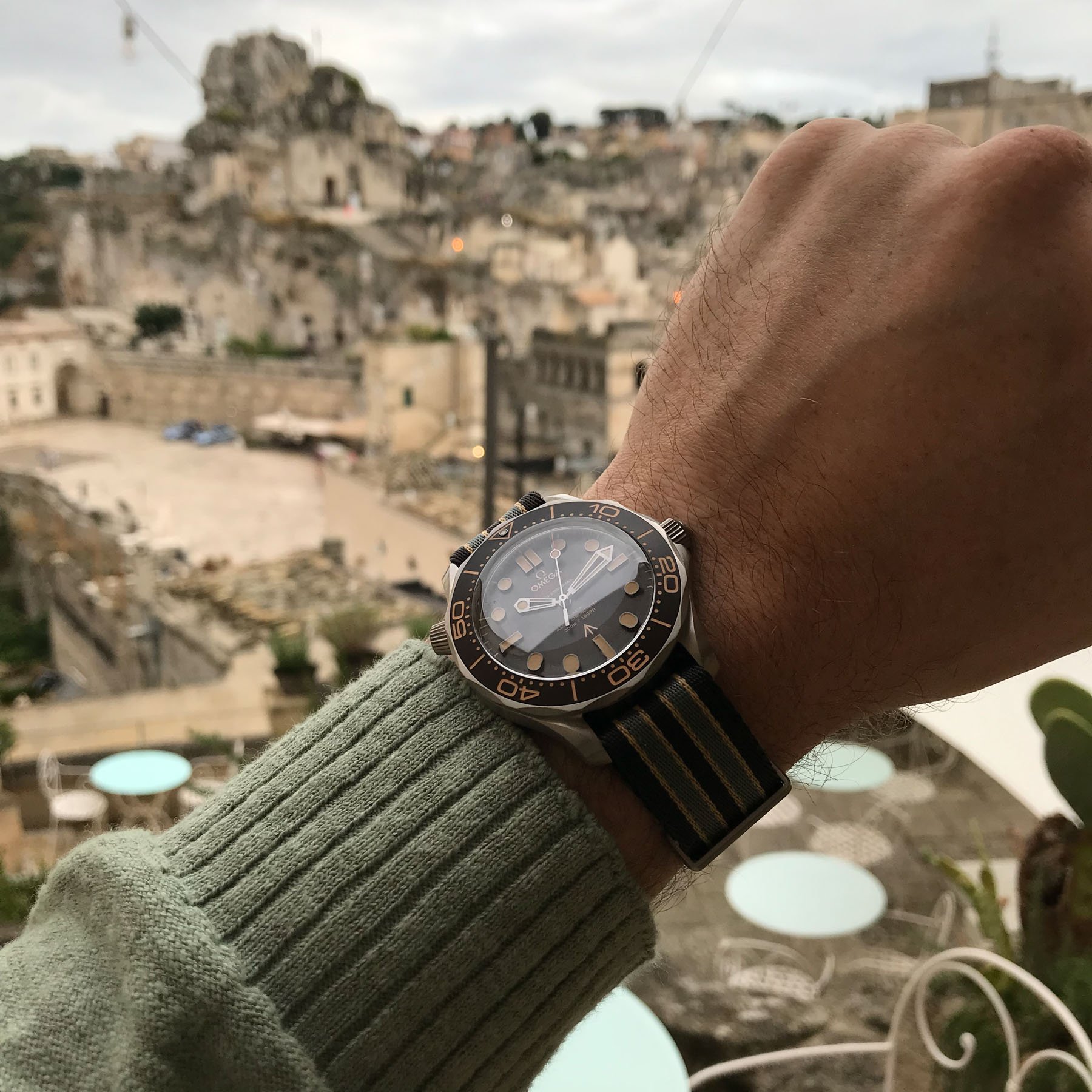 James Bond's Omega Seamaster 300M
In Ian Fleming's novels, Bond wore a Rolex. In the first movies, that translated into a Submariner (in the novels it isn't). Over the years, 007 wore a plethora of watches from all sorts of brands. However, since 1995 James Bond has been wearing Omega watches. Where the cars changed from BMW to Ford Focus, to Aston Martin (again), his choice for watches remained the same. Sponsored or not, the Omega watch has been on the wrist of James Bond since 1995's GoldenEye.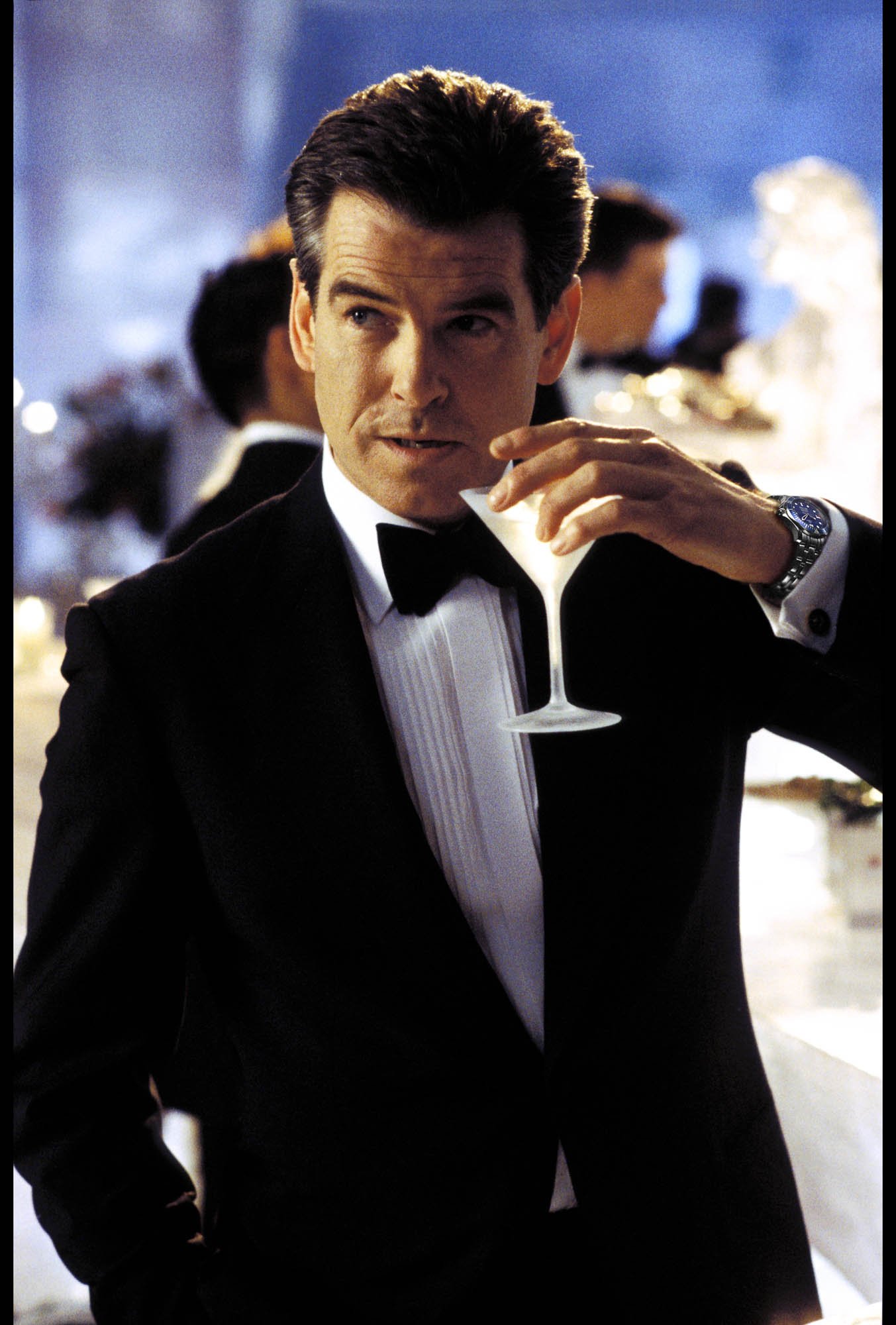 Omega Seamaster Diver 300M 2531.80
At first with the reference 2541.80, and later on with the 2531.80. The difference between these Omega Seamaster 300M references is the movement. The Seamaster Diver 300M 2541.80 as featured in GoldenEye had a quartz movement, and in the next Bond movie (Tomorrow Never Dies) with Pierce Brosnan as 007, it was the automatic reference 2531.80. Using the quartz movement in GoldenEye had probably to do with the friendlier price point of that watch at the time. Those years before 1995 weren't the easiest for Omega, and I can imagine that positioning such a watch was not an easy task. Quartz made this watch perhaps a bit more accessible for a larger audience. In the next movies, The World is Not Enough (1999) & Die Another Day (2002), the Seamaster Diver 300M 2531.80 could also be seen on the wrist of her Majesty's secret agent.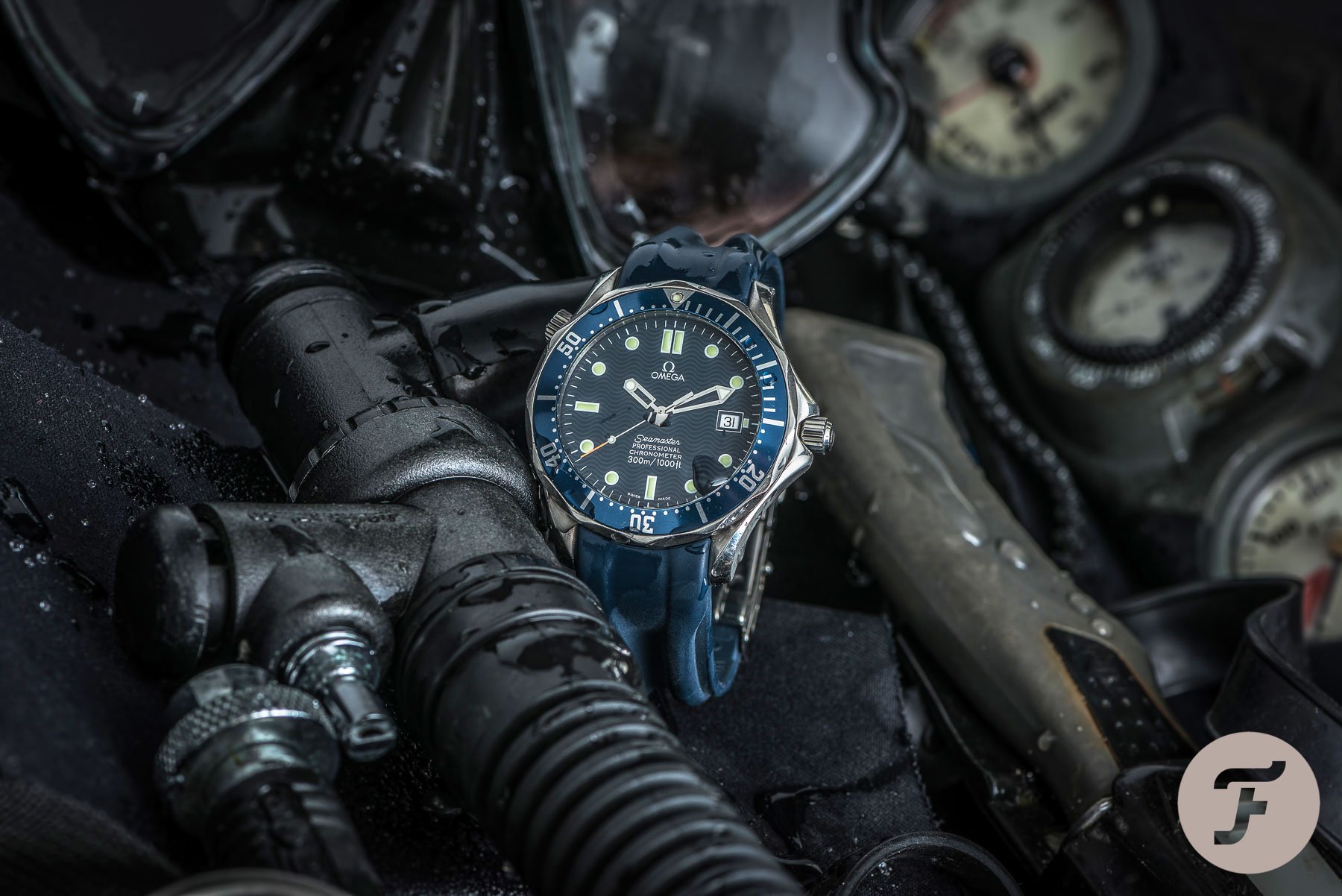 The entry watch to collecting for many people
This watch, and also the later Seamaster Diver 300M reference 2220.80.00 in Casino Royale (2006), have often been watches that got people into collecting watches. According to boutiques and authorized dealers that I've spoken to, there are people coming into their shops asking for the Omega that James Bond wears. So contrary to what some of you (and that included me as well for a long time) believe, using the right ambassadors does help brands to sell watches. The Seamaster Diver 300M, with blue dial, has been linked to James Bond since 1995 and it was one of those watches readily and widely available. Even during and after the release of these Bond movies.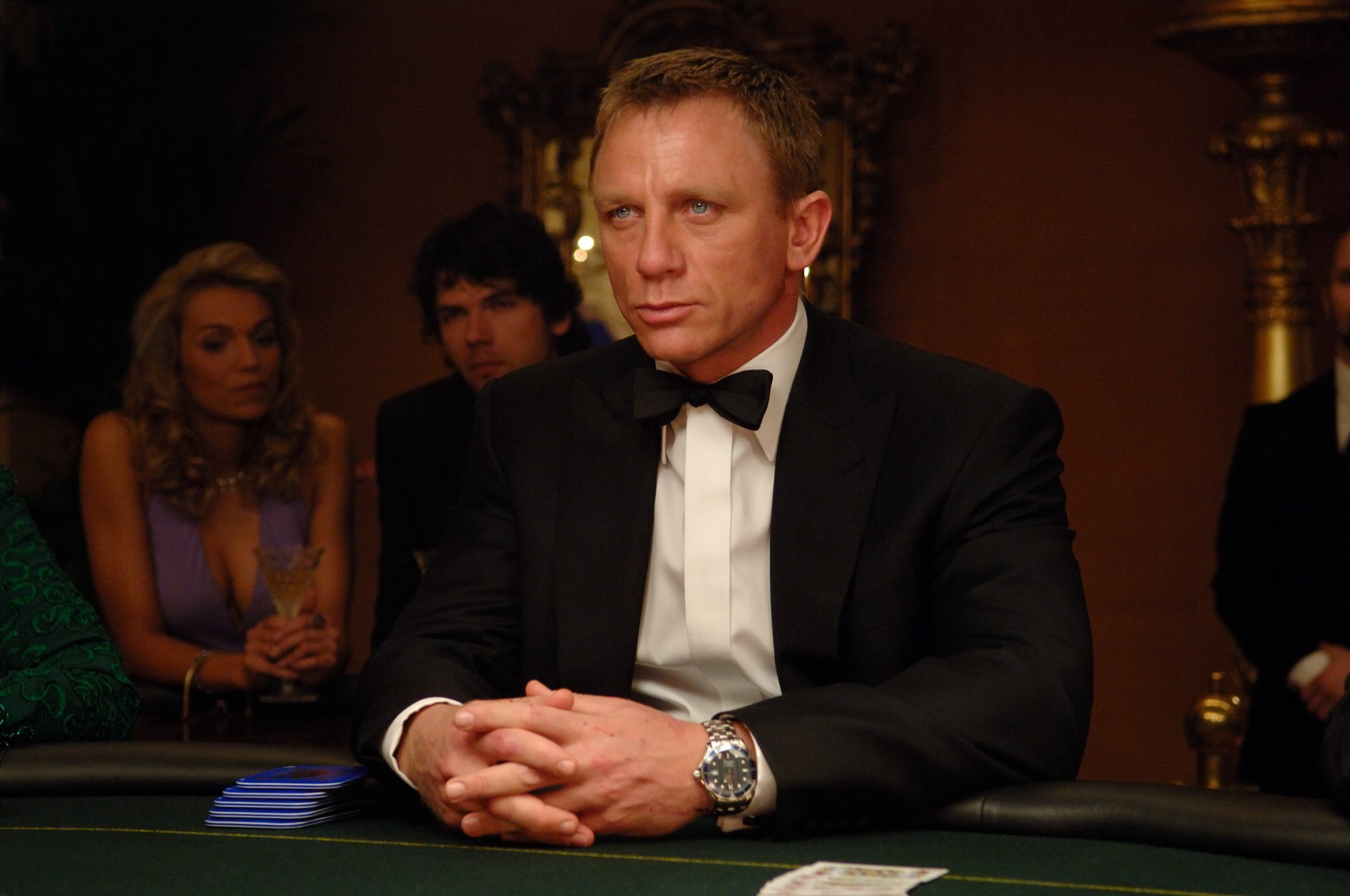 A no-nonsense diving watch, with a caliber 1120 automatic movement (later replaced by the Co-Axial escapement caliber 2500), and also available with a quartz movement. It has an aluminum diving scale bezel, steel bracelet (rubber strap optional), and the famous He-valve. The latter is still today, many years later, often a topic of discussion amongst watch enthusiasts. In Casino Royale, we also saw Daniel Craig wearing the Seamaster Planet Ocean. A watch he wore till Skyfall (2012), to be replaced by the Seamaster 300 "Spectre" in 2015. When Omega upgraded the Seamaster 300M in 2018, I expected Bond to go back to the 300M model for sure.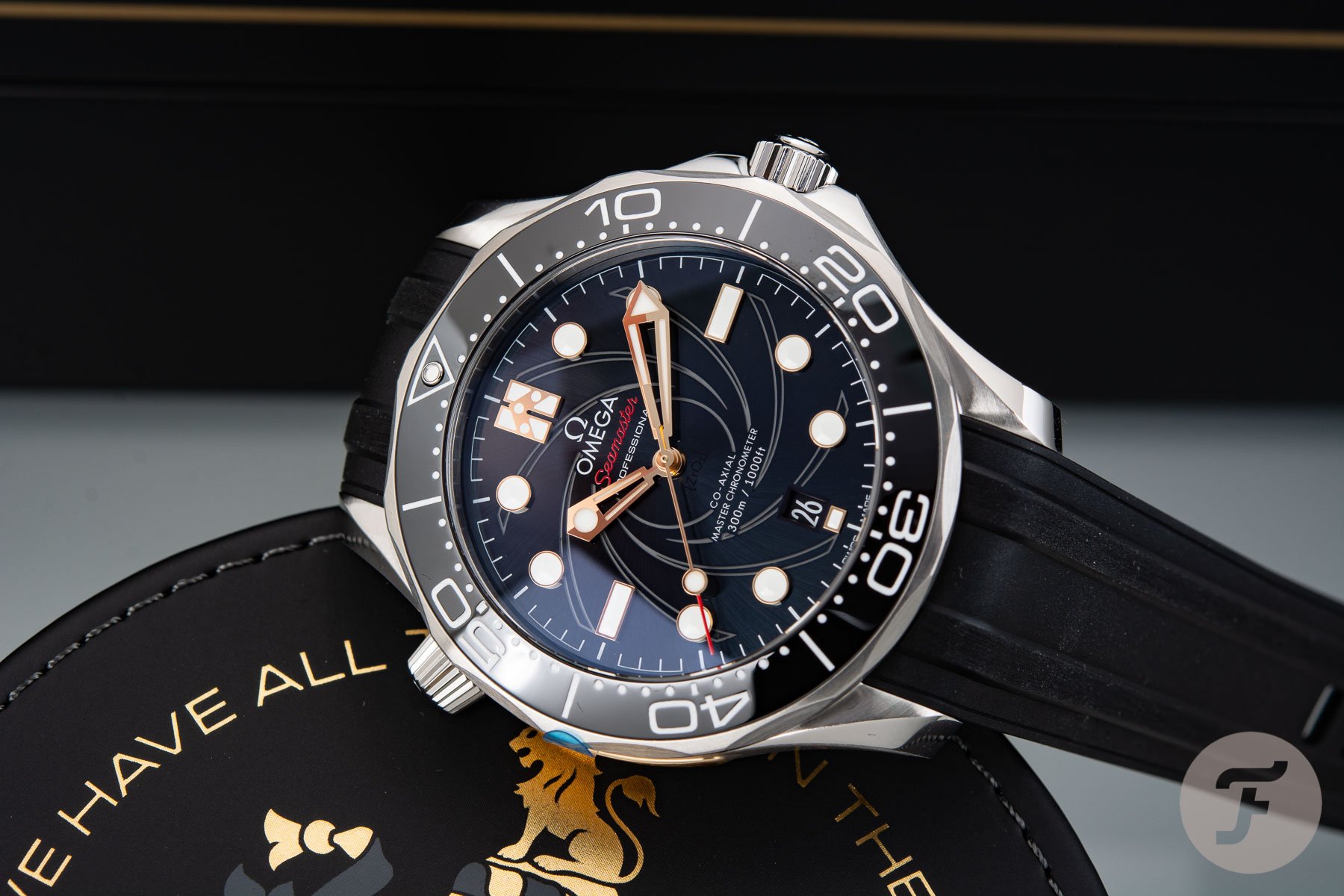 The special limited editions in steel, gold, and platinum, to commemorate the 50th anniversary of the James Bond film "On Her Majesty's Secret Service" confirmed my expectations. But, little did I know that it would be a very special version in titanium, with a 42mm case and a broad arrow printed on the tropical dial. And, one of its key features, with a titanium mesh bracelet.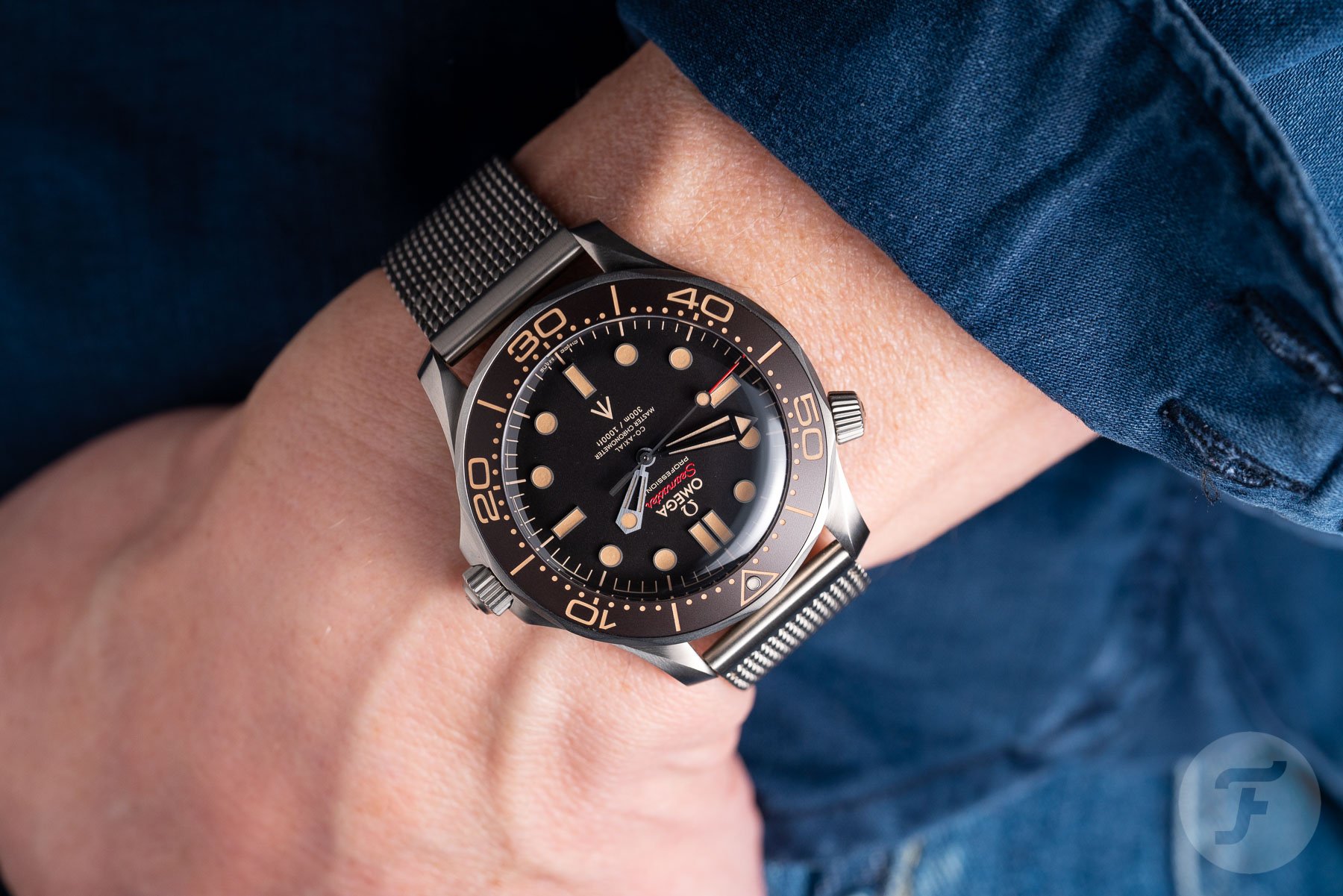 A tropical brown aluminum dial
We've covered the new Seamaster 300M NTTD in-depth in the past, but just a few quick words on this titanium beast. It is not a limited edition watch, and that's a good thing, as otherwise it would have been long sold out before the movie even would start. Interestingly enough, this was one of the key decisions when Omega started to work on this watch. Not a limited edition, but also to involve Daniel Craig in the design of this Seamaster Diver 300M model. It is powered by the caliber 8806 Master Chronometer certified movement, so completely up to date to Omega's latest standards. Its tropical brown dial is made of aluminum, and that makes it the second watch produced by Omega with an aluminum dial (the first one was the Speedmaster Speedy Tuesday "Ultraman").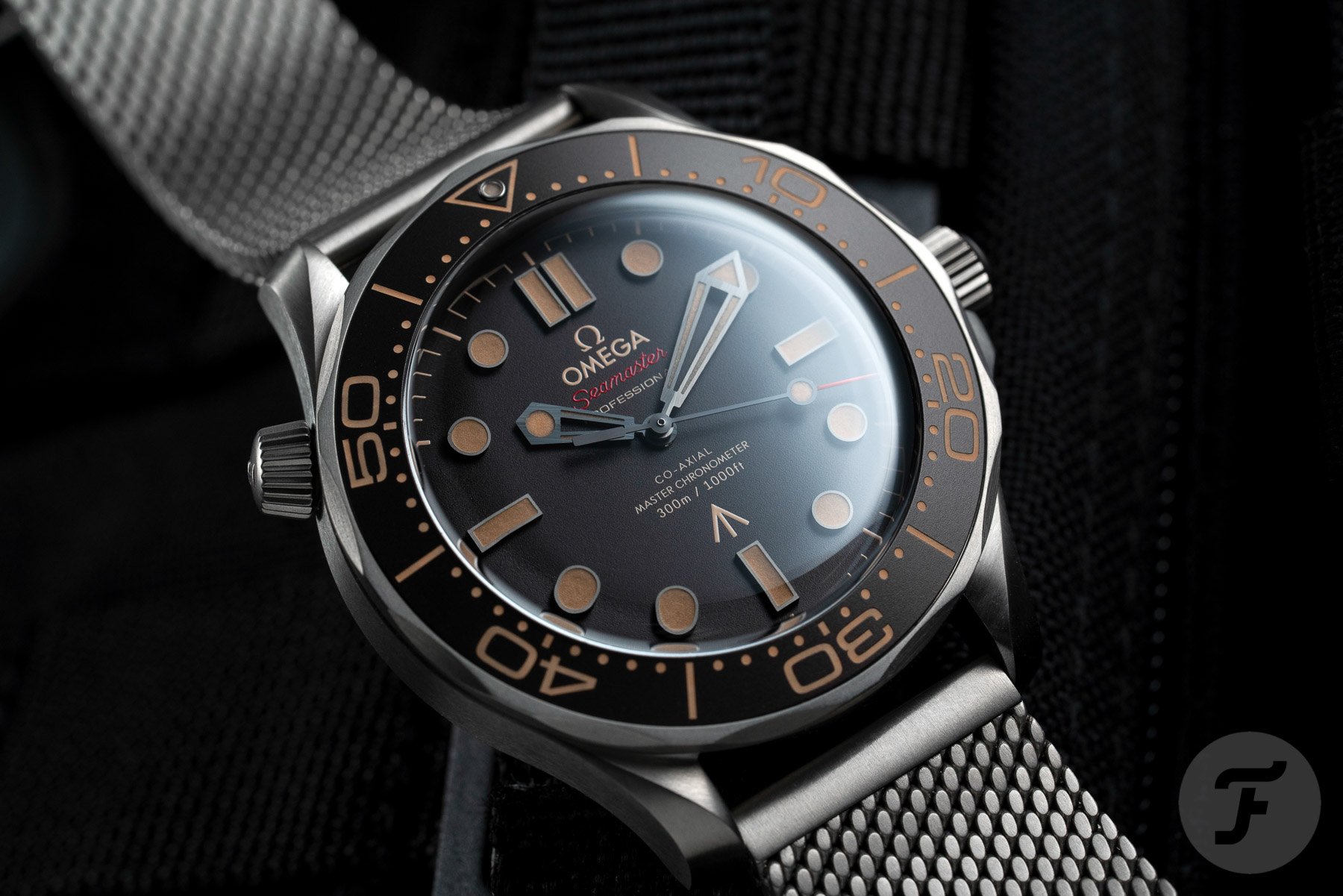 The evolution of Bond's Omega Seamaster 300M
007's Seamaster 300M came a long way since 1995 (the watch itself was introduced in 1993). From a no-nonsense diver's watch in stainless steel with 300 meters of water resistance and an ETA2892-A2 based automatic movement or quartz movement, to a modern 42mm titanium watch with a mesh bracelet with a Master Chronometer certified movement. Side-by-side, these watches are clearly related, and yet have a very different appeal.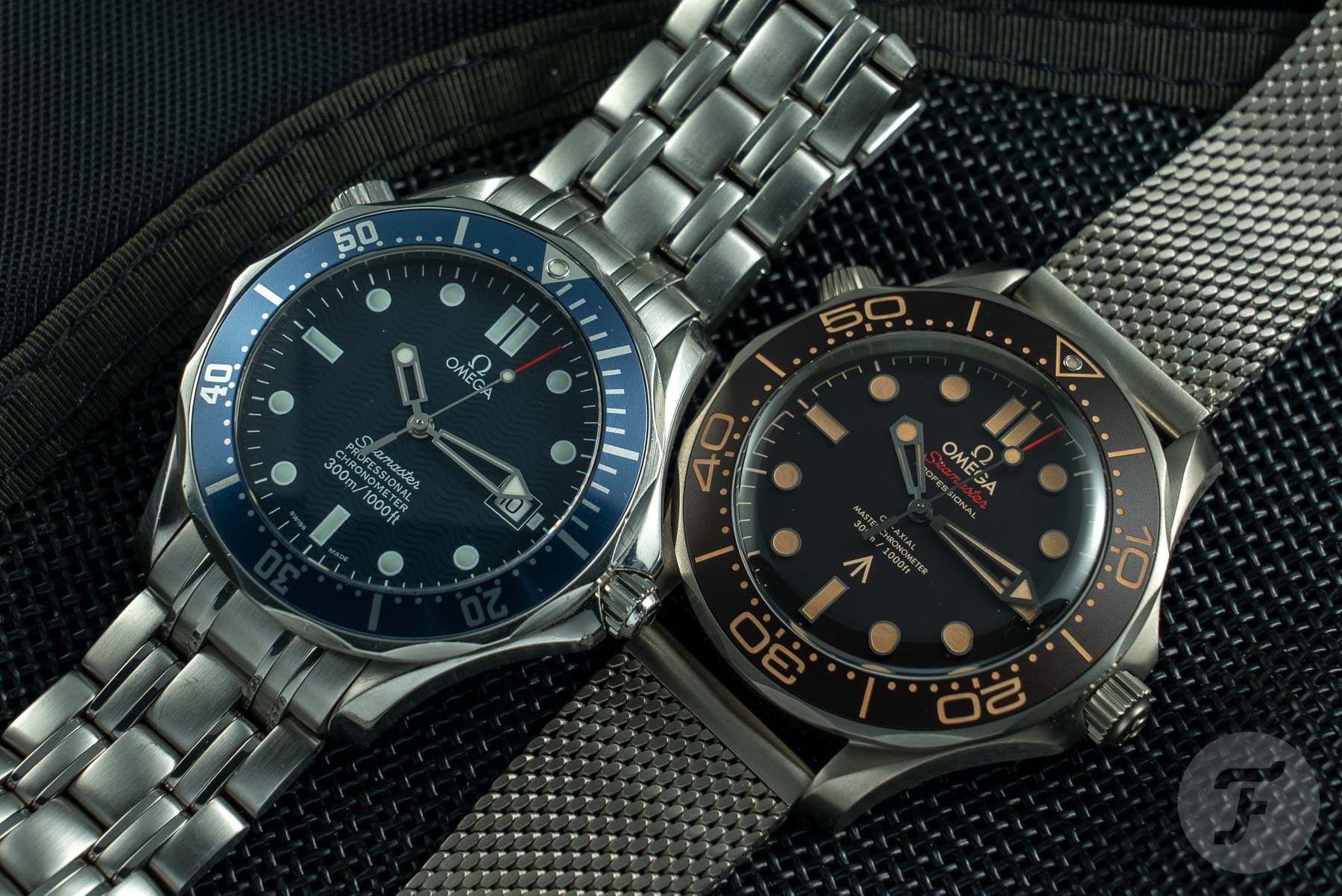 From 9 rows to mesh
Although the Seamaster 300M 2531.80 in the picture above is clearly a product of the 1990s, it aged quite well and can be considered a classic today. The bracelet is one I disliked for a period of time, as the 9-rows of links made it a little too busy for me, but for a few years now, I kind of appreciate it actually.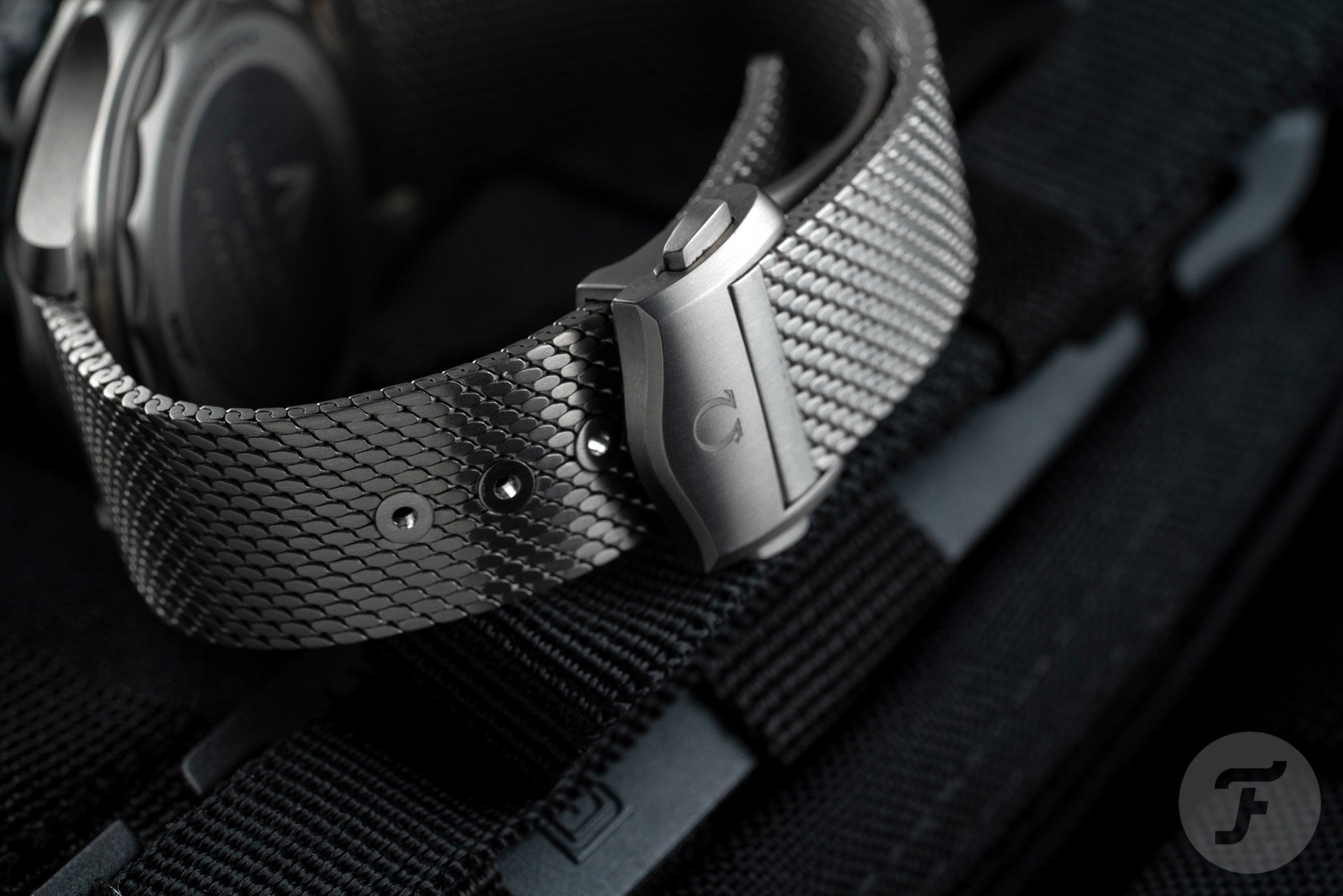 The Omega Seamaster 300M NTTD comes with a NATO strap, but can also be purchased with a titanium mesh bracelet. The price difference between these two options is €1,000 (€8,100 for the NATO version with reference 210.92.42.20.01.001 and €9,100 for the all titanium reference 210.90.42.20.01.001).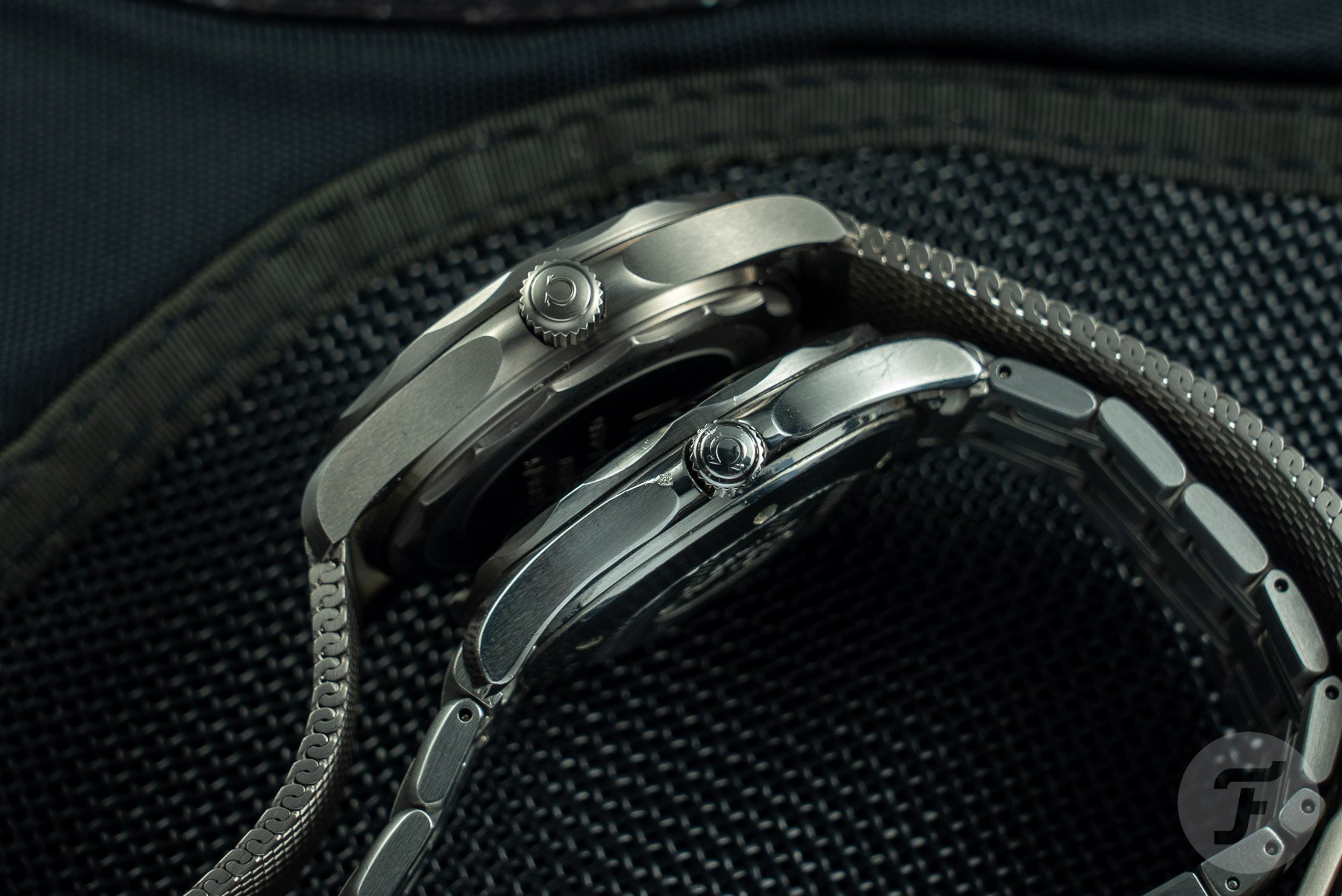 Just like Daniel Craig
Compared to Pierce Brosnan as James Bond, Daniel Craig is less refined, and perhaps a little bit tougher. The Seamaster 300M NTTD also received its dose of steroids, with a 42mm case instead of 41mm, and a more substantial case height. I remember wearing the 41mm Seamaster 300M back in 2001 or 2002, and someone commented that it looked like I was wearing a wall clock on my wrist. So big! How times have changed since then. Or perhaps I did. Because the 41mm Seamaster 300M with its rather thin case profile looks like a very modest diver's watch compared to what's out there today.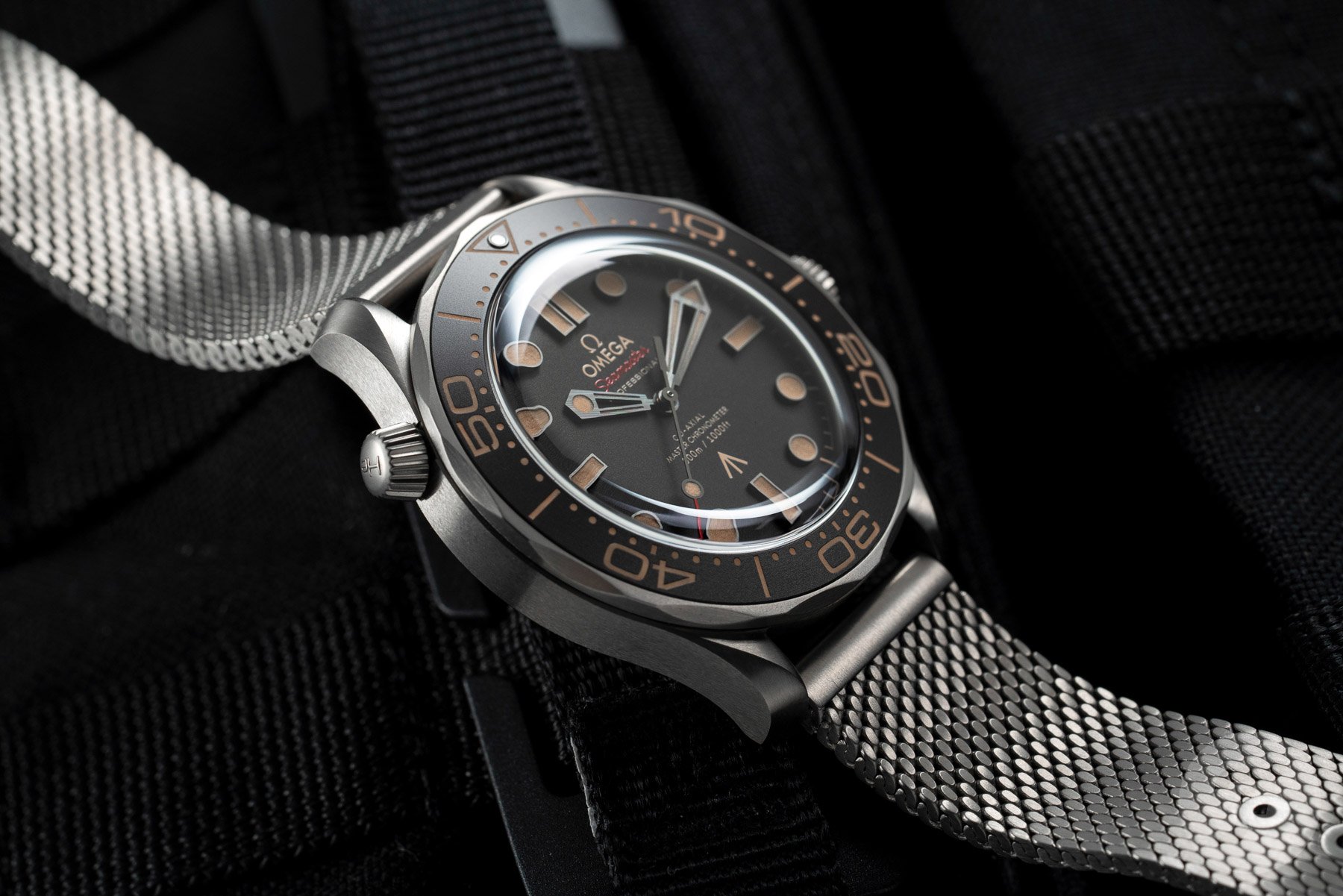 The current (2018) Seamaster 300M is also 42mm. Everything became bigger about the NTTD watch though. The case, crown, printing, hour markers, and the bezel.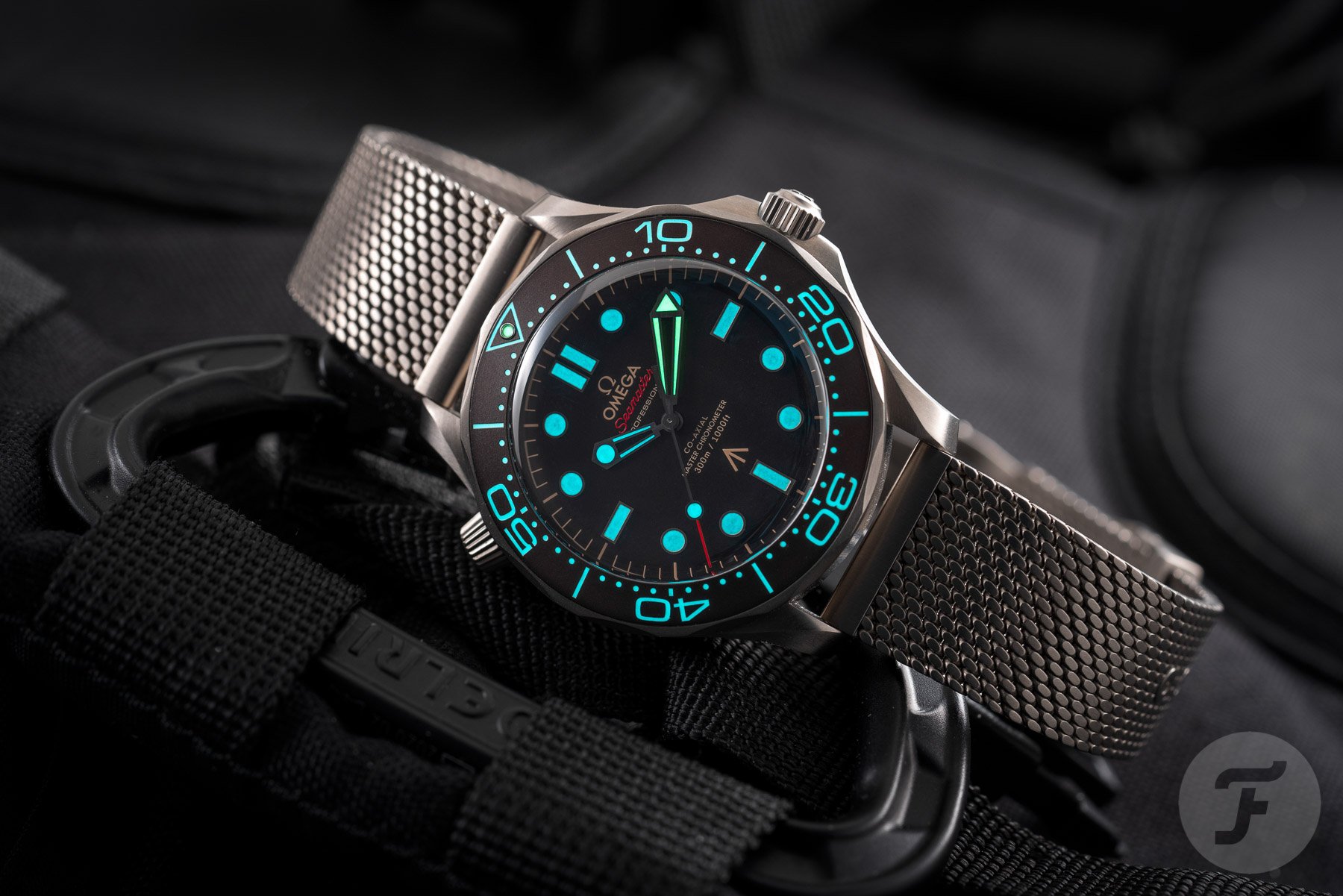 Where the very first Omega Seamaster 300M watches had dials and hands applied with tritium (this changed to luminova around 1998), the Seamaster 300M NTTD uses two different colors of Super-LumiNova. Blue for the hour markers and hands, except for the minute hand and the triangle on the bezel. Those are green, to make a proper distinction as these are used for the remaining dive time. The first Bond watch had a blue aluminum bezel insert, with silver-colored non-luminous markers.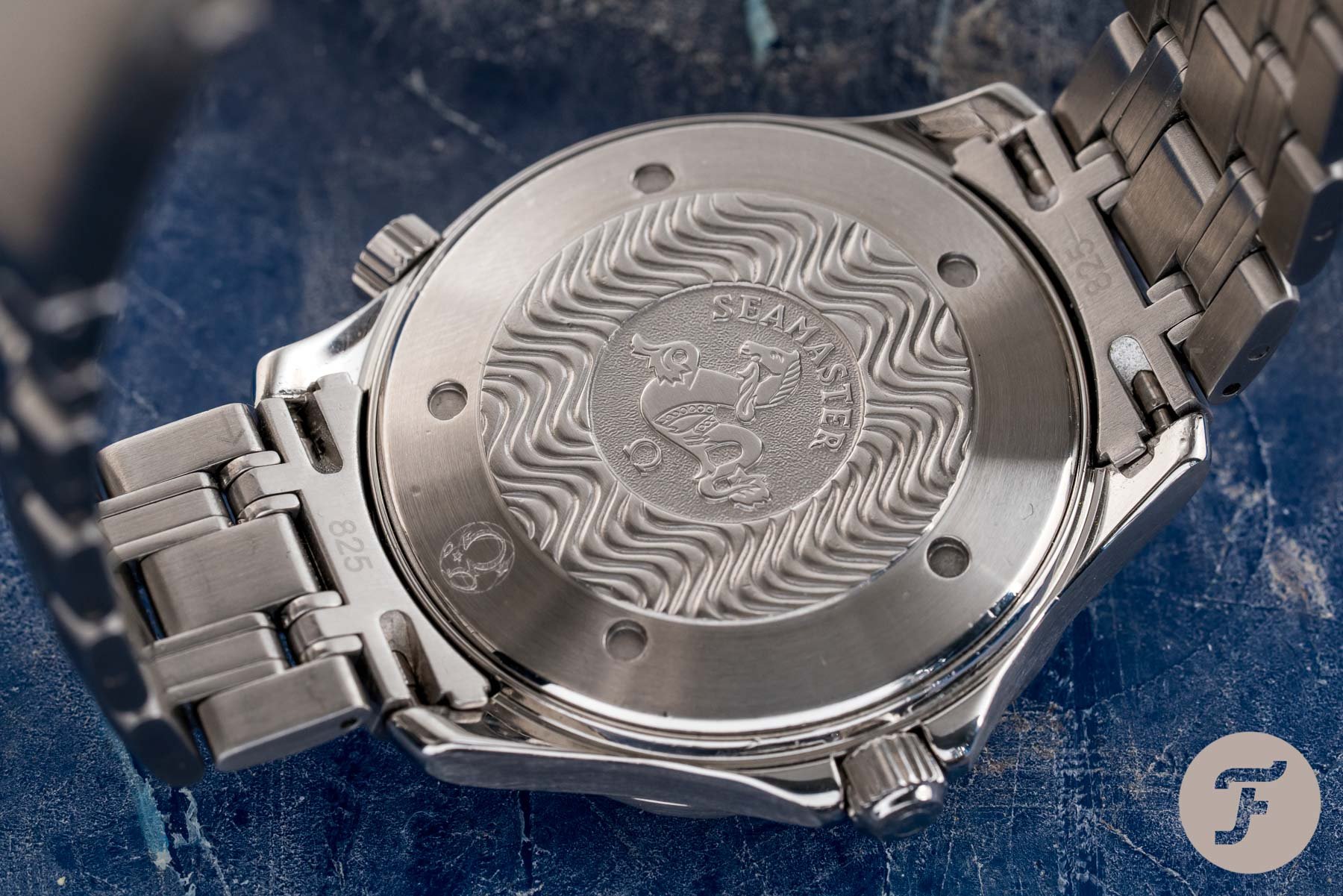 From waves to a military inscription
One of the cool features (at least in my opinion) of the Seamaster 300M from the 1990s was the wave pattern on the case back matching the one on the dial. In the center, the famous Hippocampus logo is in bas relief.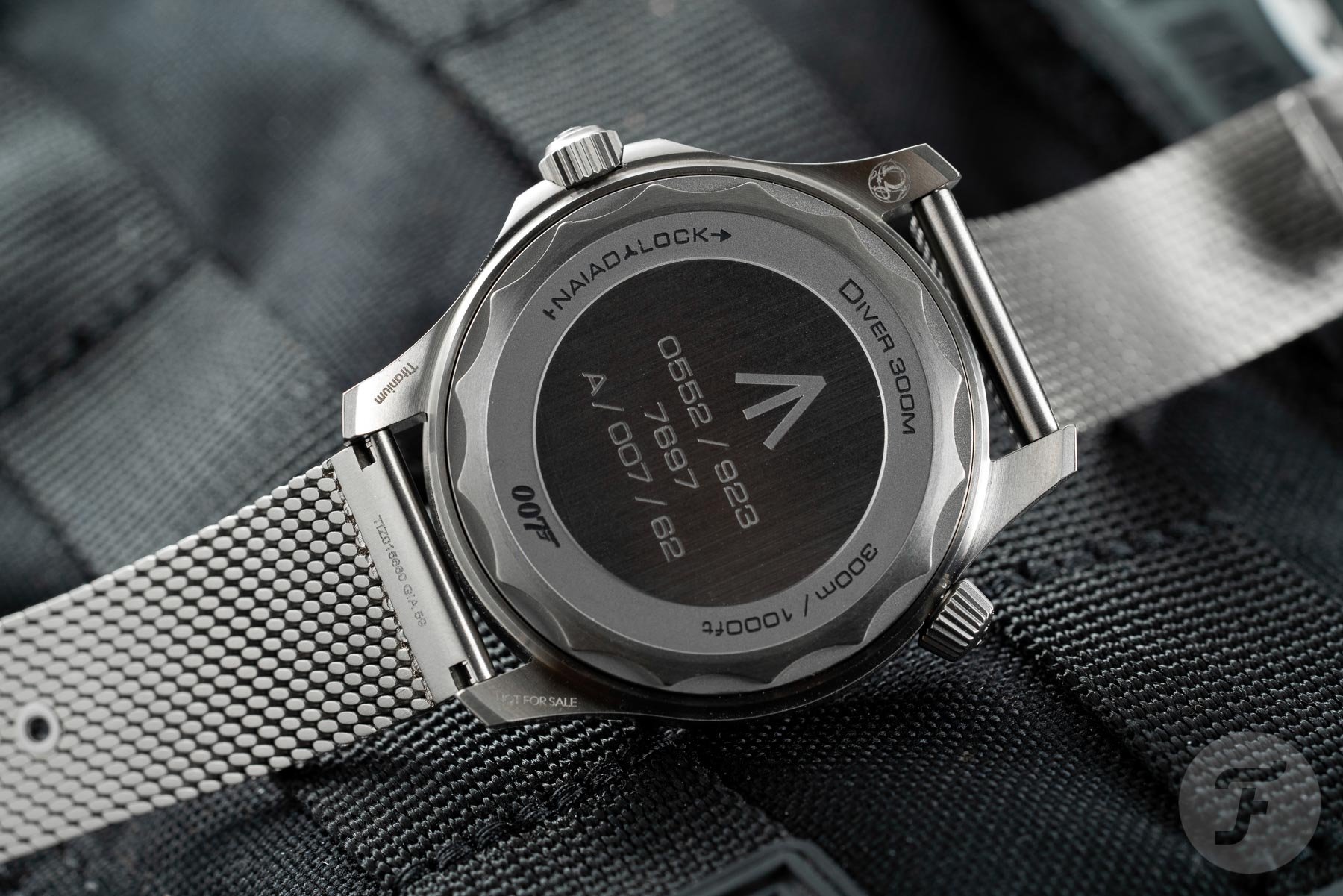 The titanium Omega Seamaster 300M that is on the wrist of James Bond in No Time To Die, has a more military-inspired case back. The numbers on the case back follow the format for genuine military-issue watches. "0552" is the code-number specified for Navy personnel, with "923 7697" being the number for a divers' watch. The letter "A" is a code used to signify a watch with a screw-in crown, while "007" is James Bond's iconic agent number. Finally, the number "62" is the year of the very first James Bond film. Then, there is the 007 logo with the gun in the outer part of the case back.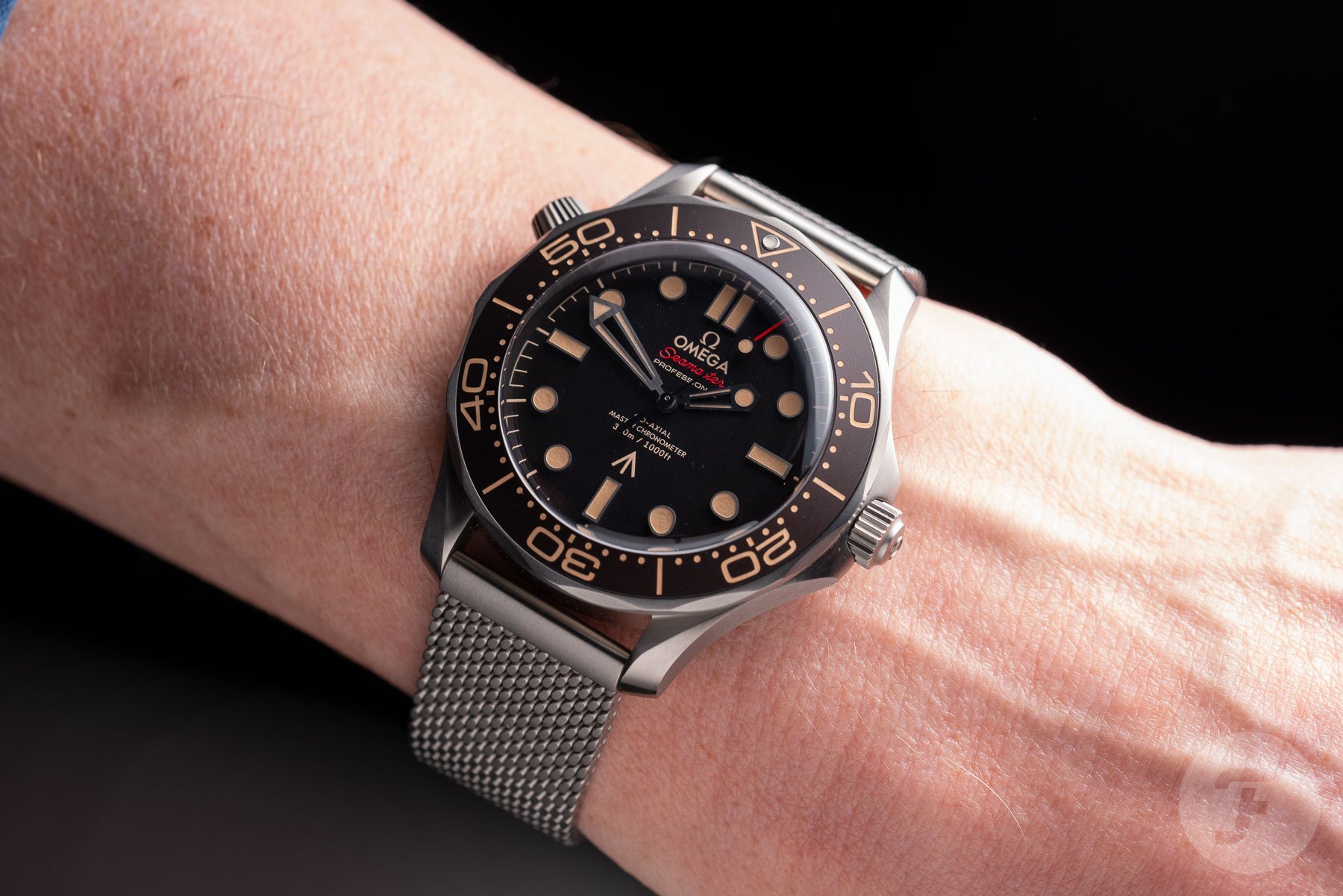 No Time To Die
There's no doubt that the Seamaster 300M NTTD version is the better watch when it comes to specifications. Beauty is in the eye of the beholder, and both can also perfectly co-exist in a collection. Looking back at the Bond movies with Pierce Brosnan, I also feel Craig (although very different from any previous Bond actor) has been an improvement. But I am not a Bond expert by any means and those who are might have a different opinion about that. When it comes to the watches though, I will say that the Seamaster 300M with references 2541.80 and 2531.80 aged a little bit better than Brosnan's role as 007.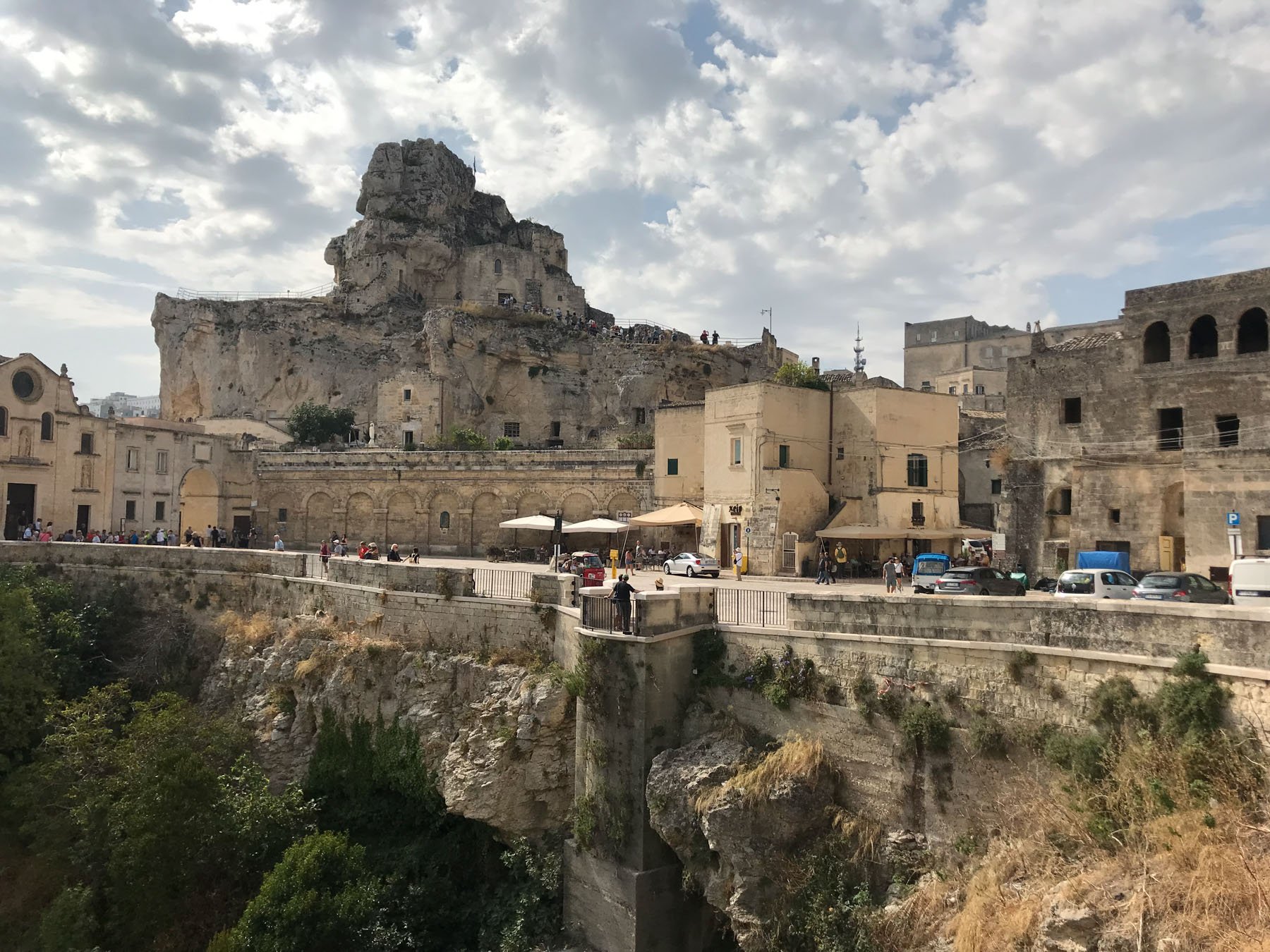 I am looking forward to seeing the new No Time To Die movie in the theatre this evening and am curious to see if it will spike the interest in mechanical watches to a new generation of future watch collectors, just like the blue Seamaster 300M did in the 1990s.