The Fast And The Fratelli: Massena LAB Uni-Racer Vs. Farer Bernina
Two pieces of vintage cool perfection duke it out
Welcome to The Fast And The Fratelli. With your help, we will find the best racing chronograph of the past ten years. According to our very fair rules, each editor will select two watches that must be able to track elapsed time for at least one minute. The watches need to feature both a tachymeter scale and a mechanical movement. And let's not forget the "fresh and awesome" factor. But we'll leave that up to the Fratelli to decide. Unfortunately, you can only vote for one of mine, but they both "kick gas." They are the Massena LAB Uni-Racer and the Farer Bernina.
Gentlemen, start your engines! Today we bring you two vintage-inspired chronographs powered by the smooth, manually wound Sellita SW510. And they're two very different approaches to the genre, indeed. Me? I love 'em both. So let us know which one of these sharp, colorful pieces of vintage cool should make to the next round. Will it be the obsessively researched and constructed Uni-Racer from Massena LAB? Or a searingly bright pop of red-and-white freshness, the Bernina from Farer? Can I have both, please? No? Oh well. Vote, vote, vote!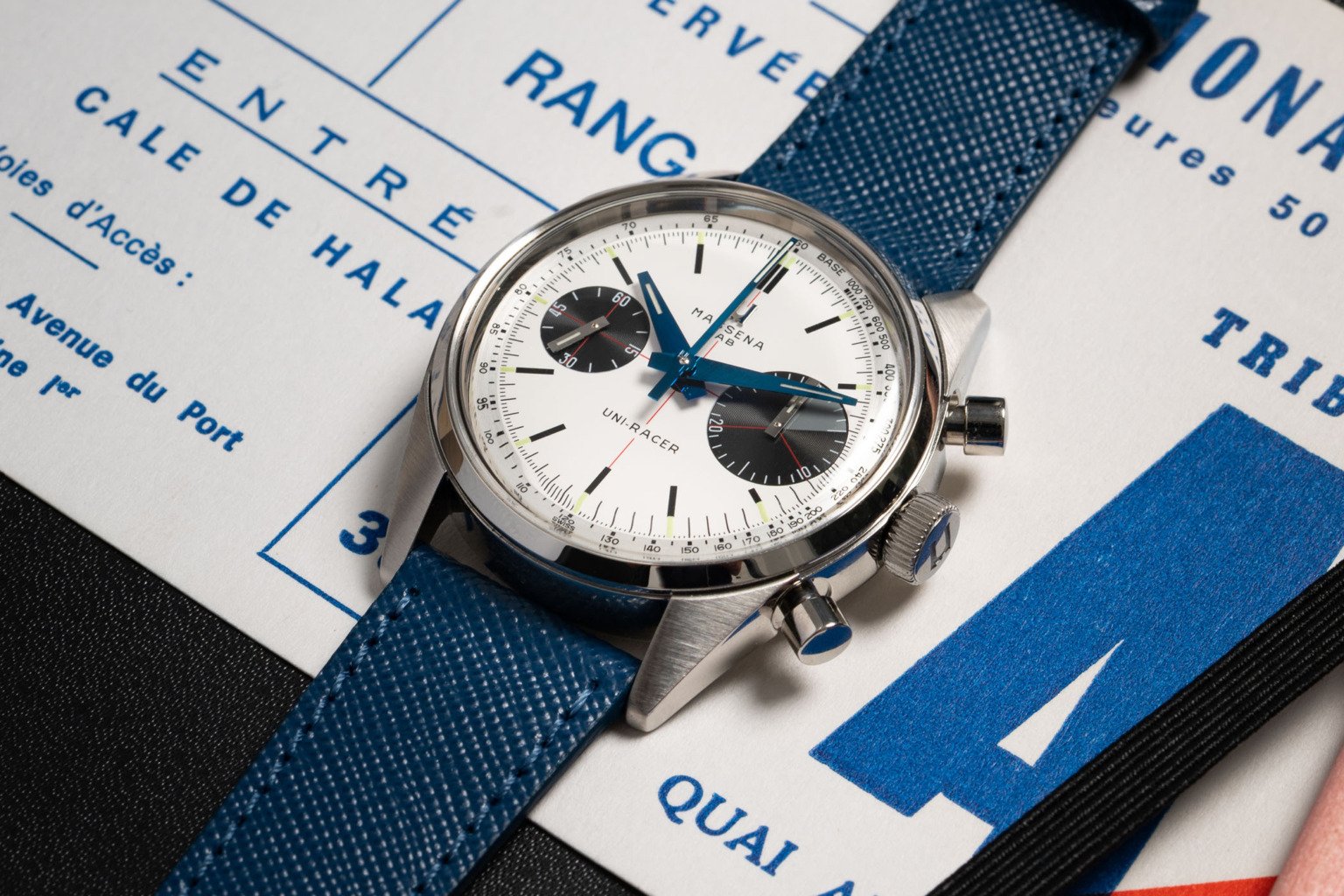 Massena LAB Uni-Racer
The secret LAB of William Massena has a short but exciting history of collaborations with a disruptive edge. The watches exhibit a wide scope of taste and style, and compared to the brand's previous project — a vintage bronze version of the MB&F T-Rex — the Uni-Racer is a perfect case in point. So far, so diverse. With the Uni-Racer, Massena cheekily found inspiration in the basket of sports chronographs, and in particular, one of his own unattainable favorites. This brought us the fresh yet familiar Massena LAB Uni-Racer. And to be honest, I remember the unfair barrage of critique it received at its launch. Yes, this is an homage, but an obsessively different one.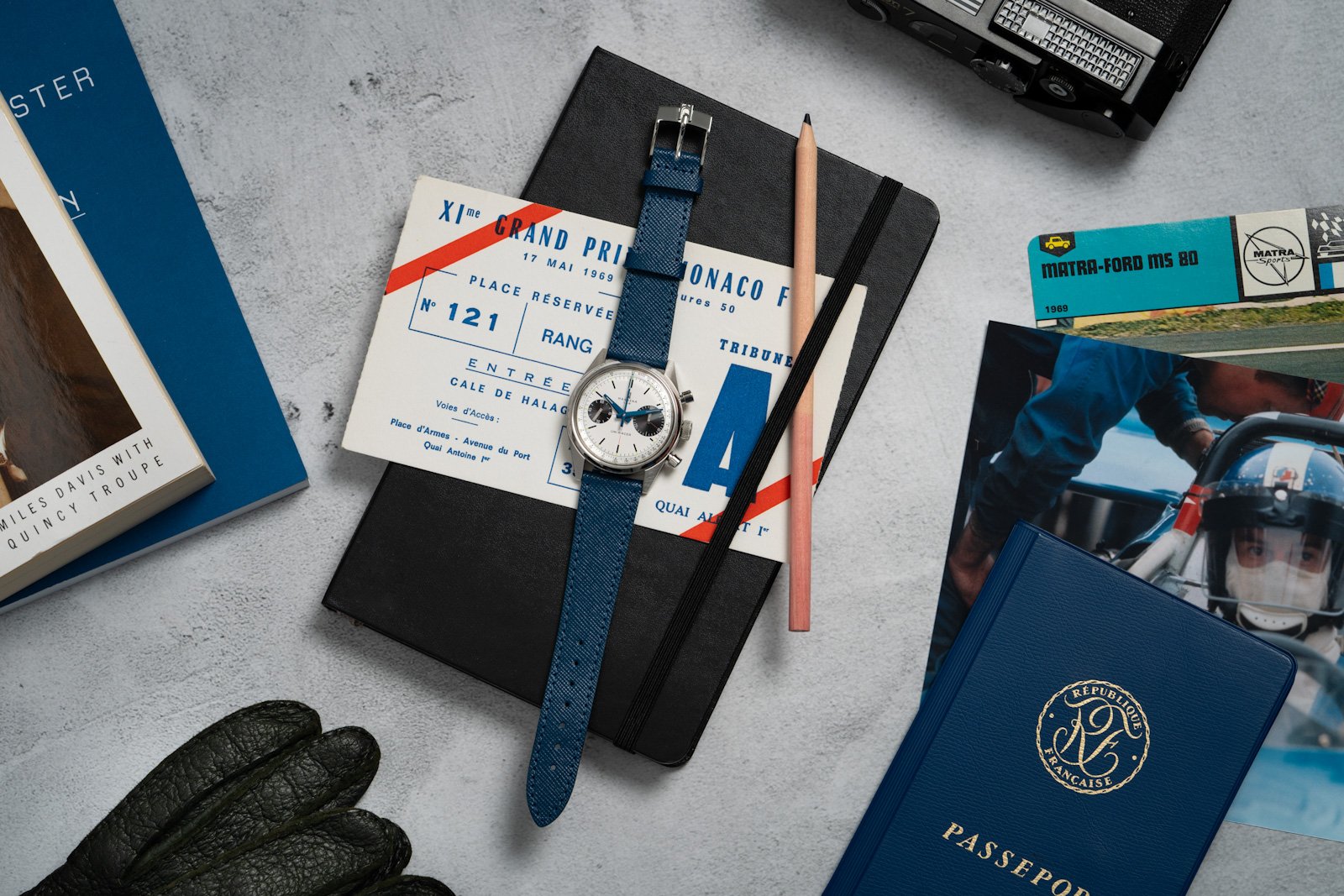 Deep research makes perfect
Rather than pulling random design elements from the 1960s, Massena and his LAB scientists spent three years researching the elusive Uni-Compax "Big Eye" by Universal Genève. The resulting Uni-Racer redefines the original through a sharp lens (for some, too sharp), and hits several metaphorical nails on the head. For some reason, many a fickle vintage collector was disgruntled with the watch. Let's call it a love/hate situation. But I'm happy to stand on the barricades and proclaim it a beaut', as I'm a practical guy. For one thing, I could never afford the original. The joy of having vintage perfection with added everyday toughness is not unreasonable. It is the raison d'être for Tudor's success, and we don't see angry mobs circling that brand's boutiques when a new Fifty-Eight drops, do we?

A natural choice
Call me ignorant, but I was not aware of the original Universal Uni-Compax "Big Eye." This alone makes it a logical choice for such an obsessive homage, enriching the very term. Within a 39mm case, only 2.5mm larger than its inspiration, sits the vintage-feeling, manual-winding Sellita SW510 M. It's a no-date caliber based on the Valjoux 7753, and it has a solid 58 hours of power reserve. I have this movement myself in a Hanhart 417ES, and it is both accurate and silky smooth to wind. Available with either a crisp, white panda dial or a monochrome black reverse, both choices of the Massena Lab Uni-Racer could easily win The Fast And The Fratelli if you ask me.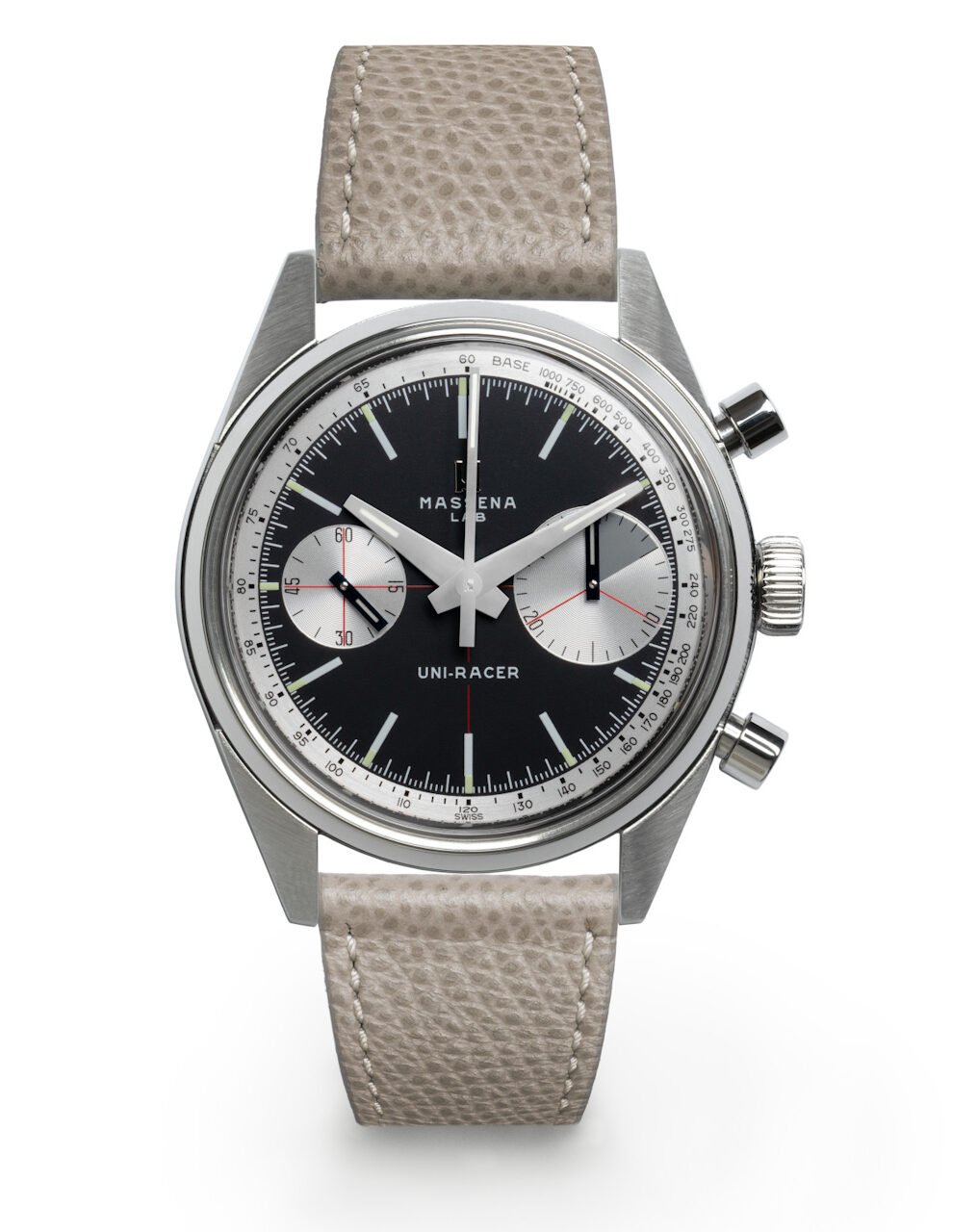 Those details
The blunt hour and minute hands match the register pointers, and a crosshair ties the design together. The asymmetric chronograph registers, each with pops of color, are snailed and recessed, while an outer tachymeter scale with crisp print frames the dial itself. The blunt baton hands on the registers are well-proportioned, and blue heat-treated ones fascinatingly change color in the light. I mentioned earlier that this watch was deeply researched. As such, the greenish Super-LumiNova placed discreetly at the base of each hour marker is a completely custom color. The final piece of the puzzle is the acrylic crystal, fitted to ensure a 50m depth rating and subtly engraved "M" for Massena. The Massena LAB Uni-Racer was $3,495, and if you dithered more than a second before adding it to your basket, all 400 evaporated from the site faster than you could say "homage."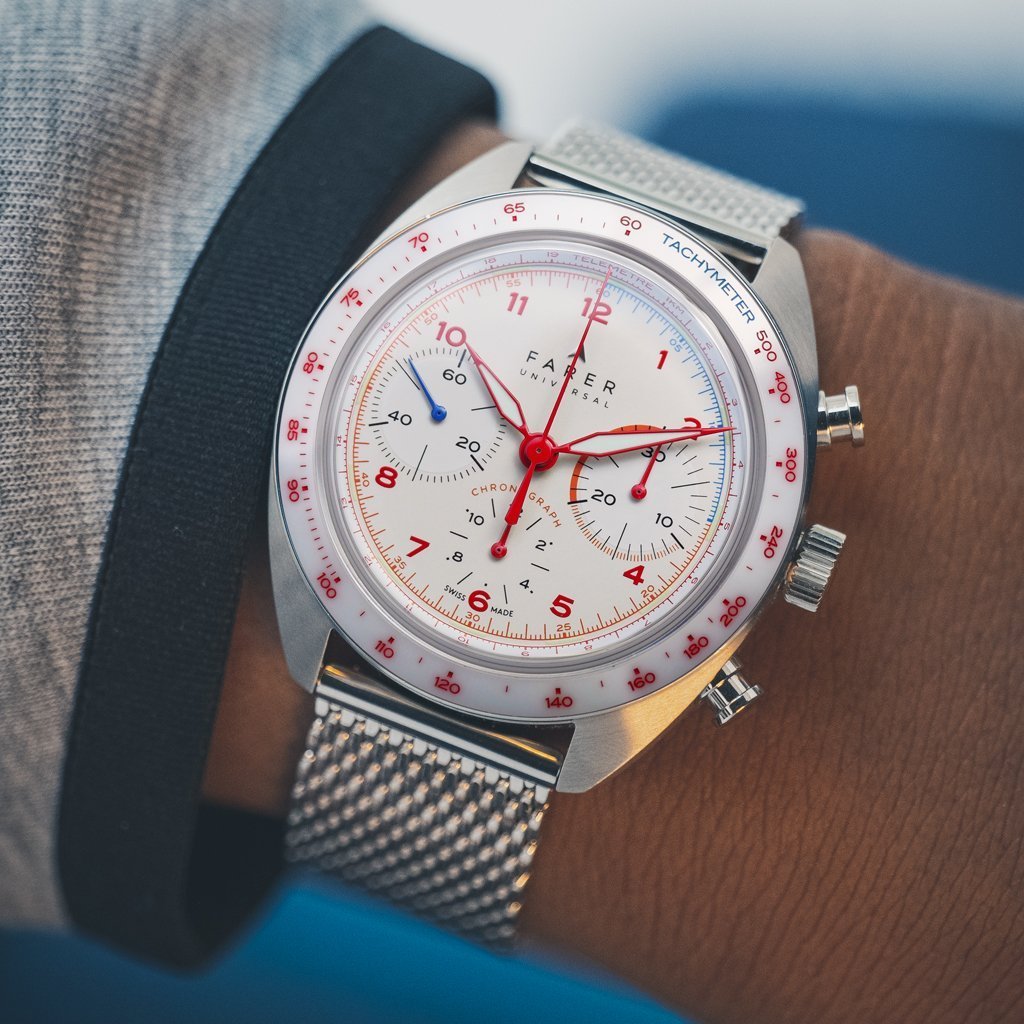 Farer Bernina Chronograph
One word: FRESH. Like fresh alpine snow with candy fallen from Santa's sleigh, the Farer Bernina is as crisp as it is, well, tasty. This is the reason I love Farer! For some reason, I still don't have an example of its British tailoring for the wrist yet (I'll definitely have to get on that). In the Bernina, the colorful abandon which embraces the vibrant '60s is present, but in a contemporary flash of red and white. Come on, don't we have enough monochrome chronographs already?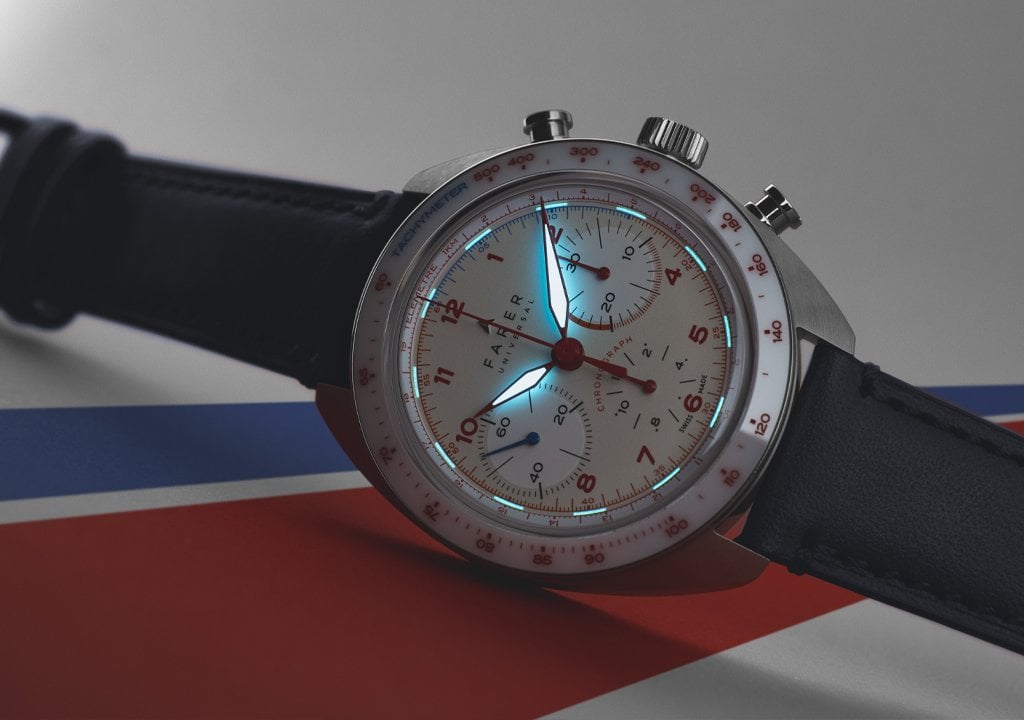 Do red and white make a perfect pair?
If you got red-on-white described to you, you might not equate it with legibility. But man, if those masters of color at Farer haven't pulled it off! The main dial scene is set in an almost creamy matte off-white. Then comes the flash, with twin sub-dials laid out in brilliant white, and pointers in red and blue to differentiate them. The main 60-second chronograph hand sits ready to go, in a searing bright red along with the dauphine-style hour and minute hands. These are filled with Super-LumiNova, while gloss red hour numerals encircle the dial. The eye-catching pure red is balanced by mid-blue, both in part of the telemeter scale, and in the "TACHYMETER" print at 1 o'clock. The ceramic bezel engraved with this racing red tachymeter scale completes the Bernina's "alpine sports" look, and it certainly works well indeed.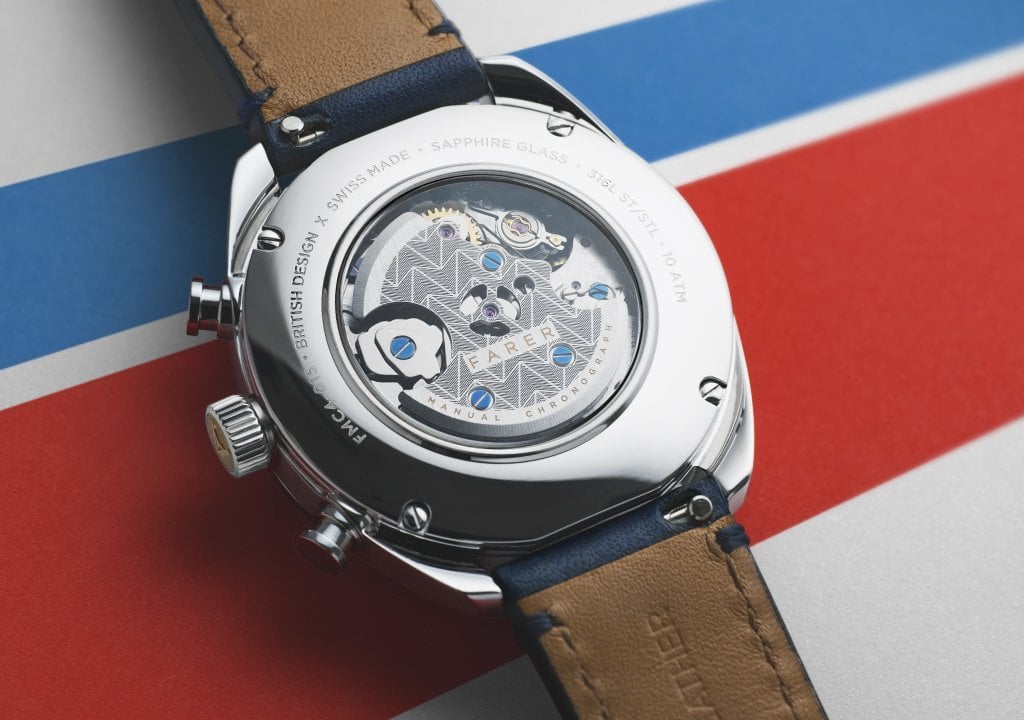 A case for the '60s re-imagined
The case is a vintage cushion-y affair, measuring 41mm in diameter, and with an applause-worthy lug-to-lug of 44mm. It's a classic '60s shape that's been brought up to date. The diameter and flashy use of red make the Bernina a contemporary and colorfully tempting offering. Behind the case back once again lies a Sellita SW510, but this time, it's the Elaboré-grade BH variant. The caliber has been fully customized for Farer, and it's delicious enough to occasionally wear this colorful chronograph inside out (that was only half-joking). With a price of £1,680 on a soft blue leather strap, it makes a strong case as a value prop. Check out the Bernina on the Farer website.
Vote down below for the watch you think should win this heat!
The Fast And The Fratelli — Massena LAB Uni-Racer Vs. Farer Bernina