The Fratello Watches Holiday Gift Guide 2021
For all you last-minute shoppers
What better way to make the most wonderful time of the year even better than by giving your watch-loving loved ones some of the coolest goodies out there? Big budget or small budget, the Fratello Watches Holiday Gift Guide has you covered. With picks ranging from €15 "Christmas decorations" from NOMOS all the way to €730 for the Bennet Winch watch roll (and above), there's bound to be something for everyone. So check out these carefully selected picks from our editors and treat your loved one (or yourself) to one of these great gifts. 'Tis the season after all!
You may notice that some of our editor's gift ideas below have already been covered on the site this year. And if that's not testament that we mean business with our recommendation, then I don't know what is. Even if you've already done your fair share of Christmas shopping this year, take a quick look. You never know, the perfect gift might still be waiting amongst the selected ideas. Without further ado, I'm happy to present the Fratello Watches Holiday Gift Guide 2021.
Dave — Ugears Sky Watcher Tourbillon Table Clock mechanical model kit
Dave's first pick is one that I may well have to pick up for myself. Have you ever wanted to follow in the footsteps of Abraham-Louis Breguet and build your own tourbillon? Well, you could dedicate your life to becoming a watchmaker, and with years of practice and experience, you could perhaps get there. You could also pick up the Ugears Sky Watcher Tourbillon Table Clock model kit, and without needing any special tools or equipment, build your very own fully functional table clock. Now, I can definitely see why Dave went with this as his pick. Him being a big fan of Urwerk, the rotating digital display and open-worked mechanical nature of this clock are somewhat reminiscent of some of the brand's unique creations.
Whether you want to put this on your work desk, or on top of a shelf, I'm sure that the satisfying mechanical sounds of this wooden clock will be extremely satisfying. Plus, building it will help you better understand how your favorite wrist-dwelling mechanical companions work. With 338 components and an estimated build time of 15 hours, I can think of no better way to spend a couple of snowy weekends in January. I know what you're thinking though. When it comes to watches, "tourbillon" is often accompanied by a six-figure price tag. Well, you don't need to worry about that here. The model kit can be purchased directly at the Ugears website for €72.90 (at the time of writing this article).
Dave — NOMOS Gold-Plated Blanks Set
Dave's second pick is not just extremely cool, but it is also a clever move on his part. Now, you may, or may not, know about the "accessories" section on the NOMOS website. If you didn't, you'll have to accept my apologies in advance for the funds it will almost certainly drain from your bank account. It's absolutely packed with awesome gifts, for both NOMOS fans and watch lovers in general. Now, it's no secret that here at Fratello we have a soft spot for the Glashütte brand. I think that our latest limited edition, the Zürich Weltzeit "The Hague," having sold out immediately after its debut proves that this love is shared by the Fratelli. 
Now, the brand does not indicate a specific purpose for these trinkets, but I could see myself using them as bookmarks. More crafty folk may think of turning these into earrings or a necklace. That being said, no purpose is as suitably festive as that suggested by Dave. This set of five gold-plated parts blanks is not only fascinating from a watchmaking perspective, but it can also serve, as Dave pointed out, as the perfect Christmas tree ornaments! A perfect way to get into the holiday spirit for those of us horologically inclined. And for just €15 on the NOMOS website, it's our most affordable pick!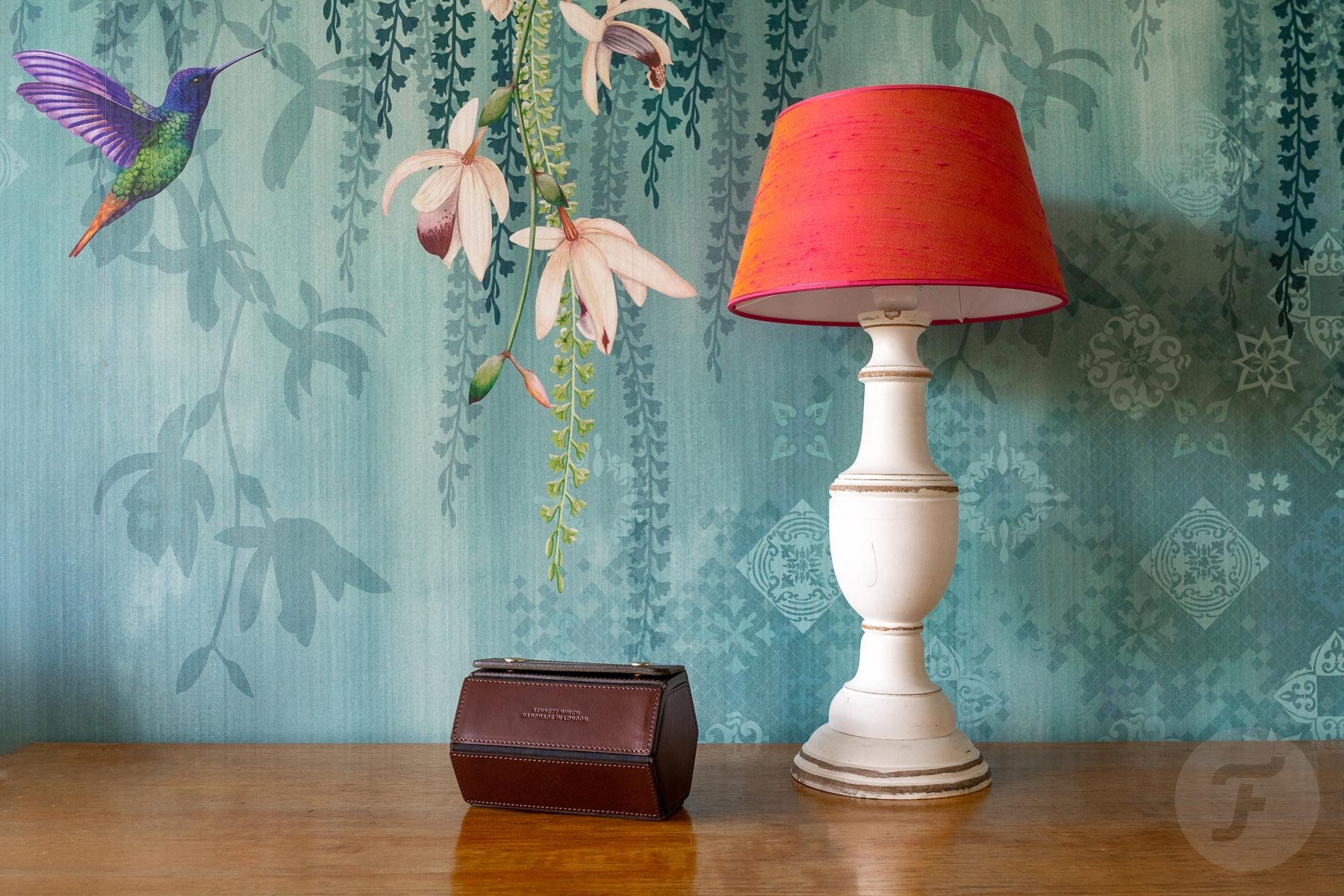 Gerard's pick — Bennett Winch Watch Roll
We spring now from a budget-friendly pick to a break-the-bank option. Selected by Gerard, who wrote about this pick earlier this year, this is without a doubt the best way to transport or store your favorite watches. If you're making your way to visit family and friends over the holidays, and you're anything like me, traveling with just one watch just won't do. So what better way to bring your favorite watches along than with a watch roll? This isn't just any watch roll, though. The Bennett Winch watch roll is specifically designed for travel. Every single one is handcrafted in London, using the finest materials, ensuring longevity, and providing protection to your beloved timepieces.
The price for the double watch roll is €585, the triple will set you back €735. Both are available in brown and black on the Bennett Winch website. Look at it as a long-term investment in a quality product, and if you're still not convinced, check out Gerard's review of the watch roll here.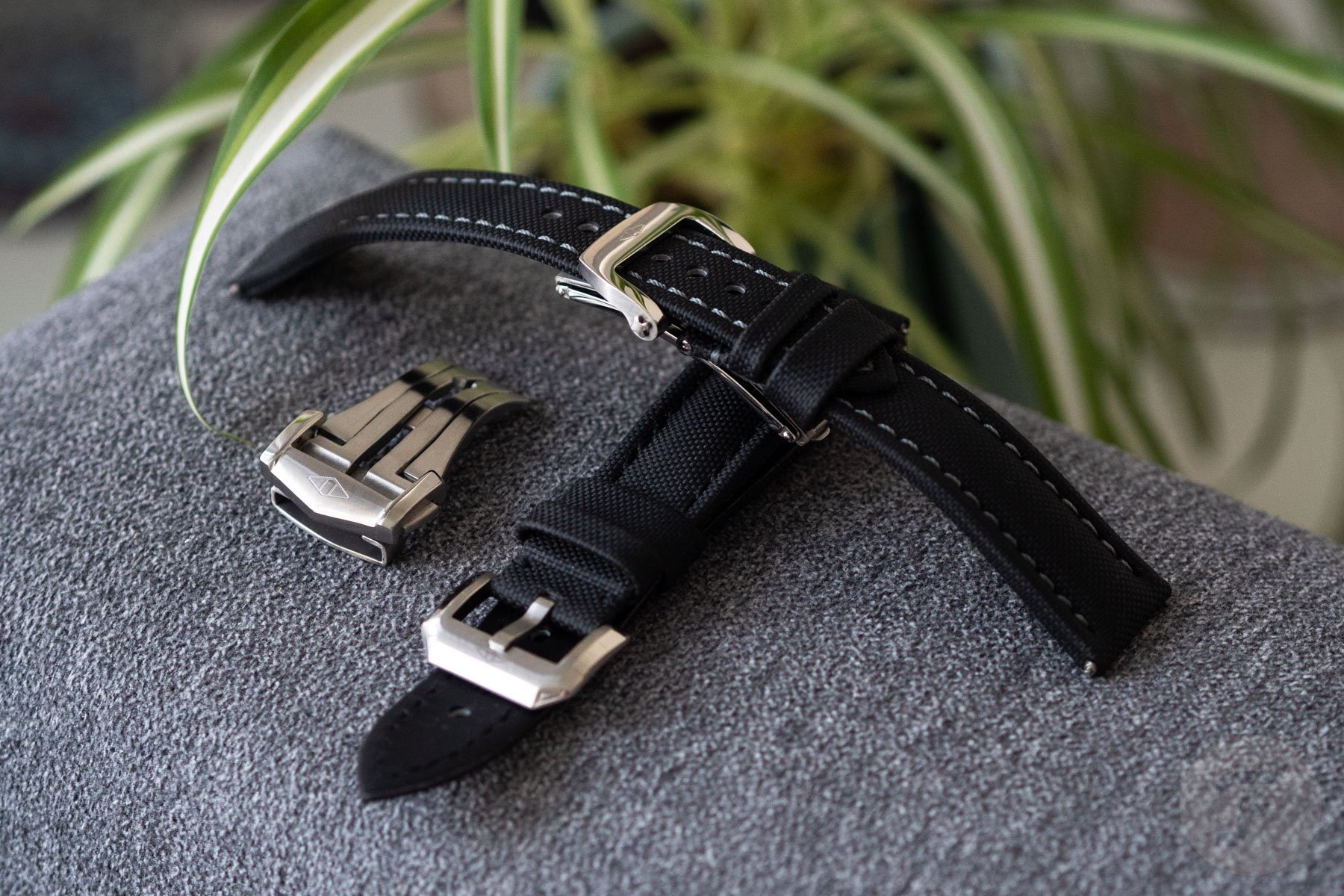 Nacho — Artem Straps Sailcloth Strap / Deployant Buckle
We've seen some pretty cool stuff so far, and I don't know about you, but my Christmas shopping list has definitely grown by at least a couple of items. But before I go on to reveal some more picks from other editors, here is my first pick, and the first strap recommendation. I'm confident in saying that you've probably already heard about Artem sailcloth straps. The Australian brand has been providing the finest non-OEM sailcloth straps out there for a couple of years now. The brand was created by two friends in Adelaide, Australia with the goal of creating the perfect sailcloth watch strap. And create it they did! When looking for a strap for my watches, I look for four things: comfort, taper, resilience, and price. I want a comfortable strap, that isn't stiff and uncomfortable, preferably with some taper for a slightly old-school look.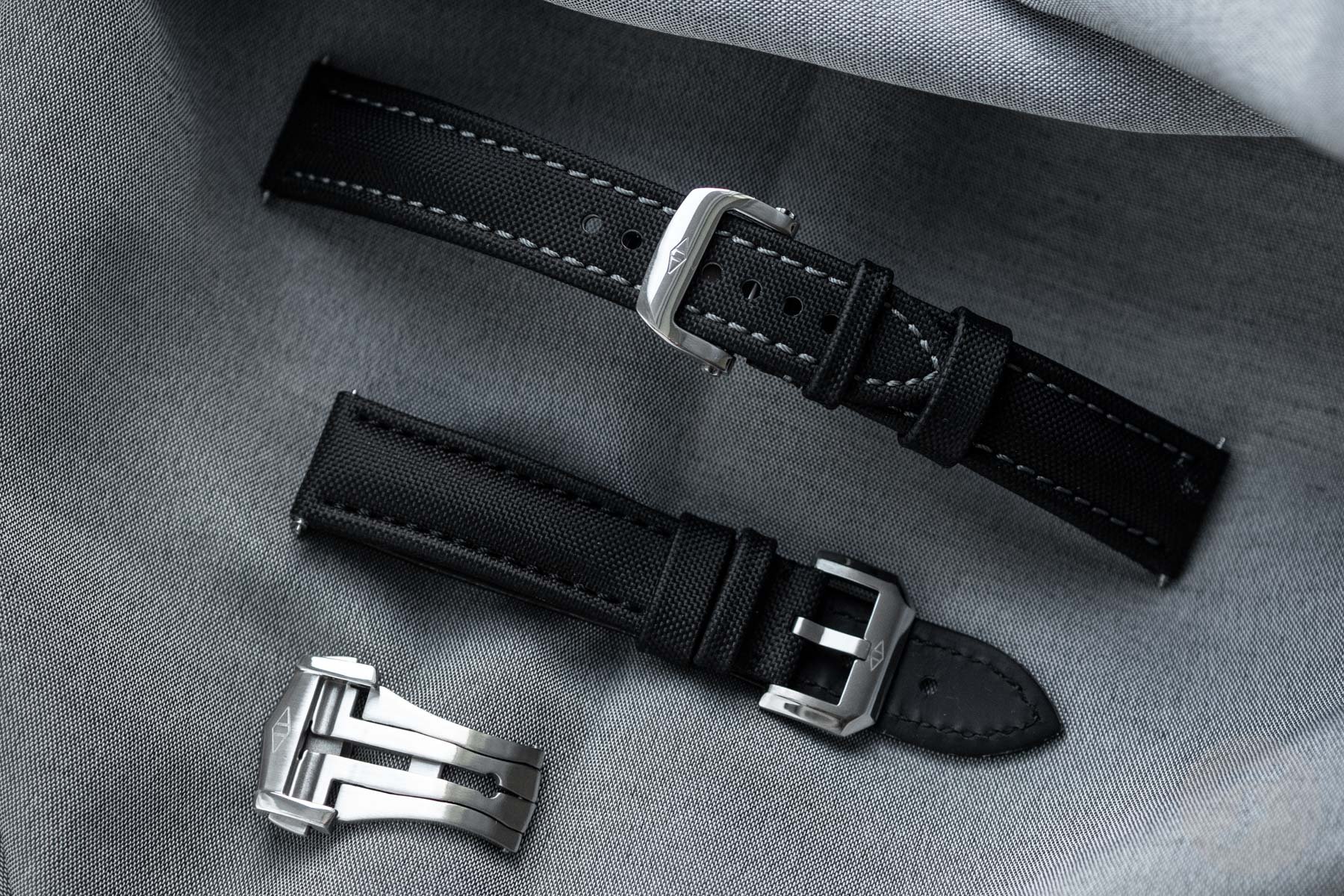 I also don't want the strap falling apart after a couple of weeks, or from having gotten it wet after jumping in the pool. The final factor, and one that flies right out the window when it comes to OEM options, is a reasonable price. You can expect to pay well into the hundreds of euros for an original strap from premium brands such as Omega, Breitling, or Blancpain. However, the Artem sailcloth delivers on every aspect mentioned above for just $85 (€75.28). With five different stitch colors and a number of sizes available on the Artem site, these are the perfect stocking stuffer for anyone looking to spruce up their favorite dive watch. And should your loved one already own one, you can always get them a deployant buckle, a number of which the brand also offers.
Nacho — Cheapestnatostraps Watch Box
It seems that watch transportation and storage is a recurring topic in this year's holiday gift guide. We've already seen G2's Bennett Winch watch roll, the premium option for those looking to hit the road with their watches. However, it's always good to have another, slightly more affordable option. In keeping with Gerard's pick, I've gone with a two-watch travel/storage solution. This time, the format is a little bit different, as instead of a roll the Cheapestnatostraps Watch Box is more of a folding case. Having had experience with other Cheapestnatostraps products (namely NATO straps), I'd say it's a safe bet that you'll be getting plenty of bang for your buck.
A zipper holds the two compartments closed, and a separator made of a soft material keeps the two watches nicely nestled into their corresponding slot without allowing for them to come in contact with each other. Throw it in your suitcase or backpack and you're ready to roll! The CNS watch box is available in a number of colors for the outer leather shell. For just a few cents over €35, you really can't go wrong! Check them out on the Cheapestnatostraps website here.
Andreas — Montblanc MB 01 Over-Ear Bluetooth Headphones
Speaking of travel, Andreas gives us another perfect gift for those of you who spend time on the road. That's right, there's nothing that makes flying more enjoyable than a pair of wireless noise-canceling headphones. And the Montblanc MB 01 headphones are just the ticket, offering both comfort and amazing audio quality. Plus, they're pretty darn sleek and stylish. That being said, these headphones would be perfect companions for working in a busy cafe or enjoying some music at home. The Montblanc MB 01 headphones have a hidden ace up their sleeve. They have a true Hi-Fi setting that can be accessed in their passive mode (when used with the included cable).
Not only that, but they come in a number of styles and colors. There's bound to be one that's perfect for your individual style, whether you want the classic black and silver pair for a stealthy look or the gold and brown for a classy touch. Or, if like Thor, you love the #ArcticWhite look, there's an all-white pair too. Starting at €590 for the standard model, these are perfect for the coming year, in which we'll surely start getting some frequent flyer miles under our belts! For more information, check out the Montblanc website.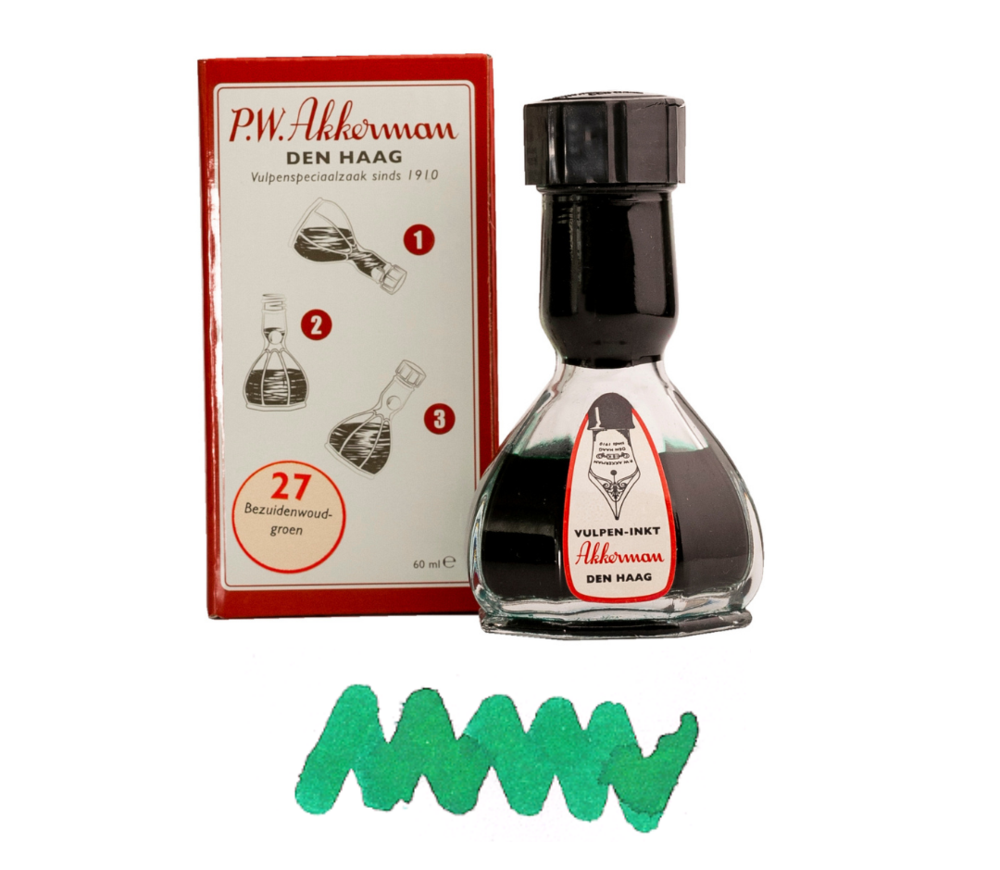 RJ breaks in
What? Didn't you expect I'd be making my contribution to the Holiday Gift Guide 2021? Buckle up and get ready for some of the best picks on the list!
If there's one thing I've learned this year, it's that watch enthusiasts love fountain pens. And vice versa, fountain pen enthusiasts love some nice watches. Perhaps it's because both items have mechanisms. Perhaps both have an emotional aspect or at least something that has to do with nostalgia. For those who'd like to try writing with a fountain pen (I can wholeheartedly recommend it), you don't have to spend €2,000 on a Montegrappa.
RJ — Lamy Safari or 2000
Give it a try with a cool Lamy Safari Original Savannah Gvreen or one of the brand's other special editions. They go for €20 or so. If you want to spend a bit more, the Lamy 2000 has excellent reviews. It's an iconic pen design from 1966 with Bauhaus inspiration. You can expect to pay around €200 for one, but you can also look for deals. If you want to spend even a bit more than that, try a Pelikan M600 or M800, which I find to be nicer writers than Montblanc pens. Just like with watches, you can also go vintage, but make sure the pen doesn't leak, the filling mechanism still works, and the nib is still in good shape.
When you did decide to go fountain pen, don't write with a boring black or blue, but try something different. Make it stand out! Go for inks like Akkerman's "Bezuidenwoud groen" #27, a wonderful green color, or try a red color from Diamine, like the "Writer's Blood" edition. A nice ink will set you back 10-15 Euro. What I personally like, is to use green ink in a green pen, red ink in a red pen, etc. A few pictures up is Akkerman's Den Haag Bezuidenwoud Groen (green).
RJ — Stone Island knitwear
Nothing beats nice knitwear for the winter. For several years now, I've been very attached to my Stone Island sweaters and knitwear. It's an Italian brand founded by Massimo Osti after he founded CP Company. We covered him and his watch collection here. The quality is impeccable, and everything is available in a variety of colors. You can take off the Stone Island badge on the sleeve if that's bothering you (like Mr. Hayek does). The downside of this knitwear? You need to handwash it. I learned the hard way, and now my wife can wear one of my lambswool Stone Island knitwear pieces I was so fond of. These don't come cheap (starting at approx. €270) but just try one, and you'll understand why. And going back to lesser knitwear? Well, let's just say it won't be easy.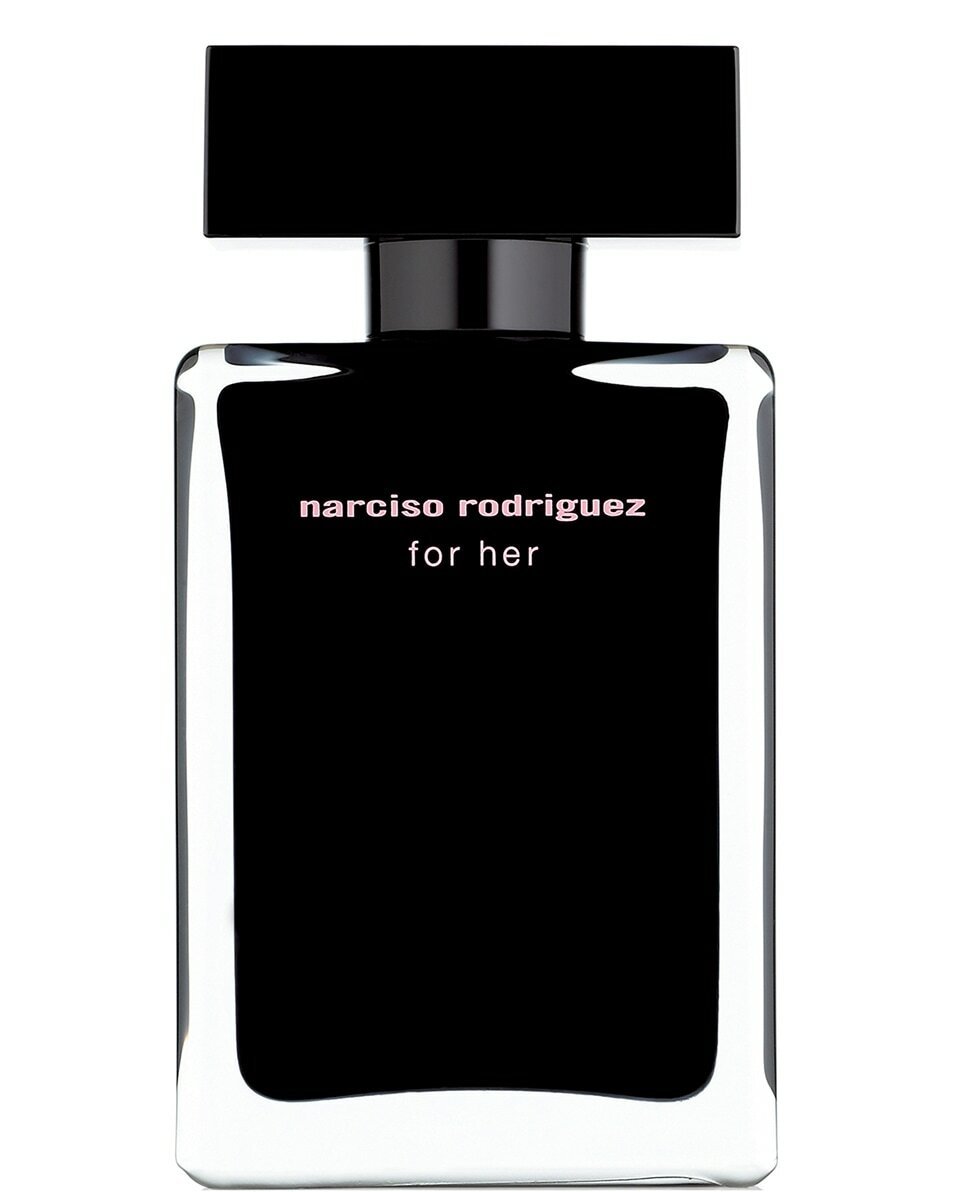 RJ — Fragrances from Acqua di Parma and Narciso Rodriguez
I also thought it would be nice to put something in here to buy for your significant other. As a man, I love the fragrances from Acqua di Parma. I tried many of them, but I keep coming back to the Colonia Essenza. That's my tip for you if your significant other is male. Availability is not always that good, but luckily you can order it directly from their website. They even do a nice wrap-up and throw in some goodies. For a lady, I love Narciso Rodriguez "for her". You can thank me later. Another fragrance for ladies that I like is Tom Ford's Black Orchid. That's definitely not for everyone though, and the Narciso Rodriguez "for her" is a safer bet. Prices depend on the volume, of course.
Jorg, Balazs, and Lex take over
For the next few items on the gift guide, I'll let Jorg, Balazs, and Lex take over. They will be presenting some of their brilliant picks, starting with Jorg. He's coming in hot with an awesome book, some clever speakers, and an awesome jacket. Next comes Balazs, who gives us a classic staple of Christmas gift-giving. Lex tops off the list with a perfect pair of sneakers and raw selvedge denim to kick off the new year in style.
Jorg — Nike: Better is Temporary by Sam Grawe (Phaidon Books)
I am a great admirer of the Nike brand. I play tennis in strictly Nike, my sneaker collection is made up largely of Nikes, and "The Swoosh" is simply one of my favorite brands ever. If you want a true insight into the world of Nike, look no further. In the book Nike: Better is Temporary, we get a great detailed behind-the-scenes into the philosophy behind the world's greatest sports brand. Sam Grawe got a unique inside look into Nike's world. It's a story told about the brand, told by people from the brand. On top of that, this book simply looks amazing. The design and execution of this book are really next-level.
There's the brilliant plastic jacket — which smells like an inflatable plastic beach ball — the unique cover that features Nike's proprietary Volt yellow and Hyperpunch pink, and the transparent spine that showcases a series of colored tabs that are part of a separate chapter in the book. On the inside, you will find five chapters explaining the world of Nike. You'll see images of actual products, unique prototypes, behind-the-scenes looks, and campaigns that show what makes Nike such a special brand. It's a must-have if Nike means anything to you, and is available on the Phaidon website for €79.
Jorg — Ikea & Sonos — Symfonisk
Confession time…my passion for music is even bigger than my passion for watches. Music is around me everywhere I go, at home, in the car, or in the office. At home, I have a Hi-Fi set for some proper sound. The only issue is that I need to replace my speakers, as one of them gave up on me just before I moved two years ago. As a temporary quick and easy solution, I bought a couple of speakers that Sonos developed for Ikea. They had just come out after I moved and turned out a great buy if you are looking for a multiroom wi-fi solution. Currently, I have four of them all throughout my apartment and I'm looking to buy two more.
Is it a good replacement for a proper quality Hi-Fi set? Of course not. And I will buy those new speakers for mine. But if you are looking for a great budget-friendly solution that is practical and sounds decent, look no further. Options start at €99.95 for the bookshelf speaker. More information on all options on the Symfonisk range can be found on the Ikea website.
Jorg — Vollebak Full Metal Jacket
I included boundary-pushing clothing brand Vollebak in our gift guide two years ago, but there is no reason not to include them again. Two years down the road, company founders and English twin brothers Nick and Steve Tidball have gone on to surprise us with more unique and stunning creations. The idea the brothers have is to use science and technology to make the future of clothing. And while doing that, they always make sure the clothing looks great. A great example is the Full Metal Jacket that won them the Time Best Inventions 2020. If you thought the watch industry has embraced copper, now the clothing industry has as well. The full metal jacket is made with 11 kilometers of copper. And I mean that every single jacket uses 11 kilometers of copper in its construction!
Why would you use copper? As the guys explain it themselves: Its ability to conduct heat and power while killing bacteria and viruses make it a potential first building block for the future of clothing. It sounds pretty futuristic, right? Looking at the Full Metal Jacket, the future is here, but it will set you back €995. For more details on the Full Metal Jacket and many other amazing articles of clothing, check out the Vollebak website.
Balazs — Stance socks
You can never go wrong with a great pair of socks. If you want to own truly cool socks, look no further than Stance socks. Stance has been on it for years and never disappoints in creating some of the best and most creative socks out there. Their collabs, in particular, are utterly unmatched. The brand has worked with famous NBA teams and players, movie franchises, and rappers — currently there is a cool new Notorious B.I.G. collab. The brand has also done collabs with The Wu-Tang Clan, Slayer, The Big Lebowski, Johnny Cash, White Men Can't Jump, and the list goes on. You need these, and not just one pair.
Check out the Stance website for the full range and do yourself and your loved ones a favor. Give the gift of socks this holiday season.
Lex — New Balance 990v3 Made in USA "Green"
In 1978, New Balance commissioned its designers to create a running shoe, resulting in the iconic 990 model. It created quite a stir in the running world, and today the 990 still looks the part. This high-end New Balance from the MADE collection contains a domestic value of 70% or more. Doesn't that remind you of the way "Swiss Made" is calculated and how it is supposed to add value to the watch? I think it does add value since New Balance has been an independent company since 1906 that values craftsmanship. And the 990v3 Made in USA "Green" is a perfect example of that.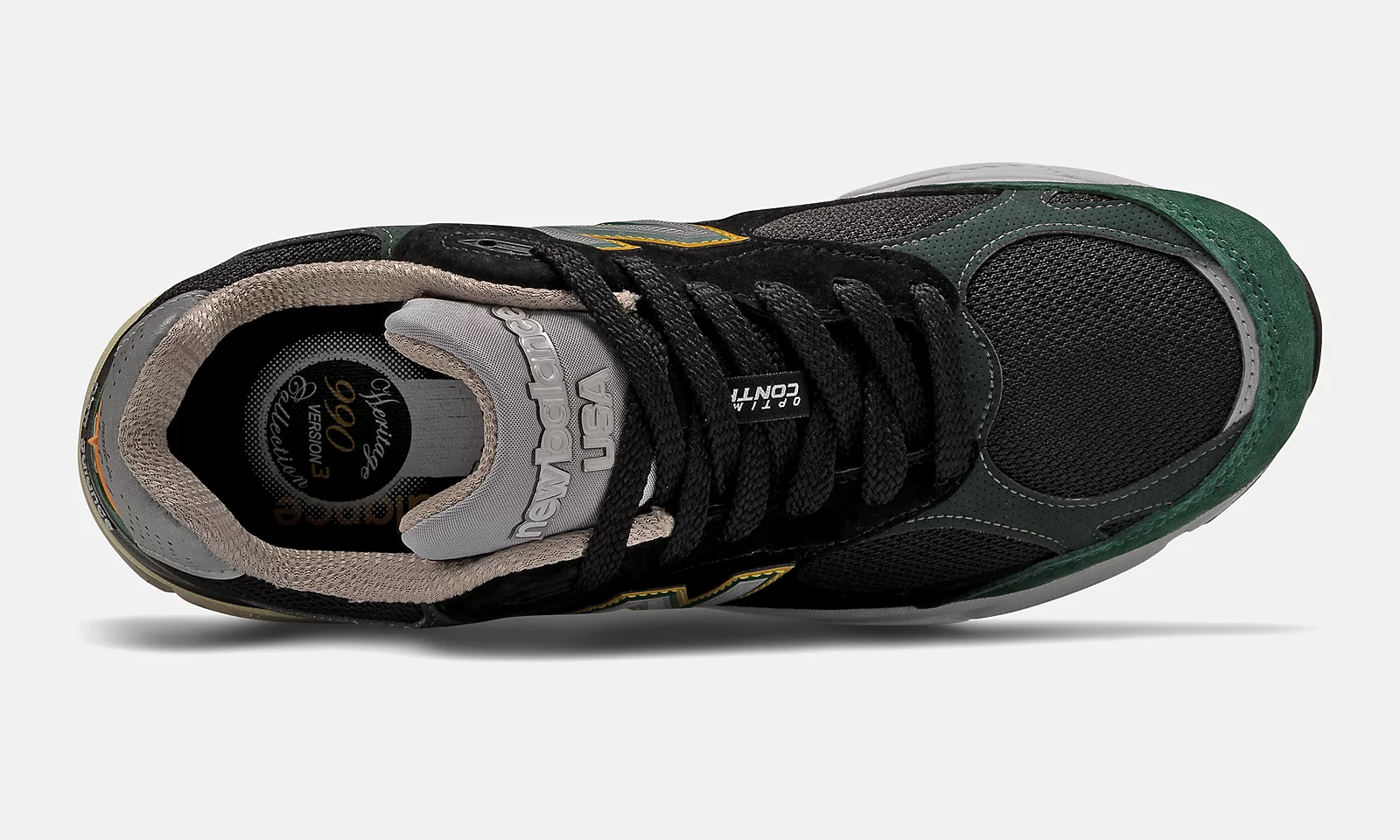 The 990 is a shoe that's so good, it hasn't ever been out of production. And 990v3 "Made in USA" is even better with its premium upper construction and ENCAP midsole cushioning. As you would expect, the "homemade" label comes with a price, but €220 is quite reasonable for a well-made, premium sneaker that won't go out of style quickly with its strong and subtle colorway. More info on the New Balance website.
Lex — Momotaro: Japanese denim to go with your Japanese watch
Are you looking for a way to spice up your Grand Seiko, G-Shock, Orient, Seiko, or Minase? Japanese denim is the way to do it. And with good reason! The quality is top-notch, and it looks and wears even better. But why is Japanese denim better? That's because of the company Kurabo Mills in the small town of Kojima in the Okayama prefecture. Kurabo started working on its making its own fabric instead of using USA-imported denim. It was a tough process of trial and error, but in the end, Kurabo created KD-8 denim back in 1972. "KD" stands for the name of the mill, and "8" is the number of tries to create the perfect denim. The secret of the denim is in the use of natural dye and old looms that produce "selvedge" fabric, a term that stems from the word "self-edge".
The distinct band of selvedge denim prevents unraveling and provides the wanted "denim-savvy" look. Japanese selvedge denim will cost you more than normal jeans, but they deliver more charisma, quality, style, and even prestige when you wear them. What looks best with your premium Japanese premium watch? Exactly, premium Japanese denim. What are my favorite jeans in the Momotaro collection? Man, that's a tough choice. But if I have to pick one pair of jeans, it would be the 15.7 oz Momotaro 0705SP pink selvedge denim jeans. This tight, straight-fit model is handmade from Zimbabwe cotton that underwent a natural indigo dyeing process. Expect a price of around €200. Check out more types of jeans on the Momotaro official website.
Nacho's final thoughts
Spoiled for choice? I bet you are! I know I had a blast putting all of these excellent ideas together with the help of some of the editors here at Fratello, and I do hope that you had fun reading through it. Let us know what you think of our picks, and make sure to tag us on Instagram if you do receive or purchase one of the awesome products we recommended.
Season's greetings from myself and the rest of the team here at Fratello!