The Omega Mars Watch: Speedmaster X-33
I remember Omega introducing the Speedmaster X-33 in 1998 with a digital display, it took me a while to start breathing again. Omega labeled this Speedy the 'Mars' watch, ready for the next landmark in space traveling. Sadly, Omega thought it was necessary to introduce a "From Moon to Mars" Speedmaster Professional as well, the fugliest* Speedmaster in my humble opinion.
This is probably one of the Speedmaster models with the shortest production number ever, since the X-33 'Mark II' was introduced shortly after, because some NASA or professional users of the watch complained about the high polished parts on the watch. The price of an Omega Speedmaster X-33 is increasing rapidly over the last few years, perhaps also because they seem to be all gone at the authorized Omega dealers by now. Also, Antiquorum's OmegaMania auction probably worked out nicely as well for the value of discontinued Speedmaster models like the X-33.
A complete and boxed Speedmaster X-33 in (near) mint condition starts at 1.500,- eur / 2,000.- USD at Chrono24 and rapidly goes up to prices above 2.000,- eur / 2,750.- USD. The number of X-33 offers is quite low though.
If you like the watch a lot and do not care about boxes, booklets and warranty cards, there is one for sale from a private seller in The Netherlands, asking 975 eur / 1.355,- USD for his X-33, first edition without box, papers and original bracelet / kevlar strap. I have to admit that the NATO strap he uses doesn't look bad at all, but probably would attach a GasGasBones velcro-strap. See picture below, and see the advertisement here. If you are not a registered user of the forum where it is on sale, contact me for the seller's contact details.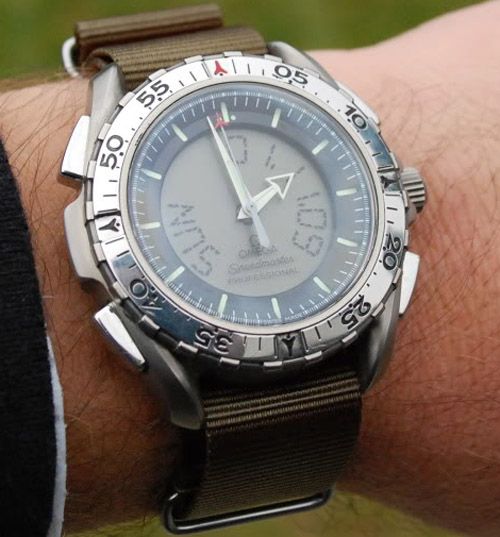 More detailed information about the X-33 and its development history can be found here.
*fugly/fugliest: I love this Hodinkee term 🙂