The Patek Philippe Calatrava Weekly Calendar 5212A-001 — An Owner's Review
A guest post by Philip Blumer
What would you consider the most unique watch from any given brand? In the case of Patek Philippe, a watch brand that needs no introduction, I would perhaps consider the Calatrava Weekly Calendar 5212A-001 the leading contender. Released in 2019, it was a brand-new execution by the legendary Geneva-based watch brand. While referred to as a Calatrava, it is quite atypical of Patek's flagship line. Here is my experience as someone lucky enough to wear one regularly.
This watch is a weekly calendar, which has the weeks as well as corresponding months on the two outermost sectors of the dial. A year can have up to 53 weeks, which means that the red-tipped, hammer-shaped hand has 53 positions to complete a revolution. Further toward the center of the dial, there is an additional sector for the day of the week. This is also indicated by a hammer-shaped hand. The hands and hour markers are blackened gold, and the date window sits at the 3 o'clock position.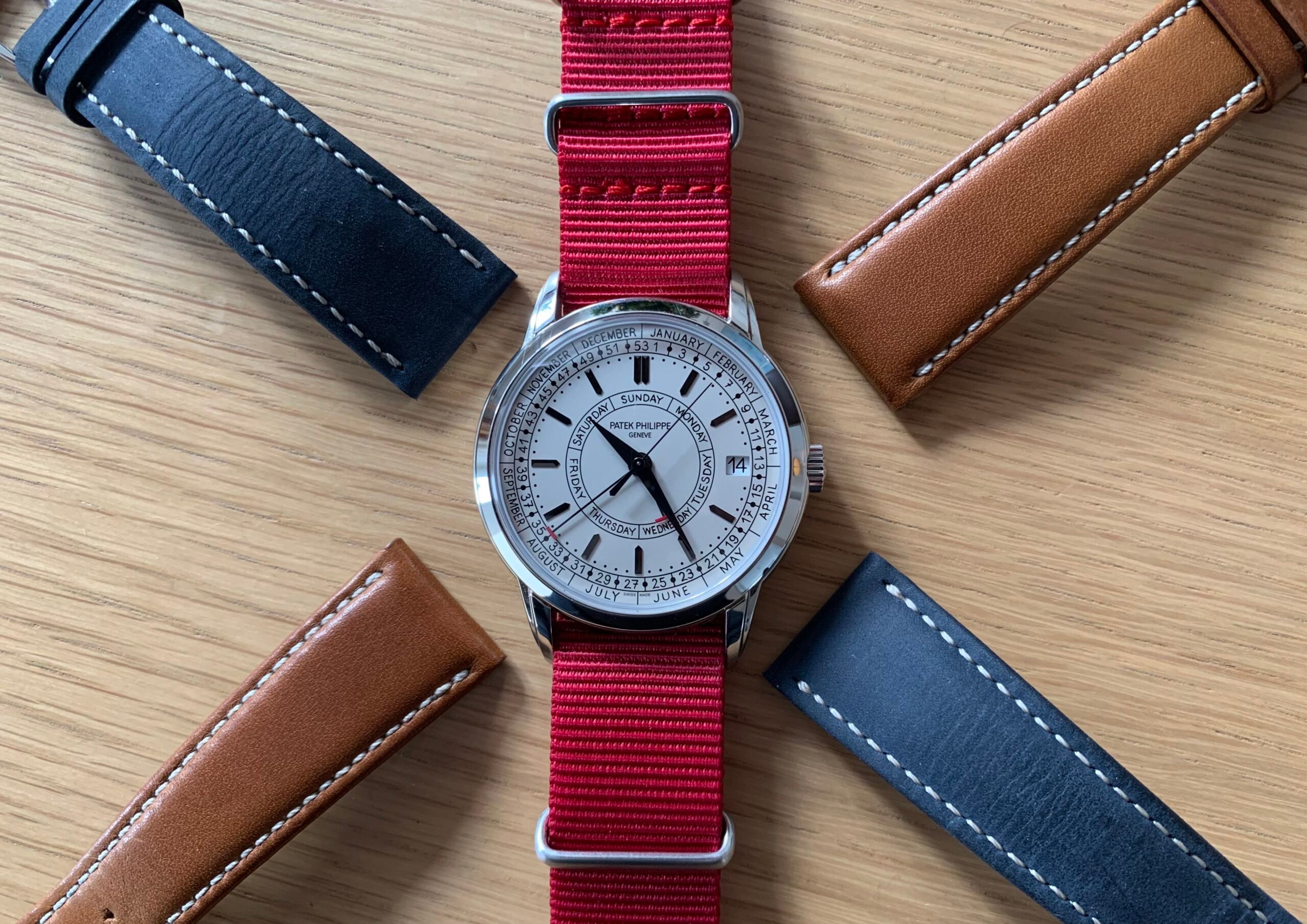 The watch comes in a polished stainless steel 40 × 10.79mm case with stepped lugs and a domed sapphire crystal. Patek Philippe claims that the ref. 2512 sold in 1955 was the inspiration for this case and lug shape. It houses the automatic caliber 26-330, which has a power reserve of 45 hours. This is perhaps my only legitimate criticism of this watch. As of 2022, the 5212A-001 Weekly Calendar retails for CHF 31,500.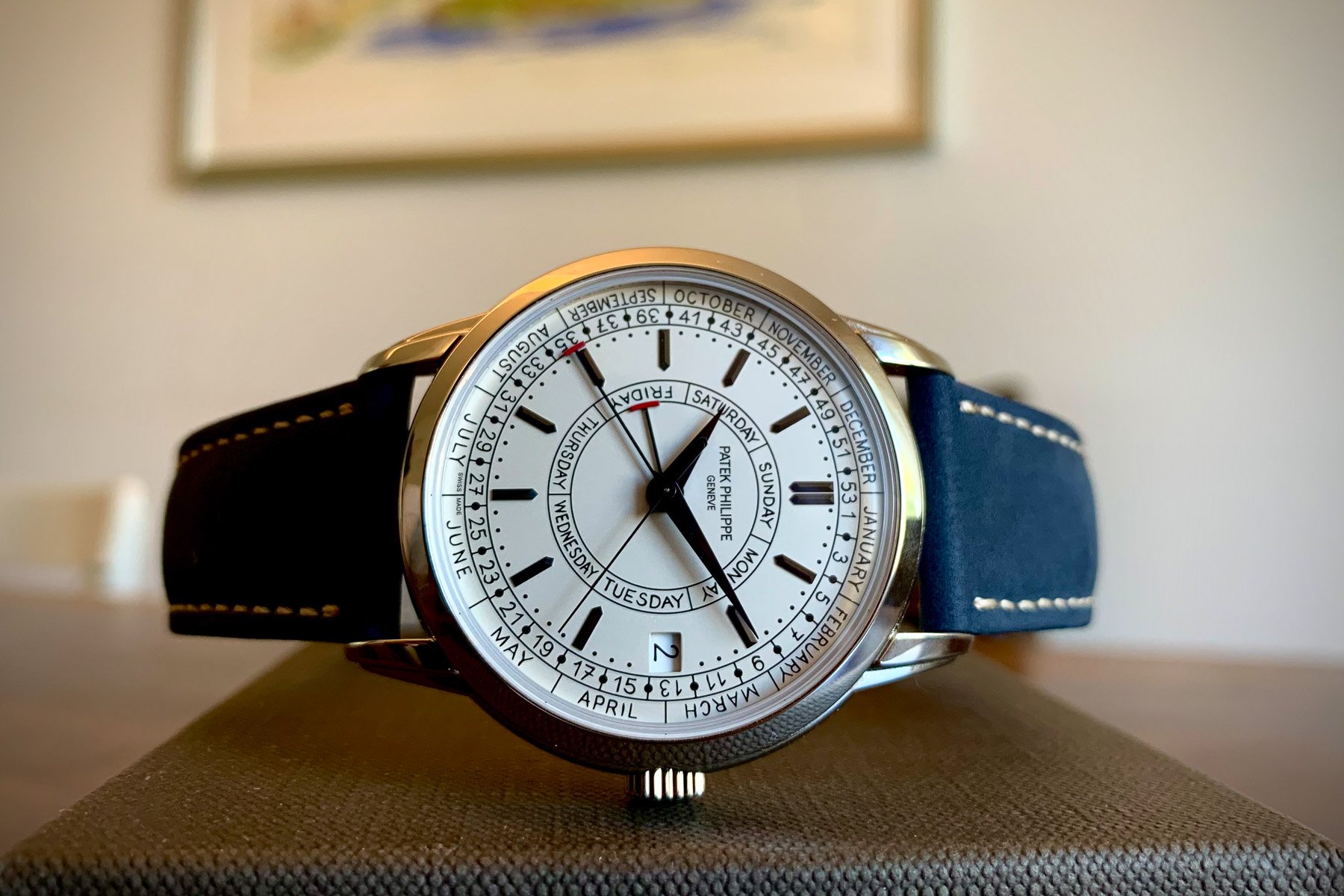 A matter of design
What makes this timepiece truly unique and quirky is that the dial has a handwritten font. The font is black on a "silvery opaline dial" and has an incredible charm and character to it. It reminds me of how teachers would write the day/date/month on the chalkboard back in my school days. Despite the amount of information on the dial, the layout is calm, balanced, and legible. The story goes that Thierry Stern, the president of Patek Philippe, wanted a weekly calendar, so the designer presented a vision of one in a mockup. Mr. Stern was so taken with the hand-drawn design that it actually became the main feature of this Calatrava's dial aesthetic.
What does this tell us about the brand? Well, besides the obvious "Patek makes watches that are nothing short of amazing," it also tells us that the folks behind Patek Philippe have it in them to release something so, dare I say, fun! Don't get me wrong, a ref. 5970 Perpetual Calendar Chronograph is definitely "fun" to look at from all angles. But this calendar watch in a steel case is a different kind of fun. It is informal fun, a kind of fun that embraces the imperfections of the human touch over the precision of the perfect fonts we are used to.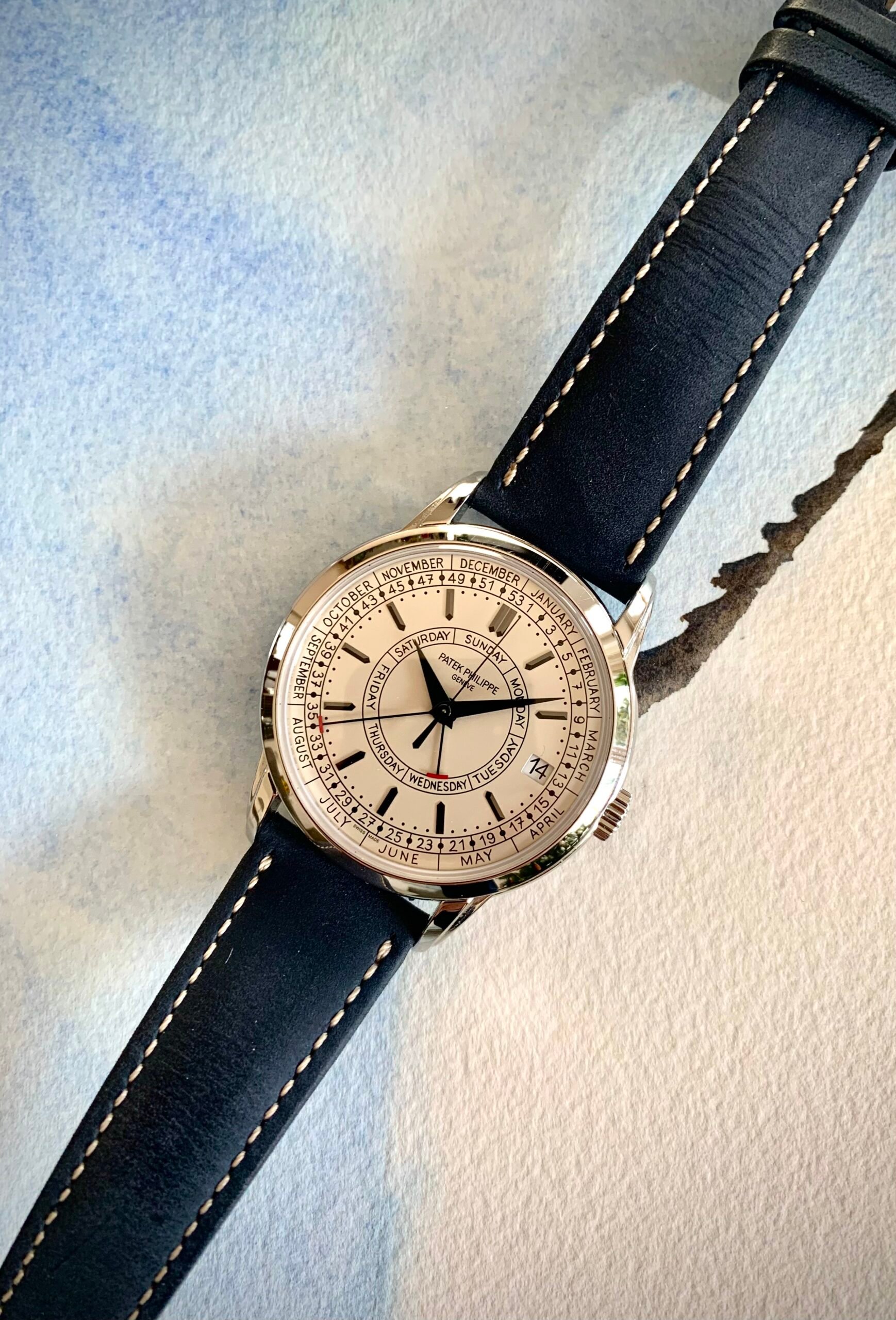 Brand context
I don't need to mention that Patek Philippe is the epitome of traditional and sophisticated Swiss watchmaking. This becomes especially obvious when admiring the watch from the back. Patek Philippe is known for using the same movements in different models throughout its collection. We see this in the Calatrava, Nautilus, and Aquanaut models, which often use the same movements as one another. Caliber 26-330 S C J SE, which debuted in this watch, is still unique to this reference. It uses a "semi-integrated" weekly calendar module, but possibly even more significant is that it was the brand's first movement to introduce hacking seconds.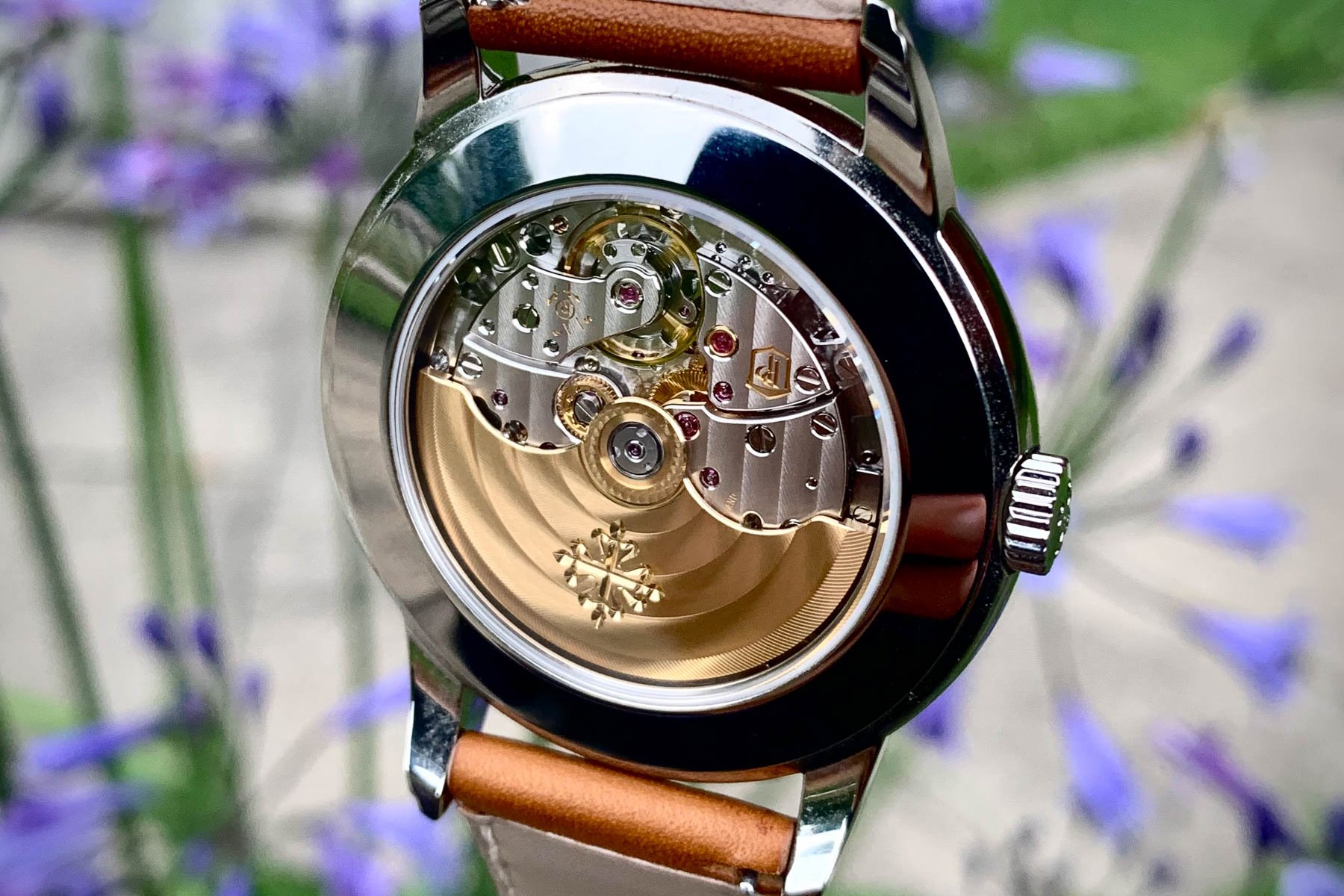 You know that bittersweet feeling when you eat something so good that it kind of downgrades all the versions of that food you've had up to that moment? That's how I felt when I first took in the beauty of a Patek Philippe movement. Seeing the quality of the Geneva stripes and anglage on the bridges, the circular finishing on the rotor, and the attention to detail on the components of the movement in the flesh was an eye-opening moment.
I admit I was a little scared when I bought this watch earlier this year. It was by far my most expensive purchase. But ever since I saw the Patek 5212A-001 in pictures on the day it was released at Baselworld 2019, I told myself that it would be the perfect introduction to the prestigious world of the ultra-high-end luxury Swiss giant, so I put myself on the list for it.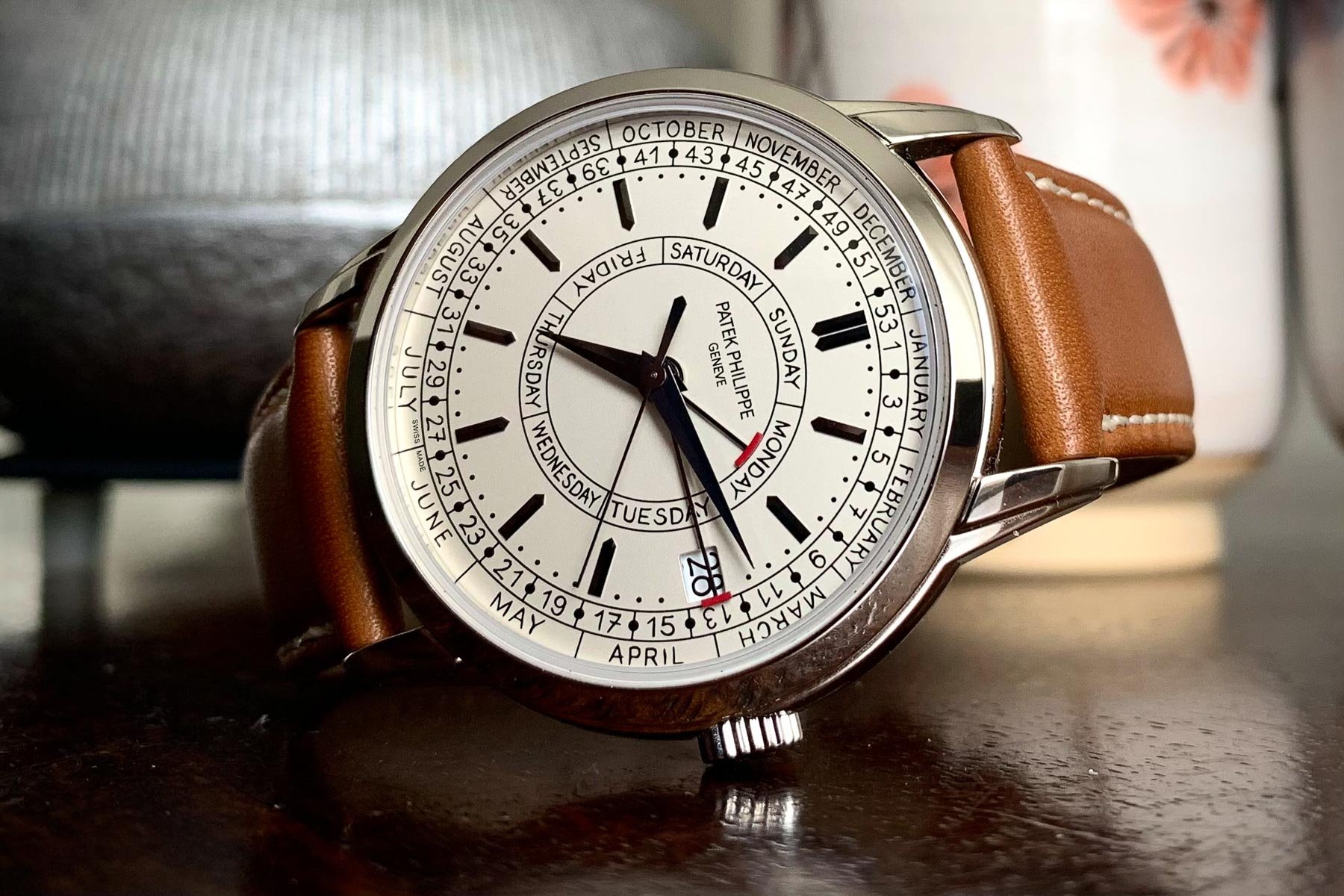 First impressions
I first held the watch almost three years later when the Patek Philippe boutique in Zürich contacted me to inform me that my watch was ready to be picked up. Upon observing the 5212, I was immediately enamored with the warmth of the opaline dial and the quirky nature of the handwritten font. "I won't wear it often. Only for special occasions." Have you ever told yourself that? This was the initial mentality I had, which was probably born from a fear of wearing something so magnificent and expensive. This attitude faded quite quickly when I discovered what is arguably this watch's strongest feature — versatility. While I certainly won't wear it while changing parts on my bike or anywhere near a pool (3 ATM water resistance means "keep dry!"), I do think it will be hard to find a situation in which this Calatrava will look out of place.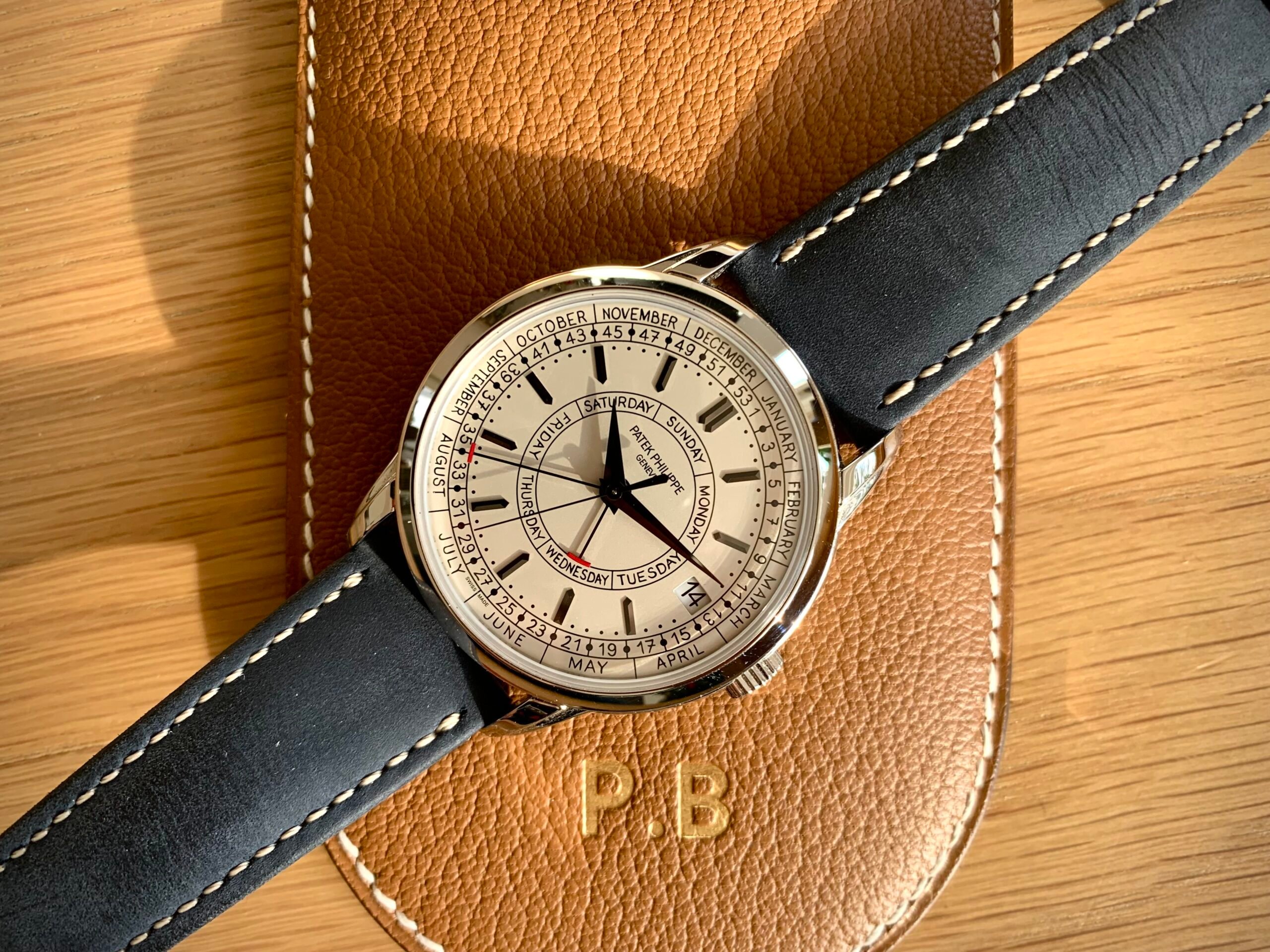 The Patek Philippe 5212A-001 — It just "works"!
It works, I would say, rather unsurprisingly well with any attire, formal or informal. It's a modern-sized 40mm stainless steel case, presented on a light brown calfskin strap, which is somehow befitting the quirkiness of this watch. I've since purchased the OEM blue suede calfskin strap, which I find even more versatile, flawlessly complementing blue jeans. Some time back, I put it on a red NATO. "Oh no! How could you?!" Just hear me out. At the time I got this watch, I had an elitist mentality about the straps I would use. They would have to be from Patek Philippe itself. "Nothing else is worthy," I thought.
I recently bought this red NATO strap for my MoonSwatch Mission to Mars, and I tried it on this watch with zero intention to keep it — as the expression goes, "just for s**ts and giggles." Well, let's just say that my MoonSwatch has been sitting strapless on my desk since then. It rounds off the casual nature of this watch impeccably, and the matching red elements on the dial are a nice touch. I love a good leather strap, and the OEM straps are of very high quality indeed. However, I'm finding myself really drawn to this particular look, and suspect it will be staying for quite a while. To tell the truth, I was already in the market for a red leather strap for the upcoming festive season. This red NATO scratched that itch rather well.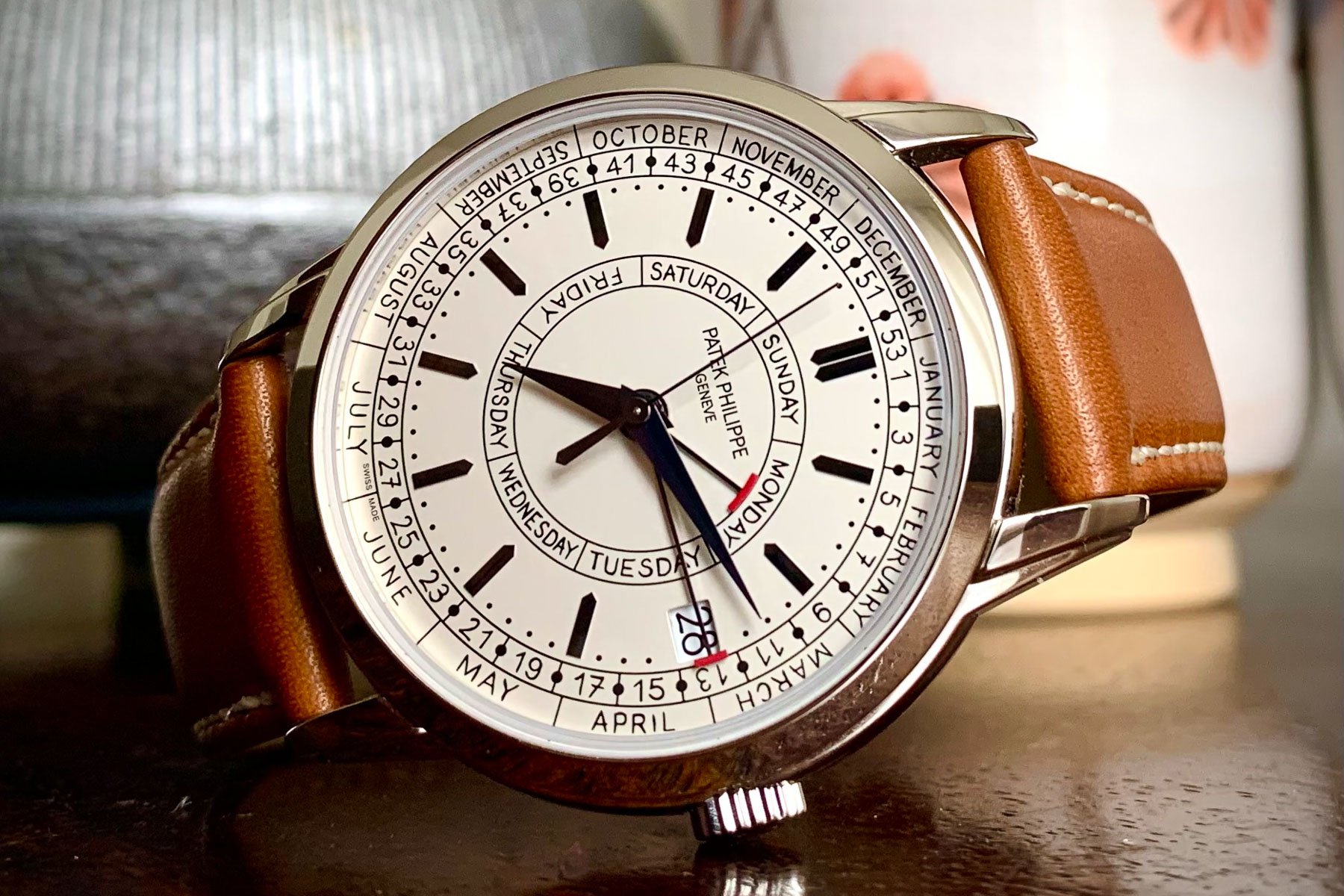 Final thoughts
I consider myself extremely fortunate to have made the jump into a higher segment with this purchase. I will say, however, that the feeling turned out to be different than I'd expected. While I was nervous to wear it at first, I find myself quite at ease with this watch when wearing it out and about. Luckily, Switzerland, where I reside, is a very safe place, and I don't have to worry too much about unwanted attention. But this particular watch doesn't stand out like other Patek models that, as I'm sure we're all aware, are easily recognizable to your average Joe. It doesn't surprise me that even in the home of watchmaking, I haven't received a single comment on this watch from any "non-watch person."And you know, I can definitely live with that!