The Surprising New Sinn 556 Models With Colorful Dials Are A Smash Hit
Sinn strays from its usual tones and scores four times over
Sometimes, stepping out of one's comfort zone can be a good thing. In the case of the new Sinn 556 with its collection of colorful dials, I was able to go hands-on with watches that will undoubtedly go down as smash hits. Folks, I wasn't sure that this release warranted its own article, but seeing was believing.
It's tough to be in two places at once, but Sinn managed to pull it off last week. The brand held court in Geneva and showed its wares at the Frankfurt HQ in parallel. I had the chance to take a convenient short drive to the HQ on a cold, snowy Saturday and had the floor to myself. Well, Sinn's Sabine Kleiter welcomed me and was kind enough to explain the brand's novelties. We'll hear more about those in the coming days, but today, let's look at the colorful quad of Sinn 556 models.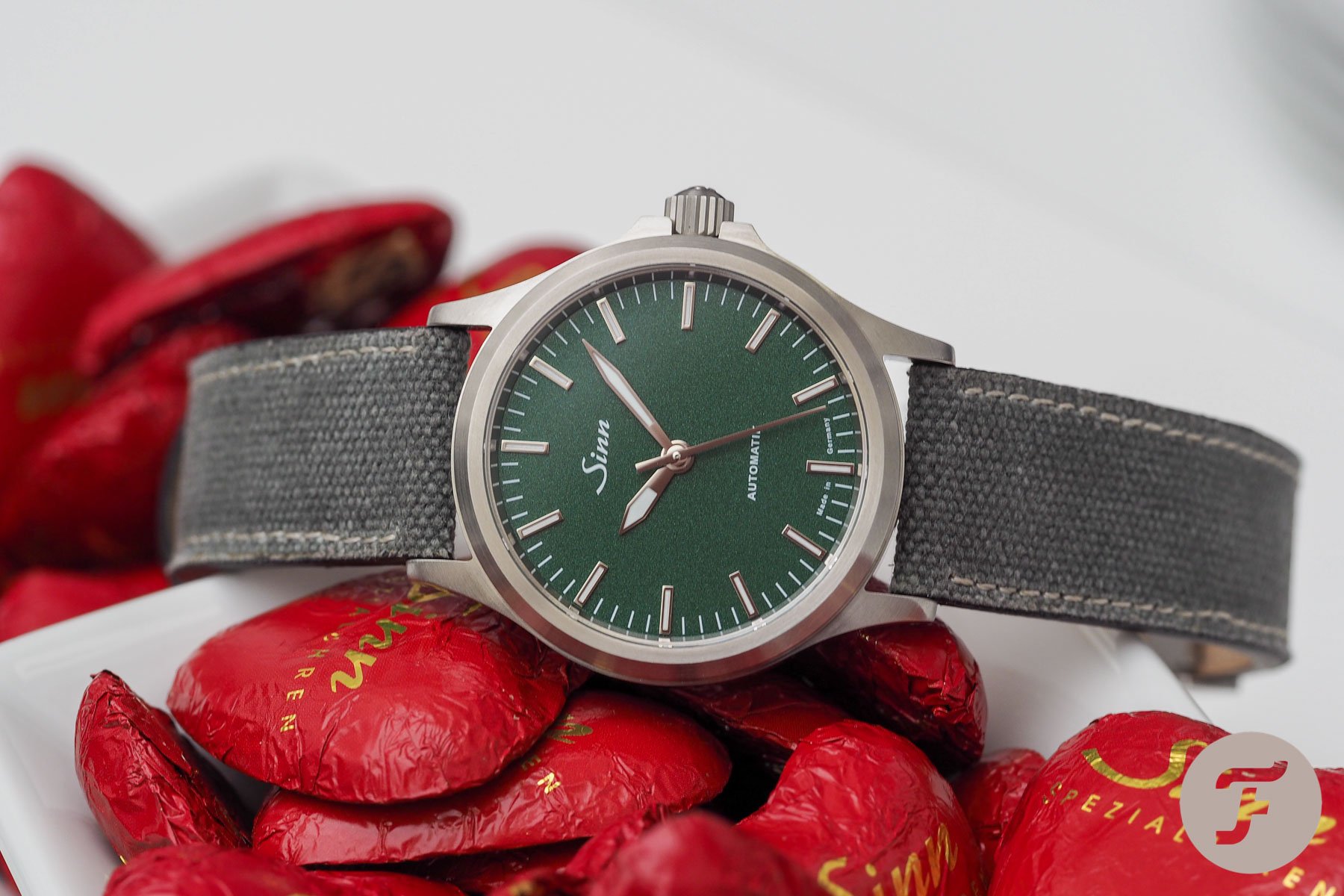 The Sinn 556 models with colorful dials
Even if you're just a casual observer of Sinn's watches, you'd know that the brand leans heavily on legible, technical timepieces. The watches tend to be function-forward, and that means a lot of black, white, gray, and red. Bright, whimsical colors just aren't part and parcel of Sinn's design language. All that changes with four new Sinn 556 models that take their dial colors from gemstones and, folks, they're great! For many, the standard Sinn 556 represents one of the last great deals in mechanical watches.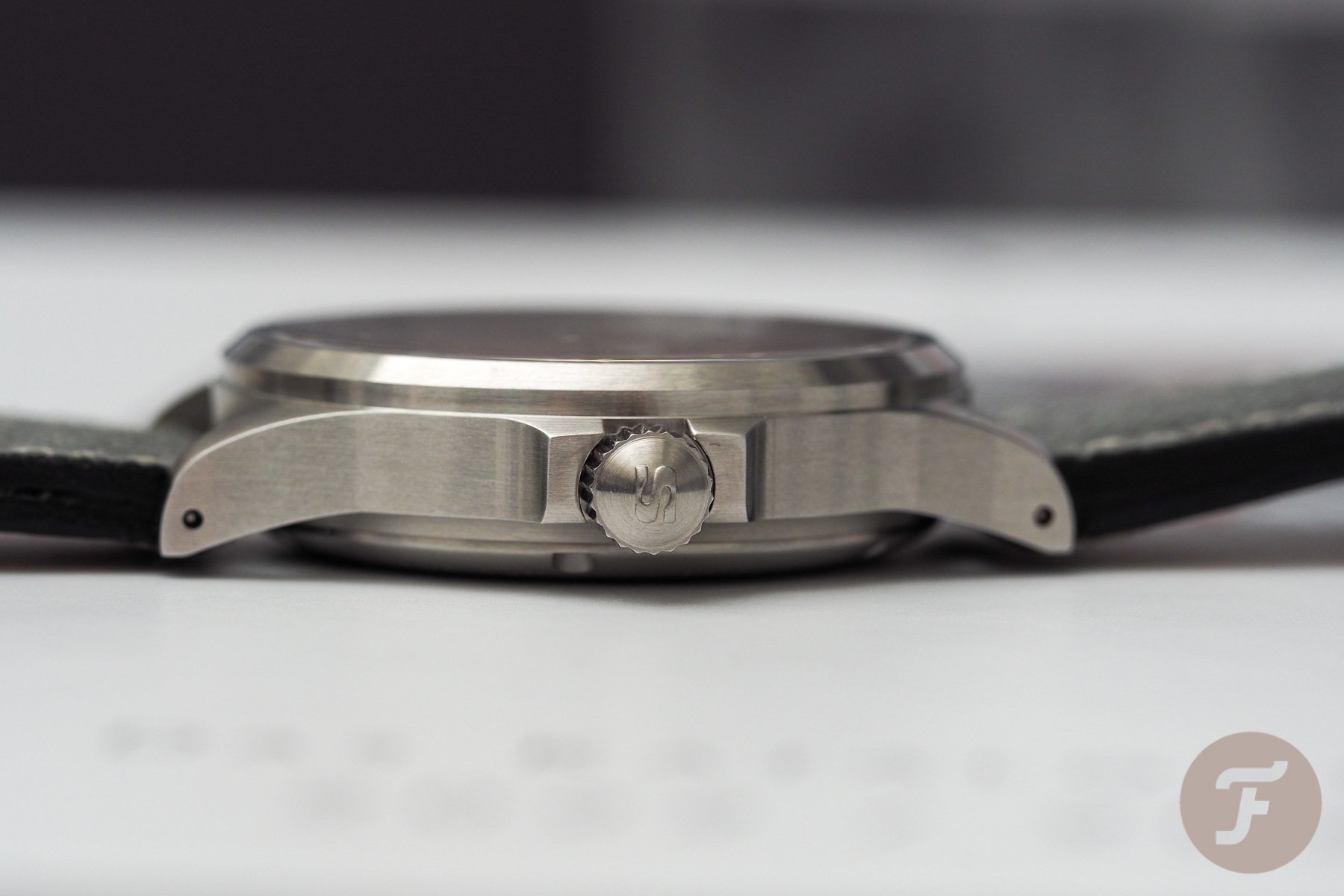 It's a smooth 38.5mm stainless steel watch with a Sellita SW200-1 automatic, 200 meters of water resistance, and a super-wearable 11mm case thickness. If you've tried on an older IWC Mark XII, this watch compares well. This watch cleans up with both beginner watch collectors and those who are looking for a credible, daily driver. Plus, they start at €990, so they're truly approachable.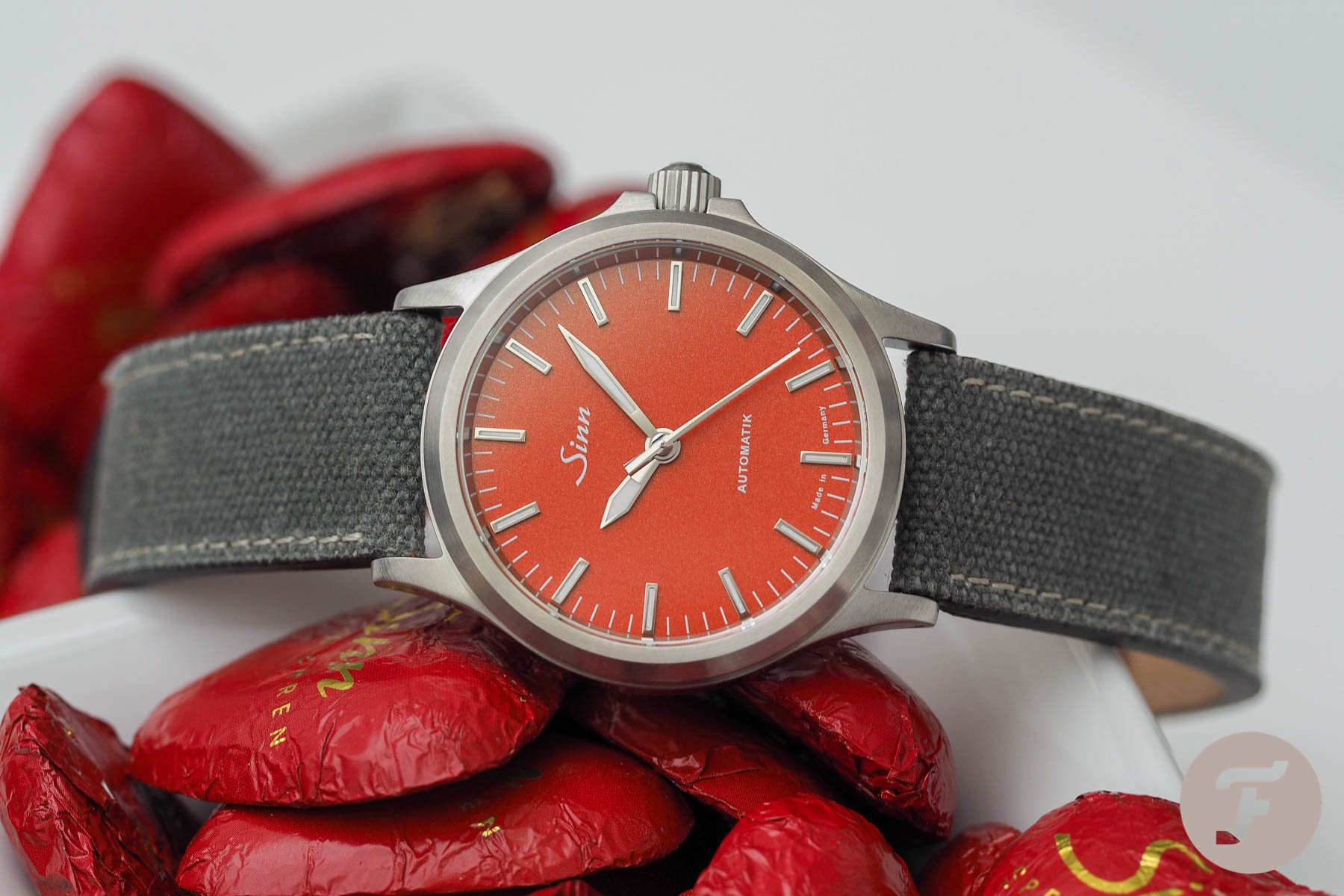 Something different for Sinn
With the newest Sinn 556 renditions, the brand steps out a bit and flashes bright colors. As mentioned, Sinn states that the four watches are meant to evoke gemstones. As such, we have new dials in emerald green, citrine yellow, aquamarine blue, and carnelian red. No matter the color, each one features lumed rhodium-plated hands and indices. The stainless steel cases remain sporty with matte finishing, a screw-down crown, and 200 meters of water resistance. Essentially, there's no performance difference with these watches versus the standard 556 except for one lovely omission. As you can see, Sinn chose to eliminate the date window, and I can only say, "Bravo!"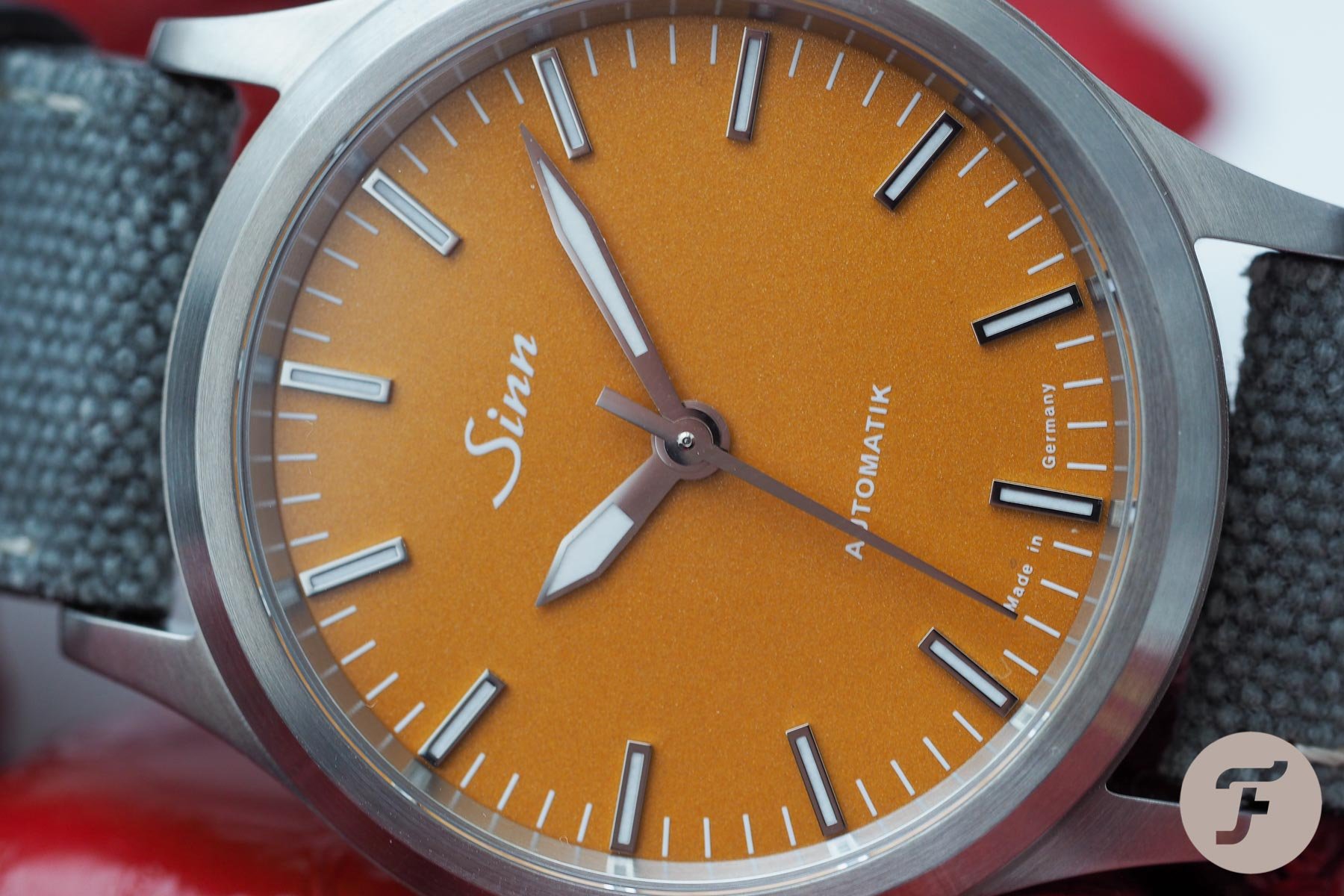 Dial finishes with depth
I really like the simplicity of these Sinn 556 dials and their use of white printing and minimal font. Plus, the dials aren't simply colored with either a matte or glossy finish. The literature tells us that Sinn chose a varnish to provide a slight metallic shimmer to the surface, and it's visible in person. In other words, these aren't copycat Rolex Oyster Perpetual models. Sure, color is "in" right now, but there are enough differences here to make them unique.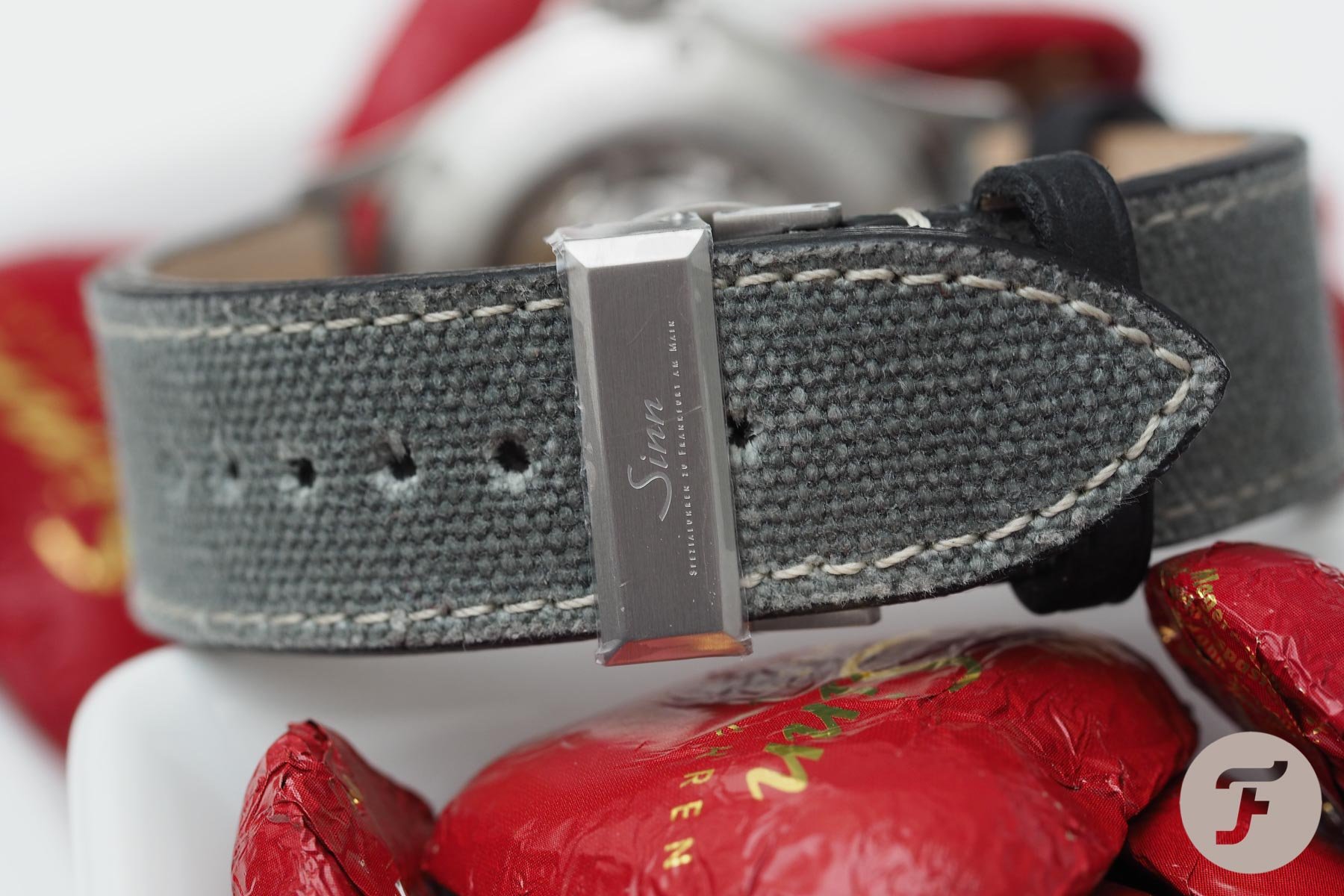 All of these Sinn 556 models will come on gray canvas and leather 20mm straps with a really nice and discreet folding clasp. Sinn's straps are usually a bit big and stiff for my wrists, but this strap looked and felt fresh and modern. It's a good combo, and I don't think people will be quick to swap unless they purchase the company's beads-of-rice bracelet as an option.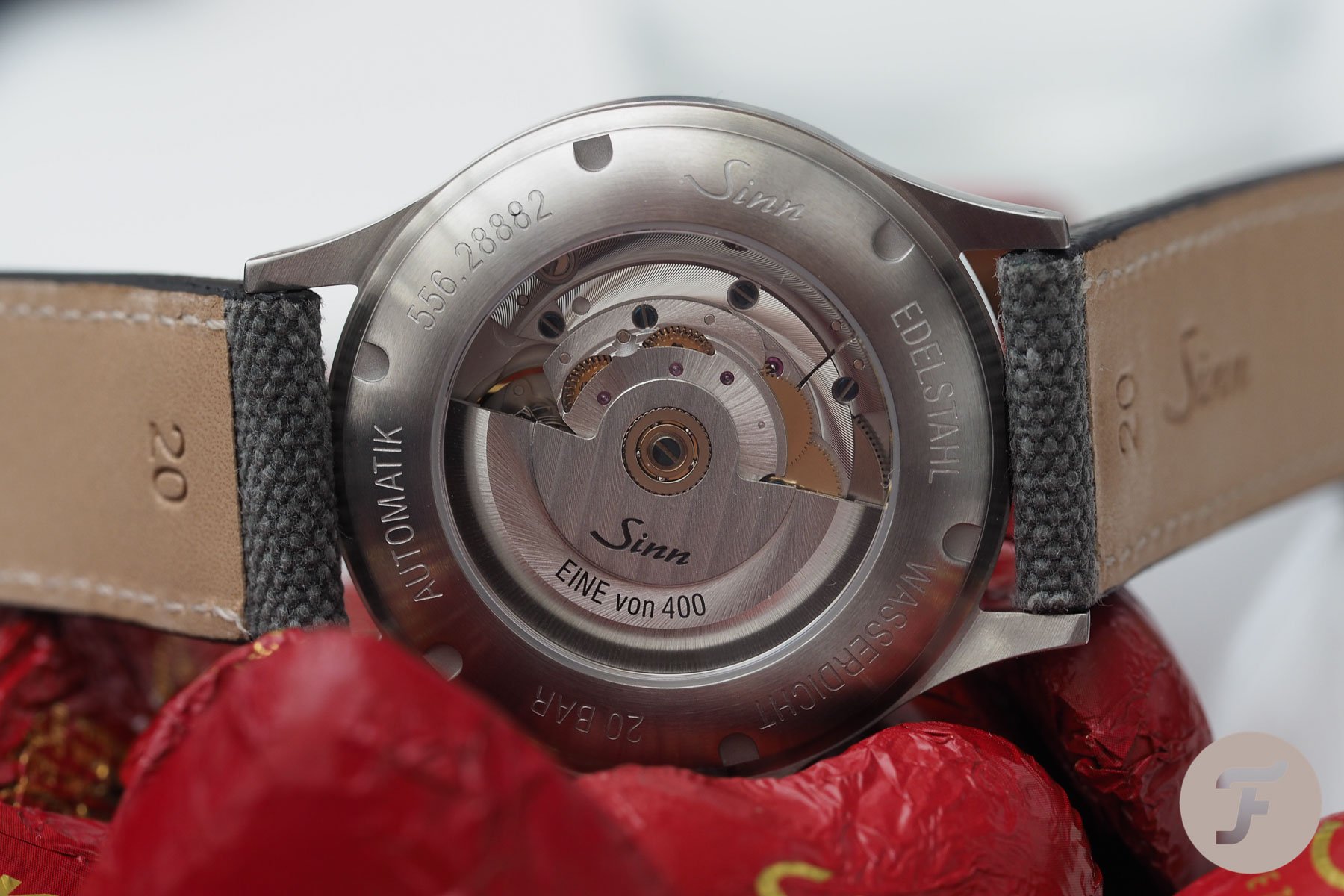 The Sellita SW200-1 is on display
The Sinn 556 features sapphire crystals on the front and back. Per the photo above, you can see that, sadly, these are limited editions with just 400 of each color. They're not individually numbered, but the rotor does let on that this watch is something a bit special. As far as the Sellita SW200-1 goes, it's a reliable workhorse. It runs at 28,800vph and offers hacking seconds. All in all, it's a solid choice for a watch like this and should be fuss-free. If anything does occur, there is a two-year warranty.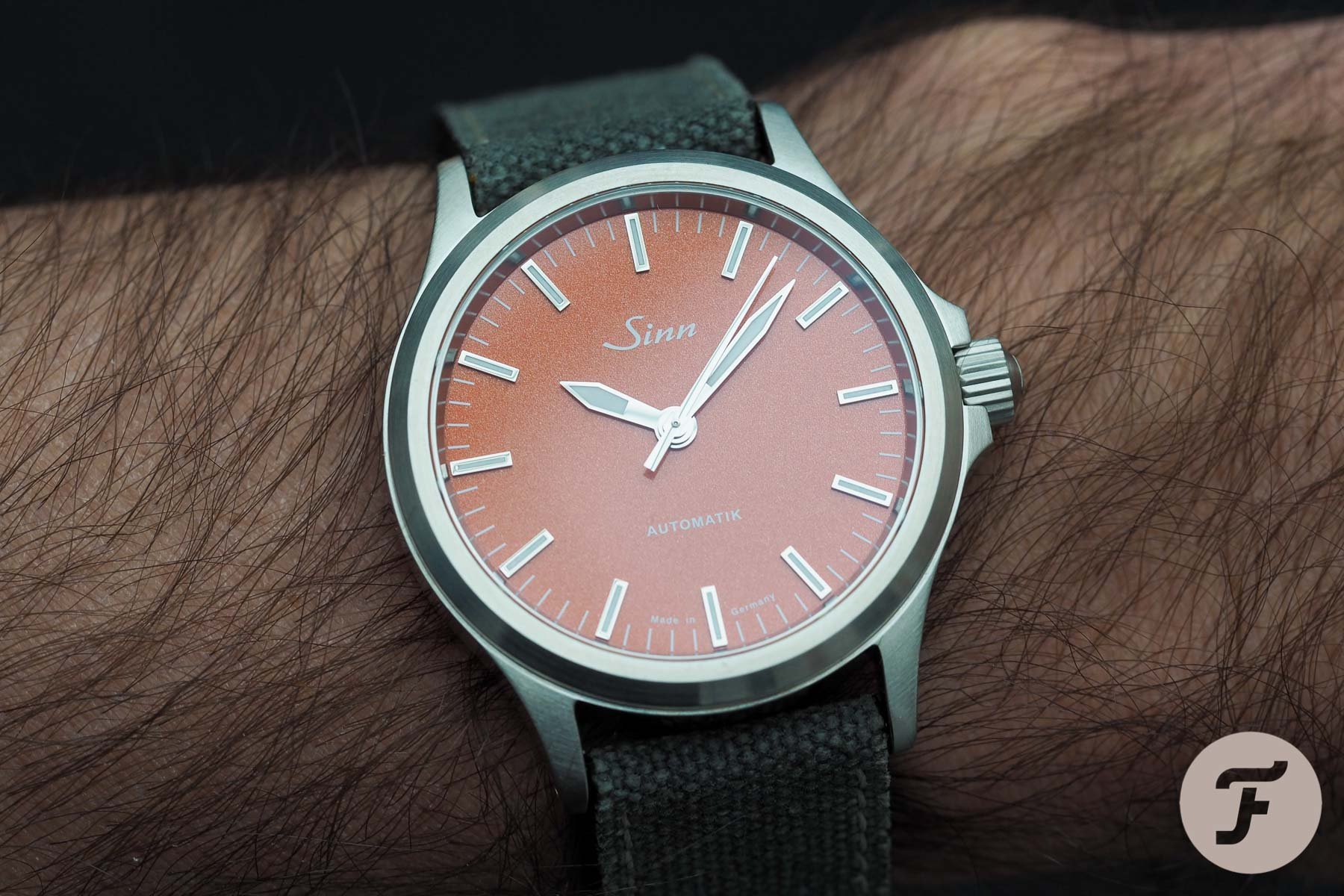 Final thoughts, pricing, and availability
I really liked these new, vivid Sinn 556 models. They look great on the wrist and they're reasonable at €1,290. Yes, that's a healthy increase over the normal models, but with just 400 made of each, I don't think they'll have trouble finding homes. Regarding the limited production, I'm not sure why Sinn is making so few of these pieces. Perhaps the brand wasn't sure if people would like them too much. Well, as of now, the blue model is already sold out on the official Sinn site here in Germany, but retail partners do have an allotment. Shipping will begin within the next two months. What do you think about these fun models? Do you like seeing some flair from Sinn? Let us know in the comments section.