Book Announcement: Vintage Rolex Datejust Buyer's & Collector's Guide
We talk to author Thomas van Straaten about his exciting new book
A few years ago, when I was examining my own vintage Rolex Datejust from 1969, I concluded that the dial inside was a service dial. I got it in 2002, and at the time there was little to no information available on the topic. But even a few years ago when I decided to finally replace it with an original dial, I realized that it can be very confusing to determine what's correct and what isn't. On eBay, there's a ton of Rolex accessories such as dials, hands, and bezels. I quickly found out that authenticity is not always guaranteed. With the help of some friends, who know more about Rolex dials than I do, I managed to source a nice one (also from eBay). Of course, I paid a stupid amount, but at least my Rolex Datejust now has an all-original dial once again.
If only there had been a handy guide that could have helped me in my search!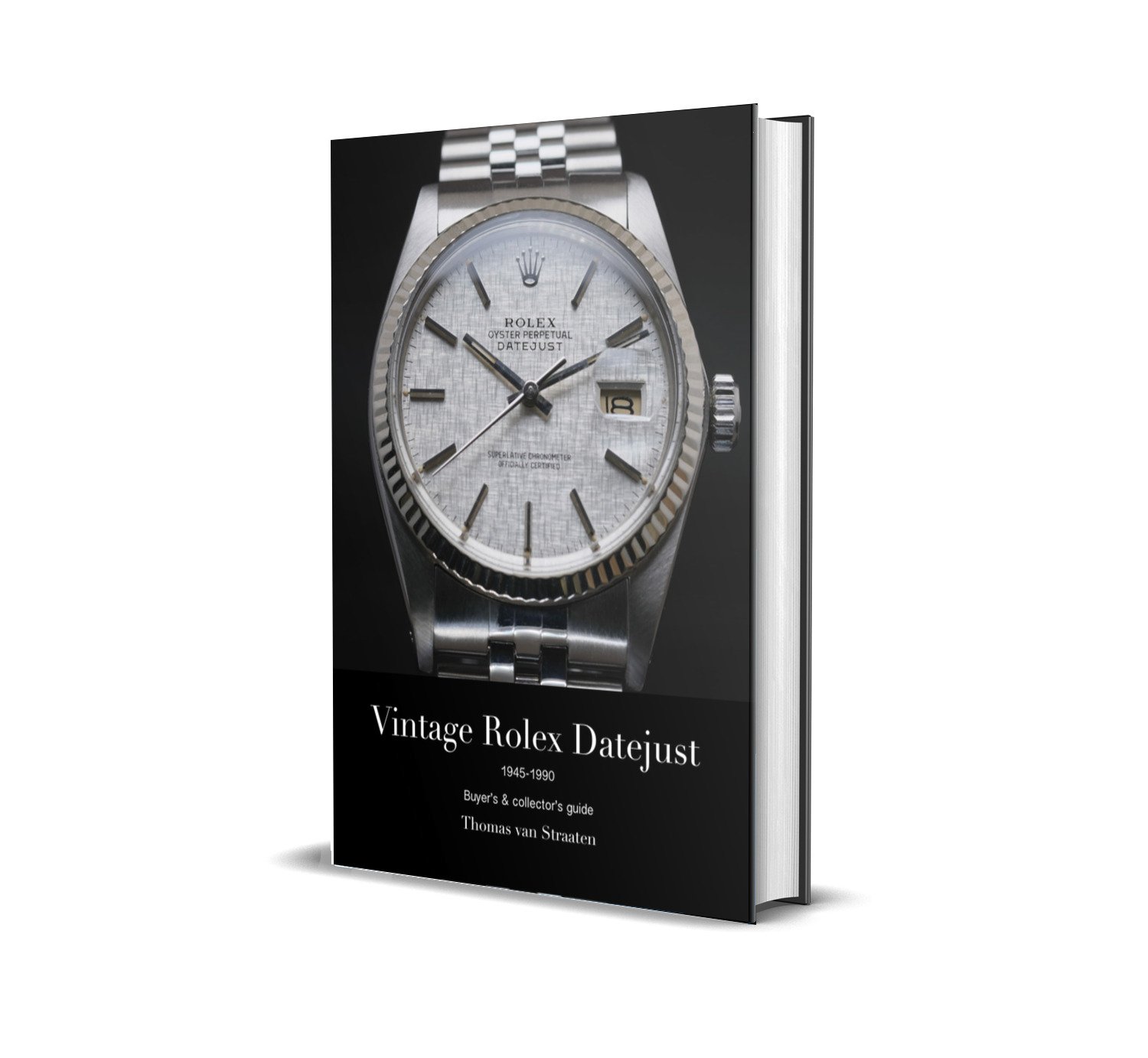 A book on vintage Rolex Datejust
Enter Thomas van Straaten and his special book project on vintage Rolex Datejust models. Thomas is working on a book titled Vintage Rolex Datejust Buyer's & Collector's Guide. Most of the work is done, but — and you might have already guessed — some help is still needed to get it from digital production to a nicely bound, hardcover coffee table book. Van Straaten's Vintage Rolex Datejust Buyer's & Collector's Guide will cover this iconic watch from its early production in 1945 until 1990. It will contain a detailed description of Datejust dials, movements, bracelets, and other relevant parts.
He also made sure that the photography is top-notch. Not only of ultra-rare and exotic Datejust variations, but you will also find more common Datejust watches in there. And that's definitely a cool thing, as most of us will more than likely be after one of the more common versions of the Datejust. With this book, Van Straaten aims at the seasoned collector as well as the first-time buyer looking into vintage Datejust watches.
Thomas van Straaten, author of this vintage Rolex Datejust book
I had never heard of the author before, so I had to ask him: who are you and why did you start this project? And finally, why the Datejust?
Thomas van Straaten is responsible for marketing & sales at one of the larger vintage watch dealers in The Netherlands: Amsterdam Watch Company, or AWCo, in short. Besides his job at AWCo, he also has some side projects, such as the Vintage Rolex Datejust Buyer's & Collector's Guide book. Van Straaten says "This book about vintage Rolex Datejust watches combines my obsession for vintage watches and the love for doing research and writing". During his work at AWCo, he realized there was a demand for a book like this, covering all those details on one of the best-selling vintage Rolex watches that will help collectors and enthusiasts alike in their search for a Datejust.
Because of his role in the AWCo boutique in The Netherlands, he emphasizes that he has handled many watches, including plenty of Rolex Datejust watches. If there's one thing you really need when writing a book like this, is access to as many different Rolex Datejust watches as you can possibly get your hands on. Only then, Van Straaten says, can you truly appreciate all those small details and minor changes Rolex made over the years. This hands-on experience with the watches also gives you an insight into issues that one might run into.
The appeal of a vintage Rolex Datejust
For Thomas van Straaten, the Rolex Datejust is the ultimate watch. He loves the no-nonsense appeal of a vintage steel 36mm Rolex Datejust from the 1960s and 1970s. It is often said that the Rolex Datejust is the mother of all modern wristwatches, and I think Thomas van Straaten wouldn't disagree on this. He adds that the 1945 design, with just tiny updates over time, always kept the Rolex Datejust fresh.
Don't be fooled though, Van Straaten is not a one-watch guy. In fact, I think it's safe to say that he couldn't bear the thought of living his life with just one watch. But, he explains, the Rolex Datejust is a perfect example of an "all in one" watch. A Rolex Datejust is always up to the task, whether the owner is donning swimming trunks and flip-flops poolside or a beautiful tailored suit for a night on the town, this watch is ready for it. The Rolex Datejust is also a watch that's easy to transform from something classy to an almost tool-like watch, depending on the bracelet or strap you chose to wear it on.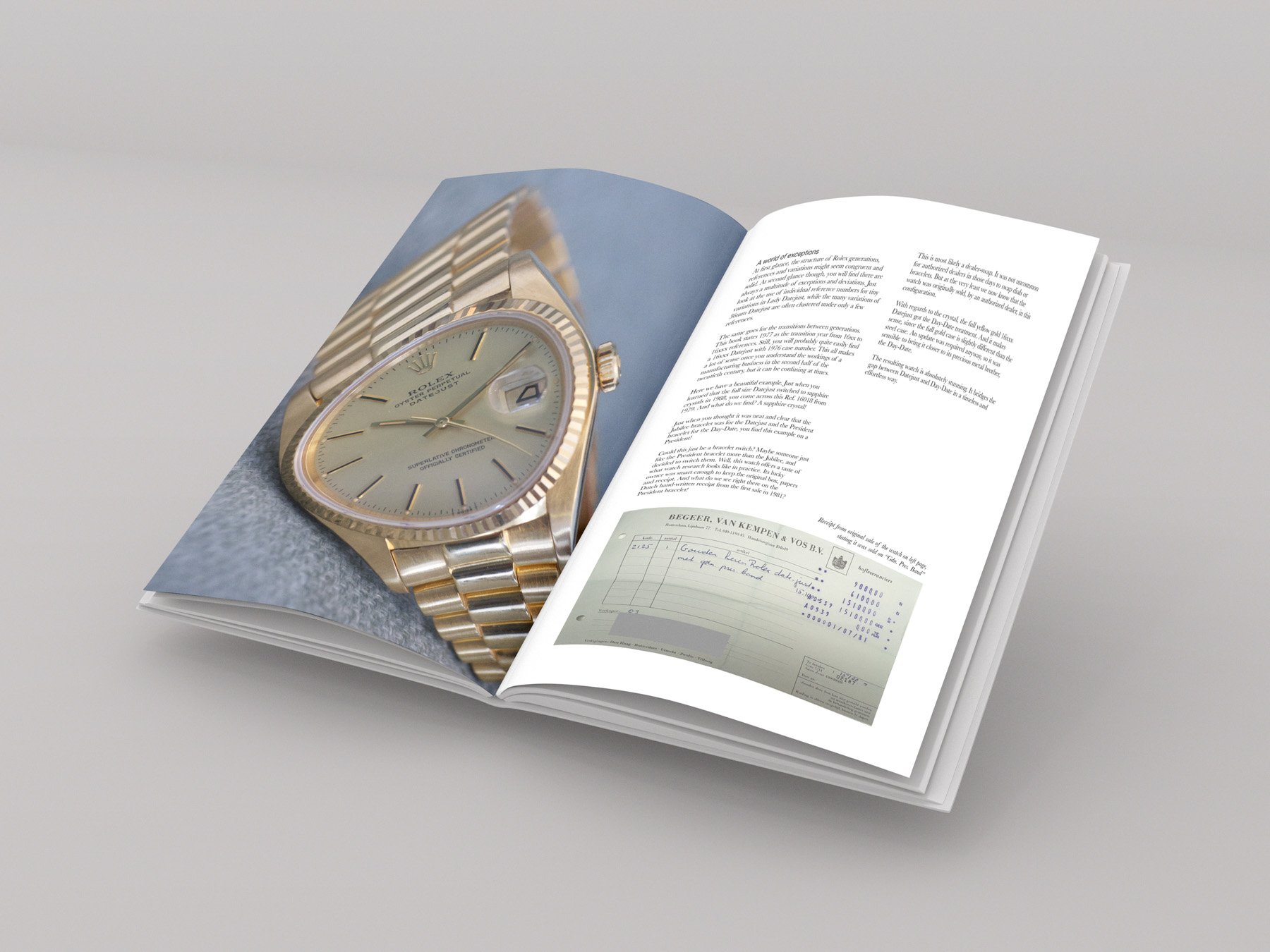 So, let's leave the philosophizing aside and get back to the book. Here's a taste of some of what you will find in the Vintage Rolex Datejust Buyer's & Collector's Guide:
Historical context, the backdrop to which the Datejust was introduced
All generations of full-size, Lady and Midsize Datejust between 1945-1990, expansively described and pictured
The 'odd DJs': Turn-O-Graph, left-hand drive, and Oysterquartz Datejust models
A complete list of all Datejust references from 1945-1990
A buying guide with tips on what to look for and what to avoid
Direct comparisons of the most popular (and similar) models
Beautiful photography of common to extremely rare and exotic Rolex Datejust
Microscope imagery of important details of vintage Datejust watches
Reference lists for bracelets, calibers, dials, and other important variables you want to check before buying a vintage Datejust.
Thomas van Straaten expects the book to be finished in December 2021. Then, the design and revisions will be done from December 2021 till February 2022. Printing will be then done in March 2022. He estimates that the first shipments will go out that same month. You can back up this project via the Kickstarter page. The regular price of the book will be €99. However, 50 super early birds can back this project for €59, for which they will also receive a copy of the book!
More information and backing via this Kickstarter page.