The Watches I'd Buy Today If Money Were No Object: Thor's Picks From Rexhep Rexhepi, Laurent Ferrier, And Greubel Forsey
My forever three-watch collection if I sold the house and cars
Sadly, the chances of a landfall through a lottery win are very slim since I don't buy lottery tickets or scratch cards. Instead, I'm watching my stock fund investments stay in the red while waiting it out, and I happily uninvested in the crypto rollercoaster. But that doesn't stop the imagination from running wild occasionally, and this story is the perfect vehicle. Writing about watches and putting together an article on my grail watches is difficult enough. Choosing which watches I'd buy today with an unlimited budget is near impossible, and these three might change over the coming year. Sadly, my budget won't.
I've developed a more cautious attitude to collecting lately, and this sparks the imagination back up again to worrisome levels. So this is my imaginary three-for-all collection if I were to start from scratch with an unlimited budget. With a classically styled, elegant grail and a sports watch on a bracelet, that could be it. But for the last pick, I've chosen an avant-garde creation, a piece that symbolizes the future of watchmaking without looking to the past. I would also have a yacht, a private helicopter, and a penthouse on the French Riviera, but that's for a different story.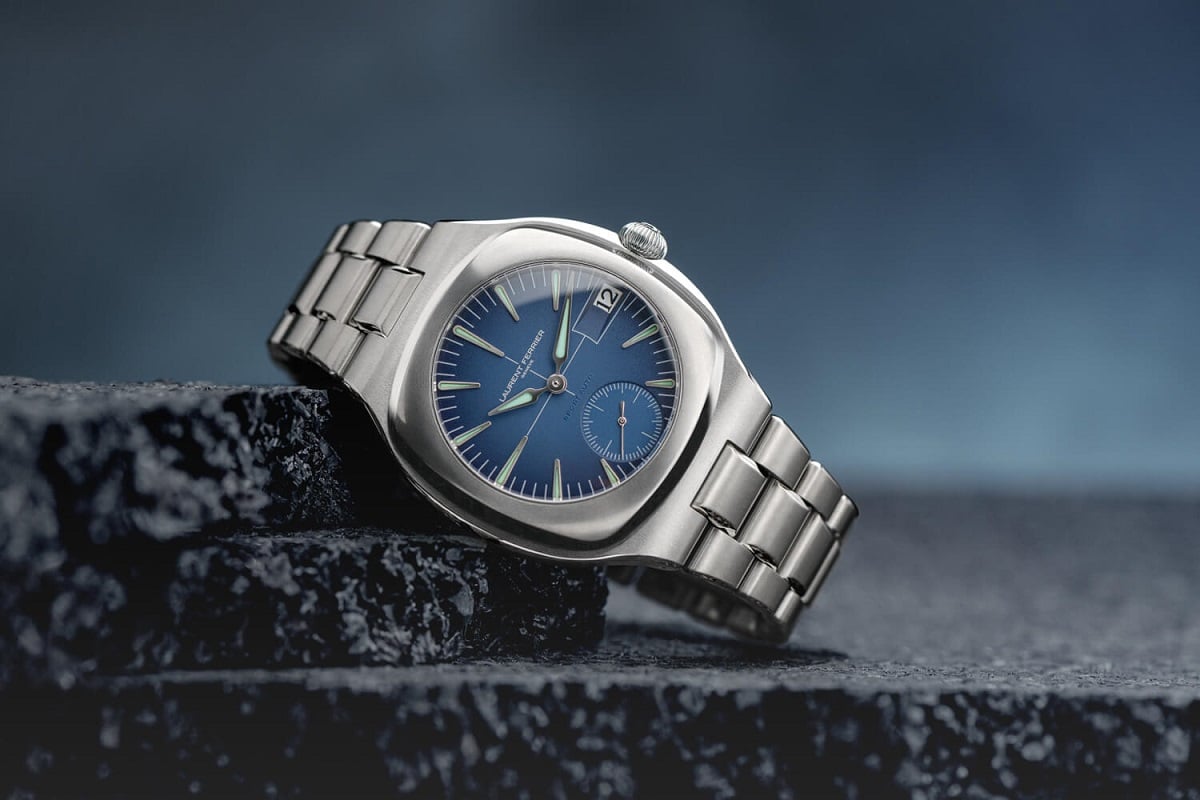 Laurent Ferrier Sport Auto
I have a deep affinity for independents, as some of you will know. I have all kinds of respect for brands like Rolex and what they've achieved, but my desire for instant recognition is lukewarm at best. It doesn't help that criminals in every metropolis in the world are ready to pounce on you if they see your Rolex, but that's the way of the world. For me, the appeal is in the craftsmanship and hand-finished perfection of a watch like the Sport Auto from Laurent Ferrier.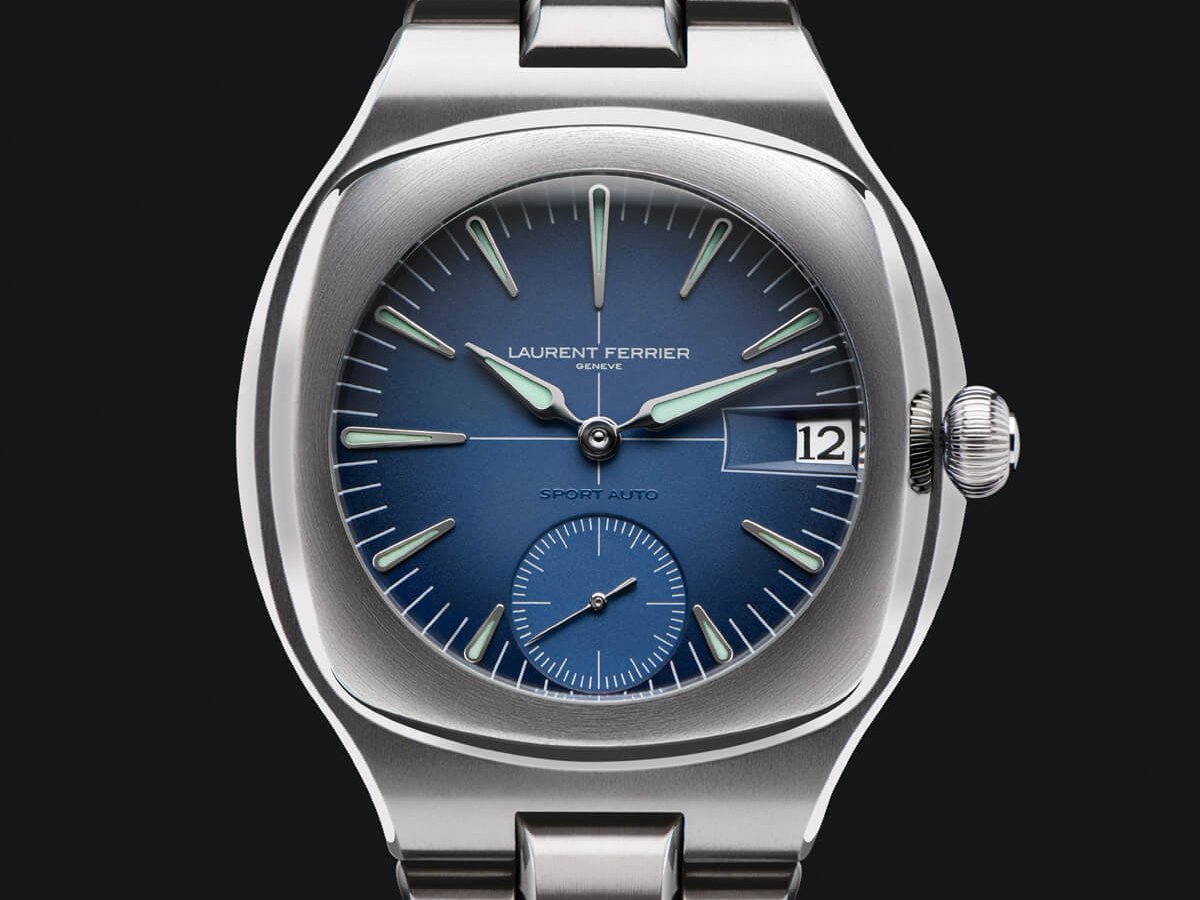 As an everyday sports watch, CHF 46,000 is more than most people's grail-watch ceiling, but it's in the details. The 41.5mm case is light, and its Grade 5 titanium is tough to machine and polish. That makes it even more impressive that the execution beats hallowed Swiss 904L steel cases for sharpness. The glimmering details like the soft curvature of beveling and the discreet brushing of the matte surfaces say it all. It plucks my integrated-bracelet heartstrings with a bracelet that's chunky, for lack of a better word, yet exquisite. The big, square cushions for center links have a satin-brushed finish and give off intense glints of light with their polished side bevels. And all this is without glancing at one of the best blue dials around with fumé perfection and Assegai spear hands to die for.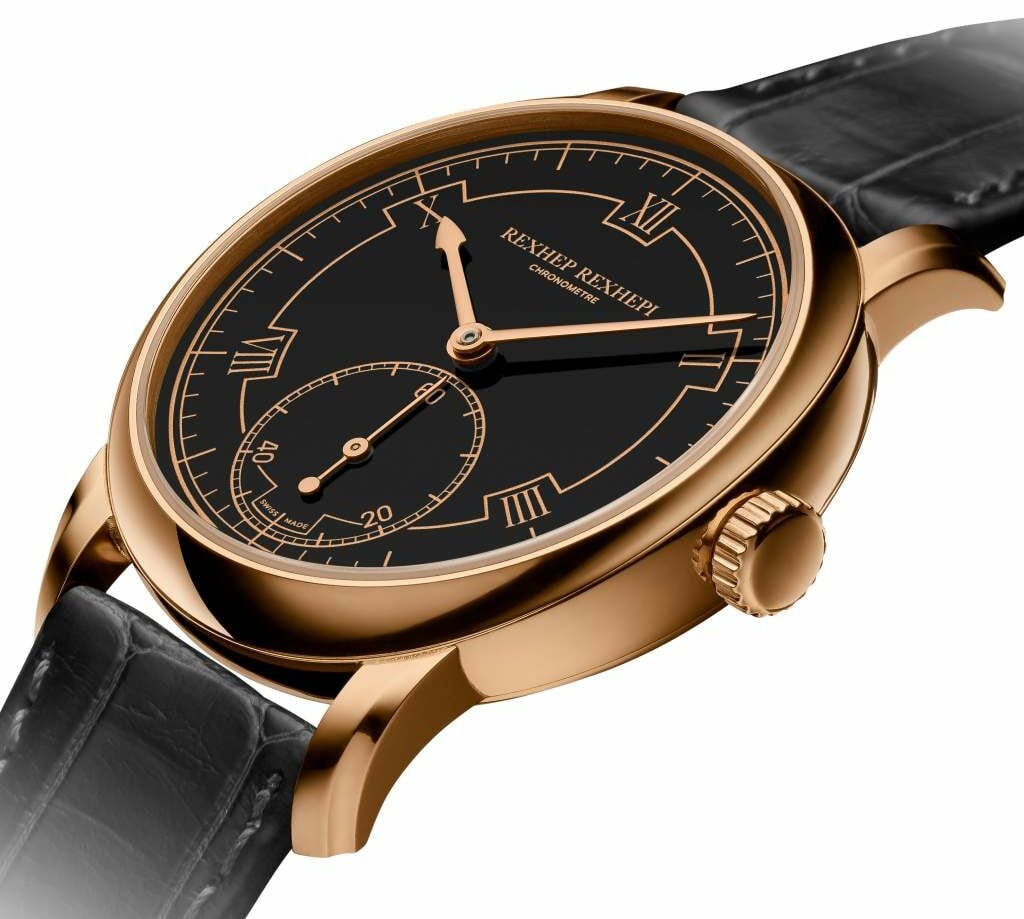 Rexhep Rexhepi Chronomètre Contemporain
This is the first watch in the Founder's Collection of Akrivia. The accomplished Chronomètre Contemporain has the name of the young 36-year-old founder Rexhep Rexhepi on the dial. The balance of the printed dial alone is worthy of a separate article. Hand-finished spear and sword hands reside over a black Grand Feu enamel dial with delicate gold details. The smooth hands match the rounded 18K 5N red gold case, while a quirky castellated ring snakes its way around sharp Roman hour markers. There is a quirky classicism that I adore about the geometric pattern, especially where it intersects the huge seconds register at 6 o'clock. Recessed with a thick outer rim, this golden circle dominates the dial. It's quite large, unusually stretching to the cannon pinion in the center.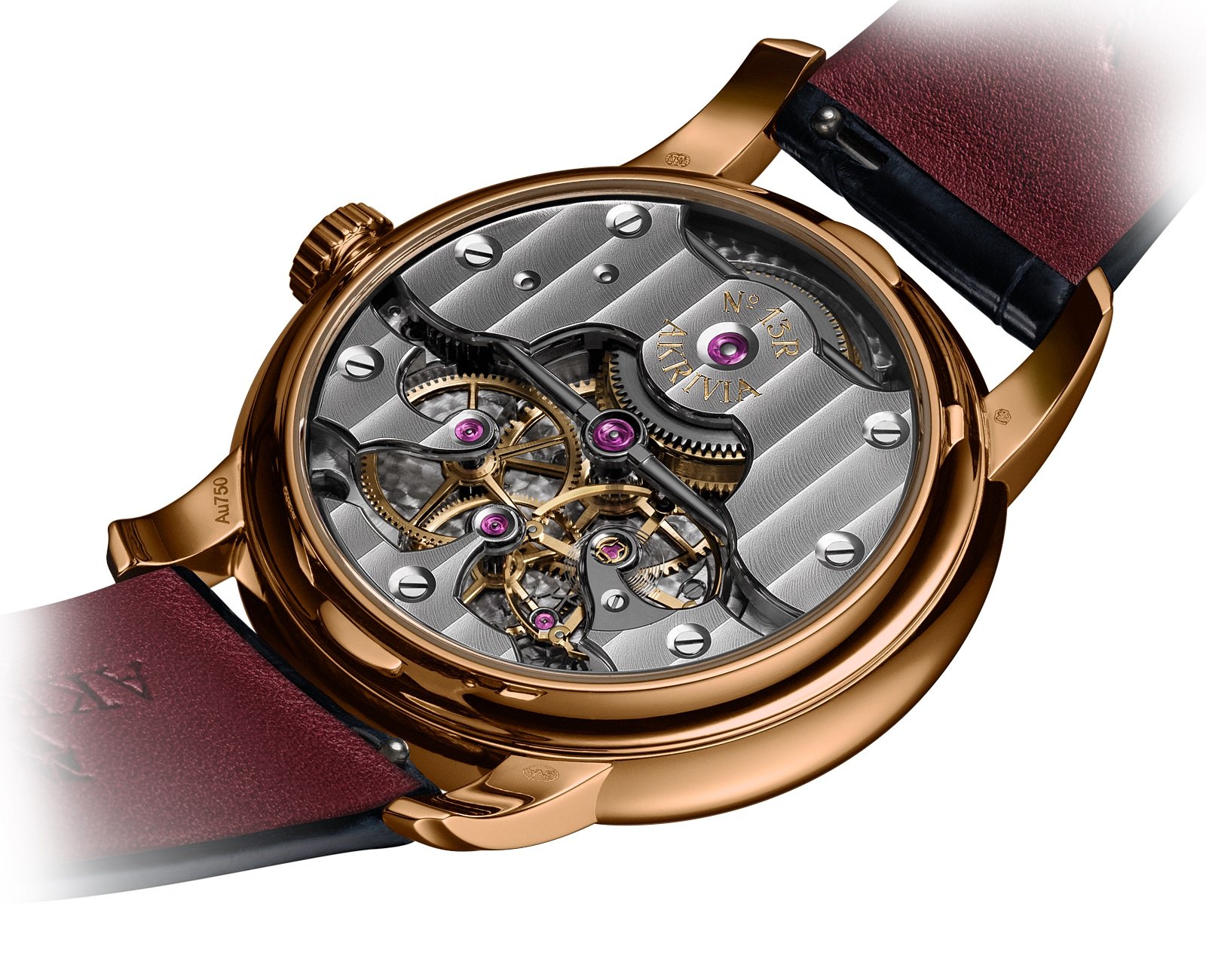 Flip the watch around, you'll be faced with a symmetrical manufacture movement. To me, this shows passionate perfection in the execution of each detail, featuring hand-applied anglage, black-polished screw heads, and rhodium-plated, hand-engraved snailed bridges. It's pretty close to perfection with a classic approach. But just like in a Laurent Ferrier, it is matched by a modern and symmetrical design that brings a zen-like balance to what is rather hypnotic. The fact that this eloquent vision in red gold is built to my fave 38mm case size makes it even more desirable at CHF 60,000.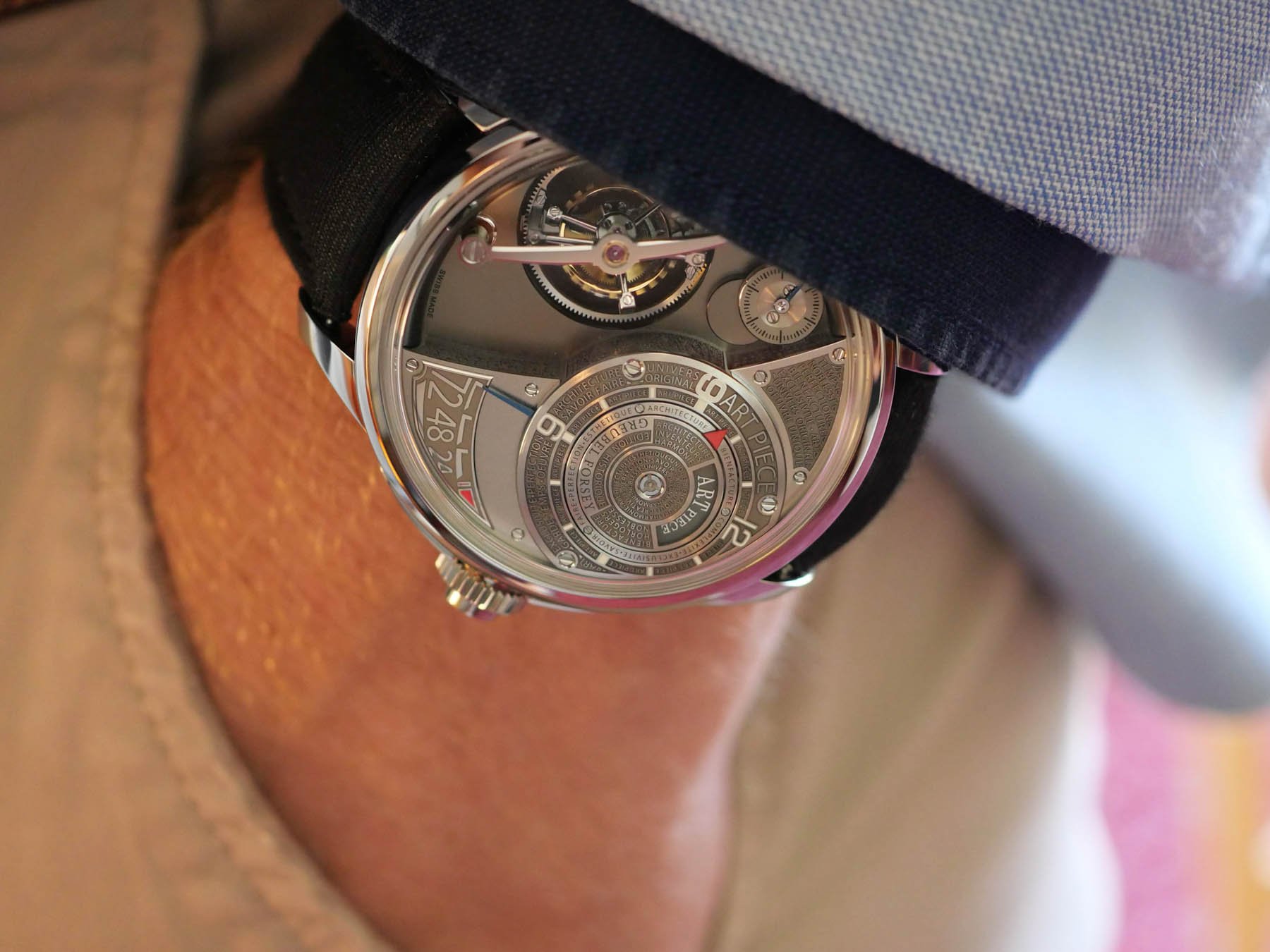 Greubel Forsey Art Piece
For me, the Art Piece series from Greubel Forsey is full of exit watches, happily residing on the top of many grail lists. The main difference here is that the image above is my own. To me, indies like Greubel Forsey, MB&F, and Urwerk are the future of watchmaking. There will be a time when we stop looking back at past glories and concentrate on what comes next. This was made clear to me in the hotel suite of Greubel Forsey at the 2021 Geneva Watch Days. It was a pivotal moment for me. The price of CHF 555,000 felt immaterial as I twisted my arm to shoot one of my top three pocket shots of all time. Any Greubel Forsey would fit into this third slot on my dream list, don't get me wrong, but the Art Piece Edition Historique has a poetic quality. The immense presence of the double tourbillon tilted at 30° reigns supreme, while time itself has a secondary, even ethereal role.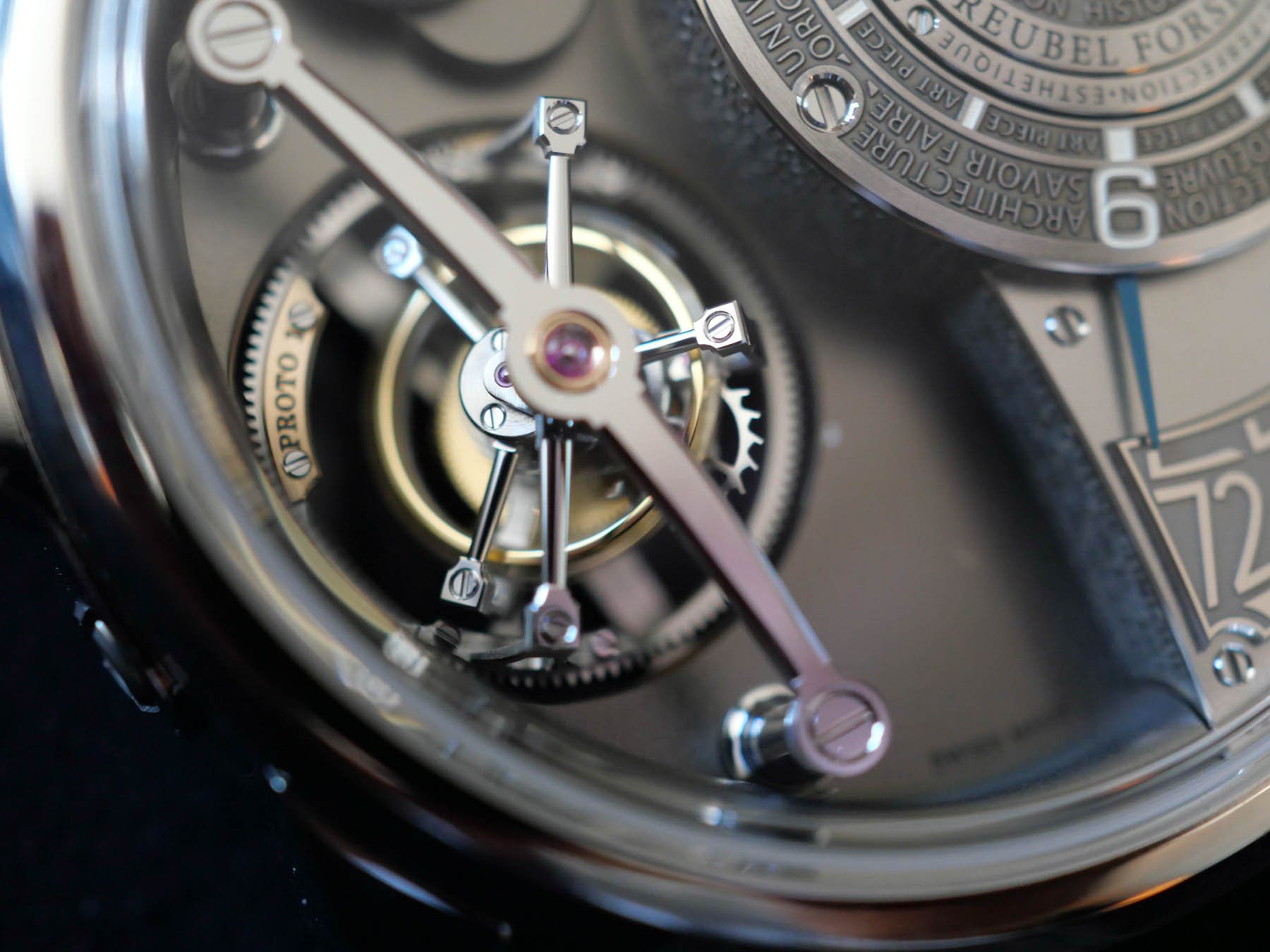 A thought piece, not a timepiece
The dramatic slash across the dial — a hallmark of the brand — revealing the depth is dramatic as ever. Each hour makes itself known on the monolithic circle at 2 o'clock. Here, a small window spells out the "Art Piece" legend. Press the pusher in the crown, and this slides away revealing the insignificant measure of minutes. It makes you consider the fleeting presence of time itself. This is Haute Horlogerie taken to its flamboyant extremes.
The version I tried on had a soft gray, almost unfinished-looking lower-level plate. This made the tourbillon stand out like a jewel. Anyone with the slightest understanding of metal finishing recognizes the craftsmanship. Hundreds of hours go into the rest of the "dial". Hand-engraved words like "architecture" and "savoir faire" appear in my macro shot above. This only serves to underline the deeper meaning of a watch transcending the genre. A thoughtful piece bereft of glimmering gems of boastful colors, this particular Greubel Forsey left a lingering impression. This model is discontinued, but you will find it at prominent auctions.
Writing this was rather liberating, Fratelli. None of these are very likely to find themselves on my wrist anytime soon. But neither will the Mona Lisa hang above our sofa, and I don't let that doesn't stop the fascination. What are your top trumps of all if you had an unlimited budget? Let me know in the comments.
Find me and follow me: @thorsvaboe