There is no need to introduce WatchUseek to you, the biggest on-line watch community on this planet. In the past, a number of limited or special edition watches have been created for WatchUseek. However, last weekend I came across this WatchUseek Edition Rattrapante by watch manufacturer TNT. As you can see, a very interesting 'bullhead' design with a rattrapante complication inside.
Torsten Nagengast Timepieces
TNT is operated by Torsten Nagengast, a German watch manufacturer that has over 20 years of experience in the field of watch projects. Especially for WatchUseek readers, he designed this bullhead rattrapante watch. Torsten was able to source a number of rattrapante movements, based on the famous ETA/Valjoux 7750 movement with an additional AROLA Alfred Rochat & Fils RAT1 module. Only 75 pieces will be produced of this timepiece. A small quantity indeed, but this has everything to do with the availability of this wonderful movement with Top-Execution finish. This means it has Côtes de Genève and perlage finish.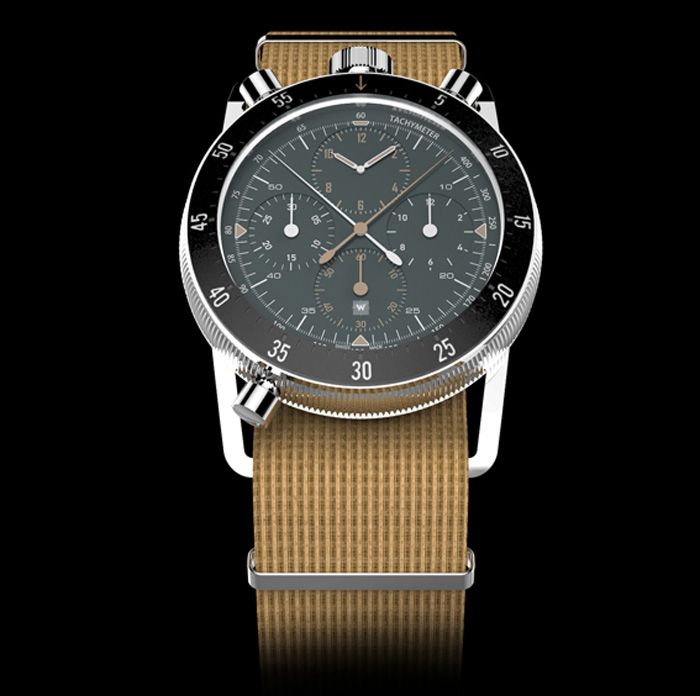 In case you wondered what a rattrapante movement does, let us do a brief explanation about it here. The rattrapante complication, or split seconds chronograph, is able to record an additional event (in time) when running the chronograph. When the start button is pushed (in this case, it is the button located at 11 o'clock) there are two second hands that will start to move. They are placed on top of eachother, hardly noticeable when you don't pay attention to it. When you push the rattrapante button located at 7 o'clock, you will see that one of the two second hands will stop right there, while the other continues running. If you push the 'normal' chronograph start/stop button again (11 o'clock) you will stop the other hand as well. Now you are able to read two elapsed times. Useful for timing two events being performed simultaneously. Pushing the button at 7 o'clock again will make the rattrapante seconds hand join the normal chronograph seconds hand again. When the reset button at 1 o'clock is pushed all hands will zero.
Contributors and readers of WatchUseek could answer a poll with regards to their favorite color way of the watch. The results are a black dial version of the watch and an interesting blueberry coloured dial (as you can see in the pictures of this article). When ordering a watch, you need to state the color you want to have and the preference for a limited number. The "Challenger" rattrapante for WatchUseek will come on a nylon NATO strap but there is also a possibility to wear it on a leather strap.
Besides the sourced movements, the specific parts of the Challenger watch will be manufactured in Asia (case, dial and hands) and assembled in the Jura, Switzerland. After the enlisting of the 75 pieces ended, the production will start and TNT expects the watches to be delivered in January/February 2014.
All details on the watch, pricing, delivery etc. can be found here. The price of the watch will be 899,- Euro including VAT  (742,98 Euro for non EU residents).