The Zenith Chronomaster Revival Safari — Taking A Walk On The Wild Side
A retro inspired El Primero with a twist
When you are a watch collector, and especially one of chronographs, owning a watch with a Zenith El Primero movement is probably on your list (if not already in your box). If it is, you and I are kindred spirits. The El Primero is a legend of the industry. Since its launch more than 50 years ago now, it has never been held in anything but the highest esteem. It is one of the most elegant and expertly conceived calibers in history. Perhaps the toughest question for watch collectors hoping to add this icon to their stable is exactly which one to choose? By the looks of this new Chronomaster Revival Safari reference 97.T384.400/57.C856, this could be the one. But is it?
I love a green dial on watches and I couldn't care less that every brand and its mom are using green dials on watches these days. Sometimes people have a tendency to overthink things. This color just looks good. This Chronomaster Revival Safari is no exception. Zenith sent us the Chronomaster Revival Safari to give it a try for a few days.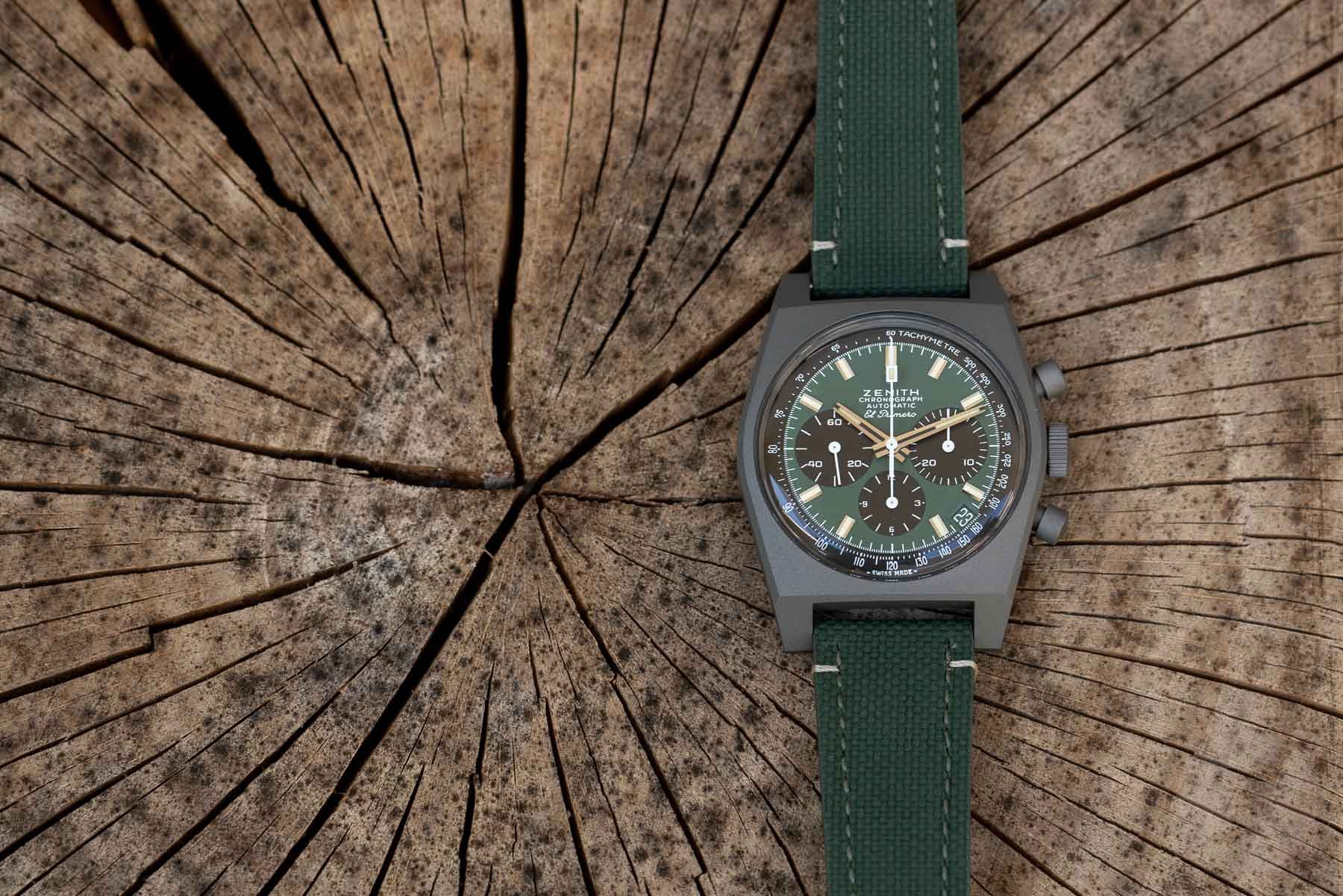 Zenith Chronomaster Revival Safari
Let me start by saying that the watch is a little smaller than I thought it would be. The case diameter of the Revival Safari is 37mm, just like the reference A384. But, because of the dark color of the case, it appears to be smaller still. As I am used to wearing larger watches, it takes some time to adjust to this 37mm Zenith. Despite its size, however, it has a very pleasing weight to it and feels of exceptional quality.
Although the mat finish and this particular shade of green make it look considerably goofier from a distance, you can tell this is a serious piece of kit the minute you hold it between your fingers. The case feels disproportionately heavy for its size because it is literally packed out with the El Primero caliber. The balance, however, is thoroughly exceptional. Pinched between your thumb and forefinger, this thing feels like a perfect pebble and, as the weight spins within the case, it almost feels like its about to hatch…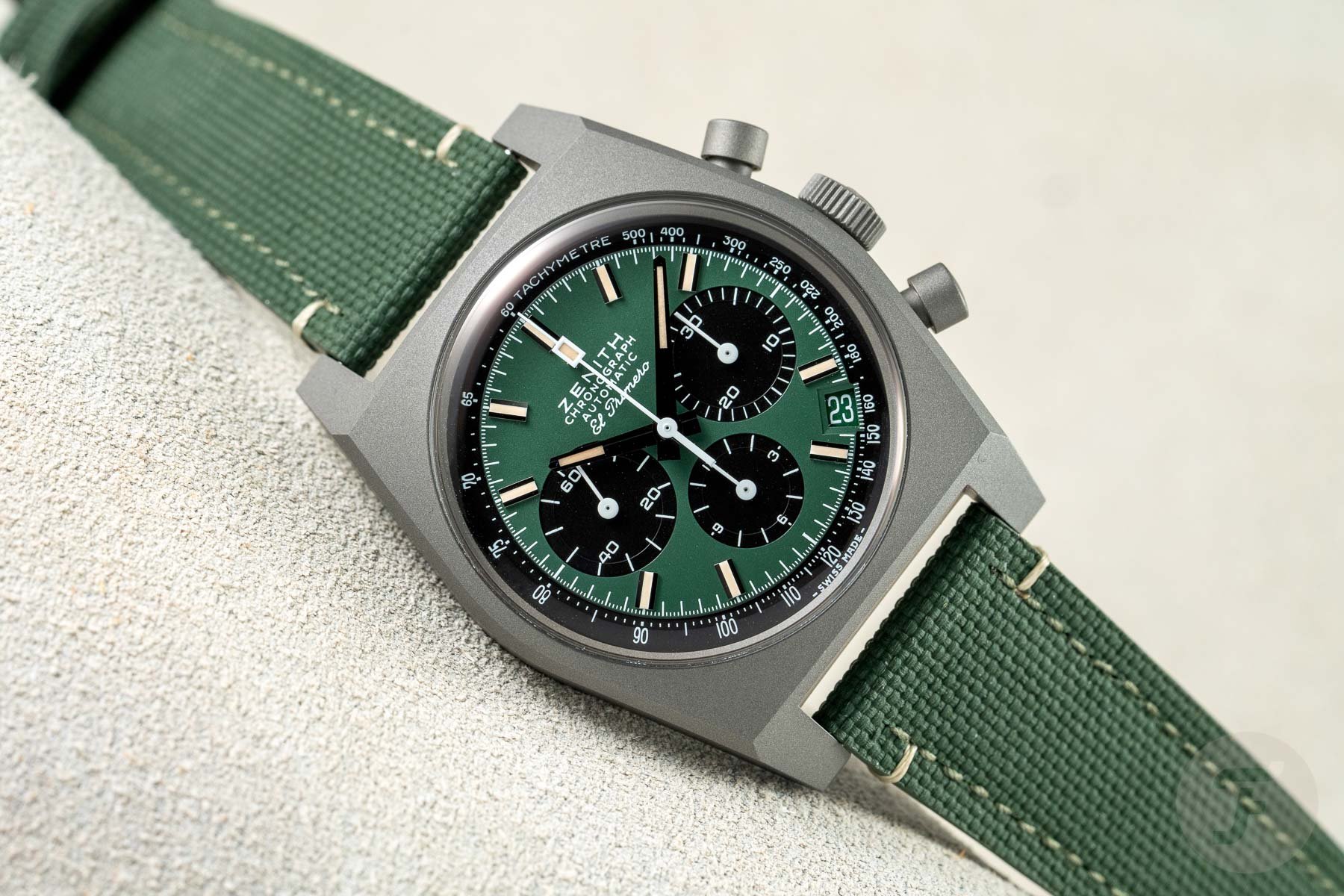 Zenith A384 variation
I was mainly interested to see the Zenith A384 case shape on my wrist, as I am not a fan of wearing rectangular watches in general, but this one is more "tonneau" than it is rectangular. The case of the Revival Safari is made of titanium and received a microblast finishing. It enhances the dark appearance of the watch.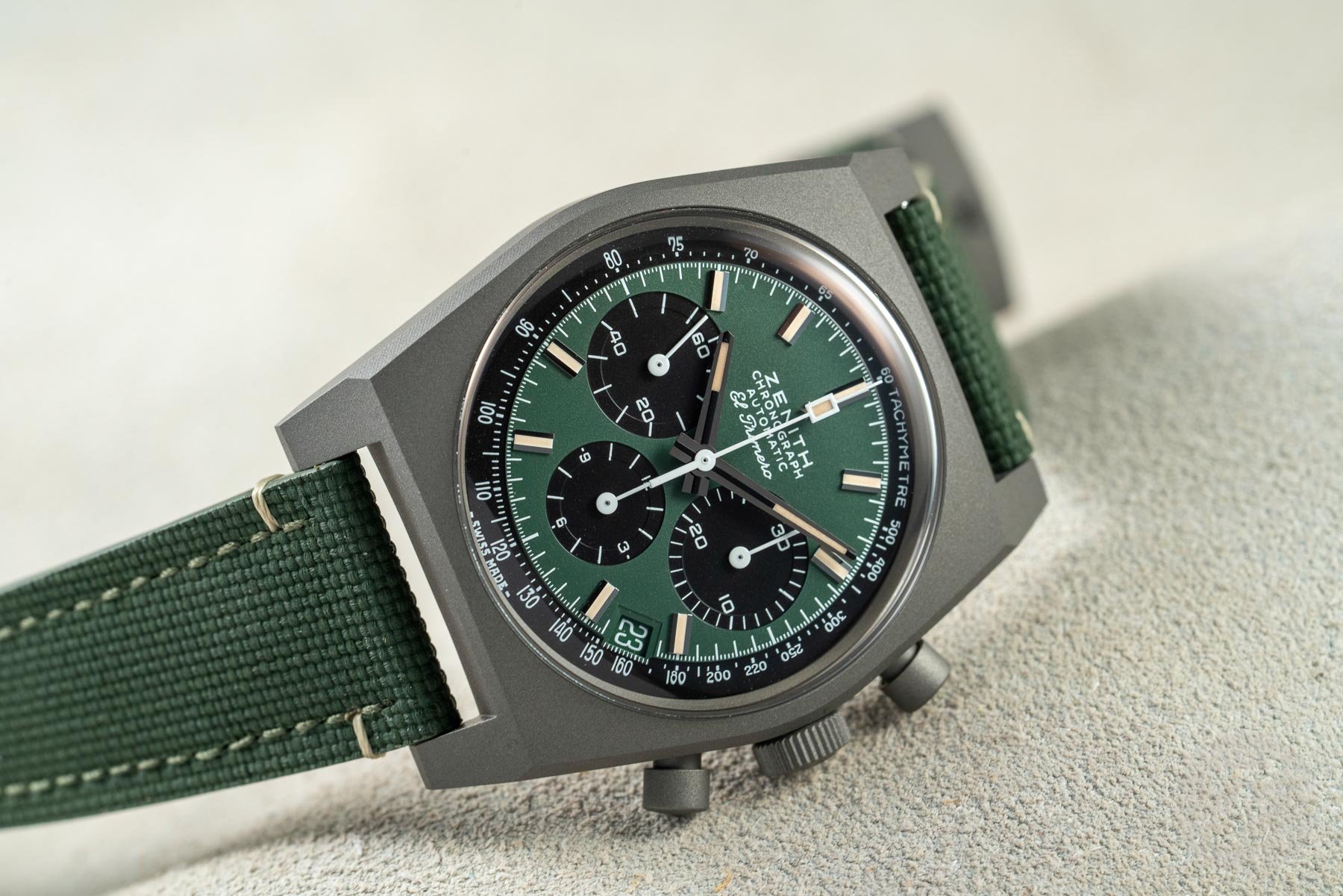 Green and black
What I love about this new Revival Safari is the dial though. The center part has a beautiful tone of dark green, with black sub-dials. The running seconds are located at 9 o'clock, while the chronograph minute recorder is at 3 o'clock and the hour recorder at 6 o'clock. All of the text printing is in white, while the applied hour markers have a slightly off-white tone. It makes for a very legible combination. If it shows too yellow-ish on pictures, someone has been active with the sliders in their post-processing software.
The lume in the hands appears to be a bit darker than the one used for the hour markers though. However, it is not disturbing to me. At 4:30 is the date aperture with a matching green disc and white printing. This is kind of rare for this series of Zenith watches. Zenith has a somewhat odd habit of often leaning on the black-on-white date wheels when a color-matched wheel would make more sense. Weirdly (almost comically for us reviewers), on this occasion, a black-on-white wheel might have actually worked but the subtle green version is a really neat touch and a definite talking point that I think deserves more plaudits than criticism. The outer track is black and has the tachymeter scale is printed in white. It is all very legible, but a darker (or black) outer scale does make the center (green) dial appear a little bit smaller.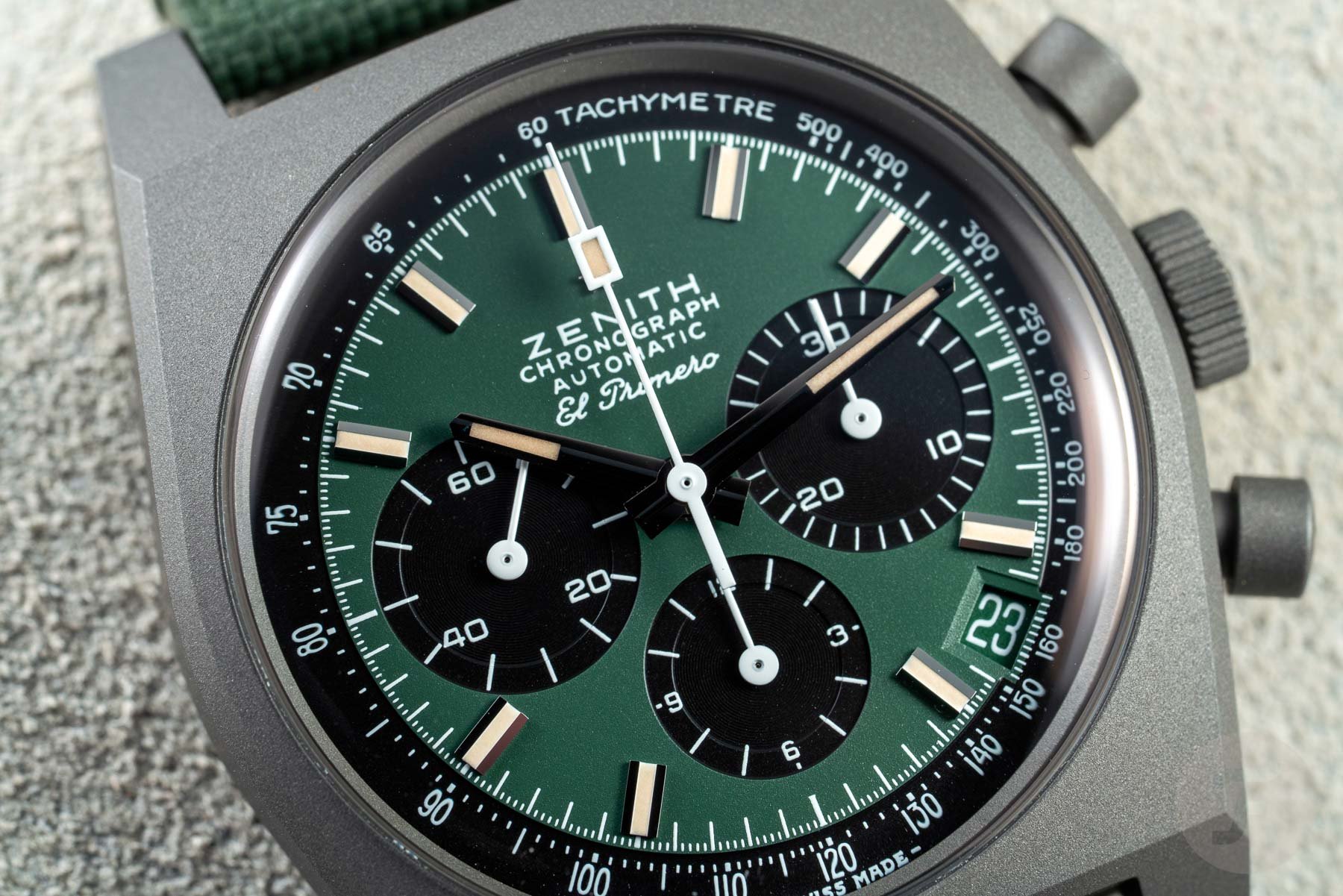 Printing on the Revival Safari sub-dials
I received a few comments about the printing on the dial when I shared a wrist shot of this Zenith Chronomaster Revival Safari on my Instagram feed. Some were worried about the sharpness of the sub-dial indices. I think it was caused by the lousy iPhone image I took, but also because of the distortion of the domed crystal. As you can see though, the printing of the indices does sometimes encroach on the center of the sub-dial, overreaching the outer "track" very slightly. However, this appears to be deliberate as the printing is sharp and looks crisp even under a strong loupe.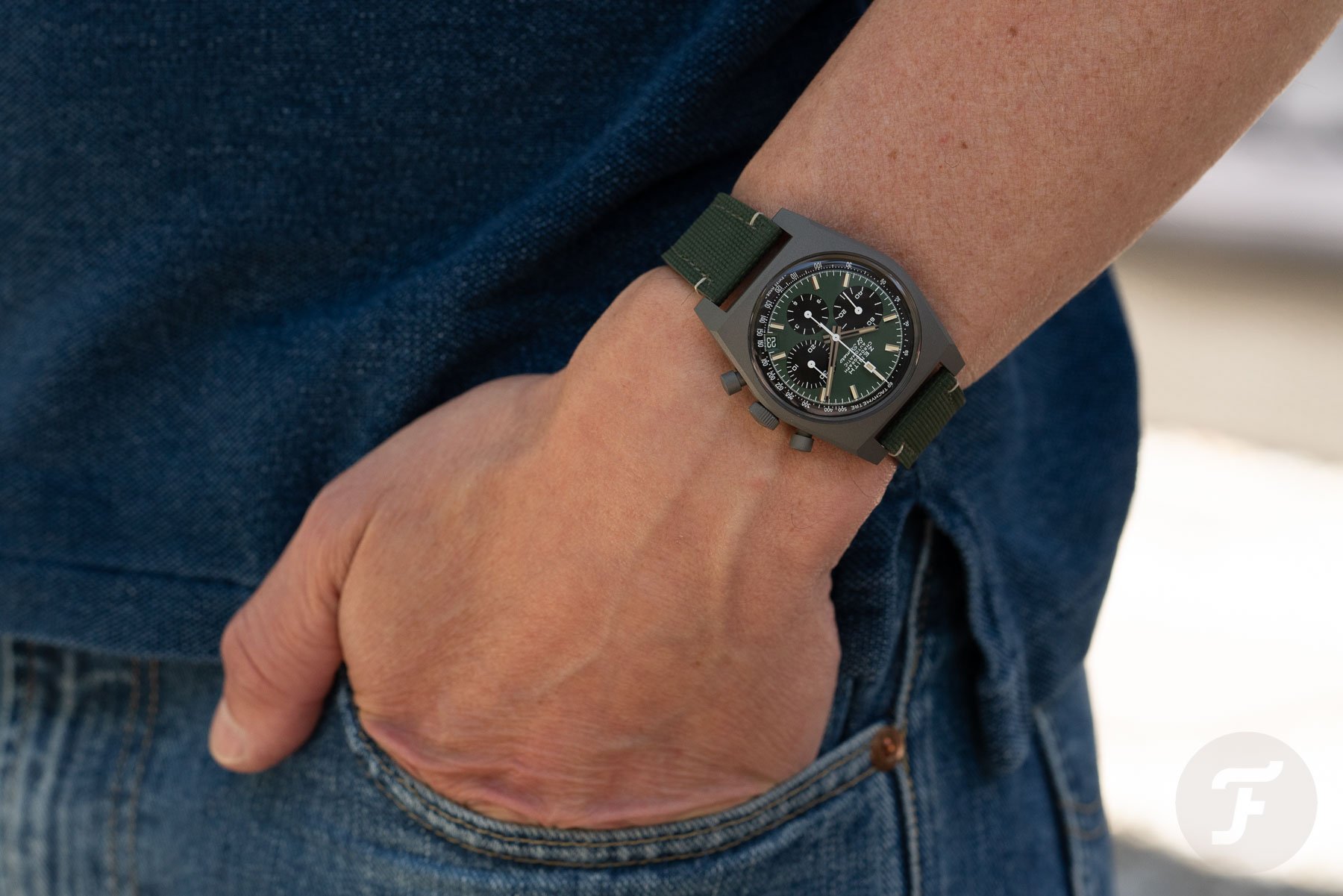 On the wrist
I have a 19cm wrist. Most of the time I wear watches with a case diameter between 39mm and 44mm. There are some exceptions when I wear something vintage and dressy. The difference is though, that those smaller vintage watches are non-chronographs.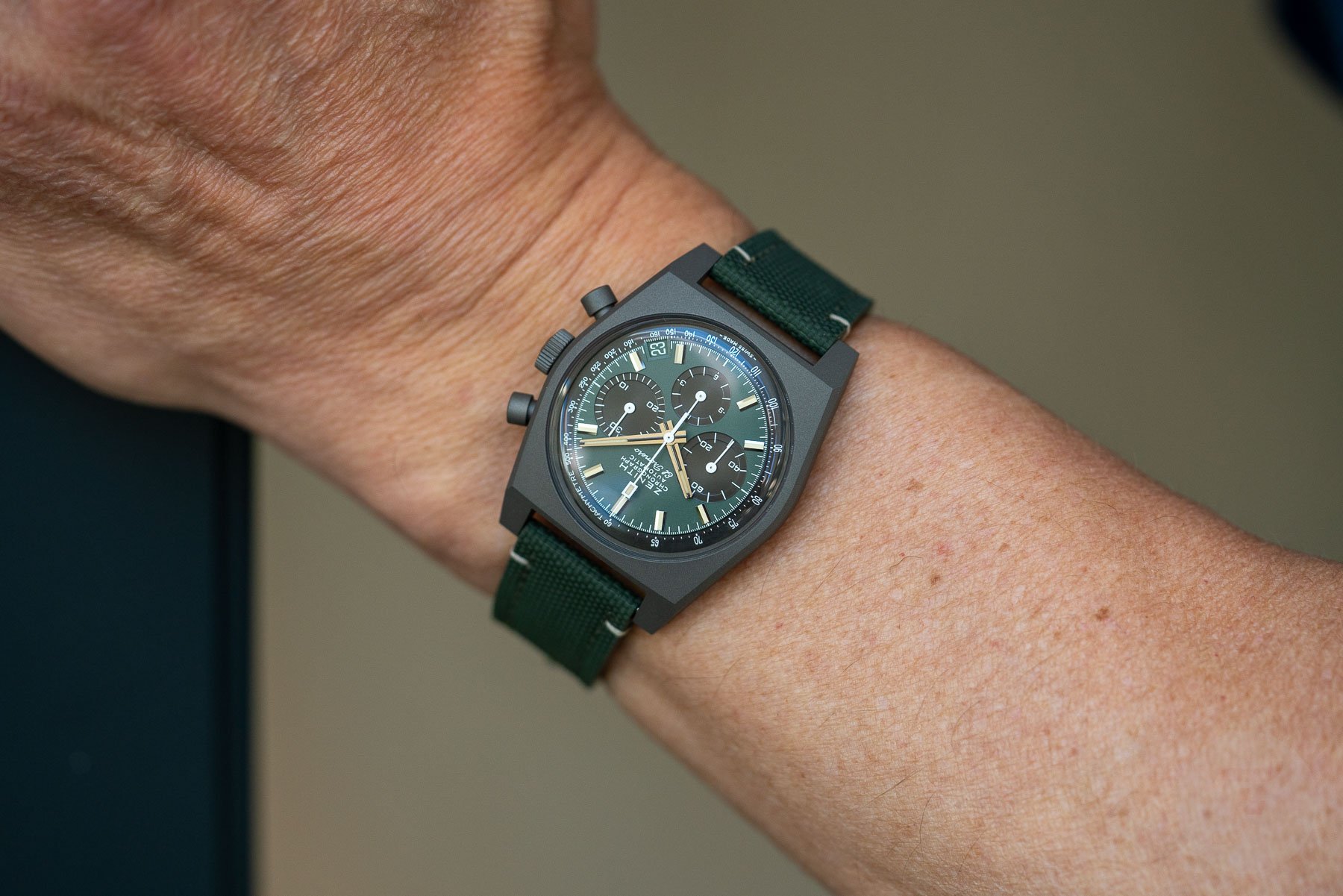 I am of the opinion that those watches appear to be larger watches of a similar size boasting sub-dials. Anyway, on my wrist, the 37mm A384 case actually looks fine. All I needed was some time to adapt to it. Besides the 37mm diameter, the lug-to-lug size is 47mm which makes this tonneau-shaped case suitable for most wrists. It is interesting is that this watch got quite a lot of positive comment from others, and not only in our office. The green rubber strap, with this Cordura effect, comes with a titanium buckle with the same microblasted finish as the case. The green strap also perfectly matches the dial. It's a pretty distinct combo that will surely win its fans.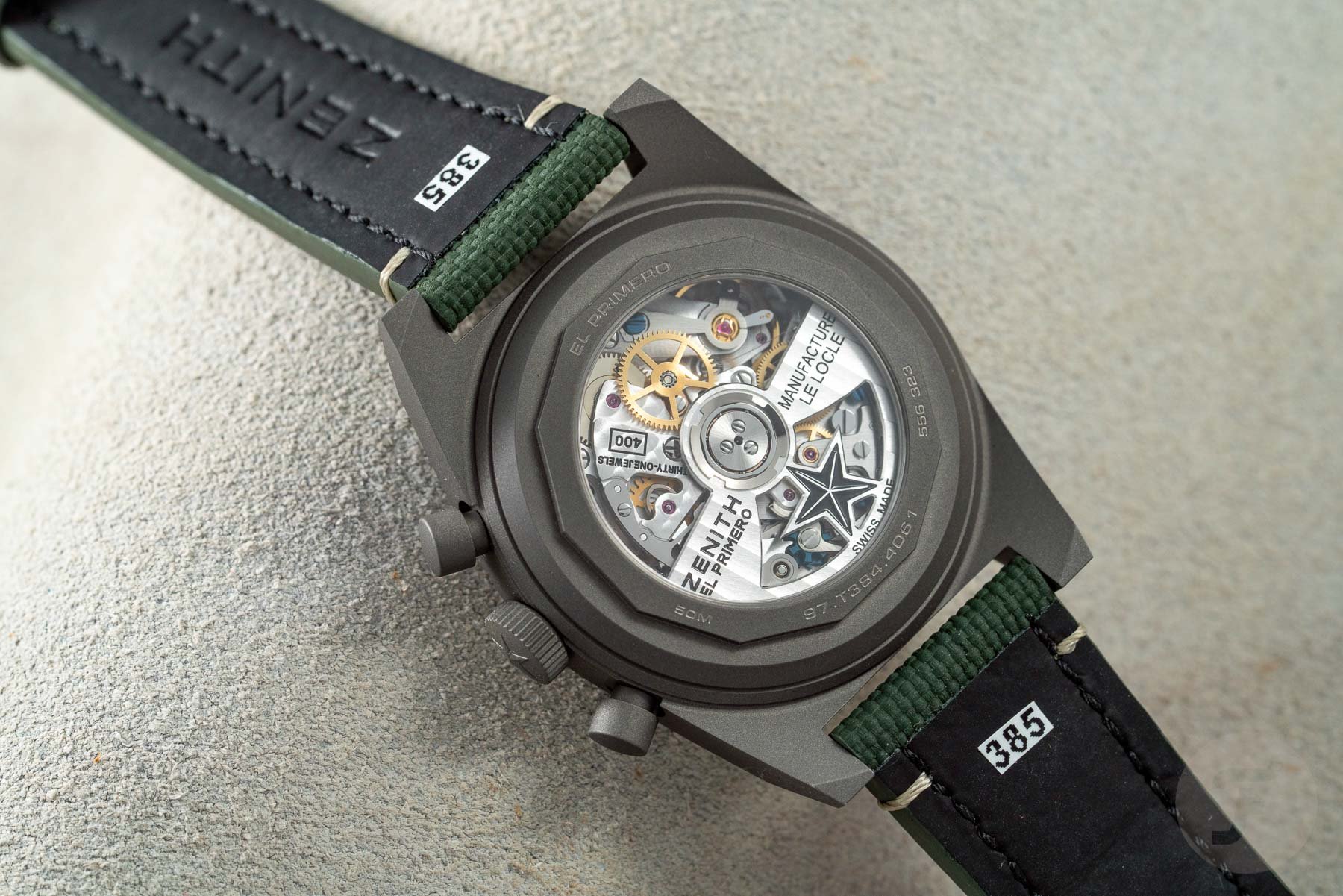 El Primero Caliber 400
Inside the Revival Safari reference, 97.T384.400/57.C856 is Zenith's famous El Primero movement. An in-house high-beat movement with a column-wheel chronograph mechanism. There is no introduction needed I guess, as it was one of the first automatic chronograph movements in 1969. This movement has been used ever since, with some minor changes and updates over the years. The cool thing is that Zenith is perfectly capable of servicing any vintage El Primero movement, as it has remained so similar. And, of course, they can just reproduce parts as needed. High-beat means it ticks at 36,000vph which enables you to measure 1/10th of a second. It provides this smooth sweep of the second hands on the dial. El Primero caliber 400 also features a date, and not to everyone's liking it is positioned at 4.30, but I actually do prefer this position over 3 or 6 o'clock. Why? Because it doesn't interfere with an hour marker. The movement is gorgeous and the sapphire crystal on the case back enables the owner to admire it whenever he (or she) wants.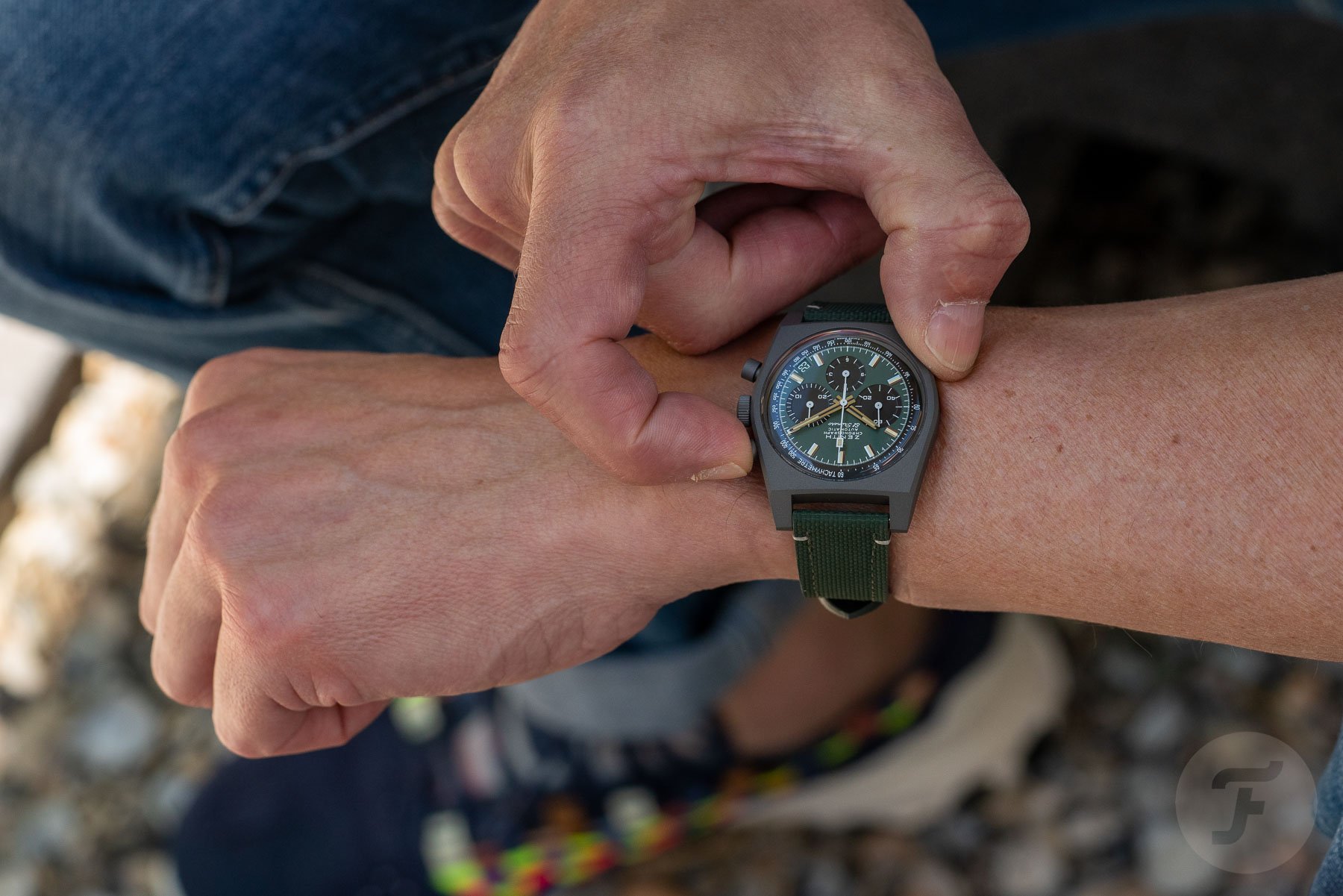 Some thoughts on the Zenith Revival Safari
My initial worry was not so much if I wouldn't like the darkness of the Zenith Chronomaster Revival Safari, or the green dial, but whether 37mm would fit me. The longer I wear it, the more I am getting used to and comfortable with its size. It is a great watch and I do like this dark and green variation on a Zenith classic.
One of my colleagues here told me it is a fashionable watch, but not in a negative way. I partly agree, but I do think it has a negative connotation if we use that word for mechanical watches, so I rather refrain from using it. But I see his point, and like him, I don't have an issue with it. If you want to have the vintage model or a retro version like the Revival A384, this is not the one to buy. But if you want to have a vintage-inspired watch with a modern interpretation, the Zenith Chronomaster Revival Safari is a very interesting candidate. In general, I think Zenith is in a very good flow as of lately! They are introducing some interesting watches that do their heritage justice.
More information on the official Zenith website.
Watch specifications
Model
Chronomaster Revival Safari
Reference
97.T384.400/57.C856
Case Material
Titanium with microblasted finish
Case Dimensions
Diameter: 37mm, Lug-to-lug: 47mm
Movement
Caliber EP400, self-winding chronograph, column-wheel mechanism, ticking speed: 36,000vph, power reserve: 50 hours
Water Resistance
50 meters
Strap
Rubber with titanium pin buckle
Functions
Time, Date, Chronograph, Tachymeter
Price
CHF 8,900/$9,000/€8,300