This Week in Watches: August 22, 2020 — Hot Edition
Hot new watches are here as the temps finally drop
Welcome to This Week in Watches for August 22, 2020 the hot edition. The searing heat is about to break in Europe, so take in the cool air and some new watches.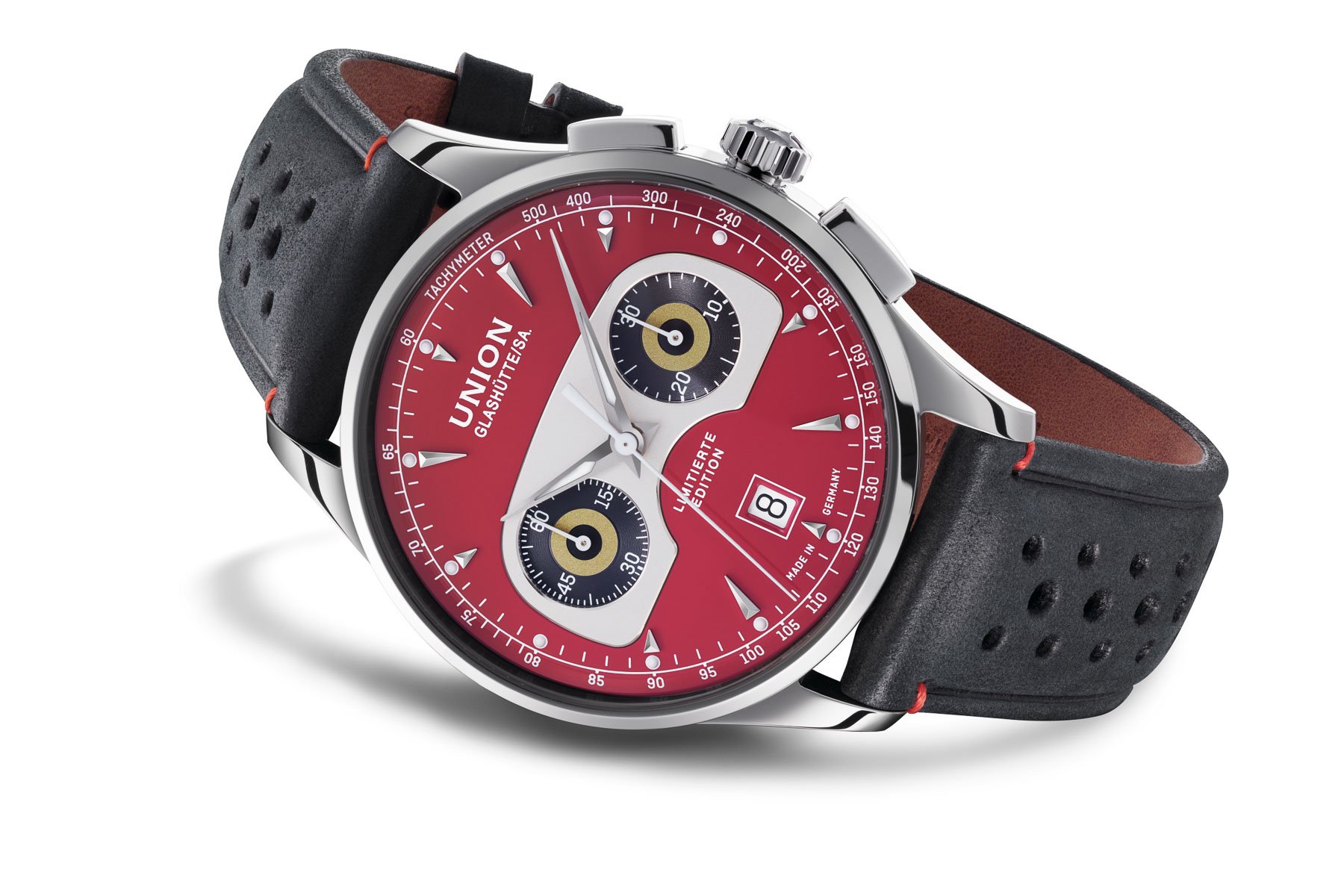 UNION Glashütte Noramis Chronograph Sachsen 2020
How do you like a hot red dial? The UNION Chronographs Sachsen 2020 is a COVID victim. This chrono was designed as a celebratory piece for the Sachsen oldtimer rally. That rally has been "postponed" to 2021. Union will make just 350 pieces of this 42mm stainless automatic chronograph. It features a reddish dial with a dashboard-inspired theme. An ETA 7753 based movement with 60 hours power reserve called the UNG 27.02 lurks within and the watch is 15.25mm thick. Pricing is €2,875 if you take advantage of Germany's current 16% VAT. More information is on the UNION website.
Mike's Take: I like the colors on this new Union chronograph, but I'm not so sure about the dashboard. Frankly, it feels like exposition to me and the inclusion of "Limitierte Edition" only furthers my line of thinking. Then, the subdials themselves look like the eyes on my Powell Peralta Mike McGill. Finally, 15.25mm is really thick. It's a shame because the 42mm diameter is sane for a company that produces a lot of large watches.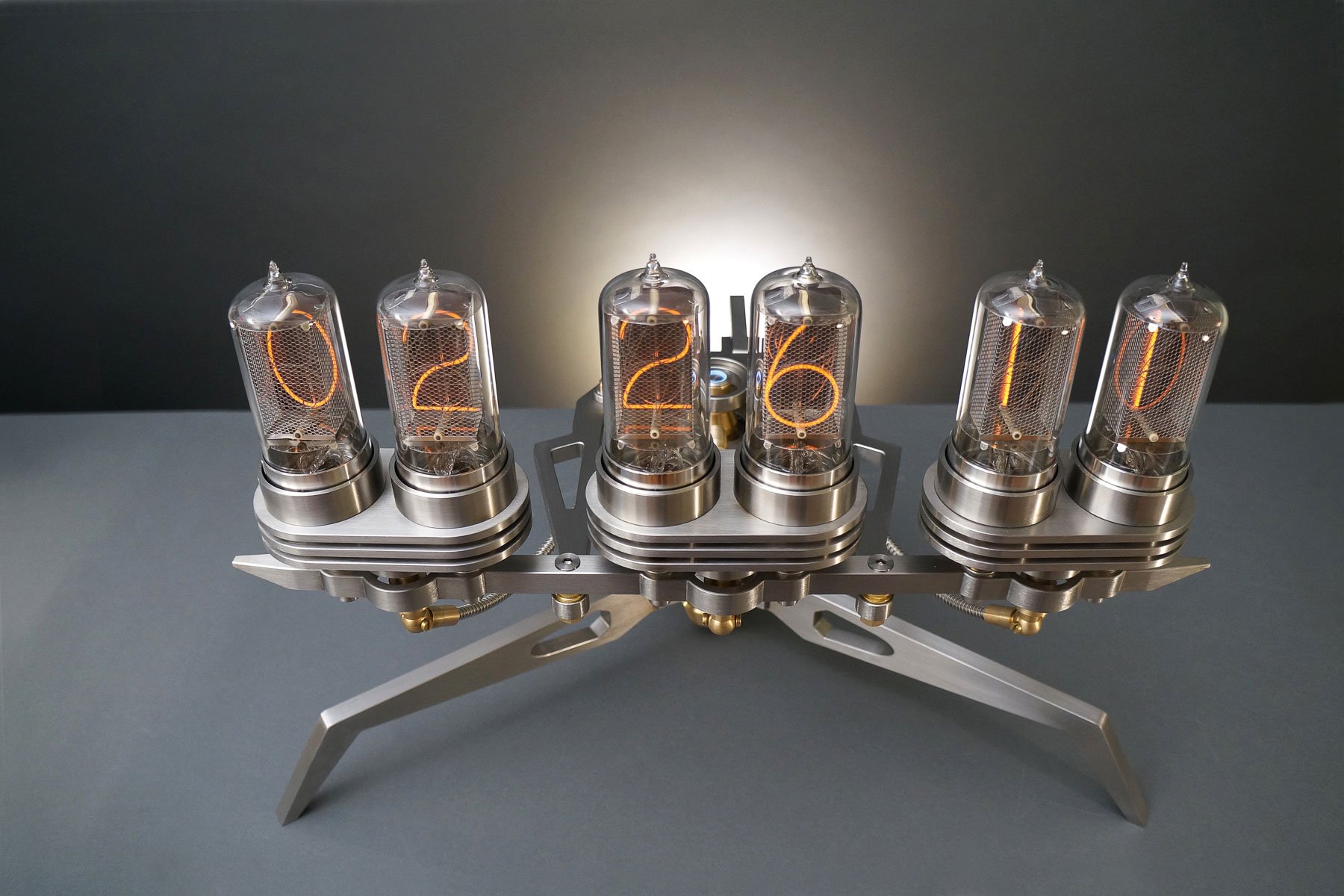 MB&F M.A.D. Gallery Nixie Machine III
Up next is the latest MB&F M.A.D. Gallery table clock. MB&F produced a version of this table clock back in 2015 and 2017. The clocks sold out quickly, so they've decided to come back one more time with a Frank Buchwald-designed edition of 18 new pieces. These also feature namesake Nixie Tubes made in the Czech Republic by Dalibor Farny. It's hot under those bright lamps, but at 32,000 CHF, these stainless clocks are completely hand finished. More information can be found here.
Mike's Take: It's rough business from the court of public opinion these days to come out with a pricey clock, but I like these. For sure, an MB&F product may scream conspicuous consumption when your lowly friends do with an Ikea special. On the other hand, just think of how it could transform a room.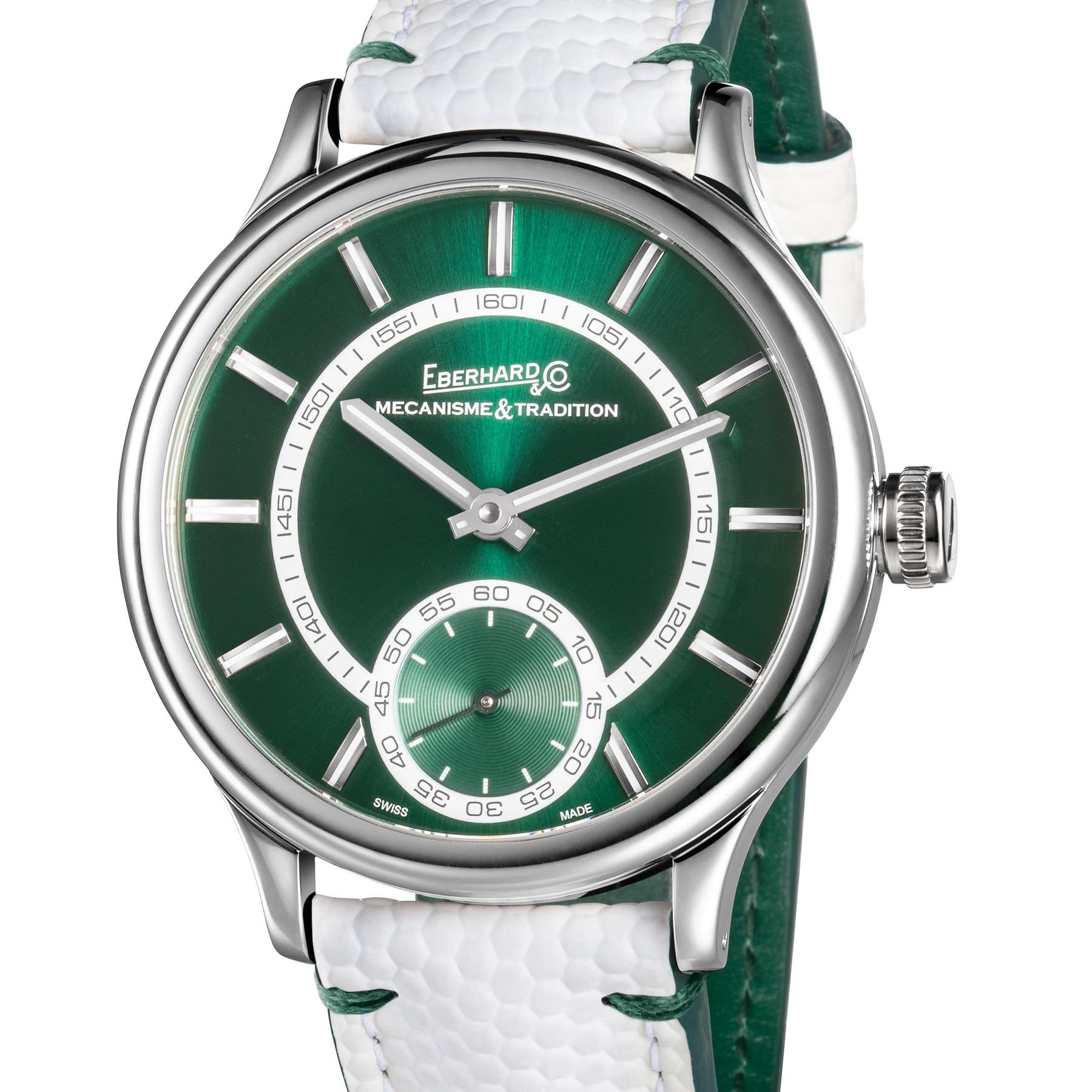 Eberhard & Co Traversetolo Hope
The Eberhard & Co Traversetolo Hope comes to us in the newest hot color: green. Yes folks, green seems to be the new blue. Ironically, stodgy Rolex figured that out years ago with the Hulk. But here we are with a 43mm stainless watch that uses the Unitas 6498 manual wind movement. Eberhard will offer this watch with either a closed or open display case back. Water resistance sits at 30 meters and it features a sapphire crystal. Strap wise, you can choose a white "technical" strap that matches Pat Boone's shoes or a stainless bracelet. I found some online pricing in the €1,800 range. Visit the Eberhard page for more info.
Mike's Take: Eberhard tells us that green is the color of hope and, ergo, the reason for the name. In the face of this hot pandemic, perhaps this watch will save the day! A manual wind movement is always a friend of mine, so I can appreciate this Eberhard. 43mm is a bit big, but Eberhard is drawing on its 90's history with this model when large cases were novel. As a last note, I do wish that they'd list pricing on their site. It's 2020 after all and that's not too much to "hope" for.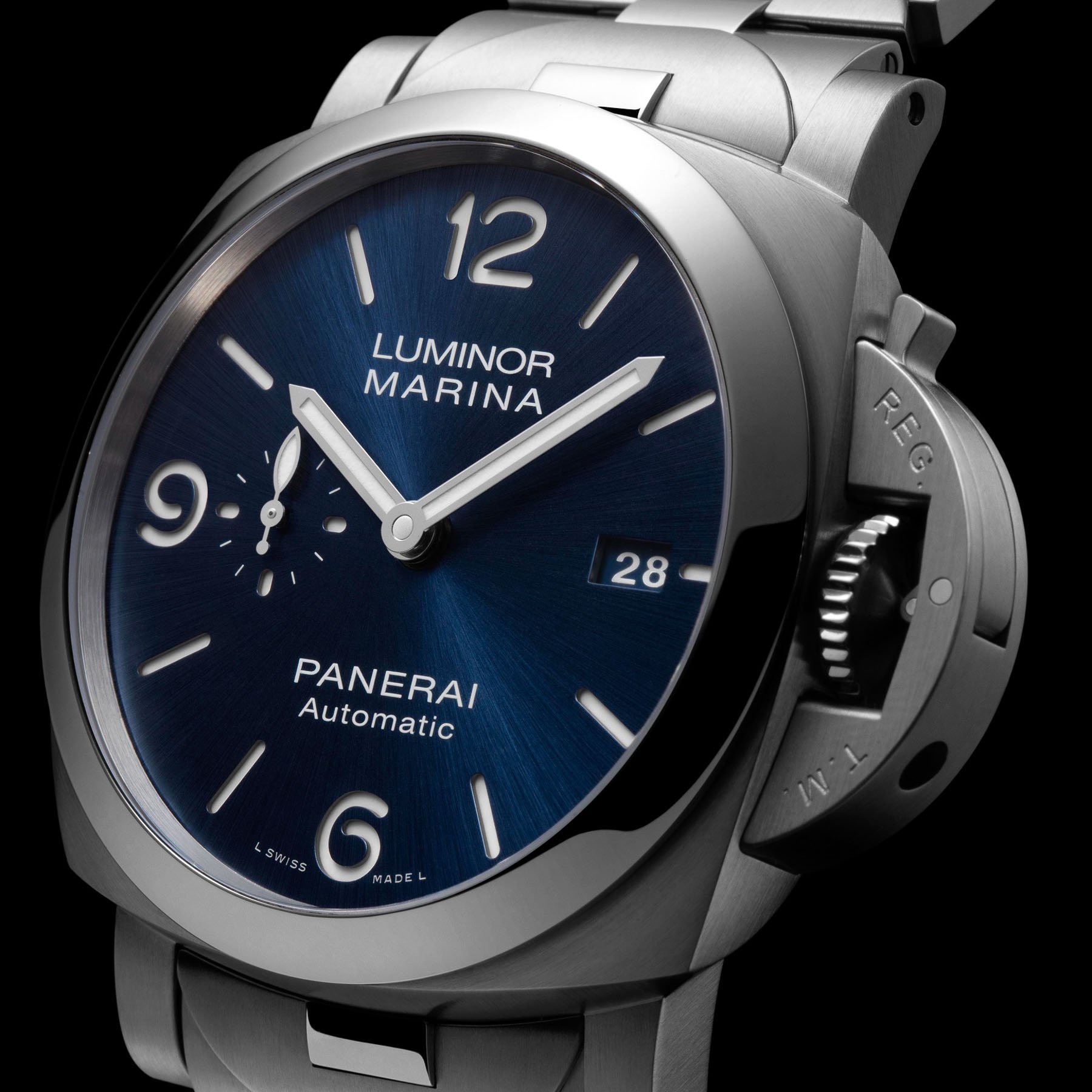 Panerai Luminor Marina Specchio Blu
Panerai has been on a hot streak as of late and things continue with the Luminor Marina Specchio Blu. PAM01316 is a 44mm stainless model with the P.9010 automatic and a blue dial. This is also a 300 meter water resistance model. What's even more notable is that we have a brand new bracelet that's sure to make its way to additional models. The bracelet is notable for being lighter and thinner than previous models. The watch is available on the official Panerai site for €8,200.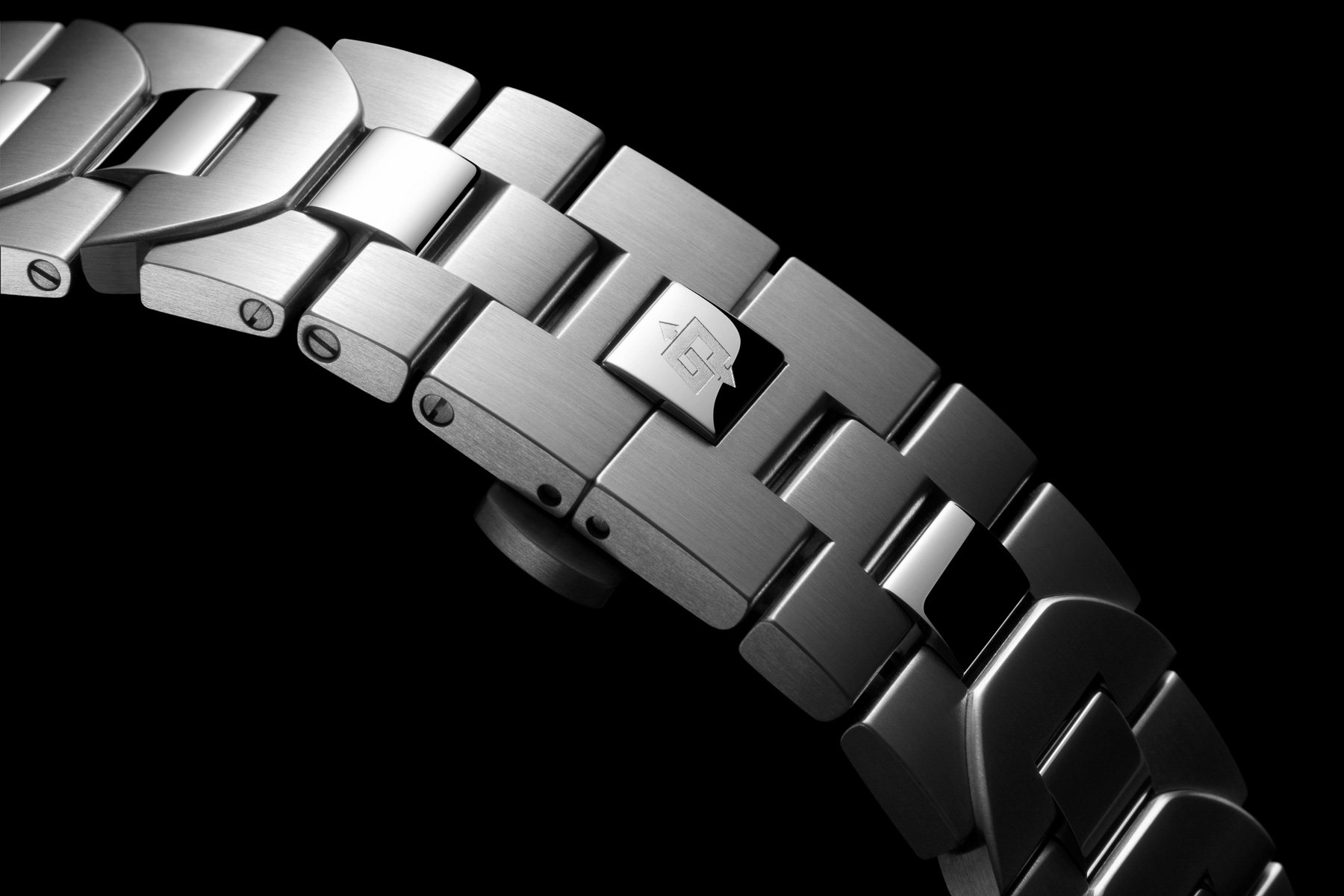 Mike's Take: If you haven't noticed, Panerai has begun naming its models and the descriptors sound an awful lot like a Phillips auction. In reality, though, I like it because it's better than rolling around shouting PAM numbers. The other thing I will enjoy is hearing my American friends pronouncing these words while my Italian friends cringe. Per this video, remember that two "c's" sound like "ch" in "cheese". Two "c's" followed by an "h" sound like a "k". Yes, you've been ordering pistachio ice cream all wrong! And about the watch? I really like it and I will contact Panerai to see if they'll send me one for review. 2020 is a terrible year, but it's quietly turning into the year of the good bracelet.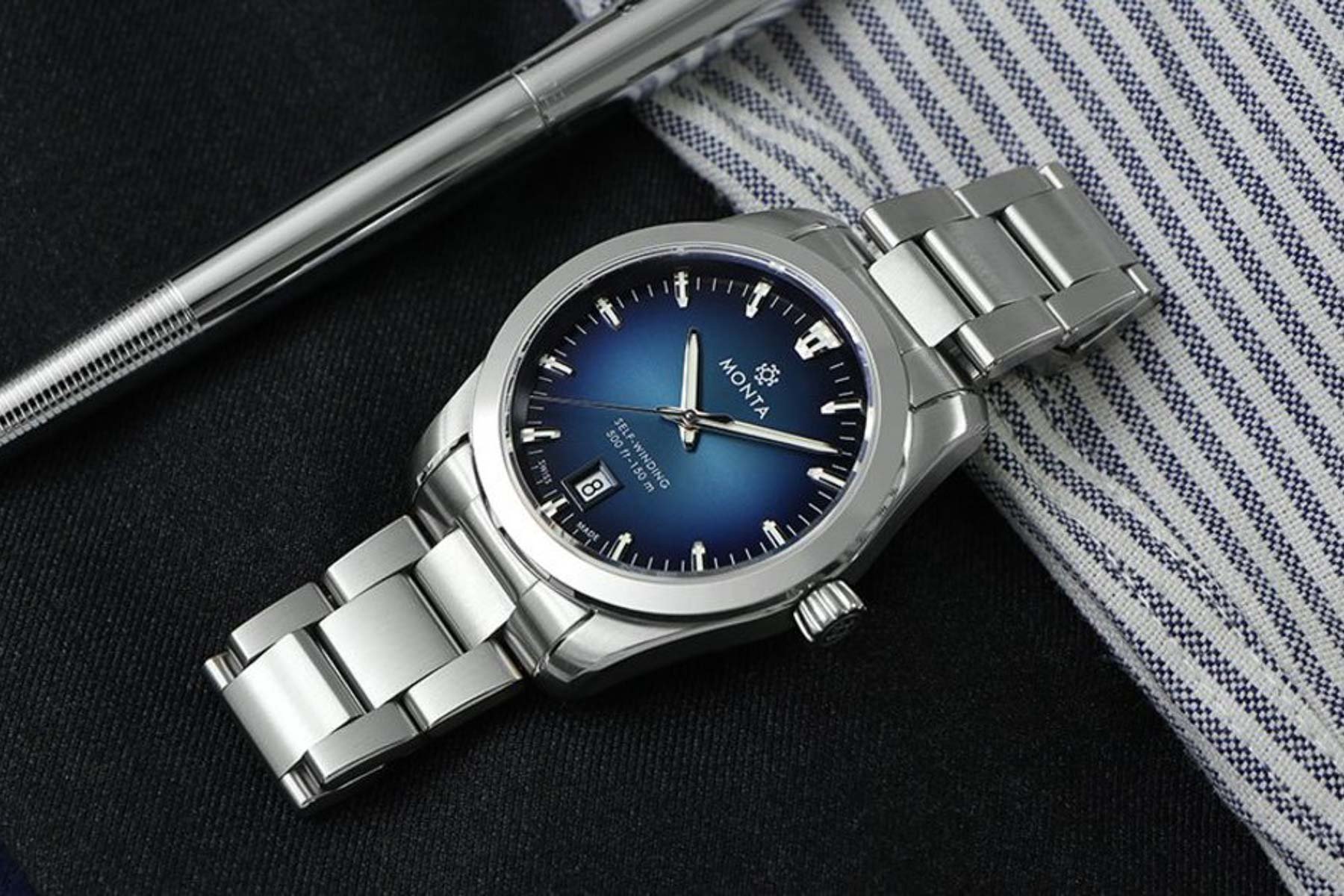 Monta Noble
Last but definitely not least we have the Monta Noble. This St. Louis-based company has been a hot name on the scene for the last several years. After all, they make some seriously high quality watches with bucketfuls of detail at an approachable price. They also happen to produce one of my favorite bracelets on the planet at any price. See, I told you that 2020 is the year of the good bracelet! Monta is back with a new watch called the Noble and it falls into the dressy sport watch category. If you're thinking Datejust as many others have stated, I think that's very fair. The watch uses the same case as the 38.5mm Atlas, but uses a mirror polished bezel in lieu of brushed. With an incredibly comfortable 9.7mm thickness and 47mm lug to lug, this one should fit beautifully. 150 meters of water resistance up the sporty quotient while the M-22 (Sellita SW300 automatic) ticks away with 42 hours of power reserve. Monta has announced blue and opalin silver dial versions at an introductory price of $1,600. Just 100 of each will be available this year via their site because, you know, COVID.
Mike's Take: Admittedly, I like the sportier models from Monta, but the Noble is sure to be a beautiful watch in the metal. A lot of thought went into the details and I'm sure the finishing is outstanding. Monta made this because fans were asking for something a little dressier and it seemed like a logical move that allowed them to utilize a proven case design while creating a unique model. It's a smart and prudent move that doesn't come off as cheap. After all, it's what Rolex does and has done for decades. I'd love to see a dark grey dial. Heck, I'd love to see one on my wrist for test at some point. So let's see if we can make that happen.
Folks, that's all for This Week in Watches. Enjoy your weekend!