This Week in Watches: November 24, 2019
Some Pre-Turkey Stuffing for your Weekend!
It's This Week in Watches for November 24, 2019 and we come to you just before Thanksgiving – that fantastic tradition that involves stuffing your face and snoring on the couch.  Let's see if we can help fight indigestion with some watch news…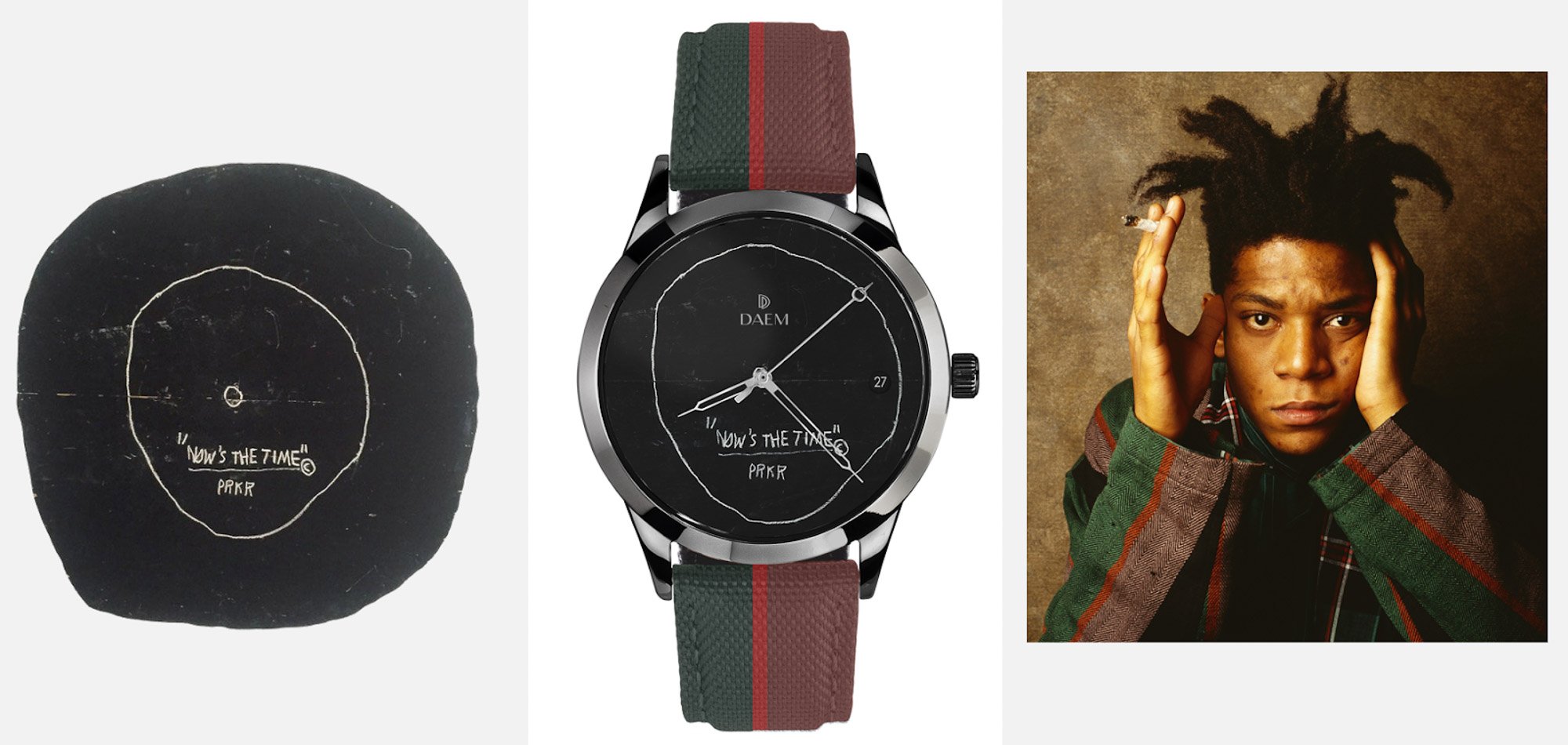 DAEM x Basquiat Watches
Brooklyn-based DAEM Watches sent us news of three new pieces that tie into the works of iconic artist Jean-Michel Basquiat.  The watches will release on December 4th and each feature an work by Basquiat on the dial along with a strap designed to fit the theme of the piece.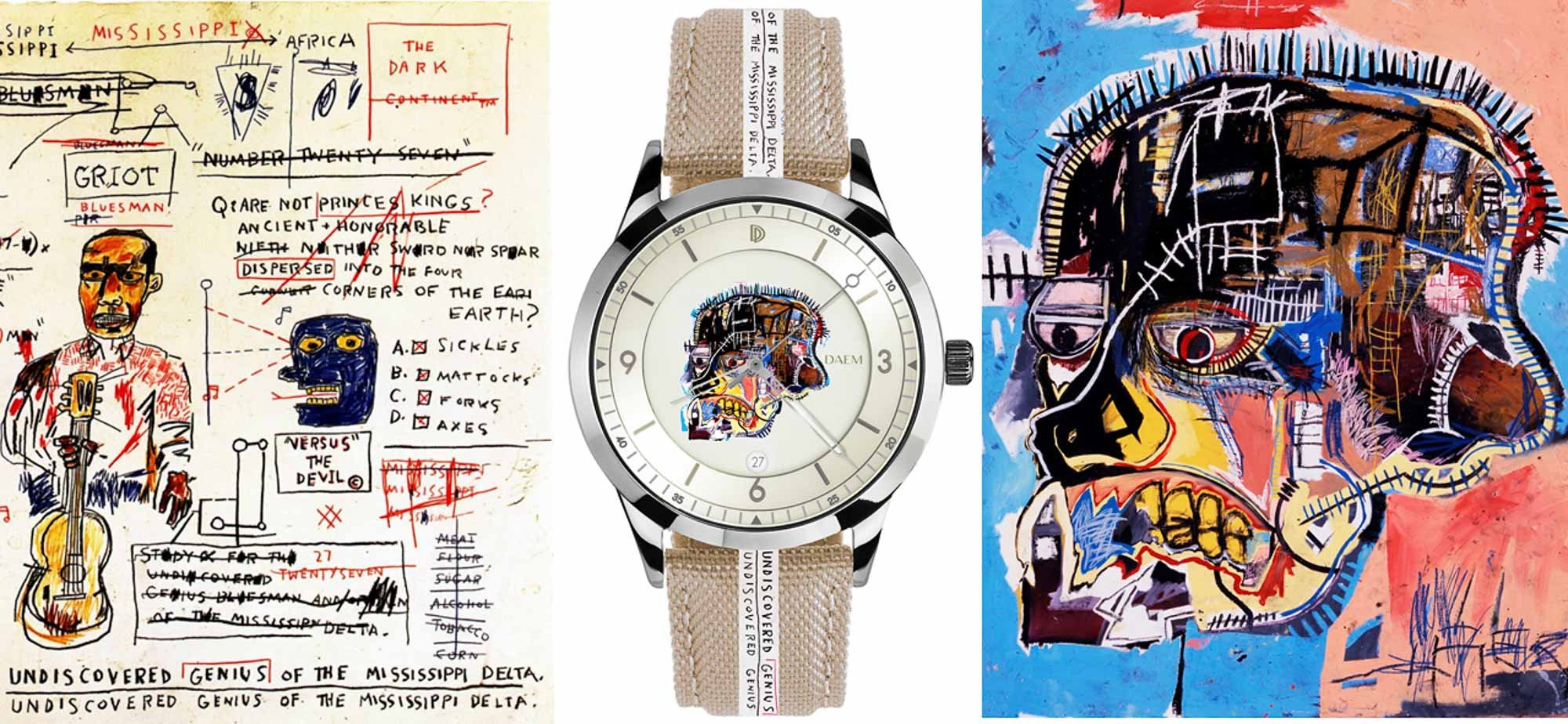 There's Undicovered Genius (which incorporates a piece commonly known as "Skull"), Now's the Time (this pays tribute to a Charlie Parker song of the same name), and Warrior (paying tribute to Basquiat's primitive portraits.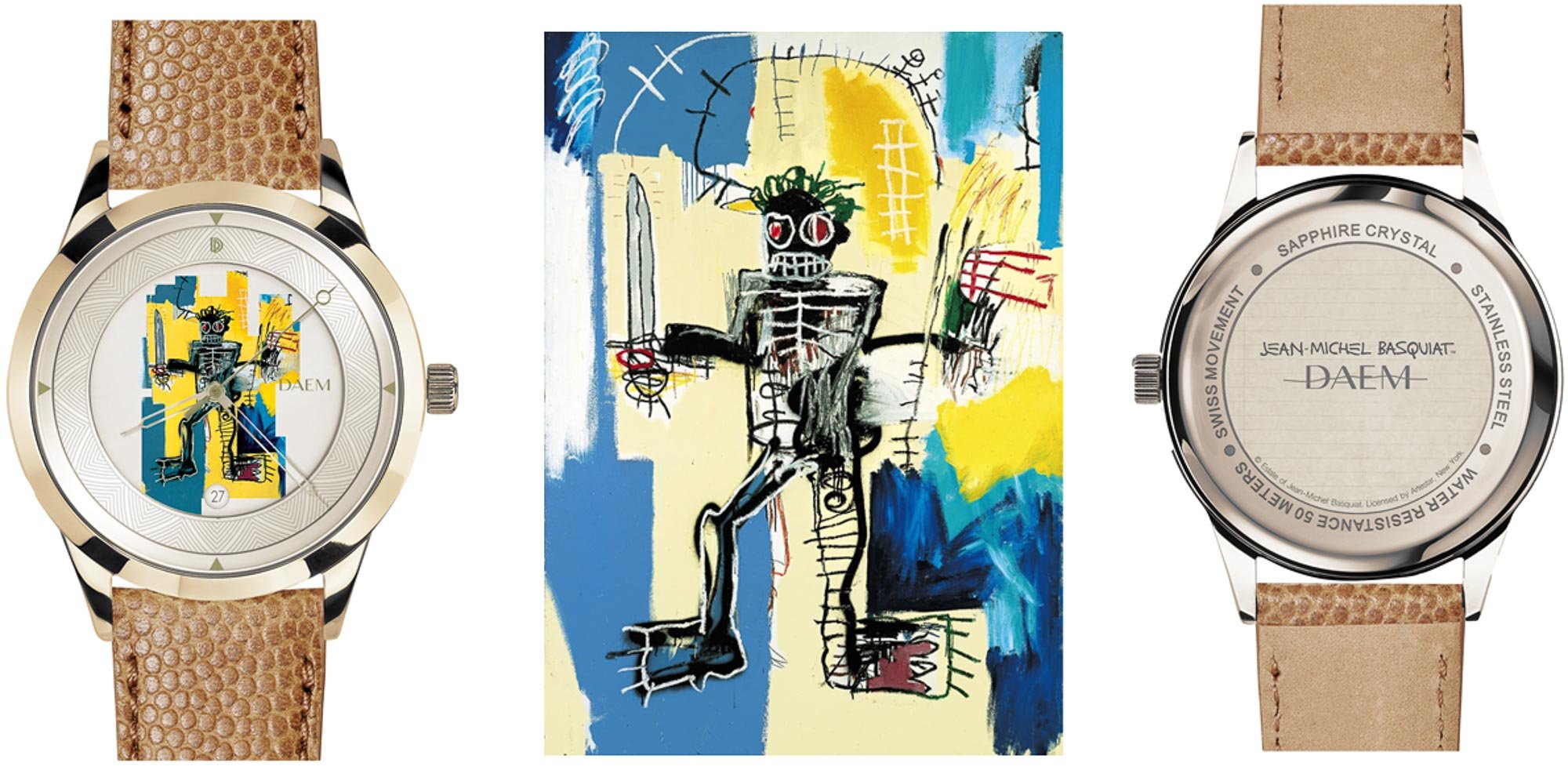 At 40mm with a sapphire crystal, I am guessing that these use a Swiss Ronda quartz movement.  Pricing will range from $425 – $1,250 (licensing, ya know) and the watches will become available on December 4th.  Head to the DAEM website or visit any number of NYC-based museum shops to see them in person.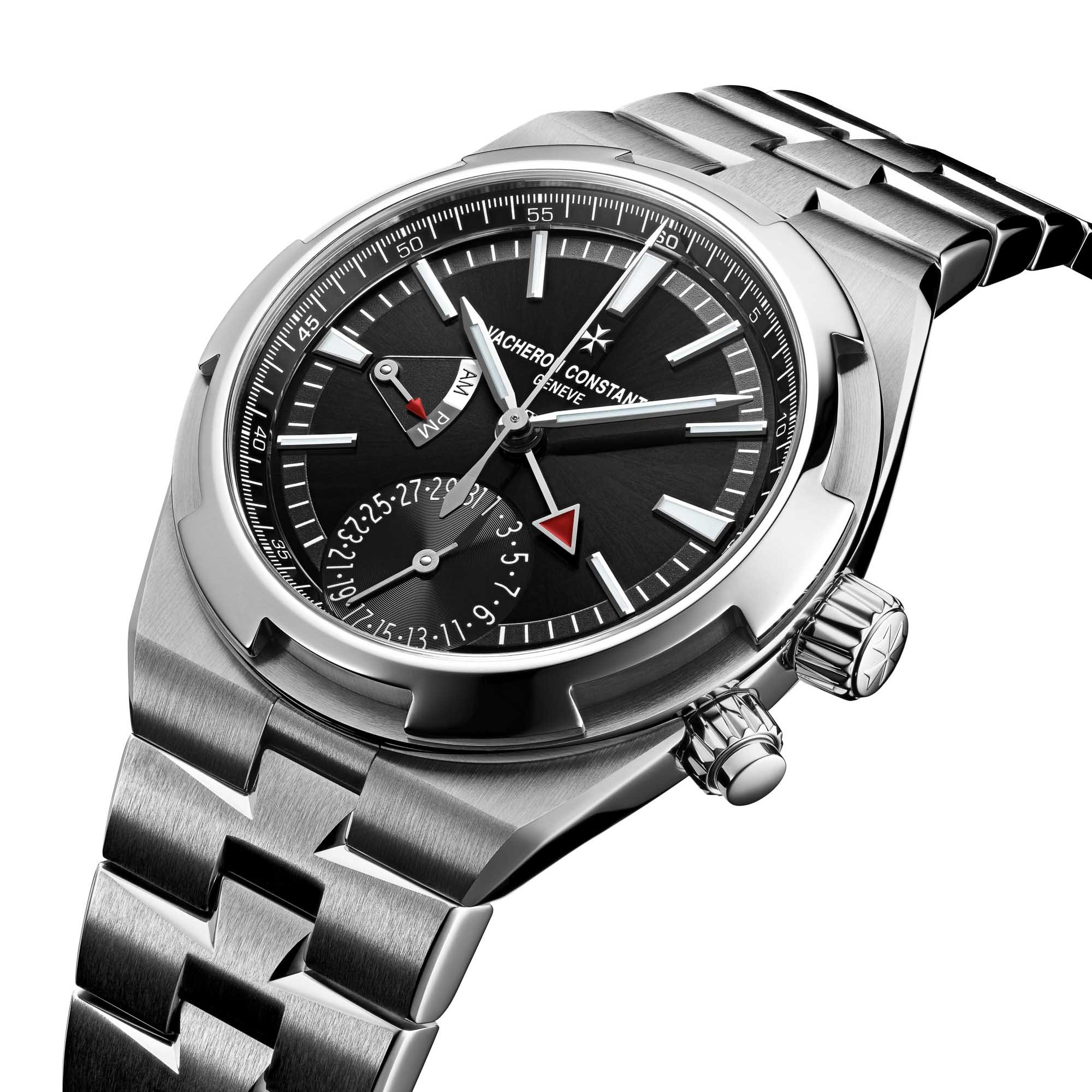 Vacheron Overseas Back to Black
Just the other night, I was at a Christmas party rocking out to AC/DC's "Back in Black".  Perhaps I should have been wearing the new Vacheron Constantin Overseas "Back to Black" that we're showing here on This Week in watches.  Vacheron sent us word of two new stainless models within the collection: a 41mm men's dual time with a black-lacquer dial and a 33mm lady quartz model.  The men's piece features the self-winding 5110 DT and comes on bracelet, but also ships with a black alligator strap.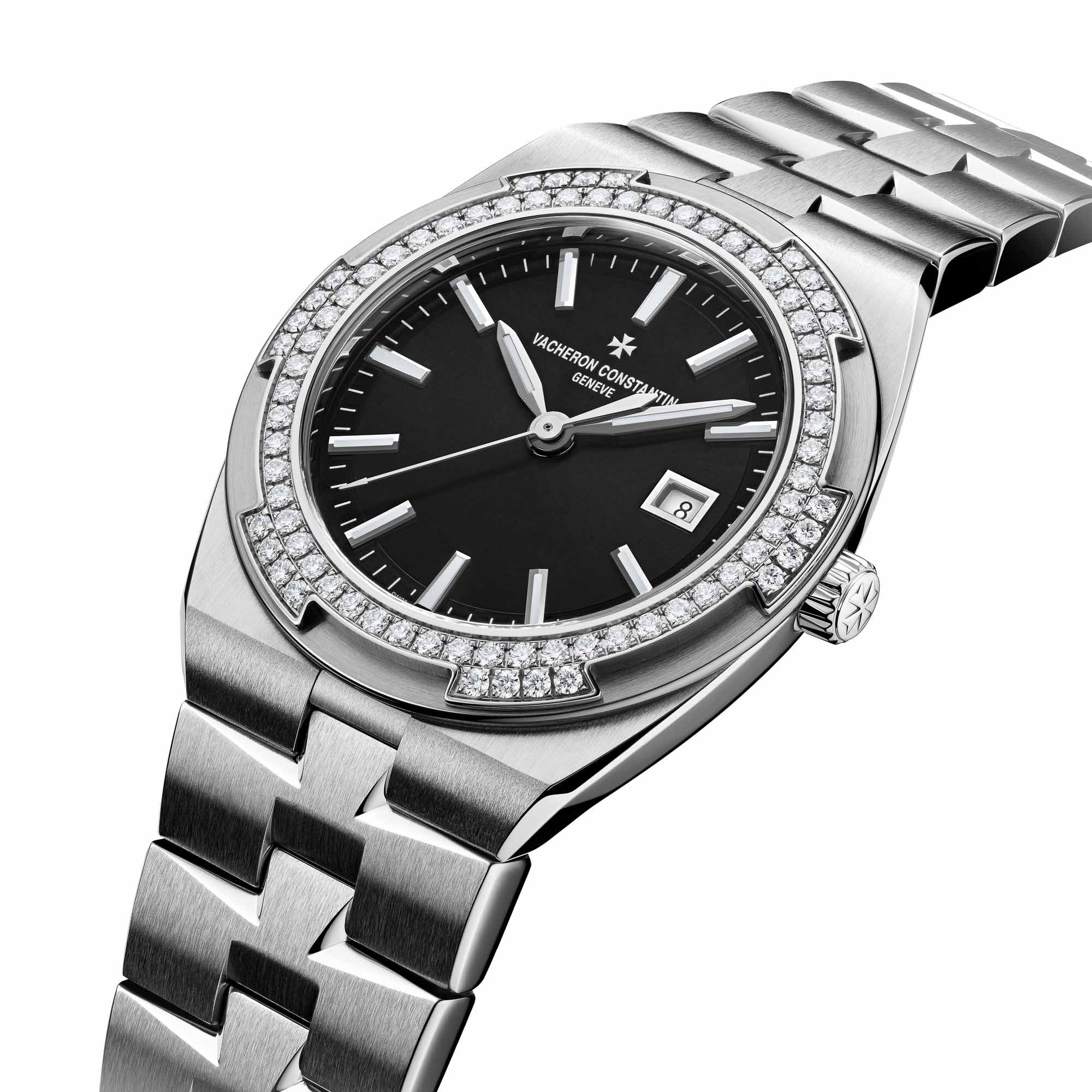 Maybe my reading is still suffering from all that dance floor work, but I don't see much in reference to the "iced-out" bezel on the lady version, but it looks pretty good from here.  The men's version will sell for 20,300 Euros in Germany and the lady quartz will retail for 14,300 Euros.  More info can be found here on VC's official site.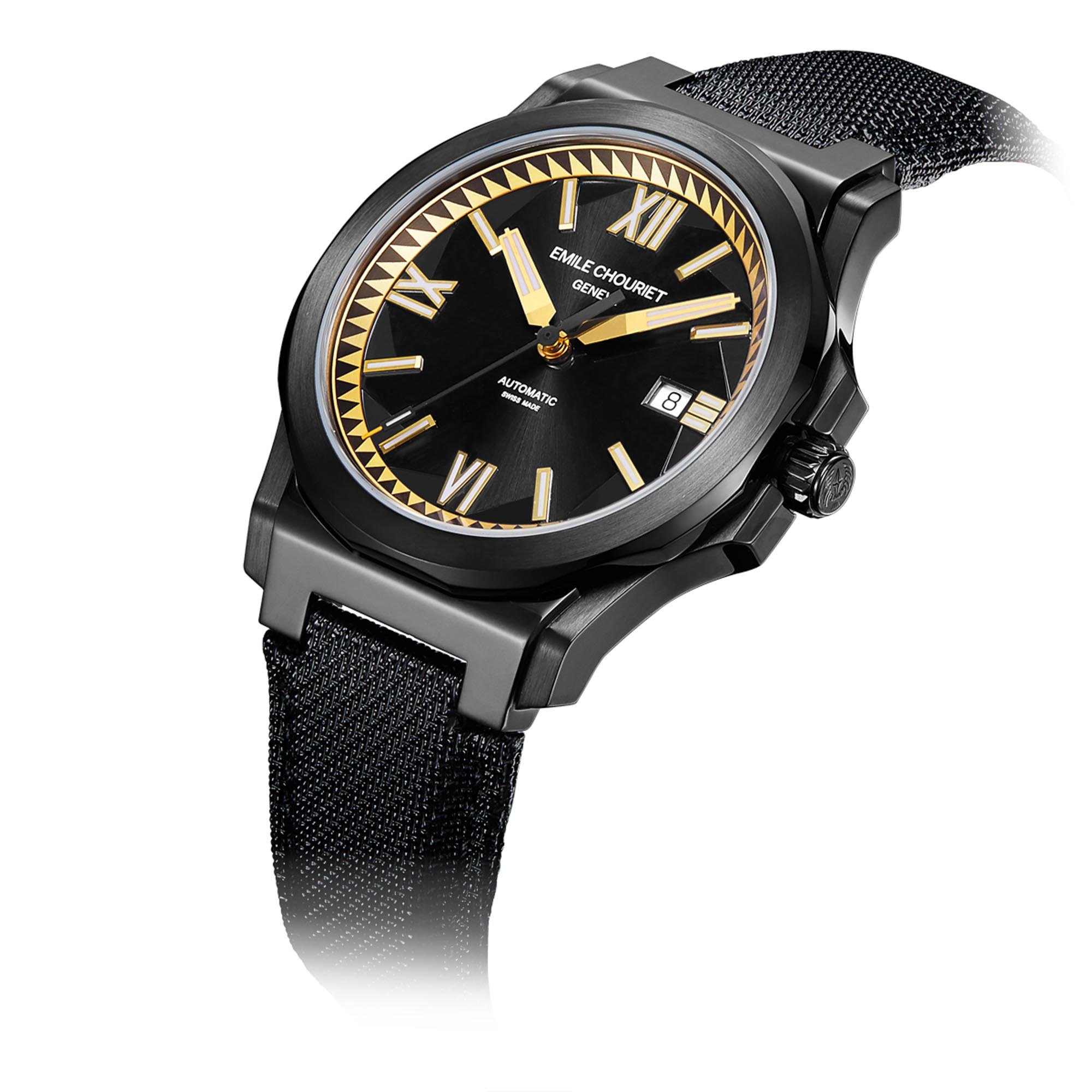 Emile Chouriet Challenger Black & Gold
Next up on This Week in Watches is a piece from smaller Geneva-based brand, Emile Chouriet.  We have a black pvd-coated 40mm stainless watch with an ETA-based automatic.  I'd say this has a bit of a Hublot vibe going for it and has a matching black cordura strap.  At 1,160 CHF, you can take a longer look on the brand's official site once it's listed.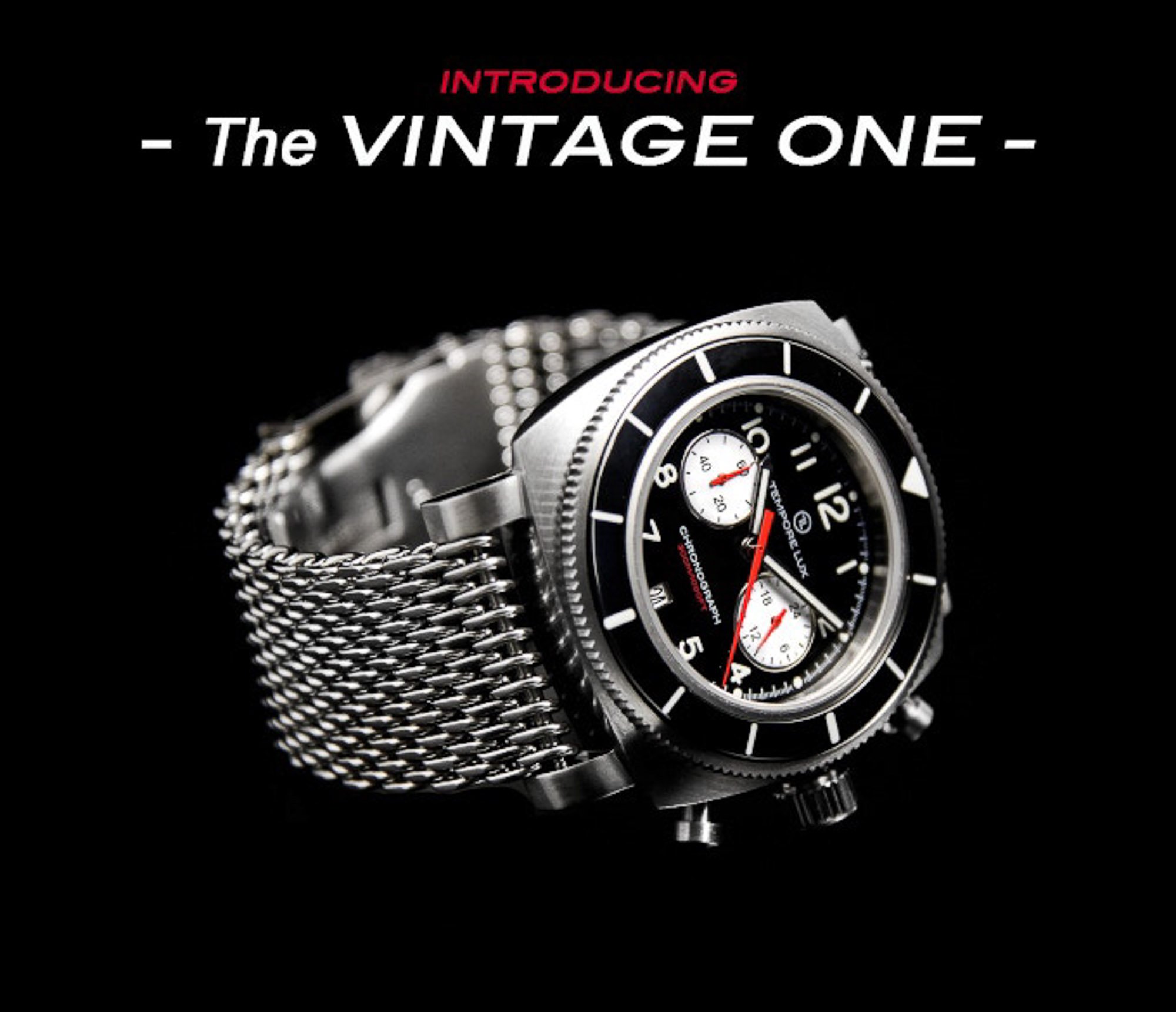 Tempore Lux "Vintage One"
Next up on This Week in Watches is a lineup from a start-up brand by the name of "Tempore Lux".  The founder hails from Mallorca, Germany Spain and is a big fan of vintage watches.  The result of his interests are a three-hand diver and chronograph in a 44mm "squarish" case.  The watches are available with either Sellita SW200/510 automatics or Seiko SII NE15/Meca-Quartz depending on whether you choose the normal or chrono respectively.  Tempore Lux has launched on Kickstarter, but has blown by their initial funding requirements.  You can still qualify for lower than "retail" pricing, though by following this link to the promotion.  The brand's official site can be found here.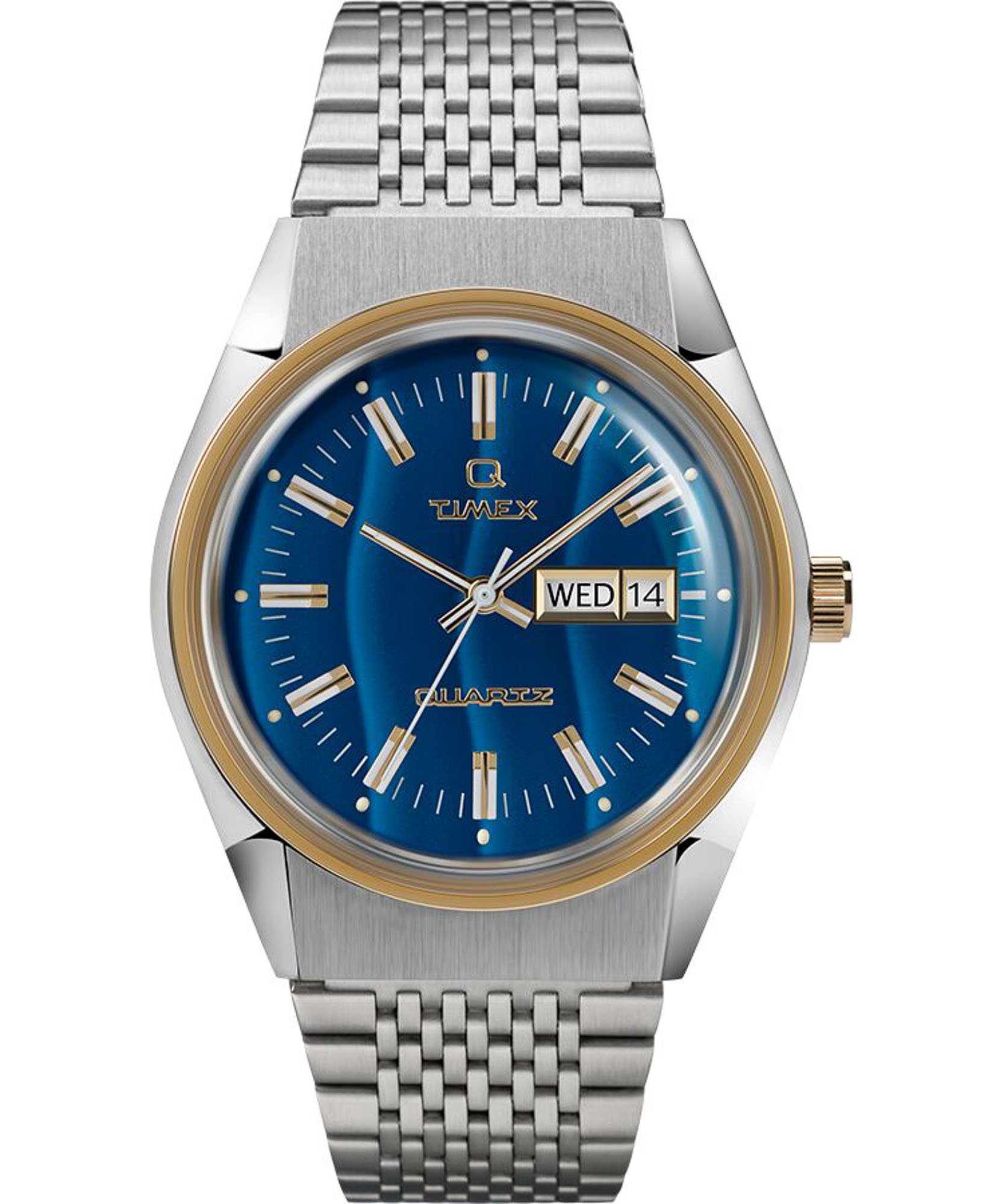 Timex Falcon Eye 38mm
Next up on This Week in Watches is a reissued Timex in the Falcon Eye 38mm.  With some wild 70's styling, this piece has a case that actually reminds me a lot of similar period Grand/King Seiko pieces.  So, in a word, I dig it.  Plus, this model is two-tone and comes on a sweet multi-link bracelet.  With 50 meters of water resistance, the electric blue-dialed model will come in at a holiday gift friendly 179 Euros.  Timex is killing it right now with some genuinely kitschy fun pieces – one simply has to wonder what took them so long!  Head here for more details.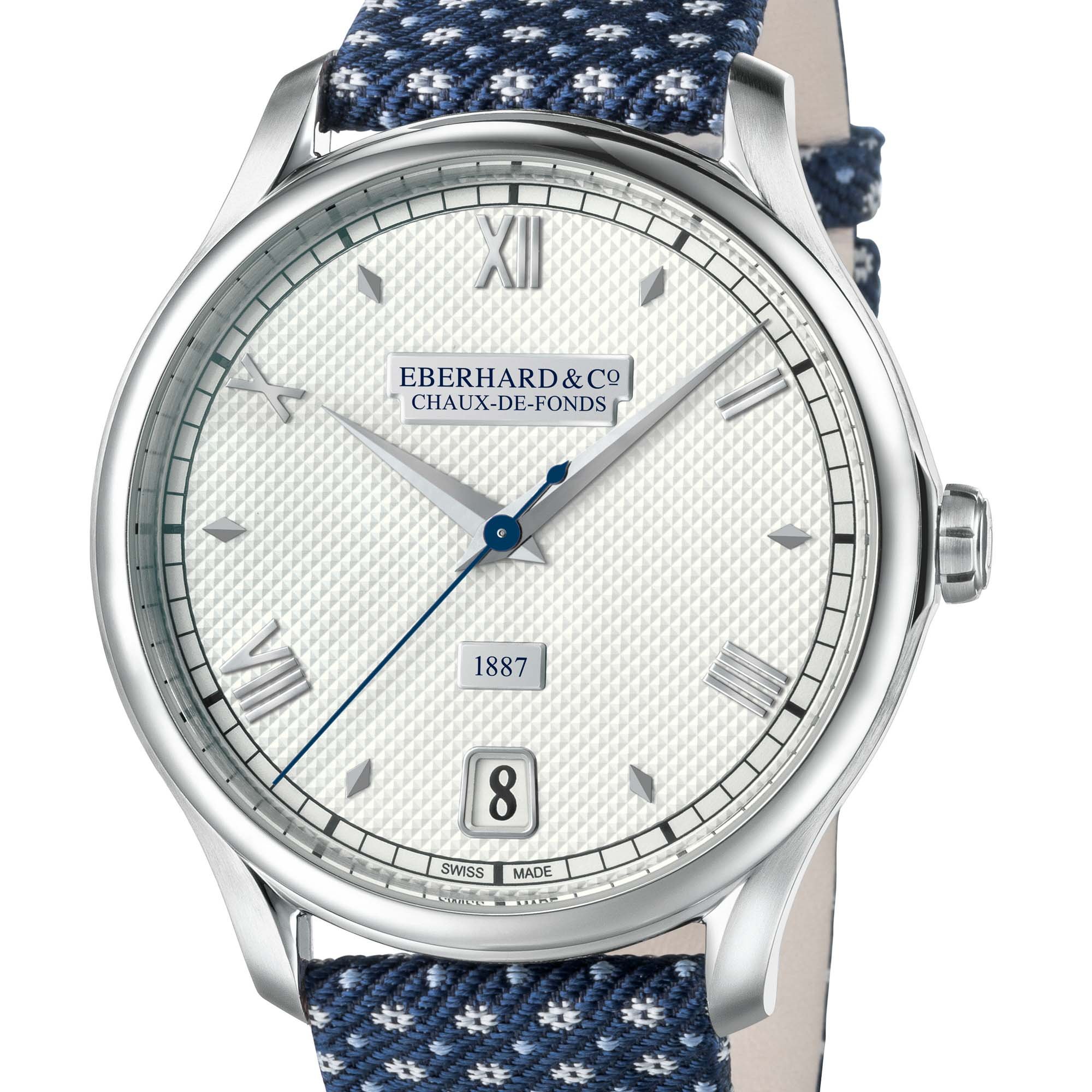 Eberhard & Co. 1887
We haven't heard from Eberhard in a while, but here they are on This Week in Watches with their new "1887".   The 1887 is a manual wind (using the EB 140) dress model in a 41.8mm case.  With a Clous de Paris dial finish, the watch can be had with either gold or rhodium-plated Roman numerals.  What stuck out to me is that in addition to an alligator strap, a patterned Jacquard silk strap can be chosen and that's pretty different looking – in a good way!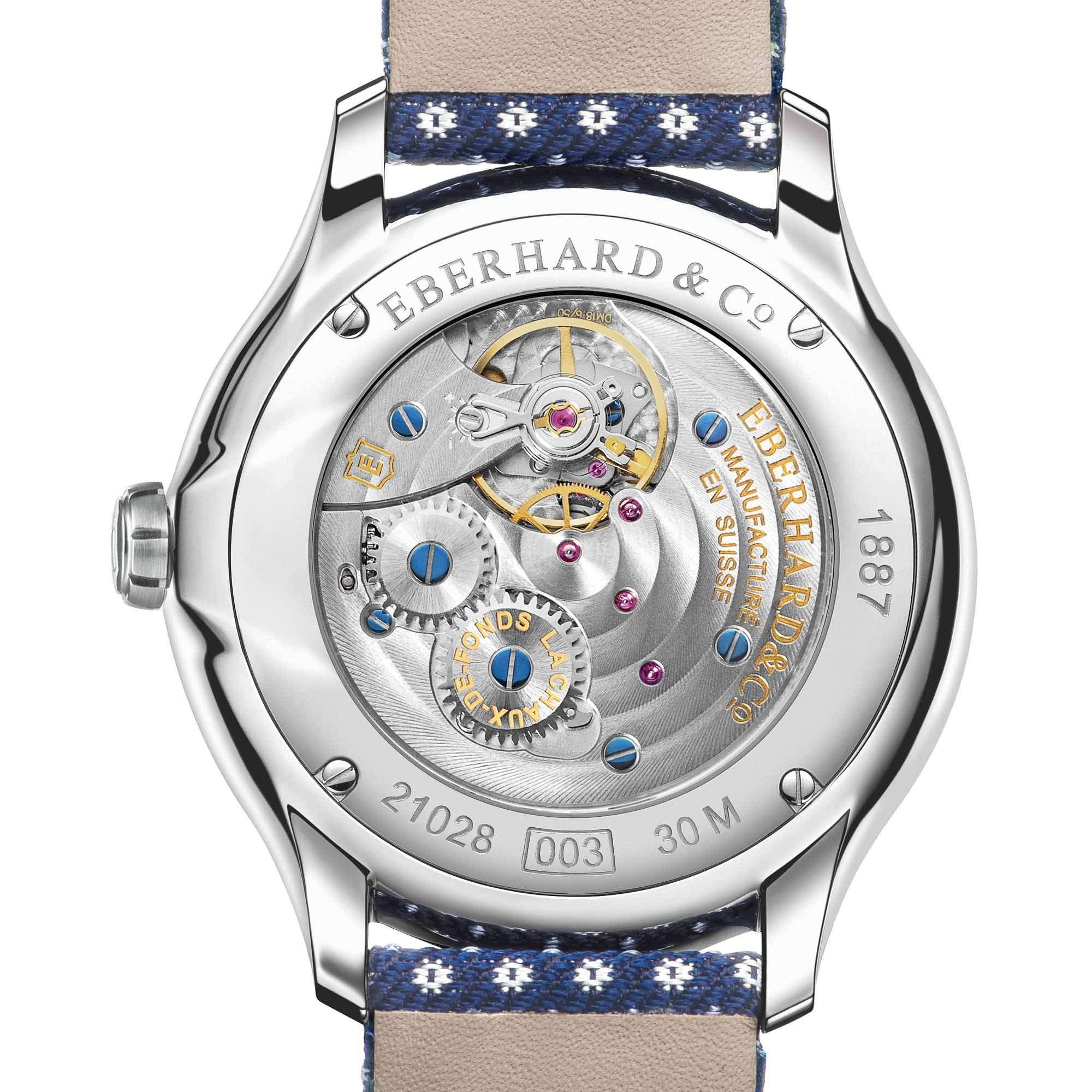 The 9.6mm thick case also features a display back where the movement can be seen.  The watches will be priced at 3,640 CHF on silk and 3,720 CHF on alligator.  Head to the official Eberhard site – although info does not seem to be available quite yet.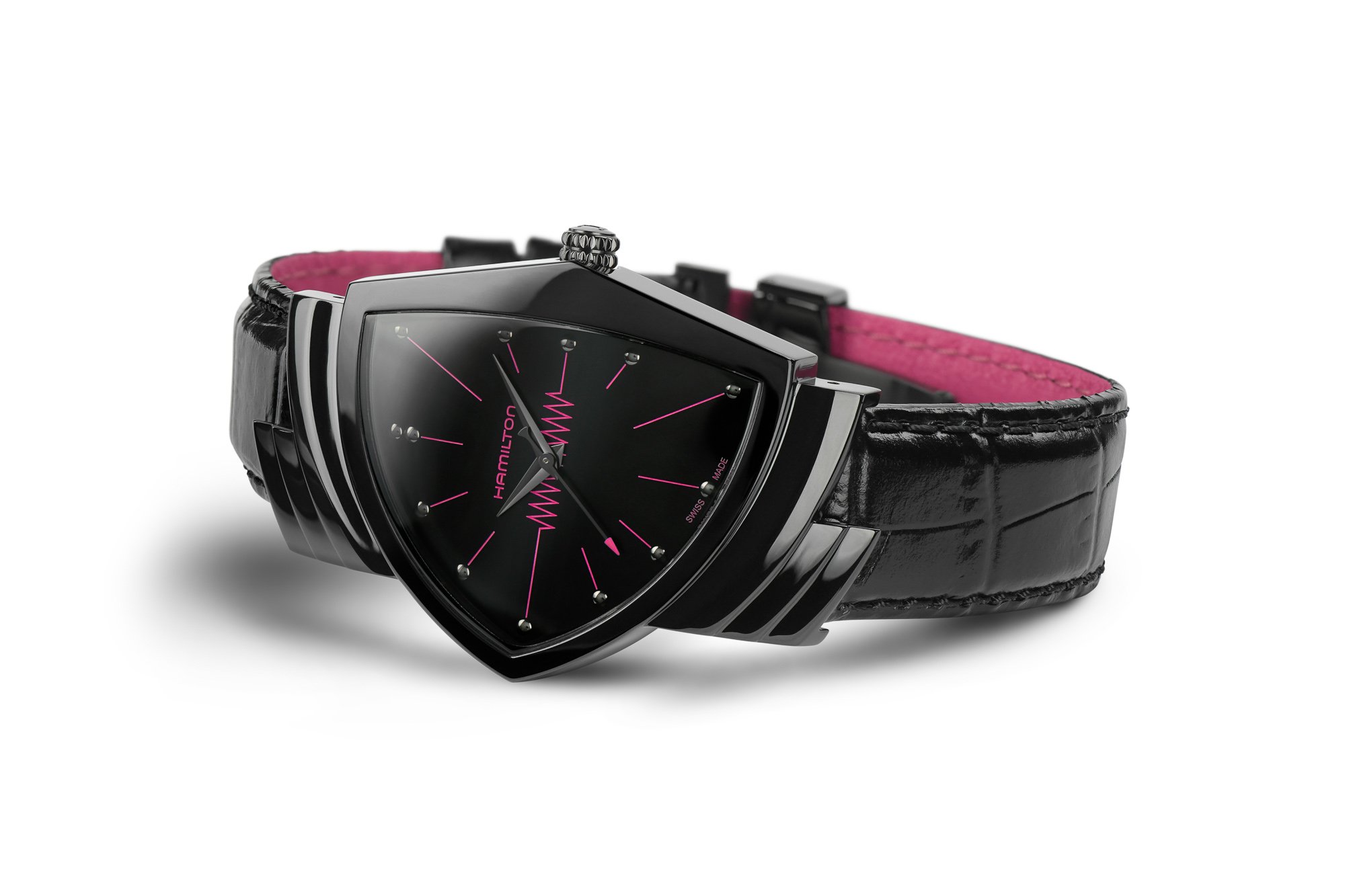 Hamilton x POGGYTHEMAN
Next up on This Week in Watches, Hamilton has collaborated with Japanese stylemaker POGGYTHEMAN in order to breathe some life into the Ventura.  Apparently, the watch has always been one of Poggy's favorite pieces (he's a huge Elvis fan too) and so it makes sense for him to have worked with the Ventura.  We are treated to a PVD-coated 32.3 x 50.3mm version that features pink accents.  The strap is black calf.  The piece can be seen on Hamilton's official site but is available for purchase on highsnobiety.com for 895 Euros.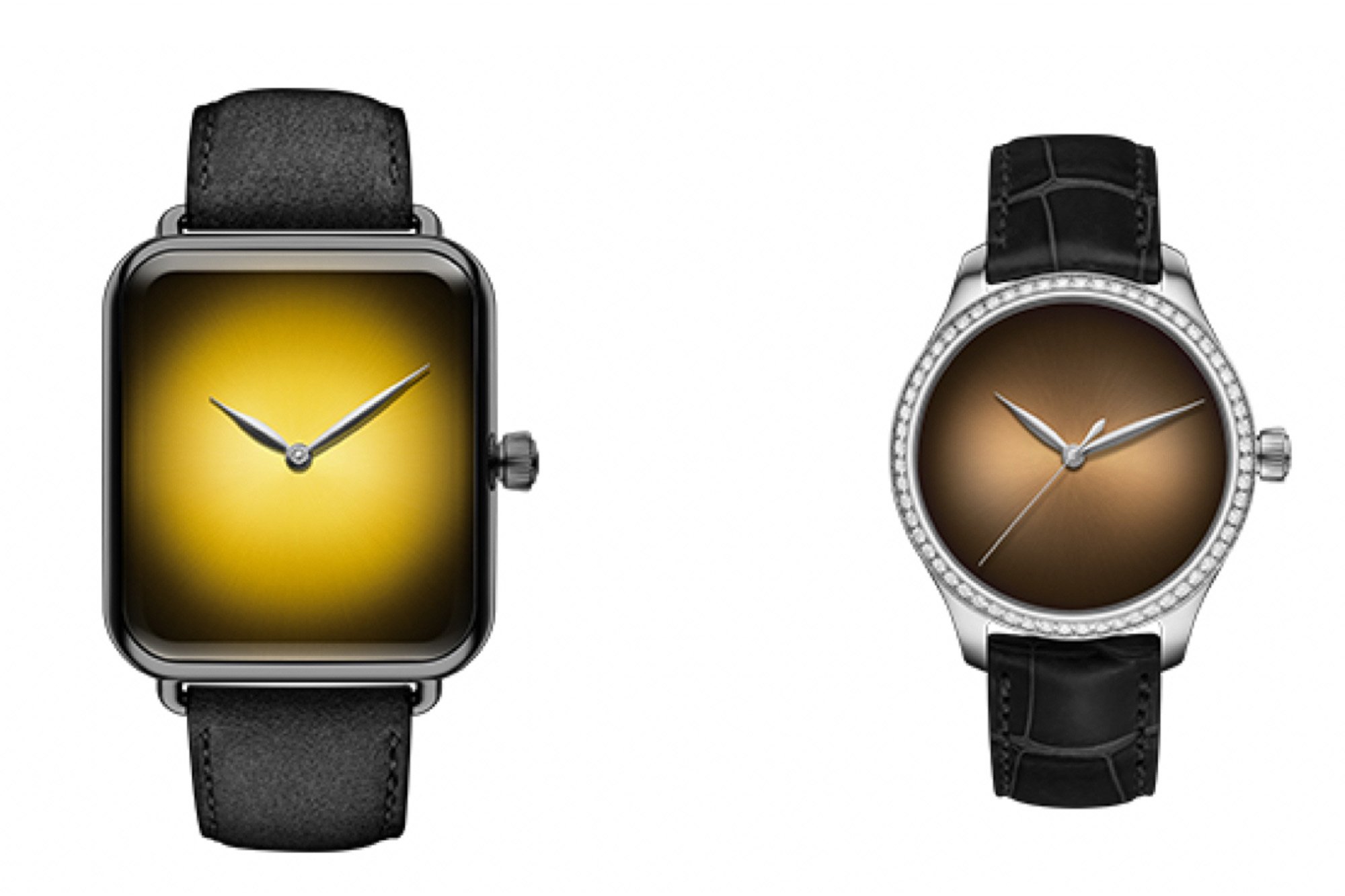 Moser for Dubai Watch Week
While RJ and Balazs guzzle champagne over on the dunes of Dubai, some of us have to stay back, work and drink Rottkäpchen Sekt.  Such as life.  Hopefully they ran into the 2 new Moser pieces that were created for Dubai Watch Week.  A 10-piece limited edition with fumé dial uses the rectangular Swiss Alp Watch with a DLC-treated case.  The second is a 9-piece ladies' watch with a taupe-hued dial.  It uses the Endeavour case and is set with diamonds on the bezel. Moser is usually on the ball with news releases on their site, but I don't see anything…keep checking!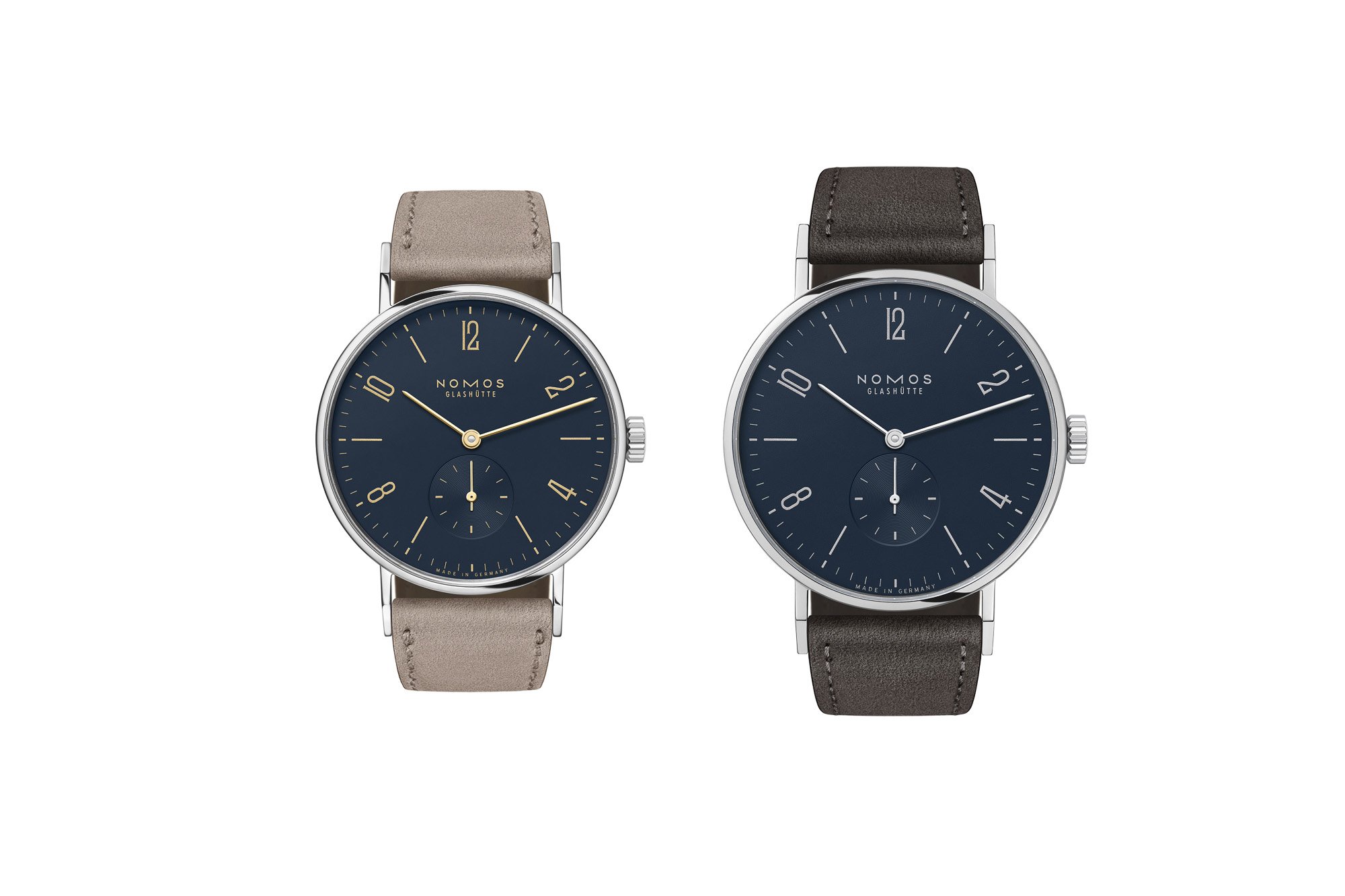 NOMOS Tangente in Midnight Blue
Last up for This Week in Watches are new Tangente models with midnight blue dials and white or yellow gold hands.  In 38mm, the watches retail for 1,620 Euros and in 35mm, for 1,460 Euros.  Both are equipped with the in-house "Alpha" hand winding caliber and with their darker dials, are perfectly suited to the upcoming holiday season.  The larger has white printing while the smaller uses gold.  Head to the NOMOS site for more information.
Folks, that is it for This Week in Watches – enjoy the rest of the weekend and may you win in the struggle of the wishbone!