This Week in Watches: September 7, 2019
A Global Buffet of Watch News
It's This Week in Watches for September 7, 2019.
Bonjour, collectionneur de montres!  This Week in Watches is back with another action-packed look at what went down over the past 7 days or so.  We actually have a lot to cover here, so I'll skip my rant and get right down to it…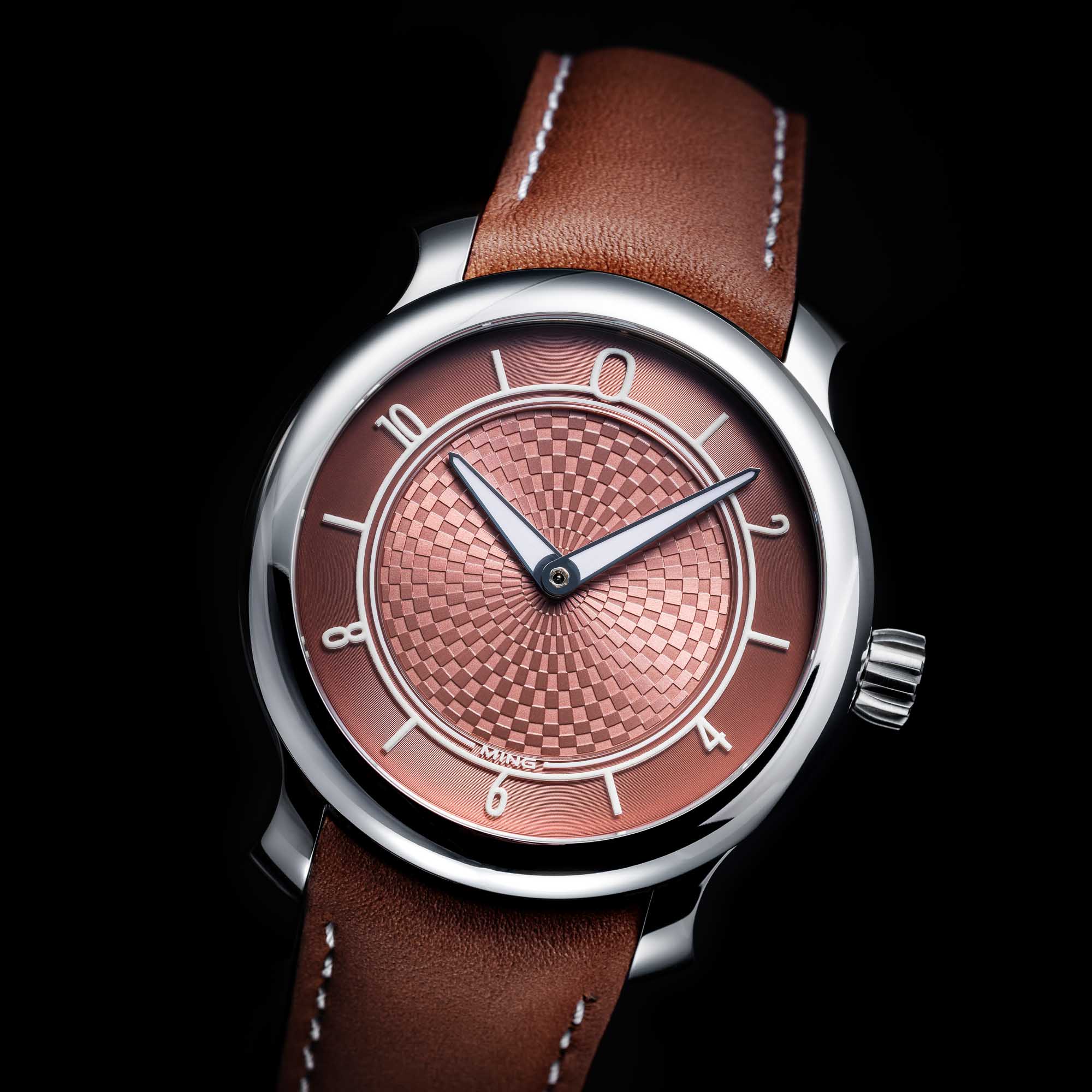 MING 17.06 Watches
MING sent us word of two new watches that will become available for order on the 19th of September via their official site.  Both watches are 38mm (43.9 lug to lug) stainless pieces powered by an ETA 2824-2 automatic that's been modified for two crown positions and adjusted to five positions.  Both are water resistant to 100 meters and feature a new case where the bezel is affixed to the case by screws, thereby eliminating the need for a taller rehaut.  MING didn't share the thickness of the watch, but it will be thinner than prior releases.  First up is the "Copper" which gets its name from a dial in the same hue.  It contains a natural stainless steel case with both matte and polished surfaces.  This watch was actually just announced as a finalist in the 2019 GPHG "Challenge" category and will be priced at 1,250 CHF and produced at a rate of 300 pieces per annum.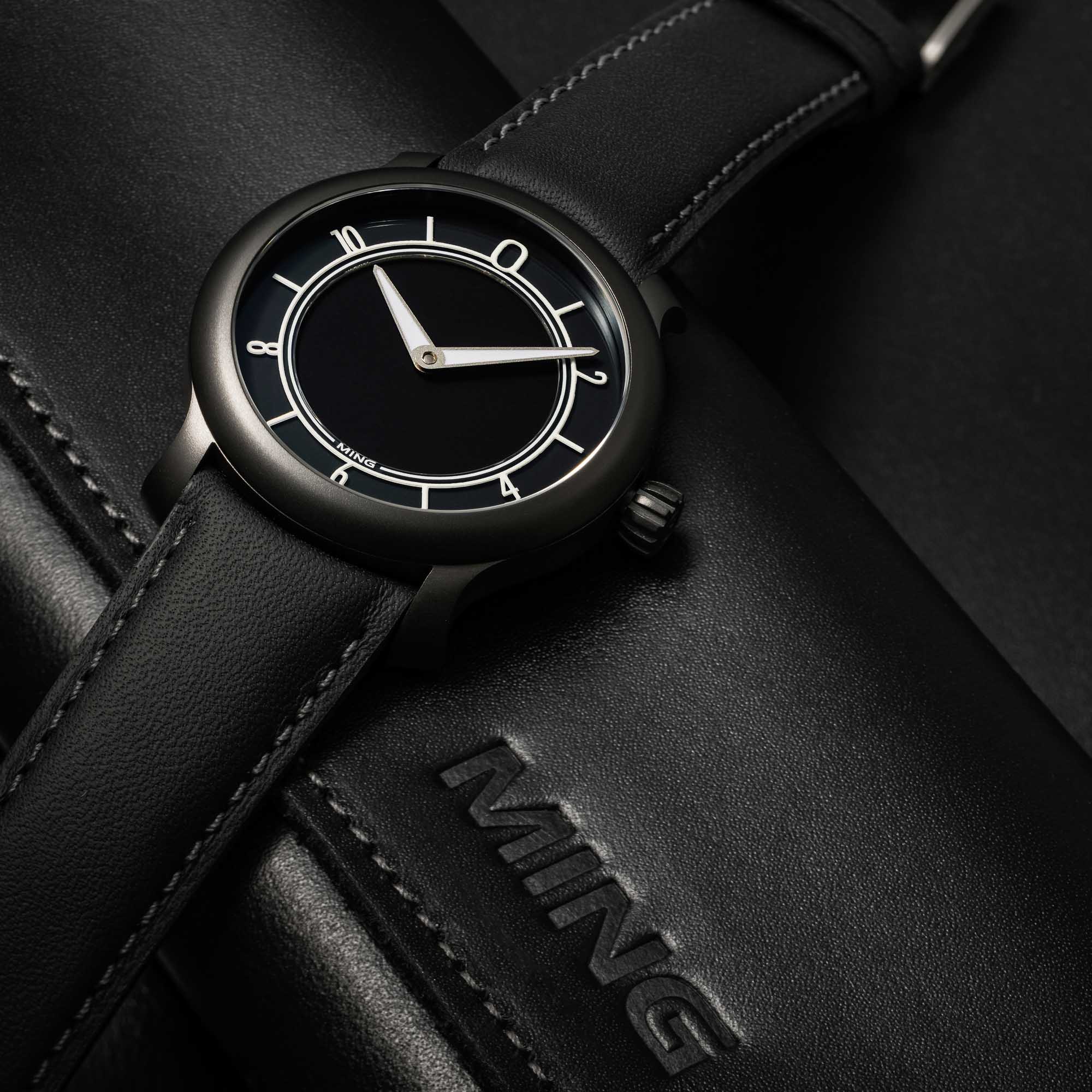 The "Monolith" is similar, but has a bead blasted stainless case with black DLC coating and a matching black dial.  The pricing on the Monolith will be 1,500 CHF and production will be limited to 125 pieces per year.  I've grown very fond of MING's watches and these are no exception.  With straps from Jean Rousseau Paris, a leather pouch from Studio Koji Sato, and packaging by Swisspack, the brand also focuses on all the details.  Production is done by a division of Schwarz Etienne, so there's a touch of haute horlogerie mixed in here as well.  At these prices, it's all quite compelling if the design strikes your fancy.  More details are available on the MING website.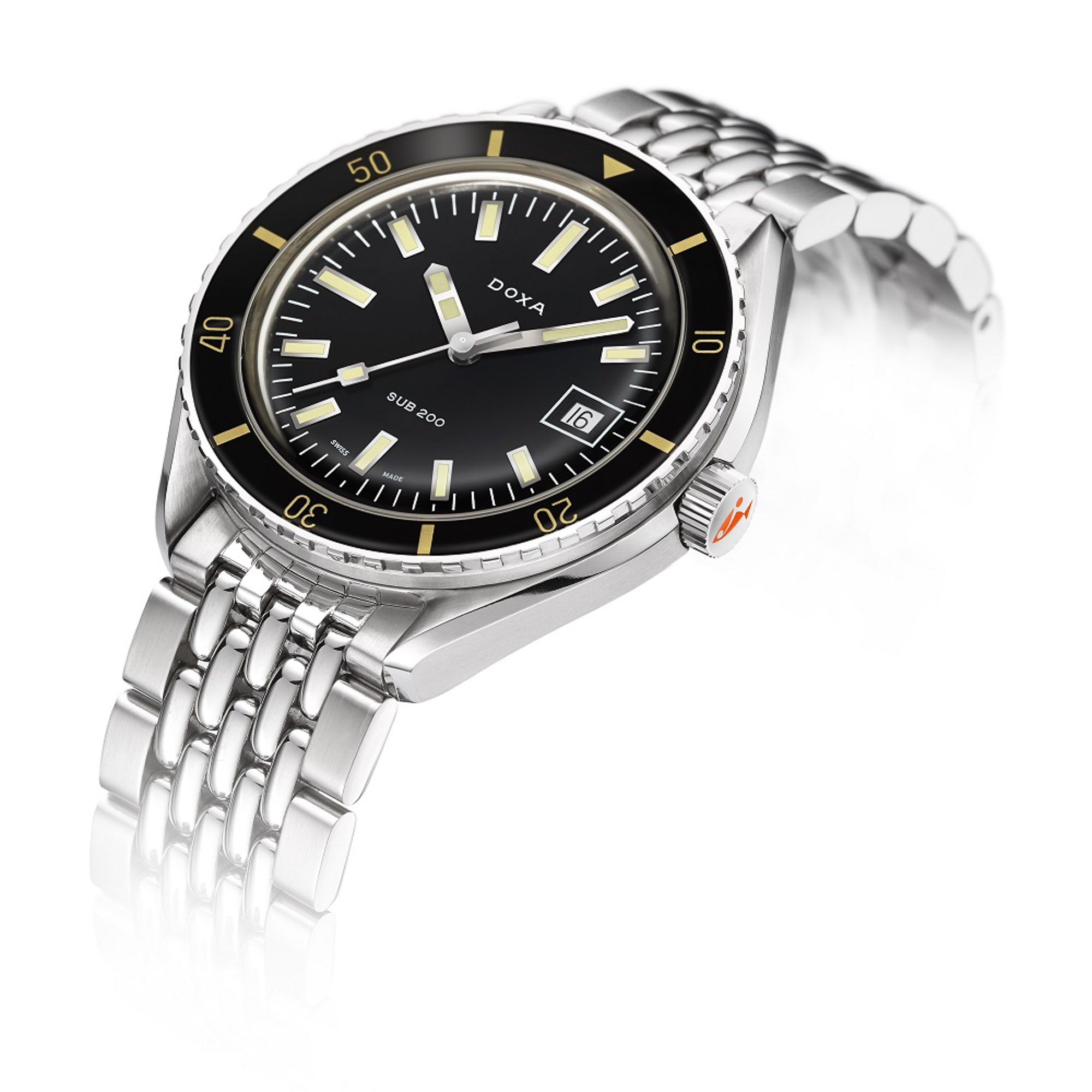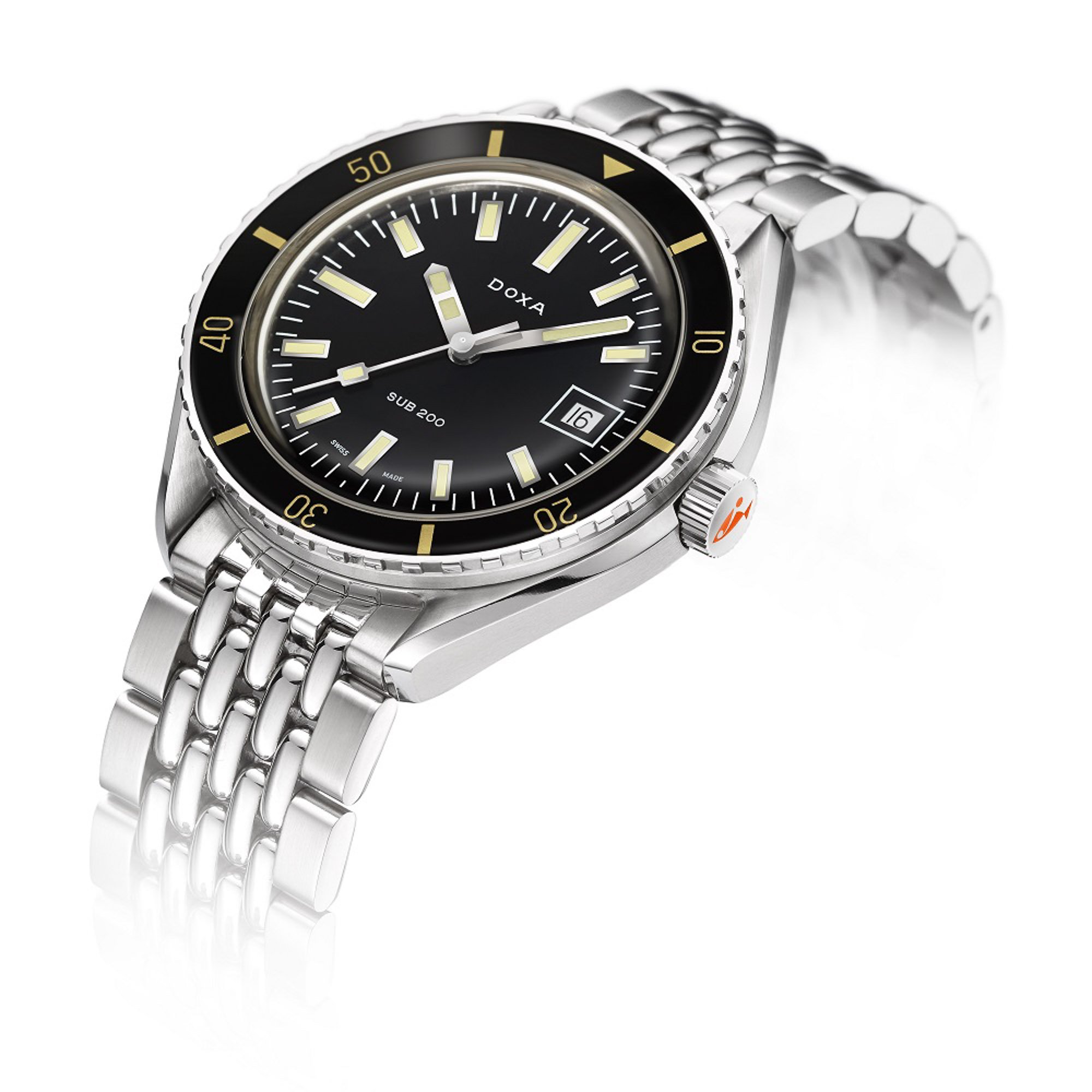 DOXA SUB 200
DOXA informed us that its new SUB 200 has also been nominated as a finalist in the 2019 Challenge category at the GPHG.  We showed you the limited edition anniversary model of this watch in an article sometime around Baselworld 2019, but I don't believe we had pictures of the normal serial production model.  Well, we now have pictures and I like this model a lot more than the limited version.  It's cleaner and a no-nonsense diver that will be available on either rubber or a beads-of-rice bracelet once it ships in November.  The SUB 200 is a 42mm stainless piece with 200 meters of water resistance and an ETA 2824-2.  Here, we see it in Sharkhunter guise, but DOXA – as it will with all of their watches – will offer it in six different dial colors.  At 990 Euros, this is a shot across the bow at many brands such as Seiko, Mido, and Certina.  Nicely done…  More info is available on the – finally navigable – DOXA official site.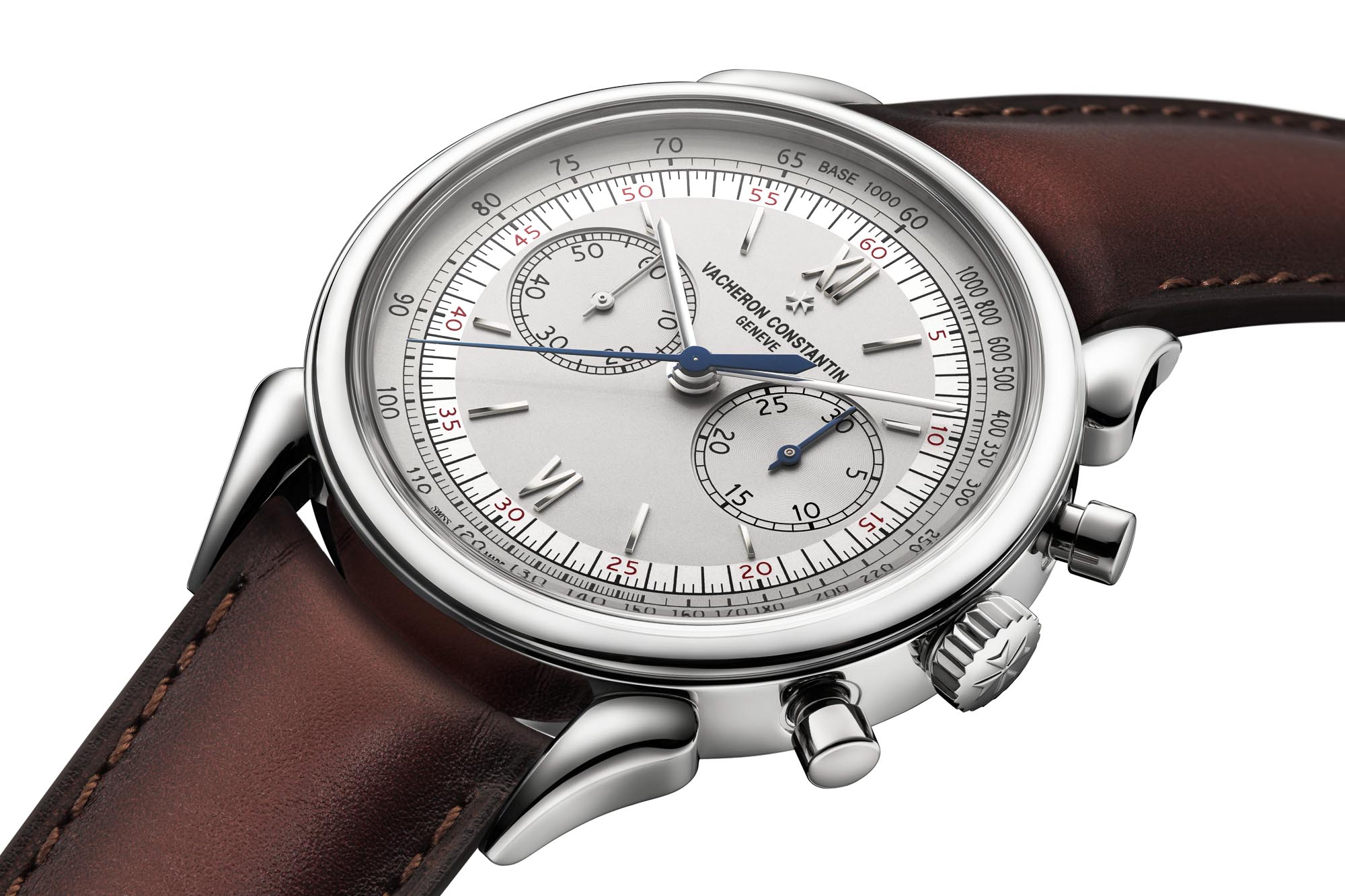 Vacheron Constantin Historiques Cornes de vache 1955
Whoa, Vacheron snuck out an absolute stonker this week with the Historiques Cornes de vache 1955.  The watch we are looking at is a reissue of the brand's first water resistant chronograph and is officially known as reference 5000H/000A-B582.  The original is a highly collectible piece in gold and the reissues have thus far only been available in this precious metal or platinum, but Vacheron decided to give us a new version in stainless steel.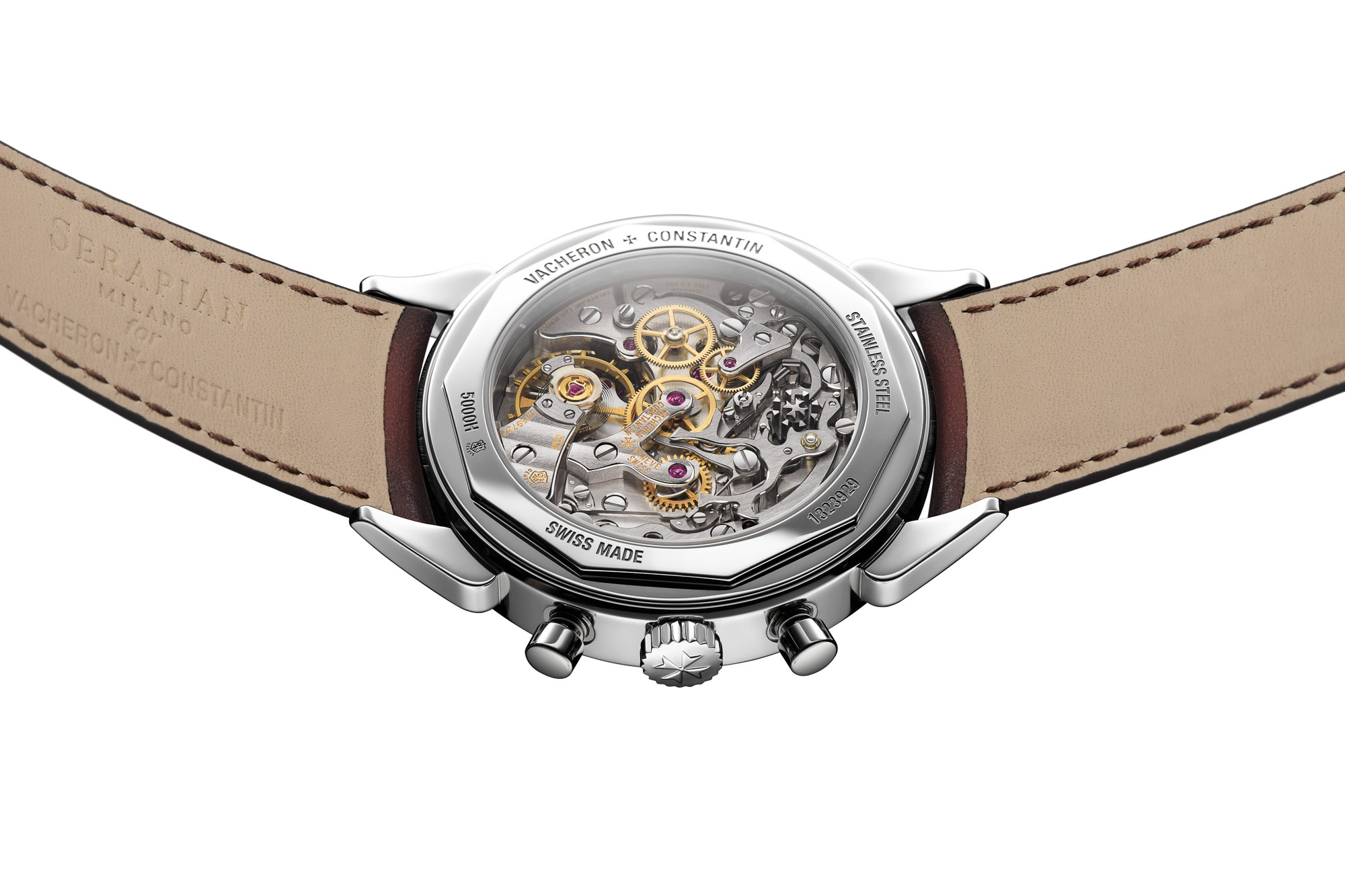 At 38.5mm and only 10.9mm thick, the horned 1955 contains the beautifully decorated in-house handwinding 1142 movement.   It's viewable via a display back and it is definitely worth viewing.  A 30 minute counter is on the rightmost register while running seconds are on the left.  The grey dial is adorned with 18K white gold indices and hands.  At 41,200 Euros, the newest 1955 isn't inexpensive, but it's an absolute beauty.  The newest Cornes de vache is now on Vacheron's site.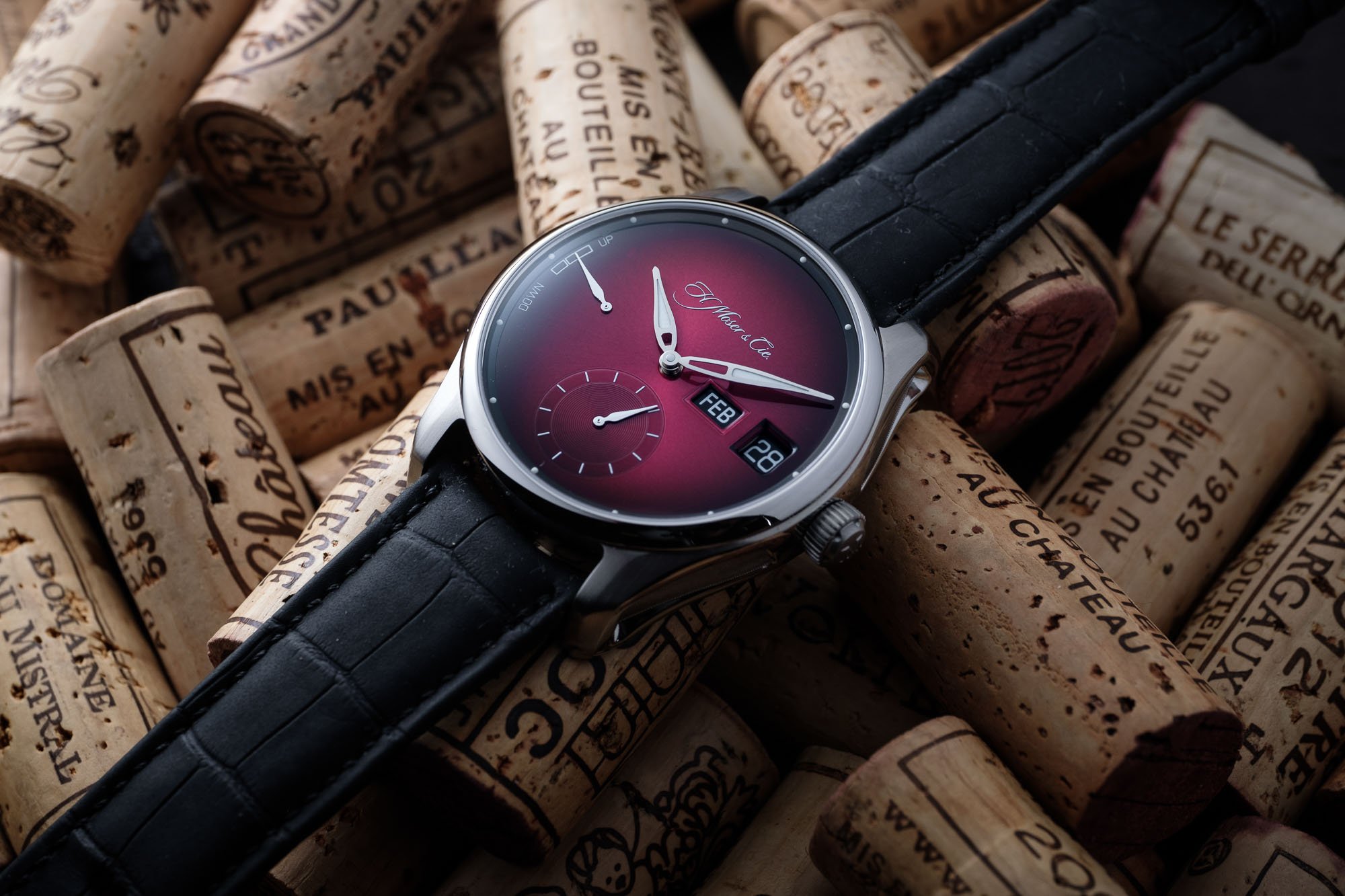 H.Moser Pioneer Perpetual Calendar MD
H. Moser sent us word of a couple brand new perpetual calendars sporting new movements.  Available in either red or blue with 42.8mm stainless cases, these watches contain a lot of detail.  It's hard not to notice the large day/date display at 3:00 (and I'm not completely sure I'm on board as Moser's dials are typically the epitome of simplicity) in combination with the small seconds at 6:00 and power reserve at 9:00.  There's a lot happening here.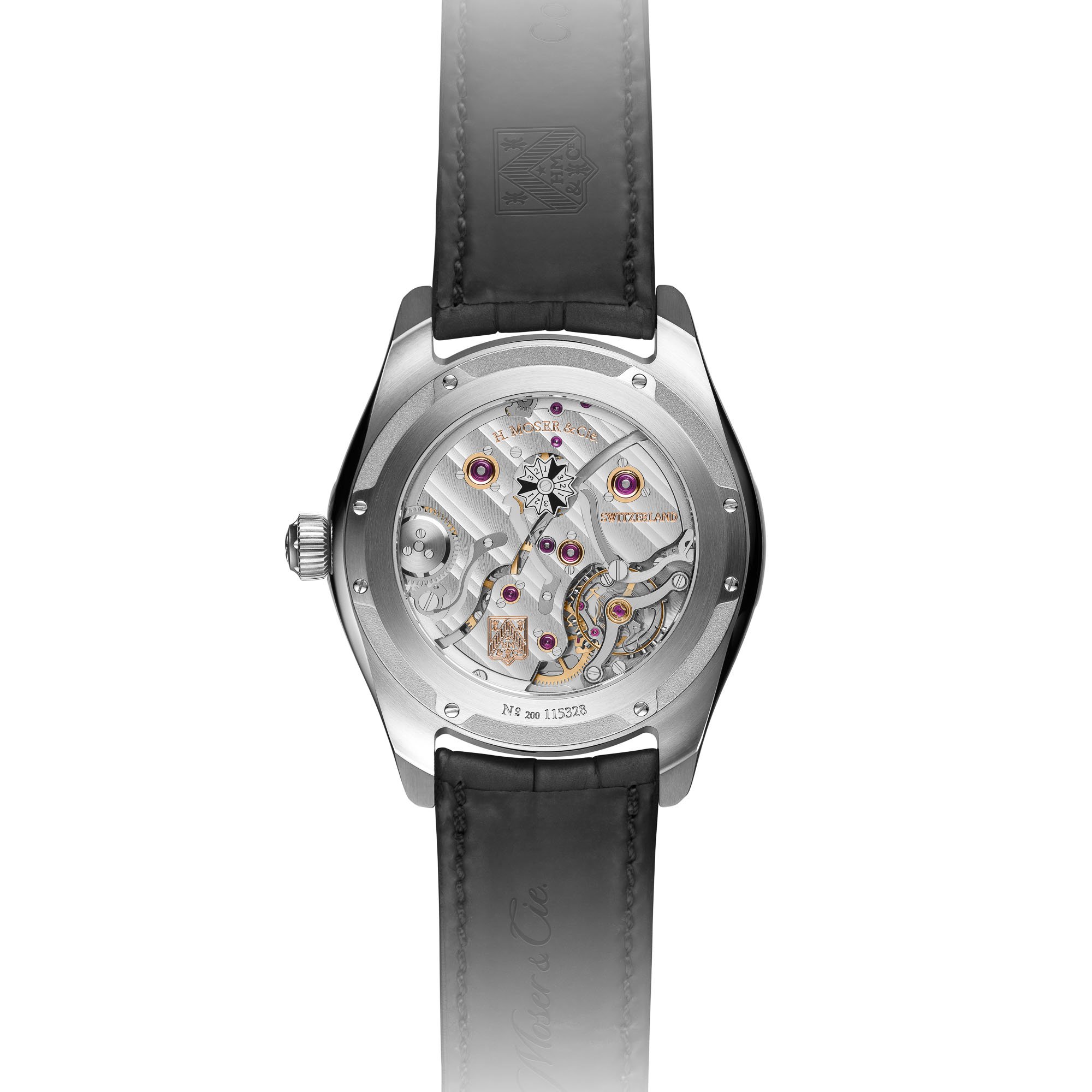 Technically speaking, Moser designed its new handwound HMC 808 movement to allow for date changes to be made at any time of day without harm to the movement.  The new movement also has an astounding 7 days minimum power reserve and leap year cycle indicator that's visible on the backside.  Oh, did I mention that with its lumed hands and 120 meters of water resistance that this watch can take a relative beating?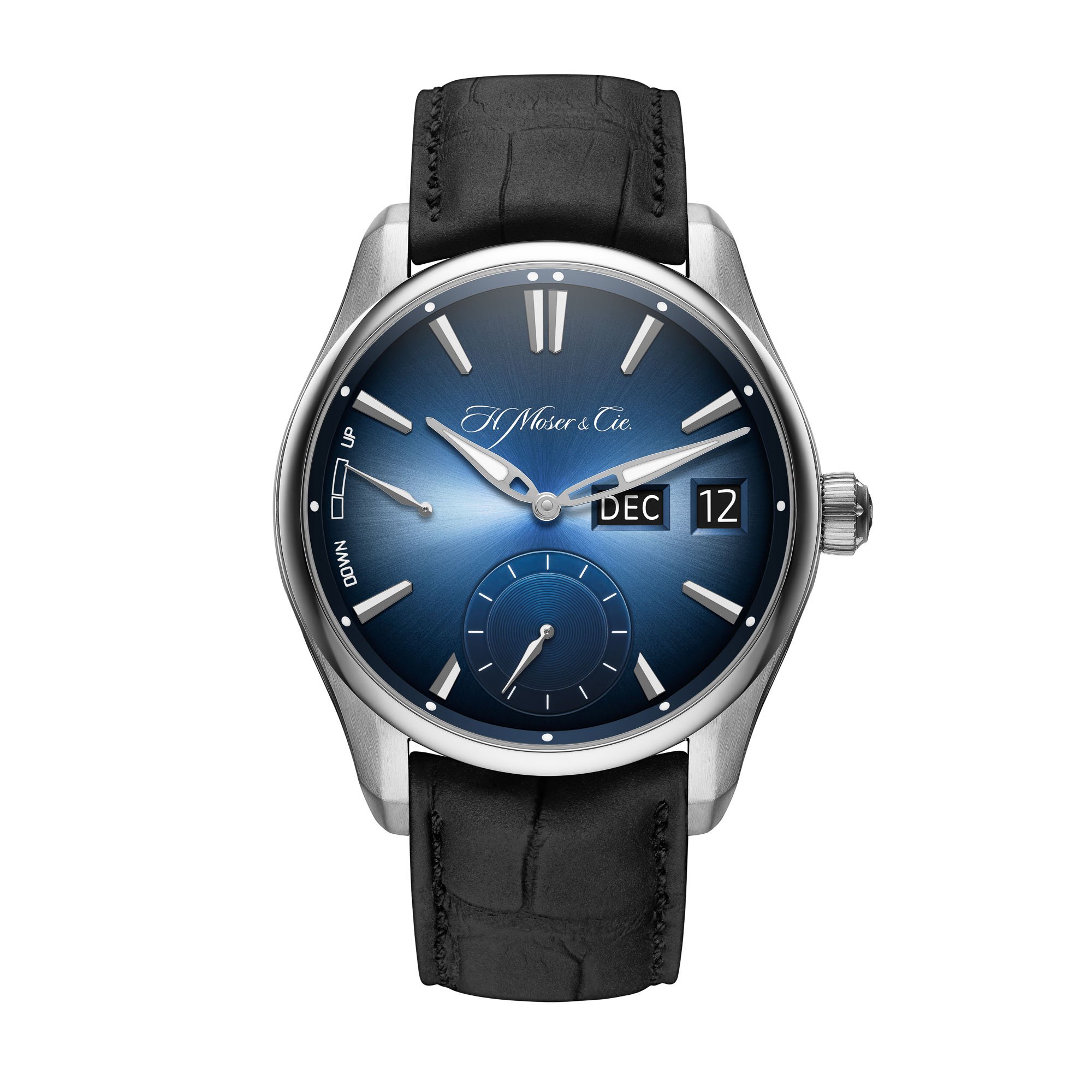 As I mentioned, I'm not 100% sold on the aesthetics of this piece, but you can't deny Moser's technical advances and their sense of adventure.  At 39,900, these aren't inexpensive, but they're definitely unique!  Whether you choose blue or red, only 50 pieces of each will be made.  More information is available on the H.Moser site.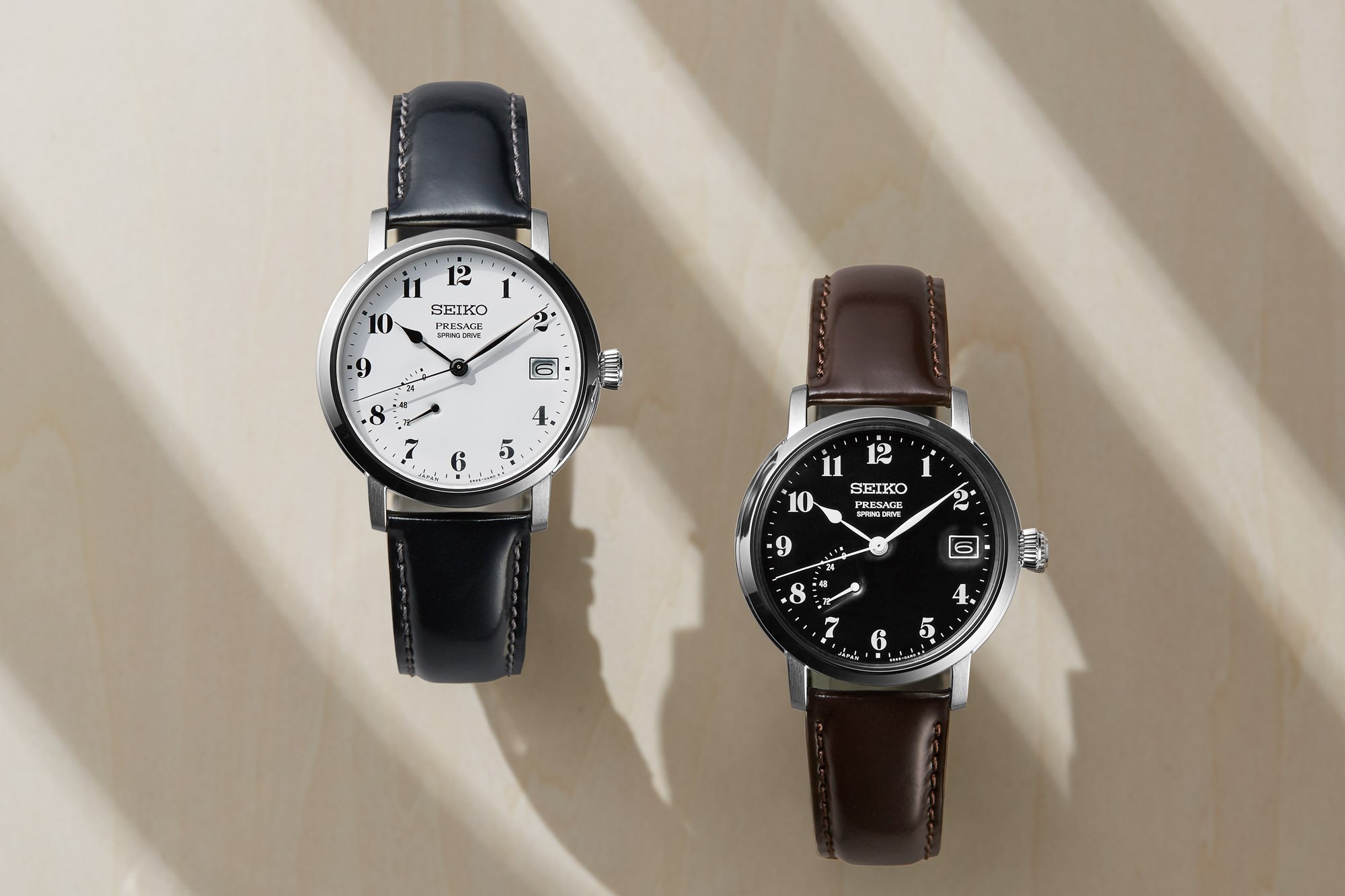 Seiko Presage Prestige Line Enamel Dial Spring Drive
Seiko sent us news of Presage models with enamel dials and Spring Drive 5R65 movements.  We've seen a number of enamel-dialed Presage pieces (including this lovely blue piece from a few years back that I reviewed), but this is the first time we get one with Spring Drive.  The watches are available in either a black (SNR039J1) or white dial (SNR037J1) variant, but both contain the Didoni font that we've seen before and the lovely old-fashioned hands that Seiko employs on these models.  All are handmade by Seiko's Mitsuru Yokosawa and a small team of skilled craftsmen.  At 40mm in diameter and 13.1mm in thickness, these new Presage pieces come with stainless cases with super-hard coating.  In addition, to the date at 3:00, we also get the signature Spring Drive power reserve scale at 8:00.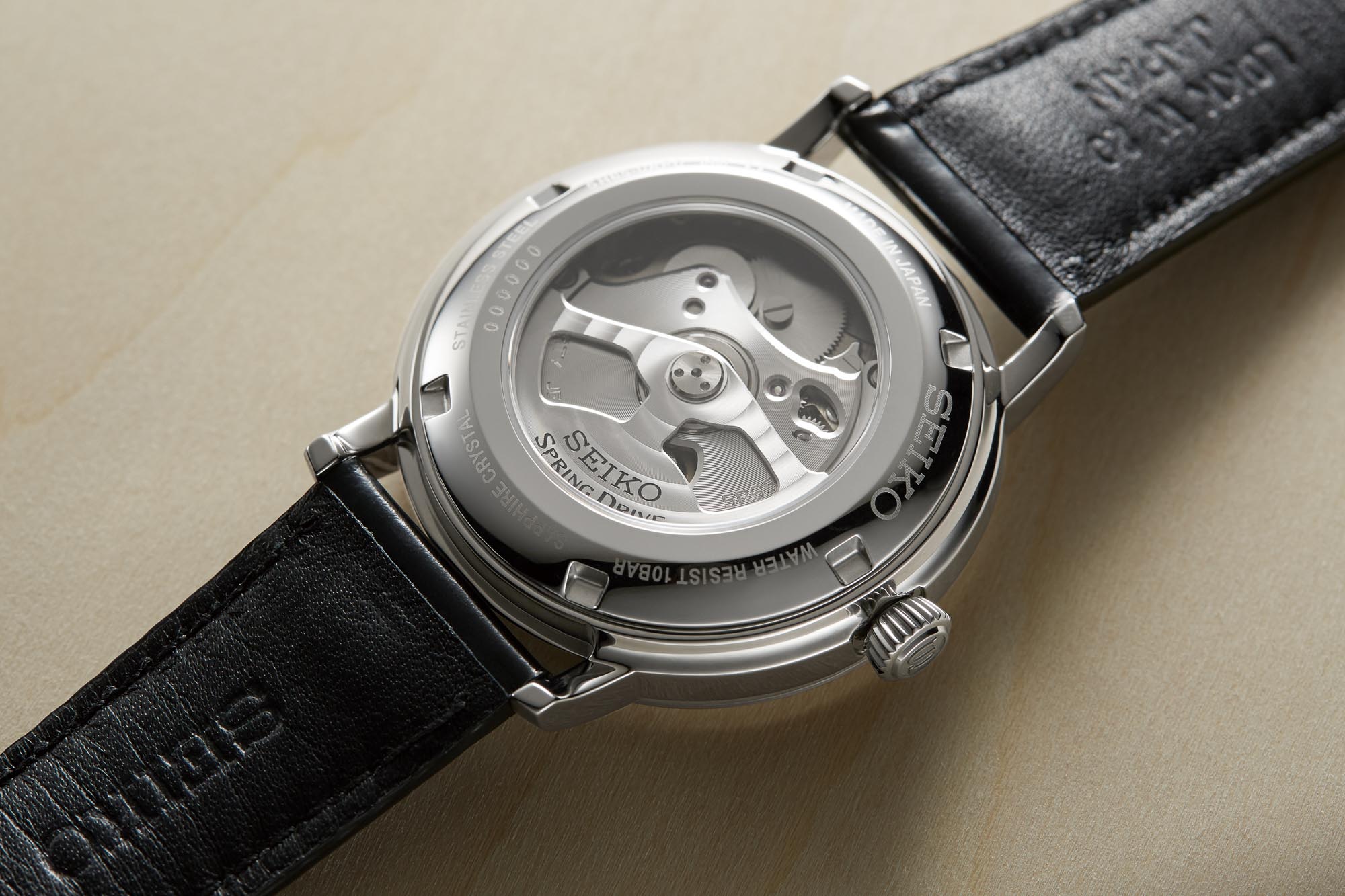 The 5R65 is viewable via a display back.  At 4,650 Euros, the new Presage Enamel Spring Drive models will be available in October at boutiques and selected Seiko authorized dealers.  More information can be found on Seiko's site.
Little Lange 1 Moon Phase "25th Anniversary"
Last but not least, we have the 9th of 10 in the series of the Lange 1's 25th Anniversary pieces.  This time, we have the 36.8mm "Little Lange".  My less than ideal knowledge of German might have me calling this one the "Lange-chen", but that would likely result in either an eye roll or laughter.  Either way, this is, once again, a beautiful watch with its white gold case, silver dial and blue detailing.  Reference 182.066 features the handwound L121.2 and contains a Moon Phase function along with the Big Date, power reserve indicator, hours, minutes and seconds.  At a slim 9.5mm in thickness, this is probably the model I'd choose for my smaller wrist.  Now, I just need to come up with the 42,300 Euros…  More information can be found on Lange's official site.
Folks, that's all for This Week in Watches – enjoy your weekend and we'll see you soon.