This World War II Rolex Fought With The Rats Of Tobruk Against Erwin Rommel's Afrika Korps
The kind of vintage watch that you wish could speak and share its stories with you
One of the best parts of this hobby is the stories that watches have lived through and experienced. They result in battle scars (in this case, literally) and a fascinating window to history that these time-telling objects can provide. I recently sat down with a young Australian enthusiast who had accidentally come across a World War II Rolex watch that served in one of the war's most significant battles.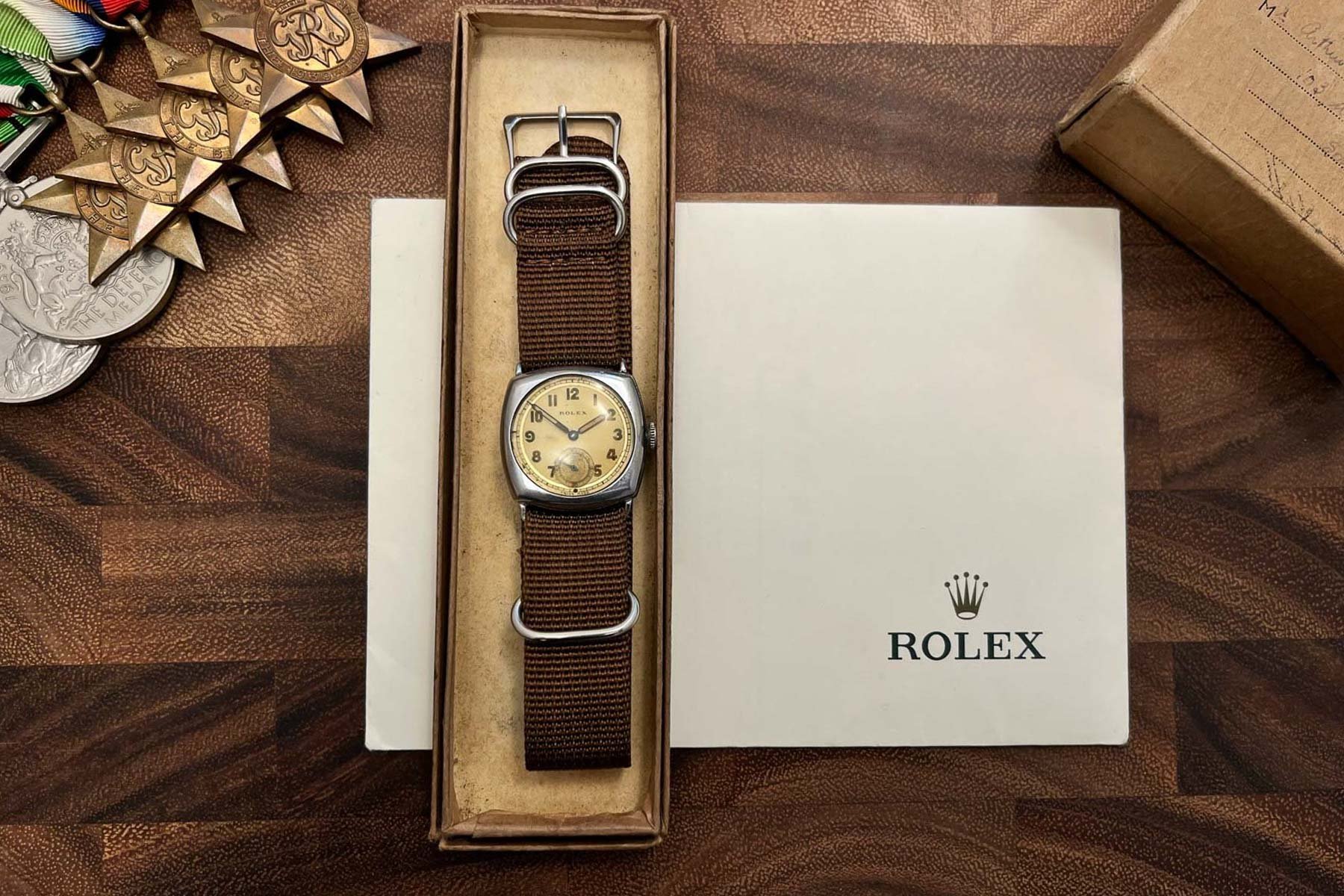 A World War II Rolex discovered inside an old box
Oliver Mann, 20, has been into watches since he was 13. His dad had been saving a small fund for him to access when he turned 13. In the first week as a teenager, he used that money to buy a box of vintage watches in Queensland, Australia. "I remember buying a box of vintage watches. My dad had been saving for my 13th birthday, and I emptied that bank account in a week. Inside that box were some vintage Omega and JLC watches. My first brand-new watch was a Seiko SKX007. I traded that for an Omega pocket watch that didn't work. I regret that, though, as I still miss that old Seiko," he said.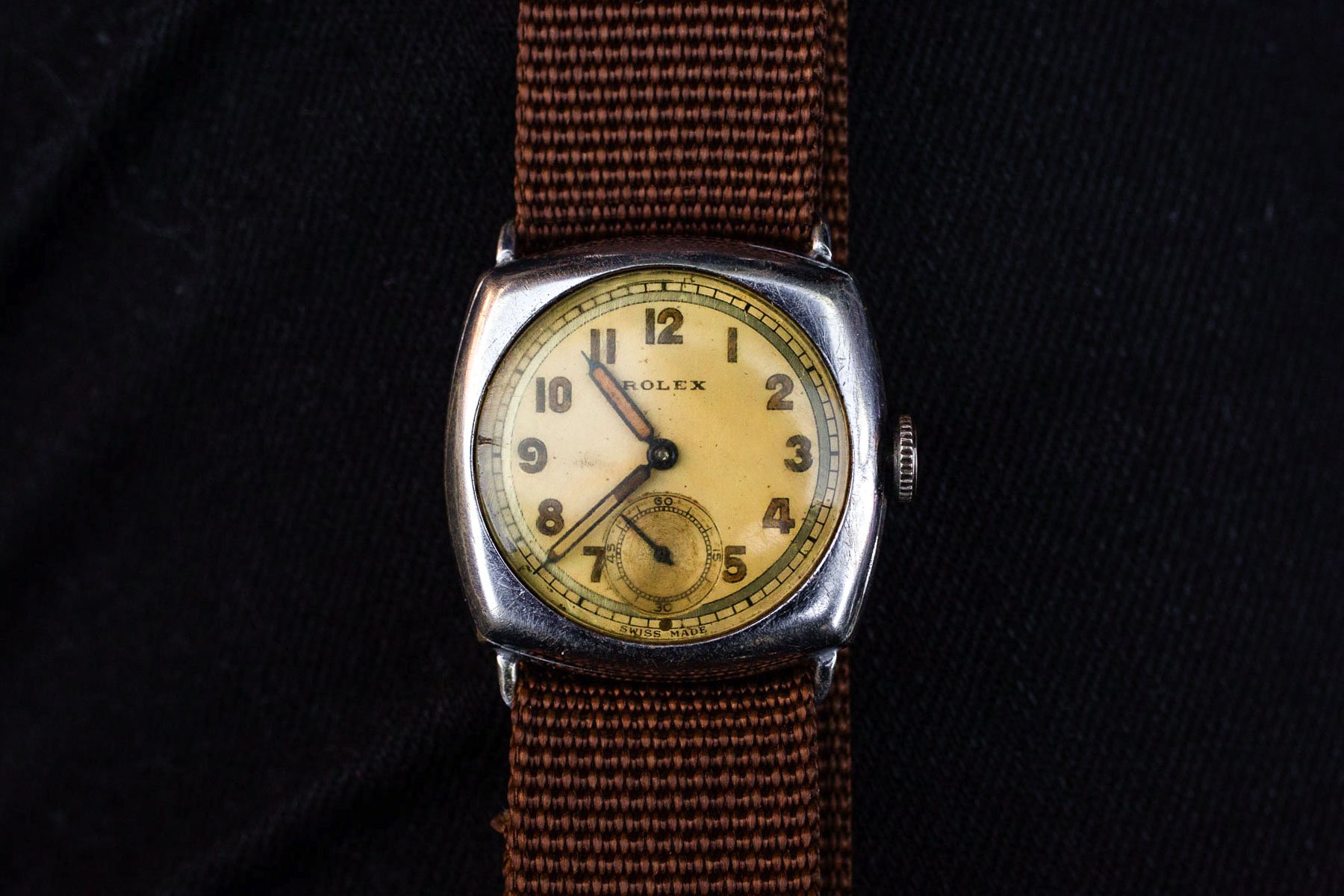 Having since become a history major at university, Oliver took his passion for vintage watches and melded it with his love of history. "I love history, and that is reflected in my love of watches," he said. A great opportunity for Oliver to fuse his passions emerged this year when he came across a random Gumtree advertisement. "Rolex watch not working," the ad simply stated. So Oliver clicked on it. "I saw an ad with two hazy and bad-quality photos on Gumtree for a Rolex watch that apparently belonged to one of the 'Rats of Tobruk.'  I thought I might take a risk and get it posted to me," he said.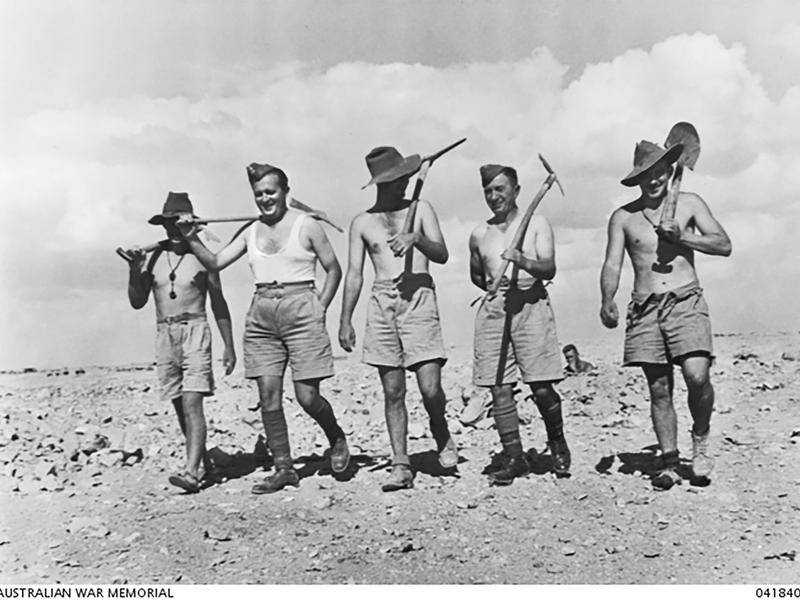 The Rats of Tobruk
According to Wikipedia, "The Rats of Tobruk were soldiers of the Australian-led Allied garrison that held the Libyan port of Tobruk against Nazi Germany's Afrika Korps, during the Siege of Tobruk in World War II. The siege started on 11 April 1941 and was relieved on 10 December [that same year]." It was one of Australia's most significant engagements in military history and something that Oliver knew would mean the watch, if it were genuine, could be a relic from a very important historical moment.
The watch had "slept" in a shed and inside of a box since the late 1940s. Oliver bought all of the contents of the box, wanting more than just the watch inside it. Inside the box were old tools, a couple of magnifying glasses, and some other old stuff that most people would consider junk. "I thought it would be nice to have it all as a collection," Oliver said. "And it turned out to be genuine as the guy was on the Rats of Tobruk registry. The original owner was a genuine Australian hero."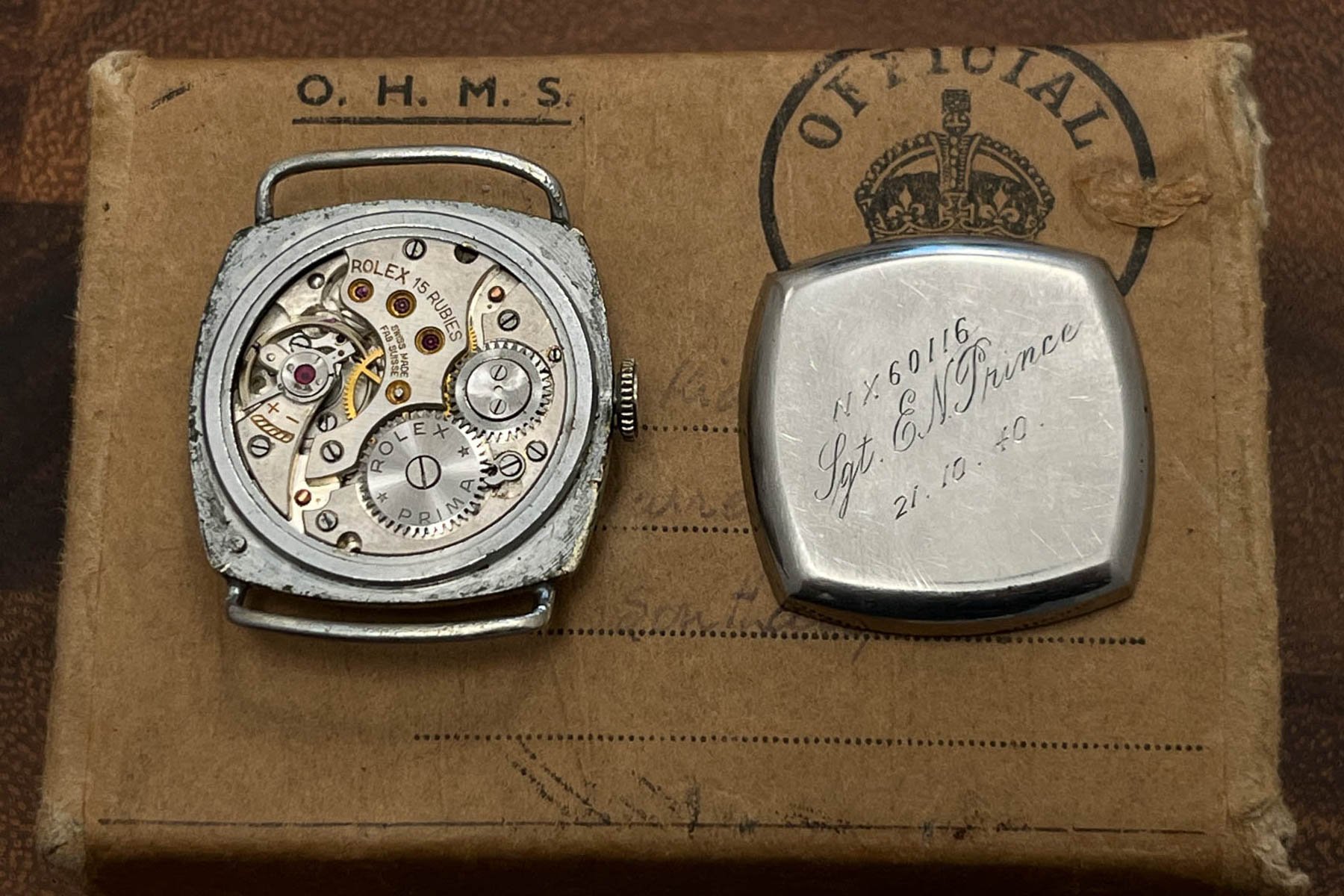 An inscription sparks a search through historical records
All that Oliver had to work with was an inscription on the back of the watch that read, "Sgt. E.N. Prince" followed by a date, "21.10.40." When it arrived, Oliver began treating the watch as a historical object and began his research. "I went through the Australian archives once I had bought the watch. I started looking into it. It turned out this watch saw action in battles against the famed German general Erwin Rommel. I was amazed," he explained. 
The historical records, only recently digitized for the Australian War Memorial, revealed that the original owner, Sergeant Eric Prince of the 2/3rd Anti-Tank Regiment, was, as Oliver describes him, "a very brave man." The date on the back of the watch matched up to when Sergeant Prince returned from NCO training in Narellan, an Australian town. In all likelihood, he then received the watch as a gift or bought it to mark his promotion to Sergeant.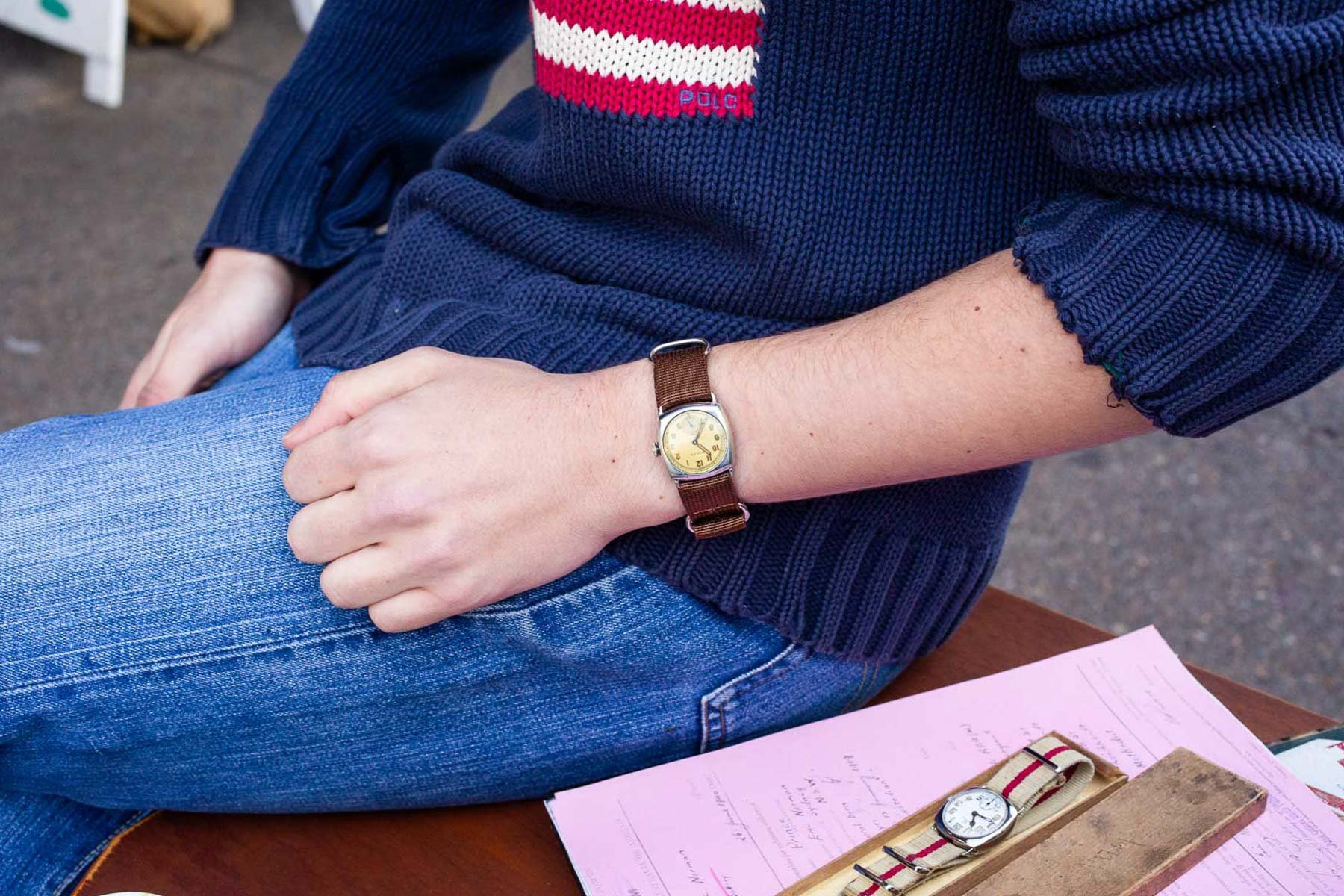 A surprising find
The records even included an old image of Sergeant Prince. "Sgt. Prince, along with this watch, fought in the battle of Tobruk and both battles of El Alamein. His service records show he was wounded during these battles. He later got transferred to Papua New Guinea and was in Buna and Port Moresby, two places that saw heavy fighting against the Japanese," Oliver said.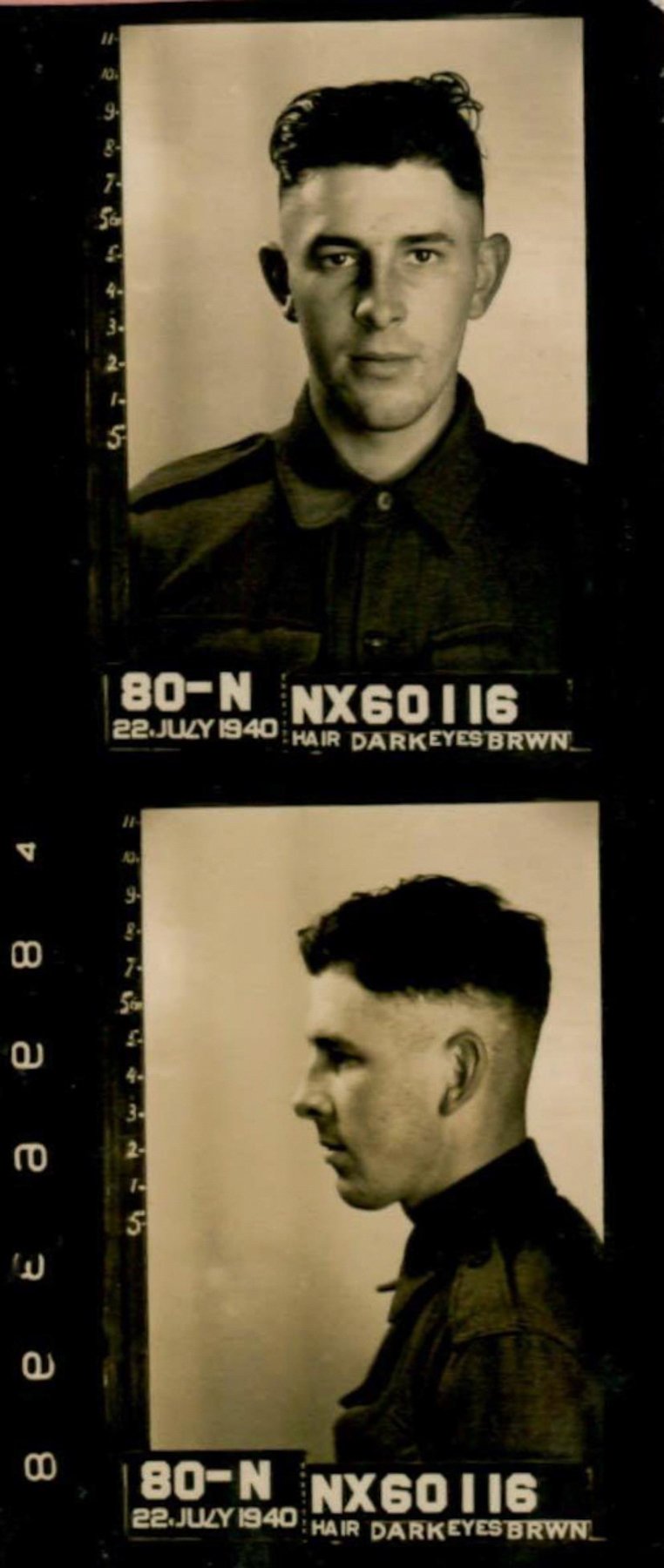 Sergeant Prince, according to the research, was the recipient of nine medals. "He received the Long Service Medal, the Efficiency Medal, the Defence Medal, the 1941 Tobruk Siege Medal, the War Medal 1939–1945, the Service Medal 1939–1945, the 1939-1945 Star, the Africa Star, and the Pacific Star," Oliver explained. "I obtained these records of service through the war memorial. It is amazing that there is a photo showing him in combat with this exact watch. I have the original leather cover strap seen in that image as well."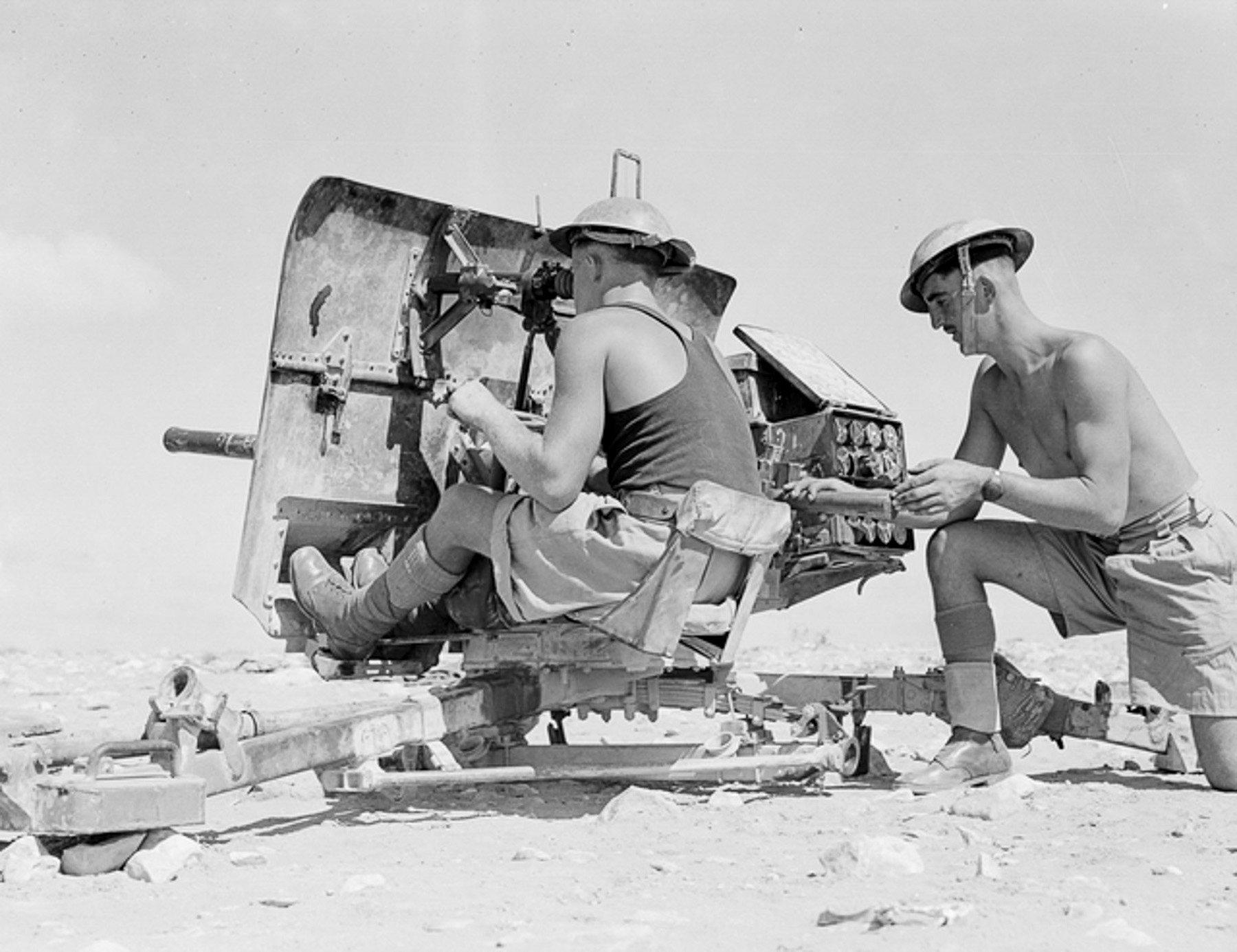 The watch in action
"It turned out that this watch and the owner were actually in a picture on Wikipedia firing an anti-tank gun in North Africa. I realized it was him while researching the watch, and I was amazed," Oliver said. "He volunteered for the 71st Light Infantry Detachment. This is where you would have one officer and 30 soldiers head out and conduct rescue and repair work around Tobruk, it was highly dangerous work, and he was wounded twice."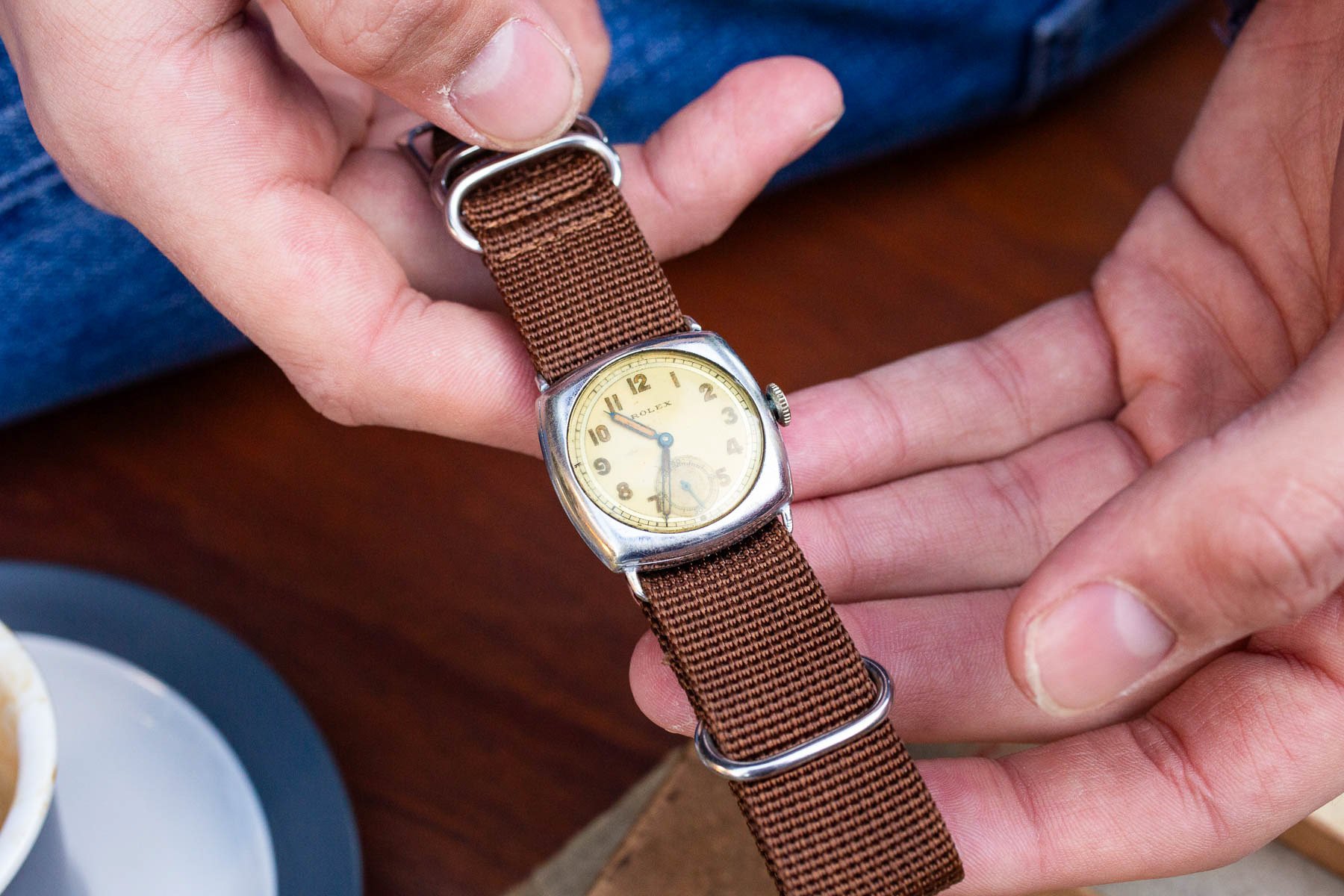 That Wikipedia image shows Sergeant Prince on the right, helping load an anti-tank gun. The watch, on its leather Bund-like strap, is visible on his wrist. "My impression of him from these records is that he was quite brave, volunteering for the Light Infantry and as an anti-tanker, which was not an easy job. He was hardcore. I couldn't believe this. I had a feeling of, 'Imagine what this watch went through.' It participated in one of the most important battles in Australian history," Oliver said.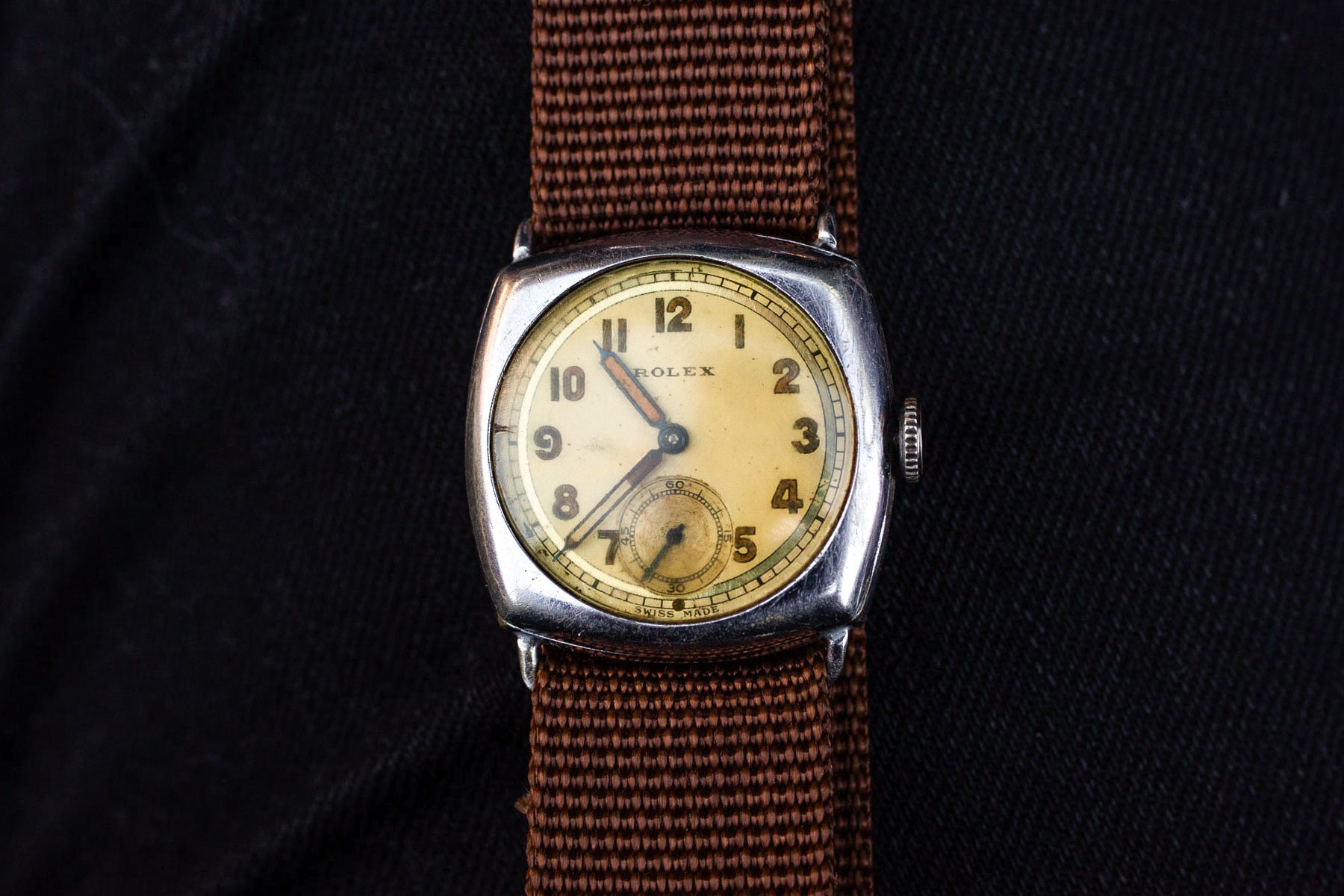 Final thoughts
There you have it, Fratelli. I hope you enjoyed this tale of a World War II Rolex, lost and then found by a young enthusiast who is now its worthy keeper. Oliver is not sure what he will do with the watch next, but whatever happens, he said he was happy to have been able to help discover its true story. I must say I felt very lucky to come across this particular story by sheer chance. If anyone else out there has a story they'd like to share, please feel free to reach out to me.