Hands-on With The Seventies Inspired Tissot PRX Powermatic 80 Watch
The easiest way to experience the ultra-desirable super-deluxe integrated sensation
Let me start with the price because if I say "the easiest", you'll likely want to know how much it costs. Well, for a Tissot PRX Powermatic 80 watch in steel with either a blue or a black dial you'll pay €670. Alternatively, you can add an extra €25 for a version with a white dial and rose-gold-colored accents. What you get for that price is something not previously available at the price point! Is it for everyone? Maybe not, but now, after wearing the PRX for a few days, I'm thinking that there are way more potential fans out there than there will be haters.
Let me start by being a little bit negative. Here goes. The PRX looks like a Rolex Oysterquartz 17000 and a Royal Oak 15202 Jumbo had a baby. There, I've said it. And you know what? I don't mind these two having offspring. The PRX is not for people who are already knee-deep in Oysterquartz knowledge or own a Royal Oak. The PRX, with its under €700 price tag, is for a very different target group — predominantly a younger, novice, and aspiring audience. And why not educate that target group on the topic of luxury sport watches with an integrated bracelet? There's a plethora of this kind of watches in different price segments out there, from affordable to stratospheric, and there's plenty of interesting stuff to know about them.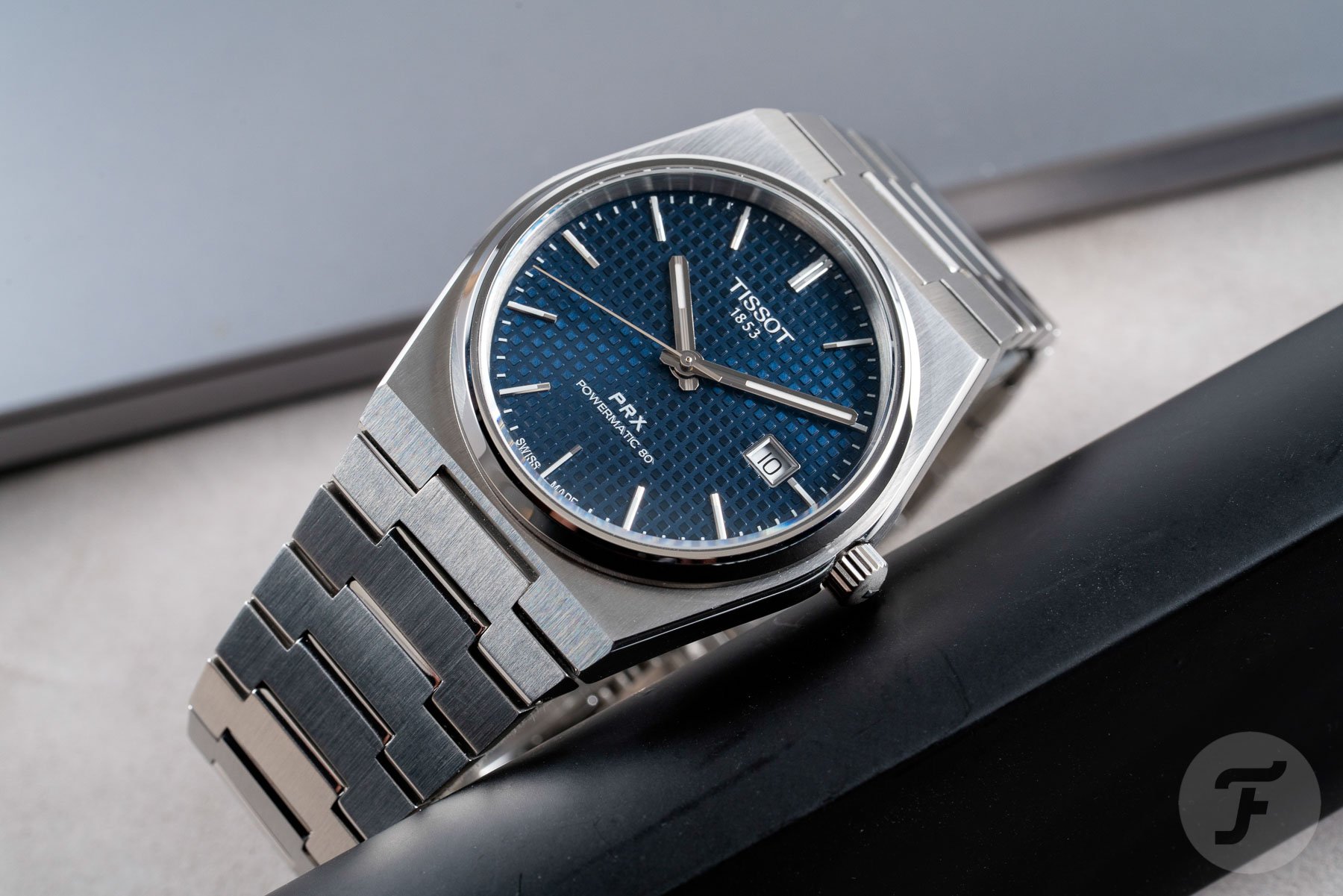 The Tissot PRX Powermatic 80: an easy-going, but serious watch
What Tissot is doing is planting a seed. The brand from Le Locle is doing the groundwork that other, higher positioned brands will benefit from later on. Oh, and by the way, Tissot had a number of very similarly shaped watches back in the seventies — like almost every other Swiss brand — so even the contemporary icons we hold in such high regard weren't completely unique in their design style. The Seastar Quartz (pictured below) certainly seems to have inspired the modern PRX we are discussing today.
The modern PRX Powermatic 80 revives the seventies in an easy, but at the same time serious and thorough, manner. The 40mm steel tonneau case encloses the central round shape. When you look at the PRX from the side, it looks like a cylinder that is being cut in half by a straight line, with rounded and angled ends that blend in with the bracelet.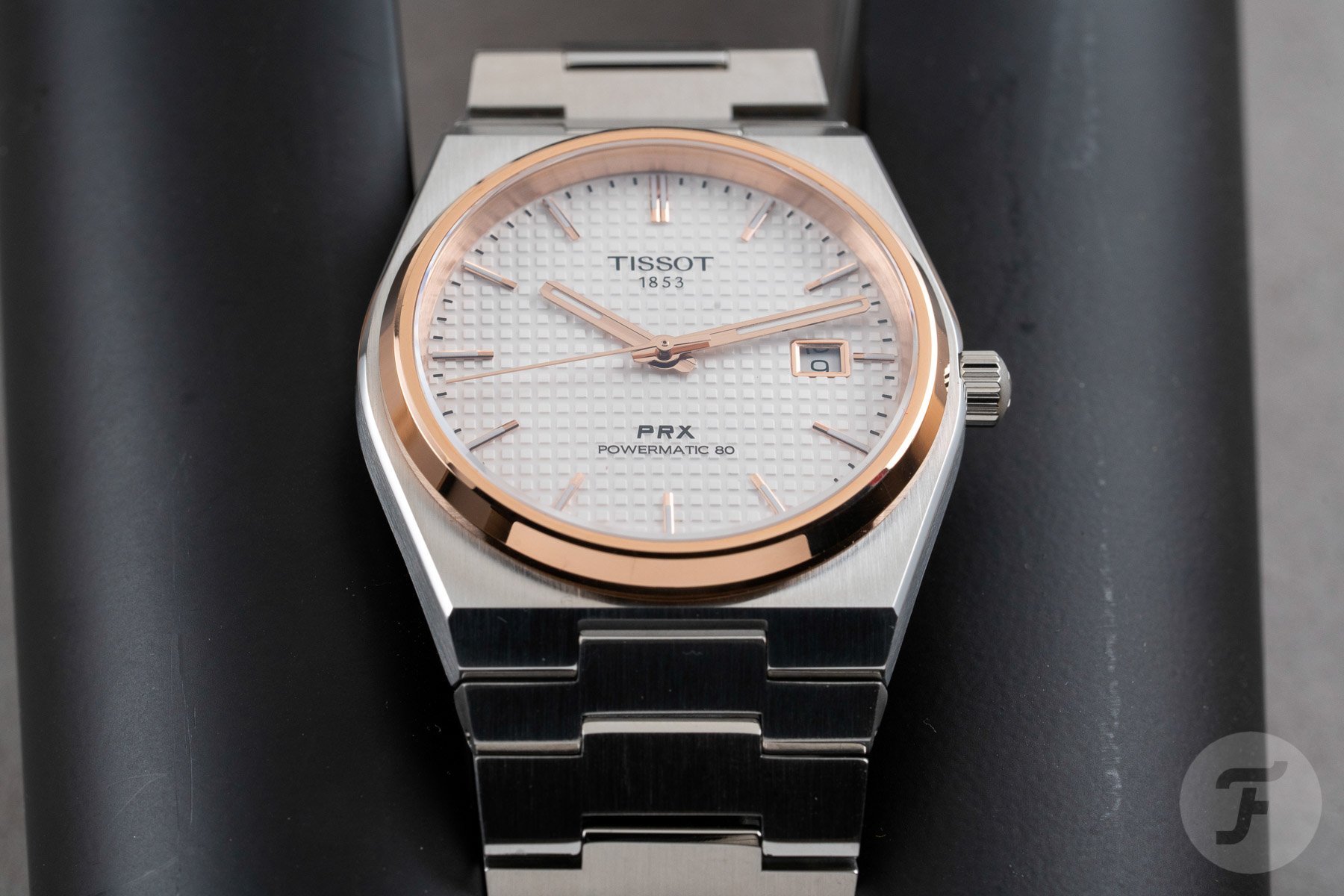 Prominent exposure is not a problem for me
But why explain the shape when you can look at Bert's pictures, right? I like what I see. And wear for that matter. 40 mm is a size you can't go wrong with, and although I've heard complaints about the PRX being too big, or too thick on the wrist, I don't have any problems at all with the reasonable height of 10.9mm. I don't consider 10.9mm thick at all. But I think I know where that comment comes from.
… there are flatter sport watches with an integrated design out there, but they don't belong in the "affordable" category …
When you look at the stacked construction from the side — on and off, the wrist — it becomes quite prominent. The constriction lifts the middle part from the wrist, leaving the edge of the round case back exposed. So yes, there are flatter sport watches with an integrated design out there, but they don't belong in the "affordable" category like the PRX clearly does.
Keep your eyes on the price
The good thing while wearing the PRX that the whole "taking the price into consideration regarding look and feel and build quality" never really comes to mind. The PRX Powermatic 80 is not only a very comfortable watch, it's also well-built and finished.
The bracelet feels solid, the folding clasp looks extremely neat, and the white (T137.407.21.031.00), blue (T137.407.11.041.00), and black (T137.407.11.051.00) dials feature a tile texture that rings both the 70s and the "AP RO" bell too, for sure. Just call it easily recognizable or oh so nicely nostalgic and comforting, just like good retro is supposed to be doing.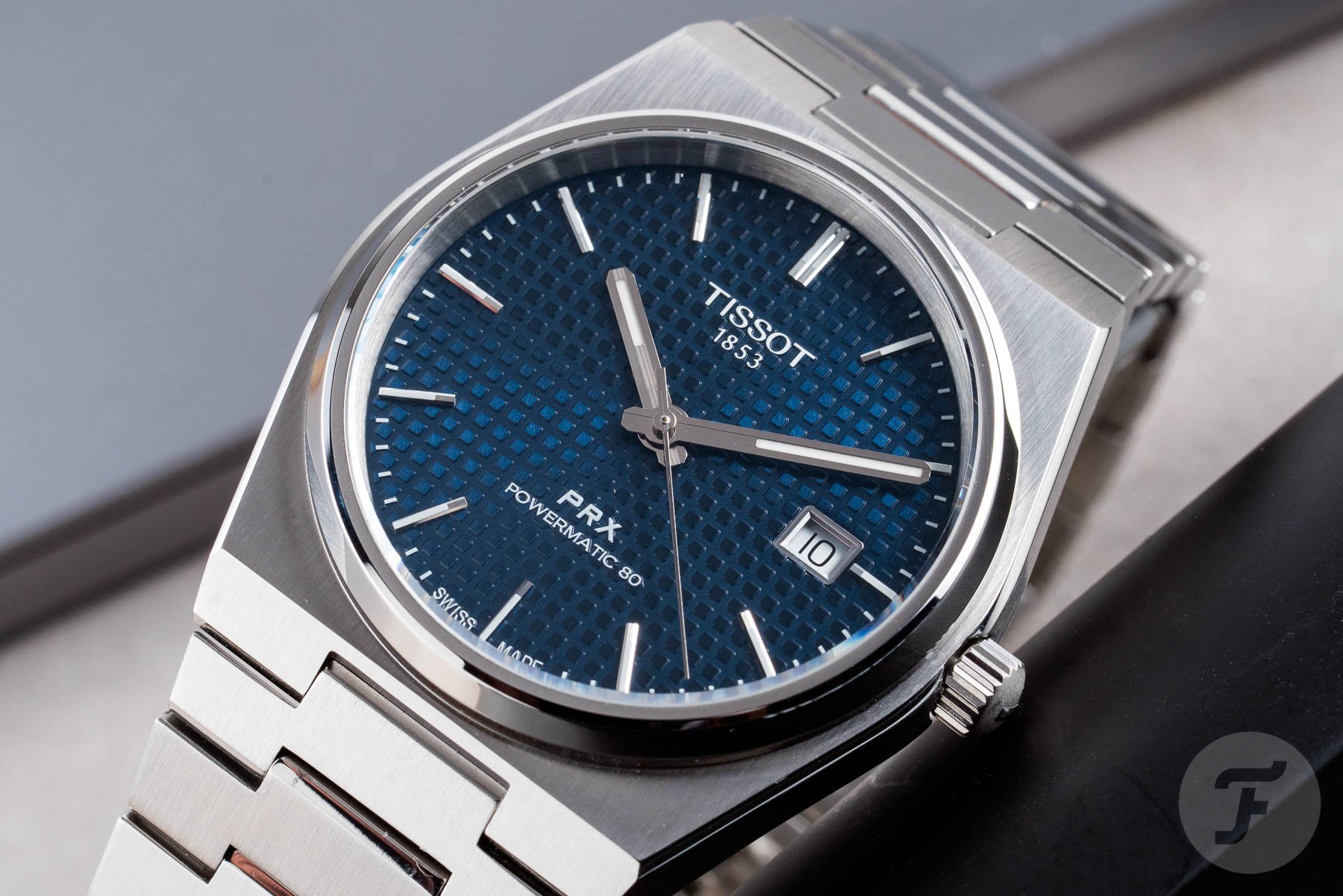 "Hey man, nice watch. What is it?"
Wearing this watch to a bar will likely lead to reactions, I have no doubt about it. Will people come up to you and say "hey man, nice PRX"? No, not exactly, it will be more like: "Hey man, nice watch. What is it? Is that a …?" Fill in the dots with previously mentioned classics or other players in the field of sports watches with the heart of a gentleman. Is it the kind of reaction you want? I guess so.
… it will pass any level of scrutiny with flying colors.
Everybody likes a compliment, and if people came up to me and say I look like Ryan Gossling — I really don't — I couldn't say I'd feel like I had just been insulted. Au contraire, I say thank you and introduce myself as Leonardo DiCaprio!
What I'm trying to say is that the PRX is a good-looking watch that grabs attention. And it will pass any level of scrutiny with flying colors.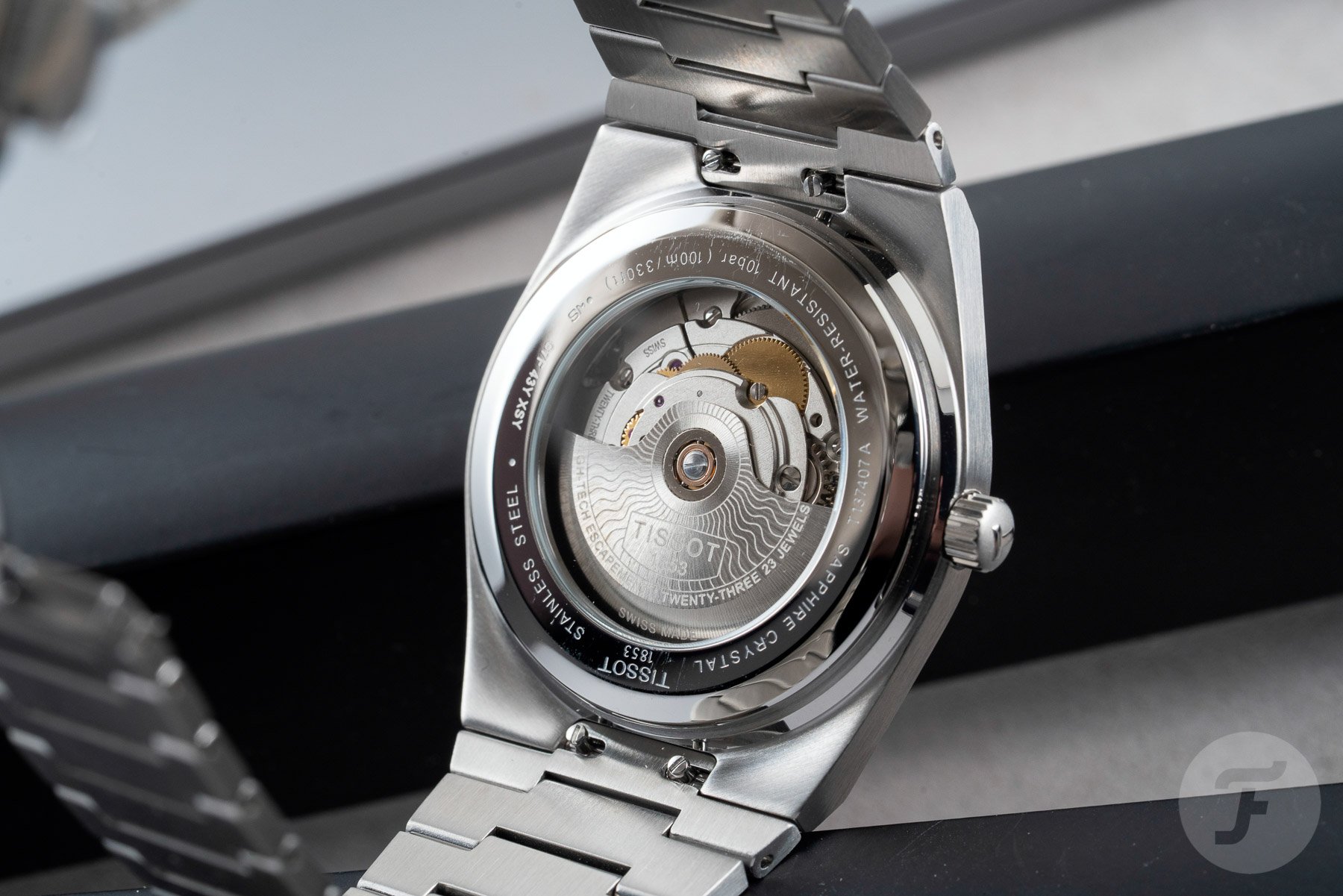 The workhorse inside
Tissot built a great watch from a design standpoint, a price standpoint, and also from a movement standpoint. The 21,600 VpH, 23 jewels Powermatic 80.111 caliber, is equipped with a Nivachron hairspring and is everything a contemporary mechanical workhorse movement should be. The movement is rated for +/-15 seconds a day, and those are not upsetting numbers. I should say at this point that looking at the PRX through "Royal Oak eyes" is not the way to see this watch for what it is: a sub €700 and not a €30K plus watch.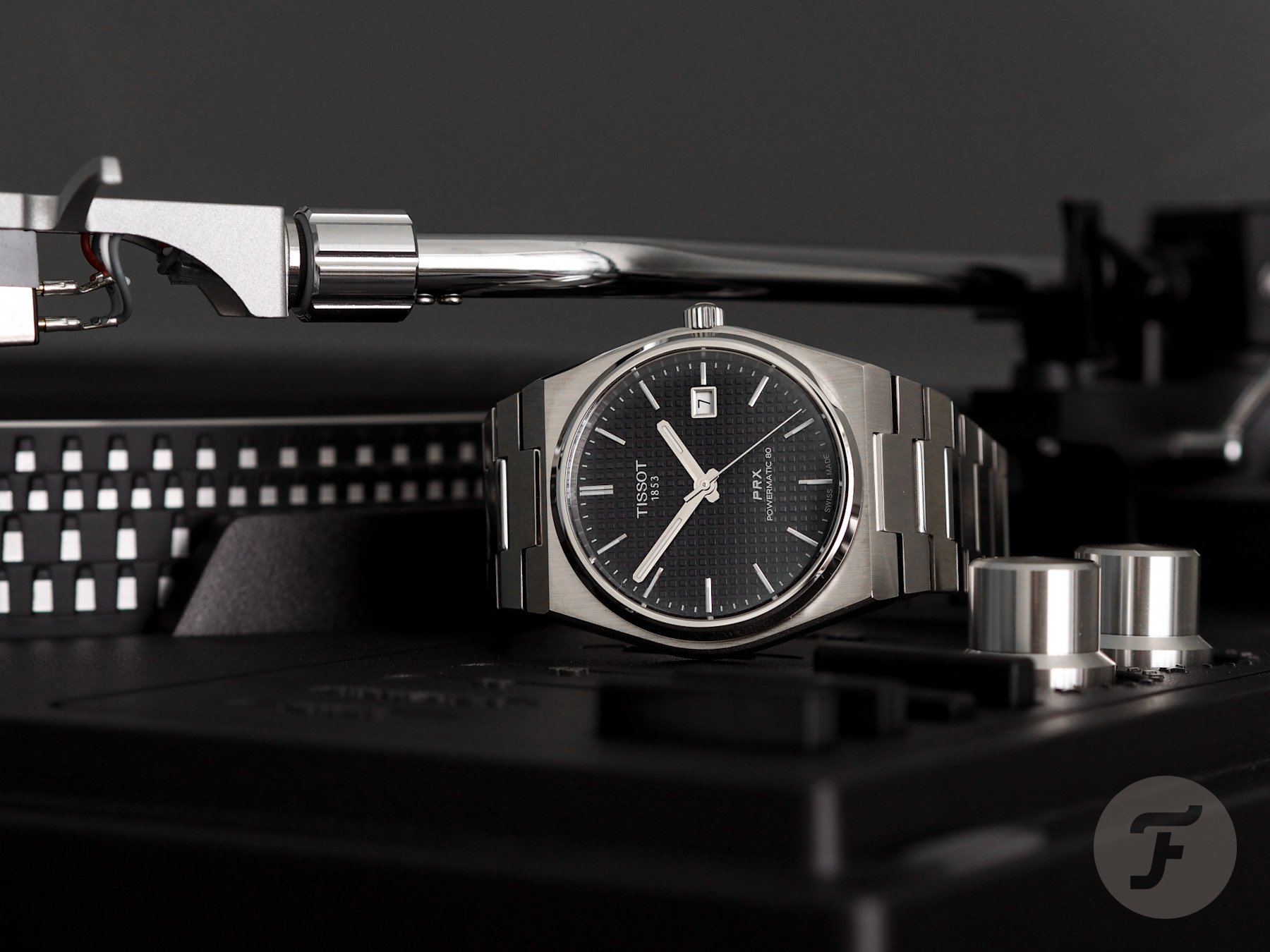 The voice of reason
I stated at the beginning of this article the PRX is for a younger, novice, and aspiring audience. Now I feel the need to extend that statement a bit. The PRX is also for a watch enthusiast who is not blinded by logos, hype, and/or history. Someone who loves watches, but keeps both feet firmly on the ground.
… the PRX could be the start of a beautiful friendship with high-end watches.
Someone who has a heart for watches, but also listens to the voice of reason. For some, the PRX will remind them too much of the watch they want, but can't get or afford. I get that too. If you're spoiled by choice or what you've already seen in the past, the PRX could fall short. For a much larger group of people susceptible to the watch virus, the PRX could be the start of a beautiful friendship with high-end watches.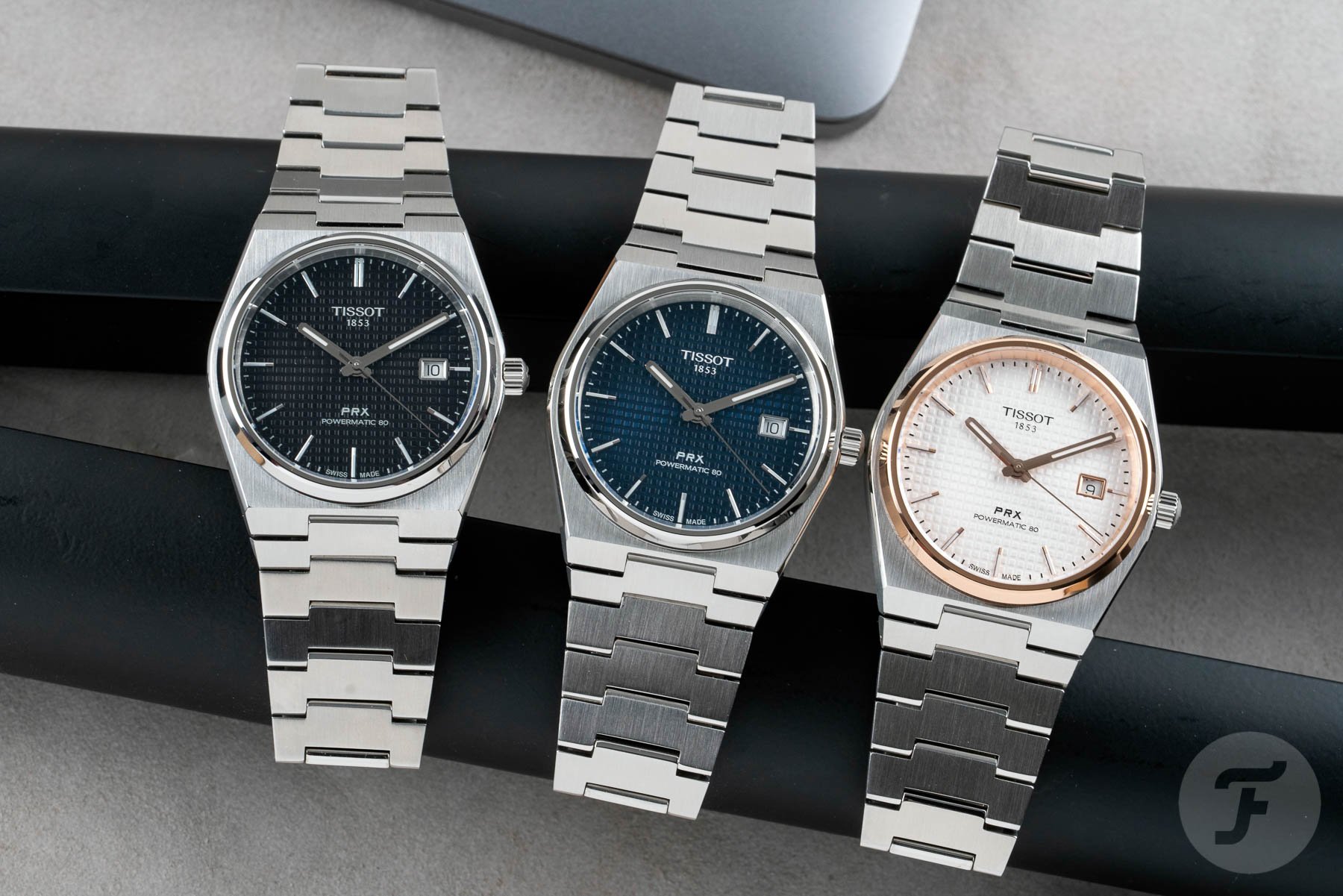 Let me know what you think of the Tissot PRX models in the comments down below. Do you hate them? Do you own all three? I'd love to hear your thoughts.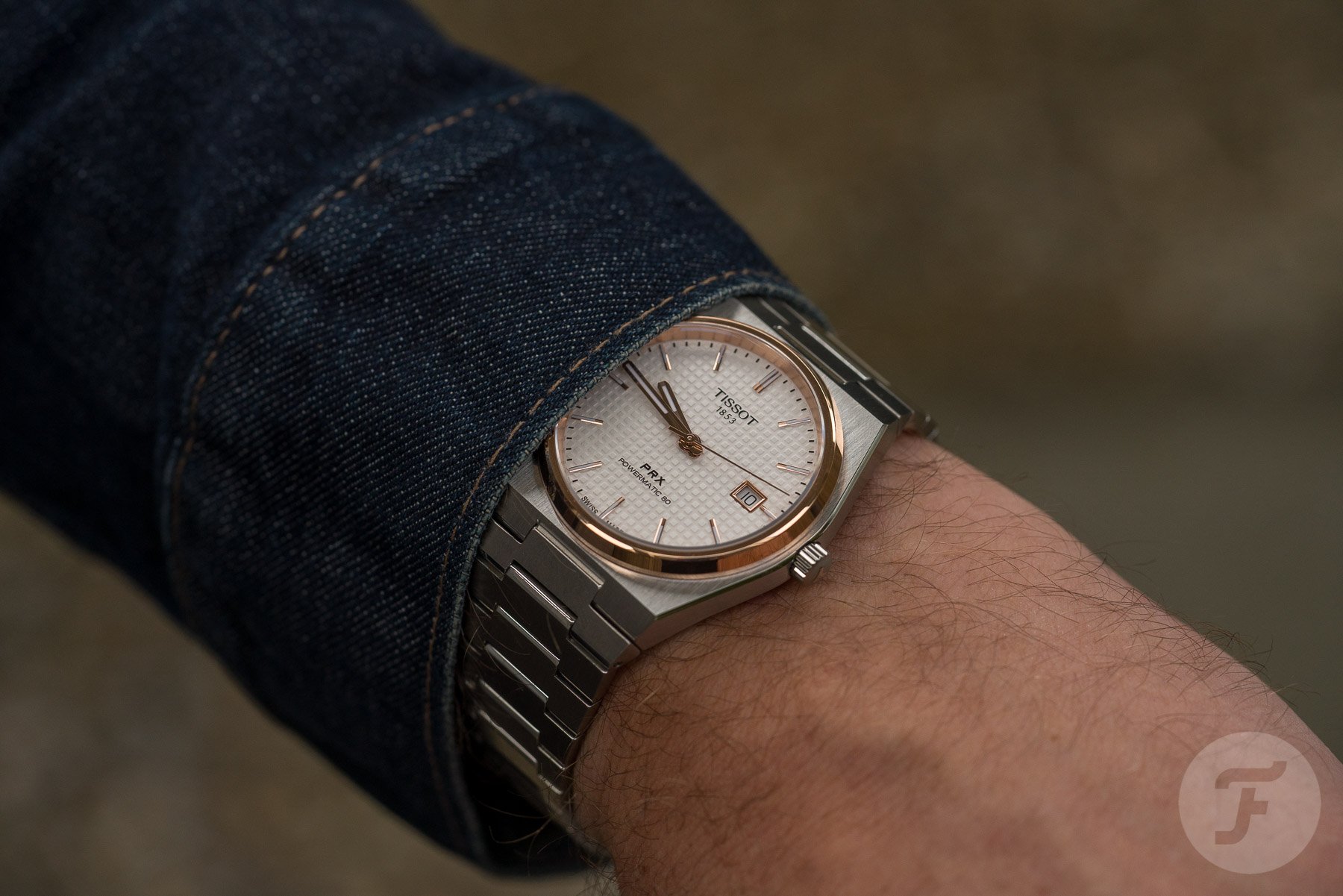 Have a look at the different Tissot PRX Powermatic 80 models and their exact specs on the official website.
Please find and follow me at Lex Stolk • Instagram