The Top 5 Bvlgari Releases Of 2021
From aluminum to gold, the masters of ultra-thin delivered the goods
This year was a letdown, to be truthful. I was expecting — no, demanding — a joyous, amazing year filled with nothing but celebration and the burning of face masks, but alas, this was not the case. But even with the pandemic still roaming the world, Bvlgari was poised for the start of "revenge spending" with some rather tempting releases in 2021.
That's right, a trend that has sparked an application to the Collins Dictionary for a new English term. I don't have to explain, but here you go — spending excessively after a period when one has had limited opportunities to spend. We expected everything to subside, and it didn't. But Bvlgari did its Roman-Swiss best to distract us from January to Geneva Watch Days in August, with a swansong just last week in Dubai. Here are our thoughts on the five best Bvlgari releases in 2021, from Disney cheer to a gold-infused tourbillon.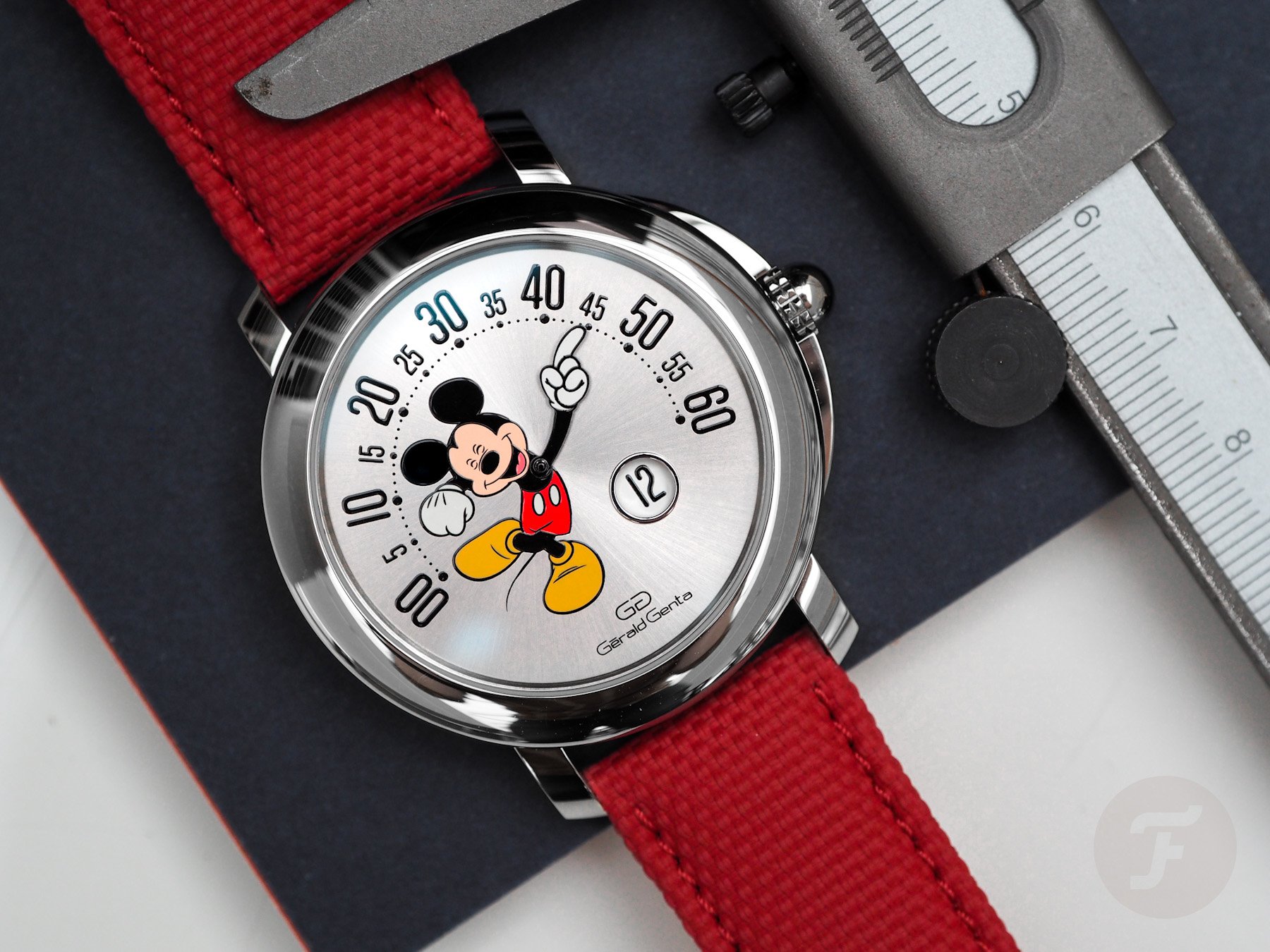 Gerald Genta Mickey Mouse
When Bvlgari released the titanium Gérald Genta Bi-retro last year, we were delighted. The circular quirky-cool of Genta proves two points — both that Bvlgari is bold, and that we need more than sports watches with integrated bracelets (as lovely and thin as admittedly they are). This year, this Genta release gave us something we wouldn't expect from the masters of ultra-thin — a large dose of humor. So much that I giggled loudly at Geneva Watch Days. F.U.N. is what we need, especially as 2021 didn't live up to its pandemic-free promise. This very niche watch design unexpectedly blew me away. A cheeky-looking Mickey Mouse points at the retrograde minutes, only for his arm to swish back to zero at each hour. I dare you not to sit completely still several times a day for the event. At 3:59 PM or even 06:59 AM, miss your bus while Mickey cheerfully waves at breakneck speed, and the hour click-changes in the round porthole at five o'clock.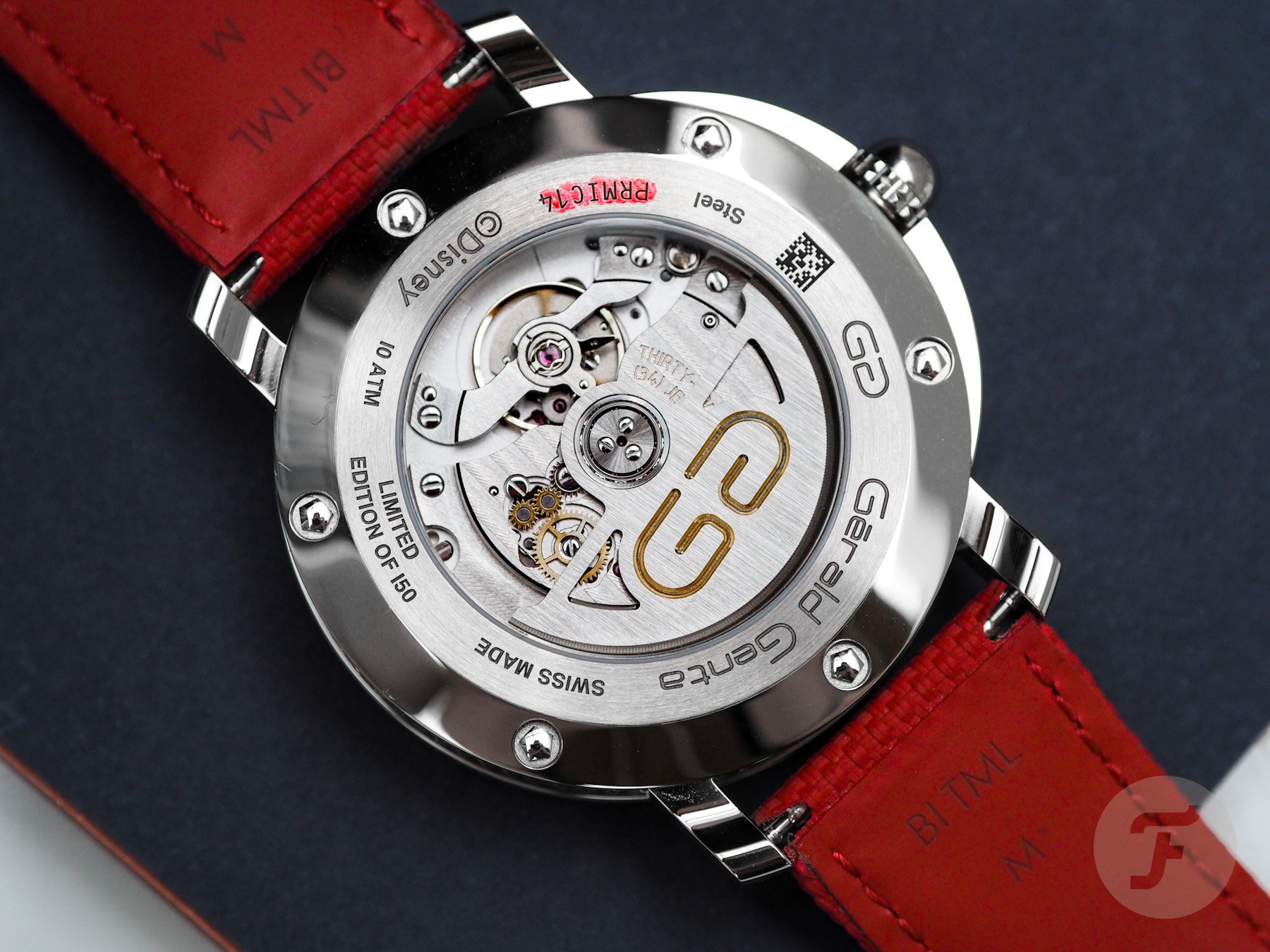 High horology with a liberal dose of humor
Superb execution of the complex case construction makes this a very rare and novel combo within Haute Horlogerie. Based on its cheerful mood alone, I'd rank it in the five best releases from Bvlgari in 2021. As in previous Arena Retrograde models, the case flanks are pleated, for lack of a better word, and eminently sandwiched between the polished top and base. The curved crown guard design makes it seem oval-ish on the wrist, and a candy red textured strap underlines its 100m depth-rated sports edge. The in-house BVL 262 caliber is nothing but pure Swiss delight. With its snailing and exquisite finissage, it reminds you of what this watch does best, surprising us with the juxtaposition of exquisite detailing and nothing else but pure Disney fun. It is whimsical and big-grin-inducing, even at a substantial CHF 16,500.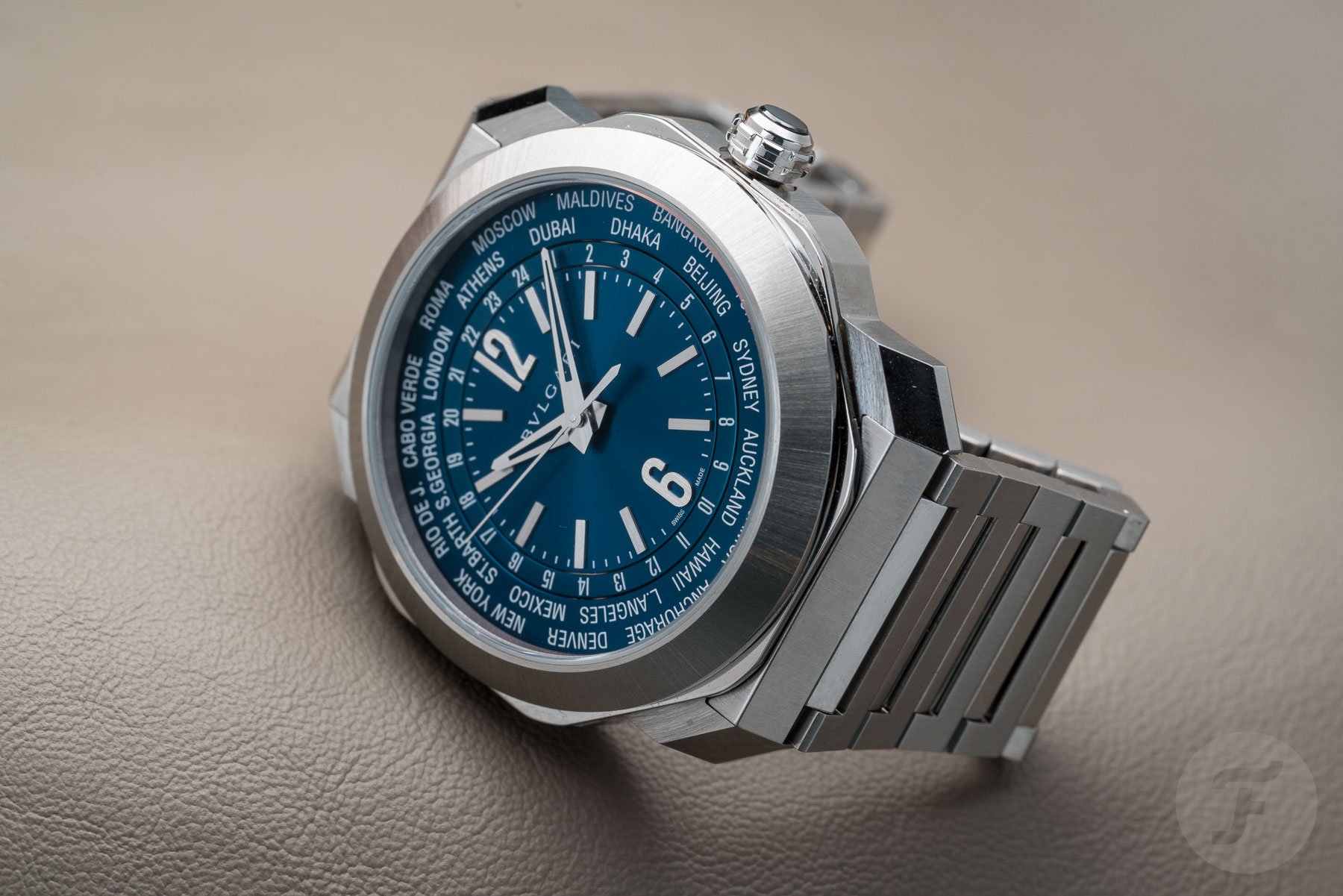 Bvlgari Octo Roma World Timer
The Roma has become one of the essential pieces in the Octo puzzle. It whittles the Genta case down to its essentials, celebrating the suave pairing of octagon and circle while retaining the thickness of the O.G Octo. Now, this is where we have become seriously spoiled. This is no Finissimo, but at 11.35mm, this architectural case is hardly chubby at all. This says a lot about the game-changer Bvlgari has become, with Rome setting the standards. Me, I enjoy the way this original shape accentuates the solidity of the lines. My favorite parts are where the angular lugs dramatically drop down, holding the broad bracelet.  Above sits an octagonal slice in a broad-bezeled sandwich of impeccable taste.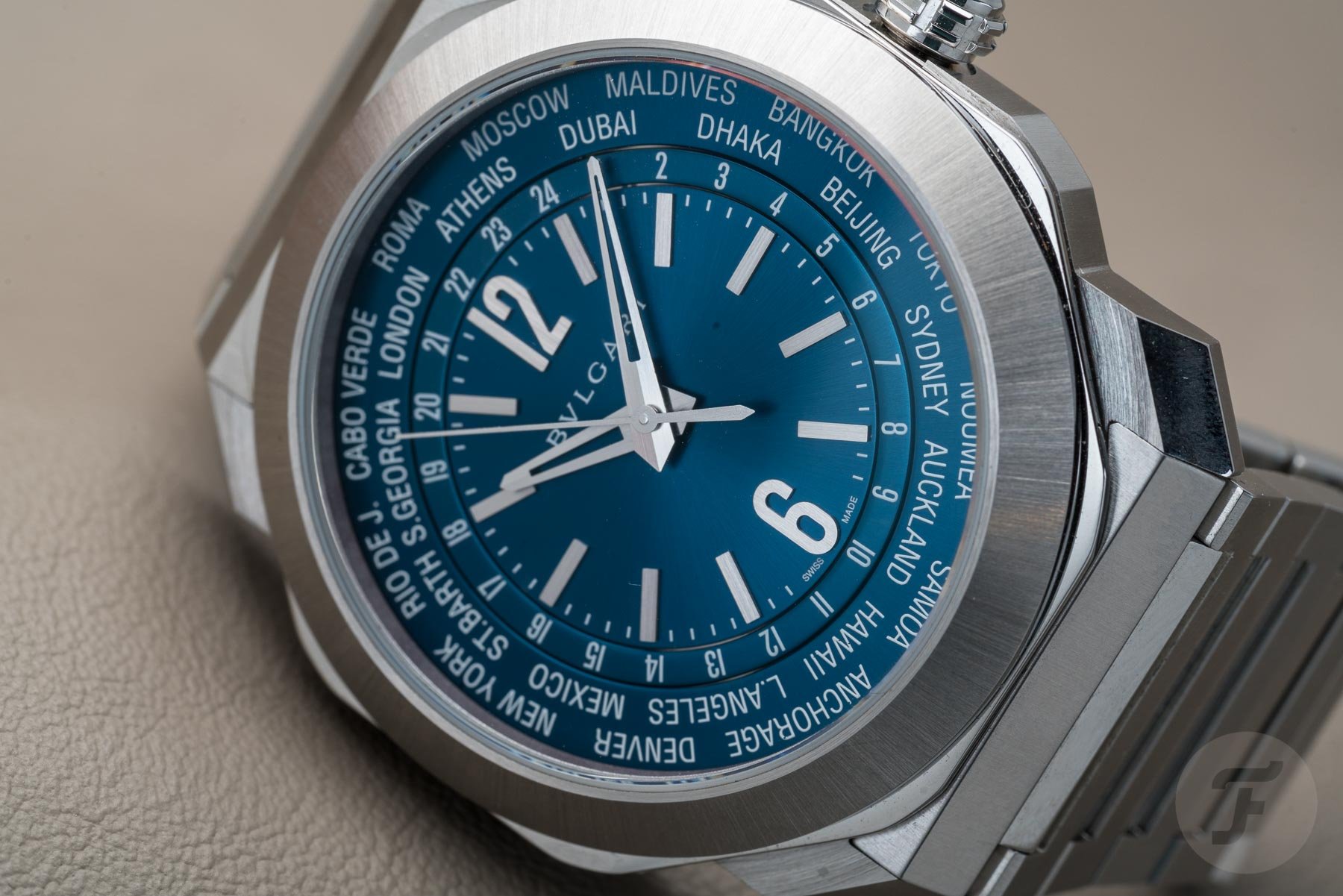 Functional panache
The reference 103481 is equally about the busy, rather flashy blue dial. The broad world time ring has a bewildering number of cities within its 24-hour circle, but the chalk-white text is clear through superb print and a good choice of a neutral font. Between this and the central dial with its applied batons sits a narrow 24-hour ring. At first glance, you feel the dial to be overwhelming in its complexity, though another glance and it simply serves as a reminder of the beauty of travel. Made exquisite through the judicious use of a dazzling navy sunburst background, this is Roman time travel at its best. Should you be stealthily inclined, there's a blacked-out version on a textile strap that magically shrinks on the wrist. Black is slimming after all, and here I thought it was a myth! Get yours for €8,600.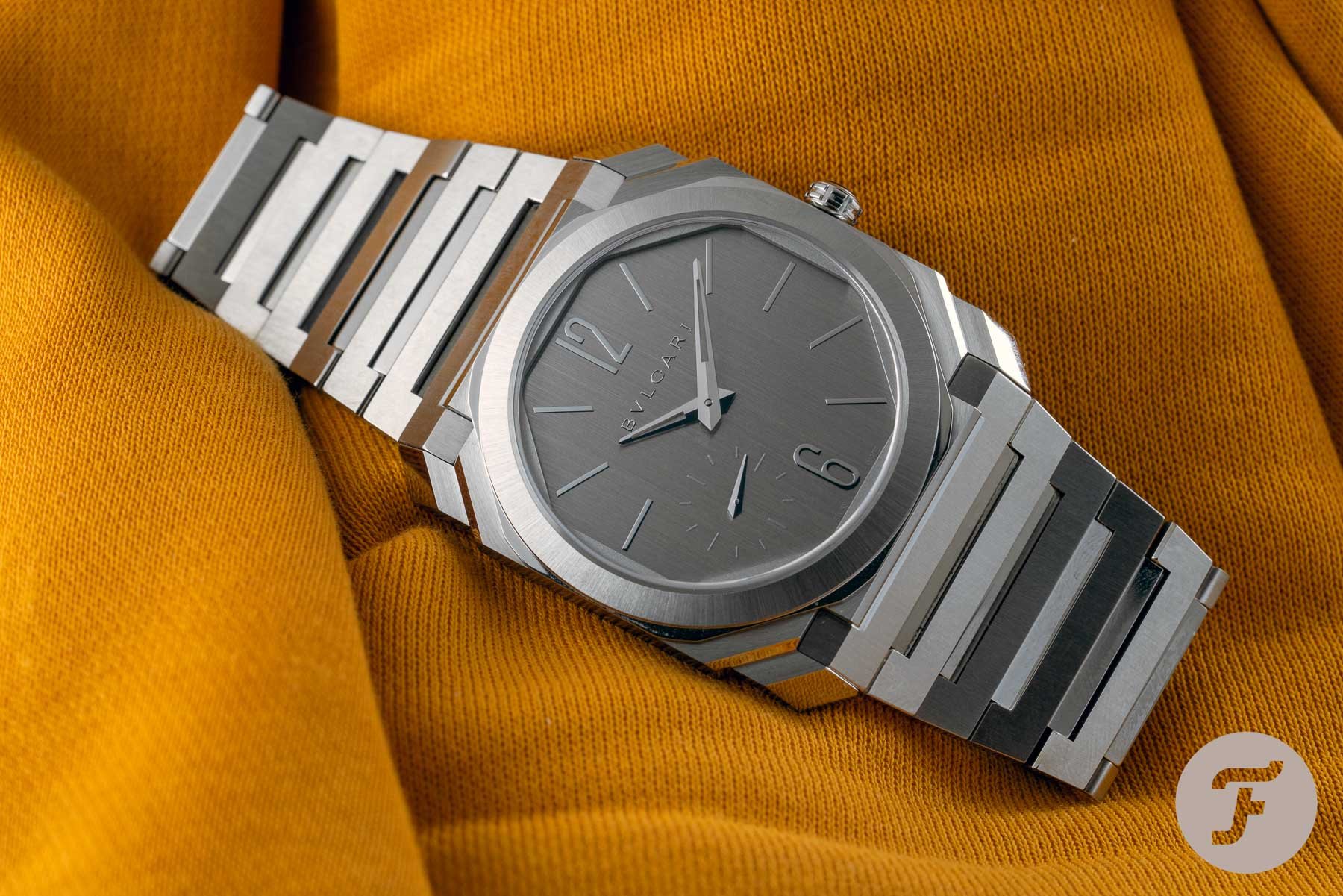 Bvlgari Finissimo S Steel Silvered dial
Ever since March, I have harbored deep jealousy towards Jorg. Maybe this is what brought me to Fratello Watches? He was the lucky one doing a hands-on review on this Bvlgari Octo Finissimo S, and I was green with envy. When Bvlgari gave us a brushed steel option for the Finissimo, I rejoiced. I loved the celebrated blue-dialed pizzazz, but not even the blue dial could hold a candle to this beaut'. The 100m depth-rated S now has a soft-spoken steel dial, and it's a one-for-all piece of Italian wrist couture. To be frank, I don't really enjoy all-matte cases. So the delectable Finissimo, in all its thin splendor, is not my cup of tea without some polished details. Twist my arm and I might wear the silky matte gold version, but at the end of the day, this is the one for me.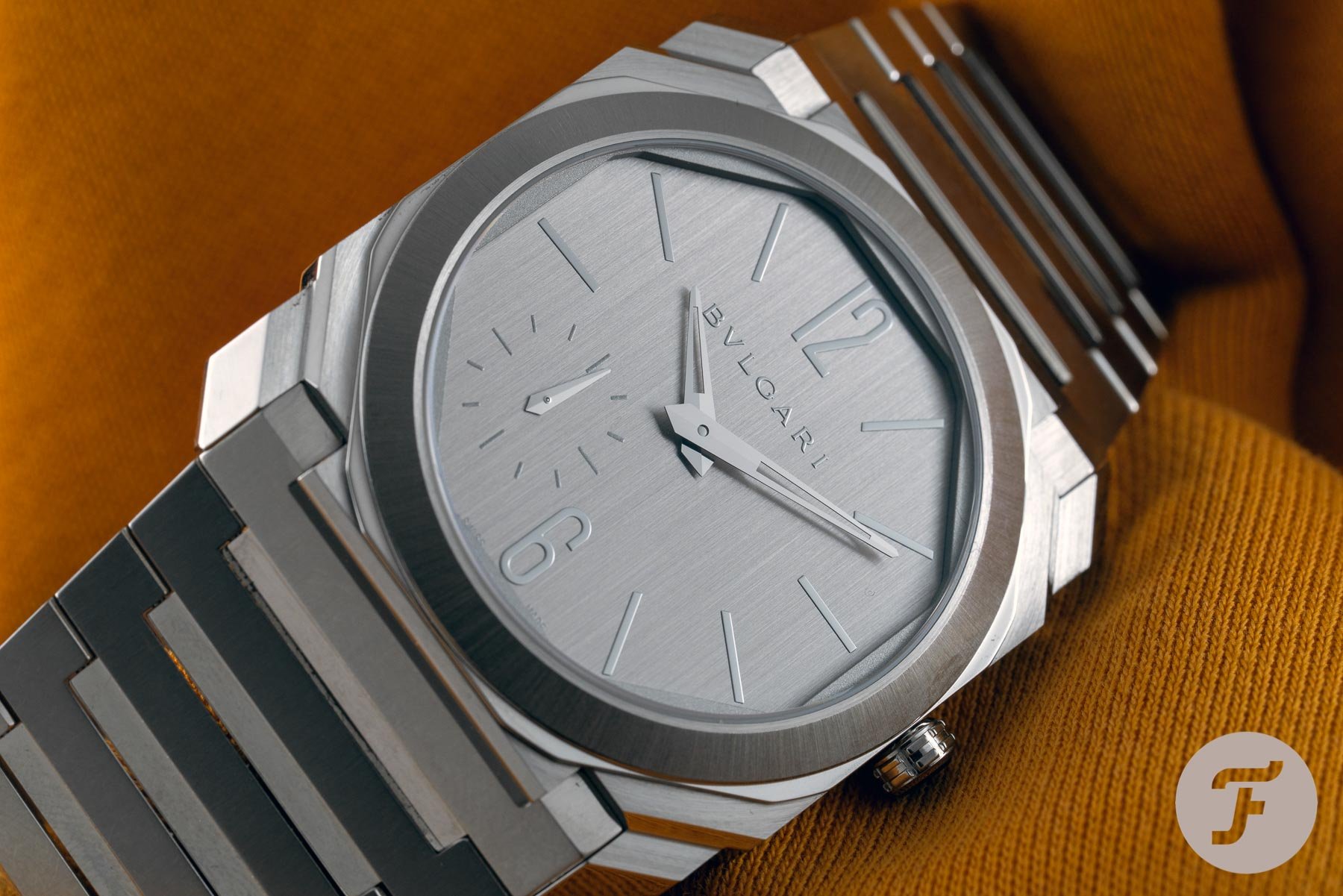 A monochrome, thin grail
When this Finissimo S came out, I had a new thin grail. Vivid striations on the dial remind me of raw gray silk, and they make the edifice-like case truly stand out. The mix of brushed and polished details on the dial and case makes you notice every part of the über-complex, remixed Genta design. I know I probably over-use the term "architectural" in my stories, but here, it is a given. I am reminded of the functional Art Deco of Frank Lloyd Wright, and the slightest touch of sunlight makes the monumental construction of the layered case reveal itself. The bracelet is broad-linked and not very flexible, but it still sets new standards of slinkiness. The polished 12 and 6 on the dial would sit equally well with a dark suit, merino jumper, or a tee-shirted arm. It's a monochrome masterpiece at €12,300.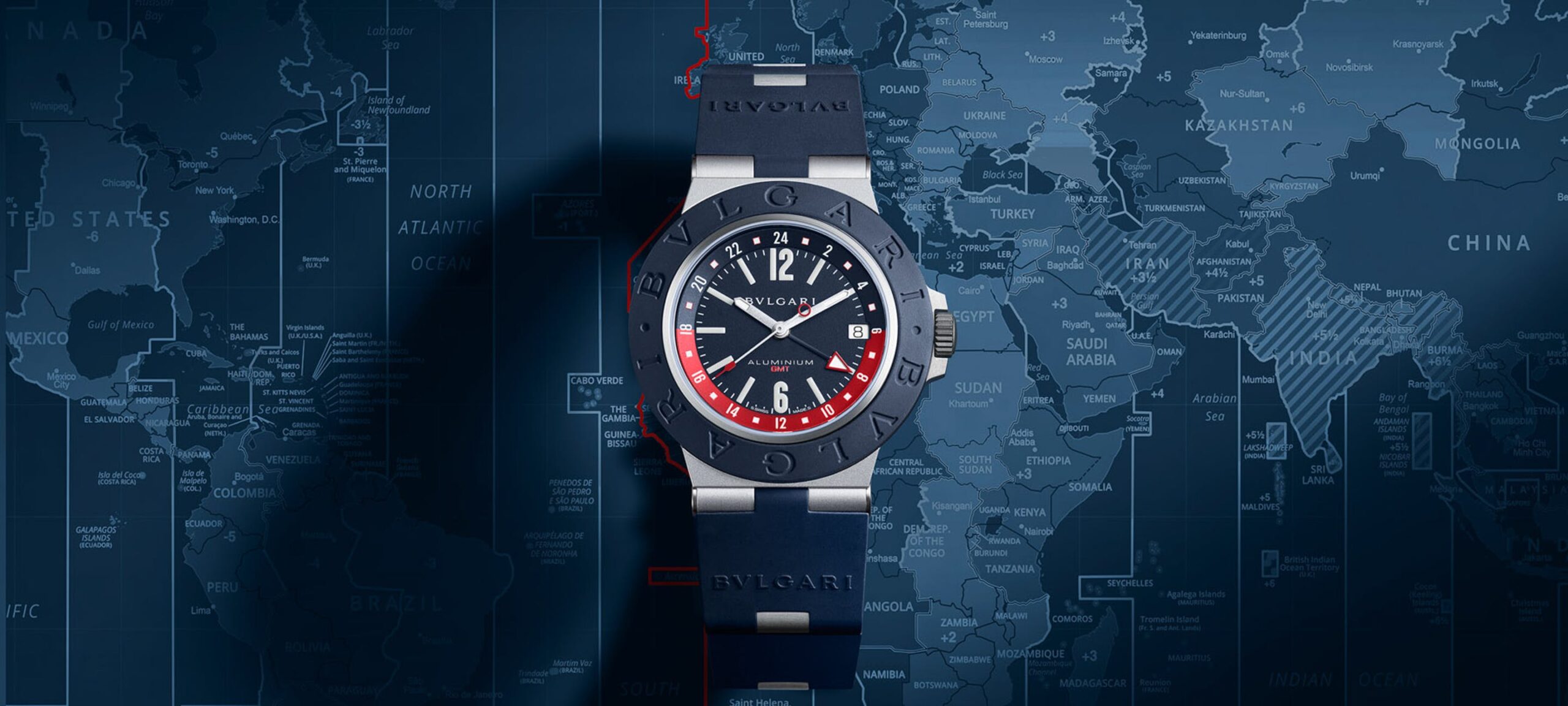 Bvlgari Aluminium GMT
I remember the moment I tried on the angular rubber-linked embrace of the Bvlgari Aluminium. This bonafide, cool piece of unusual metal surprised me. From the purveyors of paper-thin Finissimo marvels, it exudes a fresh nautical summer vibe. Imagine what a colorful yacht-timer variation would look like (hot, Fabrizio Buonamassa Stigliani). Sorry, I'm already digressing. This is another version of unfamiliar lightness (try one on, for goodness sake). The dark navy colorway works a treat with the blasted aluminum surfaces, providing a softer contrast than the usual black. The Bvlgari logos are just a cohesive part of a fresh and wearable travel tool. Even with its light, carefree tool vibe, it can't escape the ever-present feeling of Italian couture for the wrist. And that is the reason why I love Bvlgari. There is a feeling (a very light one) of Italian heritage, from a fine Brioni suit to the hottest Lamborghini.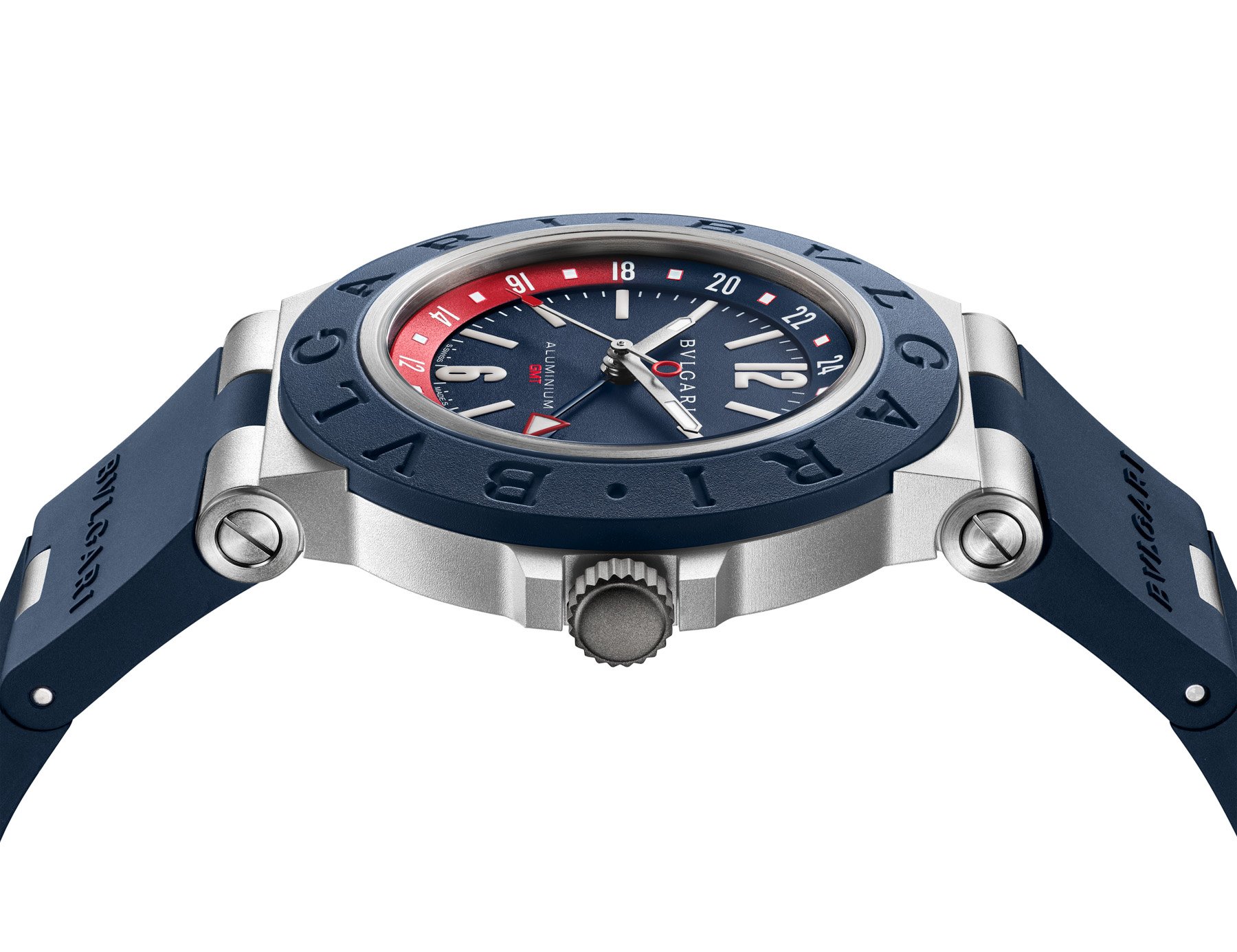 Soft, light, and unexpected
A large, imprinted bezel frames a matte dial with all your travel needs. The instantly recognizable 24-hour readout has a taste of Pepsi, with every other hour marked by a cheeky square. It's all eminently readable with a large arrow GMT hand. The rest is an ABC of clean design, with lumed indexes, 12 and 6 Arabics, and sharp sword hands. The Bvlgari seconds hand is a favorite of mine. The circular counterweight is red just like the syringe tip, matching the red GMT logo and arrow. Yes, Bvlgari is a lot more than the deliciously thin Finissimo, and this adds a strong card to the Aluminium deck. The B192 caliber is based on the Sellita SW 330-1, with a 42-hour power reserve and quick-set 24-hour hand. If you want to travel light this year, the Bvlgari Aluminium GMT is genuinely affordable at $3,500.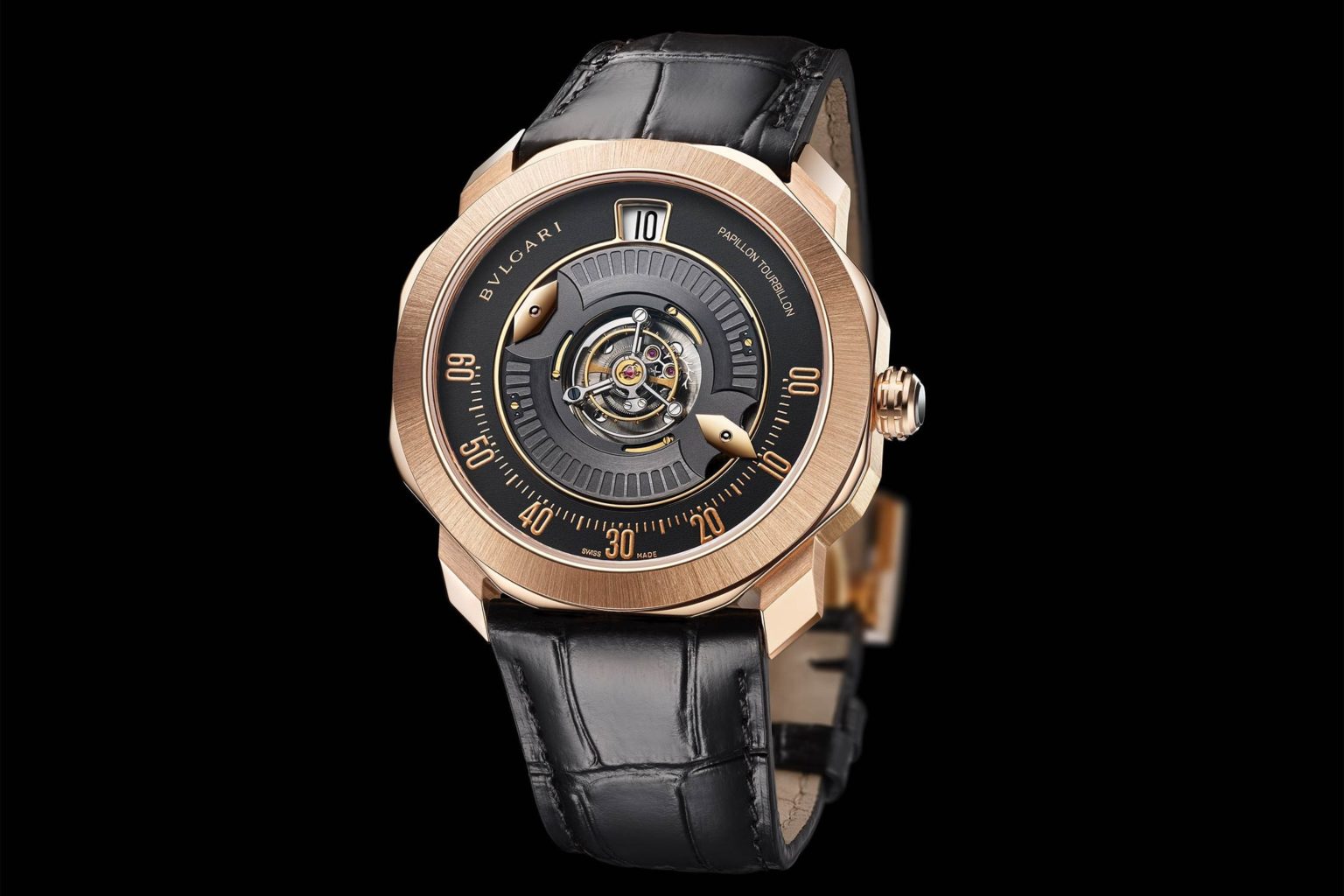 Bvlgari Octo Roma Central Tourbillon Papillon
And by those six words, we take the leap from the affordable Aluminium range to the top echelons of the Bvlgari brand. Ladies and gentlemen, recalibrate your senses, please. I see the Octo Roma as maintaining the essence of Genta's spiritual work, as the octagonal shape is the heart of the Octo. The Roma range is a smaller-wearing, rounder-feeling Octo, but the Bvlgari Octo Roma Central Tourbillon Papillon offers a very different proposition. Boasting a central tourbillon in a rich blend of black and pink gold, it embodies the adopted spirit of Genta at his quirkiest.
Not many brands attempt this horological feat of engineering. A daring independent like Beat Haldimann or MB&F would be almost expected to, but when Omega launched its central tourbillon, I was close to actually applauding. This, however, is Italian-Swiss Haute Horlogerie at its best. The BVL 332 movement powering this marvel is 34mm x 8.76mm with 30 jewels, giving us a 60-hour power reserve at a calm 21,600vph. They're impressive stats for the vast complexity of the Papillon.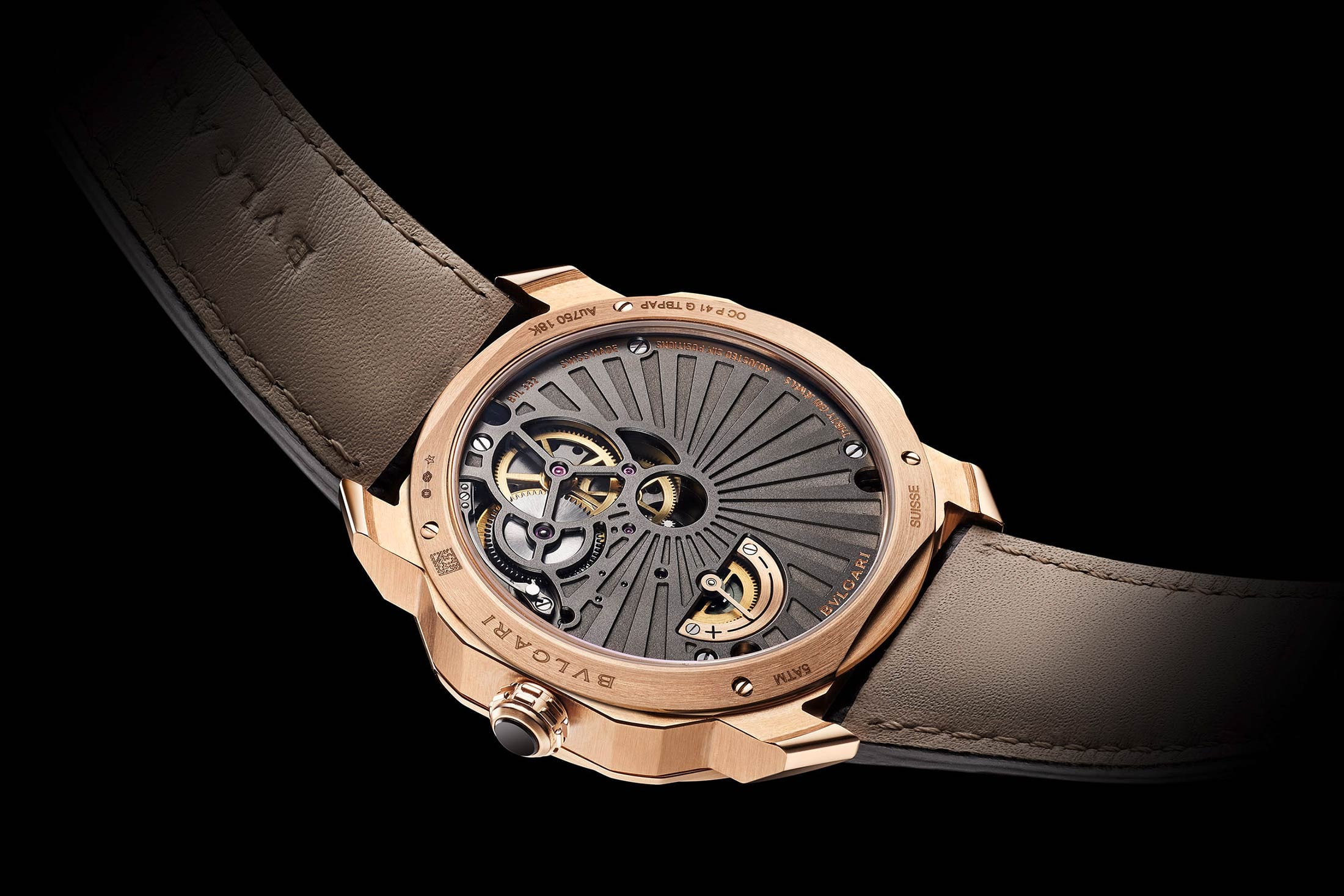 Roth clues in a Roman case
Some of you might recognize the concept from an earlier Daniel Roth piece, and it is one of the most charmingly simple yet utterly complex ways of showing the minutes. Where are the minutes? Shown in retrograde between 3 and 9 o'clock by one of the "hands". An opposing hand is rotated 180 degrees, hidden to not obscure the view of the jumping hours at 12. As one half-dial cycle of 60 minutes is completed, the two gold diamond-shaped minute hands both rotate so that the next one is now pointing at 00 minutes. All this is within a matte black outer dial with a delicate gold print. The center looks something like an alien fusion reactor, framing the everlasting charm of the tourbillon mechanism.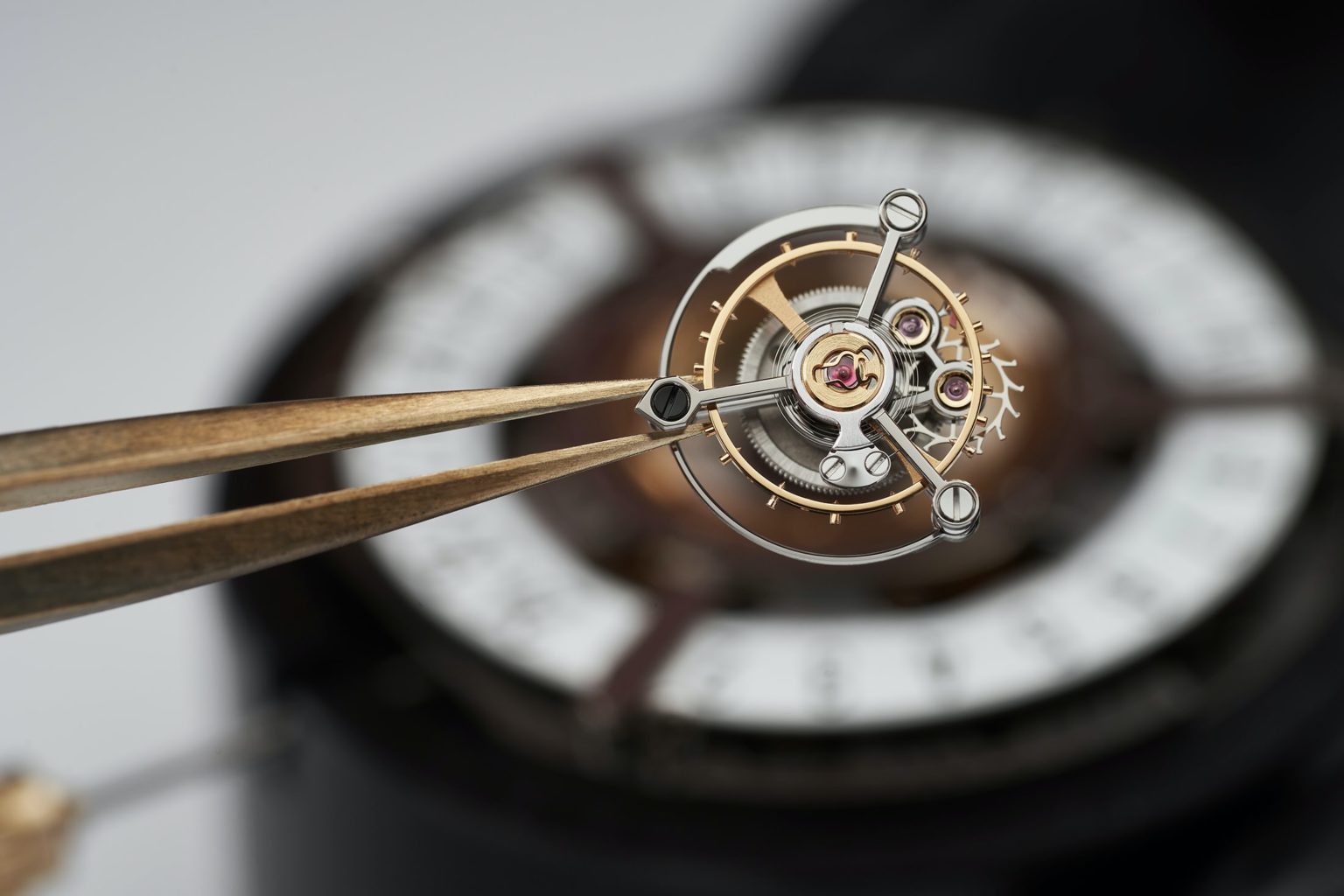 I enjoy the strong vertical brushing of the case sides, while the horizontal edges are finished in a mirror polish. This gives the audience exactly what they want. Every sliver of light marks out the bold details of the Octo, which is just as fascinating in the rounder Roma guise. And what about the case back? It's pure futurist stealth. Resembling a black sun, with a golden semi-circle for the power reserve indicator, it offers small glimpses of the wonder within — and it works! At $129,000, the Bulgari Octo Roma Central Tourbillon Papillon delivers a golden twist of the Octo splendor.
Let us know your favorite Bvlgari of 2021 in the comments. Are you a lover of ultra-thin or a die-hard Disney fan?