Travel the World – Stay Connected! EQB-510 by Casio EDIFICE
New look, smart functionality: the EQB-510, presented by EDIFICE, is already the second generation of watch that can communicate with smartphones – a new casually elegant interpretation of the successfully launched EQB-500.
The EQB-510 is the perfect companion for both business men and globetrotters. The watch communicates with smartphones using Bluetooth® 4.0 technology and the free Casio Watch+ app that enables world time settings to be easily set. It only takes one click of a button to set the watch to local time. A second time zone can also be set using the world map of around 300 cities which is included in the app. Thanks to two displays on the watch face, which are both visible at the same time, your own local time and that of your business partner on the other side of the world can be read at a glance. Frequent flyers can easily set the watch to airplane mode.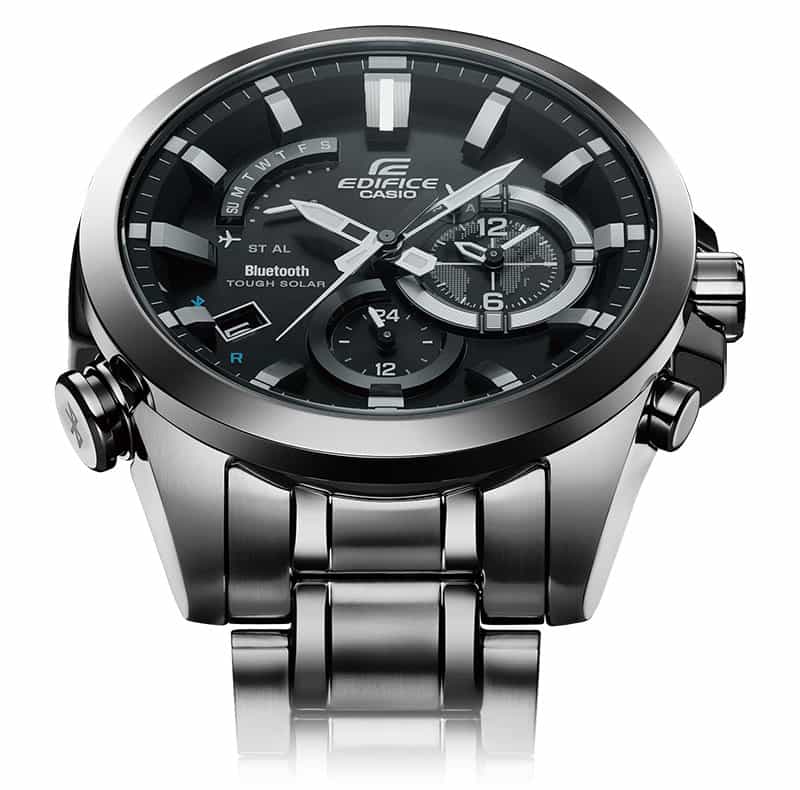 As an additional highlight, the EQB-510 includes a smart phone finder: this enables your personal smartphone, a vital organiser both for job and private life, to be easily found at any time using an alarm signal!
In addition to its high technical performance, the EQB-510 features a new and sophisticated design. The striking 48.1 mm case and wristband are produced in solid stainless steel, accentuating the elegant and casual character of the chronograph. Silver watch hands and indices give an elegant touch of colour to the clear design of the watch face with a display of date and weekday as well as the 24-hour stopwatch function at six o'clock. A particularly attractive detail is the world map design which decorates the watch face at three o'clock, accentuating the second time zone.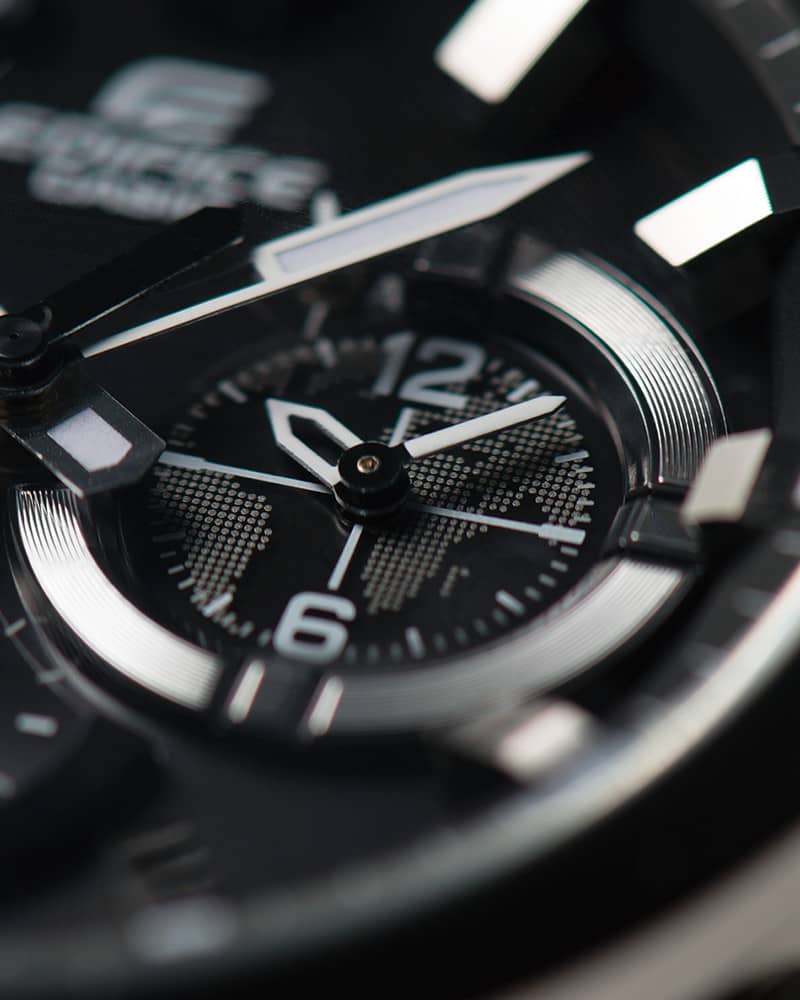 Equipped with the Tough Solar technology developed by Casio, this watch is also one of the front runners in energy consumption and sustainability. Invisible solar cells take in light and save this energy for the long term, providing a power reserve of up to 24 months – an eco-friendly advancement which makes every battery change a thing of the past. In addition, the EQB-510 was developed as a vibration-resistant watch: a concept initially engineered for the Formel 1™ Team Infiniti Red Bull Racing, in order to compensate for the massive vibrations caused by the pneumatic screwdrivers at pit stops.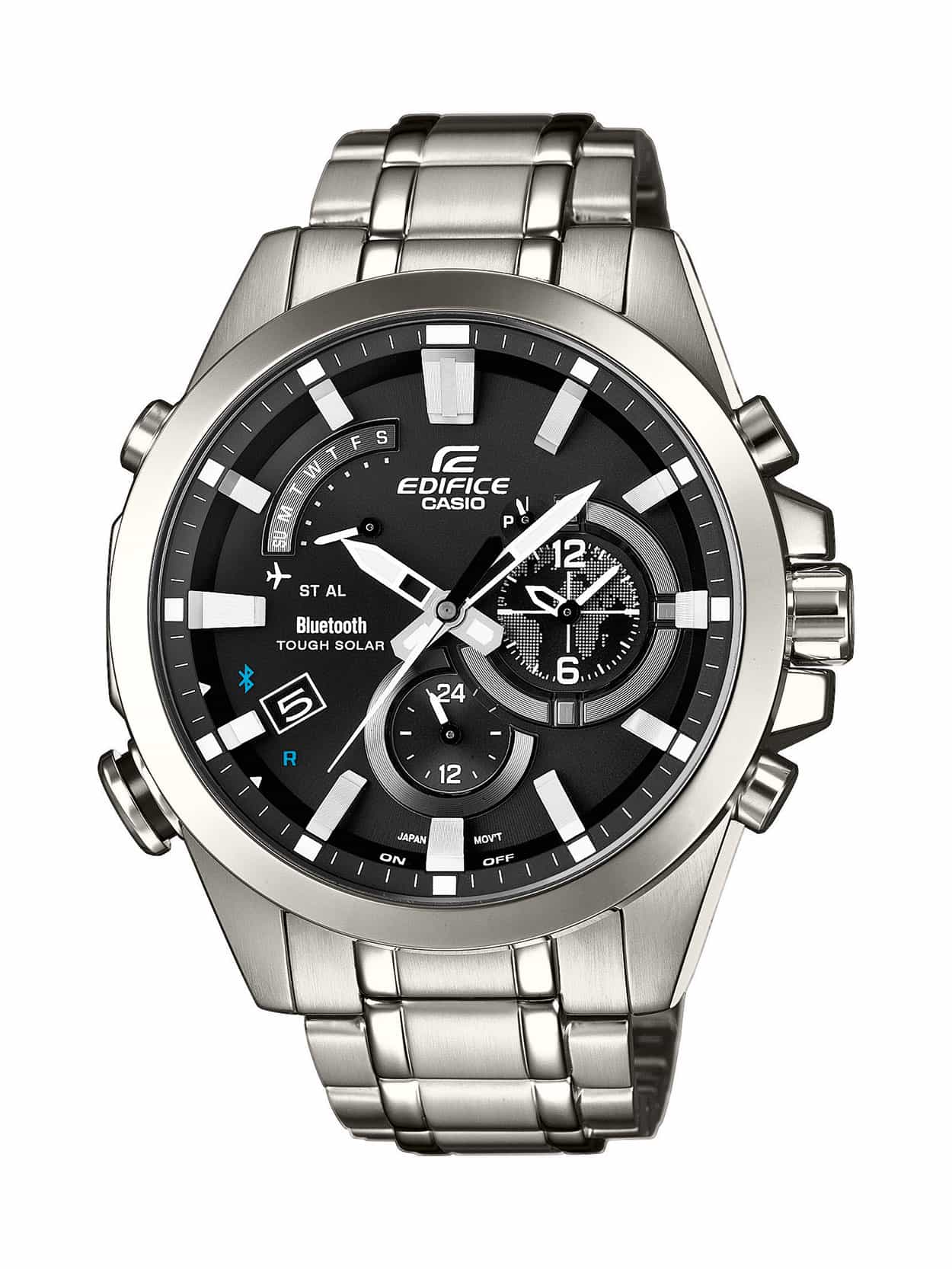 An expressive watch which combines technical innovation with style.
Technical data and functions of the EQB-510:
Vibration-resistant
Solar-powered
Neo-display (fluorescent hands)
Dual time display for 300 cities
Date and weekday display
Stopwatch function (24 hours)
Daily alarm
Bluetooth® 4.0 connection
Airplane mode (offline mode)
Phone finder
Automatic calendar
Mineral crystal
Solid stainless steel case
Solid stainless steel band
Safety catch
Water-resistance classification (10 bar)
Ø 48.1 mm; 199 g
The following EQB-510 models are available from stockists from April 2015:
EQB-510D
EQB-510DC with black ionised wristband and case
EQB-510RBM Infiniti Red Bull Racing Special Edition
More images and text on this page