Trilobe Unveils The Nuit Fantastique Brume At Geneva Watch Days
An alluring guilloché edition that epitomises quiet luxury
Two years after debuting the Nuit Fantastique, Trilobe presents its brand-new guilloché edition at Geneva Watch Days 2023. The highlight is the dual guilloché patterns on the dial, offering a mesmerizing textural contrast. The model comes in a gray shade that the French brand aptly names "brume." As with all Trilobe models, the watch is designed in France and meticulously crafted in Switzerland. Furthermore, it upholds Trilobe's concept of a singular time display.
The Paris-based independent brand has this knack for crafting watches that encapsulate timeless elegance while also pushing the boundaries. This essence is evident in the Une Folle Journée ("Crazy Day") models we have previously reviewed from Trilobe. The Nuit Fantastique Brume is no exception. It's as if the Trilobe designers took a page from a centuries-old book, infused it with cutting-edge engineering, and then subdued it with a discreet façade that demands a double take because you can't quite put your finger on it.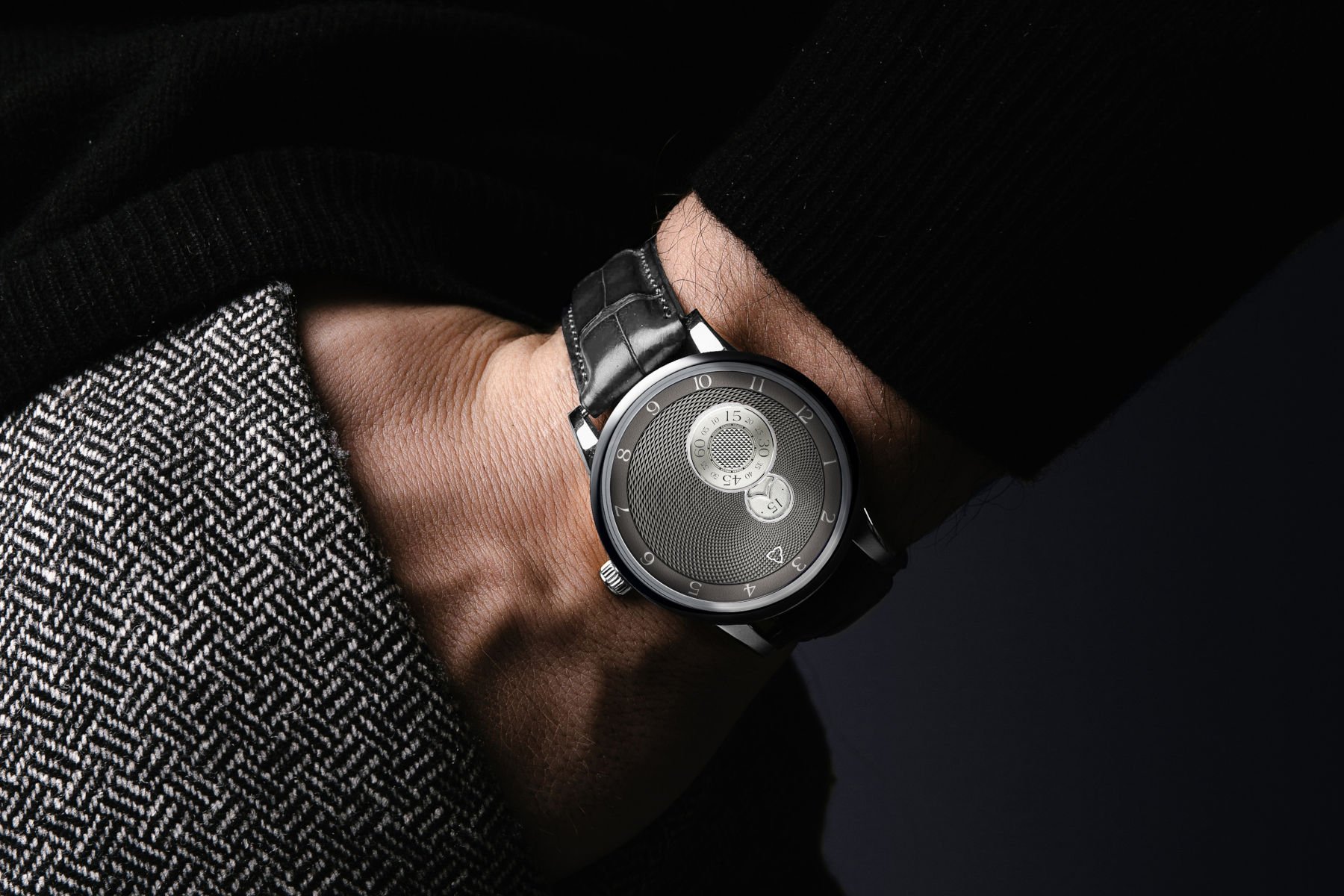 Guilloché — a dial art form
The Nuit Fantastique ("Fantastic Night") collection serves as the brand's current flagship. The dial has a streamlined layout featuring just a pair of trefoil indicators to ensure clarity and additional open space. The latest model omits the Trilobe name while retaining the graphical logo, which doubles as the hour marker. This minimalist design not only aligns with the "quiet luxury" trend but also emphasizes the guilloché patterns, making them the watch's centerpiece.
Guilloché represents a form of intricate, artisanal decoration, utterly mesmerizing when observed up close. It's among the most challenging dial-crafting techniques. Trilobe's foray into this tradition, being only their second, further underscores its significance as a design element.
For this release, the watch beautifully merges two time-honored techniques — the Clous de Paris guilloché and the Grain d'Orge guilloché. These distinct, detailed patterns are expertly engraved using a manual rose engine machine. This antiquated apparatus, largely preserved throughout centuries, requires the deft hand of a skilled artisan to sculpt the dial motifs.
Patterns that pop
The base of the dial shows a splendid Grain d'Orge structure, marked by its elegant interwoven curves. This age-old pattern has been reimagined exclusively for the Nuit Fantastique Brume. It radiates from the small circular disc for minutes, accentuating Trilobe's distinct time display.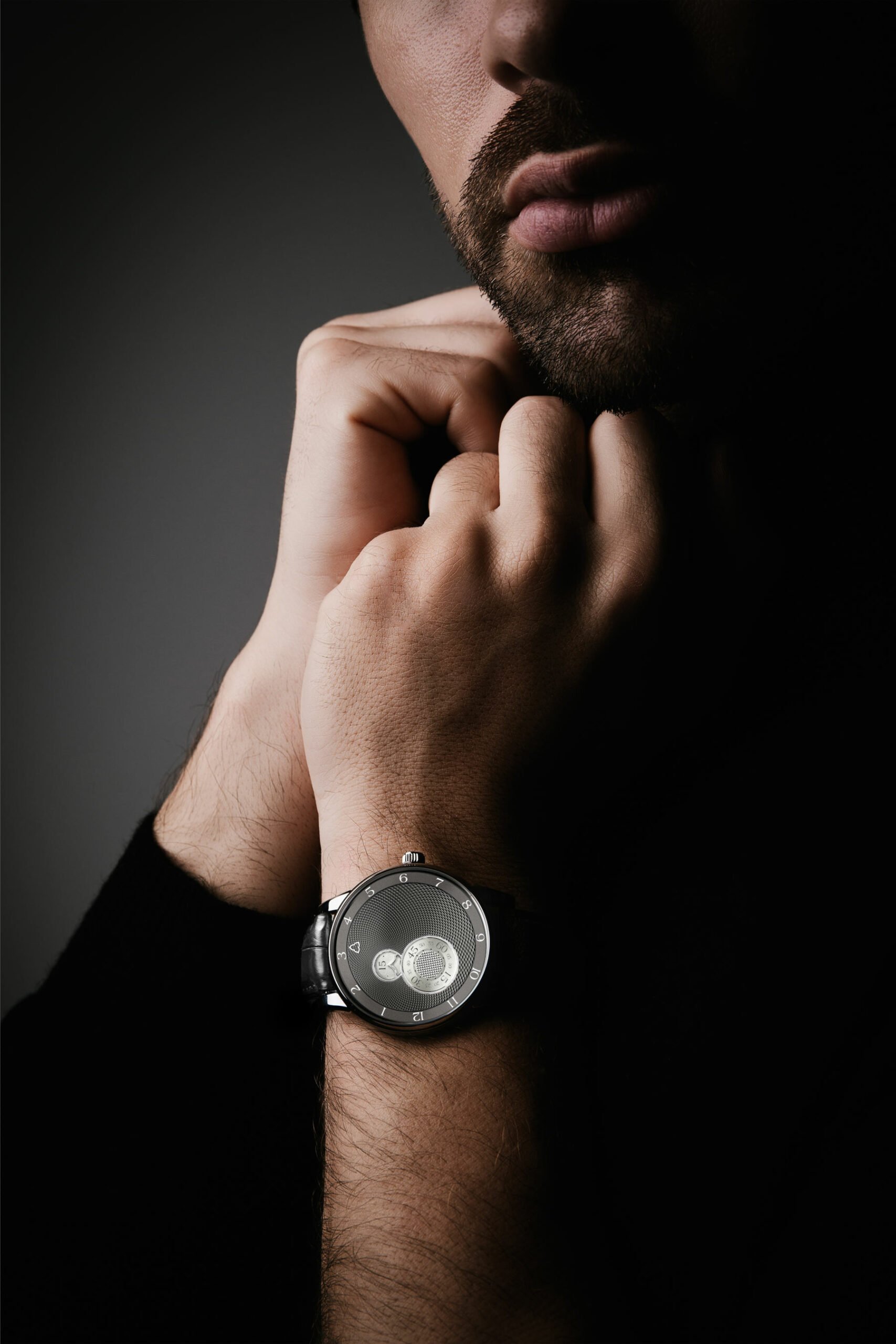 Within the seconds disc, the Clous de Paris pattern emerges, a refined arrangement of straight-line engravings that offers a stark contrast to the Grain d'Orge etchings. This interplay between differing patterns results in an exquisite visual appeal, enhancing the charm of both designs and rendering the dial a work of art.
A dance of colors
One of the Nuit Fantastique Brume's most alluring features is its color scheme. According to Trilobe, the dial's fixed section and the hour ring carry a taupe shade, a color that "dances between gray and brown." Gray is one of my favorite colors, and to me, this shade of gray is pure class. This sophisticated hue gives off a sense of mystique as light touches its surface. The creator wants to impart that "misty morning" feel, making you think of time in a way that's both nostalgic and fresh. Thus, the name Brume, which means "mist" or "haze." The palette accentuates the refined elegance that is inherent in the Nuit Fantastique.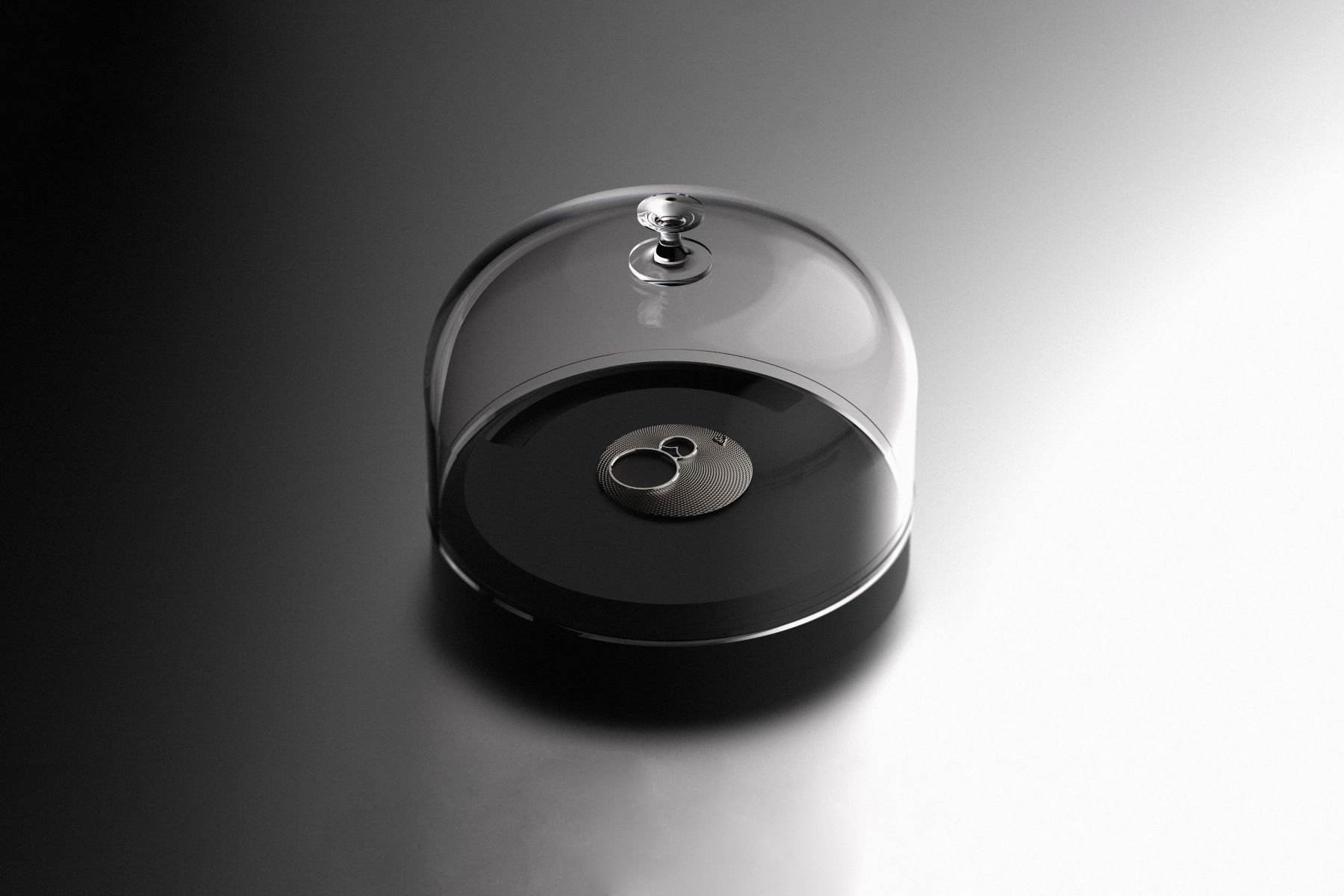 Time gets a twist
Beyond its visual charm, the Nuit Fantastique gives time a fresh spin — quite literally. Its minimalist design highlights Trilobe's audacious approach to time display, challenging the norm of symmetry. Its rotating components, each denoting hours, minutes, and seconds, are not the standard features you'd expect. The concept is simple and distinct, and it adds a playful twist to the time display. Once you let yourself see beyond the conventional wisdom, time-reading is rather straightforward.
Simply read the time from the exterior inward. The hours are displayed around the periphery, where the Trilobe "trefoil" emblem pointing north indicates the Arabic numerals. Minutes are denoted in a petite circular window, above a larger central ring signifying the seconds. Time is in constant motion on the dial while the indicator positions remain static. Instead, the discs continually move, marking every passing moment. For instance, in the image below, the time is 3:15.
Three-piece case construction
The Trilobe Nuit Fantastique Brume is available in two sizes — 38.5mm and 40.5mm in diameter, with both cases being 9.2mm thick. This ensures an ideal balance between wrist presence and comfort. The case is crafted from lightweight Grade 5 titanium, with an 18K rose gold variant in the 40.5mm size. The polished lugs merge seamlessly into a gently domed bezel, which encloses a sapphire crystal treated with multilayered antireflective coating (ARDUR), promising a clear view from any perspective.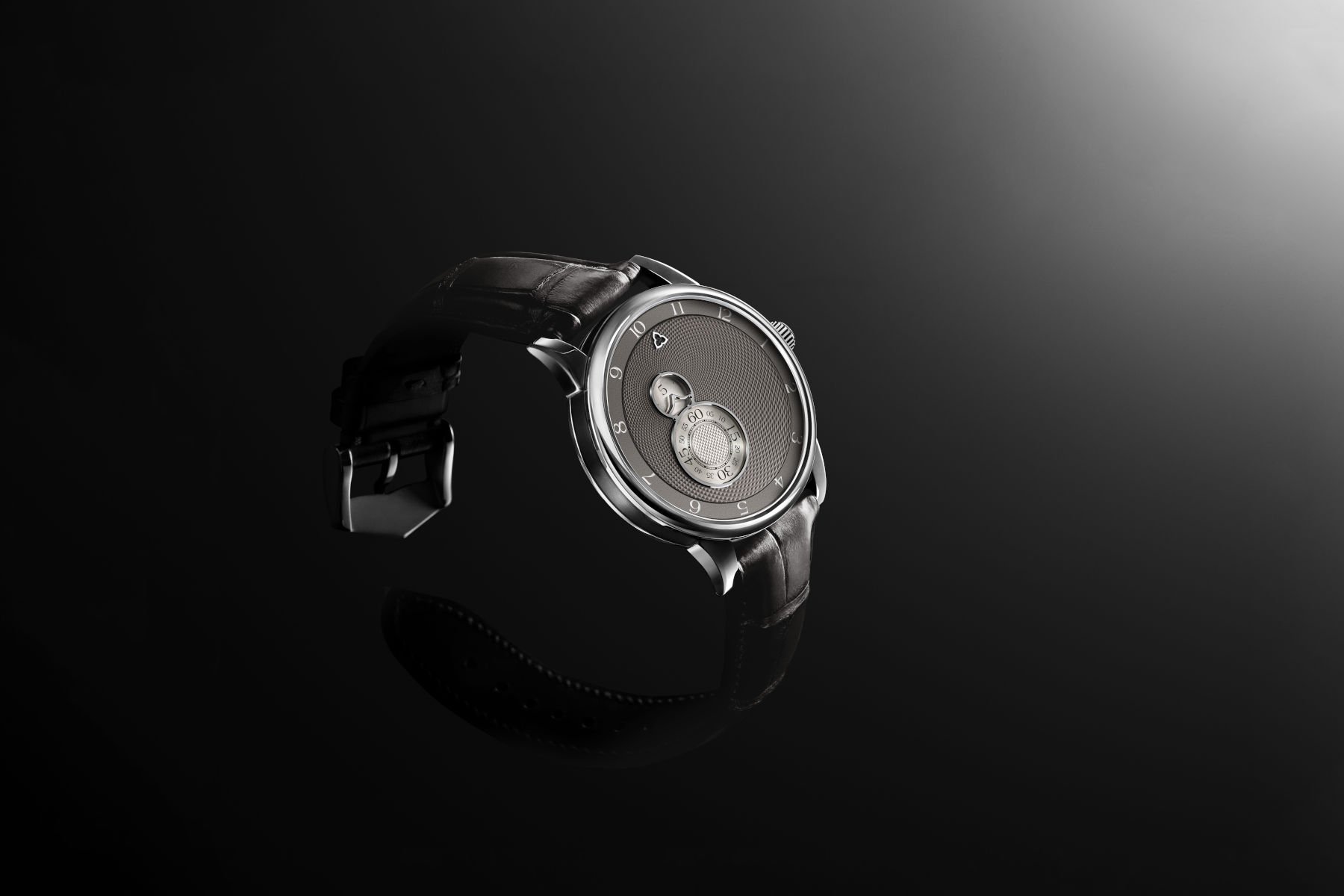 Trilobe's three-piece case design is both stylish and smart in its simplicity. It primarily boasts a mirror finish but accents it with a recessed satin-brushed mid-section and downward lug contours. The water resistance, varying from 30 meters for the rose gold model to 50 meters for the titanium counterpart, attests to the watch's casual yet classy approach.
Trilobe's X-Centric caliber
Powering this watch is a self-winding mechanical movement with a micro-rotor, called the X-Centric caliber. The proprietary mechanism is conceptualized by Trilobe and manufactured by hand in La Chaux-de-Fonds by Le Cercle des Horlogers. The challenge of its architecture lies in deriving ample energy from a compact oscillating weight.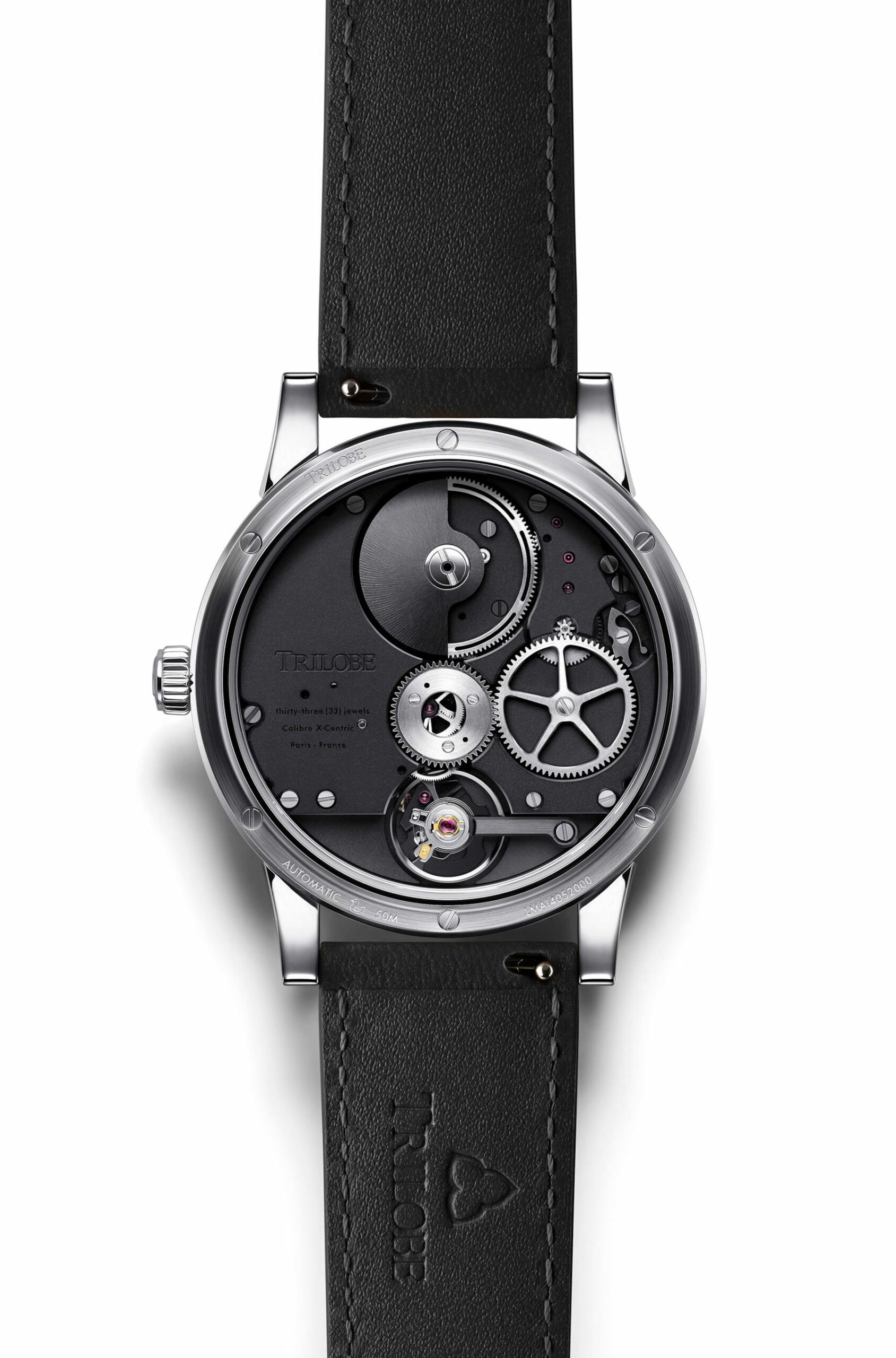 As opposed to delicate watch hands, the substantial weight of the discs demands significant torque. This force is delivered at a frequency of 28,800vph (4Hz) from a sturdy mainspring, wound with the aid of a chunky micro-rotor made of heavy tungsten. A notable advantage of this mechanism is that the rotor aligns perfectly with adjacent bridges instead of sitting atop them, resulting in the movement's slim profile.
Another benefit is the enhanced visibility of the movement, offering a compelling rear view. The micro-blasted bridges and plates undergo frosting to attain a delicate grain effect in the brass, subsequently electroplated to achieve a resplendent black finish. With a 48-hour power reserve, the X-Centric caliber is a technical marvel, comprising 33 functional rubies and a total of 215 components.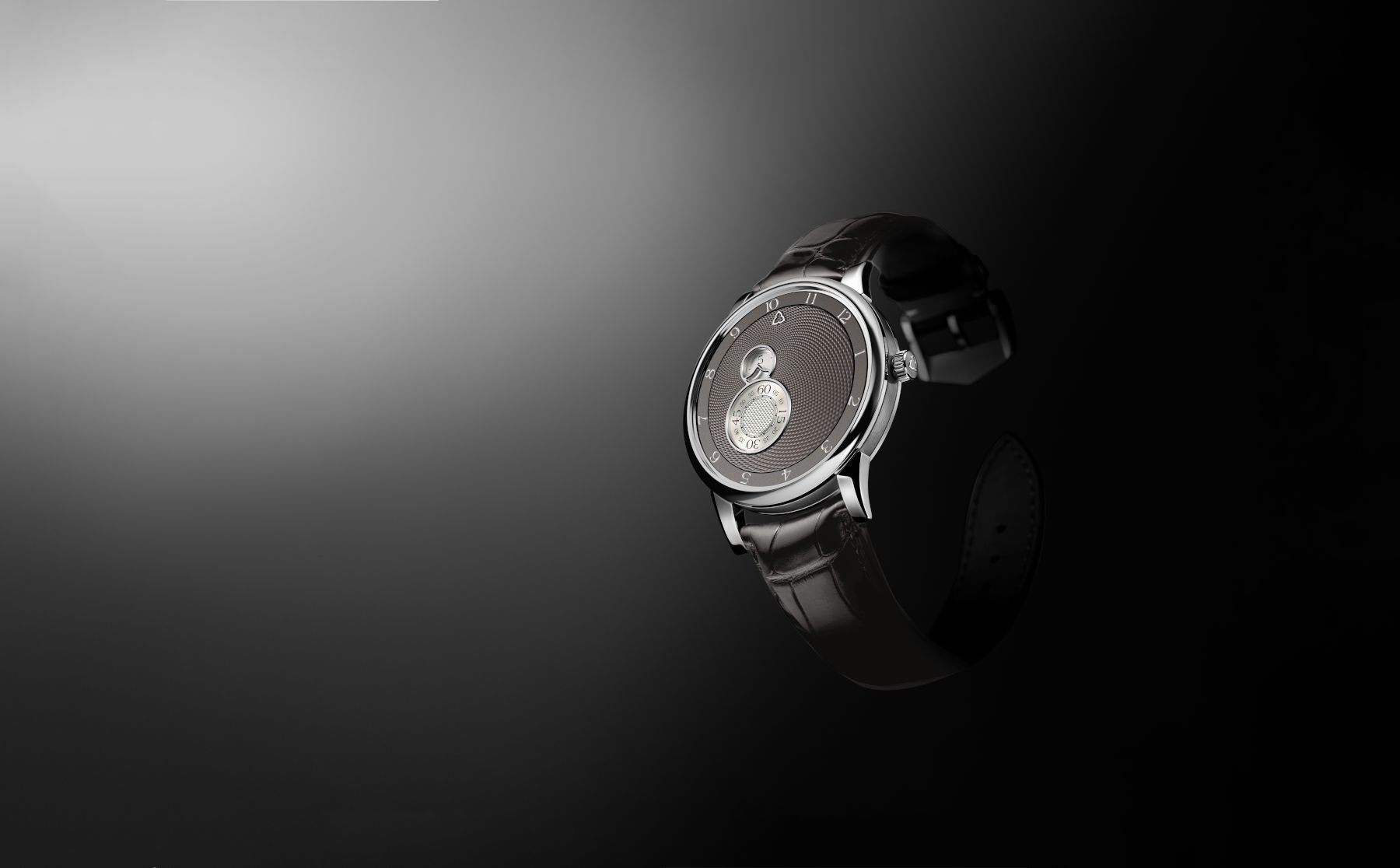 Trilobe Nuit Fantastique Brume — final thoughts
Trilobe's Nuit Fantastique guilloché edition is enchanting, packed with character, and an absolute treat for anyone who loves a good blend of tradition and modernity. This Brume rendition in particular is my favorite out of the whole collection. The color is fluid and suggestive. It radiates an understated charm yet irresistible quiet confidence. I find the time display intuitive, and it tickles my brain. If you're accustomed to the conventional way of reading the time, think of it not merely as a timekeeper but also as a piece of watchmaking art. If, like me, you're captivated by outside-the-box creations imbued with technical intelligence, this is certainly one to watch.
Both sizes in titanium have a price of €13,000, and the 40.5mm rose gold version will sell for €25,000, tax included. For more information, visit the official Trilobe website.
Watch specifications
Model
Nuit Fantastique Brume
Reference
NF05GB – Nuit Fantastique Brume, titanium, 40.5 mm | NF06GB – Nuit Fantastique Brume, titanium, 38.5 mm | NF03GB – Nuit Fantastique Brume, rose gold, 40.5 mm
Dial
A display concept composed of three devices representing the hours, minutes & seconds located on the same plane as the dial in taupe color
Case Material
Grade 5 titanium or 18K rose gold, mirror-polished surfaces alternating with satin-brushed treatments
Case Dimensions
Diameter: 38.5mm or 40.5mm | Lug-to-lug: 45.5mm (for 38.5mm version) or 48mm (for 40.5 mm version) | Thickness: 9.2 mm
Crystal
Sapphire crystal and multi-layered antireflective treatment (ARDUR)
Case Back
Titanium or rose gold with antireflective sapphire window
Movement
Trilobe X-Centric — Self-winding mechanical caliber with micro-rotor, 28,800vph 94Hz) frequency, 48-hour power reserve, 33 jewels
Water Resistance
5 bar (≈50m) for the titanium version and 3 bar (≈30m) for the rose gold version
Strap
Gray alligator leather (20mm width) with pin buckle in titanium or rose gold
Functions
Hours, minutes, seconds sub-dial displayed by rotating rings and fixed indicators
Price
Titanium €13,000 tax inc. | Rose gold, 40.5 mm, €25,000 tax inc.
Warranty
24 months from the date of delivery