Tudor Black Bay Fifty-Eight Bronze Boutique Edition Review — A Watch That Smells Like Money!
Bronze and brown is a match made in heaven
No seriously, the Tudor Black Bay Fifty-Eight Bronze Boutique Edition really does smell like money. I am no expert when it comes to coins and their materials, but I am sure you will recognize the smell of bronze in coins. Now, it was my colleague Lex that pointed out that our bronze Oris x Fratello watch also had this particular smell.
I never noticed because I don't tend to sniff watches. But, ever since then, Lex turned me into a watch sniffer and every time I come across a bronze watch, I have to give it a sniff (thanks Lex). Anyway, when Tudor showed us the Black Bay Fifty-Eight Bronze a few months ago, and I didn't need to put much effort into smelling the typical metallic scent.

It didn't take me longer than a few seconds to realize this is due to the bronze bracelet. It makes this watch quite a significant chunk of bronze, something which is certainly confirmed by the nose, of course. When worn on the fabric strap, you have to properly sniff the watch to really notice it.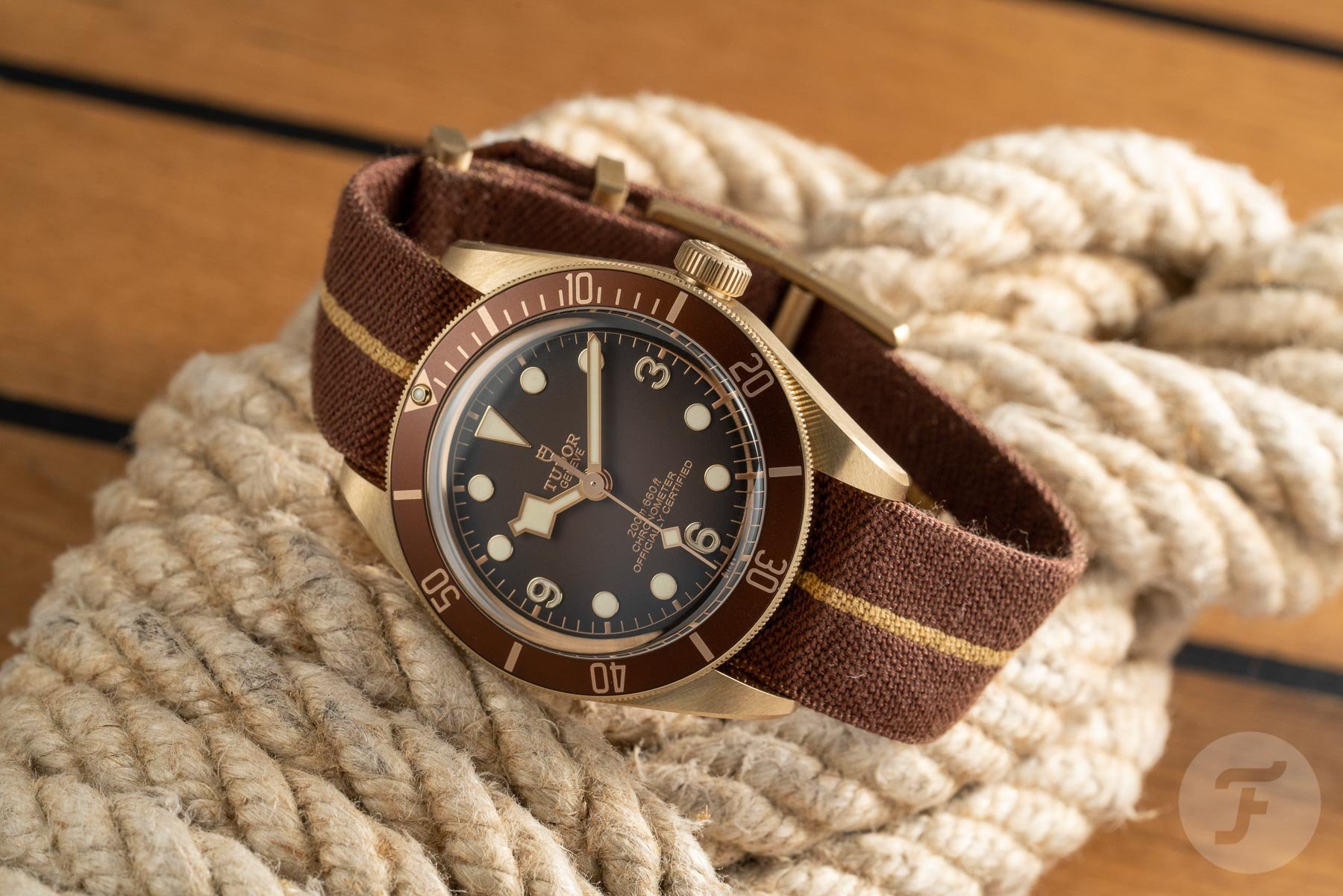 Tudor Black Bay Fifty-Eight Bronze boutique edition
I am not the Jeremy Fragrance of watches, so enough about the smell, and let's get on with the watch review. Well, although the "it smells like money" comment was actually referring to coins, I also have to say that the increasing number of complaints from people who want to buy this Tudor but are unable to are quite worrying. Whereas Tudor always used to be the sympathetic brand that has something in store for each and every watch enthusiast, the decision to make this watch exclusively available in Tudor boutiques results in grey market prices that are way above retail.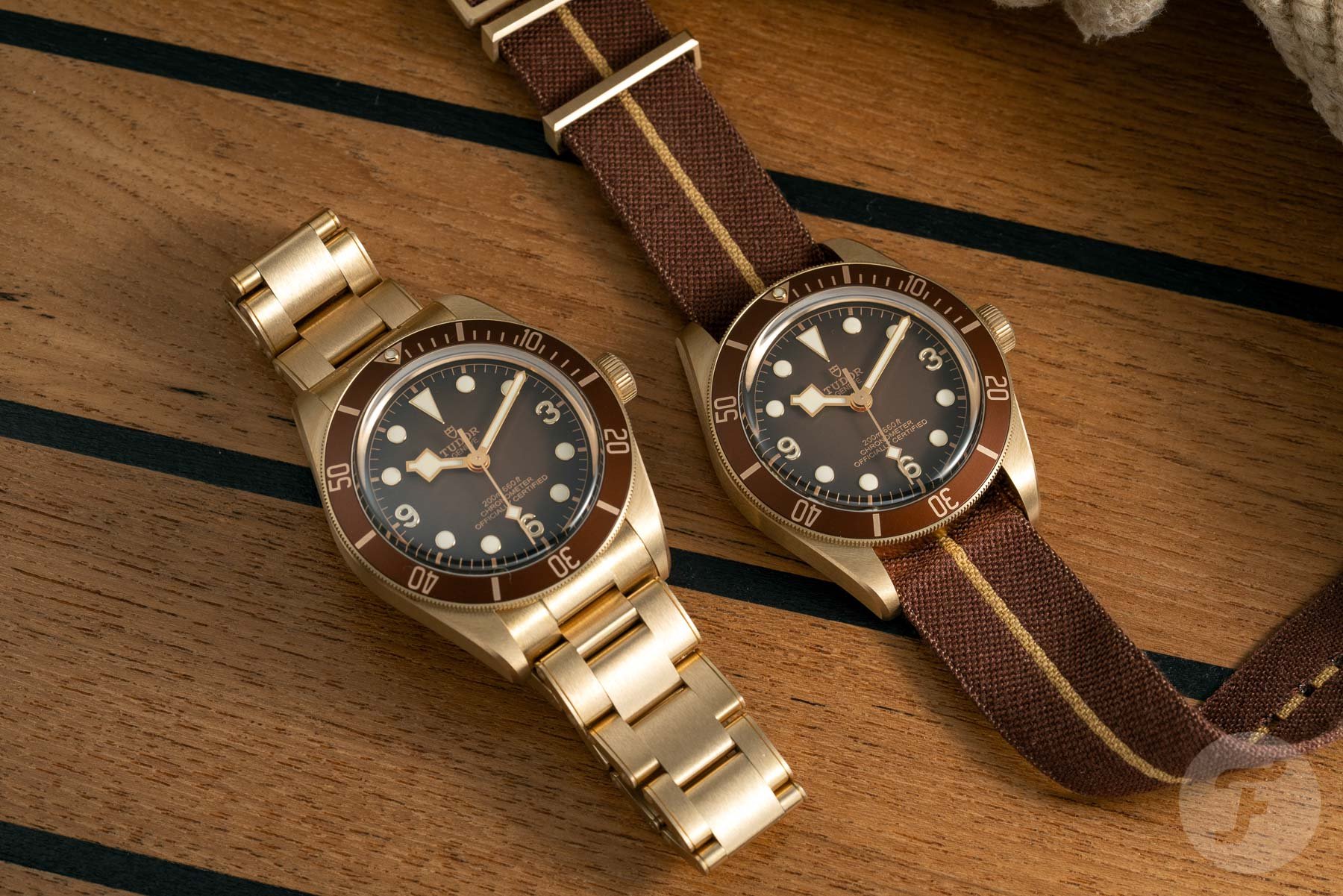 Availability issues of the Black Bay Fifty-Eight Bronze
Where this watch retails in Tudor boutiques for €4,270, the cheapest available one in Europe is offered for just below €6,000 on Chrono24. Brands have the tendency to get angry at marketplaces like Chrono24 for this, but that doesn't sound fair at all. It is their own policy that triggers this "watch flipper" behavior. I wonder what brands are thinking when they see these prices for watches that are just in the regular collection, not even being labeled as a limited edition, nor being discontinued. Do they silently clap their hands and rate the success based on flipper prices? Or are they truly dissatisfied that their fan base can't get these watches?
Fan base sounds exaggerated perhaps, but you don't have to read a marketing bible to know that a lot of these watch brands are successful due to their loyal fans, and the effect these fans have on other consumers. Now that the elephant is out of the room, and you know you either need to be on the boutique waiting list (if there's a boutique at all near your location) or pay a premium via the well-known market platforms to obtain one, let's have a closer look at the watch.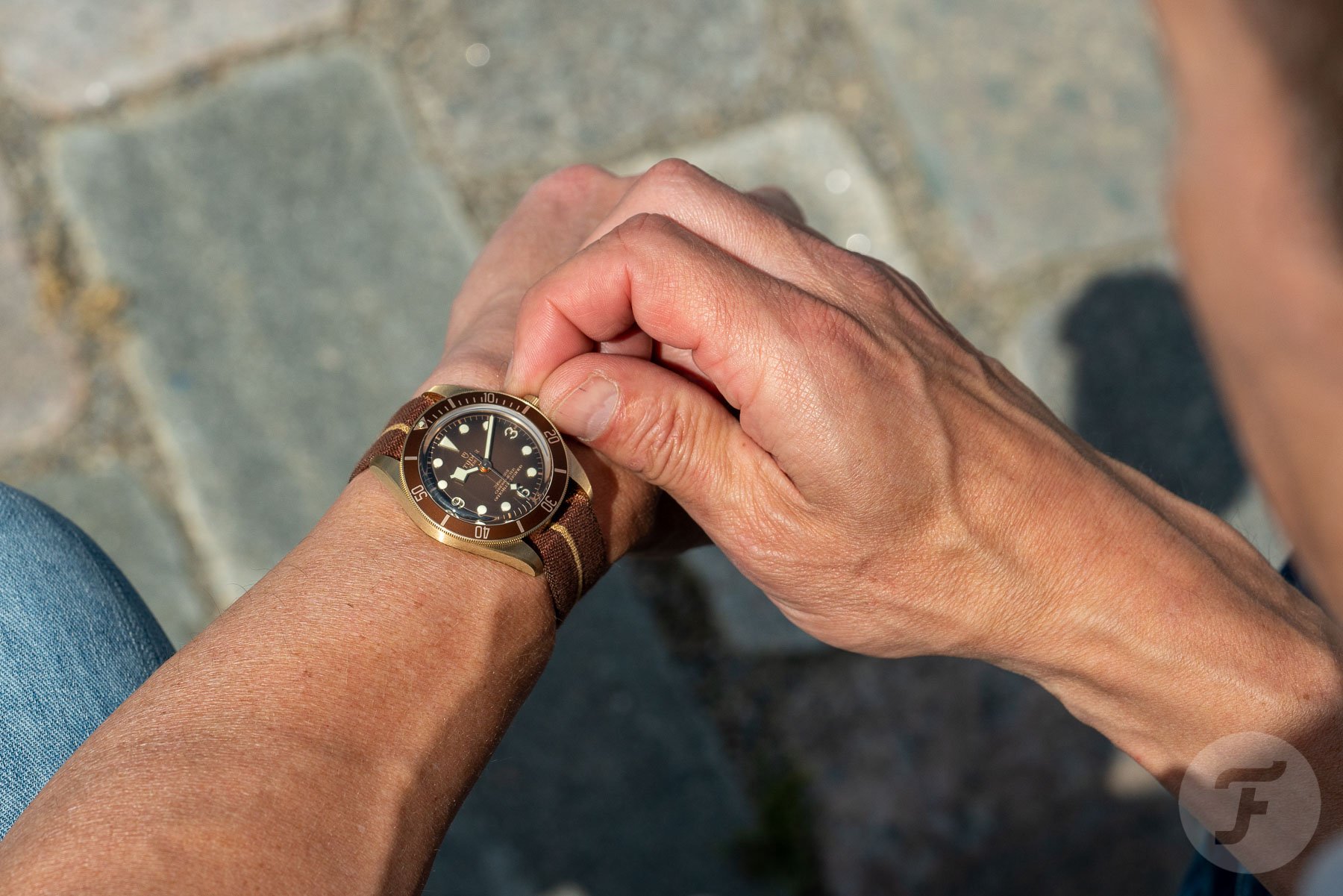 Gold, Silver, and Bronze for the Black Bay Fifty-Eight
2021 has been quite the Olympic year for Tudor and its Black Bay Fifty-Eight (also often abbreviated to BB58) collection. During Watches & Wonders in April this year, Tudor introduced to us the Black Bay Fifty-Eight in gold and in silver. And in June, Tudor released the bronze edition. But this time, as mentioned above, only for its Tudor boutiques. My first impression of this Tudor Black Bay Fifty-Eight Bronze back in June was that I wanted it. Badly. The warm tones of bronze remind of gold, of course, but when held next to a gold watch, the difference becomes clear. This is bronze, a different tone, and a different hue from gold.
Seeing this Tudor Black Bay Fifty-Eight Bronze boutique edition still reminds me of a gold watch, like the Rolex GMT-Master in gold with a brown dial and bezel. And perhaps that's the watch I truly want, but those are unobtainable. A GMT-Master reference 6542 — got auctioned in 2018 at Antiquorum for a whopping CHF 329.000. Yikes! Availability issues aside, the Black Bay Fifty-Eight Bronze boutique edition is a beautiful watch with an attractive price tag. The bronze and brown are a marvelous match, and you might disagree here, but I think it's also a timeless color combination.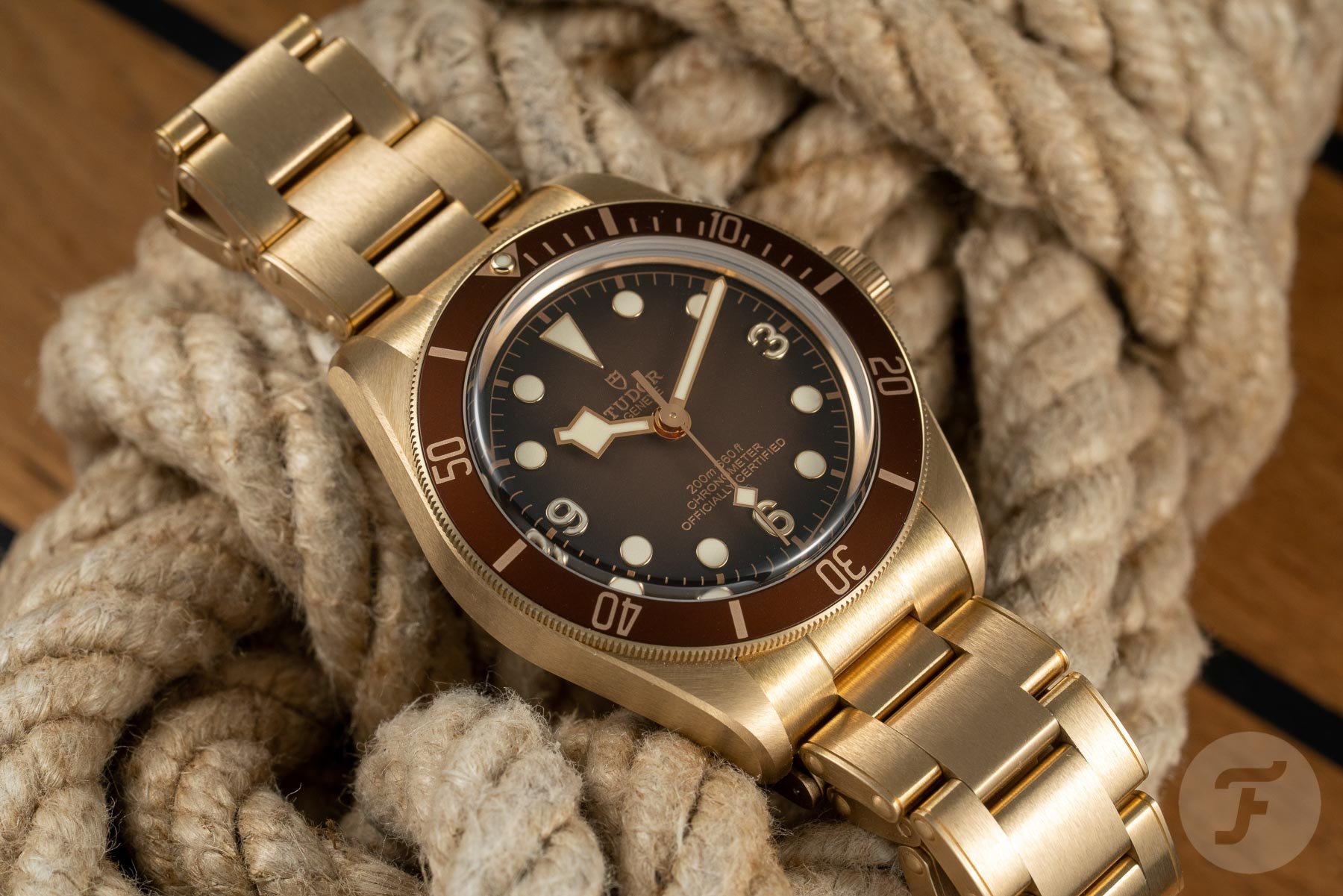 A lot of bronze
If you buy a bronze watch, you know it will start to look differently at some point. The time it takes to age, varies on the materials used. You've probably seen the pictures of the Panerai Bronze, which looks in dire need of a gardener, or the Oris watches in bronze with their dark stains. Omega used a bronze-gold alloy, to have the bronze protected from aging. Tudor uses an amount of aluminum in its alloy, to prevent it from oxidizing and staining, but it will still age. It's a matter of taste and personal preferences here, there's no good or bad. Just make sure you know what to expect before you buy a bronze watch. If you want to have some visual traces of aging on your watch, don't buy the Omega, if you don't like your watch turning green, don't buy the Panerai Bronzo, etc. The Tudor Black Bay Fifty-Eight Bronze looks like it is a massive watch, mainly because of all that bronze. Much like any fully gold watch with a matching bracelet, it leaves quite a visual impression.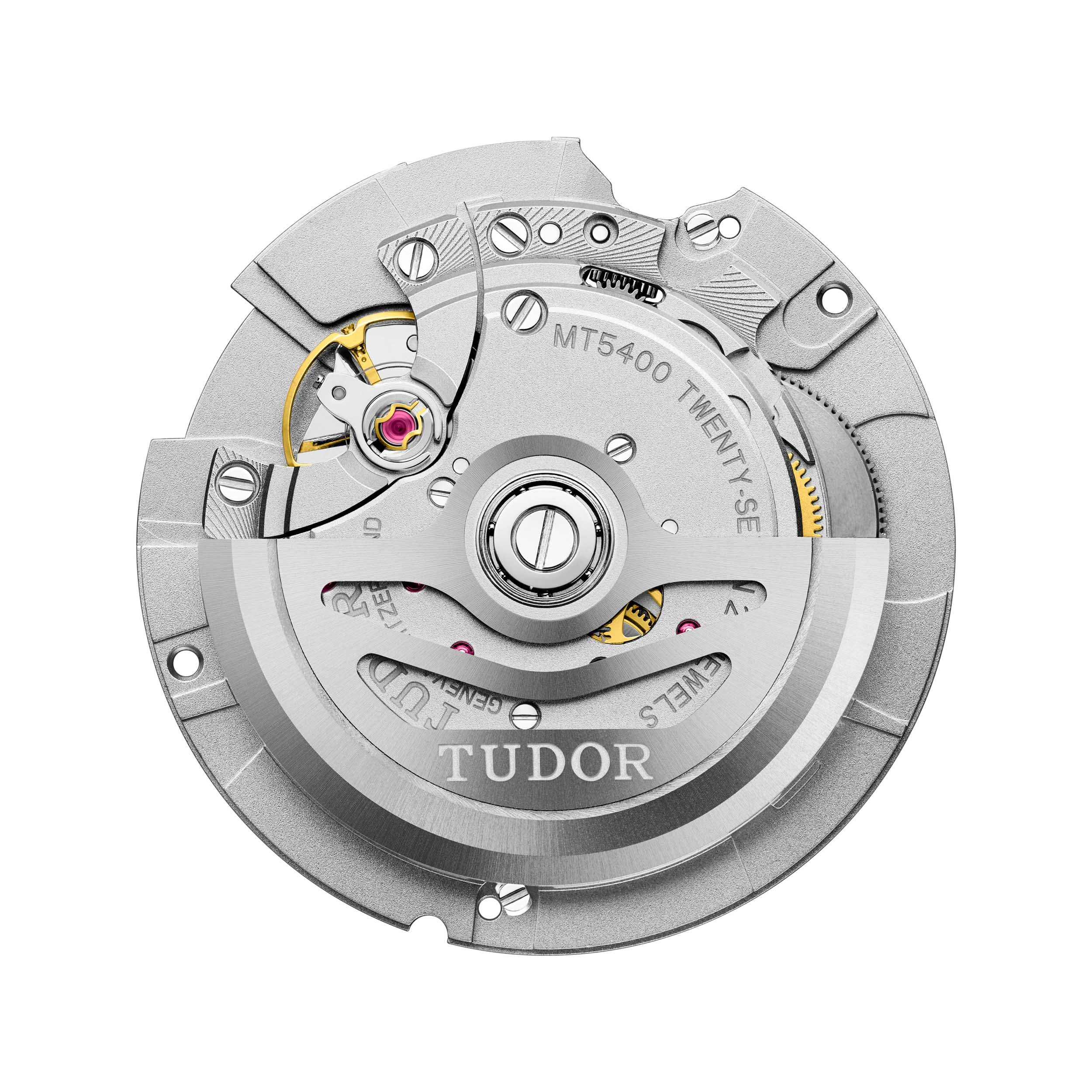 Caliber MT5400 movement
This bronze watch uses the same movement as the silver and gold editions and caliber MT5400 is essentially the same as the MT5402 movement, but it has a larger base plate. This is visually more pleasing when used with a sapphire case back. Now, this Tudor Black Bay Fifty-Eight Bronze Boutique Edition has no transparent case back, but the Black Bay Fifty-Eight 925 and gold versions do. The choice of the MT5400 over the MT5402 might have to do with the carefully scheduled production run of this movement for the other models. You have to know that often, manufacturers use the same production lines for different products. Switching back from MT5400 to MT5402 might have been too much hassle regarding the production planning. The screw-in case back on this watch is made of stainless steel and received a PVD treatment to match the bronze color of the case.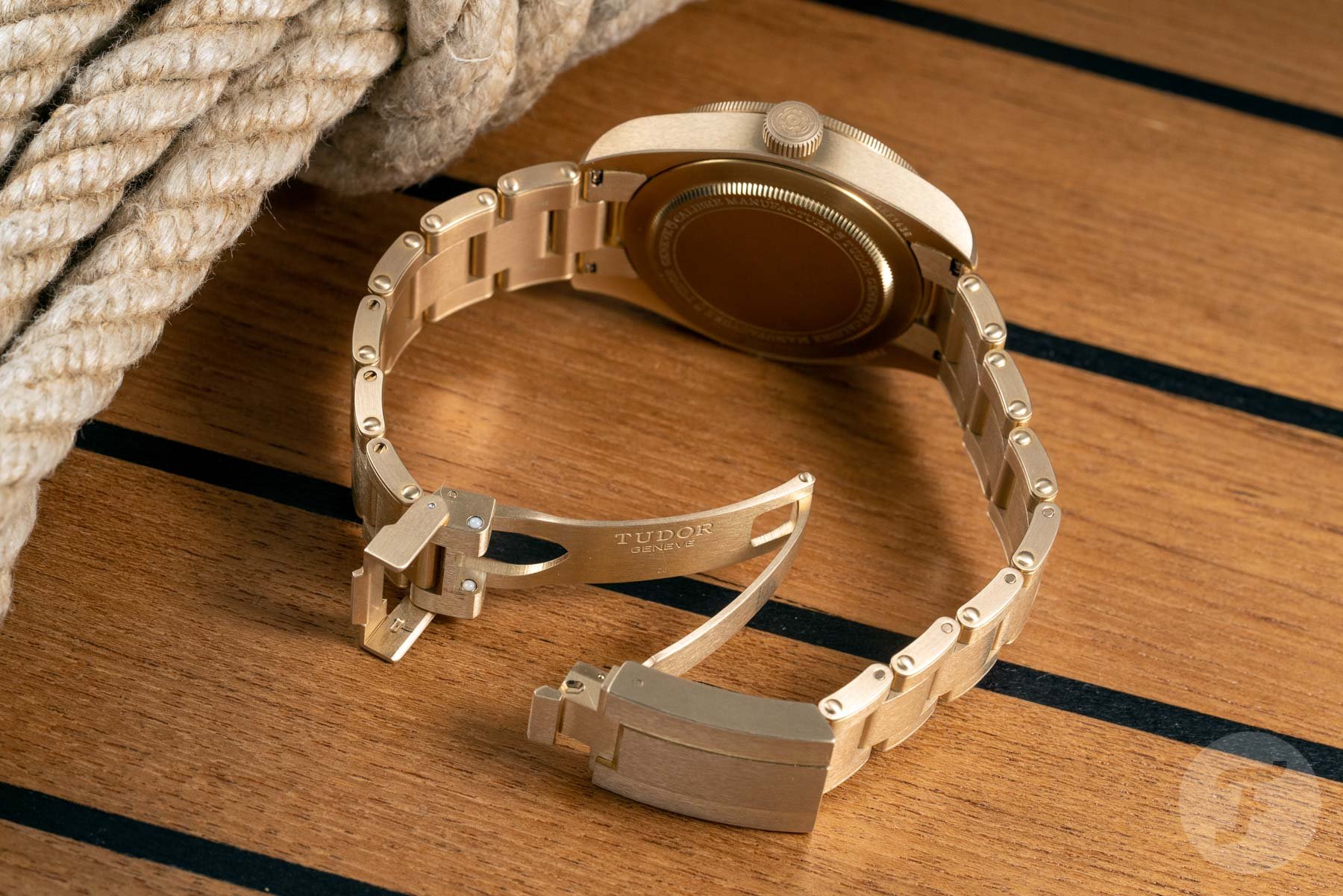 This caliber MT5400 movement has been developed in-house, has a power reserve of 70 hours, and uses a silicon hairspring. Although Tudor introduced its Master Chronometer certified movement before coming up with this Black Bay Fifty-Eight in bronze, the caliber MT5400 is "only" chronometer certified. But, Tudor likes to take things more seriously and adjusted the movement in a way that it is performing within a more strict bandwidth. Where chronometer normally implies an accuracy of -4/+6 seconds per day, Tudor guarantees a maximum daily average precision of -2/+4 seconds per day. Someone asked me where this is stated and indeed, it is quite a challenge to find this information on the Tudor website. The product page of this Black Bay Fifty-Eight Bronze reference m79012m-0001 does not specify this.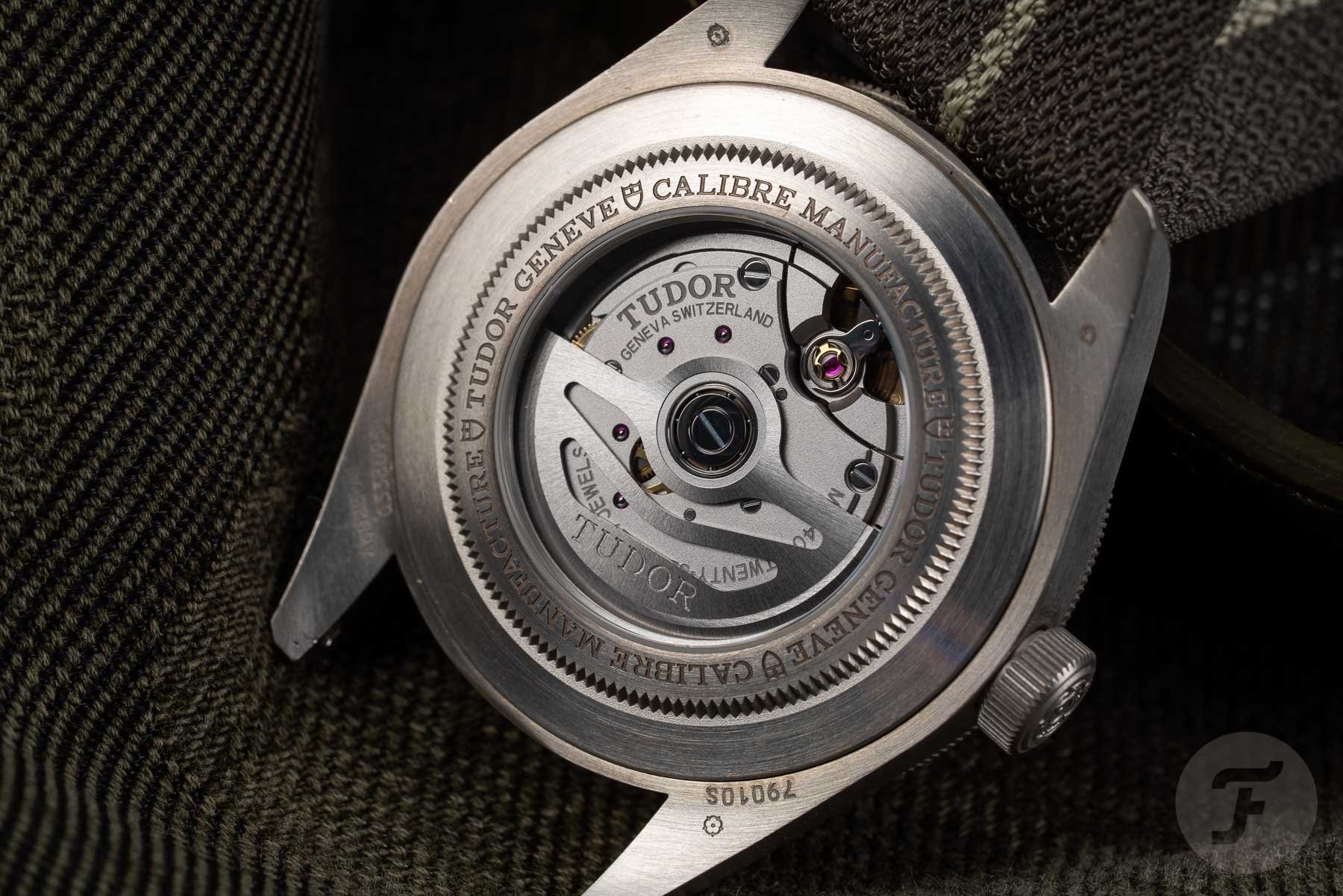 However, I was sure this has been communicated to us and when going through the press releases that were sent out, I finally found it. Another difference with the chronometer standard is, that Tudor insists on having this stricter accuracy after assembly of the watch. As you know, the chronometer certification by COSC is only performed on the movements (with a dummy dial, hands, and crown). Once done, the movements are shipped back to the manufacturer where it then is being cased. Rolex, Tudor, but also Omega, have adopted new standards where the watch is being tested (and certified when it applies to Tudor's and Omega's Master Chronometer watches) after the movement has been fitted into the watch case. More realistic to the use of the watch after it is being sold, you could say.
Anyway, in full disclosure, Tudor shipped us watches without running movements. They have been blocked to a specific time, for presentation purposes. We don't have a Tudor boutique anywhere near, so this was the only set available from them. I asked Tudor if they had any plans in expanding the use of the Master Chronometer-certified movements in other models than its ceramic version, but they said they can't share any information at this stage. I would be surprised if they'd only adopt this METAS standard for just one model though, but let's see what the future holds.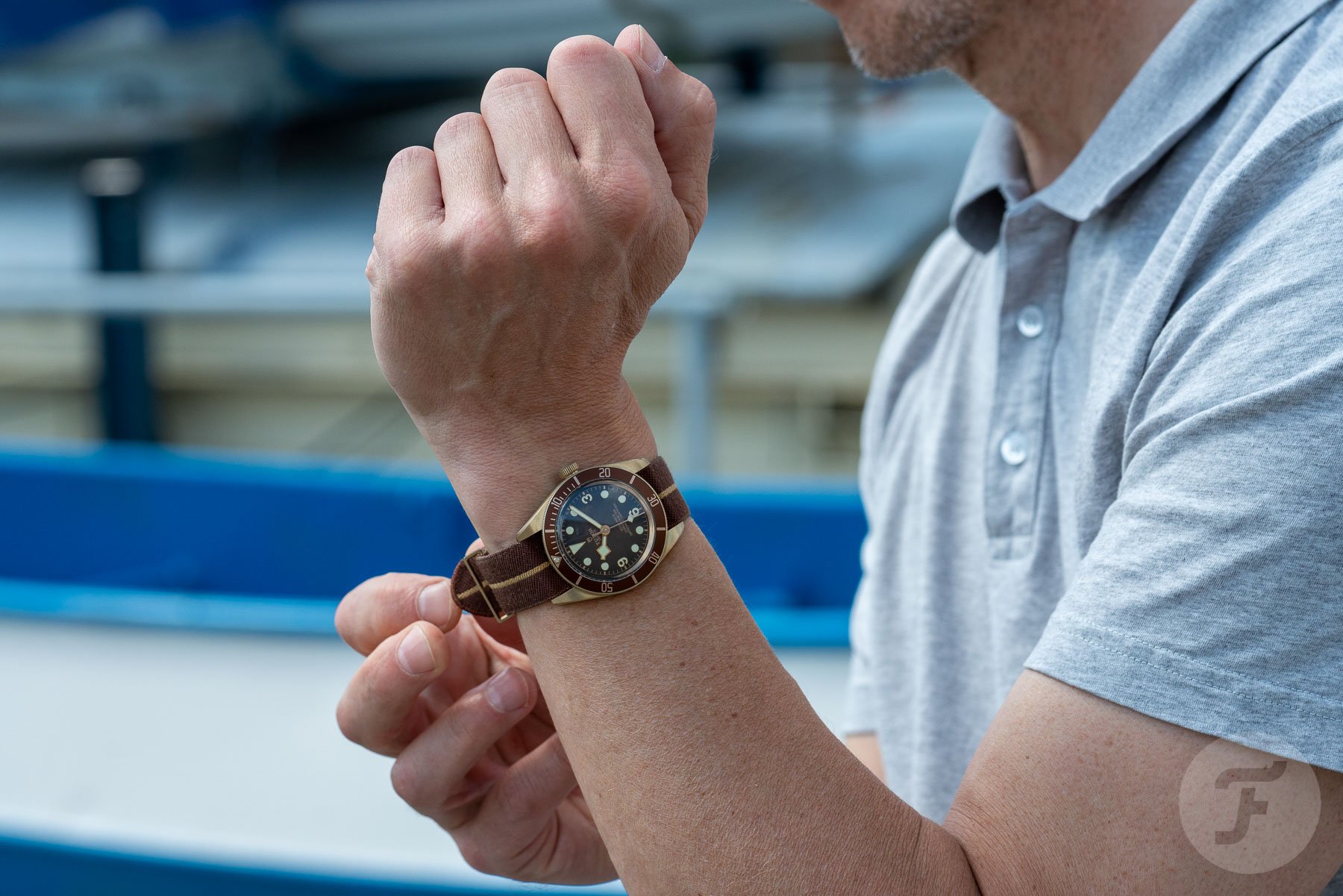 The Black Bay Fifty-Eight Bronze On the Wrist
Most important is of course, how this bronze boutique edition looks and feels on the wrist. On my 19cm wrist, the 39mm diameter Tudor Black Bay Fifty-Eight Bronze edition looks and wears just perfectly. You probably know its larger cousins, the 43mm Black Bay bronze models. You might think that 41mm would suit me better, but I noticed that I am actually in favor of wearing smaller watches these days.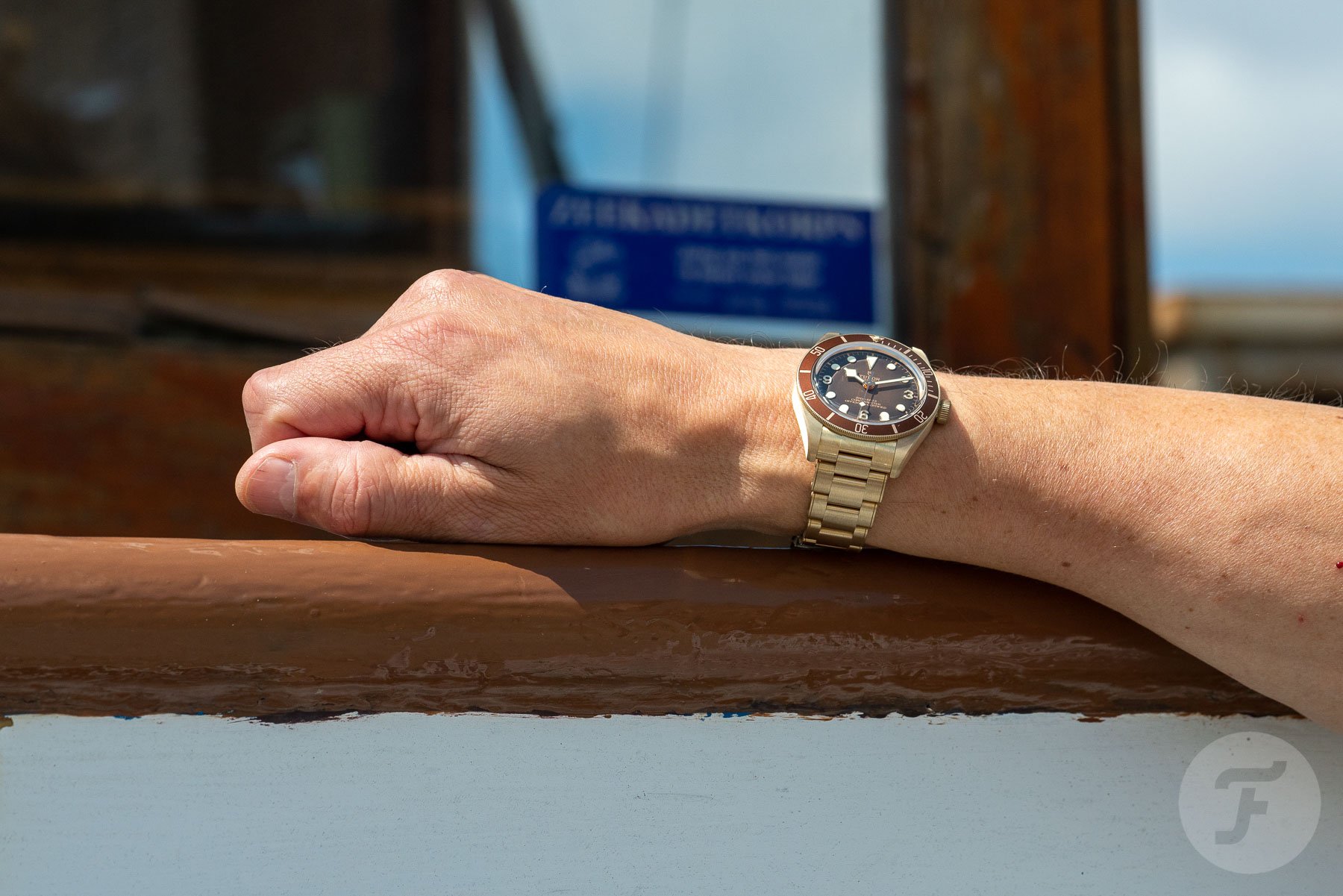 This 39mm case has a thickness of 11.9mm, making it just very comfortable and convenient for daily wear. When worn on the fabric strap with a bronze buckle, the watch does appear to be a little smaller than on the bronze bracelet. But at least you can swap and play around a bit with the style of this Tudor. We had two reference M79012M-0001 watches in the office, one on the bronze-brown fabric strap and one on the bracelet, so it was easy to compare. The lug-to-lug size of the Black Bay Fifty-Eight Bronze is 48mm, and the lug width is 20mm.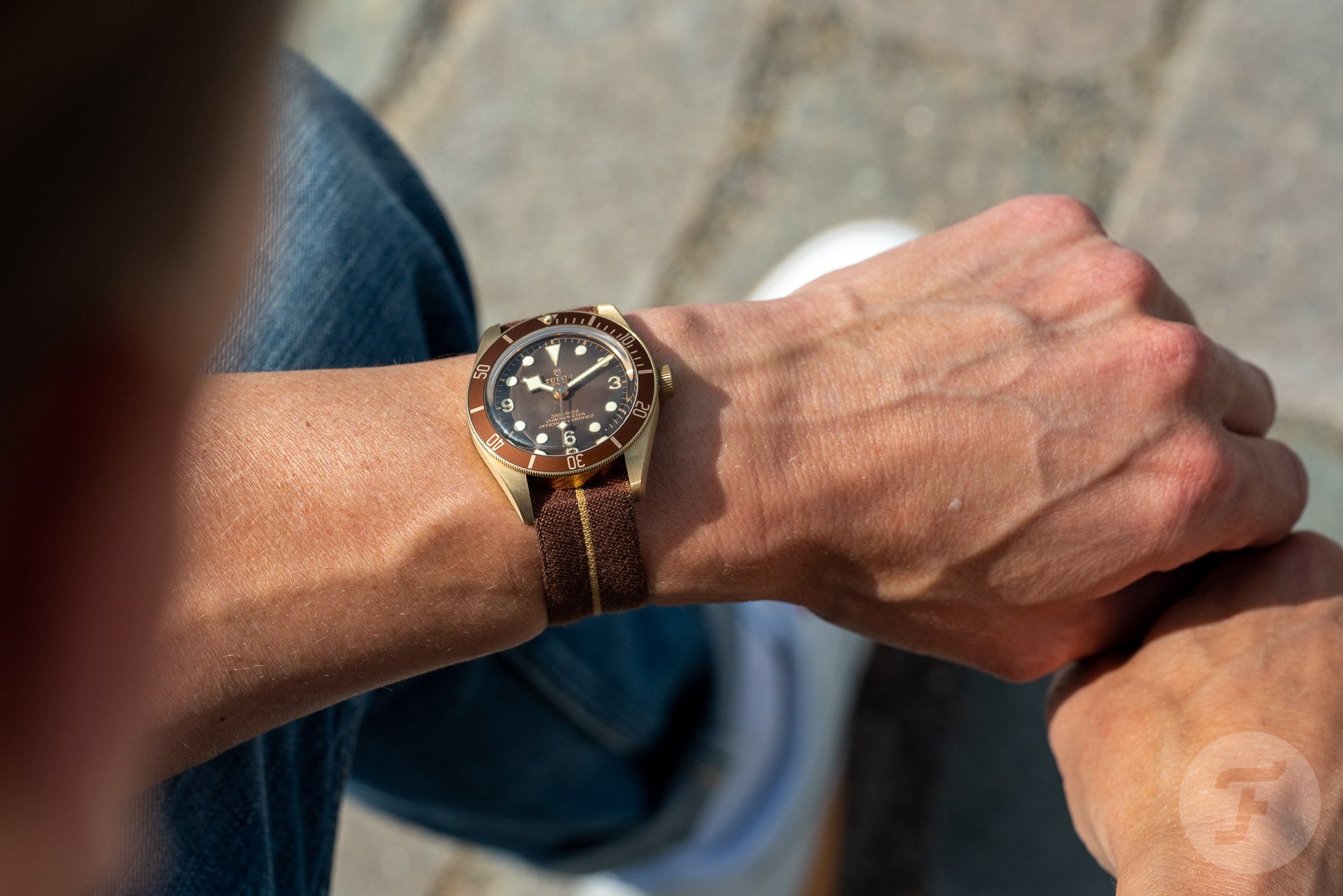 Brown and bronze
On the wrist, the bronze looks great and reminds me of my rose gold watch rather than of yellow gold. The bronze combines great with brown, but that isn't a big surprise. The brown bezel is made of anodized aluminum and goes well with the brown dial. The dial has gold-colored printing and large hour markers, whereas the 3, 6, and 9 are Arabic numerals. The snowflake hands are a recurring topic in our office. Some of us like them and others can't cope with the combination of the snowflake hands with round hour markers. I am not too bothered by it but can imagine what they're talking about. If you decide to wear it on the fabric strap, you will find the brown fabric to match the color of the dial. Tudor did a good job with the design of the fabric strap.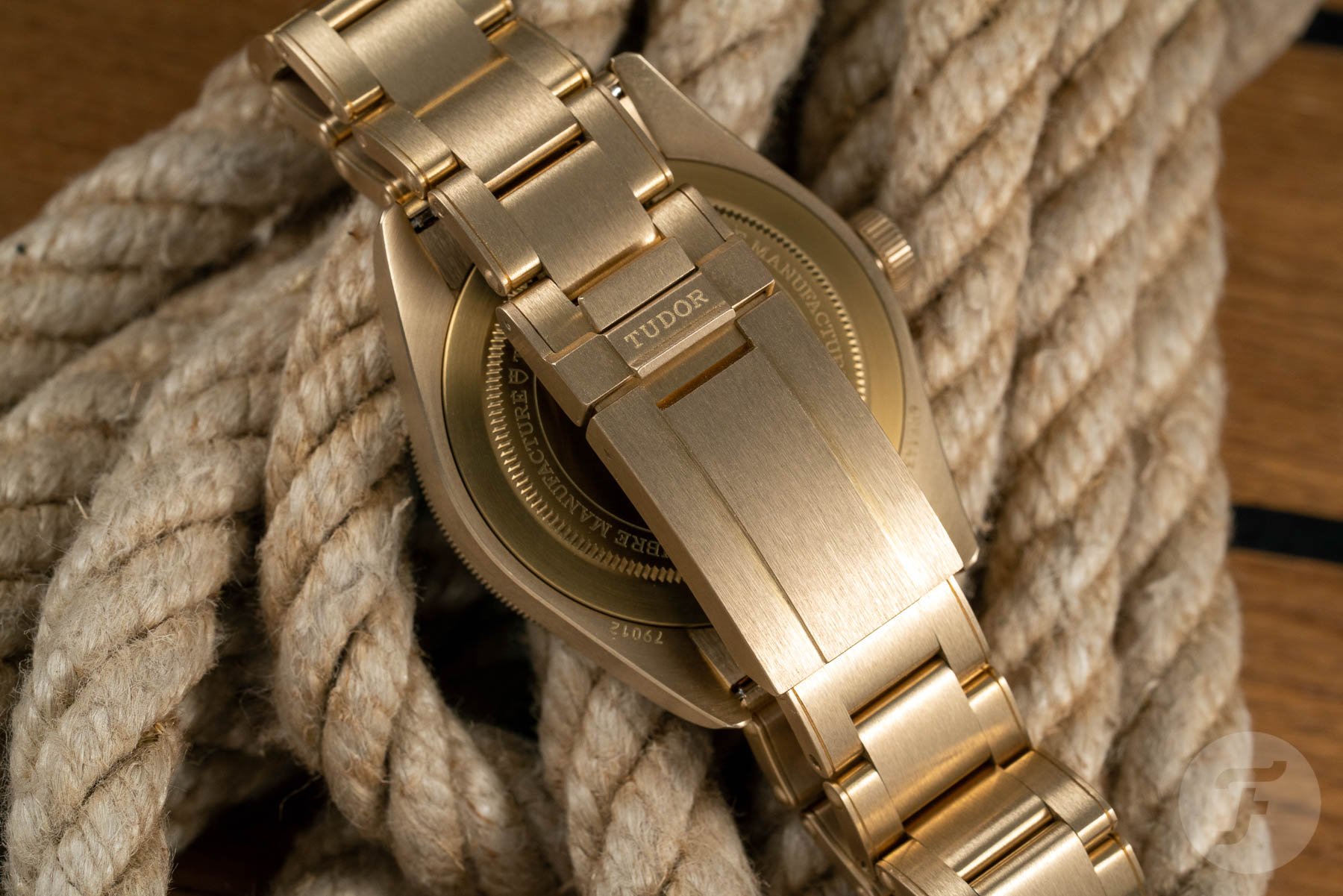 Bronze bracelet
Part of the fun in wearing this watch is the bronze bracelet. It is the first watch I tried on a fully bronze bracelet. I know some other brands, like Oris, have gone there as well, but I've never tried them on my wrist. Besides the coin-like smell, I was also surprised by the clasp. Tudor refers to it as the T-fit clasp, enabling you to adjust the length of the bracelet to your needs. In total, it can be extended by 8mm in 5 small steps. Tudor uses these fake (or faux) rivets on these bracelets, of which I am personally not a fan. Other than on the Oyster bracelets from the past, these rivets have no function on this bracelet, it's just there for aesthetics. I don't mind a cool vintage vibe, but I would have been perfectly fine without them.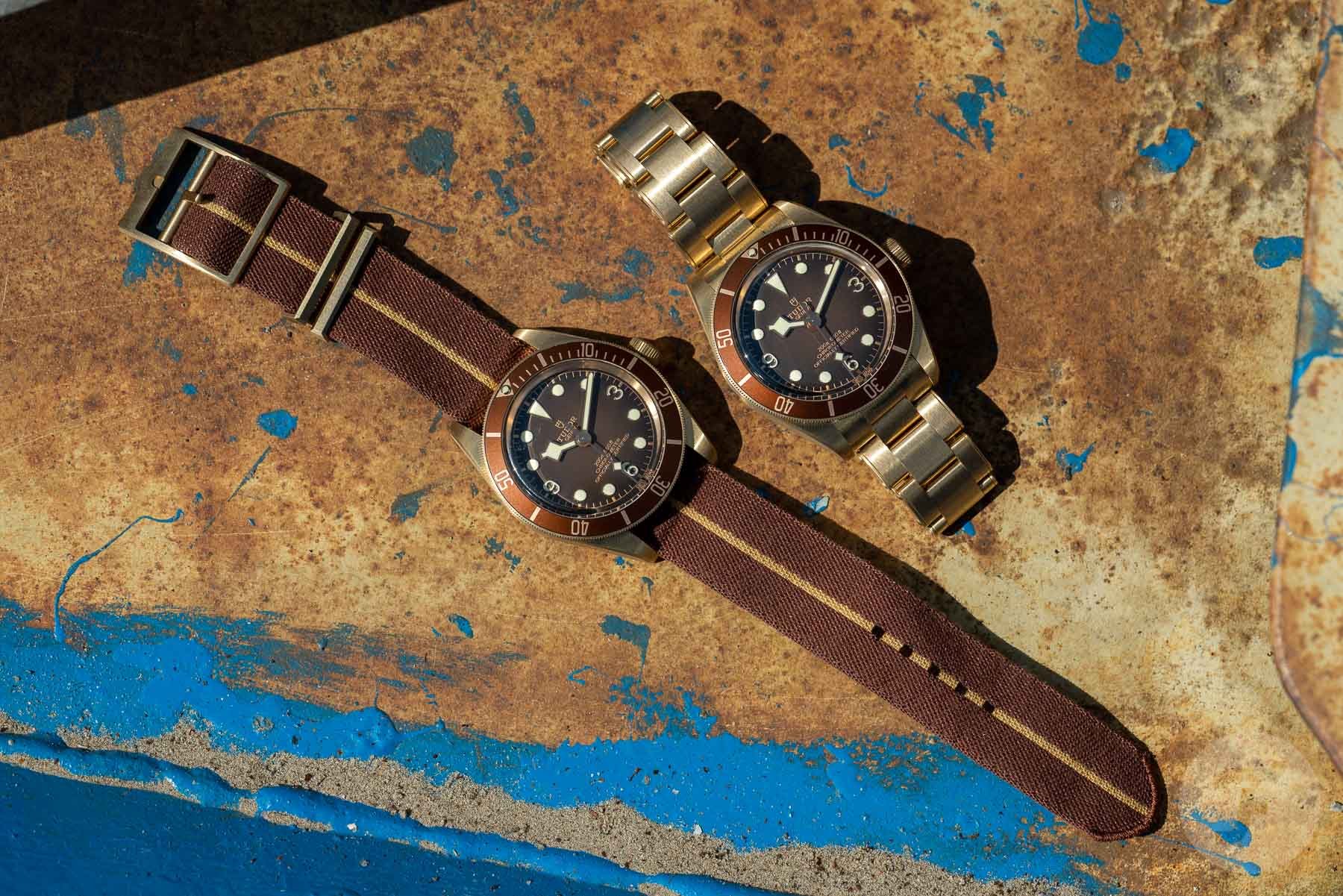 Some thoughts on the Tudor Black Bay Fifty-Eight Bronze Boutique Edition M79012M-0001
The 39mm diameter Black Bay Fifty-Eight Bronze has made me go back and forth on which model of the collection I like best. I love the combination of bronze and brown, it just looks amazing, In the end, I am more of a Pelagos guy, but from this collection, it is a really close finish between this bronze watch and the silver (925) edition. Michael Stockton from our team bought the Black Bay Fifty-Eight 925 and couldn't be happier. The taupe dial is beautiful and the silver case has a wonderful white-ish hue. That watch might be a little more versatile than this bronze watch.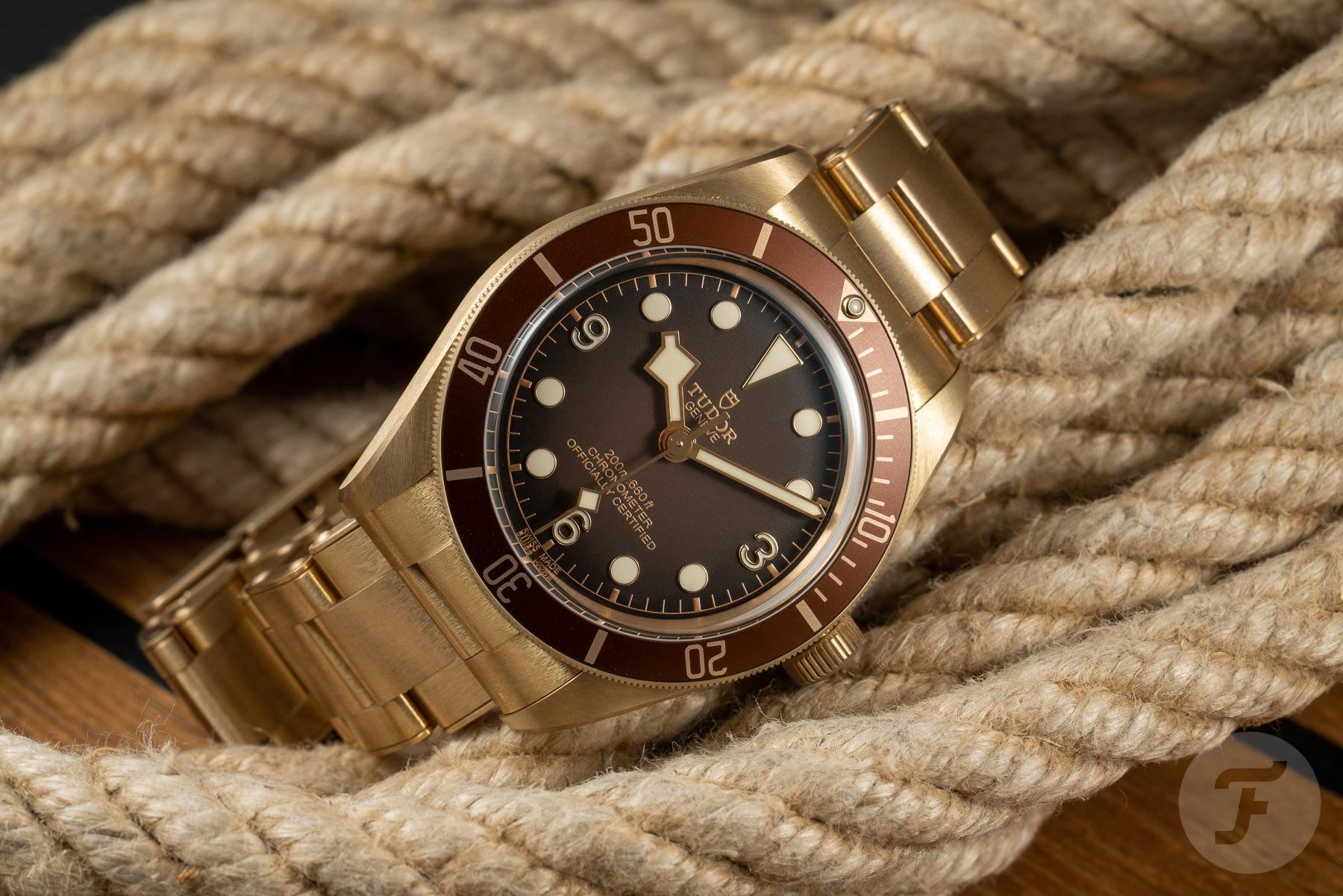 The bronze watch, with a bronze bracelet, is definitely cool though and I can imagine that it is in high demand. As indicated above, it reminds me of the vintage Rolex GMT-Master 6542 in gold, with a brown dial, and that's a good thing, as I love that combination. The entire boutique only thing is a little annoying, especially when there aren't that many boutiques around to fulfill demand. Especially those in the USA (although NYC is now listed on the Tudor website to have a boutique) feel a bit left out, from what I've noticed. It's not a crime to come up with a limited, special, or boutique edition if there's somewhat of a fair chance of buying one without having to pay an incredible premium to those who are in the game for a quick buck. That said, the retail price of €4,270 sounds like a very fair price for this Black Bay Fifty-Eight Bronze Boutique Edition.
For more information on the Black Bay Fifty-Eight Bronze Boutique Edition, please visit the official website.
Please find and follow me at @rjbroer • Instagram
Watch specifications
Model
Black Bay Fifty-Eight Bronze Boutique Edition
Dial
"Bronze-brown", domed
Case Material
Bronze case with unidirectional rotating bezel in bronze with 60-minute graduated, mat "bronze-brown" anodized aluminum disc.
Case Dimensions
Diameter: 39mm Thickness: 11.9mm Lug-to-lug: 48mm Lug-width: 20mm
Crystal
Domed sapphire crystal
Case Back
Screwed, bronze colored PVD-treated, steel case back.
Movement
Automatic, 4Hz caliber MT5400 with 70 hours power reserve, -2/+4 seconds per day on average, Chronometer certified
Water Resistance
200 meters
Strap
Riveted bronze bracelet with satin-brushed finish. Additional "bronze-brown" fabric strap with bronze buckle.
Functions
Central hours, minutes and seconds. Stop-seconds function.
Warranty
Five years international warranty