Sunday Morning Showdown: Tudor Chronographs — Vintage Vs. Modern
A matter of affection or a matter of practicality?
This week, we have another chronograph-fueled edition of Sunday Morning Showdown! This one's inspired by the fact that one of the Fratello team members recently bought himself a Tudor Heritage Chrono. The brand launched this model in 2010 and recently discontinued it, so if you're after one, perhaps now is the time to pounce.
The Tudor chronographs from the early 1970s and 2010s onward are the ones we admire the most. You might also recall the Big Block and Prince Chronographs, but we definitely prefer the older (and later) models. Now, we all appreciate a good chronograph, but in the end, it's not easy to find ones that we truly love. We often keep coming back to the classics — the Navitimer, Speedmaster, Daytona, and Carrera. But there are some other chronograph watches out there that we consider true gems too. In this article, we decided to highlight some of them and pit the vintage Tudor chronographs against their modern counterparts. Thomas, being a strong proponent of vintage watches, picked the early 1970s Tudor Oysterdate chronographs. RJ, however, decided that wearing a good, modern chronograph has its perks, so he's representing the models from the post-2010 era.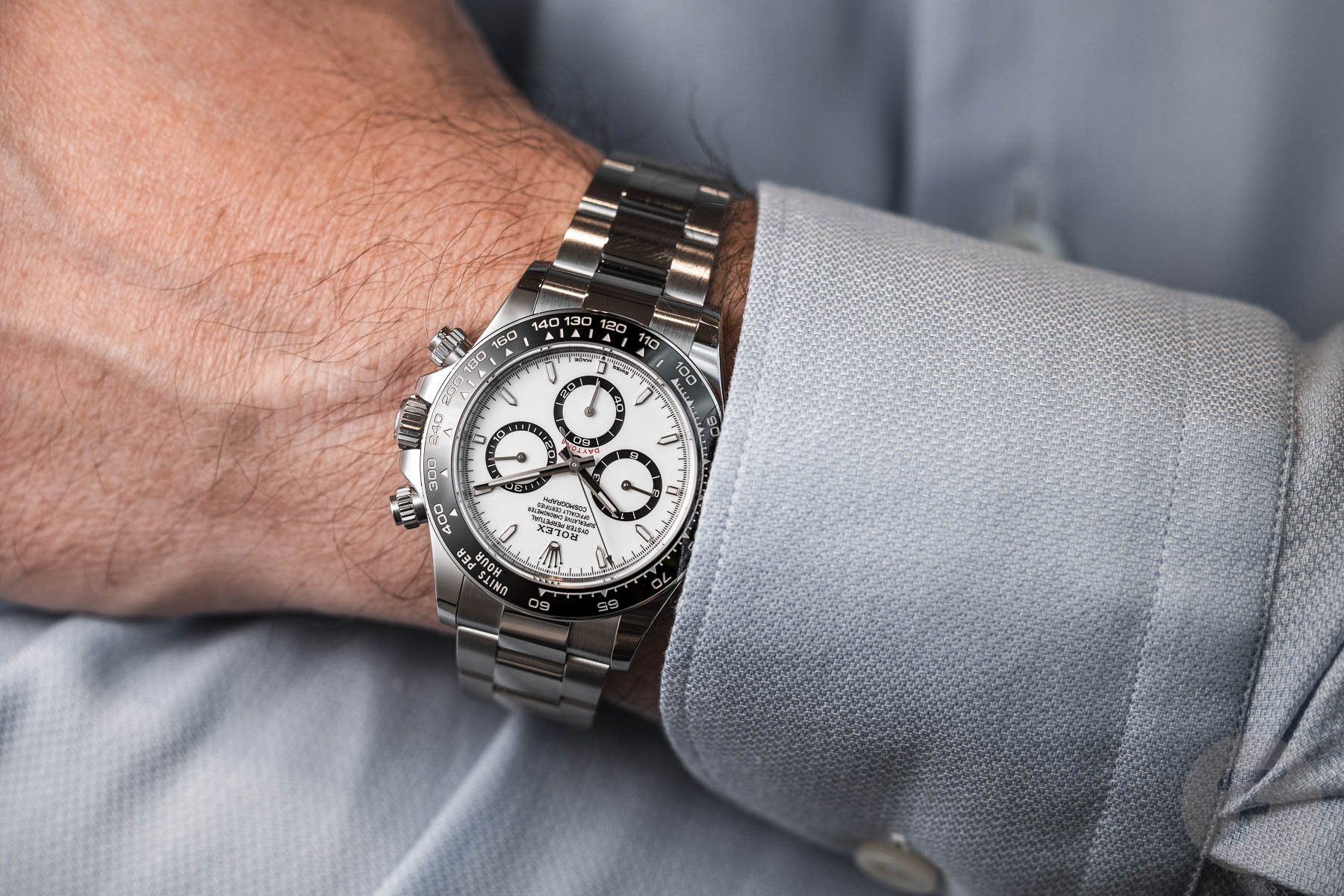 The other chronograph
In last weekend's Sunday Morning Showdown, Jorg and Ben went head to head with the new and previous Rolex Cosmograph Daytona. It was the new 2023 Daytona ref. 126500LN versus the previous (discontinued) ref. 116500LN that debuted in 2016. While the outgoing version had a relatively short production span, the majority of you voted for the new Daytona 126500LN, resulting in a win with 57% of the votes. I (RJ) happen to prefer the previous generation without the steel ring around the bezel. But hey, I am not in the market for a modern Daytona anyway, and I even prefer the chronographs we have here today on Fratello!
The Tudor Heritage Chrono was the brand's first step back into the European market in 2010. It was inspired by the earliest Tudor chronographs from the 1970s but with a modern twist (and movement). Recently, Tudor discontinued the Tudor Heritage Chrono and has shifted its focus to the Black Bay Chrono models.
Thomas: Vintage Tudor chronographs
The 1970s were significant for Tudor chronographs for one very specific reason: they looked absolutely unique. I know some of you find Tudor unattractive because you consider it a lesser alternative to Rolex. Especially in the vintage realm, Tudor catches flack for putting more affordable calibers in otherwise Rolex watches. I think this is a gross oversimplification and underestimation of the brand. And 1970s chronographs are here to prove my point.
Tudor introduced its very first chronographs in 1970. The 7000 series references featured the Valjoux 7734 movement. Indeed, these were still hand-wound (very much how I prefer my chronographs!), so if you have those thick automatic Tudor chronographs in mind, please let go of that image. The ones I am talking about take their energy from your fingertips and are still relatively slender as a result. You will find these very first ones with black and gray dials with orange details. There was a version with a black Bakelite bezel inlay and one with a steel bezel.
The 7100 series from 1971 is probably more famous. We have the bright blue color and "Monte Carlo" style sub-dials to thank for that. A column-wheel-equipped Valjoux 234 caliber also replaced the cam-actuated Valjoux 7734. In 1976, Tudor introduced the automatic "Big Block" chronographs, which I have opted not to defend. To me, they feel more like "Daytona Lite" watches, whereas the models before them were thoroughly unique.
A matter of style
These early Tudor chronographs are often referred to as "Homeplate" for their pentagonal hour markers. They are shaped like the home plate in baseball, and in combination with the unique, painted sub-dial surrounds, they provide the watches with an unmistakable '70s identity. A dash of orange leaves absolutely no doubt about when these watches were conceived.
Another key trait is the date magnifier at six. It looks a bit jarring at first if you are used to the Rolex configuration at three, but it is quite neat. The later re-editions don't feature it, which is a bit of a cowardly move if you ask me. You either go for a faithful re-edition, or you design something new. But you don't make the original a little easier to digest for a broader audience.
What I love about this style is that you clearly see the Rolex connection, just not at first glance. The case, bracelet, and bezel are all very clearly of the Rolex dynasty. But these dials are just so unique. This is the supermodel's artsy sister. And she's more fun.
The real-deal Tudor chronographs
As much as I admire Tudor, the brand has to watch out not to live in the past. Vintage-inspired watches are great, but vintage reissues will not age as well. This is what I feel like when I look at the modern Tudor chronos. They are nice watches, yes, but only because the originals were so great. I am not the first to make this comparison, but the 1970s ones are young Elvis. The reissues are the final years of Elvis in Las Vegas. Try one on the wrist if you don't know what I mean. You will catch my drift.
Now, I know you Fratelli typically pick modern over vintage. Please permit me to try to reverse that trend. For starters, the dependability of good vintage watches is grotesquely underrated. I often see people dismissing vintage watches as fragile and unreliable. Many, however, just aren't. If they survived 50 years of hard wear, what do you plan to do to them that is so much more damaging?
Lastly, I have to admit that the prices of these old Tudor Chronos have gone bananas. Keep in mind, though, that this is a vote for the watch you like the most, not a vote for the most sensible purchase that you have to make with your hard-earned money. As watch aficionados, we have to be able to look at a watch as an object of affection, not just as a commodity in a market. Okay, let's see what RJ has to say about modern Tudor chronographs.
RJ: Modern Tudor chronographs
Although Tudor never left the stage altogether, the brand was mainly operating in Asia for a long time. That changed in 2010 when Tudor introduced its Heritage Chrono (ref. M70330N) exactly 40 years after the introduction of the famous "Monte Carlo" ref. 7033 chronograph. Whereas Tudor based its collection largely on Rolex models before that, often using the same (external) parts, the new Heritage Chrono was a step in the direction of where this brand is today.
Now Tudor is a manufacturer operating completely separately from the Rolex brand, only sharing some infrastructure and overarching departments that have little to do with the design and production of watches. The modern Tudor Heritage Chrono used a modular chronograph movement (ETA 2892-A2 with a Dubois Dépraz chronograph module) and debuted at €3,050.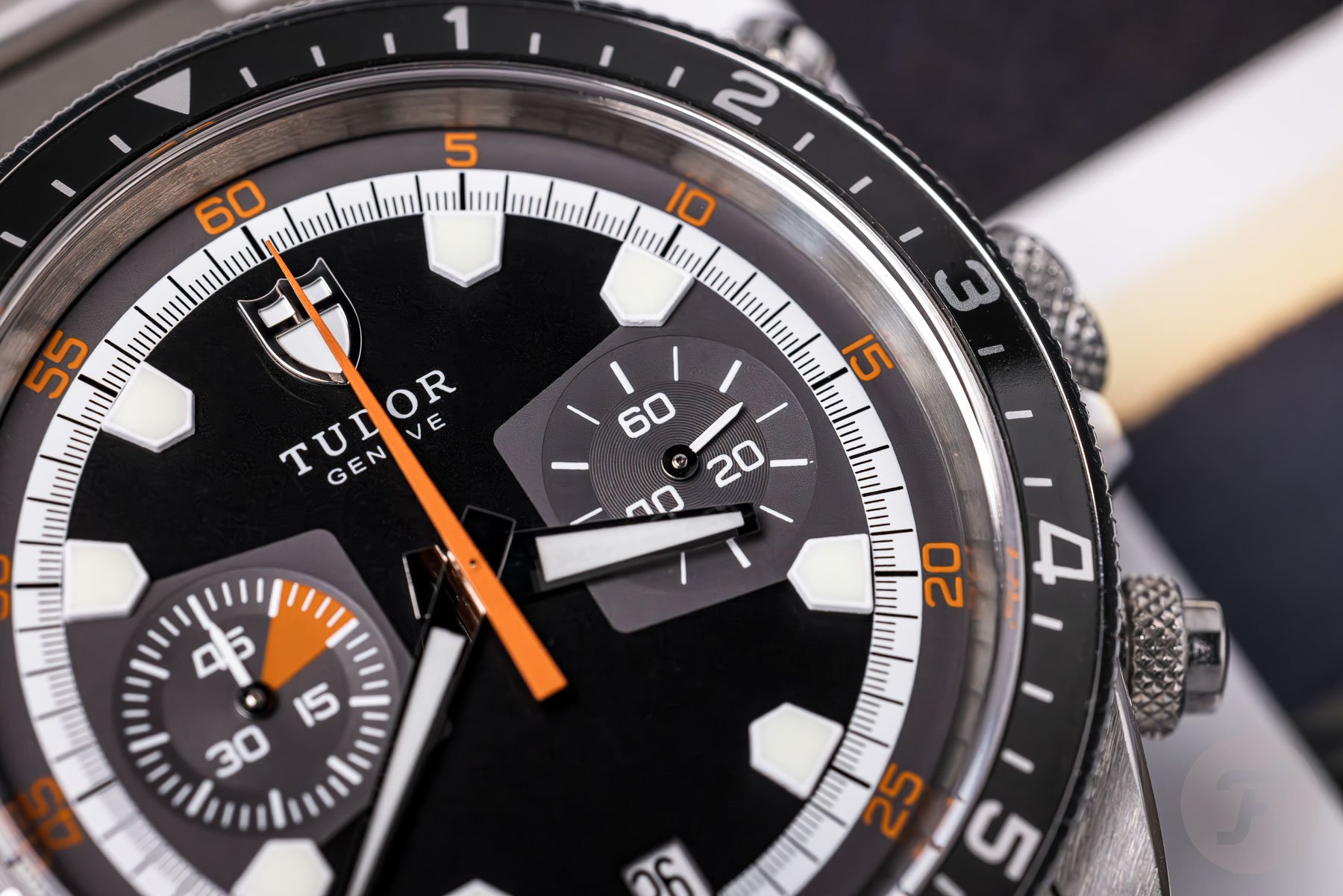 In 2012, Tudor came up with the Black Bay collection, and in 2013, the Heritage Chrono received a blue addition as well (ref. 70330B, based on the original ref. 7149 and ref. 7169 models). These watches were in production until very recently and last retailed for €4,640 on stainless steel bracelets. Meanwhile, Tudor also introduced the Heritage Black Bay Chrono in 2017, and several configurations followed, including a steel and gold one in 2019. These models featured Tudor's version of the Breitling B01 chronograph caliber.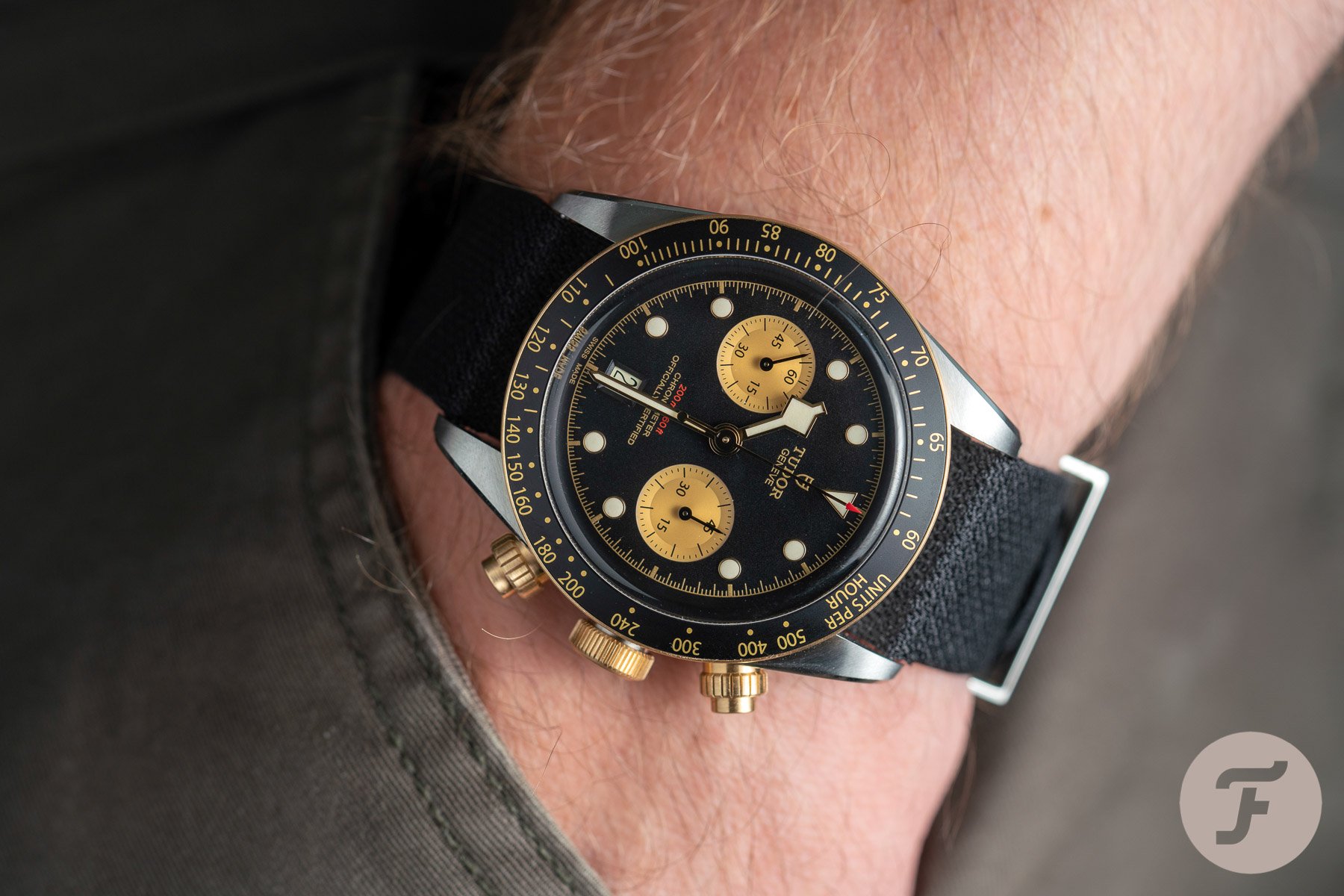 This MT5813 integrated chronograph movement was a step up from the ETA-based modular calibers. At the time of introduction (2017), the steel version with a steel bezel had a price of CHF 4,500. Then, in 2021, the Heritage Black Bay Chrono was replaced with the Black Bay Chrono with either a panda or reverse-panda dial. These 41mm chronographs have the same COSC-certified MT5813 movement and a current retail price of €5,430 for the version on a bracelet. The ones delivered on fabric or leather straps cost €5,120.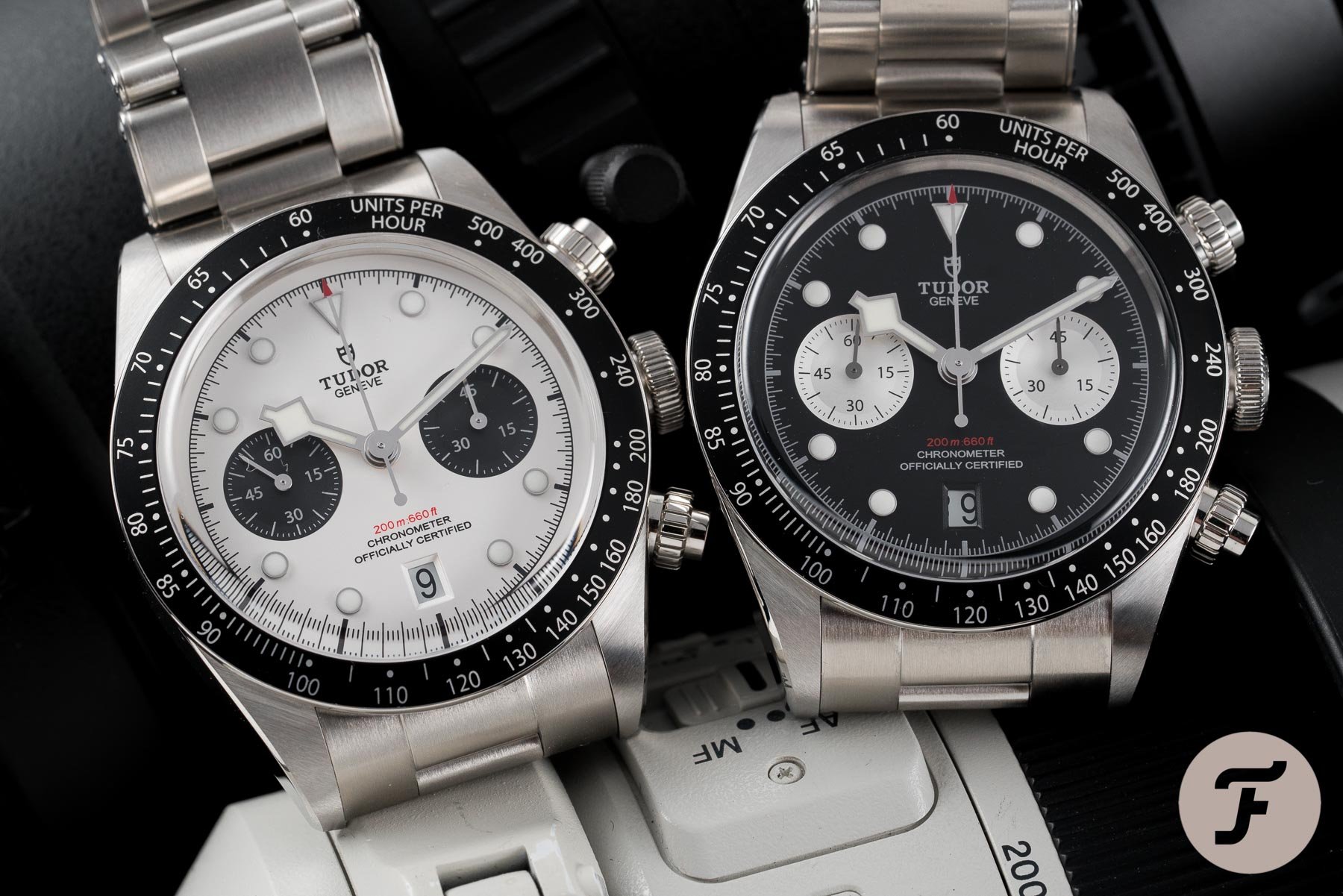 The value proposition
Now, I do like the original Tudor chronos from the 1970s, but spending between €15,000 and €45,000 on one with a relatively simple Valjoux movement is mind-boggling. I know it is not always about the movement (the Daytona with Valjoux movements come to mind), but it's just too much money for me for a watch like that. Therefore, I really appreciate Tudor's efforts to bring out chronographs that hark back to the '70s models but with modern movements for very affordable prices. And they're not only affordable in comparison to the market prices of vintage Tudor chronographs but also to the prices of chronographs from other top watch brands. They really offer a lot of bang for the buck. Furthermore, they don't look like a Rolex but like a Tudor. The Heritage Chrono and Black Bay Chrono have a unique Tudor appearance.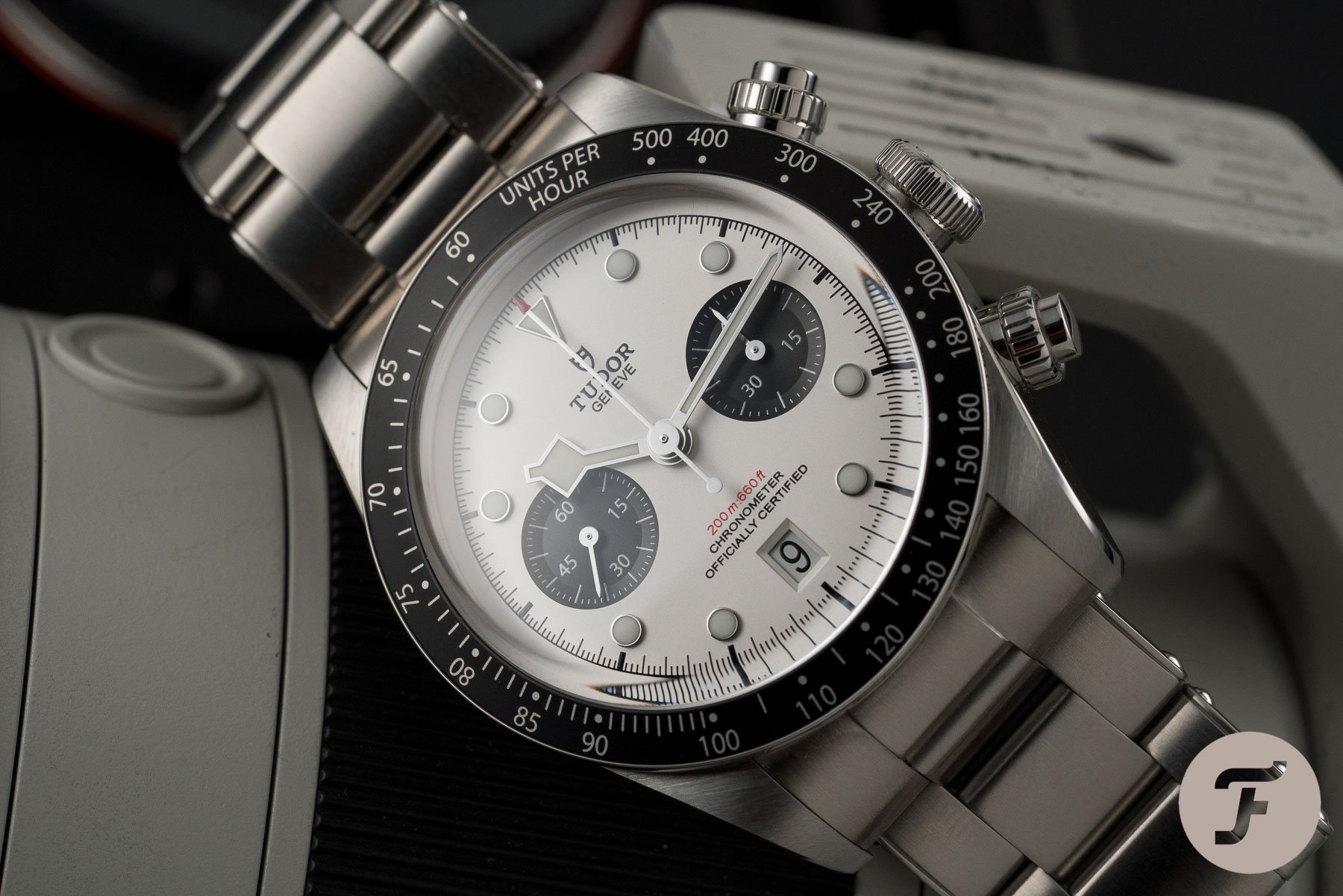 I tried out the Tudor Heritage Chrono once more now that one of our guys in the office has one, and it's a nice and interesting piece. Although it appears to be big and chunky, it's actually thinner than a Speedmaster Professional. It's the shape and form that make it appear thick, which also kind of suits the watch. And it wasn't much different in the old days either. The Tudor chronographs are just chunky-looking watches!
Time to vote!
We've each had our say, and now it's time to cast your vote. Are you prepared to spend big bucks on a very cool vintage Tudor Chrono or admire it from afar, or do you not mind Elvis's last years in Las Vegas? Make sure to vote for your pick below, and let us know why you chose either modern or vintage in the comments. See you next week for another installment of Sunday Morning Showdown!
Tudor Chronographs — Vintage vs. Modern