Introduced at the BaselWorld 2010 exhibition, the Tudor Heritage Chrono was the talk of the day for months to come. Authorized Rolex/Tudor dealers created waiting lists for people who desperately needed one. The vintage Tudor Monte Carlo Chronographs ref.7149, 7159/0, ref.7169/0 and the 7031/0, the original models on which the Heritage Chrono is based, skyrocketed to 10K Eur and over. I have written an in-dept and chronological story on the Tudor Monte Carlo a while ago already for MotoringExposure, click here to read it.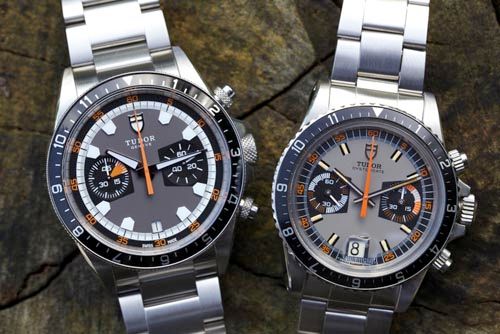 The Heritage 70330N and the Monte Carlo ref. 7169/0, photo courtesy of Ryan5446
A few months after the Heritage Chrono became available in stores in June, I see them popping up for sale from owners who wanted to be the first on the waiting list. So, I am wondering, what's the status of the Tudor Heritage Chrono? Does it live up to its hype?
To be honest, I think – of all the big brand's releases last year – the Heritage Chrono is a very interesting timepiece. Tudor is on the map again with their new watches, I have seen two Tudor dealers in Milan/Italy last month, with all Tudor-stickered front-walls. Besides the new Heritage Chrono ref.70330N watches, they'd put a vintage Monte Carlo next to it, to show its resemblance.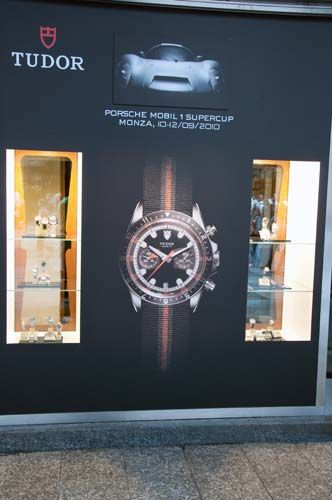 With a list price of 3.050,- Euro (4200 CHF), I was actually amazed to find out that they are for sale through Chrono24 in large numbers already, starting at 2.600,– Euro. Although I don't think there was much wrong with the list price, the going prices are a bit more friendly. You don't have a lot of alternatives for a solid and well built iconic chronograph these days, the Tudor fits in quite well with other classics such as the Omega Speedmaster Professional and IWC Fliegerchronograph (with discount). All of them have a 3rd party movement (Lemania, ETA) and focus on customers who have a weak spot for icon watches.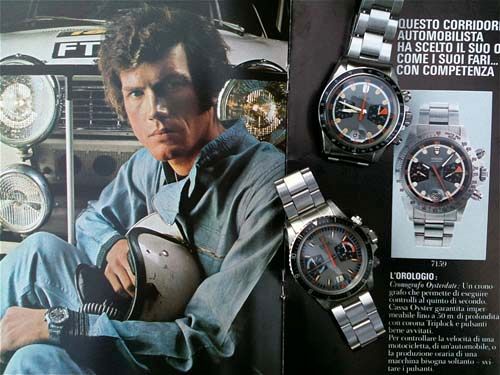 Vintage Tudor chronographs, Tudor and their racing connection was always there.. (photo courtesy of Ryan5446).
As I've already written at the start of this blog post, I've seen a lot of Rolex enthusiasts buying a Tudor Heritage Chrono and selling them again quite quickly after they got it. A part of these sellers were probably in it for the money, making a fast buck, but I also think that it doesn't give them the same feeling as their Rolexes do. Is it the ETA (with DD chronograph module) that spoils the fun? Don't think so, as Rolex enthusiasts don't care much for movements generally. Who knows should leave a comment below.