Tudor Pelagos LHD
Yesterday, Tudor invited us for a lunch in Amsterdam. We understood that it had to do with a new introduction, but had no clue about what to expect. Exactly at 1pm, Tudor unveiled their latest, the Tudor Pelagos LHD. LHD stands for Left Hand Drive, for left-handed divers, meaning that the winding crown is on the left side of the case. So as you can see in the header image, I am wearing it on the wrong wrist.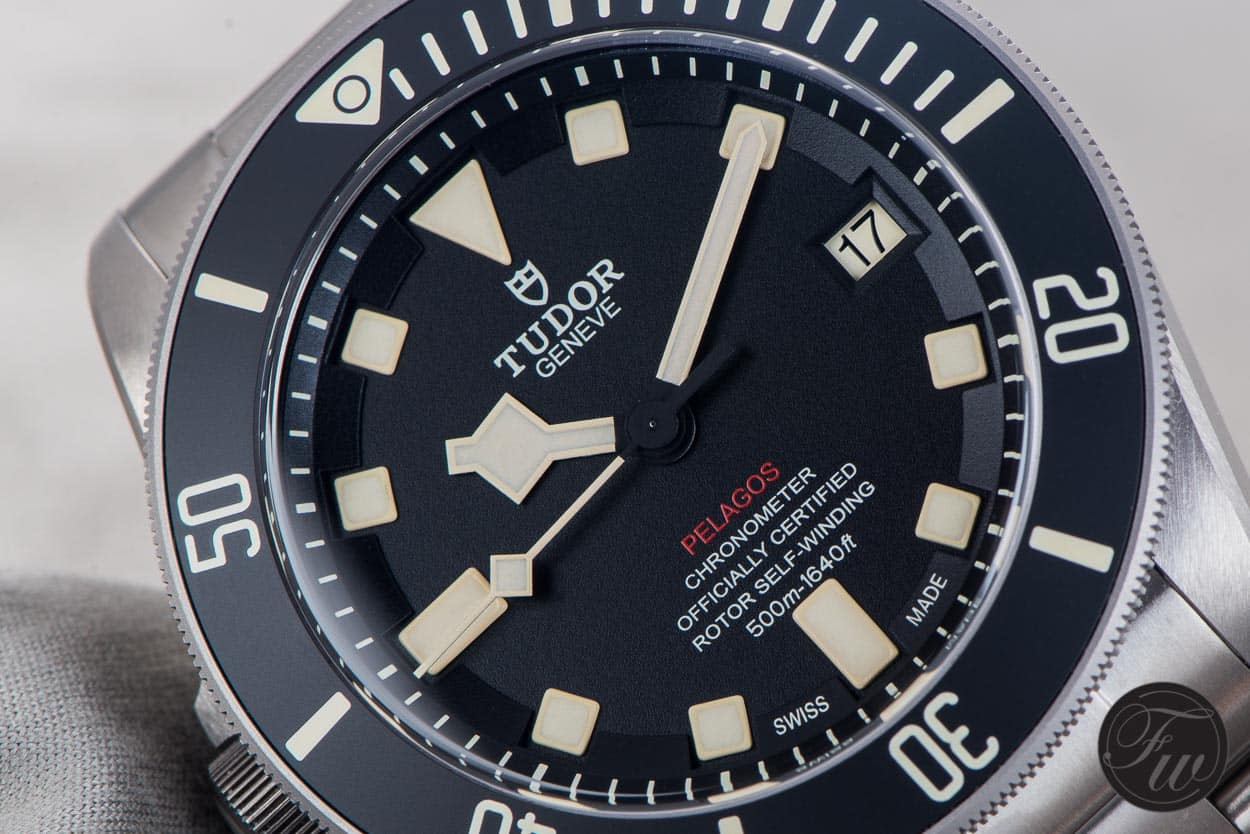 Good Things First
Tudor respected a couple of things with their Pelagos LHD. For starters, there was a left hand version in the past. In 1981 for example, the French Navy received a couple of left handed Tudor Submariner 9401 references on special request. So it is no gimmick that Tudor just made up, there's a real story to it. That's want people want today, the real stuff, no more bs stories that brands just make up in order to sell watches.
Next, one of the other good things is that the watch has the same retail price as the regular Tudor Pelagos. Furthermore, the Tudor Pelagos LHD is a numbered edition. Not a numbered limited edition. However, a numbered edition does mean that the production of the Tudor Pelagos LHD will end at some point.
Also, the Tudor Pelagos LHD comes with both a titanium bracelet with a patented self-adjusting clasp, as well as a rubber strap with titanium end-links.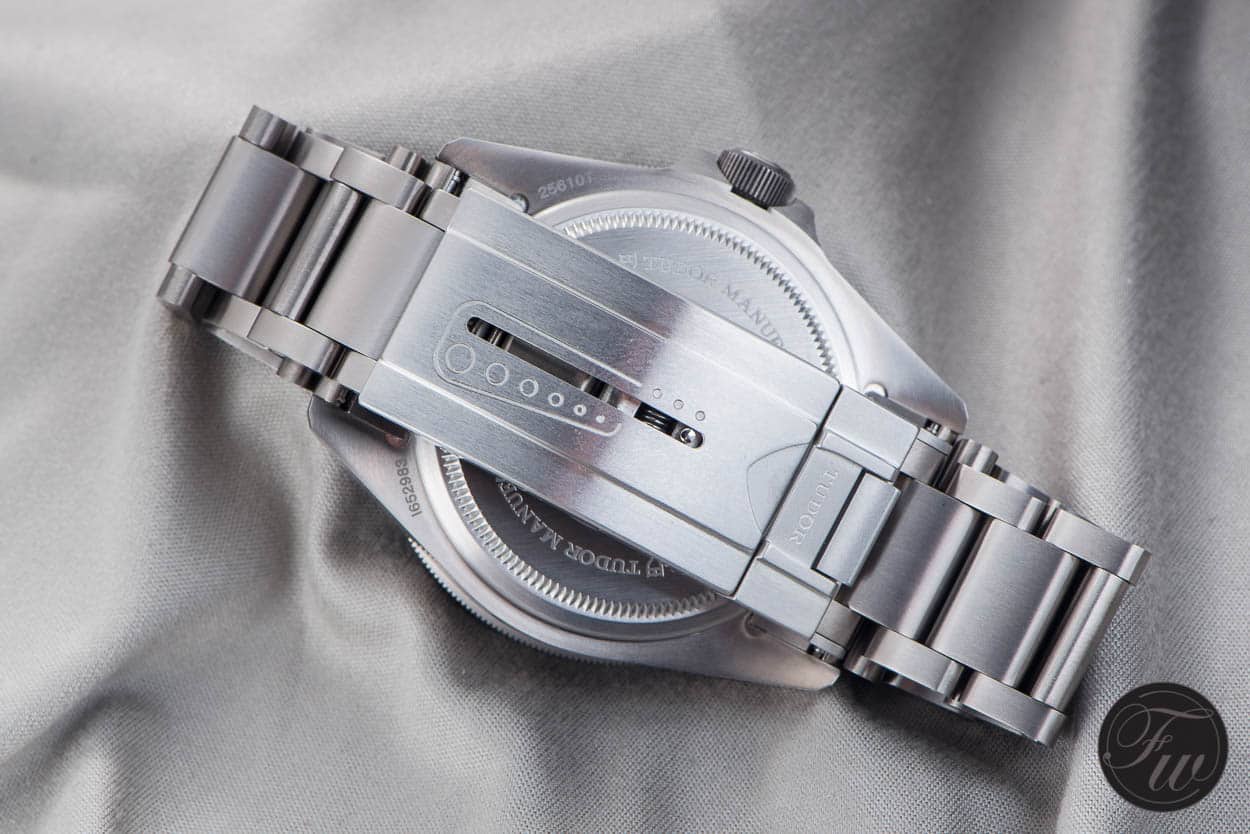 In-House Movement
Just like the regular Pelagos, the Tudor Pelagos LHD also comes with an in-house movement caliber MT5612. Or, as Tudor refers to it, the MT5612-LHD. It is also chronometer certified by COSC, tested in the positions in which it is worn with the winding stem on the left. This movement has a 70-hour power reserve and a silicon balance spring. A work-horse movement. Tudor introduced the MT5612 in-house movement, before that, they used ETA based movements. Interesting is that, where other brands use it as an excuse to double or even triple their prices, Tudor only increased the retail price with 500 Swiss Francs for this in-house movement. Kudos to Tudor.
Faux-Patina
The dial of the Tudor Pelagos LHD is very handsome. The matte black dial had an outer minute track and shows a lot of depth. The date window is a great example of how it should be done. Not a simple rectangular cut-out, but one with depth and partly overlap with the sloping minute track. The triangle, square and rectangular minute hour markers are large and have this nice faux-patina color. These markers and hands correspond with the hands on the vintage Tudor Submariner models of course.
Red Text
The area between the center pinion and the 6 o'clock marker have quite a bit of writing. Not to everyone's liking we've noticed. The last line almost touches the hour marker, there could have been a bit more space there in our opinion. However, the five lines of text doesn't bother us much in general. To someone who is fairly new to watches and has no historical knowledge on Tudor the line 'self winding rotor' might come across as strange. The 'Pelagos' writing is in red, which we first thought was a bit too much to be honest. However, Tudor ensured us that this was done in the 1950s as well on some models. Not only the hands and hour markers are luminous, also the markers on the unidirectional bezel have been applied with lume. The date disc has black and red printing of the numerals (roulette date wheel).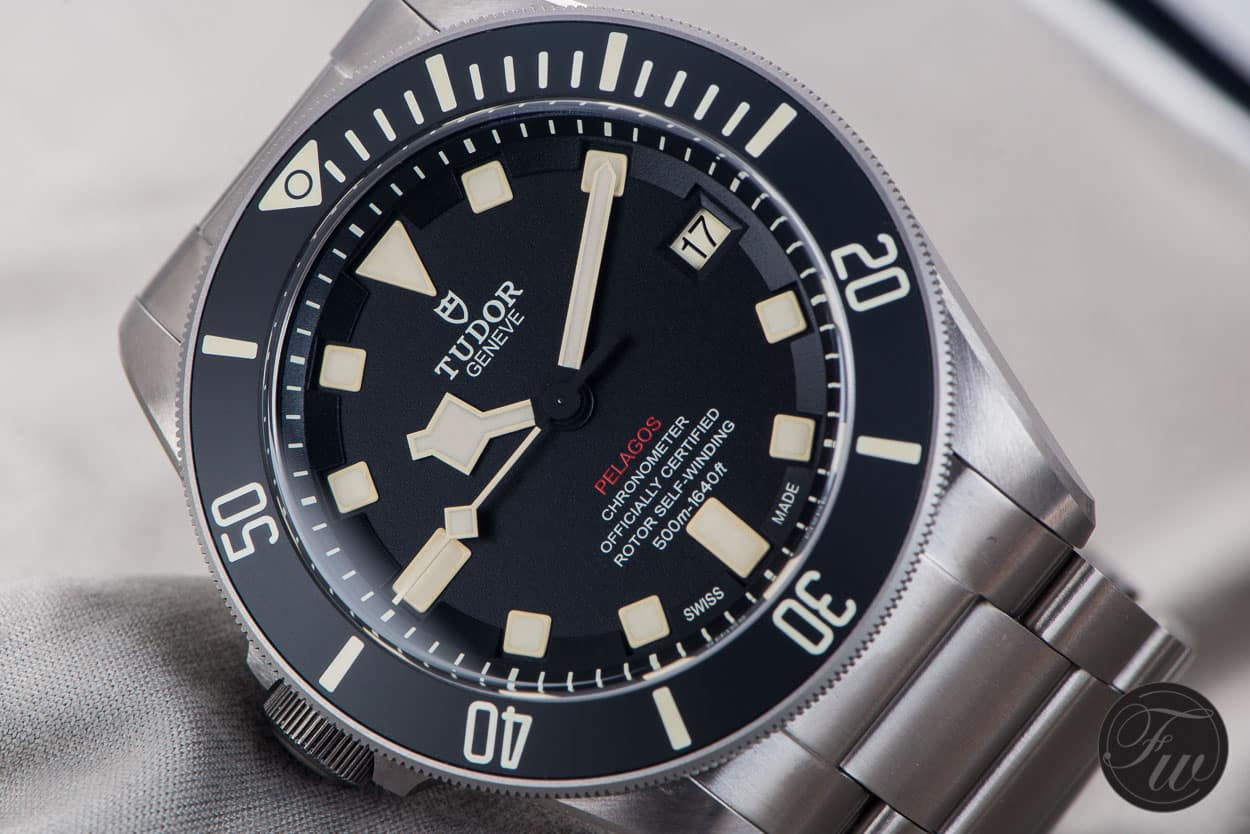 Titanium Case and Bracelet
The use of titanium reduces the weight with 60%, compared to stainless steel. The weight of the watch is still significant, but very comfortable indeed. The diameter of 42mm feels good and the thickness of the watch (no specification available at this moment) is fair as well. It is thick, but for a divers watch that has a WR rate of 500 meters, it is acceptable and still comfortable. I also love the big facets on the lugs of the Pelagos, it looks really nice. There is an automatic helium valve at 3 o'clock that makes the Tudor Pelagos LHD useful for saturation divers. The bracelet is also titanium. The matt finish of the titanium ensures its tool-watch looks. Needless to say that the titanium crown is screw-down to ensure water resistance.
Numbered Edition
The Tudor Pelagos LHD is not a limited edition, but a numbered edition. Tudor couldn't tell us yesterday what the highest number will be of course, but based on the size of the number on the back, there probably won't be too many of them around. Actually, if they go higher than 999 that probably need to change the size of the font already. However, we can't imagine they will keep the number as low as that. Just like all the other press events around the world yesterday, they showed us number 238. Perhaps this is not how the actual production watch will look like regarding size of the numerals.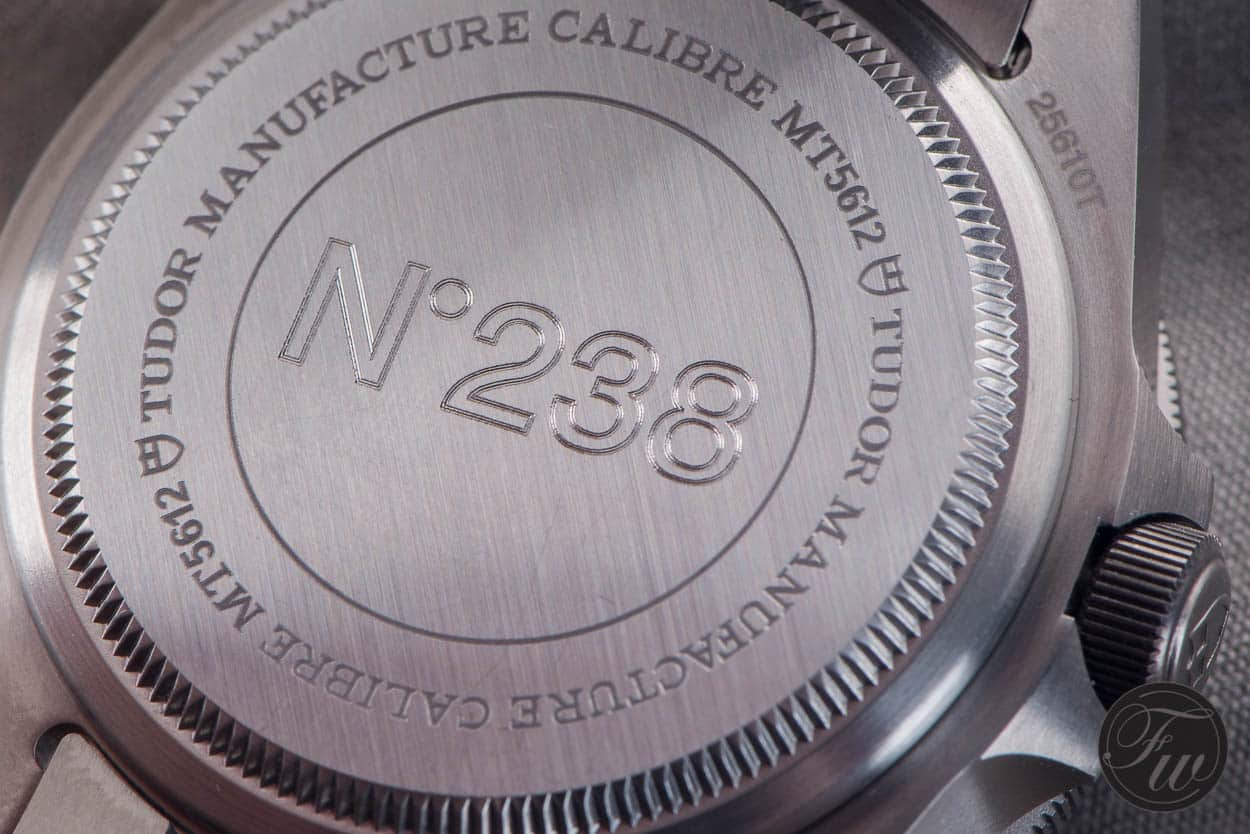 Picking a Number
From what we were told, you can pick a number as long as it is available via the authorized Tudor dealer. It isn't possible to order a specific number directly from Tudor.
Some Thoughts
In my opinion, Tudor is a cool brand that seems to listen to its market. They are able to introduce very neat watches year after year. The Tudor North Flag might be the exception, but the Heritage Chrono, Black Bay, Ranger and Pelagos were received very well in the last couple of years. If I had to pick one for myself, the Pelagos would be definitely the one.
Pelagos Models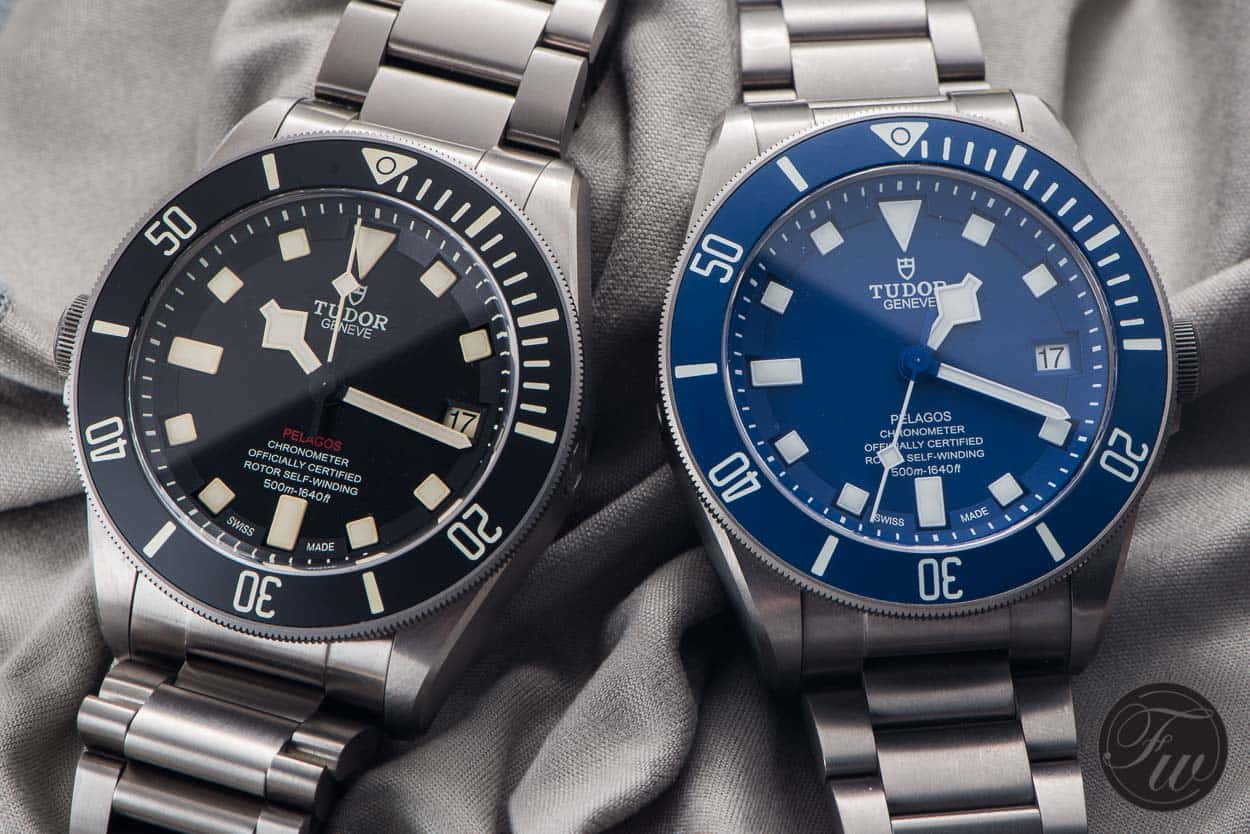 The Tudor Pelagos is a watch that gives me the feeling of a real tool watch. Even though it grabs back to some details from their heritage, it is a modern timepiece that has all the ingredients for a great daily wearer. To be honest, when I put yesterday's introduction on my wrist I felt the same excitement that I did approximately 10-12 years ago, when a lot of other brands were still in this exact price range. When you were able to buy a great Rolex, Omega or IWC for around 3500 Euro (yes people, that wasn't too long ago).
A Better Watch
In this price range, the aforementioned brands left it and today you have to focus on different brands for that kind of money. Tudor offers a lot of bang for the buck with the Pelagos (LHD), and the quality is really there. With today's technology and quality controls, it is probably a better watch than what you would buy 10-12 years ago for this kind of money.
What About The Not So Good Things?
I started this article with 'Good Things First'. So what about the things that aren't so great about this watch? To be dead honest with you, there aren't any significant ones. You could debate about the thickness, the 5 lines of text on the dial or even the red writing, but you can't say these are possible deal breakers or that they make this watch less great. It is a very cool watch, a perfect daily beater if you want, with a price tag that puts a number of other brands (and watches) offside, as used in soccer terms. The only downside may be the fact that it is a numbered edition, and thus limited production. Even during our lunch with Tudor and some other members of the press yesterday, the orders came in rapidly.
Availability
Unlike many other brands, Tudor is able to deliver it to the market right after the introduction. This is a good thing, as some brands need over 8 months (sometimes even more) to make a new introduction actually available. To many consumers the 'moment' is gone if they have to wait that long for a watch they are excited about. The Tudor Pelagos LHD reference 25610TNL is available as of now. This in-between introduction (between the official exhibitions) has a retail price of 4200 CHF which is equal to the regular Pelagos model.
More information via Tudor on-line.

Robert-Jan Broer, born in 1977, watch collector and author on watches for over a decade. Founder of Fratello Watches in 2004.

Latest posts by Robert-Jan Broer (see all)