Five Cool Uni-Compax Chronographs Under $1000 — Baltic, Unimatic, Studio Underd0g, And More
The meca-quartz squad battles mechanical micros for supremacy
I used to be exclusively a time-only watch lover with a strong passion for divers. After I got the first version of the Baltic Bicompax, however, I discovered a world of balanced complications. I still find three-register chronographs very busy, but even that has changed after recently swapping into a GMT chronograph. So what's changed? I have a crush on cool uni-compax chronographs, and my wallet knows it all too well.
Well, the chronograph function is a difficult complication to master, and good ones are not cheap. The haptic delight of clicking the pusher then resetting it has a charm of its own, and so do the dials. I will admit to having a deep affinity for the symmetrical look of a uni-compax, often mistakenly referred to as a "bicompax". This is the first of three stories with a budget in mind, the next one being $5000. That might be what many of us expect to pay. But for under $1000, you'll find a wide choice in microbrand delights, both mechanical and meca-quartz-based. So, without further ado, here are five cool examples.
Unimatic UC3
Watch collaborations were a huge thing in 2021, and Unimatic had its share. But Unimatic is still a fresh breeze of modernity in a world of nouveau vintage. The brand is moving upmarket with its new Swiss Series, but the UC3 chronograph is a classic. With its smooth, brushed case and minimalist aesthetics, the UC3 is core Unimatic. Limited editions from the Milanese design studio go for double retail, cementing their hot-drop reputation, but this is value.
It's a 300m-depth-rated tool, and the 41.5mm bezel (40mm case) is comfortable. Unimatic value constitutes more than a sum of parts, including the budget Seiko VK64 caliber. Once you've embraced the notion of meca-quartz, take in the matte black cool of the fat-indexed UC3 dial. Enjoy its tough demeanor and daily-wear accuracy, and you might become a collector of Italian post-modern wristwear. Pre-order the individually numbered UC3 on the Unimatic website for €525.
Brew Metric
I did fall in love with uni-compax designs for their balance and symmetry, and the Brew Metric has neither. I would consider the Metric a very charming exception to my personal rule, as it embodies the bold colors and whimsical dial designs of the early '70s. In a delicate 36mm case with a slim 10.75mm thickness, it's dressy-cool. Once again powered by a meca-quartz movement, the VK68, the Metric is maximalist panache.
Thank God the dial itself is black, as there is a lot happening here. A rainbow rehaut frames a colorful game of chunky indices vying for attention with a large 60-minute register at 10 o'clock, seconds at 6 o'clock, and those hands. Celebrating a decade of cool, the hour and minute hands are polished, split, and intricate. A black center line becomes white Super-LumiNova as the hands change color to a popping yellow tip. This charming pair is complemented by a satsuma-fresh seconds hand matching the segments on the 10 o'clock register. Wild value at $395, it's already sold out. Sign up to get notified of Brew's next stock-up. The Metric might just be the color you need in your life.
Baltic Bicompax 002
The first edition of the Baltic Bicompax was my entry to the cool world of chronographs and led me down a slippery slope. The silver version on a blue leather strap has a distinct JLC sector vibe, but for me, the strict formality of the black-dial version on a beads-of-rice bracelet is a clear winner. Baltic's 38mm case is pure wrist comfort, with its brushed step-case design. The case itself borrows clues from the 1940s to create a formal elegance that makes €600 a no-brainer.
What you get is a pad-printed sector dial with sharp silver detail work on a brushed black-charcoal surface. The intersecting lines and circles are a perfect world of symmetry, only broken by the crosshair running small seconds dial. It's a discrete way of creating a visual difference, and another sign of the maturity of Baltic as a brand. Baltic's website lets you configure your strap choice, and while it starts at €540 on leather, the steel beads-of-rice bracelet is lusciously soft. Any reservations about the Seagull ST1901 manual-wind movement are easily rebuffed by Baltic's insistence on French testing and assembly.
Lorier Gemini
Lorier Watches is good at vintage-infused sports, and the brand's flat-link bracelet is the best in the microbrand sphere. All-brushed and utilitarian, it still manages to be sleek, tight, and very comfortable. With solid, well-machined parts, it has screw pins and a rounded underside to each link. The dials of the Gemini series are gloss black, white, or blue panda perfection. Personally, I'd like the snailed, recessed registers a bit larger, but the recessed design is sharp. Except for the indices being a bit flat and shiny, the design has the right clues without being an homage. This is where Lorier excels. A recognizable ST1901 movement ensures a super-slim 10.2mm thickness sans crystal and a 39mm case diameter. This is goldilocks comfort under the slimmest of slim-fit shirts. With its broad arrow hands, this is great value for $499. They sell out fast, though, so stay tuned to the Lorier website.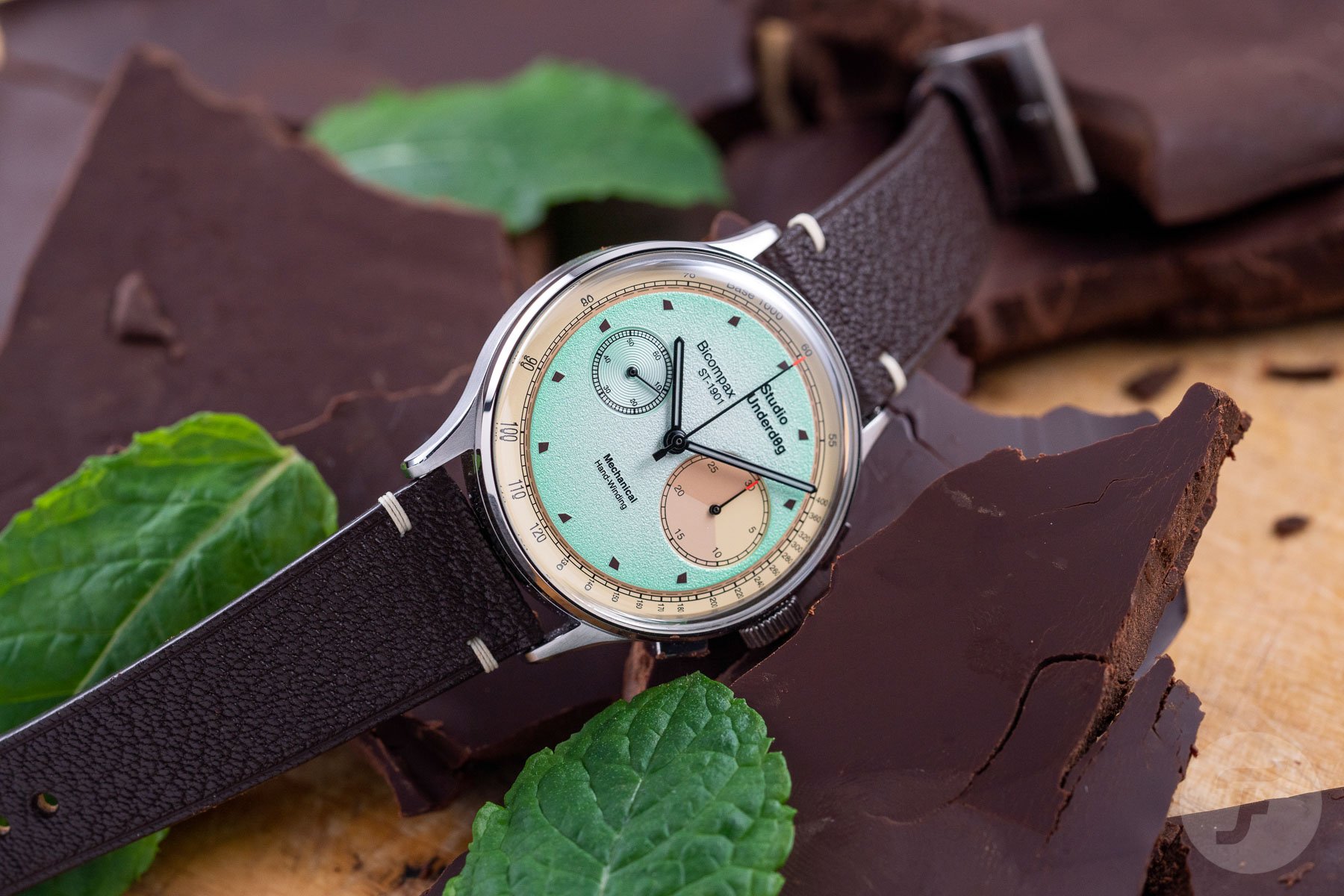 Studio Underd0g Mint Ch0c Chip
What better way to round off this story than with another ST1901-powered watch with a twist? Richard Benc's Studio Underd0g (yes that's a zero) has a particular take on the genre. This includes a slim case design, wild colors, and a superb big-eye asymmetry. Setting this 38.5mm piece apart is an emphasis on humor, delicately juxtaposed with a sharp eye for design. This balance could make any brand stumble, but Studio Underd0g pulls it off with panache. Stay tuned to the brand's website, as the Mint Ch0c Chip is coming back into stock, and it's lickably fresh. A gloss textured dial with a breezy mint flavor sets the tone. The hand-finished goatskin chocolate brown strap and whimsical chocolate chip indices just work. With the beige-toned rehaut and 9 o'clock register, suave is the name of the game. Working its magic to cheer up even the grayest, dullest day, this is £440 well spent.
What say you?
How many registers does Sir prefer, and what are your views on meca-quartz versus mechanical hand-wound delights? Let us know in the comments, and don't be shy.
Follow me at @thorsvaboe