Unlikely Vintage Watch Showdown: Rolex Precision 6426 Vs. Citizen Homer
One watch sells for 20 times the other — is this even a competition?
Today, I'm excited to bring something a little different. I'm calling it a "vintage watch showdown," but instead of two obvious competitors, I've decided to pair some very unlikely foes. In one corner, it's the Rolex Precision 6426, and in the other, the Citizen Homer. Can the lowly contender from Japan even pretend to compete?
I've loved cars for even longer than I've adored watches, and that's a long time. As an automotive fan, I was a highly devoted subscriber and reader of all the weekly and monthly car magazines. Comparison tests were pretty standard, but I loved the occasional "David versus Goliath" showdown. In fact, one of my favorites came when the Chevrolet Beretta GTZ was pitted against the BMW E30 M3. It was an unlikely matchup, but the Chevy held its own (good luck finding an intact one today!) to a large degree. That's what we have here today because the pedestrian Citizen Homer is about as far away from the ritzy Rolex Precision 6426 as possible.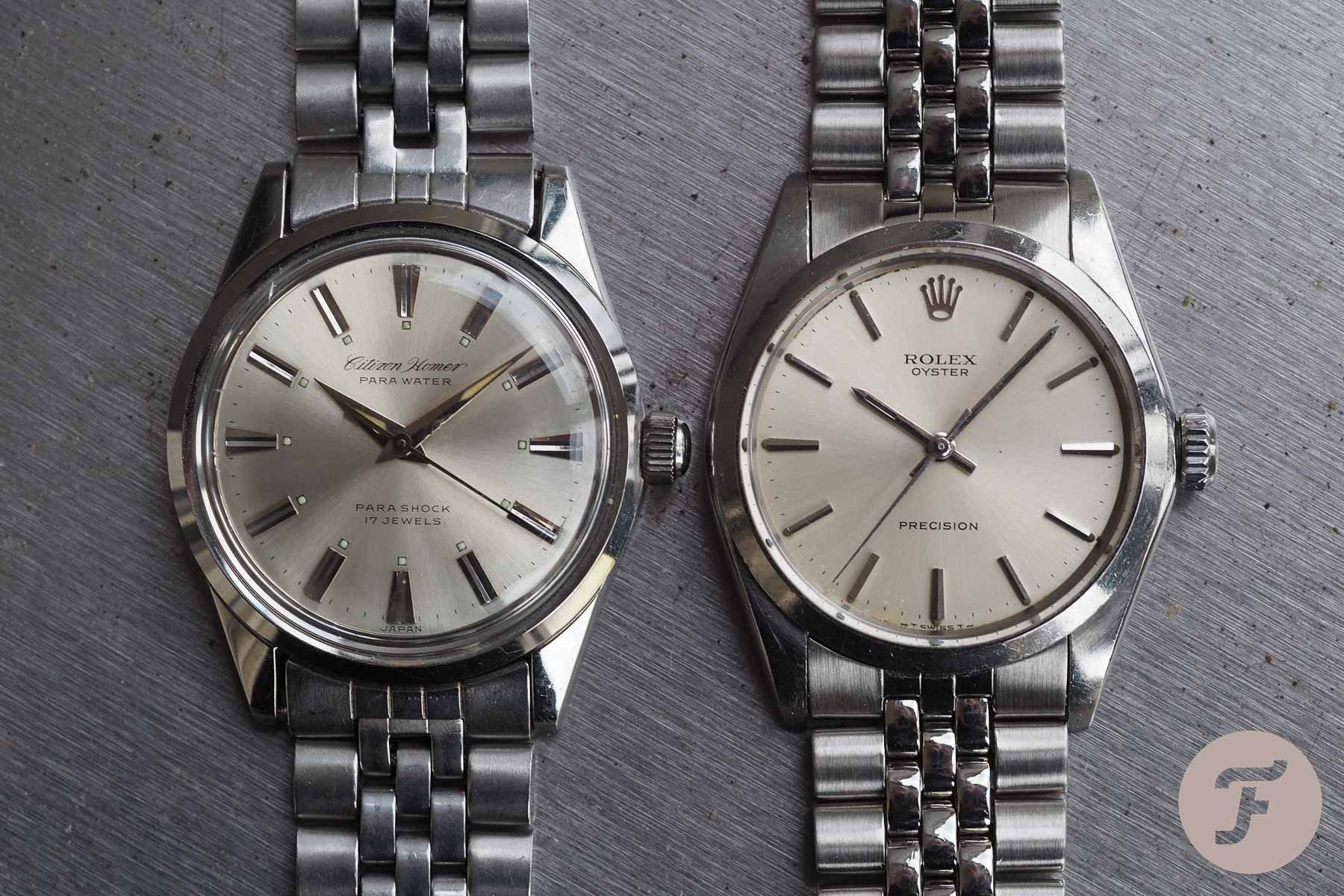 Why choose these two watches?
One could easily ask how I chose these two watches for a friendly competition. I have a couple of reasons. First, the Rolex Precision 6426, which dates to 1970, is a new acquisition, and I wanted to review it. Doing it unconventionally sounded like a good idea. Second, I really love the 1964 Citizen Homer, but it's a tough watch to research. So why not review it purely on its merits and position it against another watch? Next, the Precision was basically the entry-level model from Rolex. Was it any good, or was it/is it expensive simply because of the name on the dial? Finally, I love unheralded vintage Japanese watches, so why not throw one into the spotlight?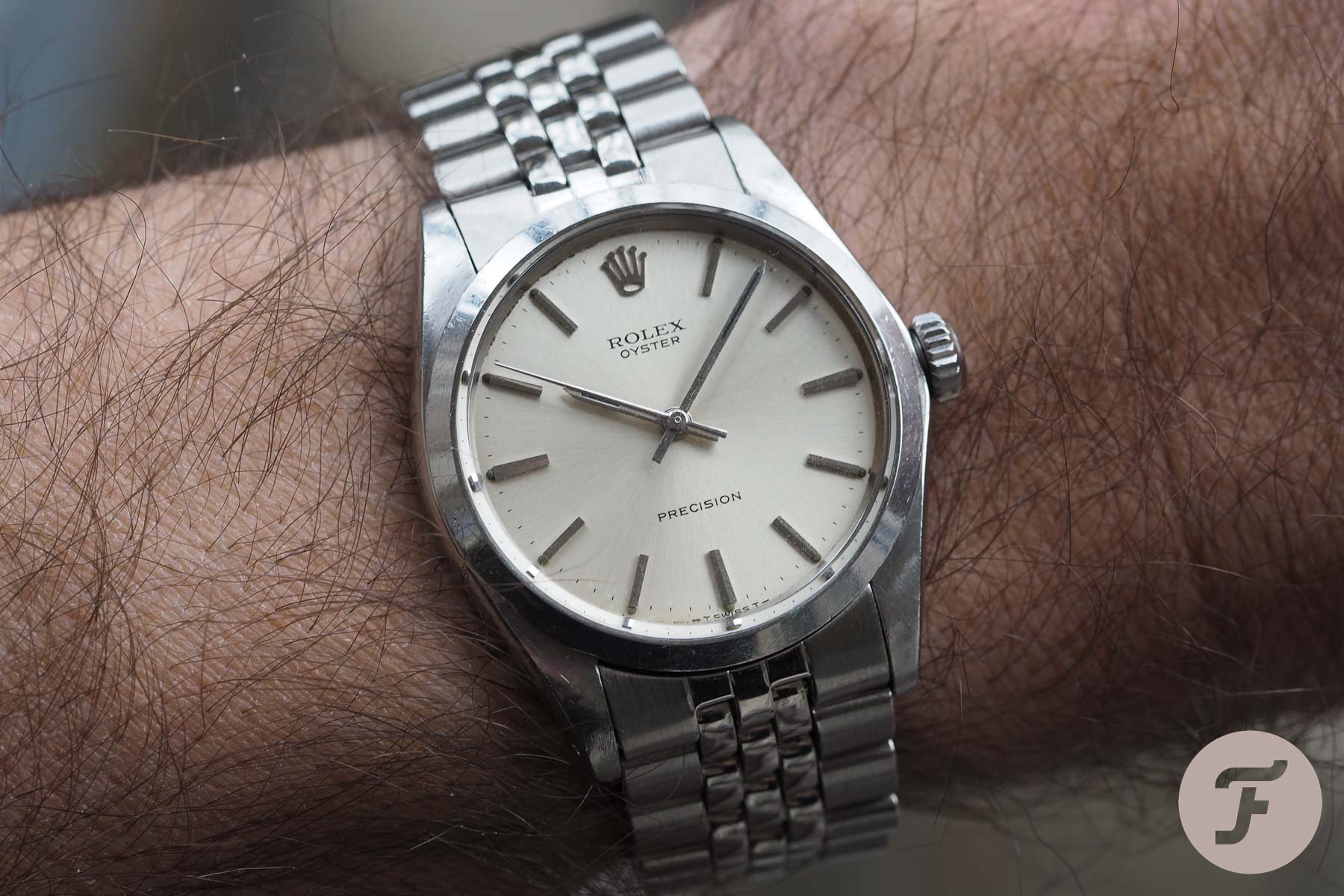 Some final ground rules
I bought the Rolex Precision 6426 just after Christmas from our friend Eric Wind. It was a watch that I had been eyeing for some time, but seeing it in person made the sale. I've worn it heavily since then, and I really like it. A hand-wound Rolex is cool enough, but add in a screw-down crown, and it's such a fun oddity. While I was wearing it, though, I couldn't help but think of other watches that I own that are similar in intent. I own a lot of vintage Citizen watches, and I wanted to select a piece in my collection with a manually wound movement, a lumed dial and hands, a screw-down case back, a silvery dial, and an acrylic crystal. The Homer fits the description perfectly.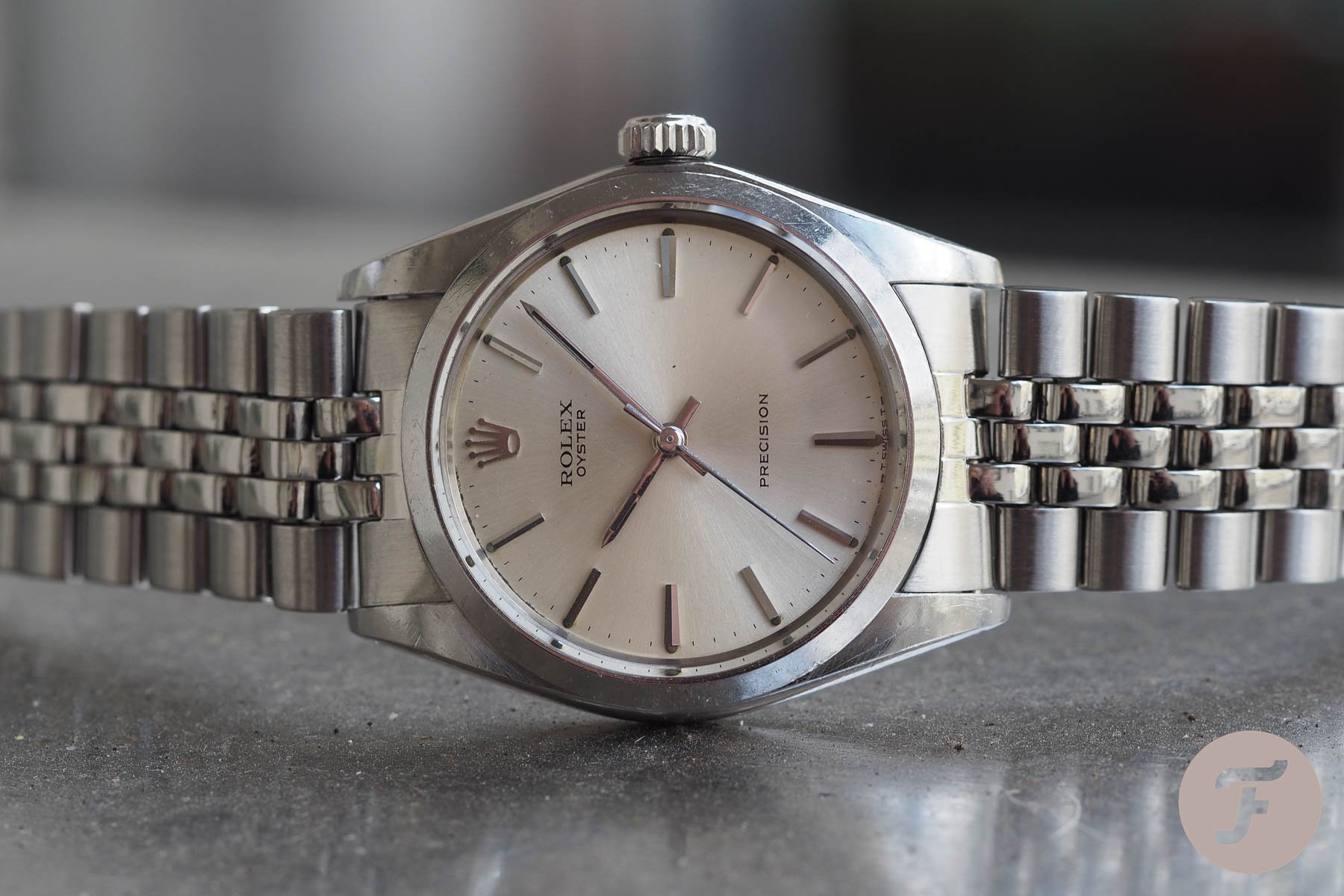 The Rolex Precision 6426
The Rolex Precision 6426 that entered my collection actually stems from a long-seated desire to add a hand-wound Rolex. That started back in 2012 when I first saw the Precision 6694 Oyster Date model in a secondhand shop in London. Since that time, I've focused on other watches, but when I saw the non-date variant at Eric's, I decided to make a move. The 6426 was quietly made from the '50s into the '80s and was offered as an entry-level model. The major tell that this watch was not a fancy piece is its lack of a chronometer rating.
Still, the Rolex Precision 6426 is a quality piece with so much of the goodness that people love about the brand. It has a strong Oyster case, a screw-down crown, and a screw-in case back. Inside, a 17-jewel caliber 1210 kicks along at 18,000vph and is known to be incredibly robust and accurate. Plus, it has an extremely long power reserve of 58 hours! For modern-day collectors, one challenge is the 34mm case diameter, but the 42mm lug-to-lug, lack of a date, slim 10mm thickness, and 19mm lug spacing make this watch wear more like a 36mm Rolex.
Now, what I can tell you after nearly a month of ownership is that Rolex Precision 6426 is such a cool, under-the-radar watch. It's definitely a Rolex, but there's something so unique about the need to wind it every two days or so. In fact, it's easy to forget because one sees an Oyster case and thinks "automatic!" It's light yet strong and has all the looks of a traditional Rolex, but with a price of roughly €3,000 these days, is it worthwhile despite its lack of complexity?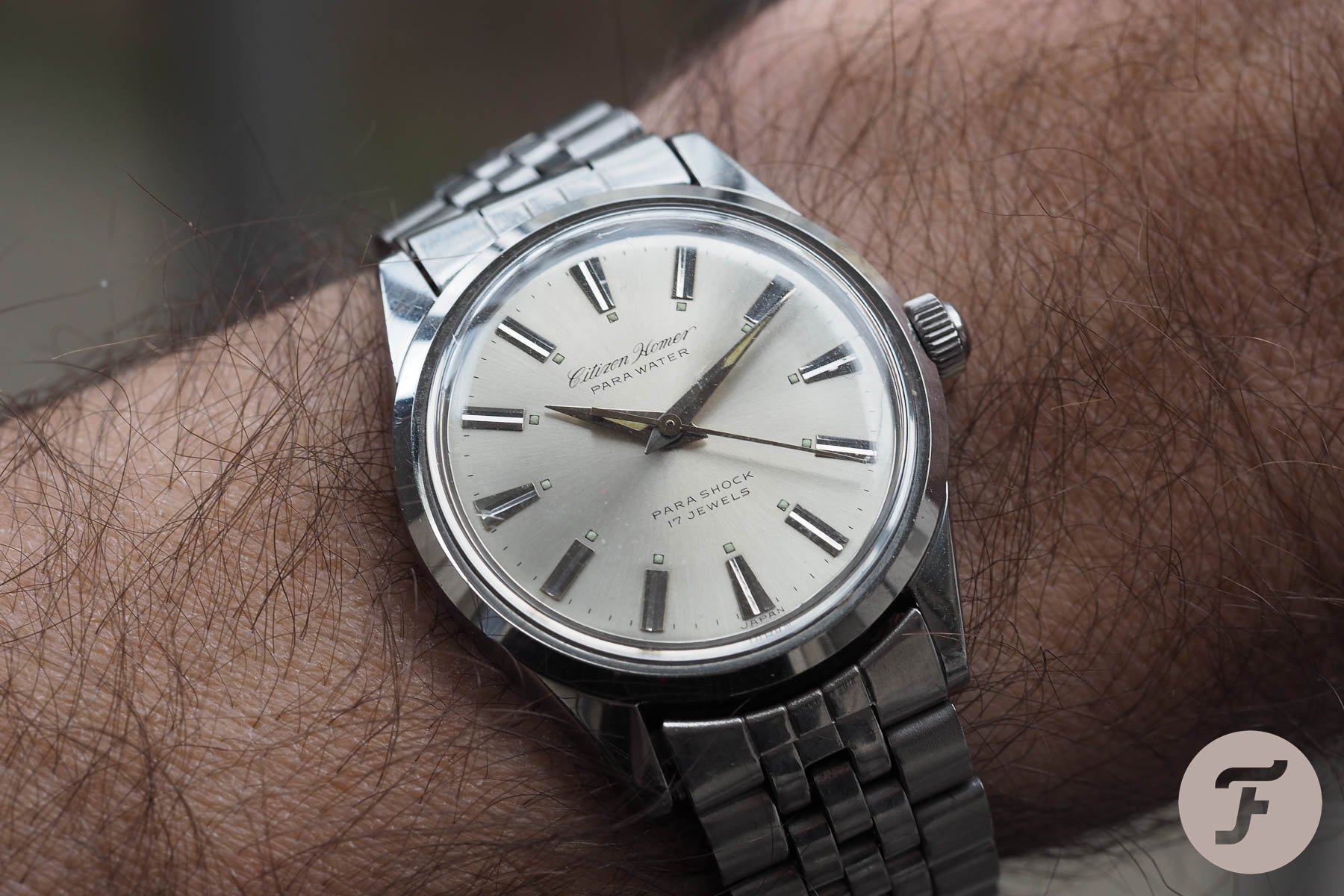 The Citizen Homer HO1307051
Unlike the Rolex Precision 6426, the Citizen Homer is a difficult watch to define. What I mean by this is that a cursory glance at any auction site will show hundreds of different styles under the Homer moniker. Therefore, the Homer you're viewing here wasn't some sort of legendary model that stood out among the rest of the lineup, and it was likely changed after a year or so of production. The Japanese companies, Seiko and Citizen alike, were famous for frequent catalog updates. Still, reference HO1307051 is a lovely one in my book, and it has a lot of qualities that make it desirable.
The Citizen Homer features the caliber 0200/01, which is a 17-jewel manual-wing movement that runs at 18,000vph and has a power reserve of roughly 42 hours. Like the 1210 caliber in the Rolex, it's a solid runner that keeps good time. It even features some surface striping that makes it feel a little more special than its mass-produced origins might suggest. Size-wise, the Citizen is 35mm in diameter, 42mm in length, and has a thickness of around 10mm. Yes, it's just about the same as the Rolex.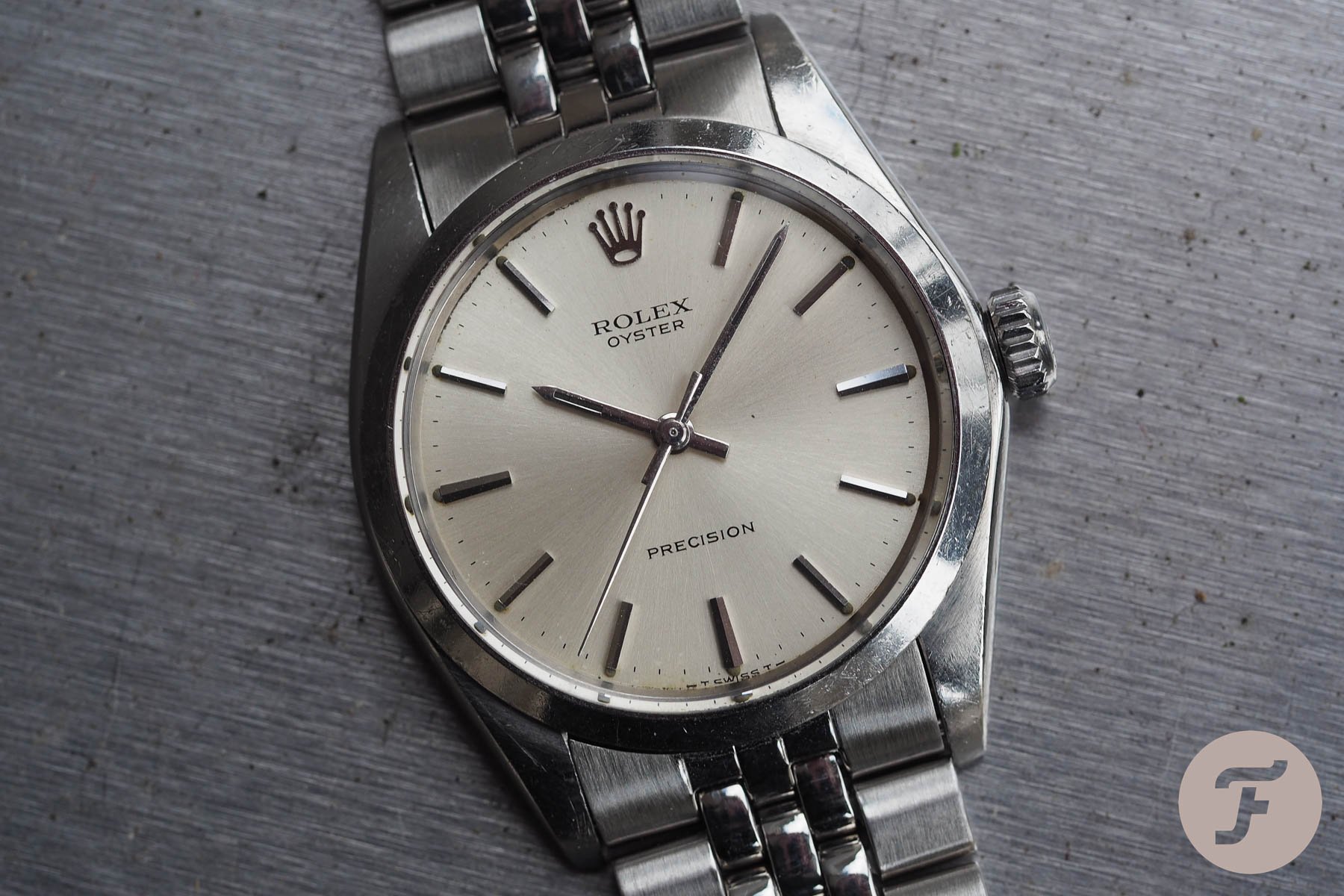 Dials — a tough race to call
The Rolex Precision 6426 has a silvery sunburst dial that is about as pure as it gets. There's no mistaking it for anything but a Rolex, especially with the applied crown at 12 o'clock, but it's wonderfully spare without all the usual chronometer text. Even the lack of the word "Perpetual" helps clean up the overall look. The hands contain tritium, and there are small dots at the outer edge of the applied indices. They've gone dark in this example but were once subtly practical helpers in the dark. Everything here is beautifully finished, even if age has taken its toll to some degree.
My example has a service acrylic crystal, and I'm still toying with whether to buy an original rounded T25 Tropic. I actually like the height and presence of the edgy service version — for now. In the end, the 6426 has a face that translates to Rolex boiled down to its most basic elements. Clarity and quality are quietly on display here, and even if the watch looks older, it isn't out of place today.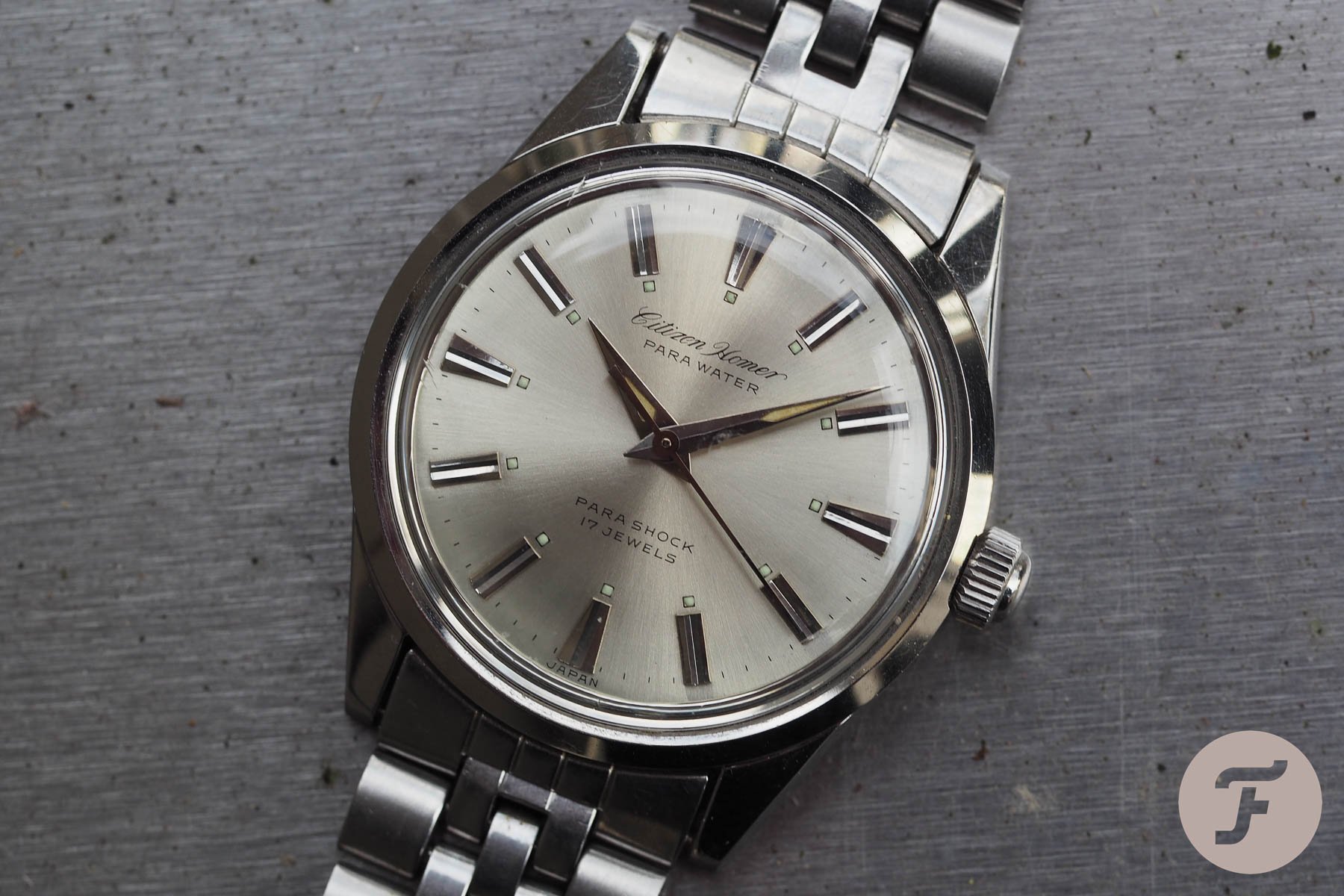 With the Citizen Homer, the look is decidedly more vintage, but it isn't frumpy. In 2023, a watch like this could also hit the shelves and few would declare it out of style. The Citizen diverges from the Rolex path with its use of more than one font style, but it's still a relatively clean dial. Yes, the applied chevron-shaped indices contain facets that play with the light. The lume pips sit on the inner edge of those indices, and that serves to draw the eyes to the center of the dial. The lumed hands are also larger and dagger-shaped, which lends a slightly sportier look to the watch in general. Still, it's beautifully finished and the silvery sunburst dial would easily dress up or down in the same manner as its Swiss competitor. A thick and relatively tall acrylic crystal adds a nice warm tone to the icy silver dial.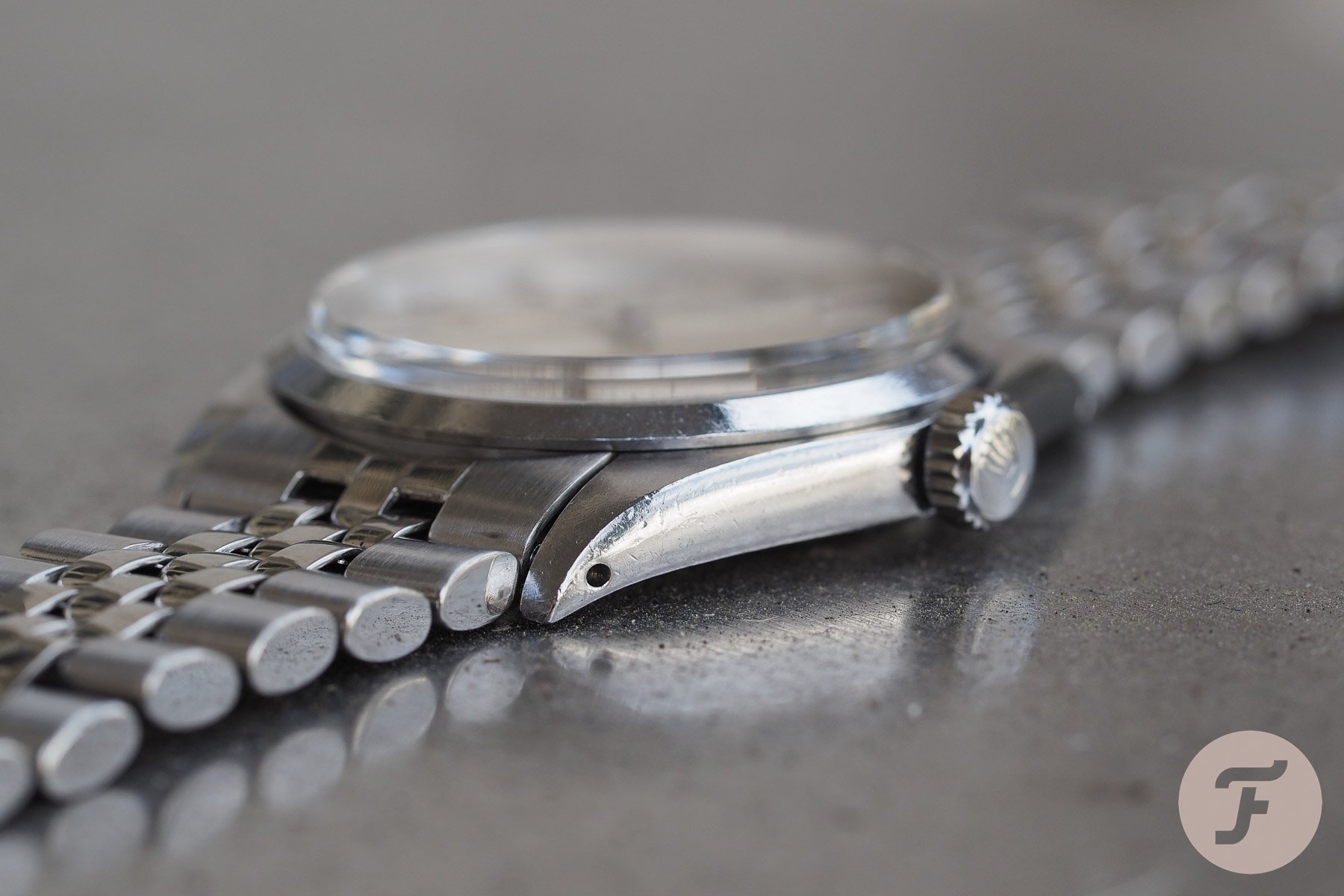 Making a case for… the case
Seriously, how did Rolex stumble upon the basic design of the Oyster case and turn it into something that is so clearly etched into our minds? It's nothing fancy, yet there it is as the shining example that most companies could only wish to reach. In fact, a Rolex case may look simple, but it has some nice curvature to it, especially on the case sides, that proves it's not a cheap ordeal. The Rolex Precision 6426, even if it is an entry-level model, does as well, and it's a thing of beauty. In fact, I like it even more on this model because it's so thin. Plus, on this exact model, the case appears to be unpolished, evidenced by the sharp, drilled lug holes.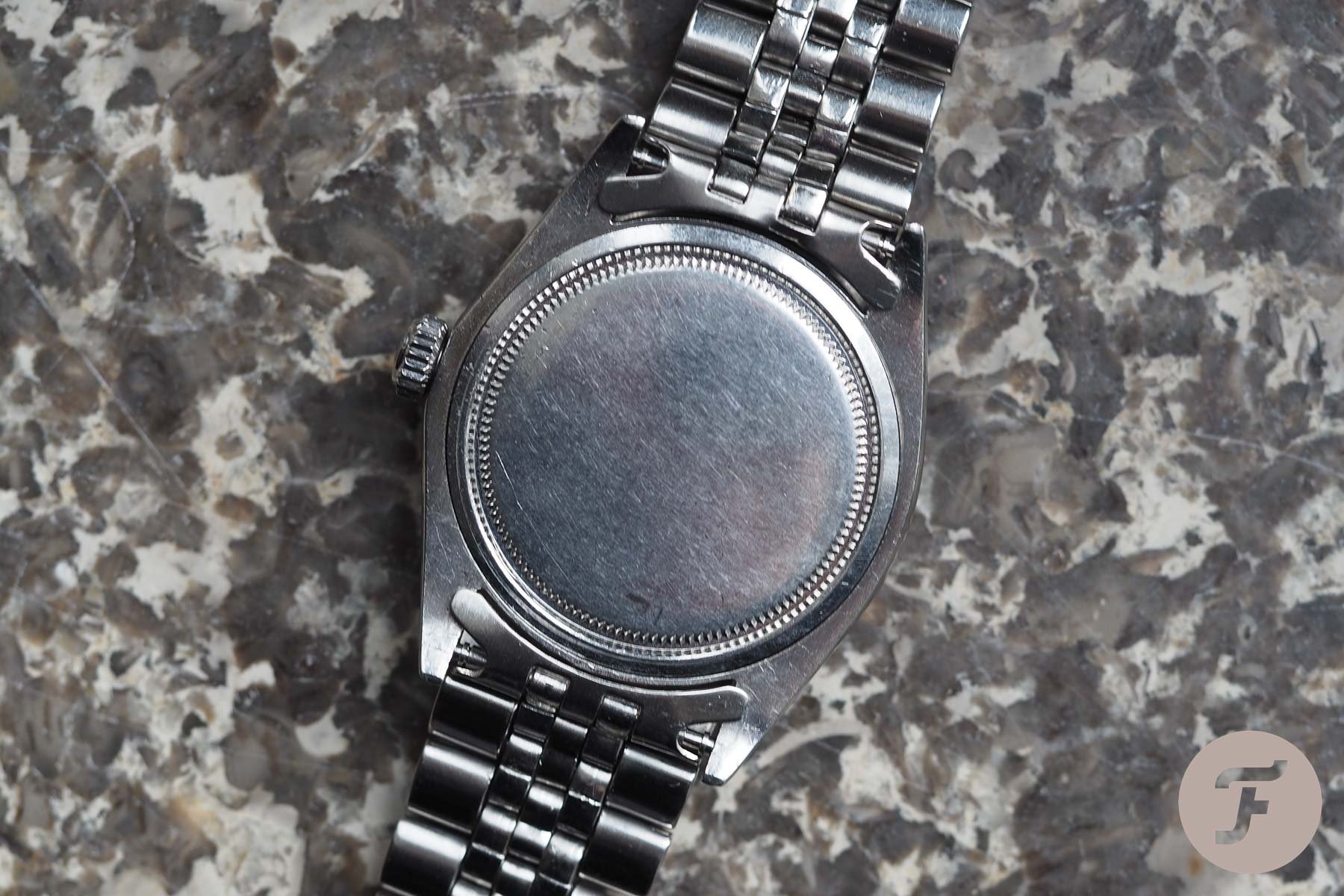 As far as other details, Rolex includes a signed screw-down crown. The size is nice, and it allows for easy winding and setting. When we go to the case back, it's the usual Rolex "reverse mullet." You know, business in the back and party in the front — or something like that. This watch has the signature plain screw-in case back that exudes a sort of "bank-vault tough" feeling.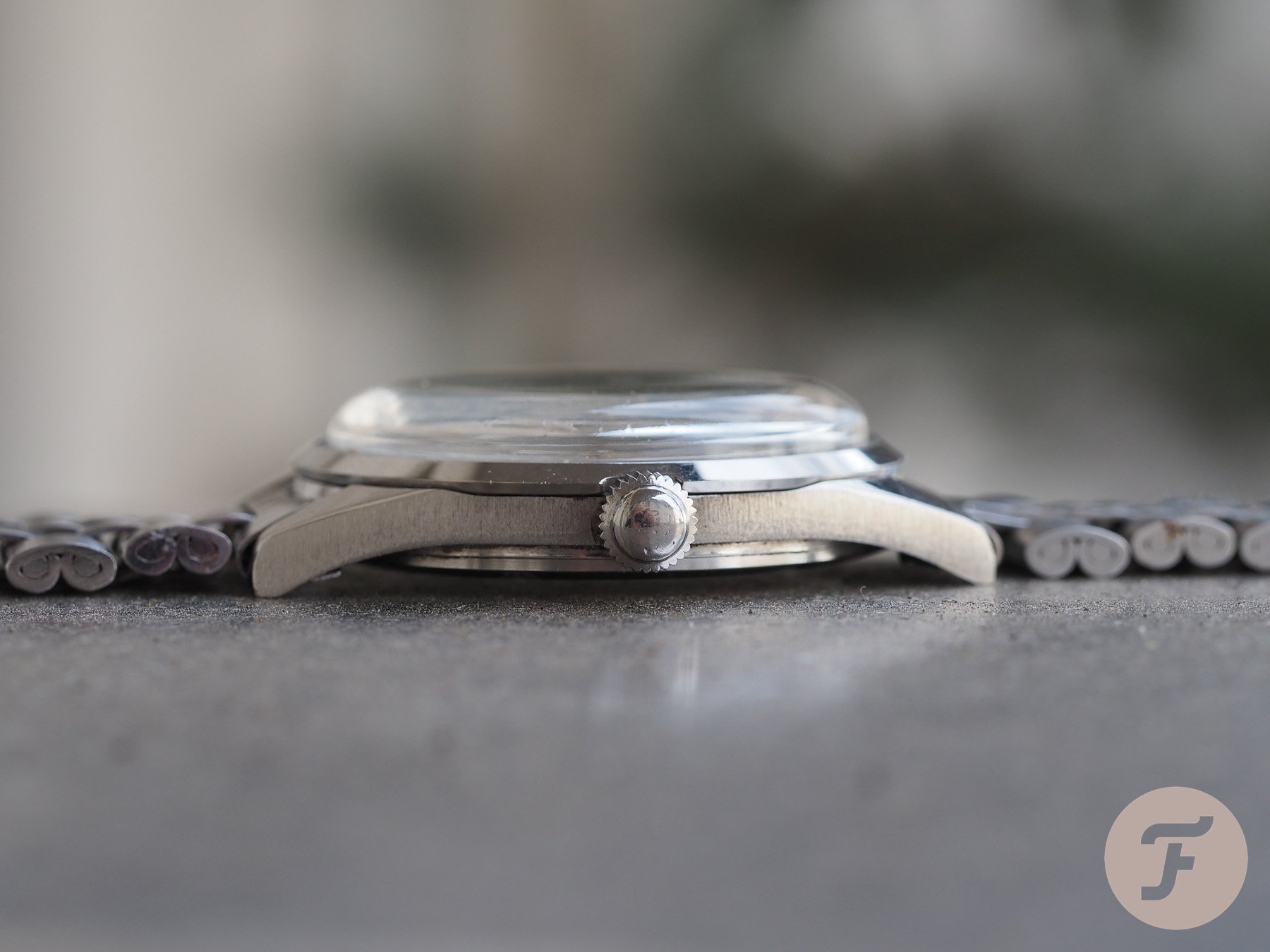 When it comes to the Citizen Homer, it also seems that we're looking at an unpolished specimen. From the top, the polished lugs look great and have relatively sharp edges. Signs of cost shaving appear on the case flanks, though, as the sides feature vertical brushing. It's an odd detail, namely because I own a flock of Homers and not all have this type of surface. One nice detail is how the case has recesses to fit the polished bezel. Citizen uses a large, plain crown that also makes winding a breeze.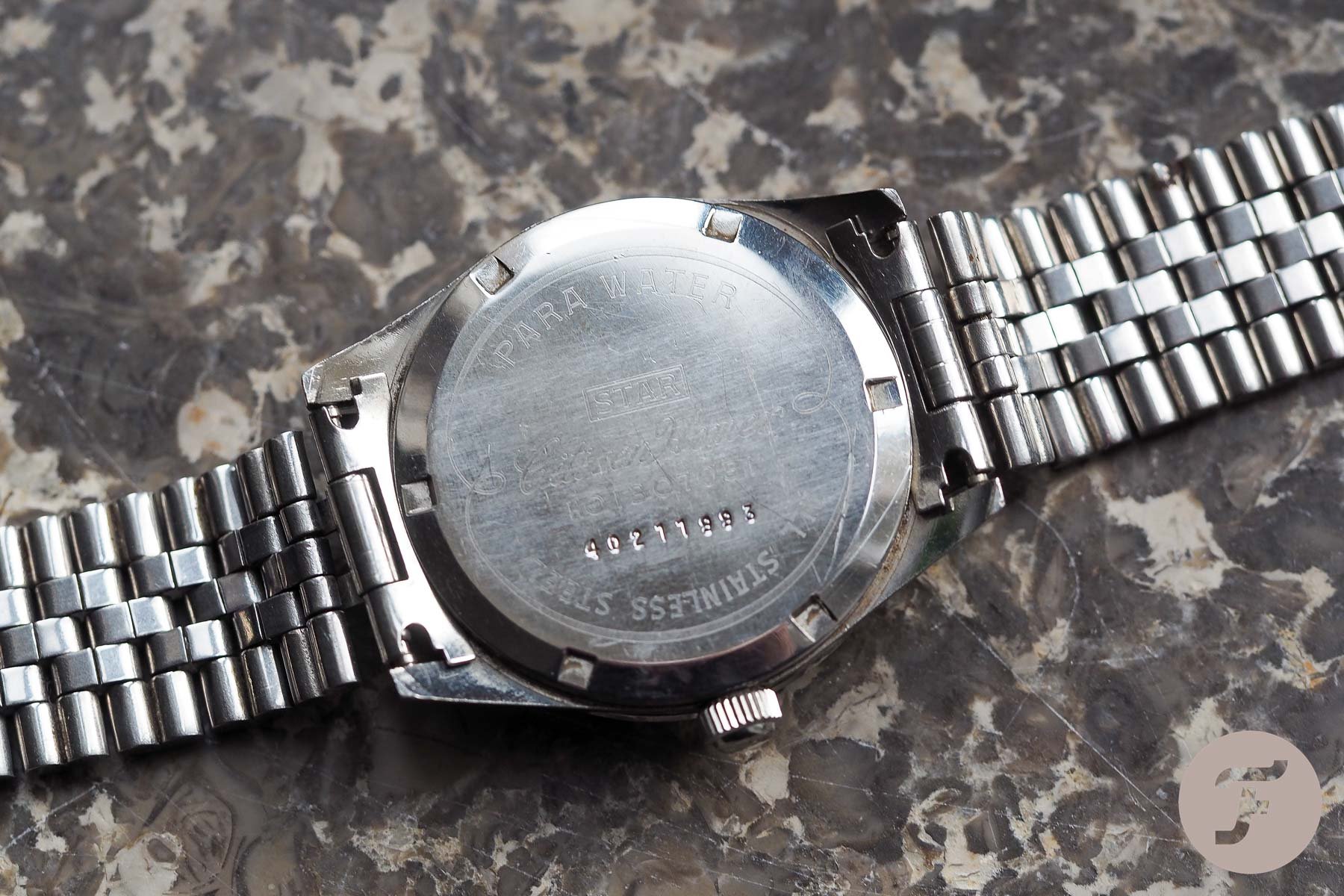 On the reverse side, the screw-in case back has loads of detail work and includes the serial number and model name. It's interesting that Citizen chose to spend money here rather than on the case sides.
Other factors
When I purchased the Rolex Precision 6426, I had my choice of a US-made Rolex Jubilee or a riveted Swiss Oyster. Most would say that the Oyster is the right choice because this Rolex has a smooth bezel. However, I couldn't get past the taper from 19mm down to 14mm. It looked ridiculous to me, and with my small wrist, the transition would have been even more dramatic. I opted for the Jubilee instead, and while this JB Champion-produced bracelet is in great shape, it's awfully notchy! I've done a fair bit of research on non-Swiss Rolex bracelets, and the company helped avoid customs with local suppliers, but the quality of one country versus another was often vast. This bracelet looks good, but it's not a world-beater.
On the other hand, the Citizen Homer has a lovely 19mm bracelet from Japan that's a near-carbon copy of the Jubilee style. Now, I will tell you that I pulled this bracelet from another Homer. The clasp is a bit more modern than the watch head, and the end links aren't absolutely perfect. That said, I've tried clasps from mid-'60s Citizens, and they're lovely. Citizen, especially if we compare it with Seiko, had its bracelet game in order during this period. This bracelet is smooth, supple, and doesn't pull hair. Sure, the edges of the links show the folding, but this bracelet just feels better. I realize that the fight isn't completely apples to apples with the US-made Rolex bracelet, but the Citizen is the clear winner here.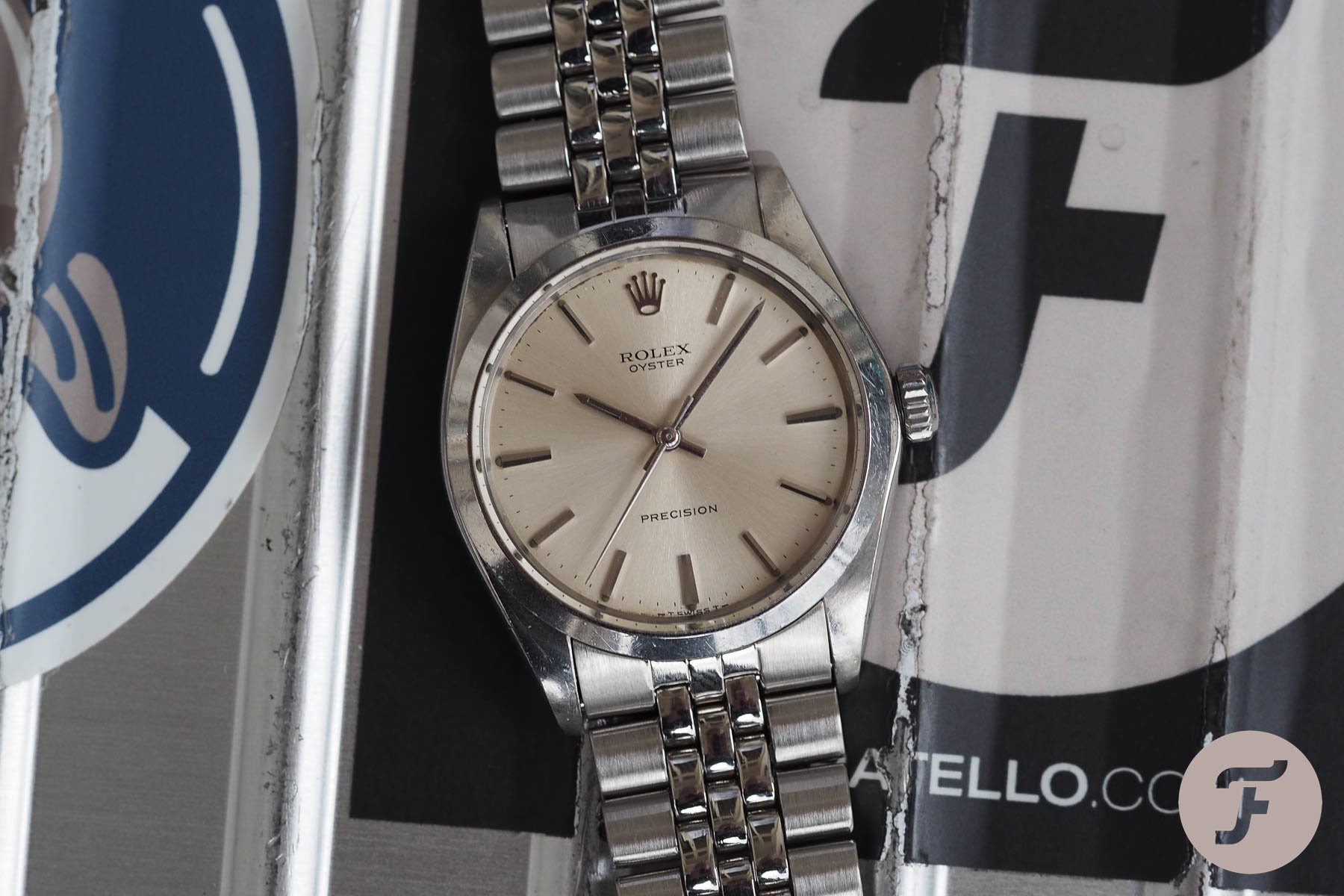 Overarching thoughts on each
I'll refer you to a recent Hodinkee article by Tony Traina on the Rolex Precision 6426. It's a lovely ode to this humble (for a Rolex, at least) watch, and he makes many great points. There's probably only one that I take minor issue with, and it's (I'm paraphrasing here) calling this watch an entry to vintage Rolex. It is an entry-level watch in terms of pricing and sheer availability, yet here I am, a somewhat seasoned collector, and I only just picked up a Precision. Blame it on the fact that these are plentiful, inexpensive, and relatively undesirable. Nevertheless, I see it as a mature piece. I've gone through my sports watches craze. Now, though, I focus more on watches that I actually like wearing because they're just really good watches. The Precision, along with pieces like the Datejust, defines that perfectly without being flashy. Watches like these are elemental, and therefore, I think they're ultimately more than the sum of their collective parts.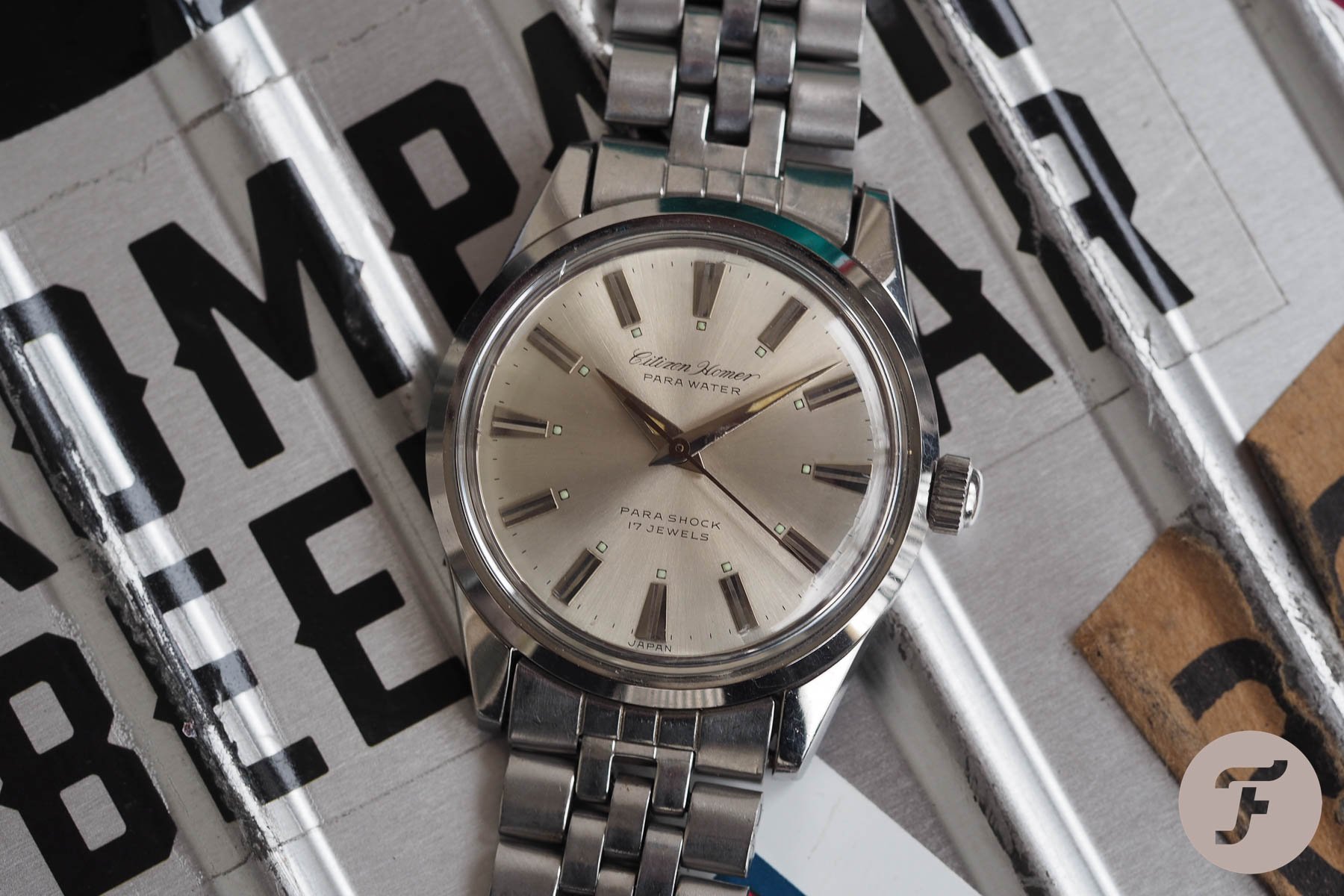 Meanwhile, the Citizen Homer just might be the archetype for the age-old mantra that it doesn't take a lot of money to get a really cool vintage watch. Of course, we know that any amount of cash can score something old. But for less than $200, getting a watch similar to this Citizen strikes me as incredible. Is it as finely finished or equipped as the Rolex? No. Rolex juiced the power reserve, worked the case, and provided a screw-down crown to separate itself from the masses. Yet the Citizen is arguably 95% of the way there for the difference of a nice vacation. On top of it, the Citizen is a real conversation piece, and finding one like today's model in this condition is definitely harder than finding a similar Rolex.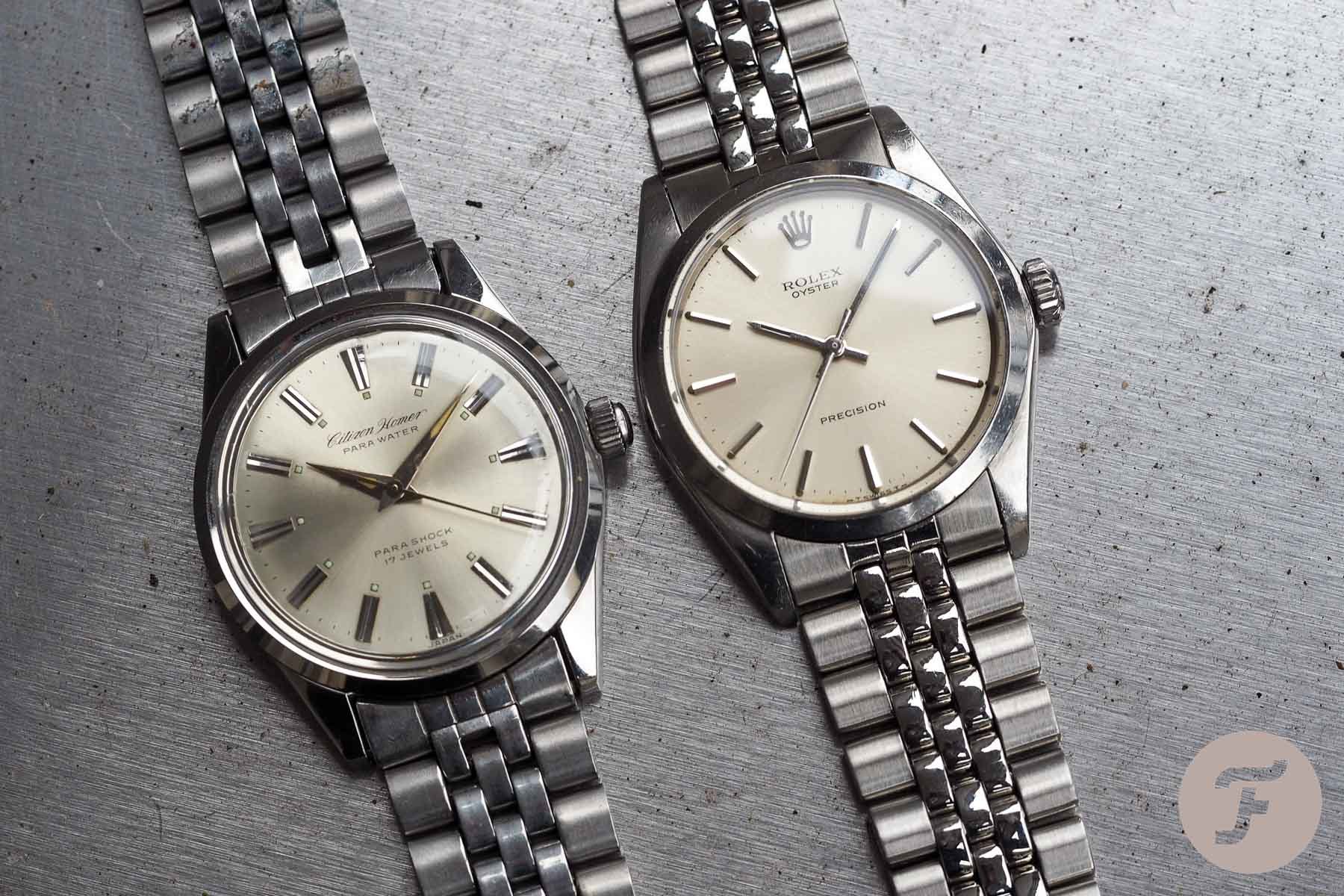 Final notes on the Rolex Precision 6426 & Citizen Homer
I do love vintage watches, and pairing the Rolex Precision 6426 and the Citizen Homer was a fun exercise. The watches have similar intent and can be worn in all the same scenarios. One has mainstream clout while the other is niche to the extreme. Both show that fantastic pieces are available at approachable price levels — i.e. an affordable Rolex is still epic, and an affordable vintage watch (the Citizen) can be lovely too. To be fair, these watches also share loads of traits with just about every other brand in the '60s into the early '70s, such as Omega, Grand Seiko, Certina, and others. I simply opted for a more extreme competition. Is the Rolex 20 times better than the Citizen? No, it isn't, but it certainly is a "nicer" overall package.
So, what do you think after seeing and reading about both of these watches? Is this competition closer in your mind, or does the Rolex seem 20 times better? Let me know in the comments.