Up close (but not yet personal) with the Concord C1 QuantumGravity
Not too long ago on this blog I put forth a healthy dose of skepticism (Feb 26:?Ǭ? New Detail Emerges on the Concord C1 QuantumGravity) as to the potential of the unconventional and nonconforming Concord C1 QuantumGravity watch.?Ǭ? I further questioned the QuantumGravity's ability to live up to expectations that were being set by an effusive and over-the-top marketing campaign in the lead up to Baselworld 2009.
Now after seeing some live photos and now live video of this watch, I confess that I am even more intrigued by it, but in a good way.?Ǭ? The Concord C1 QuantumGravity is growing on me!?Ǭ? What can I say – it seems that my dismay was not with the watch itself but its verbose and uneccesarily elaborate "pre-Basel" marketing campaign!

On closer study and reflection, helped by superb videos like this and photos like this – I am of the opinion that the C1 QuantumGravity – and all its craftsmanship, creativity and sheer ingenuity – is worthy of praise.?Ǭ? As is the construction of?Ǭ? not 1 but 10 of these watches – I'm sure that stringing those cable-stayed bridges is no small feat!?Ǭ? On a technical level, the C1 QuantumGravity's credentials speak for themself – the bi-axial tourbillon, the brilliant (day or night) vertical power reserve, and the cleverly constructed winding crown are just a few noteworthy features of this cutting-edge watch.
I dare say this watch has lived up to its mysterious and unconventional ways, and I hope to one day see it in person whereupon I can render final judgement!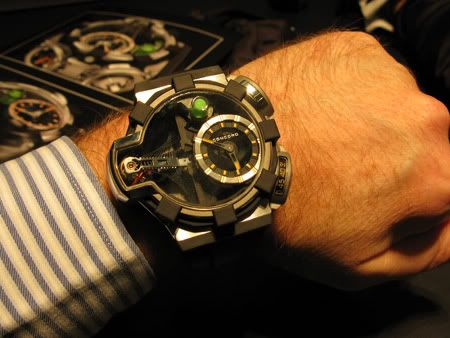 Picture by Bernard Werk @ Watching
Kyle Stults is Founder & President of Perpetuelle.com, a new online community for watch owners, collectors & enthusiasts.