Urwerk UR-110 Torpedo – You Will Know When It's Time For A Service
Urwerk is one of the manufacturers of haute horlogerie with the most futuristic timepieces you will find today. This manufacture from Geneva, lead by Baumgartner and Frei, introduces the UR-110 Torpedo timepiece. Or better yet, timemachine. Having seen a few in the flesh in Singapore and during the BaselWorld shows, creations from Urwerk always give me the same euphoric feeling regardless how often I see them.
Their new UR-110 Torpedo timepiece is an amazing piece of craftsmanship from Geneva. The arrow shaped "Torpedo"-hour indicators increase with one hour by rotating just before they are up next to display time on the scale on the right side of the dial. Urwerk has created a superb movie (click here to see it) on how the system actually works, below you'll see a snap shot of the hour indicator increasing with one hour. Urwerk speaks of 'satellites' when discussing the rotating hour indicators on the dial.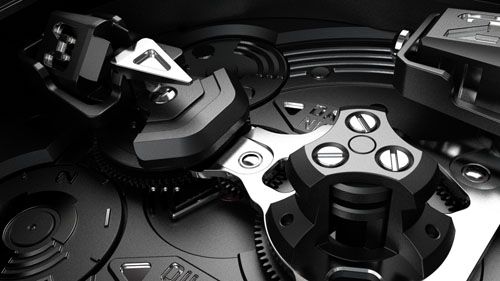 Besides a Day/Night indicator on the dial, the Urwerk UR-101 also features an Oil Service indicator. It works like the oil change interval in your car's dashboard, this will notify the user of the timepiece that it needs a(n oil) service over at Urwerk. Very useful if you ask me, since there are still a lot of discussions going on about when to bring in your timepiece for a periodic service at your watchmaker.
The UR-110 sits safely in a light weight titanium case and has a satin finished stainless steel (316L grade) bezel. The case measures 47mm X 51mm X 16mm but due to its shape, every guy should be able to wear this watch. Urwerk's own caliber UR 9.01 is a mechanical automatic winding movement and ticks at 28,800 beats per hour. As you can see on the picture above, it features two turbines for regulating the winding system.
More information can be found at: www.urwerk.com