Vacheron Constantin Overseas Ultra-Thin Caliber 1120
I have a soft spot for the Royal Oak, Nautilus, Ingenieur and Overseas. Only the first three were designed by the late Gerald Genta, the Overseas' predecessor was designed by Hysek. The '222', as it was called, was introduced 40 years ago already but the Overseas as we know it today, was introduced in 1996.
This year, Vacheron Constantin came with a number of new Overseas models, but the one that made my horological heart tick at a higher rate is the Vacheron Constantin Overseas Ultra-Thin model. This watch, equipped with the very flat 2.45mm automatic movement caliber 1120, is being presented in 18 carat white gold and comes with a beautiful new design bracelet.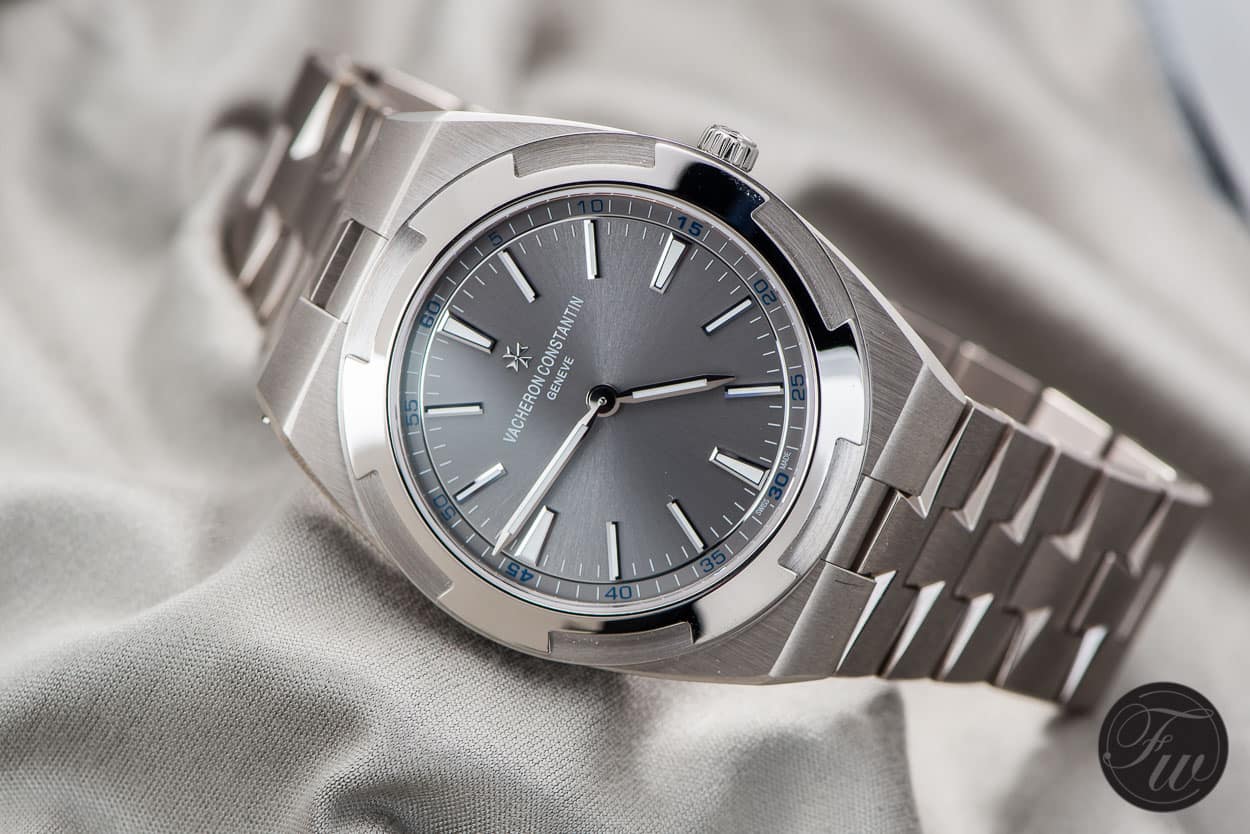 What surprised me however, or perhaps confused me, is the fact that Vacheron Constantin mentions in their official press release that this movement has been developed and manufactured by Vacheron Constantin. Well, looking at my wrist today, there is the Royal Oak 'Jumbo' reference 15202 that has a movement that looks identical except for some differences in finishing and a has – of course – a different rotor. The Audemars Piguet caliber 2121 (and 2120), Patek Philippe's caliber 28-255 C (they used in the Nautilus 3700/1A) and the Vacheron Constantin caliber 1120 are actually all based on Jaeger-LeCoultre's caliber 920 movement. A movement that Jaeger-LeCoultre never used for their own watches, they just designed and manufactured it for the others. At some point, Audemars Piguet got (or bought) the license to produce this movement in-house and was to my knowledge the only one who still produced this ultra-thin movement.
So for me it is a surprise to hear that Vacheron Constantin claims to have developed this movement in-house and that they produce it in-house. The latter can be true in the meanwhile, it has been two years or so when Audemars Piguet told me that they are producing this movement in-house, so that might changed since then. However, claiming that they developed it sounds a bit strange.
Nevertheless, it is a great movement and I was thrilled to try this heavy 18 carat white gold ultra-thin caliber 1120 watch on my wrist. The Vacheron Constantin Overseas Ultra-Thin fits like a glove and is a very distinct timepiece. With their easy to use system to change bracelets and straps, you can easily switch between a leather strap or the 18 carat white gold bracelet. The bracelet has received a design update, which was quite necessary in my opinion. Although I always like the Overseas, it was the bracelet that killed it for me compared to the Patek Philippe Nautilus and Audemars Piguet Royal Oak.
As a result of the movement, the watch itself is also super thin, only 7.5mm thick. The case has a diameter of 40mm and is therefor slightly larger than the aforementioned Royal Oak 15202. Unlike the Royal Oak, the Overseas does not have a monobloc case but instead a case back that has been screwed to the case. Of course, the sapphire crystal enables you to enjoy that beautiful ultra-thin movement with a rotor that uses a rail system instead of the typical ball ring system (to keep it flat as it is). The movement has a beautiful 22 carat gold rotor and the balance-wheel has these counter weights that need to be turned for adjusting the speed, similar to the Gyromax system (it is the trade name for this by Patek Philippe, this means that other brands refrain to use this name for this adjustment method).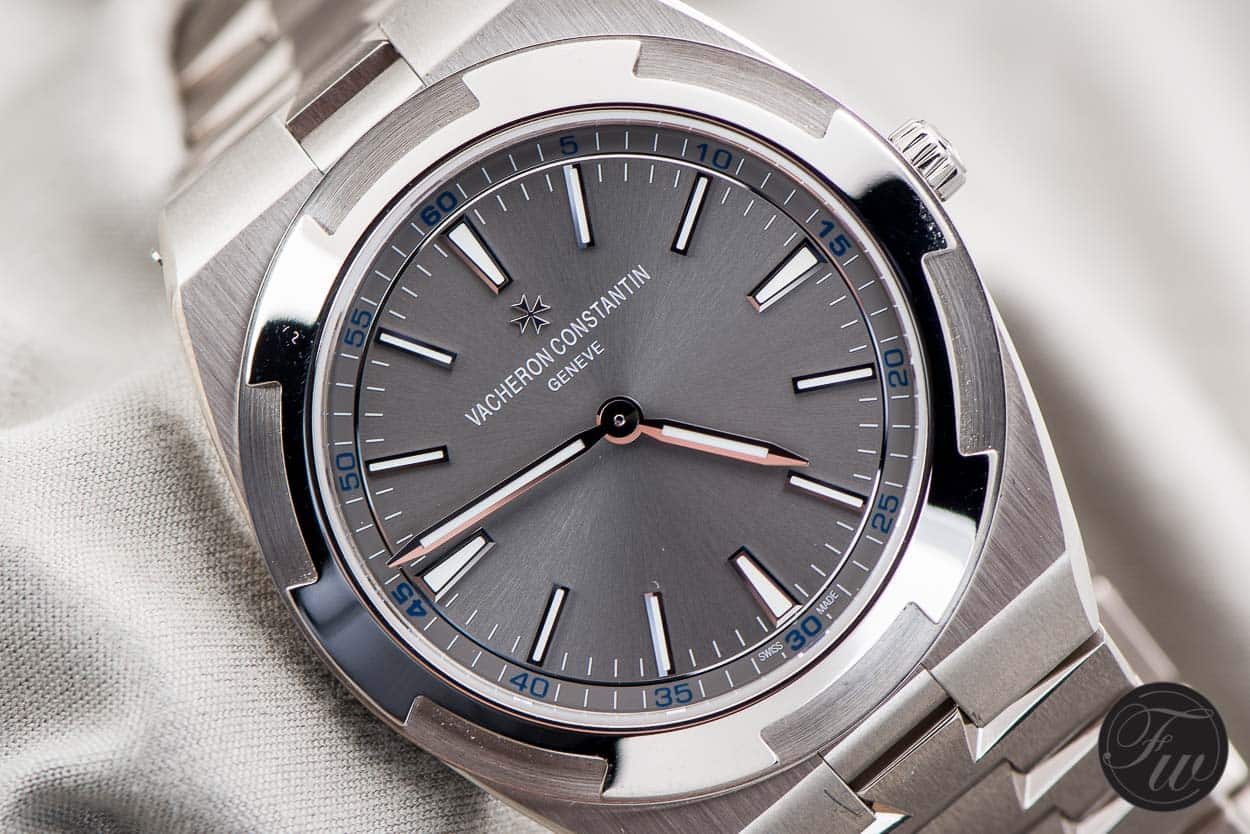 Another wonderful feature of this new Vacheron Constantin Overseas Ultra-Thin is the dial. It really stands out and while it is officially translucent grey-lacquered, it might turn into having this brown tone in certain light conditions. It is very mesmerizing and it features a sunburst satin-finished base with 18 carat gold hour markers and hands. Vacheron Constantin made sure to apply luminescent material to the hour markers and hands so the time can be read under low-light conditions as well.
Official price has not been communicated yet, the Vacheron Constantin Overseas Ultra-Thin reference 2000V/120G-B122 will be delivered to the market later this year.
More information on www.vacheron-constantin.com