Watch Strap Review 53 — Velle Alexander Straps Revisited
A second look at a fan favorite from 2019
Our December 2019 Watch Strap Review featured a small brand from icy Minnesota, Velle Alexander. At the time, the name represented nothing more than a passionate young man doing what he does best in the corner of his small Minneapolis apartment. A lot has changed since 2019, and Velle Alexander is now an established watch strap brand. It would only make sense to revisit Alex, look at his new goods and talk about what has changed over the past two years since we last met.
Don't worry; we will be back with some fresh new makers next month for those interested in new ateliers. At the same time, we will also add another country to the Watch Strap Review map. Until then, however, let's look at the all-new Velle Alexander brand.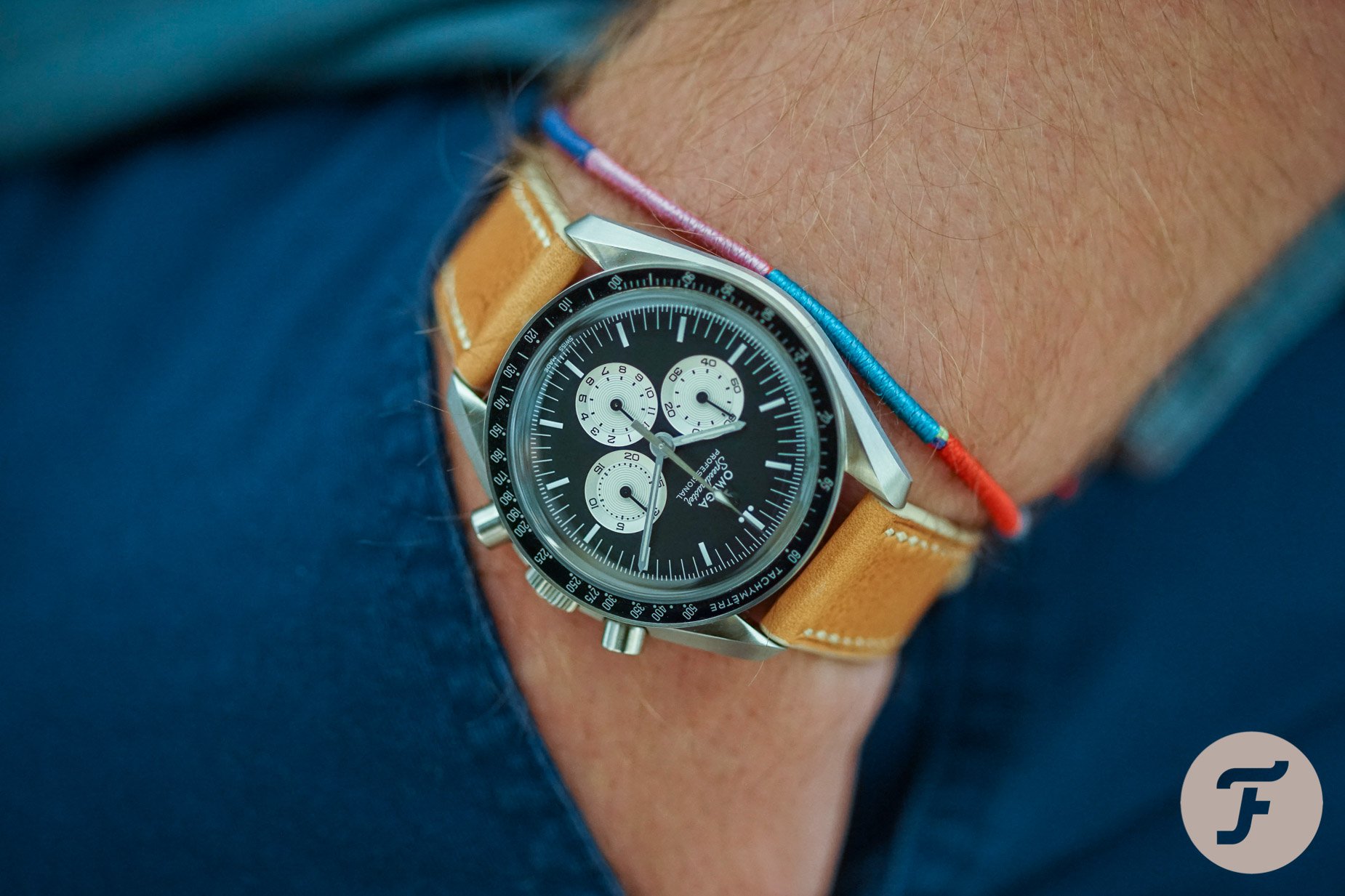 What has changed at Velle Alexander?
I said this many times, but I repeat it: I love to see small, one-man brands expand and grow. Aside from the pleasure I get by introducing these companies to you, I'm super happy to see their expansion. I'd love to think that me covering it for Fratello has something to do with that as well. A lot has changed with Velle Alexander in the last (almost) two years. First and foremost, they have a new website. You get the usual features such as product descriptions, an extensive explanation about materials, and so on. Alex, however, added extended his service and now offers two types of straps, bespoke and ready-to-wear products. More on these later, though. Still, if you are looking for a bespoke strap, make sure you click on "quote" and follow the step-by-step order process. And if you want to put a face to the name, go and watch one of Alex's videos on the new Velle Alexander YouTube channel.

The lot
Alex sent me five straps from his two available collections. As mentioned above, Velle Alexander expanded and now offers a selection of ready-to-wear straps called "handmade." These are much cheaper than the "bespoke" line, all priced at $80 with free shipping in the US. The collection comes from Asia, made by an experienced OEM strap maker. You can now find them in 5 colors, size 20mm, but the selection will soon expand. Needless to say, these are not on the level as a 100% handmade "bespoke" Velle Alexander product, yet if you are looking for an excellent quality leather strap for a fair price, you can trust them.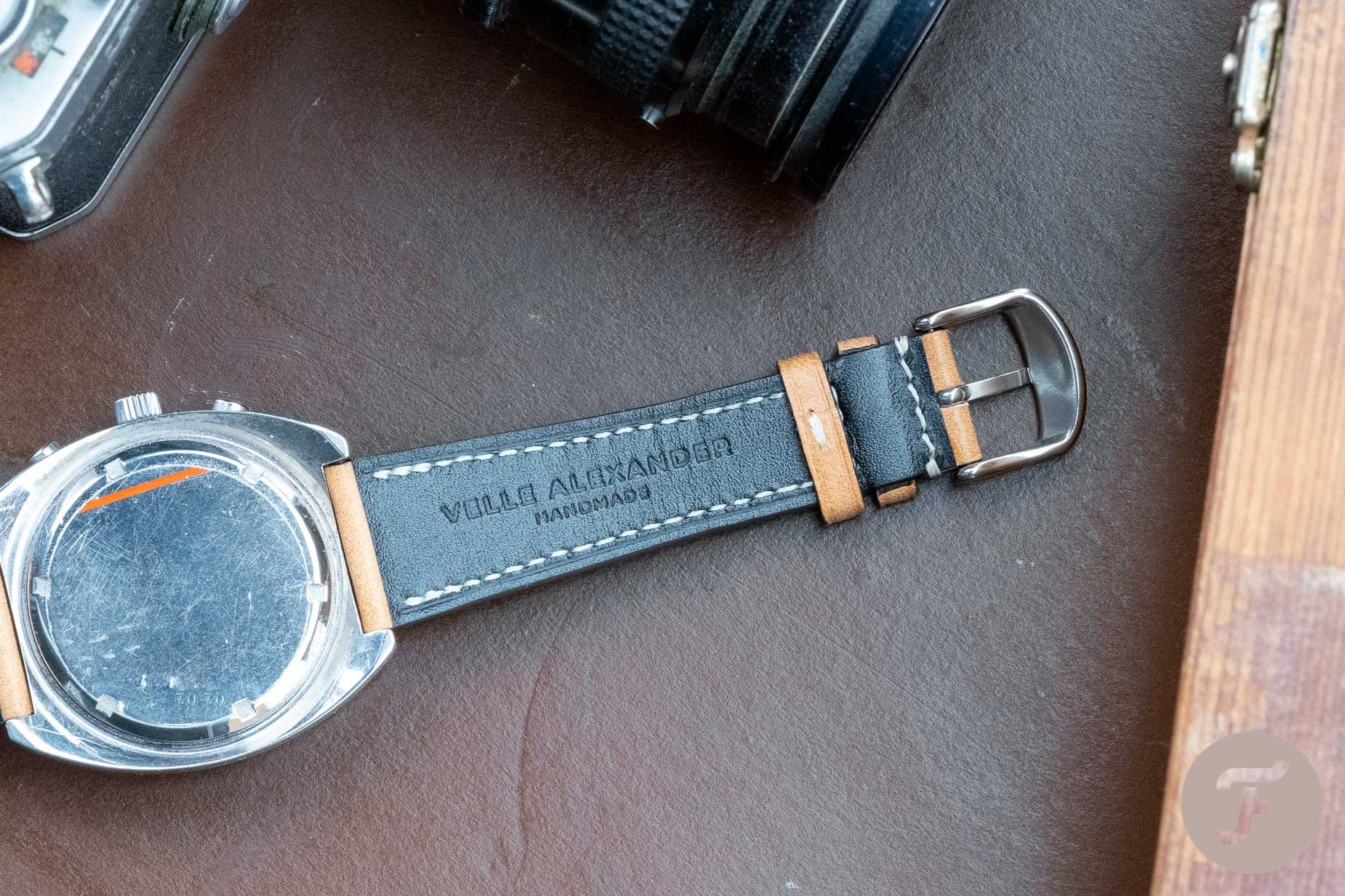 Aside from the "handmade" line, Alex still offers his "bespoke" strap. As the backbone of the Velle Alexander line, these are all produced by Alex in Minnesota. You can have them customized down to the smallest of details. I received three "bespoke" straps and very different ones at that. Now, let's look at the lot one by one, shall we?

Shrunken Calfskin Bund in Taupe
It's only fair that we start with the funkiest of the bunch. Well, perhaps a bund strap is not that special in 2021, yet I still feel a solid 70s vibe every time I strap one on. Not to mention that I usually don't see them in a taupe color. In case you're wondering, taupe is a unique tone of gray, generally darker, and often coming from French tanneries, just like the leather this Bund is made of. Alex produces each "bespoke" strap with great attention to detail and years of experience. As far as the measurements go, the strap is standard 20/16mm with only 5mm at its thickest point. The Bund part is only 1.7mm thick, while the length is standard at 115/75mm.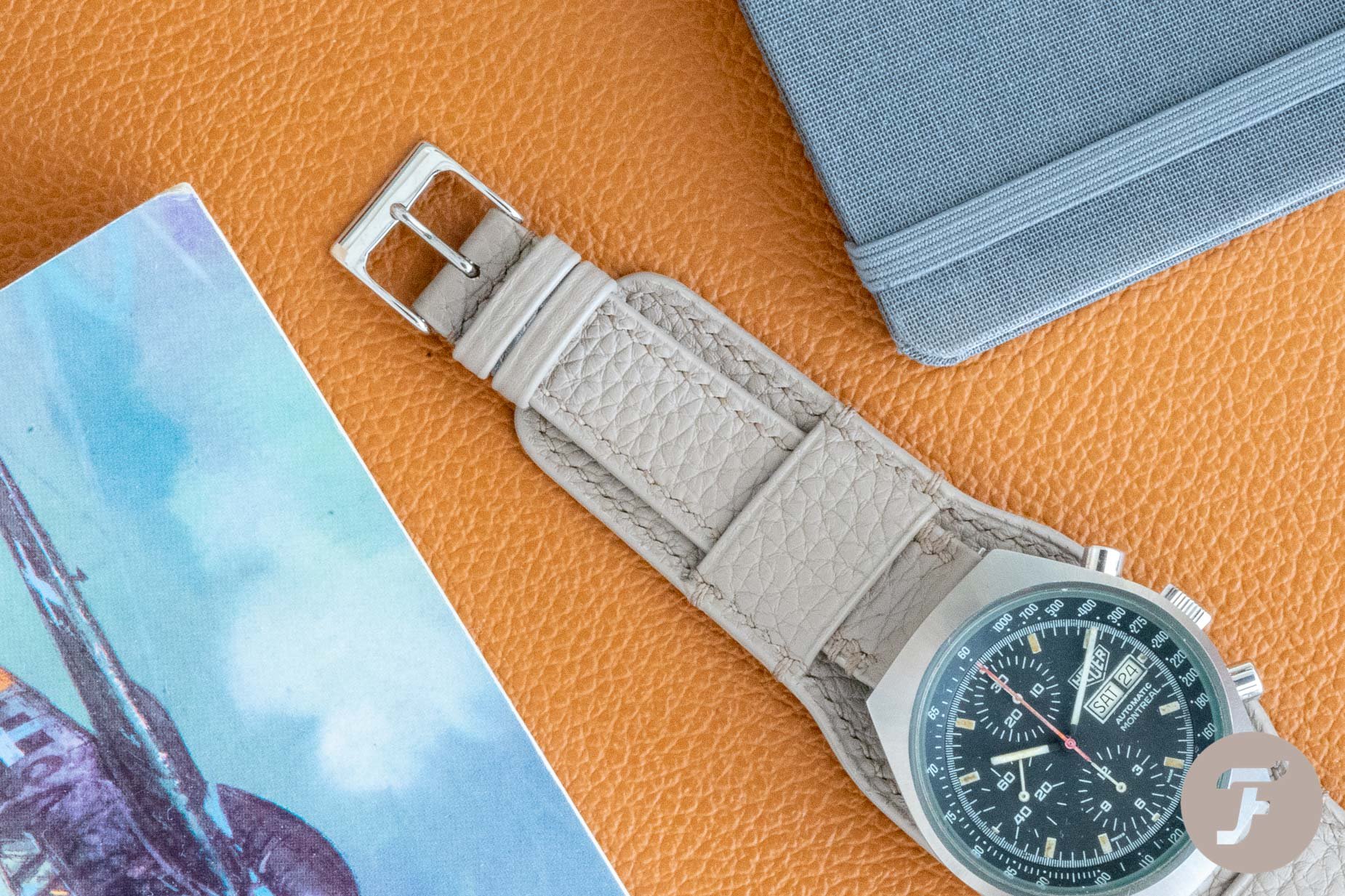 Due to the large amount of material that goes into this Bund, the price is $360 + shipping, making it the most expensive of the lot. I had no problem pairing this up with a watch, thanks to its color and slim profile. The Zermatt calfskin lining is soft and comfortable, and the whole strap is smooth and flexible. You won't have to break this one in. None of the Velle Alexander straps are stiff, throw them on your timepiece, and you are ready to go.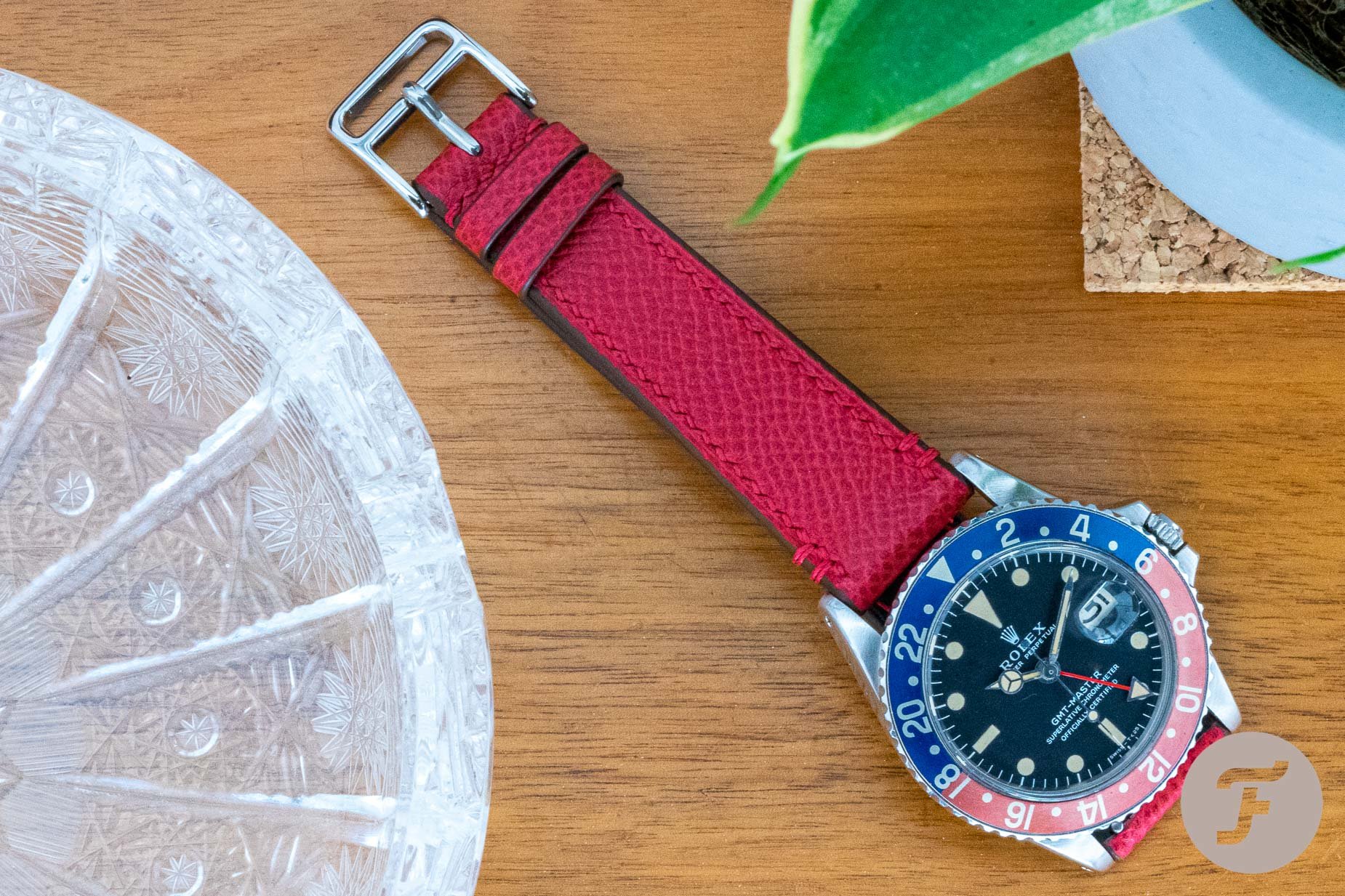 Textured Calfskin in Red
The next one in line is also a "bespoke" product. Here we have a textured French calfskin leather in rich red color. Size-wise we are looking at 20/16mm again with a slim 2.6mm thickness. The production, just like with the previous strap, is done by Alex who gives his full attention to the finest detail. Red is not your average strap color, so Alex chose tone-on-tone stitching for this one to make things easy. Furthermore, the tip of the strap's longer part is boxy and not pointy.
A small detail, but it makes all the difference when you post your wrist-roll video on Instagram (make sure you tag our buddy Mike @mikeinfrankfurt, he loves that stuff).
Again, the length is the standard 115/75mm, and just like the Bund, this one also comes with quick-release spring bars and a steel buckle. The price? $240 + shipping for this red beauty. Gorgeous, different, and just like above, easy to wear and enjoy. My Rolex GMT-Master agrees.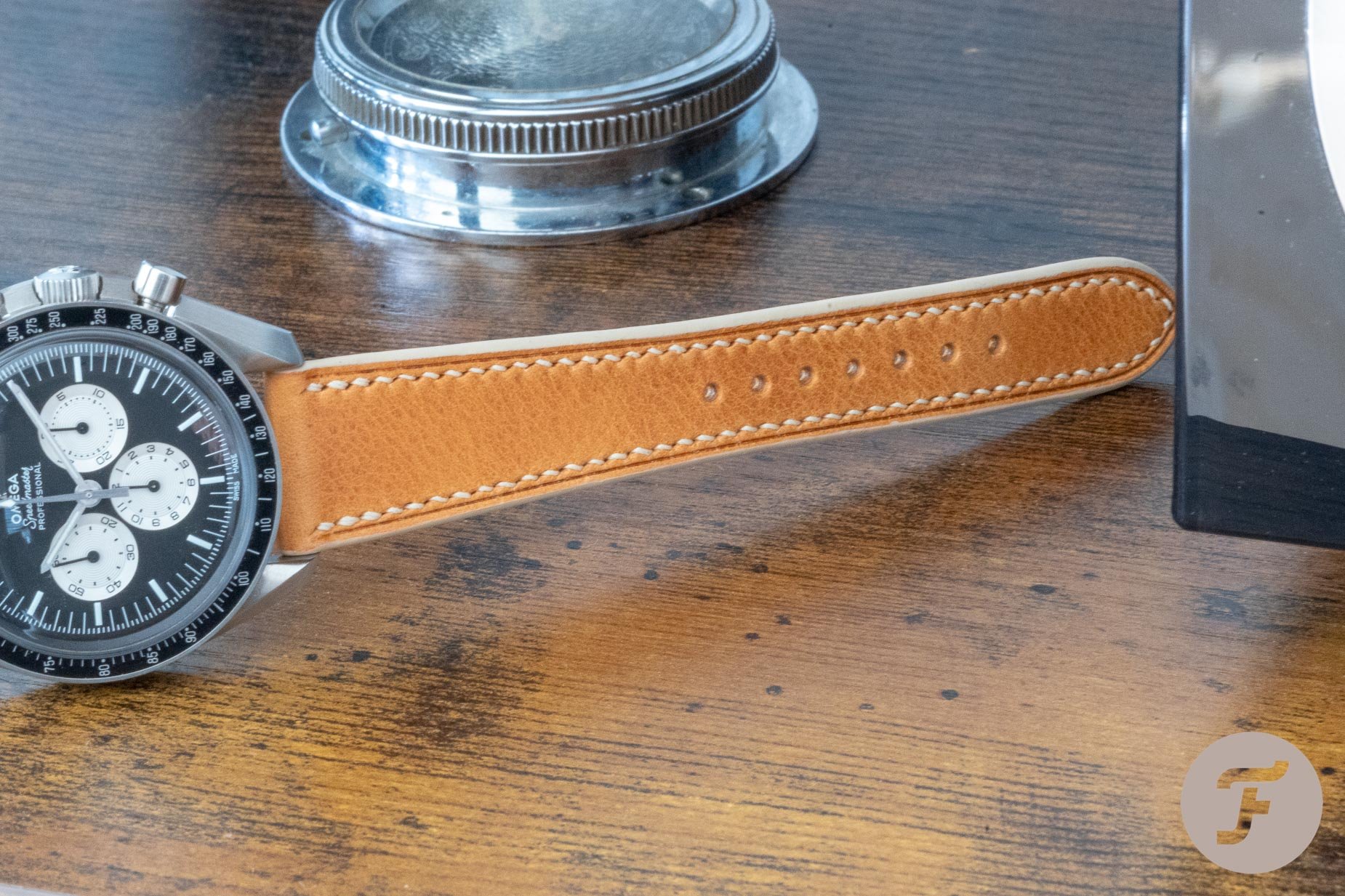 Waxy Calfskin in Natural Tan
Lastly, we arrive at the final "bespoke" Velle Alexander product. While the Bund and the Red straps were somewhat unique, while this is pretty regular. We have calfskin from Italy (not France) for the first time, and the lining is also different in color. Alex chose a matching natural Zermatt lining and full stitching in the same light beige color for this waxy strap in natural color. The great thing about the lining is that it's water/sweat resistant, meaning you could wear it during the hot summer days as well. I won't bore you with the measurements because they are identical to those of the previous straps. In the photos, I'm wearing it on my SpeedyTuesday I, but I wore it even longer on my vintage Speedy afterward, and I must say that's a match made in heaven. The leather tone is just perfect for creamy lume. Alex charges $230 +shipping for this beauty.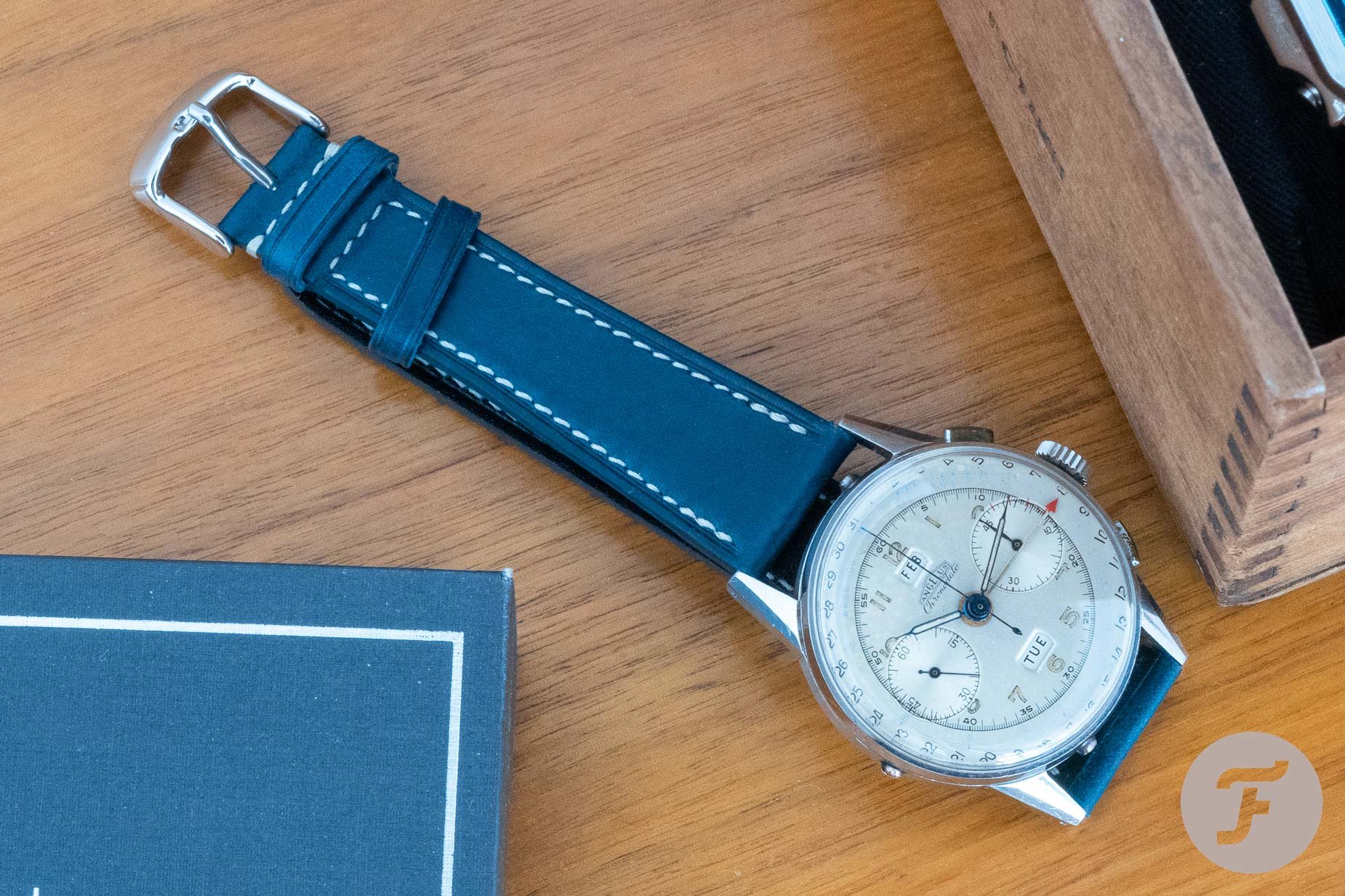 Velle Alexander Handmade
I talked about the new "handmade" line at length, so let me focus on the products now. Alex sent me two straps. One is an Italian calfskin in navy blue with white full stitching. First impressions; excellent product, the leather feels smooth and flexible. The size is identical to the "bespoke" straps. The lining is water-resistant and hypoallergenic here too, albeit not from Zermatt leather. The second strap is a carbon copy of the blue one, but this time in beige color. These might not be custom-made by Alex, but if you are looking for a great quality strap for an affordable price, you cannot go wrong with any Velle Alexander "handmade" straps. I mean, $80 is as fair as it gets if you ask me. When it comes to the looks, check out my photos, you can be the judge.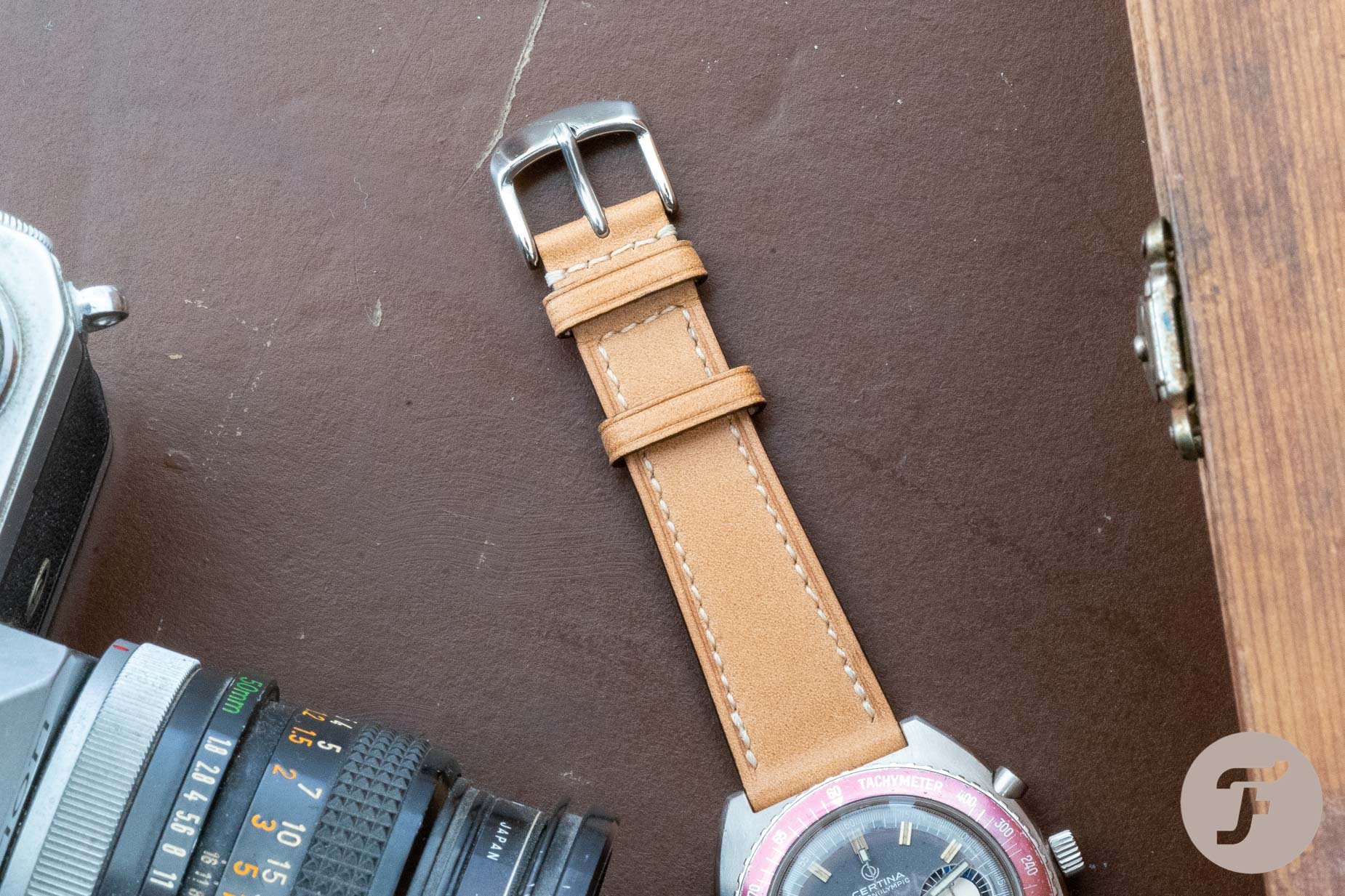 What's left to say?
Many things have changed with Velle Alexander, you've read all about it. But what's up with the things that stayed the same? Well, Alex is happy to say that 99% of his business is still custom-made orders. It can be challenging at times because, like before, he is still a one-man-show, doing this as a side gig next to his day job as a consultant. It must be challenging, but it seems to me that Alex is deftly balancing between the corporate world and the land of fine leather watch goods. I'm sure we will be back in a few years to see where he has taken the business. Until then, make sure you think of Velle Alexander when you need a beautiful custom-made leather strap for your precious watch.
Please find and follow me at Balazs Ferenczi – Instagram