A little while ago we published this article about affordable vintage moon phase watches. It is no secret that when I was writing that article, I just acquired a vintage moon phase watch myself and all the material I gathered during the research process formed the backbone of the article. The acquired watch with moon phase complication needed a watchmaker badly, or as our contributor Gerard Nijenbrinks wisely put it, a "very very good one" in order to bring it back in her former glory.
For starters, I had to source a donor movement (amongst other things) and I had to find a watchmaker that was up to the task. Luckily, I came across a watchmaker's website and after a short email correspondence I was ready to hand her over to the guys at 10ora10.hu. In short: they did an amazing job resurrecting my watch and just a couple of weeks ago they brought me back my Leonidas Triple Calendar Moon Phase. This is her story.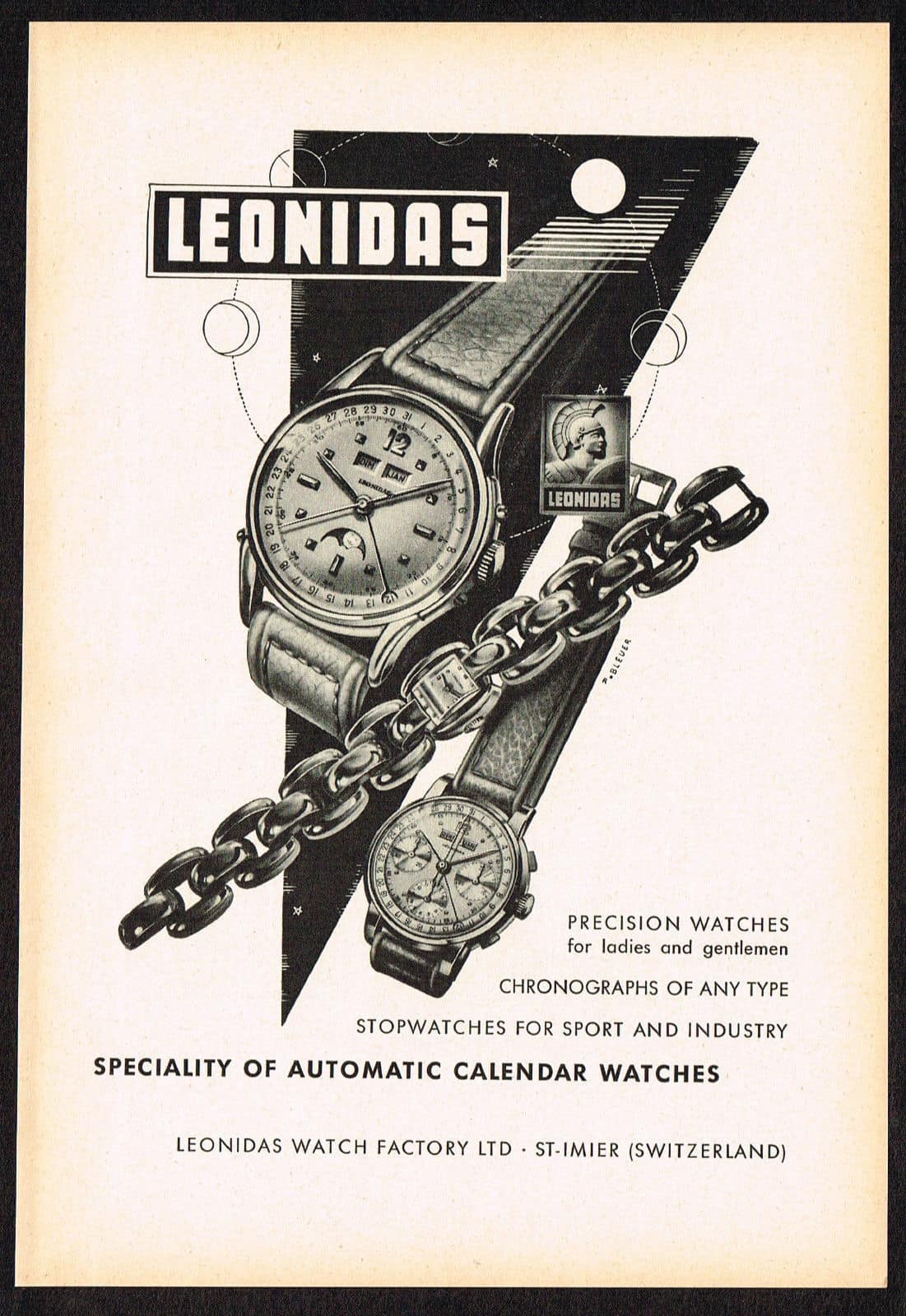 Leonidas
Before we take look at this work of art, a few words about the company itself. Leonidas (named after the Greek king of Sparta) was founded in 1841 by Julien Bourquin in a little Swiss city called St.Imier. Later on, the company was purchased by Constant Jeanneret-Droz in 1912. Constant was the son (actually one of the sons) of Jules Frédéric Jeanneret the founder of Excelsior Park, one of the most significant chronograph manufacturers of that era. With the given background it was no surprise that Leonidas quickly became a very successful manufacturer of complications.
Leonidas created chronographs, moon phase and triple calendar watches as well as other equipment for the automotive and aerospace industries. During the war the company supplied chronographs for the Italian, German and many other armies. In 1962, Leonidas Watch Co. merged with Heuer, another legendary chronograph brand. For a while they produced watches under the company name Heuer-Leonidas. They did what they knew best; chronographs and other complications. Until Heuer was eventually (1984) bought by TAG forming the company that is known today as TAG Heuer. Today, Leonidas is only known among collectors of vintage watches. However, given the fact that some of these iconic brands are brought back to life either by crowd funding or with the power of a bigger watch company, there is hope that Leonidas one day will return to the watch industry.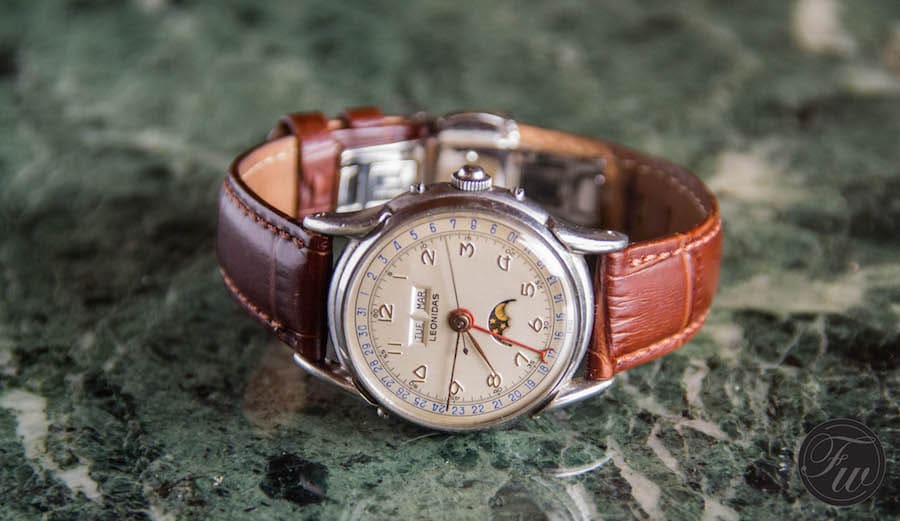 The History
As far as I know, I am the third owner of this Leonidas. The previous owner bought it from the person who originally purchased it somewhere in the late 50's (or early 60's, as he could not remember well). According to him he bought if from one of his colleagues in '69 when they were both working at Disney Studios in California. He wore it continuously until '79 when he could not read the dial anymore so he had to buy a (quartz) watch with a larger dial. He'd put it in a drawer where the watch spent the next +30 years until he decided to sell it. The guy retired and wanted to go on a nice holiday and needed to free up some extra cash, hence the sale.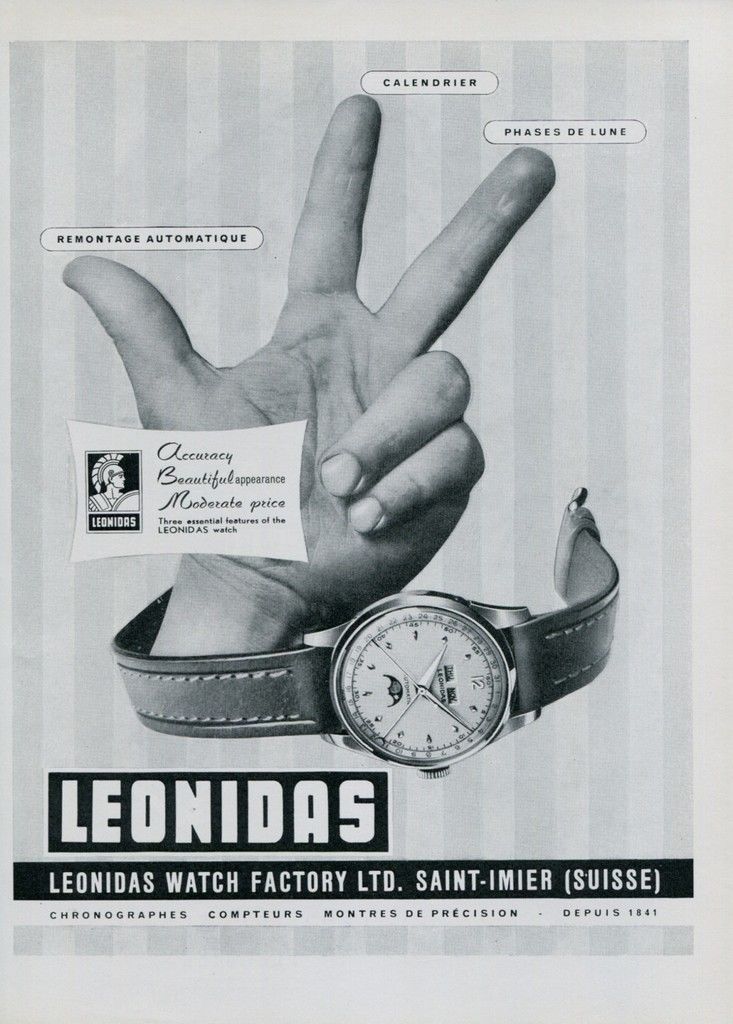 The Watch
Now, let's see the watch this story is about. She is actually a fine example of the golden age of Leonidas. This Leonidas was produced in the 1950's, unfortunately I was unable to determine the exact year of production (or sale). It measures 35mm in diameter, excluding the crown. Although 35mm is considered small these days, at the time this size was just about average. The watch case is pretty thick and the crystal is domed. This results in quite a thick watch for such a small (diameter). The case of the Leonidas is made of stainless steel, which is the most common material used for this model, even though I have seen one or two pieces in the past with gold(-capped) cases. Both sides of the case you'll find these little quick set buttons for the triple calendar and the moon phase functions. Using these little correctors, you can rapidly change between the days of the week, the months, the number of the days or even rotate the moon phase disc very slowly. The reference of the watch is 0151, which is the most common number I have seen when researching.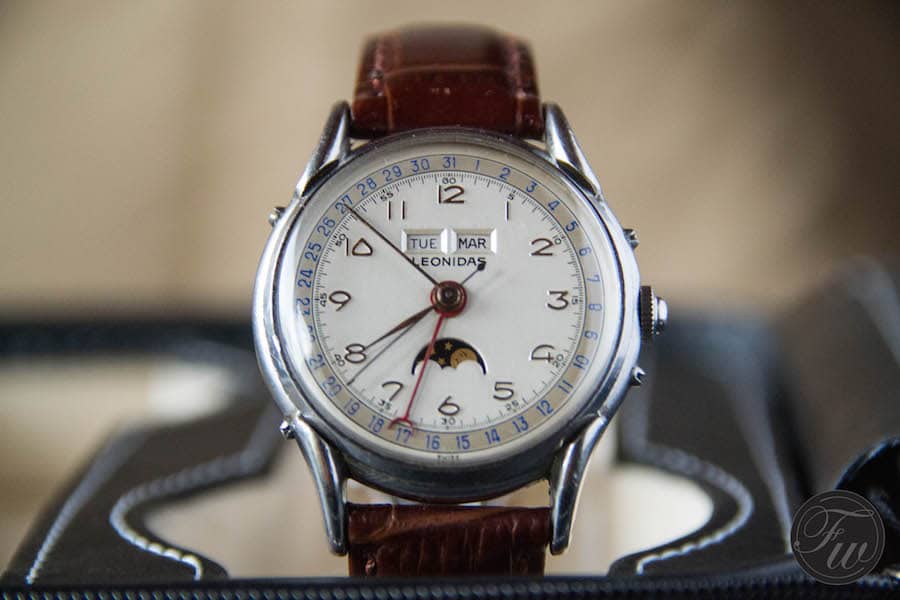 Leonidas Tripe Calendar Moon Phase
The triple calendar shows you the month, day of the week and date. It is not a perpetual calendar of course (perpetual calendars are quite complicated and are able to advance the date – including leap years etc – every month without a necessary manual correction). The movement is not made by Leonidas, as they used an ETA 1100 as base caliber and added the triple calendar moon phase complications as a module. Given that the ETA1100 was a very popular movement by many brands at that time, parts for them are readily available and relatively easy to service. Despite the size of the watch, the dial is not too cluttered in my opinion. The dark blue smiling moon phase disc complements the beige dial with gold numerals and blue printed numbers (date) on the outer ring. The hands have this bronze colour except for the date pointer, which is bright red. This makes it easier to distinguish the second hand from the date pointer and vice versa.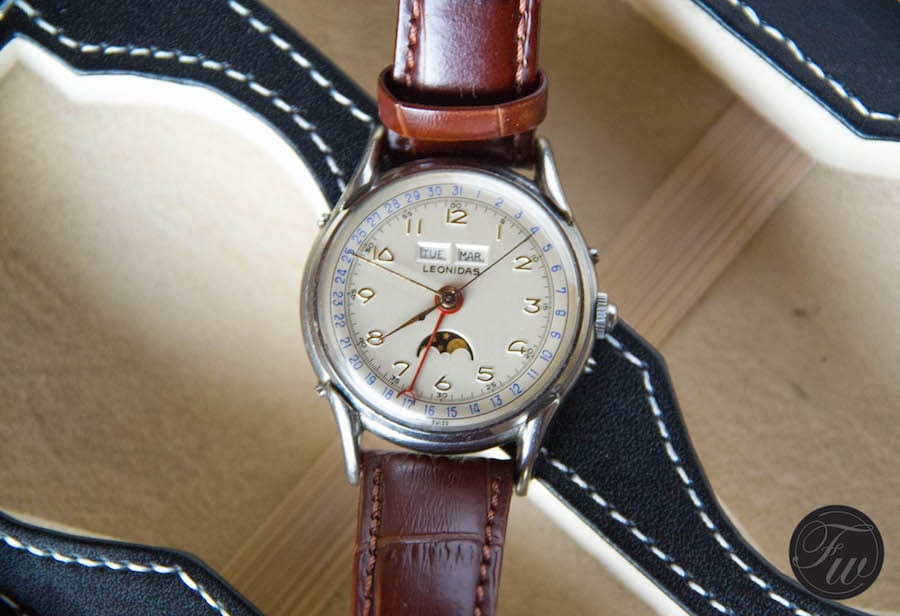 On the Wrist
Actually, I was quite afraid that the size of the watch would be too small for me. My wrist is 7.5" and even though I'm not really into wearing large watches (while I easily could), I've come to like and appreciate this small Leonidas watch on my wrist. To my surprise I slowly started to adapt to the size of this Leonidas. I still enjoy my vintage 42mm Omega Speedmaster Professional or my other Leonidas (with a 38mm diameter), but can also wear this small Leonidas for days in a row. Of course, this watch is meant to be worn as a dress watch and for that purpose alone she is just perfect. The Leonidas looks beautiful on the wrist, I love to wind and set her every other day, not to mention that I've learnt that it is a great conversation maker.
Balázs joined Fratello Watches in 2014 and he has been a fan of watches as long as he can remember. His passion for watches really took off in 2007 when he purchased his first fine Swiss timepiece. From 2007 up to recently, he was also an active and involved member of a number of on-line watch communities. Balázs has a weak spot for vintage Omega watches and vintage watches in general.
Latest posts by Balázs Ferenczi (see all)