Vintage Market Update: Winter 2016 – move quickly!
It's been roughly three months since our last Vintage Market update, so it's high time for another. It's the middle of winter for most of our readership and it also coincides with a relatively dead spot in the calendar, so why not kick back and read a little bit about what's been happening and what may come? In this installment of the Vintage Market update, I'll cover some relatively recent phenomena while doing my best to highlight some relatively available opportunities. Let's jump in…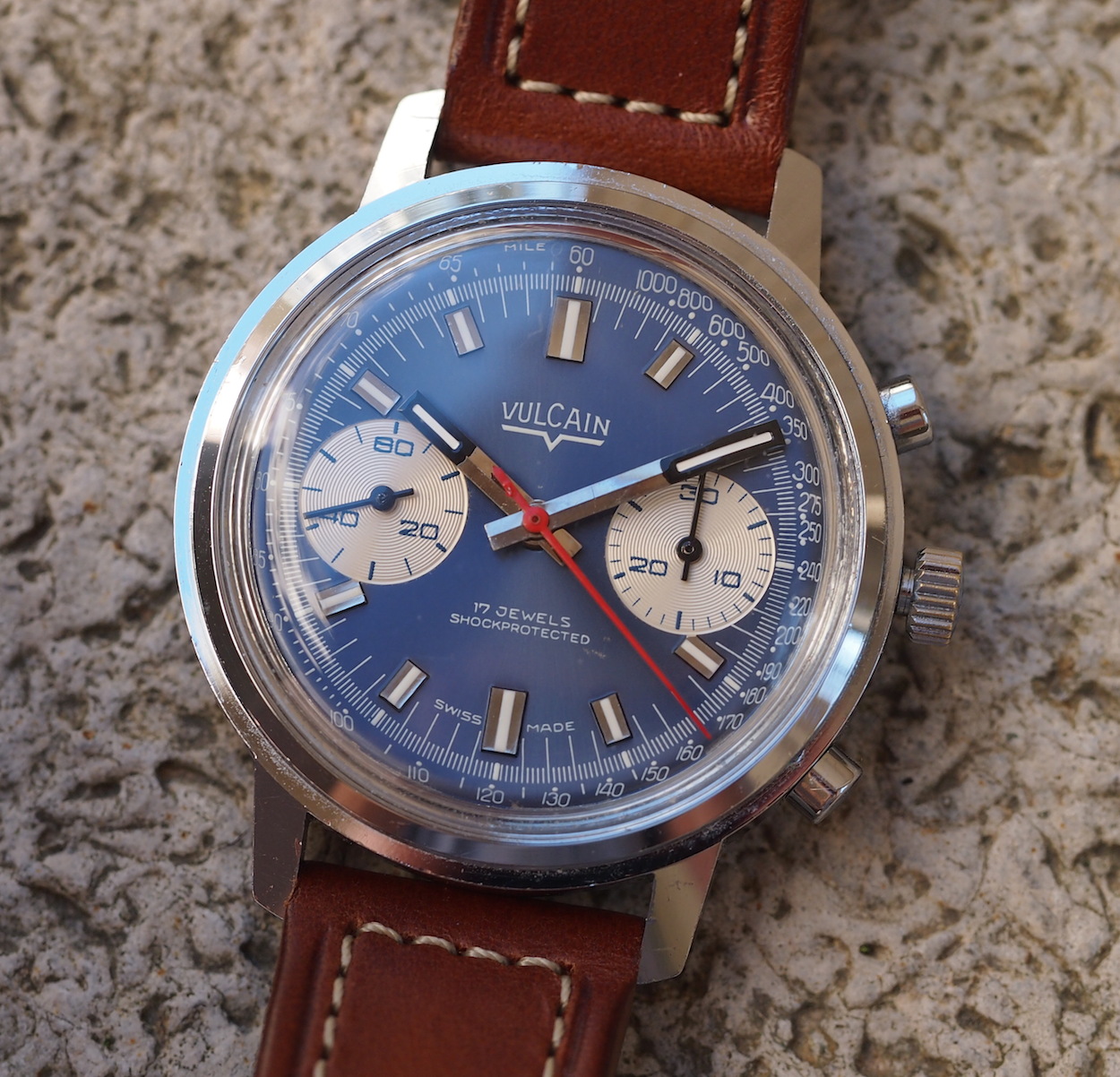 The market for vintage sports watches was hot a year ago and it's only reached more of a boil since that time. To provide a little bit of a personal flair to this Vintage Market update, I can recall searching for pieces less than 12 months ago thinking that prices were getting out of hand. Now, those prices seem downright tame by comparison. The other major shift that has occurred relates to availability. The supplies, especially for vintage sports chronographs not named Daytona – and even then, are thin at best. In fact, when sellers do receive watches, I'm usually dismayed by the prices listed and am then surprised that the watches are gone within the day; it's fascinating.
Related to this, I've spoken to some folks in order to grab some other opinions from the marketplace. For example, Christopher Beccan of Bexsonn and I were chatting and he mentioned that several dealers in the UK are currently having a rough go of it right now. Why is that if the market is so hot? Well, it seems that the hunger for certain types of vintage watches is so insatiable that dealers are having a tough time finding stock. When they do, they seem to be buying at today's prices and this usually leaves them with lower margins upon selling. What this all adds up to is that watch dealing is a damn difficult game, especially if you have an expensive brick and mortar shop in a high rent district of, say, London. Also, many online shops or even eBay sellers are viewed as credible alternatives to the traditional physical shops as well. These virtual sellers of course tie nicely into one of my other favorite topics: social media.
Social media continues to blow me away as a method of promoting vintage watches. Whether it's Instagram or Facebook, there's probably a group out there for you to follow and learn more about watches. Or, more perversely, to discover a watch that you hadn't seen before and now must have!
Take, for instance, our recently covered Nivada Datomaster. Honestly, I'd never seen this watch until 5-6 months ago and probably never would have had it not been for Instagram. The positive of social media is that communities do get formed and they're far easier to follow versus traditional forums. Additionally, reputations seemingly get made or destroyed overnight. If you want to hype your crappy watches on social media, be prepared for a near-instant lambasting by a global crowd! Have a question? The crowd will likely answer almost just as quickly. Now, let's look at a few high-priced sales that have occurred over the last several months.
First, I'll highlight one of my favorite watches, the Heuer Autavia 2446 "Jochen Rindt". When I wrote about this watch last Summer, I was equal parts overjoyed and alarmed upon receiving it. The happiness came from the fact that it was everything I could have imagined as far as a complete sports chronograph while the trepidation came from having spent a lot of money on it. Well, my fears were for naught because the piece has basically doubled in value within 6 months (and nearly quadrupled over the last year). I chatted with the buyer of a recent piece on eBay that sold for roughly $13,500 and asked him what motivated him to set what appears to be the record for a "Rindt". Essentially, he was willing to do what it took to get a good piece – and this one is about perfect – and feels like there's still plenty of room left for appreciation. Also, he felt what many of us have now come to realize; there simply aren't that many of these semi-early Heuers out there.
Next, we move on to a watch that so many love to hate: Enicar. If you're a vintage watch junkie and follow various forums, you'll know that the Enicar crowd is small but fervent. There's a ringleader out there banging the Enicar drum and like him or despise him, he's brought attention to the brand. Granted, Enicar was overlooked for a long time by most aside from those who delved deepest into long forgotten brands. However, we've also mentioned the high quality of Enicars – any of the EPSA-cased chronographs and sports watches – and also enjoy the large size of these pieces. Recently, a so-called Mark 2 Sherpa Graph sold for a reported $10,000 on the OnTheDash forum within a day. This certainly sets the bar for a public sale of a Graph and suggests that the market is literally buying what our enthusiastic evangelist is selling. Prices for super compressor-cased diving watches by Enicar also seem to move quickly when posted and that shows that the brand isn't a one-trick pony.
Finally, we come to this site's favorite watch: the Omega Speedmaster. Clearly, Eric Wind's timing was right over at Christie's because prices of this iconic watch took off at the auction and haven't really looked back since. It's funny because we all knew the auction was coming, yet 321-powered Speedmasters were somewhat available for decent prices up until the auction; I know this because I bought a reasonable 145.012. Since the hammer fell, though, finding decent, correct pre-moon Speedmasters for less than $8,000 has been a real chore. Want an Ed White? The last of the straight lug pieces seem to be banging around the $10,000 mark or above with relative comfort. I am biased, but I find the "Ed" to be one of the best looking chronographs ever­ – why did it take so long!?
The biggest surprise for me since the auction, though, is the pricing of 861-powered transitional pieces. The prices for these "DON", step-dial pieces have quickly jumped to levels at or above the prices of 145.012's just before the auction. As a reminder, that auction was a scant 2 months ago! Some people feel this is a fad and that momentum from the auction will fade. Perhaps, but I still think there's room to run for correct vintage Speedmasters. Go look on eBay or any other forum for that matter at vintage Speedmasters and I'd bet that 95% have incorrect parts. Yes, Omega made a lot of these, but people wore the hell out of them, had pieces replaced, and often exposed them to wet environments – so, yes, finding a good one is a challenge and supports a strong market.
On the other hand, we've had a recent spate of bargains as well. One can look to our site from as near as a couple days ago to see the great news on a dirt cheap Universal Geneve Compax "Nina Rindt" found in Tokyo for roughly $3,000.
Earlier this week, @watchfred helped me nail down a stunning Wittnauer 242T for under $4,000.
Finally, a Carrera Dato hammered on a buy-it-now for $900 – yes, at roughly 10 cents on the dollar. So, this goes to show that deals are still out there for the eagle-eyed and lucky. When I say lucky, I mean as far as timing because these deals lasted for minutes in most cases. So, move fast!
With a few highlights behind us, what do I think is coming as far as trends?
Despite an increasingly shaky world economy, I expect the vintage market for sports chronographs and sports watches, in general, to continue buzzing along.
Watch the upcoming auctions. I'd expect to see more pieces from former "B" brands such as Heuer, Universal Geneve and Omega to show up and set records.
The 1970's "c-case" pieces will finally start to show some movement again in selective areas – some have started a gentle climb. Note: this should make Blaise happy as he's effectively cornered the market. 😉

Yes, the world seems shakier now than during the last Vintage Market update. Oil is effectively free, China is definitely slower, and the Dow Jones average enjoys daily swings of 200-300 points like it's no big deal. Oh, and it's an election year in the US of A. Still, though, interest in vintage sports watches is strong. Strangely, we haven't seen a flood of profit taking, but it's come more in the form of dribs and drabs. Personally, when I post certain watches, I still get a lot of "is it for sale" private messages, so I've at least felt recent demand. Also, in the same conversation referenced with Christopher, we chatted about vintage Rolex 1675 GMT's and how they've gone expensive. Well, yes they have and I guess it was just a matter of time before this often-colorful piece began to close the gap with its diving brother. Still, though, if you look at 1675 prices, they're often still cheaper than a new Rolex GMT II. Now, I know that comparing vintage versus new watch prices is not an "apples to apples" argument, but I do think that it's always relevant to keep in mind. The fact that so many great vintage watches still sell for a fraction of the cost of a new piece – often with a me-too movement – is something to consider. All in all, it supports a healthy vintage market and may even provide a cheaper alternative for a buyer who has concerns about the macro economy.
I'm still waiting for one of the premier auction houses – you know who you are – to focus a sale on 1960's sports watches and not solely on Rolex or Patek. Christie's touched on it with last year's online chronographs sale and the Phillips auction of last Autumn featured a number of Omega Speedmasters and Universal Geneve compaxes. Still, wouldn't it be great to see an auction filled with early Autavias, Enicar Sherpa Graphs, and the like? On the negative side, it may have the effect of taking a lot of pieces out of reach for most collectors, but it would also give the stage to some very deserving examples. My only question is whether the auction houses could get enough stock to make for a worthwhile sale.
Ah, the c-cases. Until now, I've essentially resisted the not-so-subtle charm/kitsch of these 1970's monolithic giants. If the 1960's watches represent lithe styling much like they're automotive counterparts of the day, then these egg-shaped beasts are the muscle cars or even the squared-off Gandini/Giugiaro designs of their generation. People are into different things and those who have been stocking up on 1970's pieces have certainly had an easier and more affordable go of it over the last 12-18 months than those who chose earlier executions. I think that this will change, but maybe not across the board. I'd look for Omega's, Doxa's, Heuers (of course) and even interesting divers such as Zodiac to gain in popularity. I also think that the brighter the colors, the better the opportunity. I do have my reservations, though; about 1970's pieces:
C-cased watches often look bad on a strap. With hidden or nearly non-existent lugs, these watches often demand a bracelet and those can be difficult to source. When sourced, they're typically nasty or uncomfortable. When in a bind, you can always buy mesh as an inexpensive and attractive alternative. Still, though, I think the artisan culture of strap making is supportive to vintage watch collecting and it's hard to connect with your watch when you can't look forward to removing that nasty Spiedel bracelet that came with your recent eBay purchase in order to pair it with custom "shoes".
In the 1970's, when cost cutting was the name of the game, most chronograph makers moved away from the column wheel and onto the lever actuated chronograph. The positive is that most of these movements (think the Valjoux 77xx and Omega 861) are damn near bulletproof, but they do lack some of the fragile charm of their ancestors. For sports watches, the 1970's seem to be rife with one of my most hated "complications" – the date window. Ostensibly, makers needed to keep pace with quartz watches and had to add features. Sadly, for many brands, these apertures are stylistically akin to short-sleeved dress shirts and pocket protectors.
The automatic arrived in chronographs. I know I've mentioned that I'm not a huge automatic fan, but I understand their purpose in sports watches – in dive watches. For sure, I own plenty of automatic chronographs, but if I never buy another, I won't shed a tear. For any chronograph collector, go grab an El Primero, a Calibre 11, and a Seiko 6138/6139 and then call it a day. Missing out on one of life's true tiny pleasures of winding a manual caliber is something that I can't give up and, frankly, I find myself looking at automatic chronographs with the same ambivalence usually reserved for quartz watches. For dive watches, I'm perfectly ok.
Finally, let's list some recommendations:
The Omega Speedmaster Professional II ref. 145.014. These watches were around on eBay forever at roughly $1,000-1,200. Those days are seemingly gone unless you're looking for an incorrect piece with service dial and all sorts of other glaring issues. If you've always glossed over these pieces, gloss no more. They wear beautifully and, in my view, truly capture the essence of the "space age" as this was the watch that Omega truly designed with astronauts in mind. Whether you select the crisp black and white dial, the fantastically complex racing dial or the gold dial with burgundy bezel, you're in for a treat. Yes, these are c-cased and look better on bracelet, but they're legitimate Speedmasters with 861 hand-wound movements. I picked up a racing dial and I now have the feeling that it's one of the most overlooked, taken for granted pieces out there. They're getting more expensive with transaction prices over $2,500. That's still a nice deal in my opinion.
The Breitling Navitimer 806. I'm really preachy about these, I know. I still contend it's the best deal out there for a legitimate, iconic chronograph. The Venus 178 is a great movement, the size is bold, and the pieces have a lot of history. Plus, they're still available in decent shape for under $4,000 and I believe that they will pop at some point.
Vintage dive watches. Wow, that's general. I do think that divers are making a slow climb out of what has been a relatively quiet state over the past couple years. I gave the recommendation on Super Compressor-cased pieces in an earlier update and I still stand by this. However, there are good deals to be had out there on 1970's Vulcain divers, Gruens and the like. These watches wear very well and carry a ton of character. If you want to spend under $700, yet sport something with great style, have a look.
Military chronographs. I've always been on the fence about military pieces. For some reason, I've struggled with authenticity, the normally high level of patina, and the fact that some of these pieces were worn during "interesting" times and by people who history has not exactly lauded. All that being said, there are plenty of pieces that were issued during non-war times that are highly worthwhile. Take, for instance, the Heuer Bunds that we covered recently. Wow, these are great watches and they're still out there for around $3,000!
Early 70's Heuer Carreras. In manual wind form, these 7736-powered watches are often seen as black sheep because they don't have a Calibre 11 and don't have the classic 60's style. Still, though, they're classic Carreras, often have great colors and look amazing on the wrist. The Calibre 11-powered pieces seem to be the unloved early automatics and look similar to the watch above, but I fancy the clean looks versus the other automatic Heuers. It feels like these watches were quite popular 10 years ago but faded off a bit. Blue or silver-dialed examples are exquisite.
Well, that's about it for this quarter's update. If you have any thoughts on great pieces to track down that deserve a mention, feel free to let us know below. Until then, enjoy the hunt and we'll be back in a few months!