Vintage Perfection: The Grand Seiko 44GS 4420-9000
A seriously satisfying watch that competes with the best
This certainly won't be my last article about vintage Grand Seiko on Fratello, but it does represent a milestone. The Grand Seiko 44GS is easily my favorite vintage reference from the brand and one that definitely belongs in any collection. This is a landmark piece with highly unique styling and world-beating finishing. I couldn't be happier to finally add one.
In 2013, I was fortunate enough to pick up a lightly used SBGW047, the relatively faithful reissue of the Grand Seiko 44GS. This was and is a highly collectible piece that does a nice job of mimicking the watch that we will discuss today. If I travel back to that time, I can still recall reading the announcement article and getting excited about the watch. Therefore, when I found one not long after for a substantial discount versus the list price in Shinjuku, I knew I had to buy it. I have enjoyed that watch heavily over the years, but I desired an original copy from the '60s because of its gold-medallion case back, acrylic crystal, and vintage movement. After a lot of looking, that day has finally come. I'm proud to own a 1967 4420-9000. Happily, there are just enough differences between it and the reissue to make it worthwhile.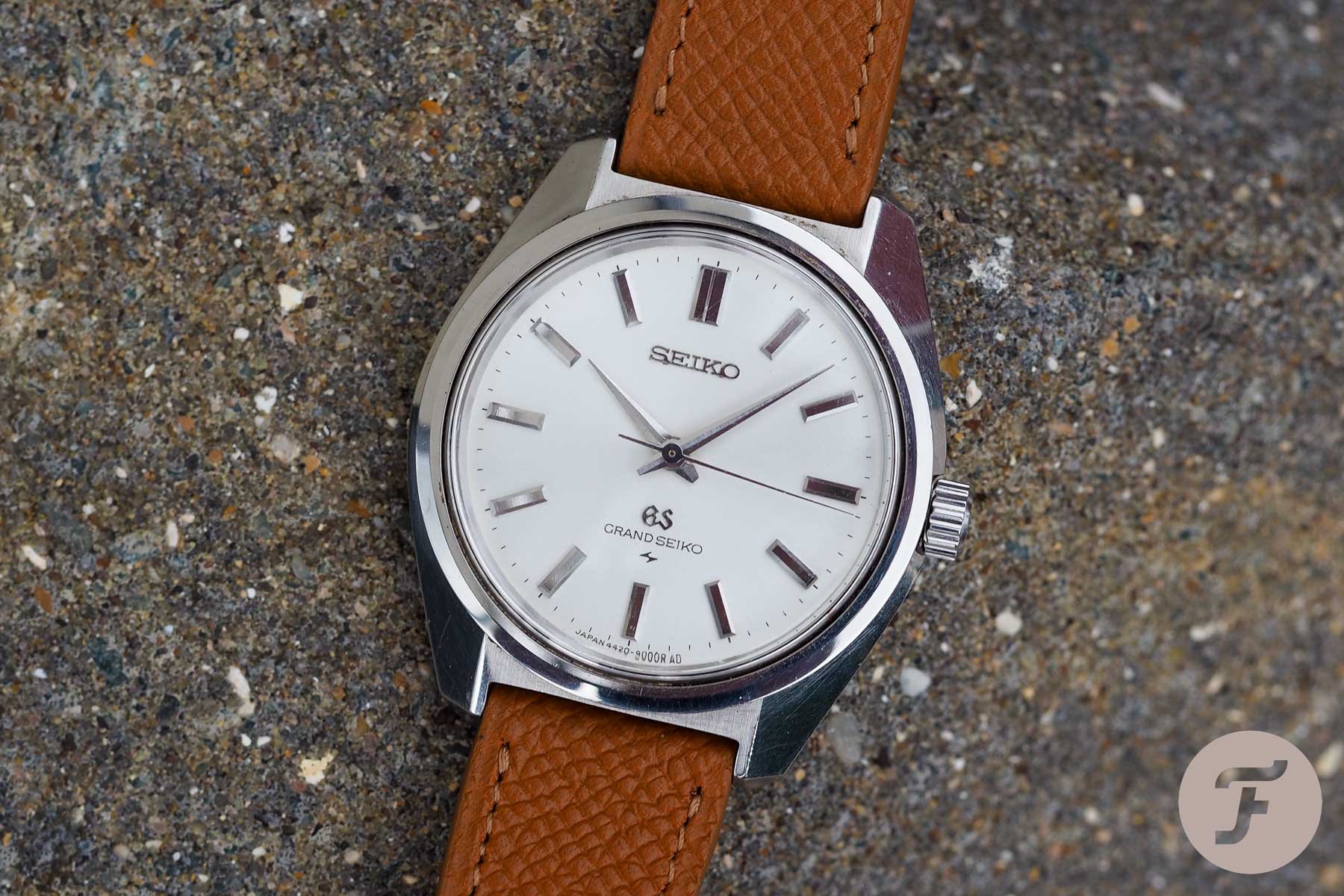 Why the Grand Seiko 44GS matters
A lot has been said about '60s Seiko watches and that also rings true for the Grand Seiko 44GS. The watch is often seen as the epitome of Taro Tanaka's Grammar of Design ethos. I can't add any new historical information, but here is how I see this watch. We know today, and especially when it comes to Grand Seiko, it's truly difficult to come up with something novel in the watch world. On top of that, it's even more difficult to create an eternal design. The 44GS is the brand's opus, and it is an absolute classic. I'll go further with this piping-hot take. Every watch that came before it and after from the brand somewhat paled in comparison. In my view, this is a watch that truly brought something new, and that makes it highly significant.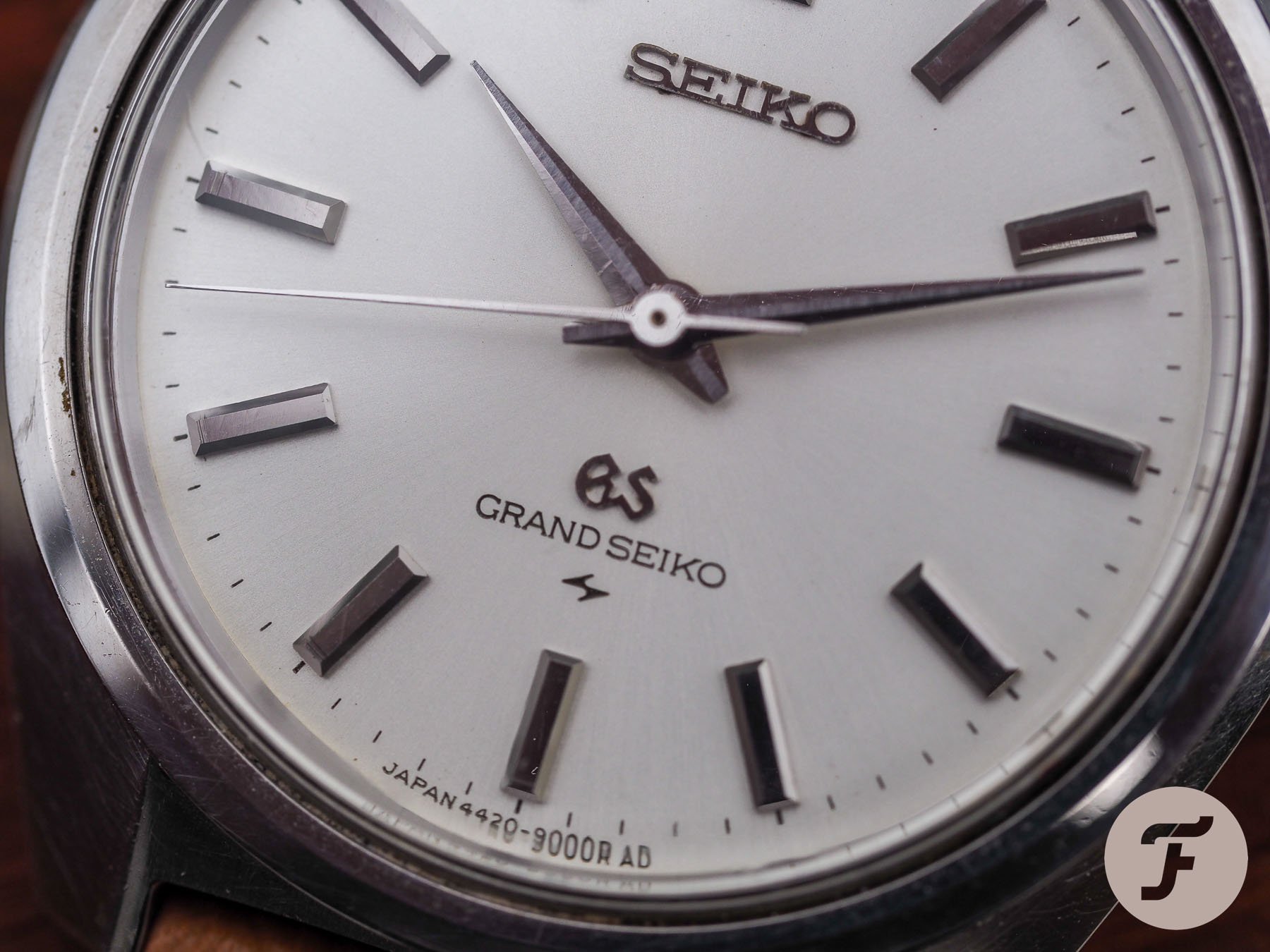 History
The reference 4420-9000 was made from 1967 until 1969 in the Daini factory and originally retailed for ¥24,000. It contained the same 4420-series movement that we saw in the King Seiko 4420-9990 Chronometer. Here, though, due to the timeframe, the Grand Seiko version of the watch no longer had the rating due to COSC rules. Seemingly, to differentiate the 44GS from the earlier King Seiko, the Grand Seiko piece featured a bold new case.
A glorious case design
Taro Tanaka created an absolute masterstroke of a design with the Grand Seiko 44GS. This was a watch that took elements from prior King and Grand Seiko models and elevated the whole form. A boldly angled 37.9mm case with polishing on most surfaces came together with a flat, matte slab of metal between the 18mm-spaced lugs. The look is different than anything we'd seen before from any watchmaker, but it works somehow. From the side, there's a strong line running the length of the case that meets faceted lug ends. It's details like this that make one appreciate the work that went into designing such a case.
The dial design wasn't entirely new when compared to earlier models, but the bright indices and clean display sync harmoniously with the detailed case. Dagger hands, a needle-like seconds hand, and a silvery sunburst dial all contribute to making this a well-orchestrated package. It's clean and well-crafted with its sharp indices and applied logos.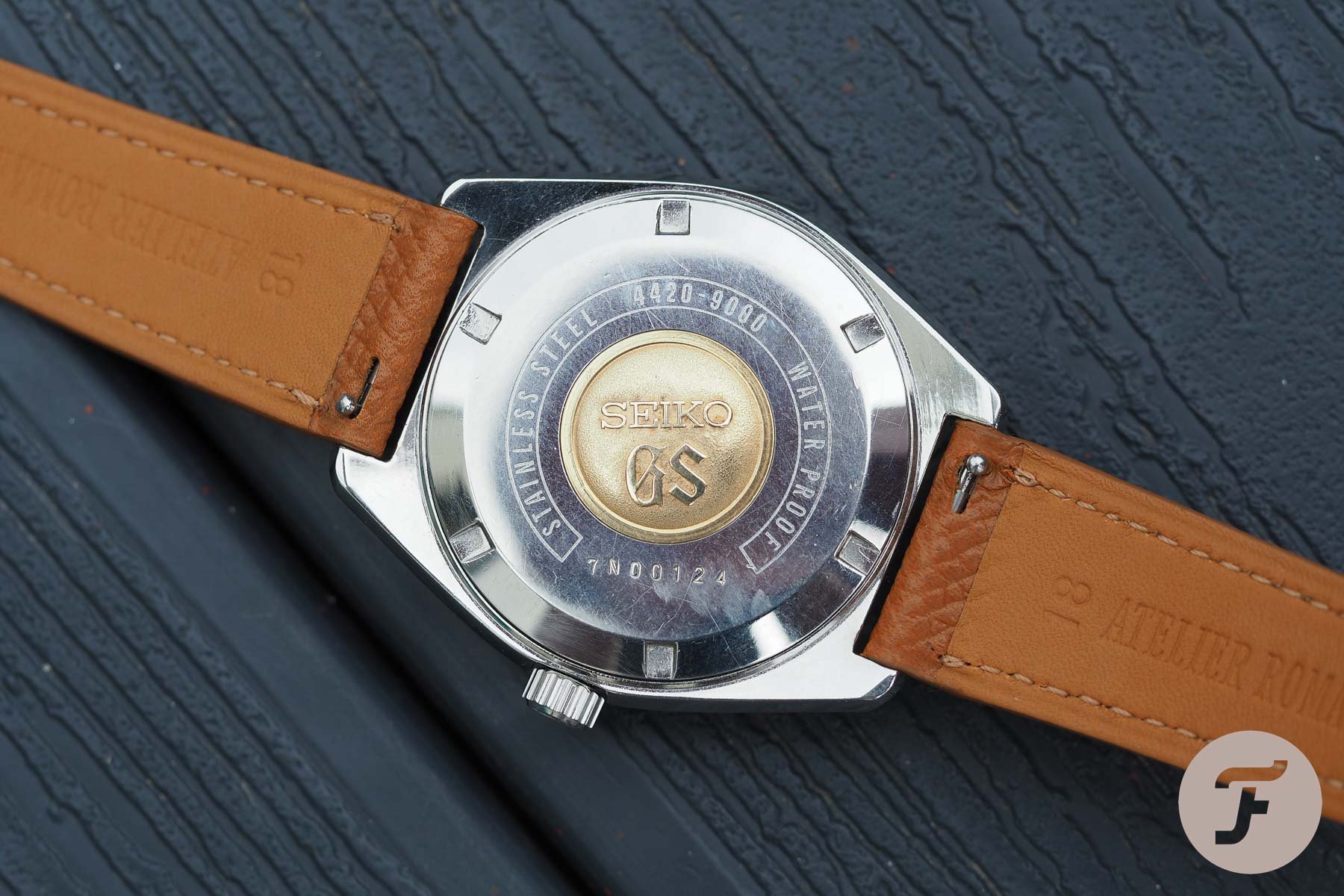 Great touches and a lovely movement
Of course, the Grand Seiko 44GS is a fully outfitted Seiko. That means that it received a signed crown and more. Here, the screw-in case back is adorned with a gold medallion that simply shows "Seiko GS." As you can see in this example, it has aged well and isn't showing any of the characteristic holes or green spots. Do we see this case back often? No, but when we do, it reminds us that the watch is more than run-of-the-mill Seiko fare.
As mentioned previously, the Grand Seiko 44GS used the caliber 4420 movement. It contains 27 jewels and lopes along at a leisurely 18,000vph. It's known for its robustness and accurate timekeeping. When I had mine serviced recently (more on that shortly), Sandro, the watchmaker at Seiko Frankfurt, really complimented the watch. He mentioned how Seiko used four jewels in the barrel instead of the typical two, which meant better longevity and less friction.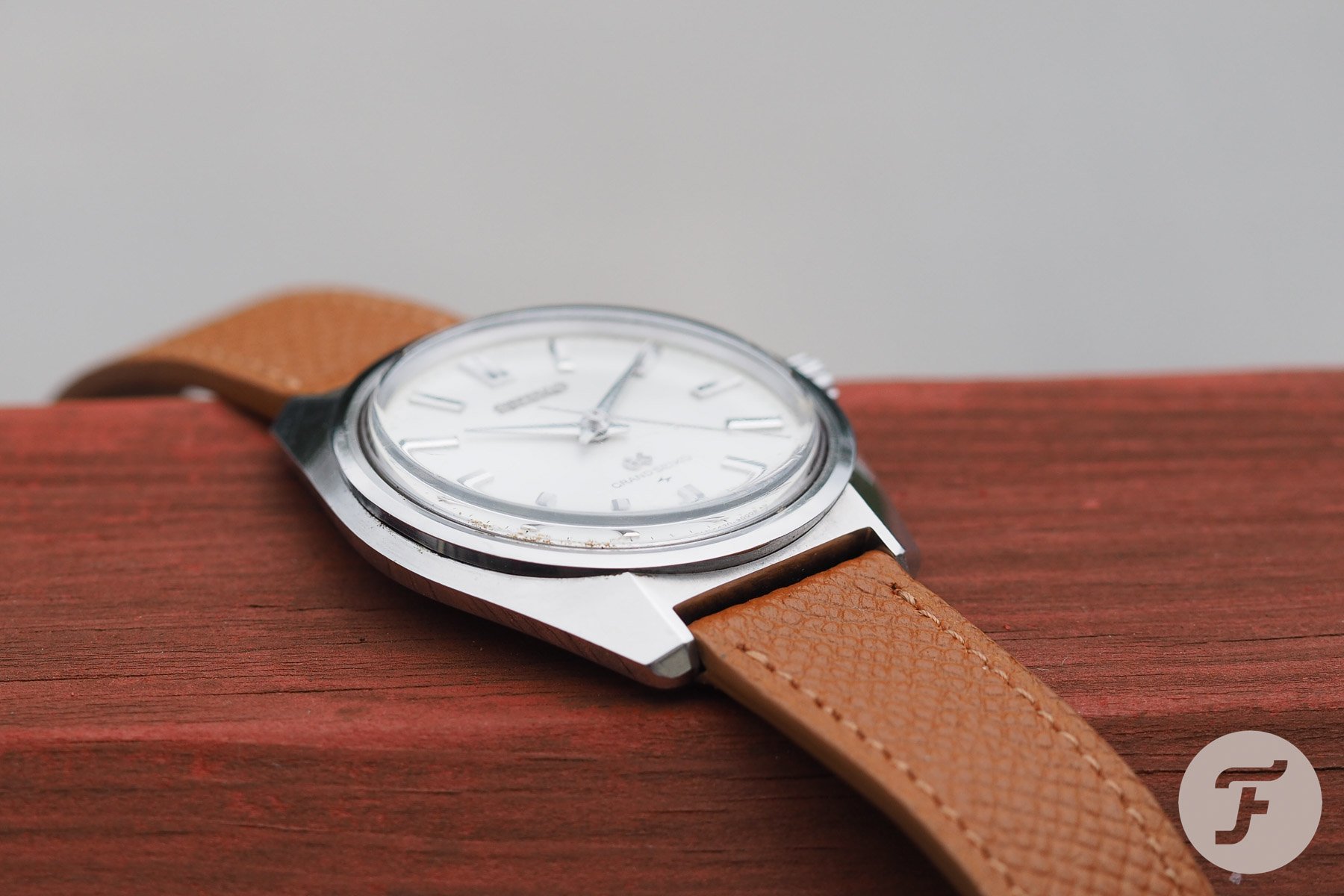 Variants and advice
From my reading, the stainless steel Grand Seiko 44GS came in two flavors. An early version had the "Diashock" script on the dial. In 1967, however, Seiko moved away from that and issued a simpler dial. The Diashock-labeled pieces are rarer and more expensive, but there's no real difference otherwise. As far as locating my piece, I feel that it was a matter of buckling down and searching Japanese auctions for a nice example. In Europe, we've lost the ability to view Yahoo! Japan Auctions due to data privacy issues, so I used a third-party hosting site. There are always several of these watches on auction, but it took me several months to find a piece worth acquiring.
I preach endlessly about finding an unpolished or ever-so-lightly polished case when it comes to Grand Seiko. Otherwise, one misses all the magic in these subtle watches. With the 4420-9000, the advice needs to be ramped up exponentially. There's a lot happening with this watch case, and it is best consumed with all its splendor unspoiled. I recommend subscribing to The Grand Seiko Guy's newsletter. You can view it a week later for free if you're not up for paying, and it's still a nice way to learn about what is and what isn't real or in good condition with these watches and other GS models. In any case, I also see a lot of ugly, stained dials in examples of this watch. I think compromising is a mistake.
Locating my Grand Seiko 44GS
After several months of looking and working through low-res images, I came upon a watch that looked good. The crystal had and still has some superficial scratches, but the dial looked clean. Most importantly, the case looked sharp! I always look at the main edge on the side of the case with these watches and the transition from the polished upper surface to the matte portion between the lugs. Here again, the lines looked crisp. There was one issue, though, and that was the movement. Unfortunately, the watch was sold as a non-runner, and there were no pictures of the 4420 caliber. Due to a lack of staining on the dial, I hoped that it was at least rust-free on the inside. I went for it and won it for roughly €1,800.
When the Grand Seiko 44GS arrived thanks to the help of my friends Eric and Patrick, I had to act quickly. I was several weeks away from a move out of Germany and wanted to see if the people at the local Seiko Frankfurt boutique could help. Thankfully, they could, but I did ensure a good start by bringing a donor King Seiko 4420-9990. My money was on this needing a simple swap of the barrel and mainspring along with a service, and thankfully, I was correct. All told, for under €2K, I became the proud owner of a lovely 4420-9000.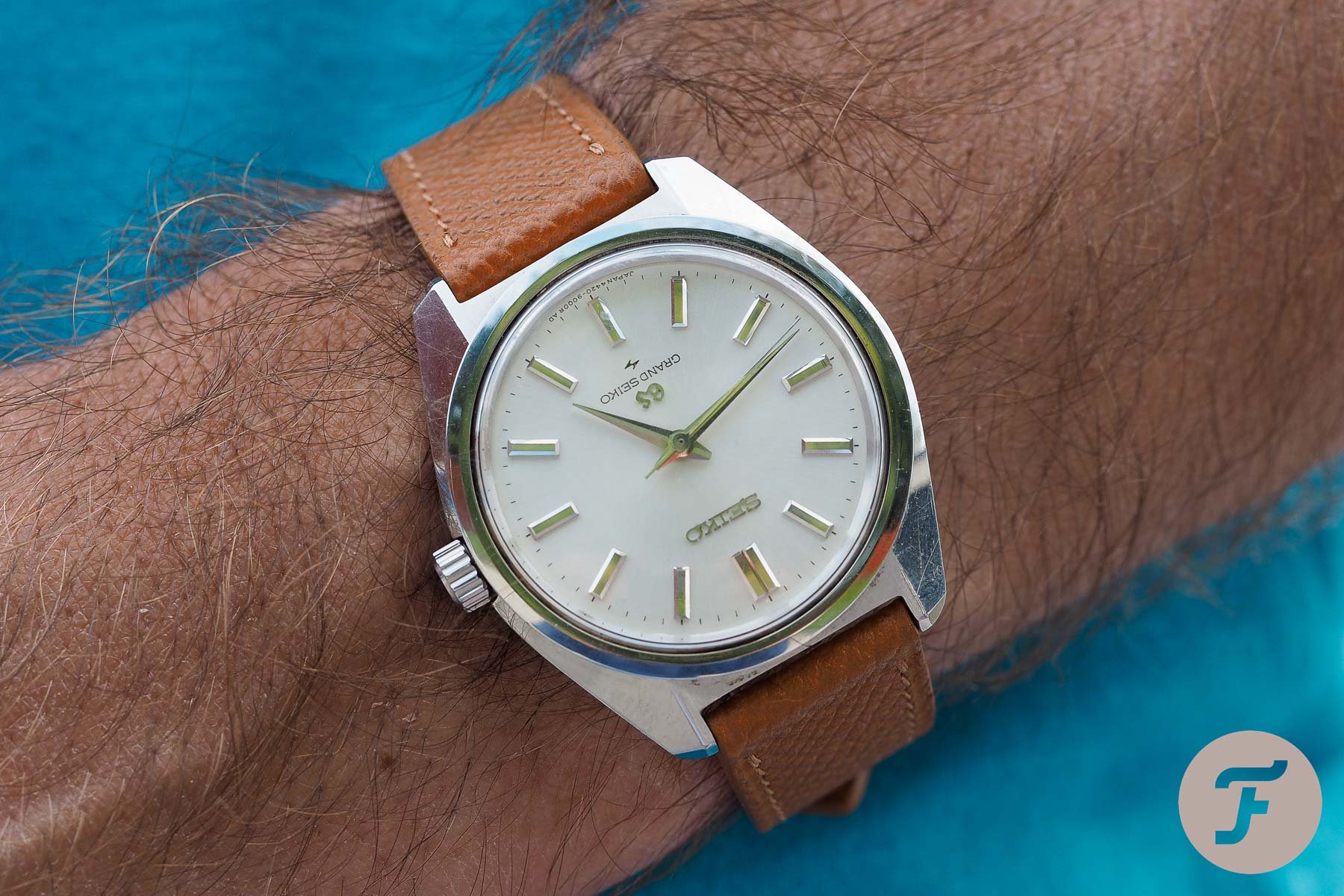 Wearing this watch has been heavenly
I stated that the Grand Seiko 44GS has just enough differences from the 2013 SBGW047 to make it worth acquiring. Also, it's much less expensive, and it wears better. The reissue was over 11mm thick, whereas the original was roughly 9mm thick. That's a huge difference, and it comes down to the movement. Yes, the 9S64 that is still produced today is a bit of a porker compared to the '60s unit! This vintage version is simply wonderful on the wrist and works surprisingly well with all sorts of clothing. It's currently on a medium-brown strap from Atelier Romane, and it looks quite good.
I picked the 4420-9000 up from the boutique three days before leaving Germany for a two-week stay in the USA. I decided to wear it on the plane, and it proved to be a great companion. Since then, I've kept it running constantly (roughly 10 days at the time of writing), and it seems to be operating within chronometer specifications. In fact, Sandro said it was keeping time beautifully after he put it through two days of testing.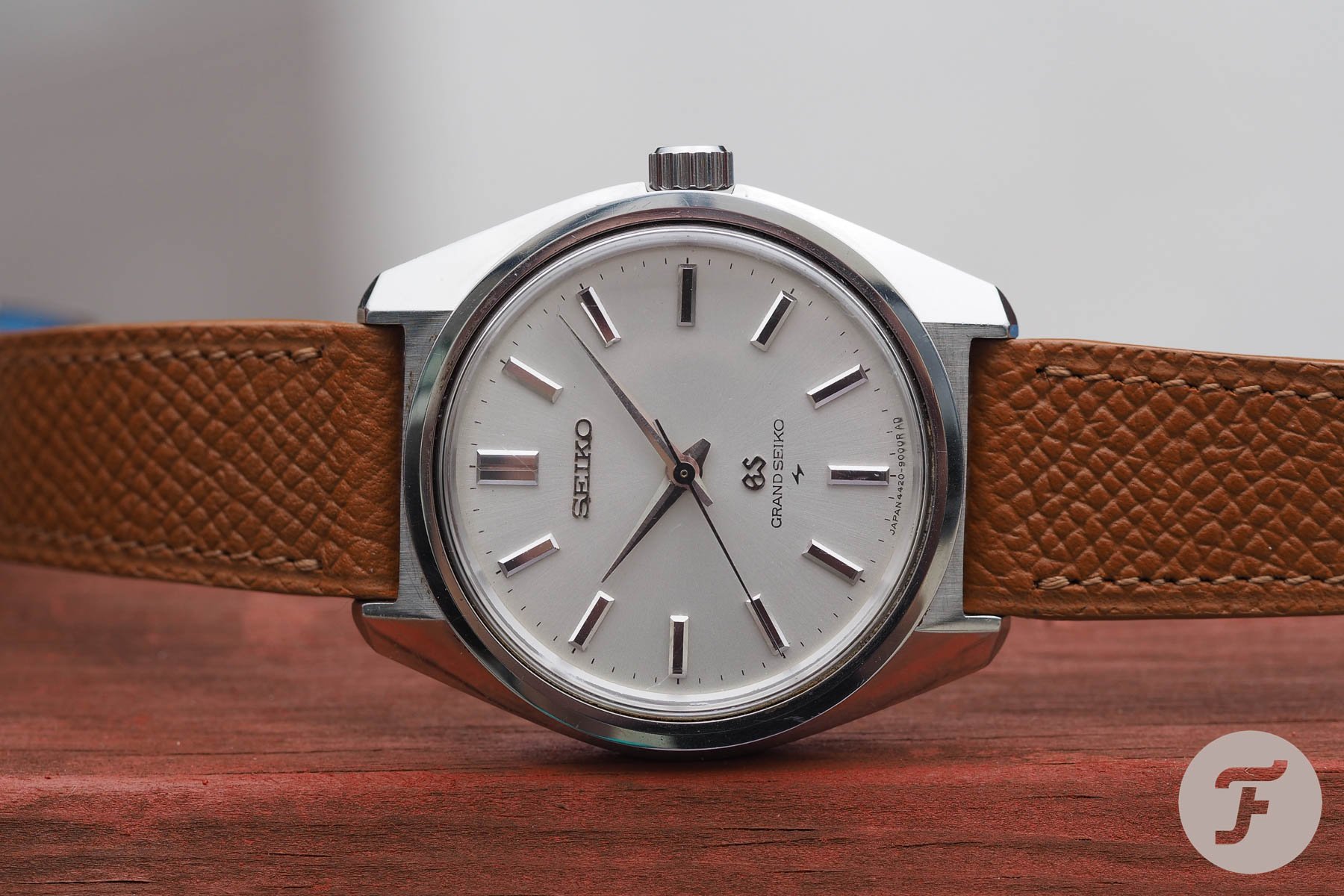 Where this watch belongs — in every serious collection
I can't help but look at the Grand Seiko 44GS and see it as every bit as worthwhile to own as, say, a vintage Omega Constellation or even a Patek Calatrava. Of course, at €2K–3K for a nice example, it costs but a fraction of some legendary Swiss timepieces. Nevertheless, it's still a worthy addition that feels incredibly substantial and stands up well to some very famous watches. Plus, these references are still relatively uncommon outside of Japan, so finding a good one feels like a worthy undertaking.
Yes, I've gushed heavily over the Grand Seiko 44GS, but I cannot help it. There are scores and scores of great watches that deserve a lot of praise, but this one is up there with my absolute favorites. The uniqueness, quality, and cohesive package are truly endearing while the price of entry is truly approachable. If you find a good one, I don't think you can go wrong.