Hands-On Grand Seiko SBGW047 Review
If there is such a thing as the "Seiko bug", then I've clearly been bitten and now have a serious case of malaria.  However, it wasn't always this way.  I've been travelling to Japan at least annually since 2004 for business and while my evening and weekend watch pursuits were not nearly as fervent as today, I did not really notice Seiko until 2012.  I bought a quartz Seiko tuna in Fukuoka and have never looked back: adding a large, yet affordable, collection of vintage pieces along the way.
Since that time, whenever work took me to Japan, I'd notice a rather austere display case in most brightly lit (think of an overdose on fluorescent lights and you're getting close) Japanese "camera stores" selling some rather plain models by the name of Grand Seiko.  I had passed by these cases many times and while I had clearly bought into the Seiko value proposition, I had not bought into the belief that one should spend thousands for a Seiko dress watch.  Frankly, without a deeper glance, the watches appeared far too sedate for my tastes and looked like "gussied-up" workmanlike Seikos that were ubiquitous during the 1970's and 1980's.  However, I started reading more and more online about Grand Seiko and my interest was piqued.
Grand Seiko SBGW047
I'm not a marketing person by any means, so what I will say is purely opinion.  The marketing for Grand Seiko is questionable at best.  To the normal luxury goods buyer who buys what they like based more on looks versus mechanical qualities, the first thing they see on a Grand Seiko is the "Seiko" script.  Refer to my aforementioned 1970's and 1980's comments and Grand Seikos likely receive little more than a glance from most prospective buyers.  Furthermore, the buying atmosphere around Grand Seikos can be off-putting as well.  Yes, Grand Seikos are sold in high-end Japanese department stores alongside vaunted brands such as Patek Philippe and Rolex but they are also sold in the brightly lit camera shops that will gladly sell you a $20 Casio, some Pentel pens and an inkjet cartridge.  Needless to say, Grand Seiko has an incongruous depiction and that doesn't even begin to address the lack of publicity in foreign markets.
So after all of my negativity, why am I going to write a review of a Grand Seiko?  The answer, readers, is simple.  After more online digging and high-resolution photo drooling, I bought one, and dear me, this watch is something to behold.  Those who accuse Seiko of being philistines who almost crushed the Swiss watch industry due to the quartz revolution should really take notice of Grand Seiko's mechanical prowess; they are simply that good.
I travelled to Tokyo last October for business and managed to spend a Saturday there before moving on in my travels.  I tend to stay in Shinjuku for a number of reasons work-related but it does not hurt that there are a plethora of watch buying opportunities within close proximity; department stores, watch boutiques, and camera stores are all within range. With a plunging yen and a still buoyant Euro, I felt this was the perfect time to consider a Grand Seiko, or "GS".  However, I did not know what I wanted.  On one hand, I wanted a katana-cased piece that harkened back to the 1960's and is easily GS's most recognizable design.  On the other, I wanted a manual wind movement since I enjoy the act of winding a watch before wearing.  Today, though, the current GS line offers many katana-cased pieces but with only automatic or quartz movements.  On the manual side, a beautiful retro-styled round cased piece is available.  Yes, a concern indeed.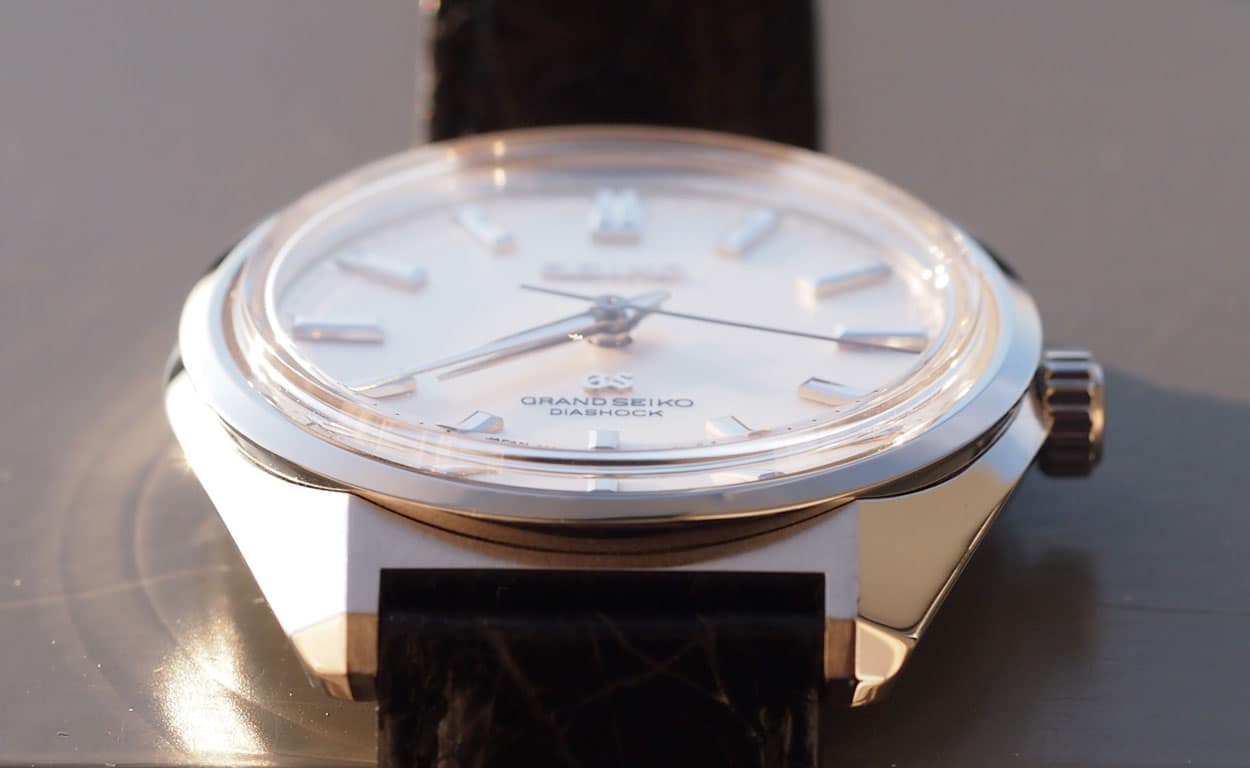 After arriving late on Thursday from China, I made it to Yodabashi Camera before they closed and I tried both on and came away as brutally impressed with the finish, movement feel and price.  However, as Friday after work came around and I kept looking, I was not impressed with seeing these exact models in abundance at every single camera shop.
About an hour later, still before "Suntory time", I made my way to one of my favorite watch shops in Shinjuku: Isheda Best Watch.  Isheda has a great selection of new watches from so many brands but they also have a basement of high-end used watches.  Not normally known for low prices, they do tend to carry quality.  I popped down the narrow staircase to the basement and did my usual perusing of the nearly 100 Speedmasters, the 1990's Tudors and the Rolexes.  It was not until the end that I came upon the case displaying the used Grand Seikos: and there it was, the manual wind, katana-cased GS SBGW047.
If you've never beheld a katana-cased Seiko, in GS, King Seiko or normal Seiko form, it is extremely unique.  They carry a knife-like design with hard facets and varying finishes; the light tends to dance on this creation.  I think about the significant designs for each major brand, the lever lock of Panerai, the lyre lugs of Omega, the traditional oyster case of Rolex, and, to me, the katana best represents Seiko.  First introduced in 1967 as the 44GS, the design was really created to capture light.  While the katana-cased 44GS was not the first Grand Seiko, to me, it's their landmark design.
Coming back to the SBGW047, we have a watch that, in stainless, is an exact visual copy of the original 44GS from 1967.  Seiko produced the current piece in 2013 as a limited edition of 700 to celebrate 100 years of watchmaking; there were also 70 of each made in white, rose, and yellow gold.  Inside beats the 28,800 bph, 24 jeweled, 9S64 manual winding Grand Seiko movement, which represents the only real aberration from the original 44GS.  The watch features a 72 hour power reserve and is adjusted 6 times which is a specification generally reserved for the upper echelon of the Swiss makers.  Seiko claims accuracy to -3/+5 seconds per day.  Physically, the watch has a case diameter of 37.9mm and a thickness of 11.5mm.  What you see in the pictures was the only choice for dial color and the strap selection was limited to black crocodile.
Transporting us back to that day in Shinjuku, as you can see, I purchased the watch.  It was basically brand new with only a small case scratch and the shop had replaced the crocodile strap.  The box, which is massive, was included, along with a hardcover-bound set of papers documenting the serial number, etc.  From a packaging perspective, it was clear that I was not purchasing any run of the mill Seiko: Prospex buyers can chuckle.  I had a couple things in my favor that day.  First, as previously mentioned, the Japanese Yen was, and still is, taking a pounding versus the big Western currencies.  Second, since the watch was used, it was a great deal.  I would have likely struggled to the point of not buying if it had been new as the EU price, which is always high, was an astounding 5,700 Euro when new!  Needless to say, I scored very well even versus today's used market.
I come back to observing the GS.  The case, when viewed from any angle is marvelous.  Look head on from the lugs and you're greeted with perfect angles and a design restraint that can somehow be described as upscale tasteful and utilitarian at the same moment.  The side view is where the Katana shape comes into play.  A stainless bezel supports the crystal to add just the right level of visual mass.  Oh, and Seiko detractors will find themselves rebuffed as this piece contains a beautifully crafted, signed "GS" crown.  The flat back is adorned exactly as the 44GS with a stainless, bas-relief "GS" logo in the middle and model information in a horseshoe around the circumference.  The crystal is, thankfully, anti-reflective sapphire versus Seiko's typical choice of Hardlex mineral crystal.  It carries a shape that one would easily confuse as acrylic but brings a nice bit of durability to the game.  Lest I forget, the stainless pin buckle on this piece is really something to see.  Again, most of us are used to non-signed Seiko buckles, but it appears that Seiko has made up for that on this model: amazing finishing.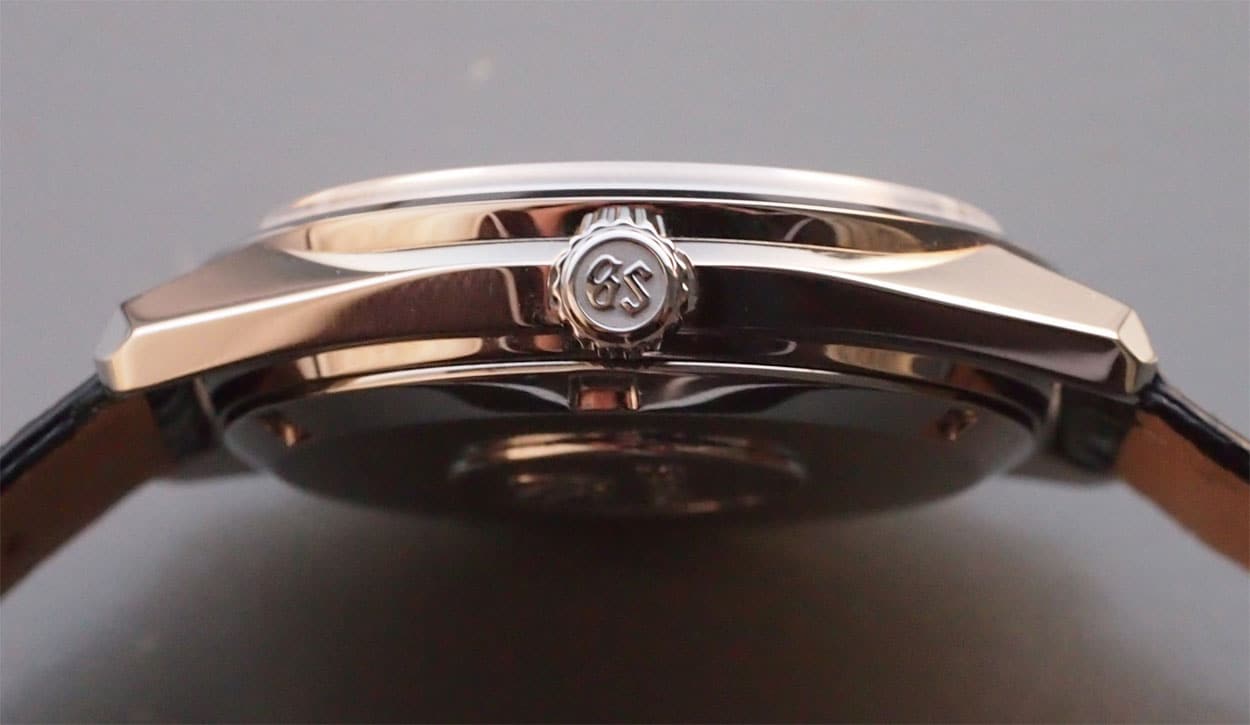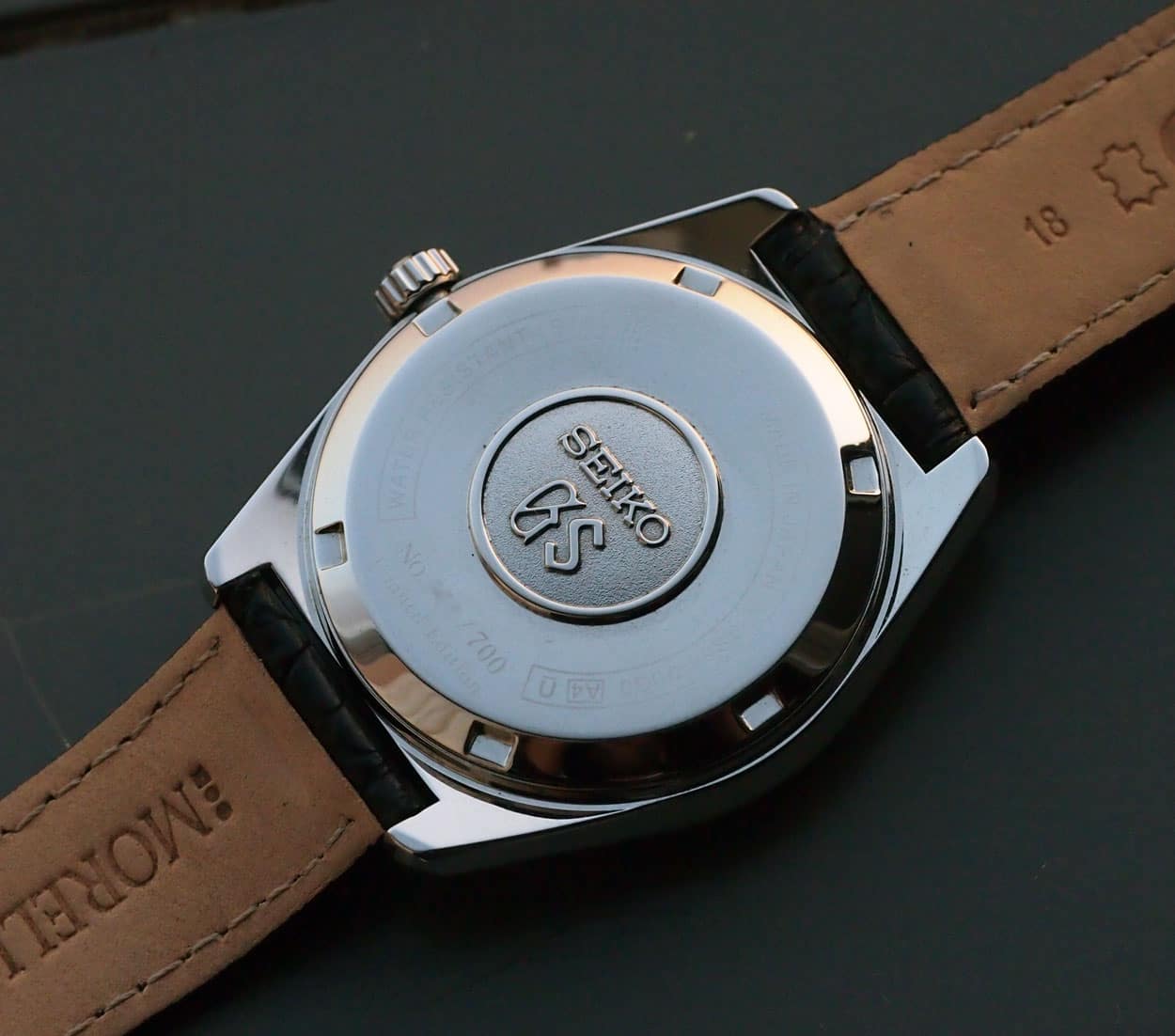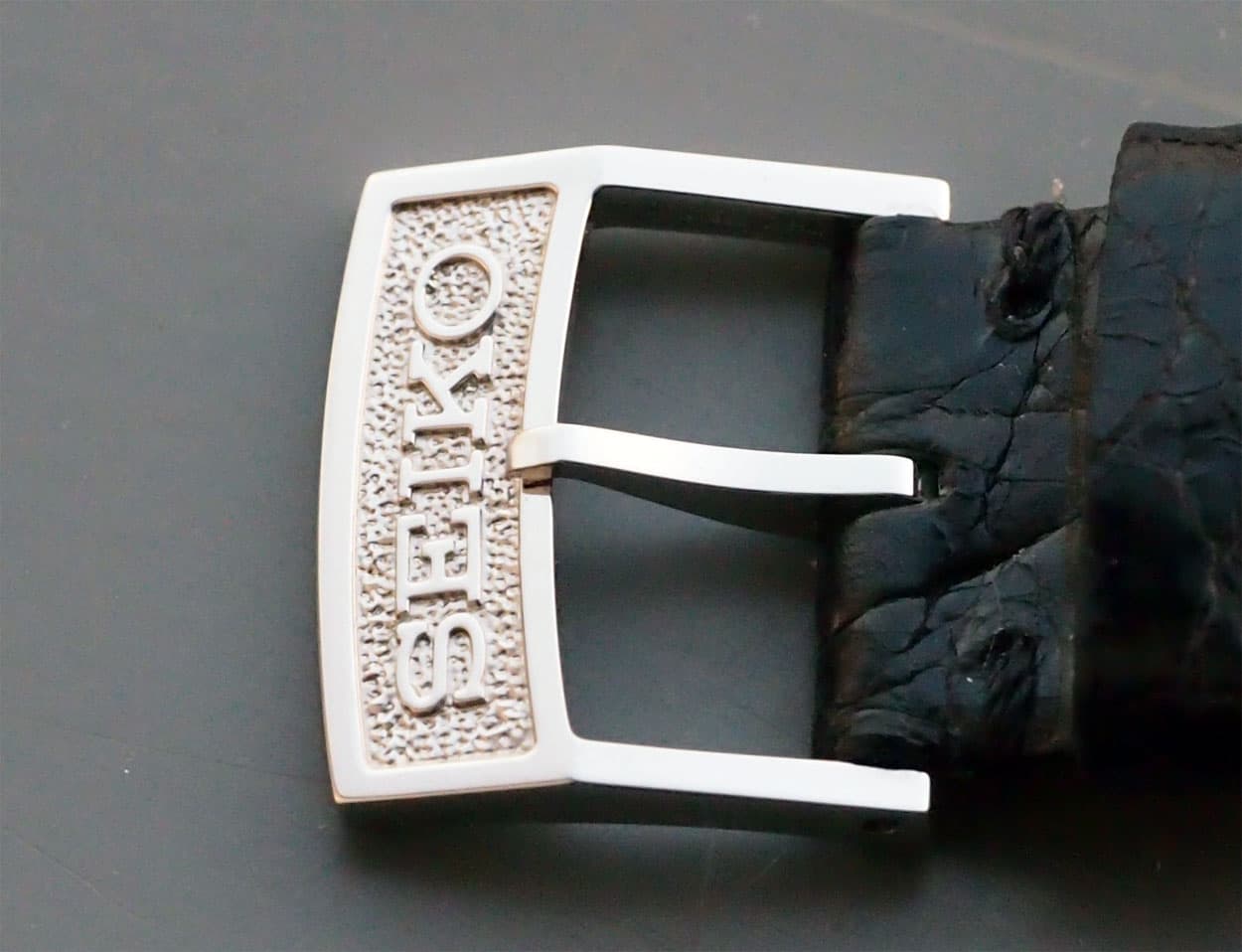 Moving onto the dial, one finds the epitome of restraint.  Break out the loup and I challenge anyone to find a defect in either the dial, hands or applied markers.  The dial is flawless in its finishing and the diamond-cut markers and hands are truly awesome under magnification.  As an aside, go "drink in" a glossy black-dialed Grand Seiko of any reference and you'll wonder whether some Swiss makers are employing your local kindergarten to do their dial work; the finishing is that good.
So, what is this watch like to own and hold?  From an owner's view, you can rest assured that you will likely be the only wearer within whatever kilometer or mile radius you choose.  So, yes, it's uncommon.  Furthermore, from a distance, it's anonymous and anything but flashy.  Look down, however, and soak in the satisfaction of wearing a perfectly crafted watch that endlessly manipulates light to its wont.  As far as wearability, the watch is 3 bar water resistant, so it can deal with everyday life quite well.  Sure, it jumps out as more of a business/dress piece but it could be dressed down nicely for casual Friday.
On the wrist, the case size is perfect for this style of watch.  The lugs give it a slightly larger wear than its size would suggest.  It hugs the wrist rather well although the dropping lugs actually only appear this way as the case back is perfectly flat save for the slight raised GS medallion.
Finding an SBGW047 can be difficult.  I have seen them from time to time on chrono24 and certain forums.  Most were sold in Asia: mine was originally from Thailand.  Pricing seems to be all over the place from the low end of $4400 to the high of over $6000.  Interestingly, when I was in Tokyo the shop still had a new yellow gold model (in a word: WOW), but pricing is simply prohibitive for most.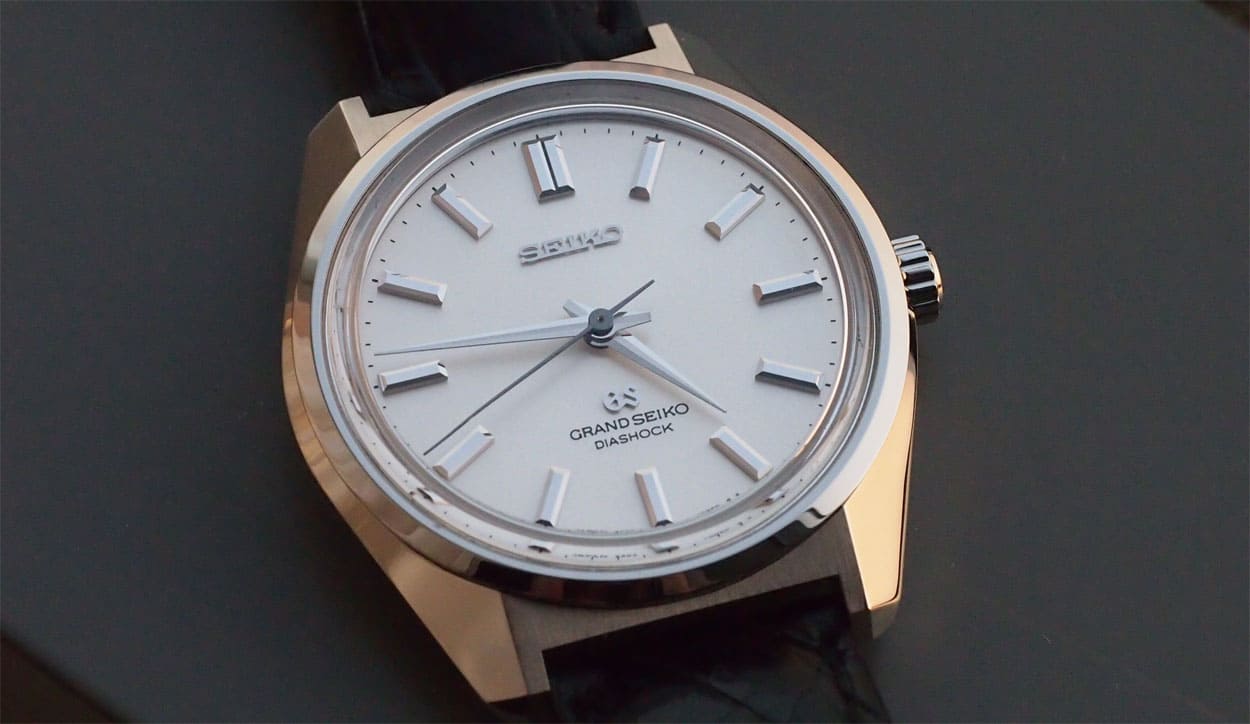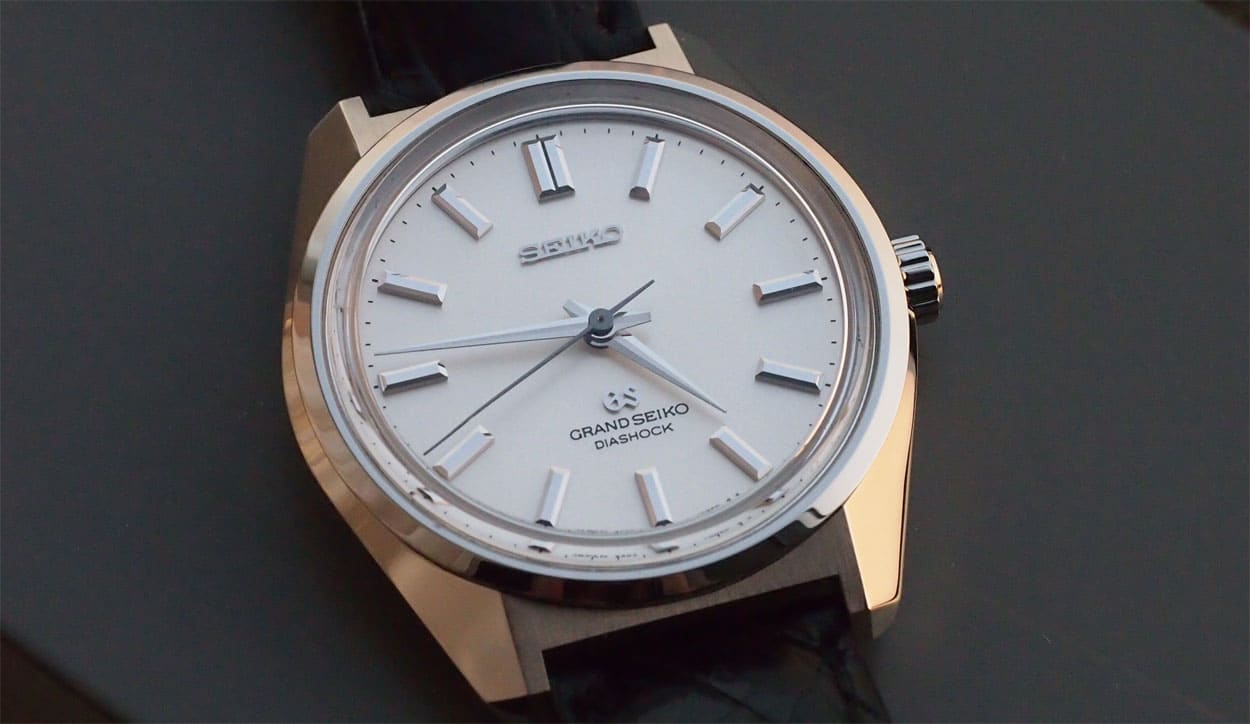 Sometimes, it can be difficult to get excited about a starkly designed, 3-handed dress watch.  Handle a Grand Seiko and I think you'll understand why I enjoy this piece so much.  It wholeheartedly pledges its allegiance to a prior, albeit legendary, design while managing to look perfectly modern today.  Furthermore, it serves as a great, and uncommon, option to many Swiss pieces priced double and higher.