Hands-On With The Von Doren Il Tempo Gigante Automatisk Kronograf — A Loving Homage To The Pinchcliffe Grand Prix
A colorful chronograph befitting the outrageous four-wheel drive, 12-cylinder and jet-powered race car that runs on pure alcohol
There are 5.4 million people living in Norway, and the country's most successful movie, Flåklypa Gran Prix (or The Pinchcliffe Grand Prix), has sold 5.5 million tickets since its release in 1975. The wrong conclusion is that every Norwegian has seen the movie that features the outrageous Il Tempo Gigante race car. But it is true that when the Von Doren Il Tempo Gigante Automatisk Kronograf arrived in the office, Laurits, our in-house Dane — I know, I know, he's not Norwegian, but at least he's Scandinavian — jumped for joy. Up in the Nordics, the stop-motion-animated movie made an enormous impact. Let's see if the tribute watch did too.
The twinkle in Laurits's eye and the joyful way he talked about the movie Flåklypa Grand Prix being his absolute favorite childhood flick caught me by surprise. It was right after I opened the beautiful wooden box with a depiction of the wild Il Tempo Gigante race car on it. I have to admit I'd never heard of the movie Flåklypa Grand Prix, neither by its original Norwegian name nor the English name, The Pinchcliff Grand Prix. And maybe that's a bit odd because, in my childhood, I watched Pippi Långstrump — you guessed it, Pippi Longstocking — and my absolute favorite, Karlsson på taket, or Karlsson-on-the-Roof. Both are Swedish, not Norwegian, but I don't think I ever watched a series or a movie from Norway. Well, at least I can look at the Von Doren Il Tempo Gigante Automatisk Kronograf in a completely unbiased way.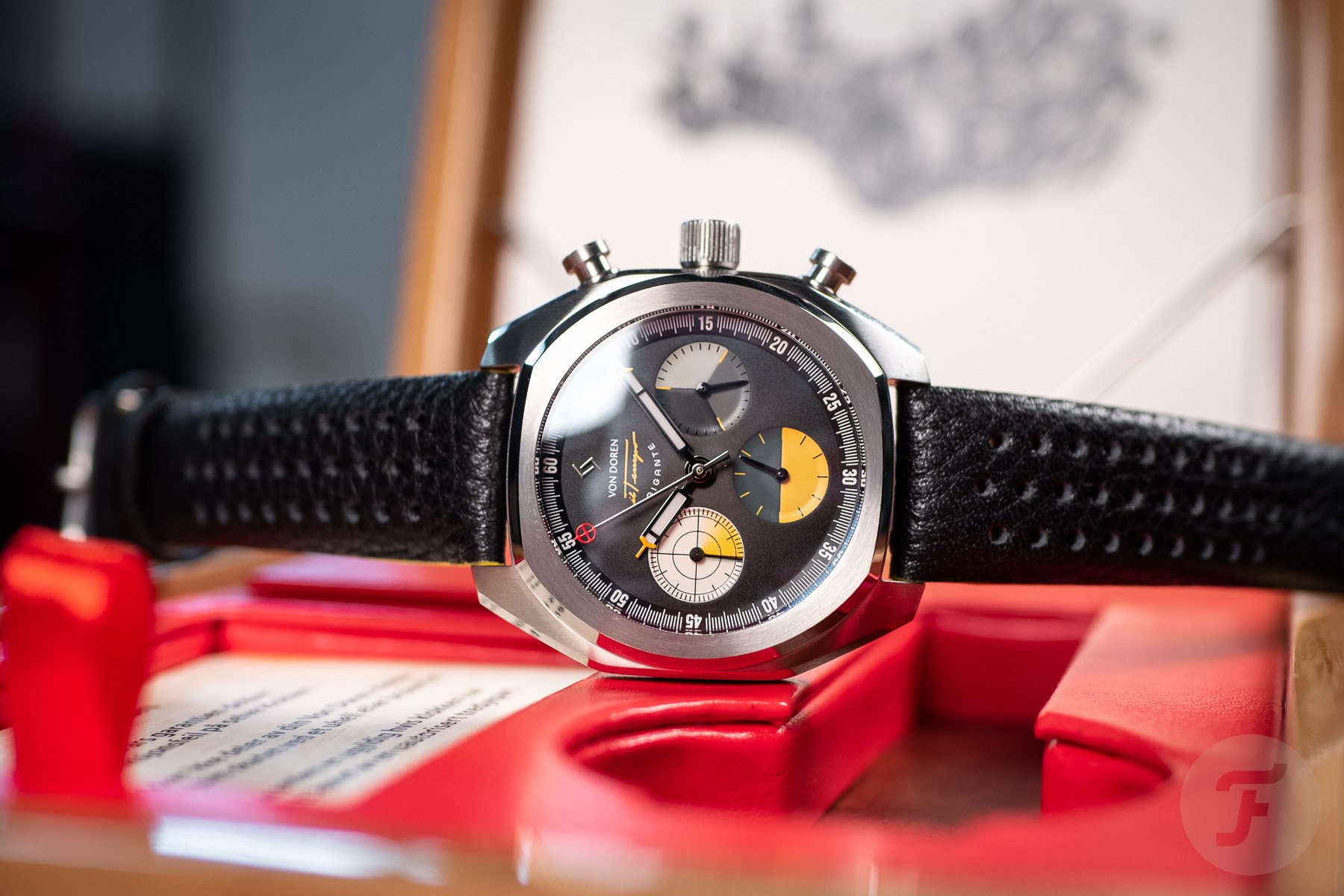 The roaring good looks of the Von Doren Il Tempo Gigante Automatisk Kronograf
Øyvind VonDoren Asbjørnsen started his watch brand Von Doren in 2016. Since then, the brand has been releasing timepieces inspired by Norwegian culture and the country's impressive nature and long history. The 1975 movie Flåklypa Grand Prix is a big piece of timeless Norwegian culture because it is shown on Norwegian TV on December 25th every single year.
Watching the movie is a tradition. Just like watching the New Year's ski-jumping from Garmisch-Partenkirchen slightly hungover is, I guess. But even without ever seeing Flåklypa Grand Prix, the Von Doren Il Tempo Gigante Automatisk Kronograf impressed me with its obvious motorsport connection. There's the perforated racing strap and, of course, the colorful dial and case shape, which make you think of a string of racing chronographs from the 1970s.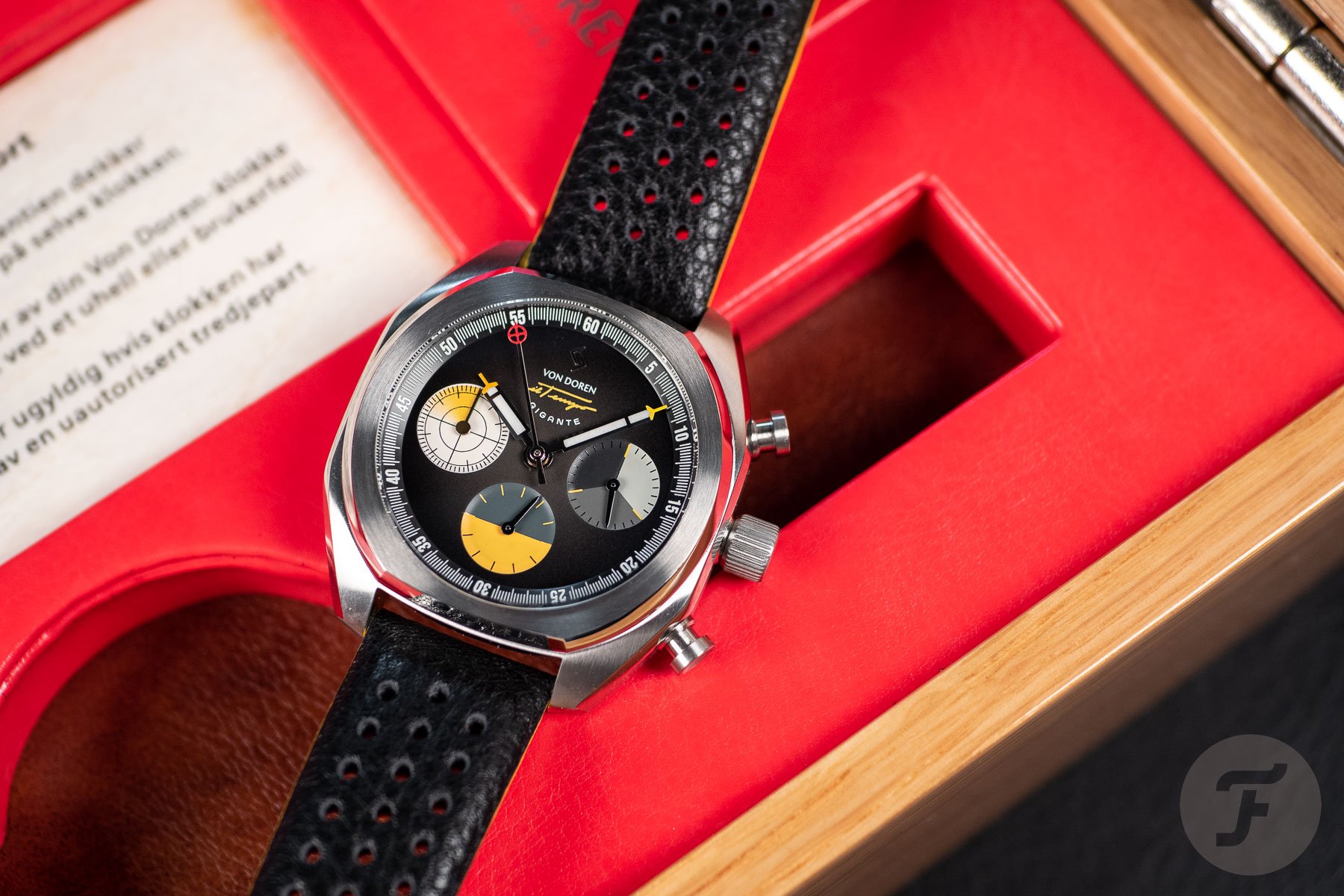 What do a chronograph and loaded fries have in common?
"A bit of color never hurt anyone" is my motto. And I do like a colorful chrono because it tickles my love for having this but also that and, let's not forget, a bit of the other thing too. A colorful chronograph is like enjoying loaded fries; every once in a while, having something that's way too much is good for the soul. By the way, I prefer fries topped with melted cheddar cheese, diced spring onions, thinly sliced jalapeños, crispy and salty bacon, sweet mango cubes, sour cream, and a bit of sriracha for extra heat. I love the "cheese" and "sriracha" on the Von Doren Il Tempo Gigante Automatisk Kronograf. The "cheese" is on the sub-dials, and the "sriracha" is on top of the central chronograph seconds hand.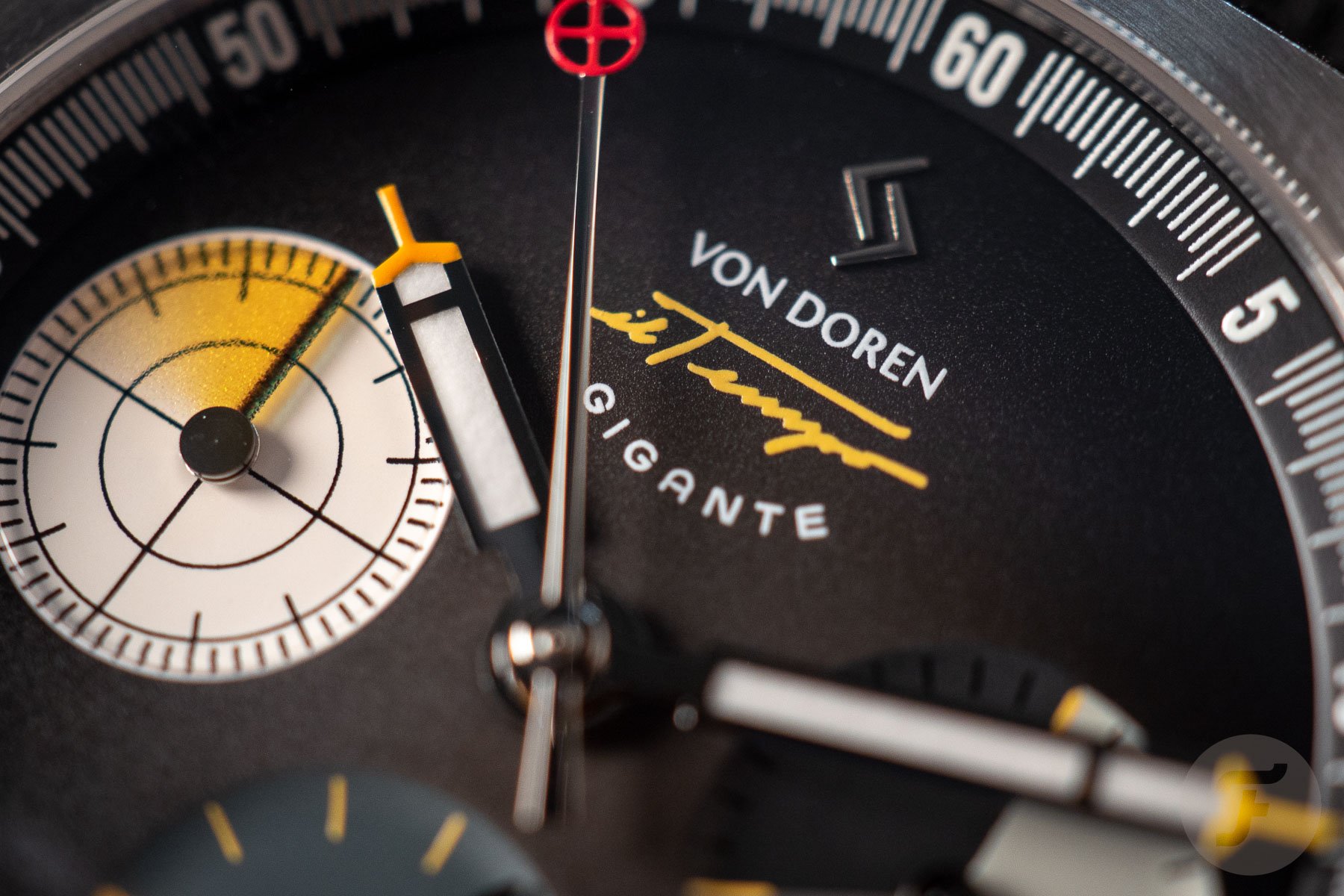 Power!
The Von Doren Il Tempo Gigante Automatisk Kronograf might make me think of an unhealthy but very satisfying XL snack, but Øyvind VonDoren Asbjørnsen wanted the watch to fit the insanely wild Il Tempo Gigante race car. I had to look it up, and what I learned is that Il Tempo Gigante is a four-wheel-drive monster with a straight 12-cylinder engine with electronic fuel injection directly to the fuel nozzles. Oh, and it runs on pure alcohol. But that's not the only power source. Il Tempo Gigante is a hybrid car. No, not a plug-in hybrid like a Prius but something much better. The second means of propulsion is nothing less than a rear-mounted jet engine!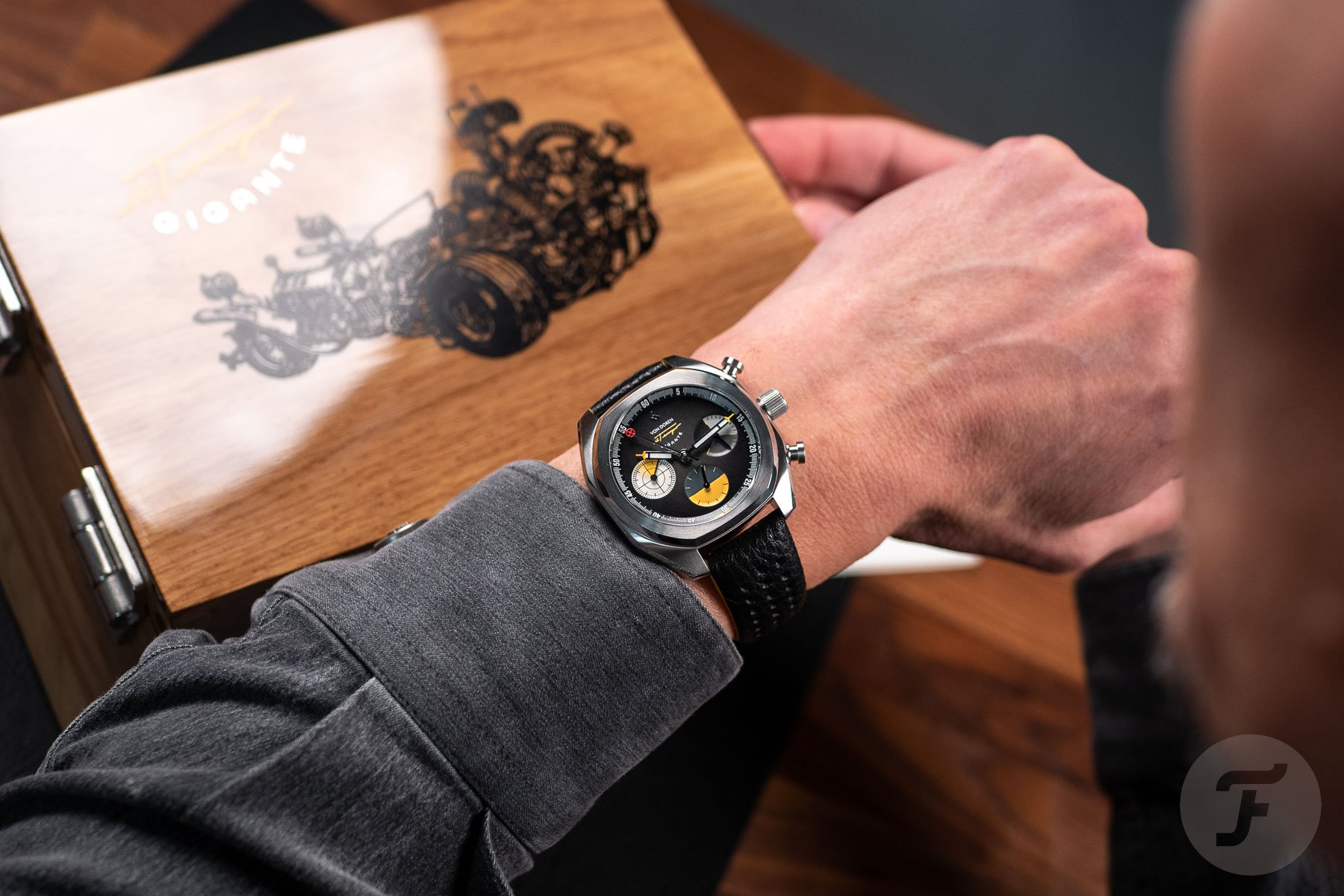 Fuzzy feelings
Anyway, back to the watch. Everything starts with the 41 × 15.9mm steel case. It has both brushed and polished finishes and is water resistant to 50 meters. And as I mentioned before, the shapes are very 1970s in a strong and familiar but still original way. Inside the case beats an automatic La Joux-Perret L112 Top Grade movement. That's a triple-register 12-hour chronograph movement with a 60-hour power reserve.
The price is €2,995, and whether that's too high or reasonable for you might depend on where you're from. For my colleague Laurits, the Dane who loves Flåklypa Grand Prix, the price feels okay. That's mainly because of fond memories and fuzzy associations, I suspect. But I don't feel fuzzy at all when I hear the movie title or the name of the monstrous race car. Nothing happens, but I do like the design and feel of the watch. And also the way it's packaged in a beautifully made custom oak box.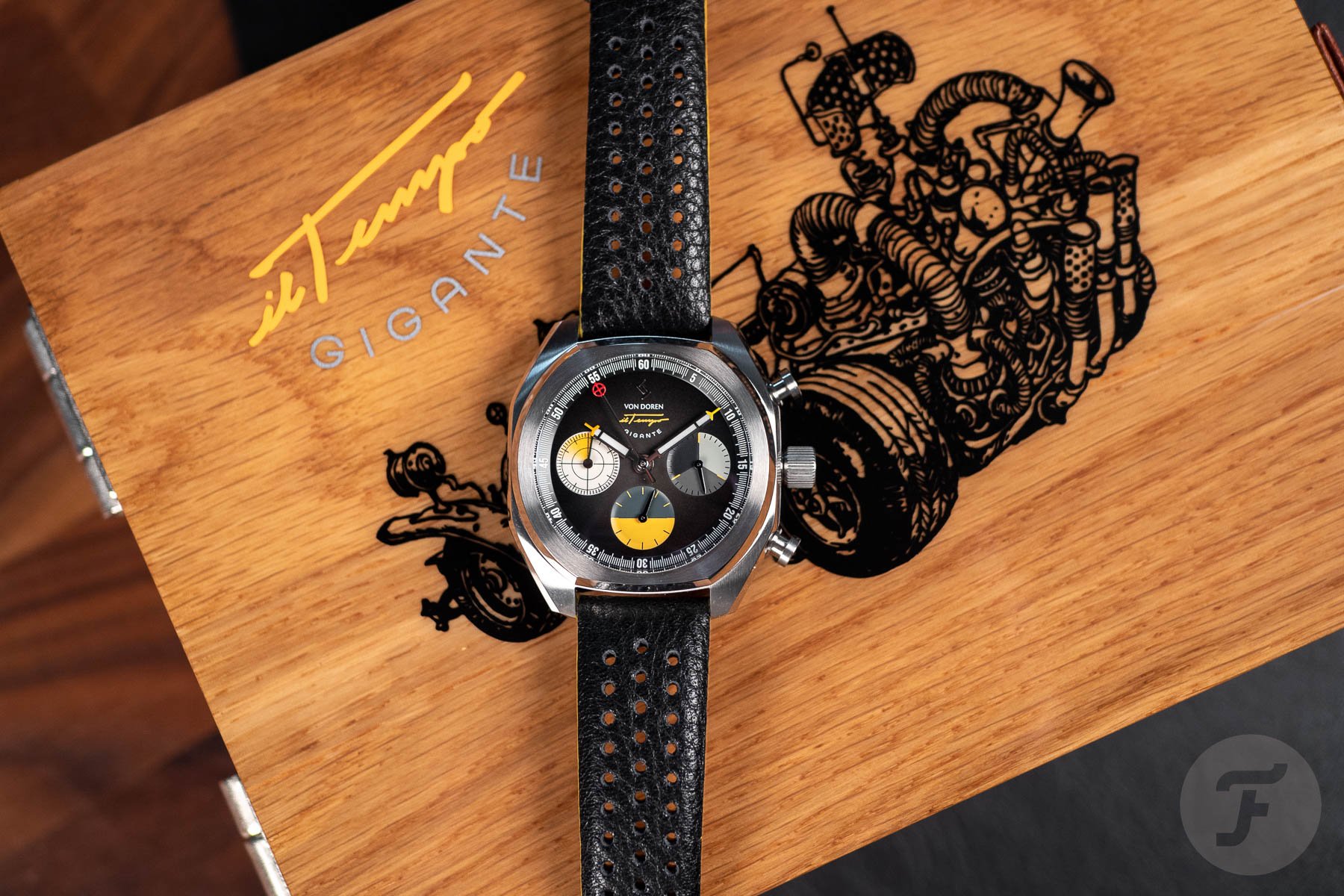 Handling the Von Doren Il Tempo Gigante Automatisk Kronograf
Before answering whether the Il Tempo Gigante Automatisk Kronograf is worth my €2,995, let me mention some of the details I appreciate. I already mentioned the pronounced case shapes, but I also dig the soft and thickly padded two-tone perforated leather strap. The three differently colored sub-dials, of which the small seconds dial looks like a radar display, also ring my bell. And in the dark, the Super-LumiNova BGW9 on the hands and chapter ring produces a lovely glow. My colleague Thomas remarked that the unusual concave chronograph pushers left a mark on his index finger. Well, they did on my finger too. But if you consider that problematic, you're not worthy of either wearing or driving the mythical beast that is Il Tempo Gigante.
So, is Il Tempo Gigante worth my money? Maybe the lack of an emotional connection makes me answer that question with a hesitant "no."  But I truly enjoyed the original watch on my wrist and it is worth the money. But I have my watch resolutions for this year that I have to try and make happen. Still, for those who feel tempted by the Norwegian watch, the first 100 Il Tempo Gigante Automatisk Kronograf watches have been sold. The good news is that another production run is in progress. And in the end, 577 pieces will be made with either a black or a brown dial. For your information, the warranty card of the one we have in the office says "94/577". So if 94 is your lucky number, contact Øyvind and make a reservation on the Von Doren website.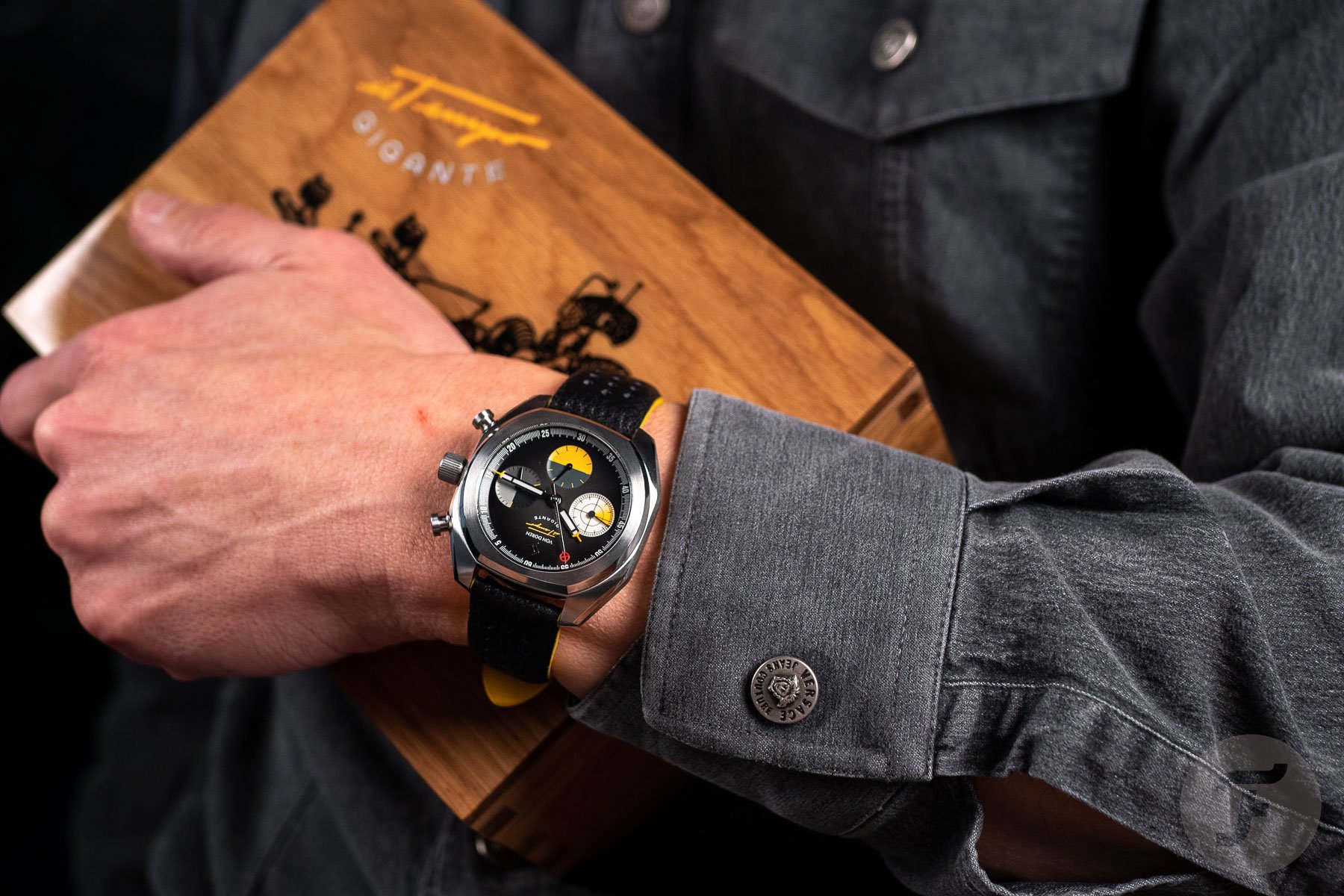 An automotive epilogue
If you think the Il Tempo Gigante Automatisk Kronograf is crazy, I'm wondering what you make of this. One year after the stop-motion movie Flåklypa Grand Prix premiered, a full-scale, working model of Il Tempo Gigante was built. The basis is a Cadillac ambulance. Under the hood, you won't find a straight 12-cylinder engine — this configuration leads to an insanely long engine, and only a few were actually built in the past. Instead, there's a 555bhp 5-liter Chevrolet V8. That's quite a bit of horsepower, but the car actually needs it because it weighs more than 2,500kg.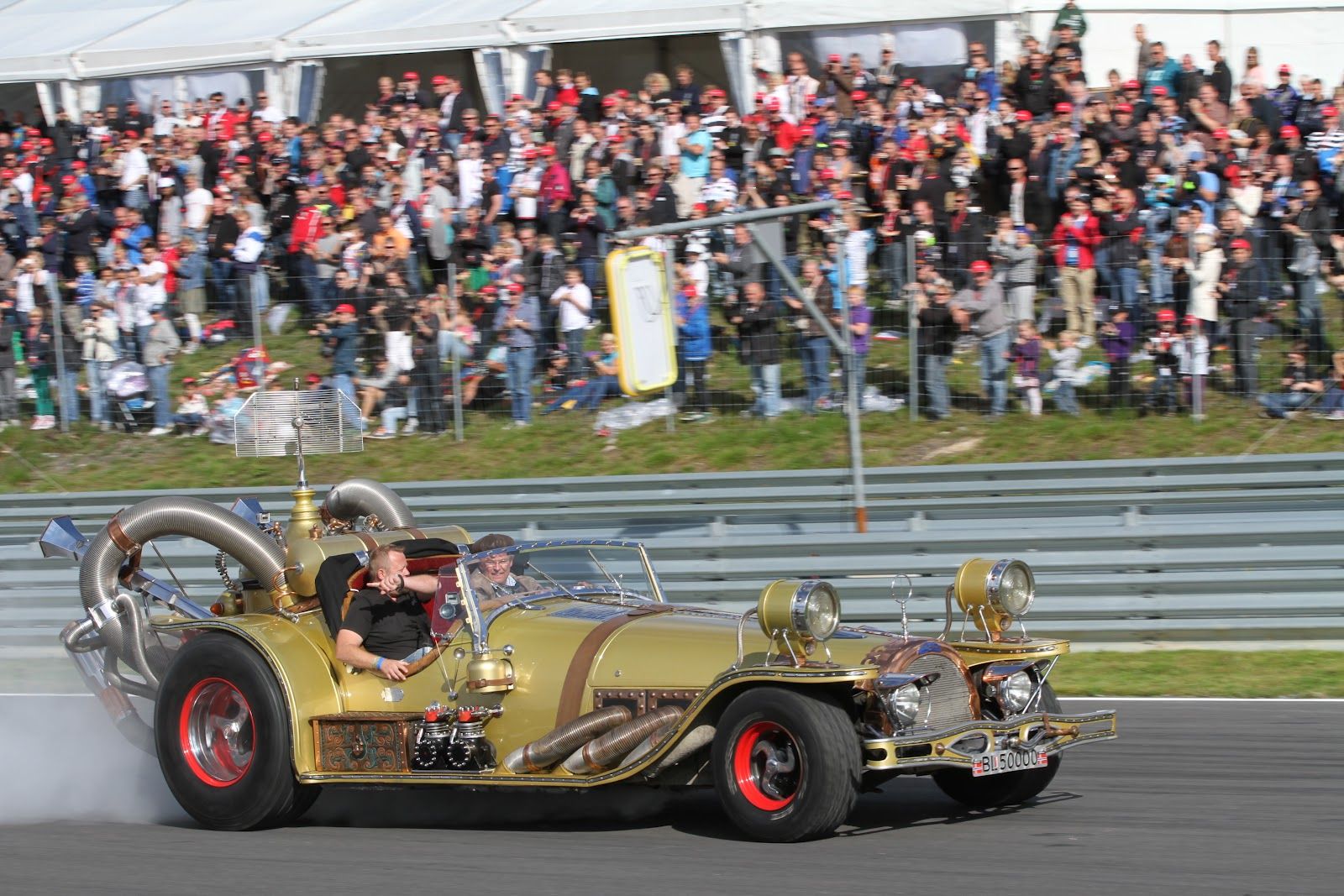 The top speed of the outrageous car was never tested, but the speedometer in the open cockpit goes all the way up to 400km/h. Impressive, yes, but since there's no working jet engine on the back, I doubt that speed can be realized. Not that anyone would dare try.
Find and follow me at Lex Stolk • Instagram.