Lex's Watch Resolutions For The New Year Don't Include Patek Philippe Or Rolex — Ambitious Yet Attainable Is The Way To Go For 2023
For me, this year will be a blast from the past featuring Girard-Perregaux and Breitling
The first rule for sticking to new year's resolutions is "write it down!" And that's exactly what I'm doing right now. Come 2024; you can hold me accountable for my watch actions just by finding this article and reading it back. My watch resolutions for the new year don't include buying a Patek Philippe or a Rolex. Yet they are ambitious but also attainable, practical, and, last but not least, fun. Because in the end, watches should bring joy. For me, 2023 will be about reliving and materializing sweet memories. My new year's resolution is to have fun within a set budget by buying watches that are a blast from the past.
New year, new watches. But which watches? No matter what Rolex will launch this year, I can tell you already: I don't want it. Why? Because the ones within my budget are in steel. And steel Rolexes are near impossible to obtain for the sticker price. So, no matter how cool the expected new Milgauss might be, it will not be included in my "Watch Masterplan 2023" I've put together. You won't find a Patek Philippe in the plan, either. My dream of owning a complicated Patek Philippe is not dead and buried; it's just resting in the fridge. That's how I keep the idea of wearing a Ref. 5070P I can call my own, fresh and pristine. This year I will stay focused, stick to the plan, and resist temptation.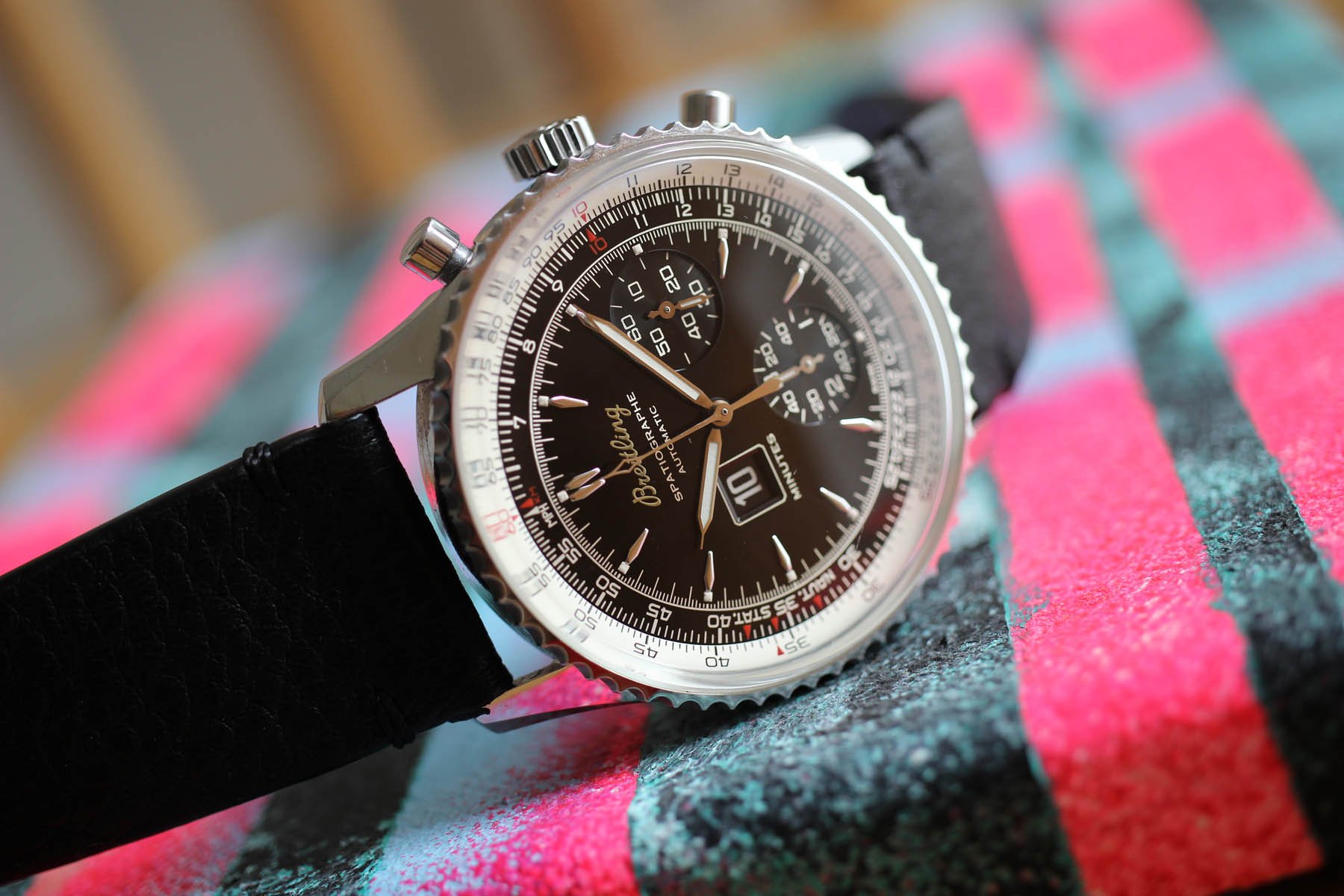 My watch resolutions for the new year include blasts from the past
In Robert Browning's poem, "Andrea del Sarto," there's the famous line, "Ah, but a man's reach must exceed his grasp – or what's a Heaven for?" I do like the thought, but I will wait and only reach for watch heaven when ambition and attainability are in balance. I don't want to be like Icarus, you know. Instead, I have set my sights on my watch past. I aim to buy a watch I lusted over in the late 1990s or early 2000s or buy back a watch I dearly regret ever selling. Do you see what I did? I made an attainable goal by being specific and realistic.
What I also did is setting a budget. Maybe that's the best self-preserving thing you can do. I also considered that I have other interests in life that require funding — think bike-related stuff, shoes, fashion, books, etc.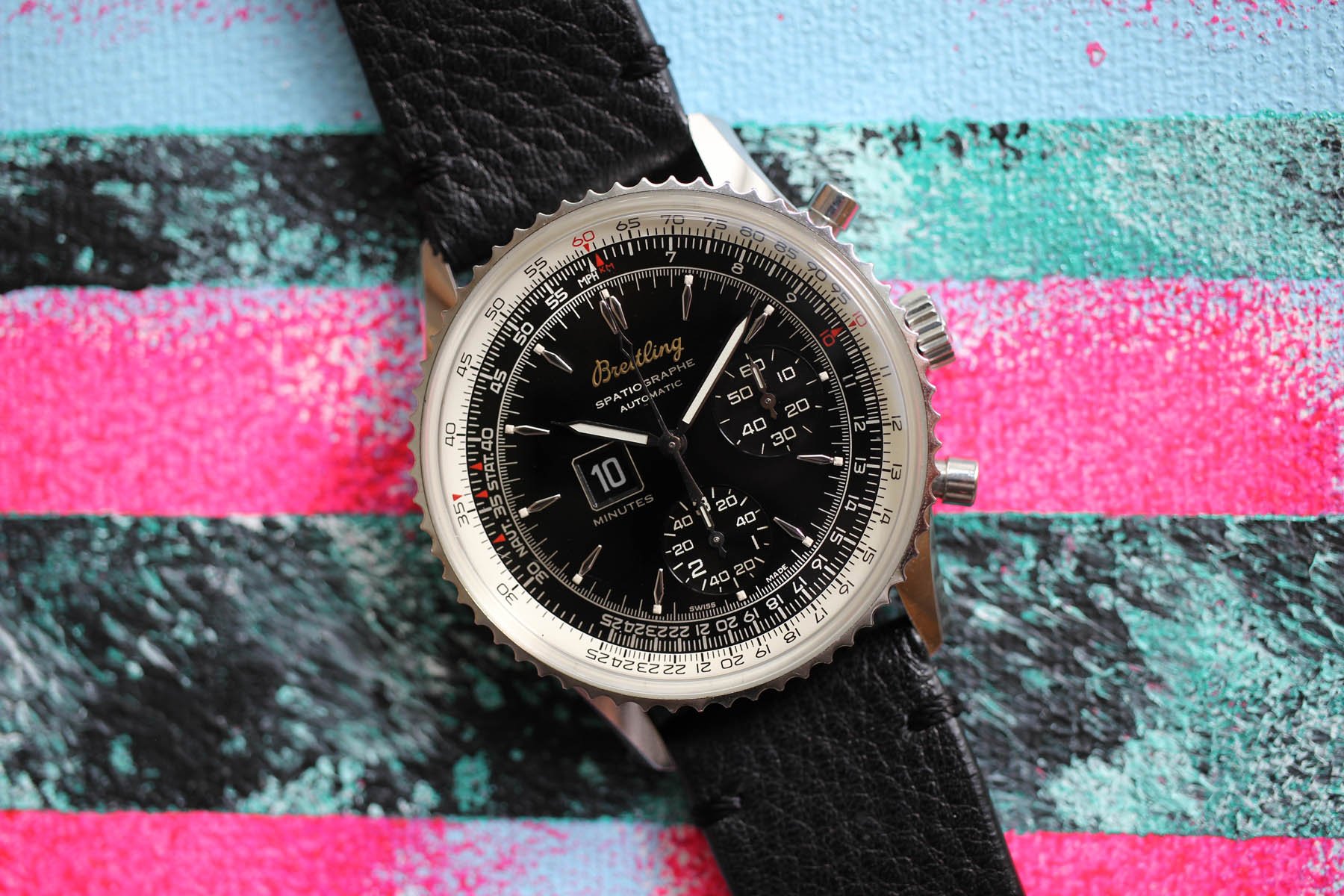 A €7,500 budget to get through the watch year
The watch budget for 2023 is set at €7,500. I'm being generous to myself, but not overly so. However, I realize that €7,500 is a lot of money. I'm not taking for granted that I'm in the fortunate position to reserve that amount — and not a penny more — for objects of desire. Also, when I don't spend the full amount, the surplus money goes into the "Dream Watch Fund."  That's enough money talk! Money was the main topic when people talked about watches in 2022; quite frankly, I'm completely done with it. Last year was when everyone who was in the market for a luxury watch was asking the reseller, "Is this watch a good investment?" That numbing question got in the way of enjoying an object that speaks to you because of its design, history, or craftsmanship.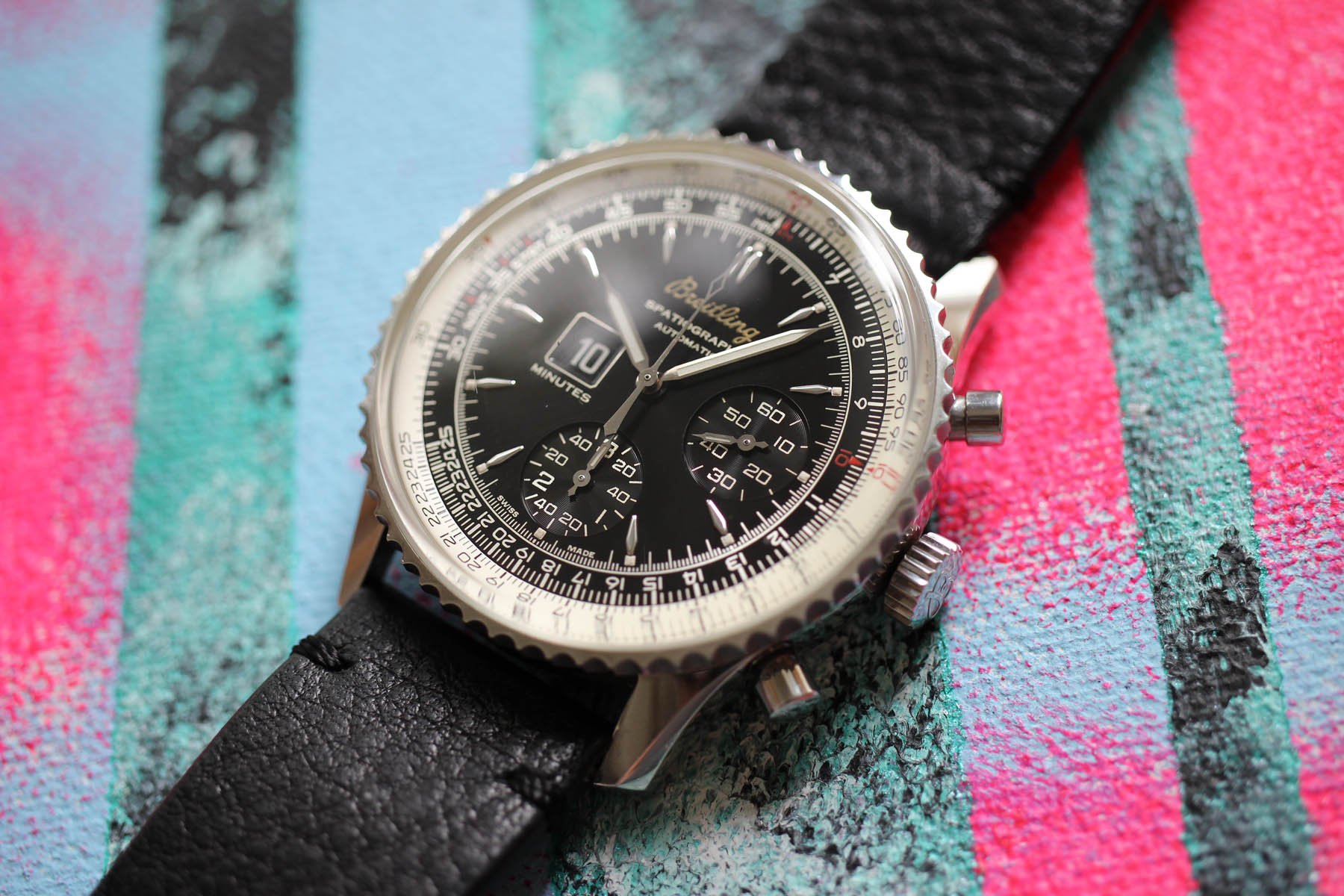 Breitling, Girard-Perregaux, or both?
Two watches made it to my final 2023 wish list. After thinking about it all by myself, I put that list together, but talking to friends, kindred spirits, and colleagues also helped. The idea behind my watch resolutions for the new year is two-fold. It will keep the money and my mind in check. I won't allow myself to be distracted by unexpected limited editions, cool collaborations, and hypes. I will steer clear of instant satisfaction and set a course for long-term love. Let's start with the watch I once owned and loved but let go of anyway, the Breitling Spatiographe Montbrillant. That 41.5mm watch, in the words of my colleague Tomas Rosputinsky, "… makes you feel like you have the Navitimer and a completely unique watch at the same time."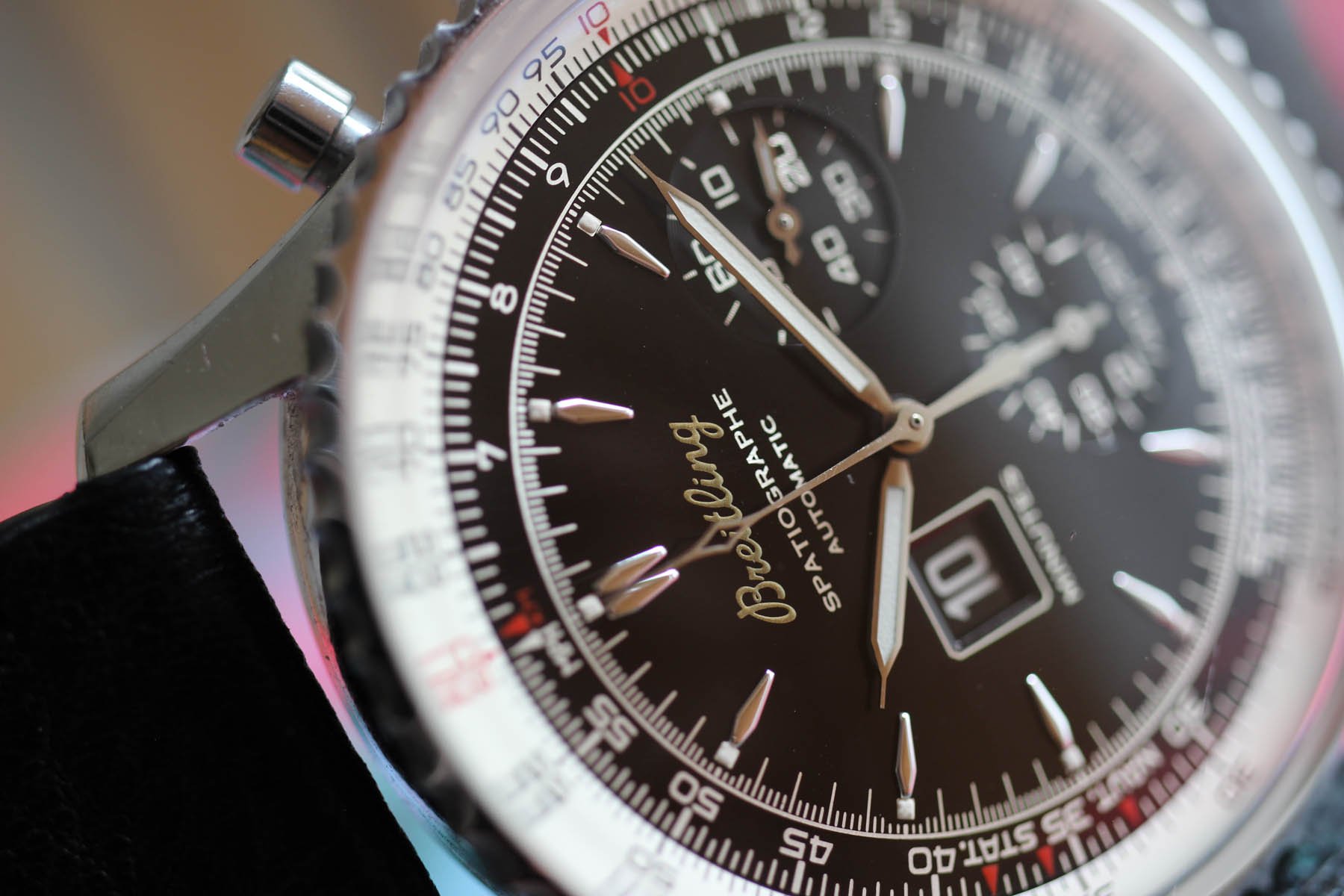 And there's more I completely agree with. Tomas also wrote about the Spatiographe that "the originality and creativity make it a true black sheep in the Breitling chronograph family," and I do like slightly odd watches. Also, the name is kind of intriguing. Spatiographe is derived from spatiography, the description of the physical characteristics of the moon and the planets.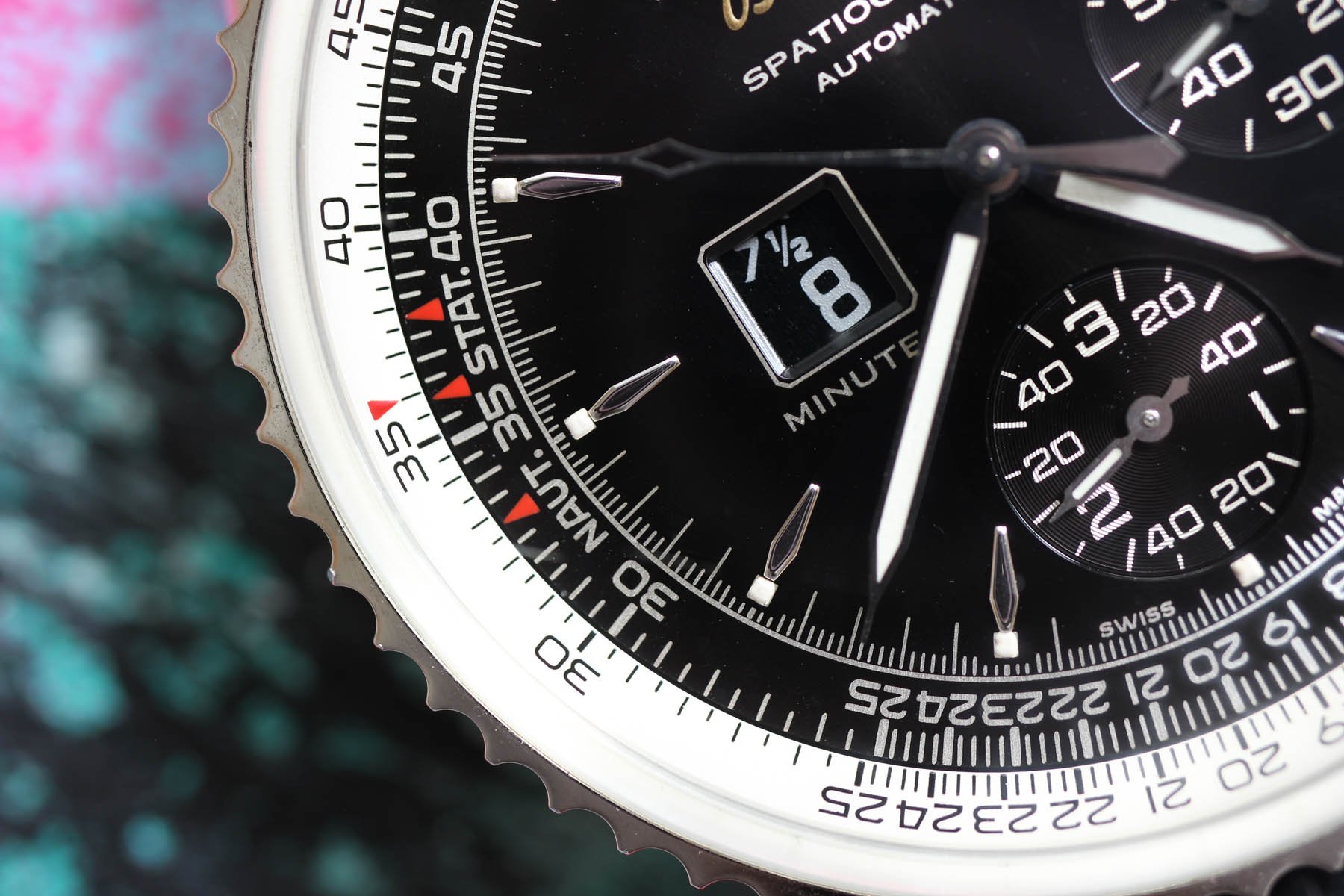 The magic of the rotating minute disc
I've had a couple of Navitimer models in the past. The one I liked the most was also the most unusual. Instead of a standard minute sub-dial, my Spatiographe A36030 showed the measured minutes of the chronograph digitally. A rotating minute disc under the window at 9 o'clock counts up to 10 minutes. The Spatiographe also has an unusual three-hour counter divided into 10-minute intervals. The watch stood out in the Breitling catalogs from 1997 until 2002 when the Spatiographe was discontinued. It was different then, and it's different now, and I want a different back in my watch selection.
What I've discovered so far is that there's not a lot around. There are 12 Spatiographe chronographs on Chrono24 for around €4,000. This lands well within budget, but I also need to look at another watch from the same era I have feelings for.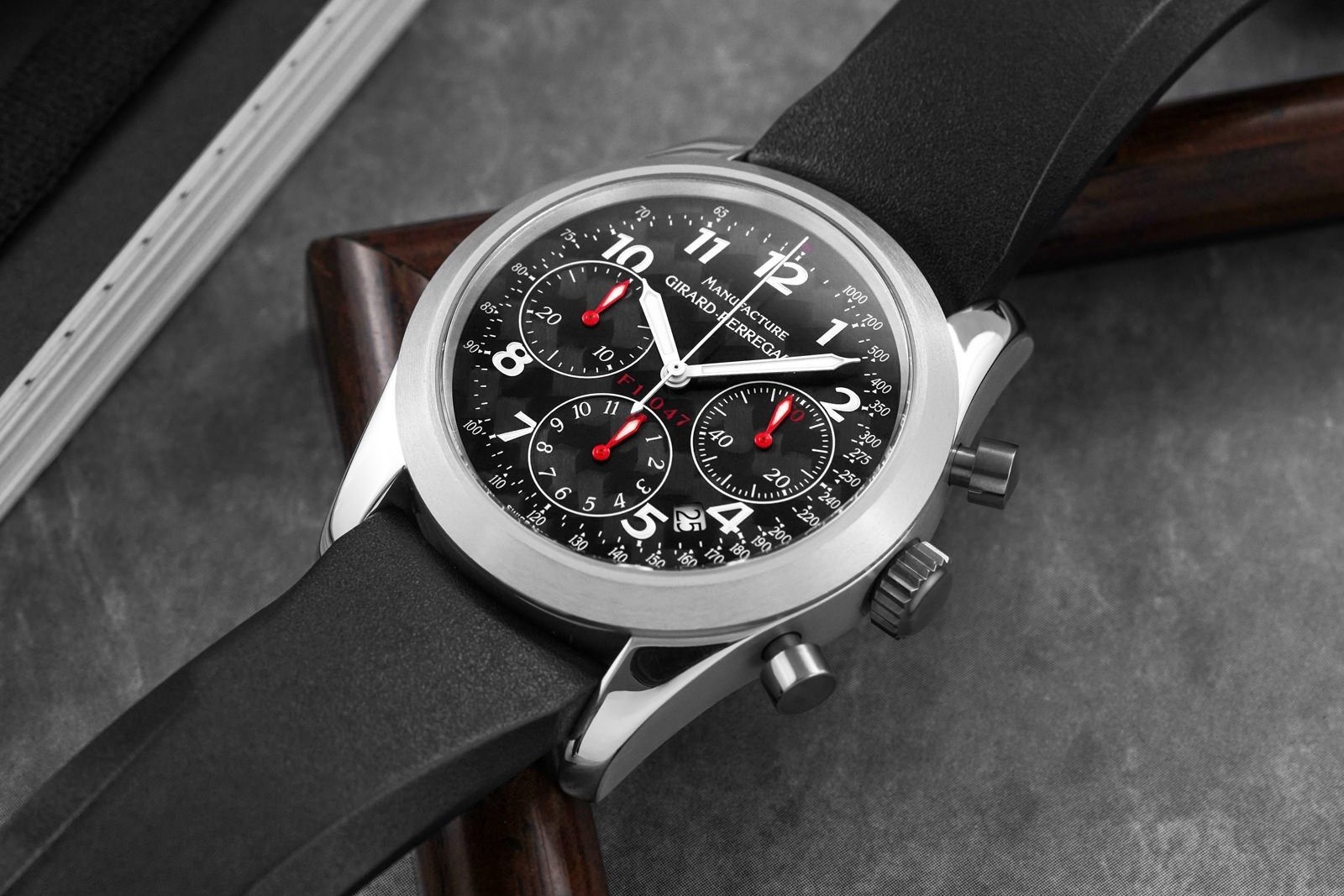 The ultimate Ferrari is a "GP"
The Panerai, Hublot, and Richard Mille watches that were made in collaboration with Ferrari made one thing clear to me. The best watches ever made in collaboration with possibly the most famous sports car brand have the name Girard-Perregaux on the dial. Between 1993 and 2004, "GP" produced a line of official Scuderia Ferrari watches. The collaboration between the two brands was very logical. GP's owner at the time, Luigi (Gino) Macaluso, was a former race car driver who had been racing with and against Luca di Montezemolo, the president of Ferrari from 1991 through 2014, in the 1960s. The two guys met again through a mutual friend in 1993, and Girard-Perregaux started making GP pour Ferrari watches soon after.
Aluminum or titanium?
The watches made under the Girard-Perreaux pour Ferrari banner were tasteful and subtle. And it's the subtlety I now find more appealing than ever. With quite a few models, you have to look twice to see you're dealing with a Ferrari homage. In some cases, there's hardly any Ferrari branding anywhere on the watch. There are a few models that have my interest. There's the Ref. 4955 that surprisingly comes in two variations, the GP F1-047 with an aluminum and the GP F1-048 with a titanium case. Interestingly, the cases of the GP F1-047 were cast from a used Ferrari F1 engine. The "engine" in both 40mm chronographs is the automatic caliber 2280, an ETA 2892-A2 outfitted with the Dubois Dépraz DD2021 module. And both watches have a carbon fiber dial. Both are exotic watches but also quite understated. There aren't many around, but there's one on Chrono24 that's extremely tempting.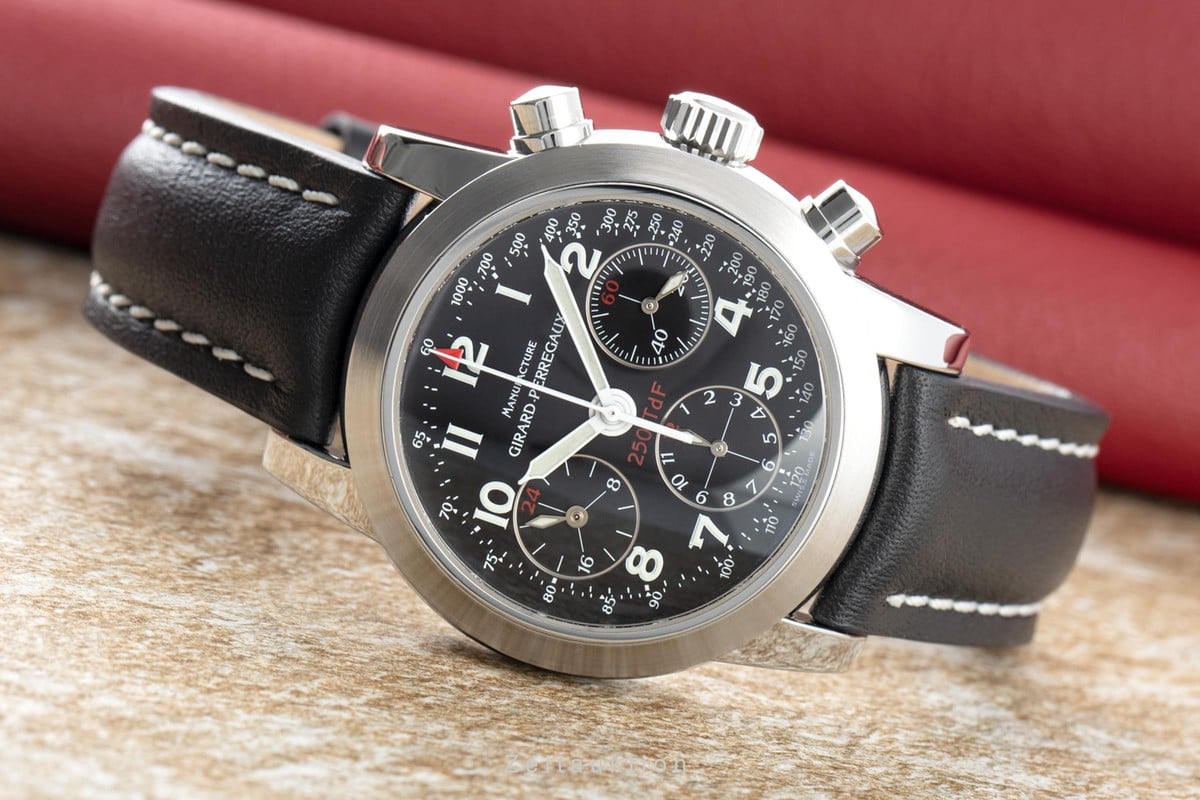 What about the steel Girard-Perregaux 250 GT TdF?
But what if I get tired of titanium, a carbon dial, and a rubber strap? The strap is easy to swap, but the rest, well, not so much. A solid alternative is the 40mm, steel GP 250 GT TdF ref. 8090. It has no carbon fiber dial and no rubber strap but more-or-less-similar looks. It is also powered by the caliber GP 2280, and the price is also practically the same. You can find both GP chronographs for around €3,000. The choice between titanium and steel is tough but something I can work out. The good thing is that there are 125 results when searching "Girard-Perregaux Ferrari" worldwide and 72 when limiting the search to Europe. I can browse with an open mind before the final verdict.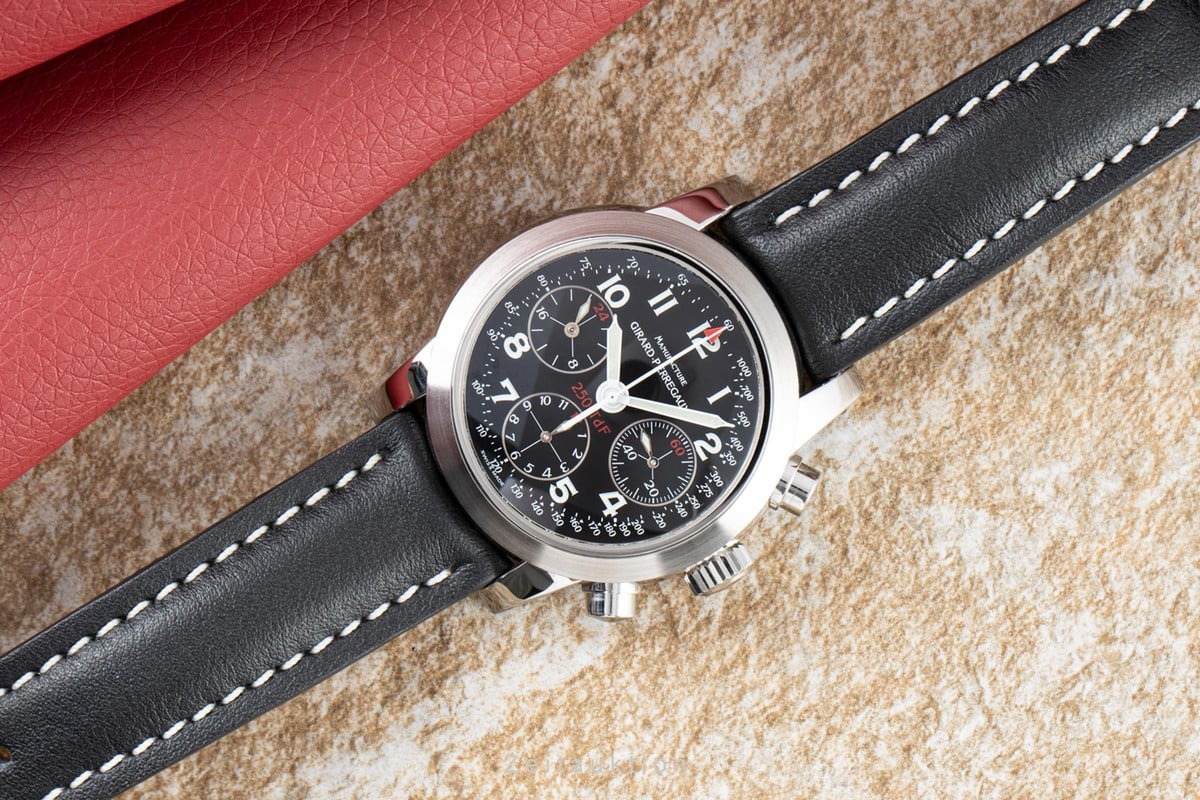 Now that I shared my watch resolutions/ambitions/goals for the new year, do you want to share yours? Do you even have a watch resolution, or do you reserve that for the bigger things in life, like more exercise or less alcohol? In any case, best of luck with all your resolutions. Make your goals achievable, keep your eyes on the prize — and the budget — and don't forget to have fun.
Happy New Year!
Find and follow me at Lex Stolk • Instagram.