My Grail Watch Is (NOT) A Platinum Patek Philippe That Looks Ace With Denim
But could the blue-dial Ref. 5070P with its old-school looks and movement be my destiny?
The Patek Philippe Ref. 5070P is NOT my grail watch. And that's because the watch, although the object of my desire, is not the object of my extended, difficult quest. I don't actively chase the hand-wound, old-school chronograph, so both technically and literally, it's not my grail watch. Why go on a wild goose chase for something I can't afford? But in an imaginary watch world, my grail watch is a platinum Patek Philippe that would look great with a pair of jeans (and a pink sweater).
Actively pursuing the platinum Patek Philippe Ref. 5070P, with its radiant blue dial and "old school" looks and movement, is nothing more than a foolish and hopeless search for or pursuit of something unattainable — the definition of a wild goose chase, according to the Oxford Dictionary. The watch came out in 2008, and it has remained on my mind ever since. Not on my search radar, but in my subconsciousness. And then two things happened, more or less at once. The first was the idea of writing a series about team members' so-called grail watches. There are several definitions of a grail watch circulating amongst the Fratello editors, but in the end, it boils down to dream watches; some dreams come true, and some never will. The second thing that happened was Wesley van Schaften of Van Schaften Horloges paying Fratello a visit and showing us what he brought with him.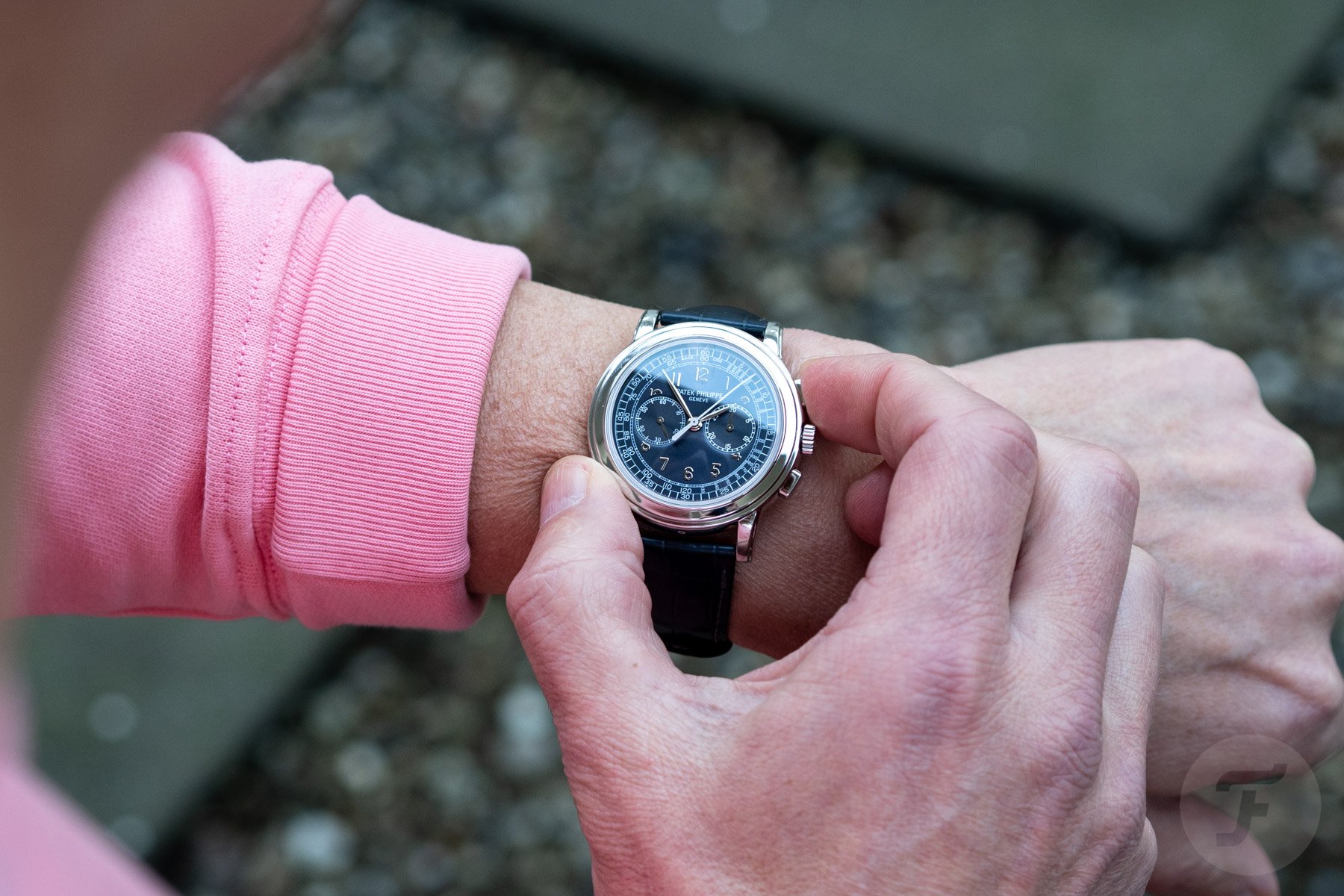 My platinum Patek Philippe grail watch looks ace with denim
It was a relatively modest travel pouch, but the contents within were very far from it. The pouch had room for three watches. Flanked by a platinum Rolex Day-Date 40 with a graphic ice blue dial, as well as a Daytona with brown ceramic bezel in that same precious metal and dial color, was a platinum Patek Philippe Ref. 5070P chronograph to behold. It was like Vincent Vega opening the briefcase in that famous scene from Pulp Fiction when a golden light hits his face and he affirms Jules Winnfield's question with an overwhelmed, "Oh, we happy". There was no Patek Philippe in the briefcase, nor was it Marcellus Wallace's soul he once sold to the Devil in exchange for making it big as a gangster, as the theory goes. Anyway, Wesley soon handed me the illustrious chronograph, and my dream came true — for a little while, anyway.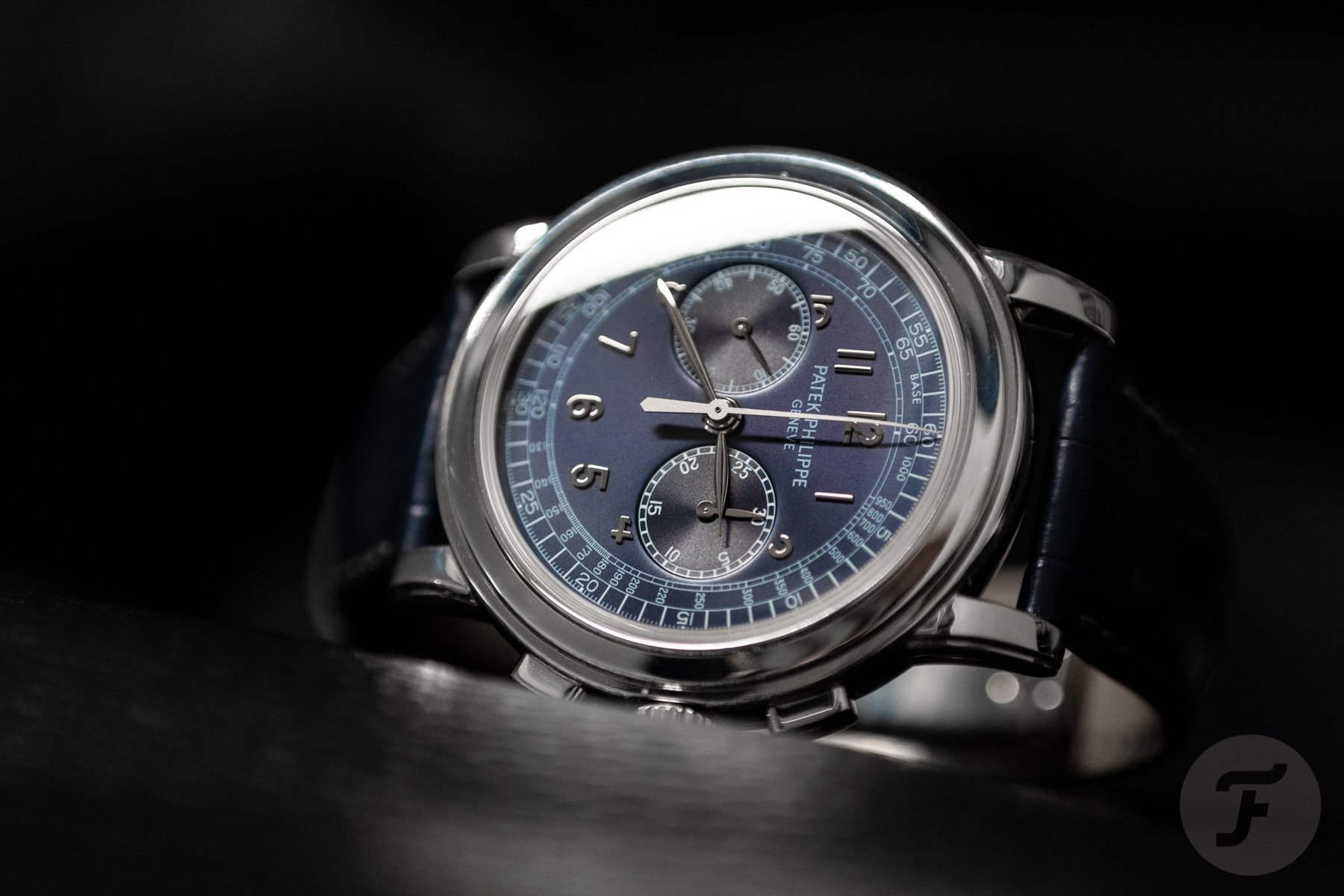 The superior version of the Ref. 5070
What a watch. The Ref. 5070P is the stuff of dreams and a worthy grail watch. The first Ref. 5070 chronograph debuted in 1998, and with a case size of 42mm, it was perceived as a big watch. It was also a long-anticipated watch, as it was Patek Philippe's first new non-perpetual-calendar chronograph release in over four decades. The Ref. 5070 had some big shoes to fill too. It was the successor of the classic Ref. 1463, a 35mm watch with a sporty appearance, that was discontinued in the 1960s and is now a sought-after vintage chronograph.
… in 2008 the final farewell version in platinum made its appearance.
The watch debuted in a yellow gold version, and in 2002, a white gold version appeared. In 2003, the rose gold version replaced the yellow gold version, and in 2008, the final farewell version in platinum made its appearance. I think it's the superior, most complete, and most versatile version of an already fabulous chronograph. What's not to like? I ask myself, and I can't find anything.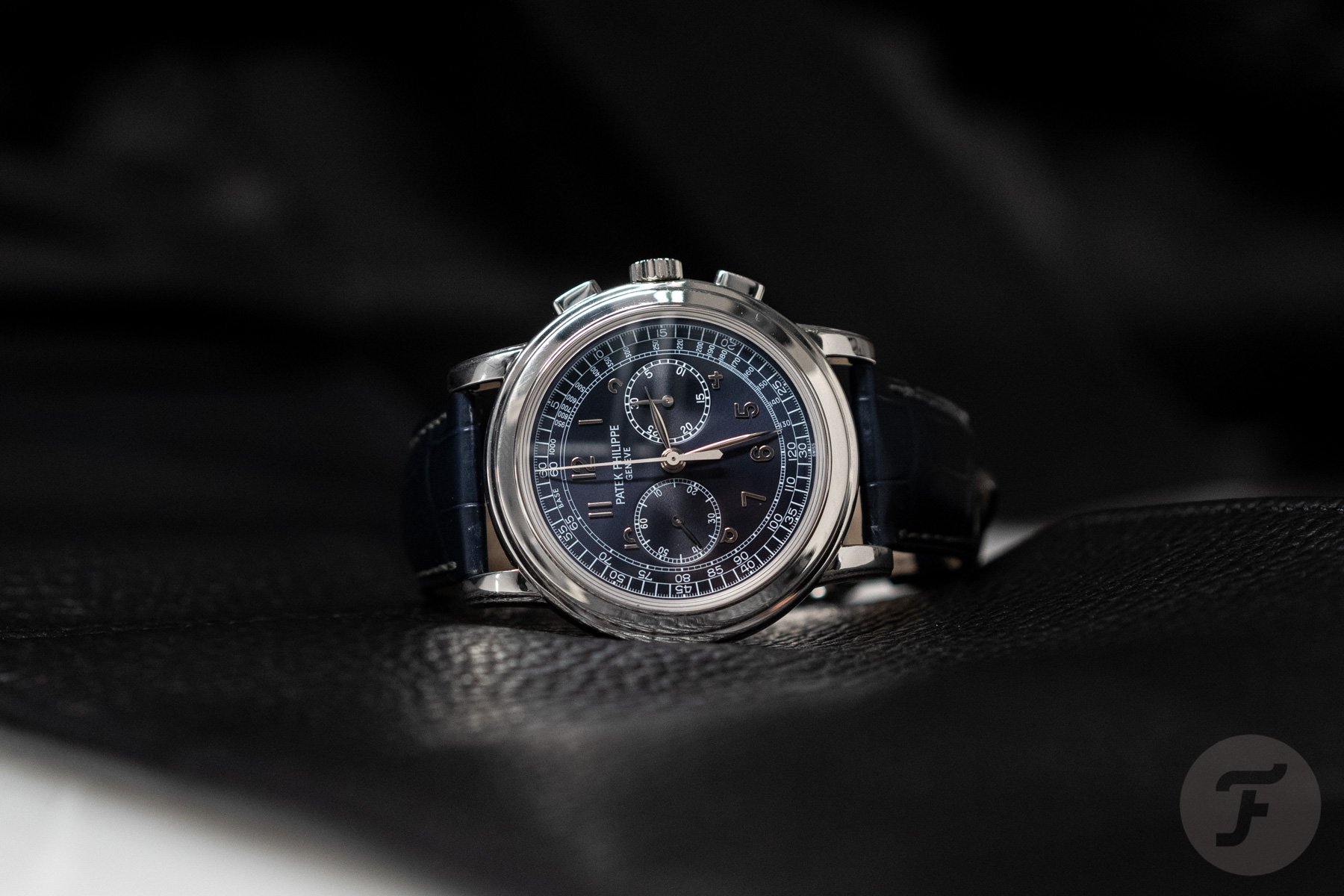 Perfect proportions
The size and proportions of the Patek Philippe Ref. 5070P are masculine. This is an athletic chronograph due to its 42 × 11.6mm solid case design with down-turned beveled lugs, but also because of its wide, stepped, and shiny bezel. The overall appearance is sturdy yet elegant without being loaded with finicky details. This is a clean-cut athlete, a decathlon gold medalist rather than a Mr. Universe wannabe. An interesting fact is that the Ref. 5070 was Patek's first production watch with a case size larger than 40mm. But it also shows the small details Patek is famous for. On the dial, for instance, the wide tachymeter scale balances the large case with the not-so-large 27mm movement. I also like that a few of the applied Arabic numerals partly "disappear" due to the sub-dials. It's a touch of function over form in an otherwise ultra-luxurious version of an über tool watch.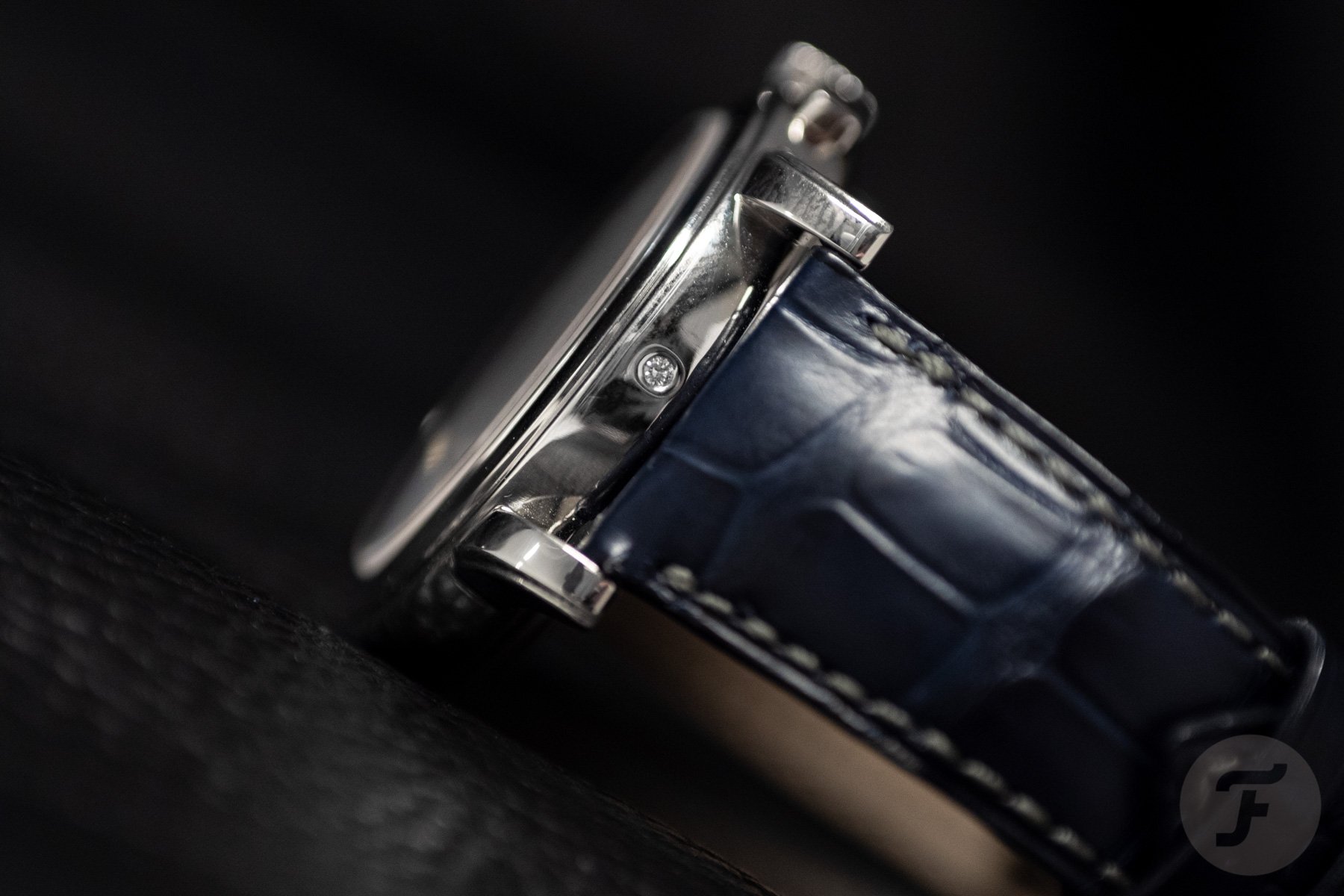 Striking and electrifying
The leaf-shaped white gold hands are classy and inconspicuous, but not to the point where you can't read the time. On the contrary, the Ref. 5070 is an easy-to-read timepiece. It's just so nice to see an athletic chronograph without large stick markers filled with Super-LumiNova, especially since the light silver hue of the chronograph seconds hand sometimes appears to be crispy white. That makes it a perfect match with the white tachymeter scale and railway minute track on the dial's perimeter. The reflection makes that hand look like a lightning bolt in a clear blue sky.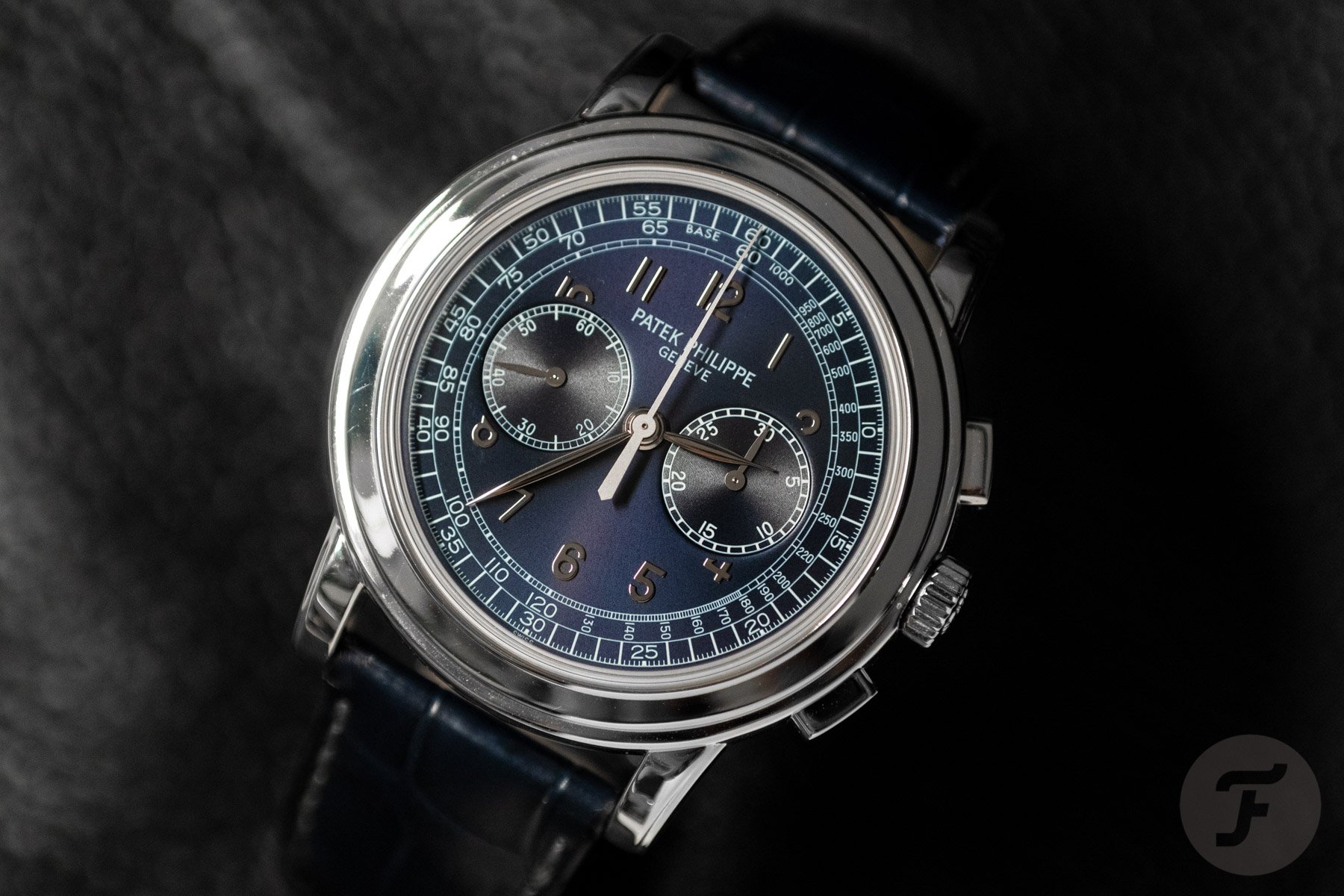 And the colors of the dial/sky are incredibly nuanced. The radiant blue sunburst dial with vertical graining shows so many shades. It varies from almost black to a crispy, metallic blue that electrifies the beholder. Matched with a blue alligator strap and a platinum folding buckle shaped like the Calatrava cross, the color blue dominates, but does so in a regal way; the calming play of colors soothes you like a magnanimous sovereign.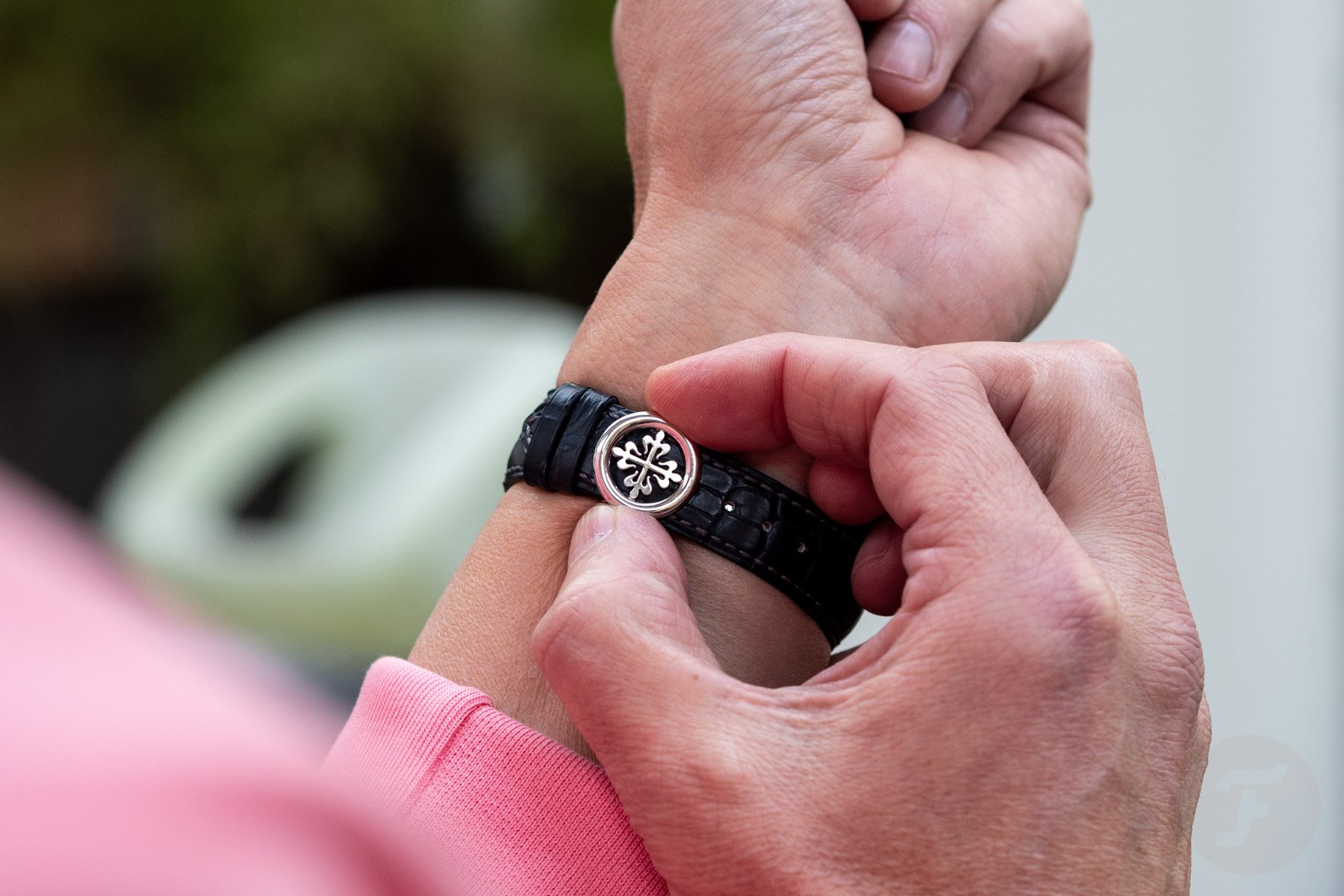 Greatness within
The Ref. 5070 was Patek Philippe's last chronograph powered by the hand-wound caliber CH27-70 derived from a Lemania 2310 ébauche. The last Ref. 5070s were produced in 2009, and in 2010, it was replaced by the 39.4mm Ref. 5170 with the in-house CH 29-535 PS movement. Subsequently, that watch was succeeded in 2019 by the 41mm Ref. 5172 with pump pushers that is still in the collection today.
It also provides the Ref. 5070 that mythical and mystical "Last of the Mohicans" vibe.
But let's stay in the past with the Ref. 5070, which is more appealing to me than its in-house successors. I prefer it because of its looks — I didn't mention the classic rectangular pushers before for a vintage je ne sais quoi, but I should have — but mainly because of the use of the caliber 2310. Its presence makes this two-register chronograph historically significant. It also provides the Ref. 5070 that mythical and mystical "Last of the Mohicans" vibe.
Technical genius and beauty
The Lemania 2310 is, of course, widely regarded as one of the finest chronograph movements ever designed and produced. You might know the movement from your vintage or brand-new, high-end Speedmaster. And that's because from 1957 to 1968, Omega used the Lemania 2310 as the Caliber 321 that powered the Speedmaster. And now there's an updated version of the Caliber 321 that beats inside the recent Speedmaster Caliber 321 "Ed White". Patek Philippe took the Lemania 2310, with its distinctive "wishbone" shaped bridge, and went to work on it. It resulted in the caliber CH 27-70 that reveals a stunning finish, fabulous beveling on all angles, and exquisite polishing and decoration. And because the screw-down case back has a stepped bezel and angled outer edge that draws the eye to the center, the relatively small movement doesn't look too small in the large case.
Enjoying old-school watchmaking finesse
From a technical perspective, the 24-jewel caliber CH 27-70 is also a masterpiece. It is constructed with a mono-metallic Gyromax balance wheel, a shock absorber device, and a straight-line lever escapement, making it a robust and durable movement. And on top of that, there's the steady beat of 18,000 vibrations per hour. That old-school beat helps to provide a healthy power reserve of 58 hours. Operating this column-wheel chronograph movement is a dream. A soft touch is enough to instantly launch the large central seconds hand, and stopping and resetting the chronograph is done with that same delicate touch and feel. There's just so much finesse to enjoy.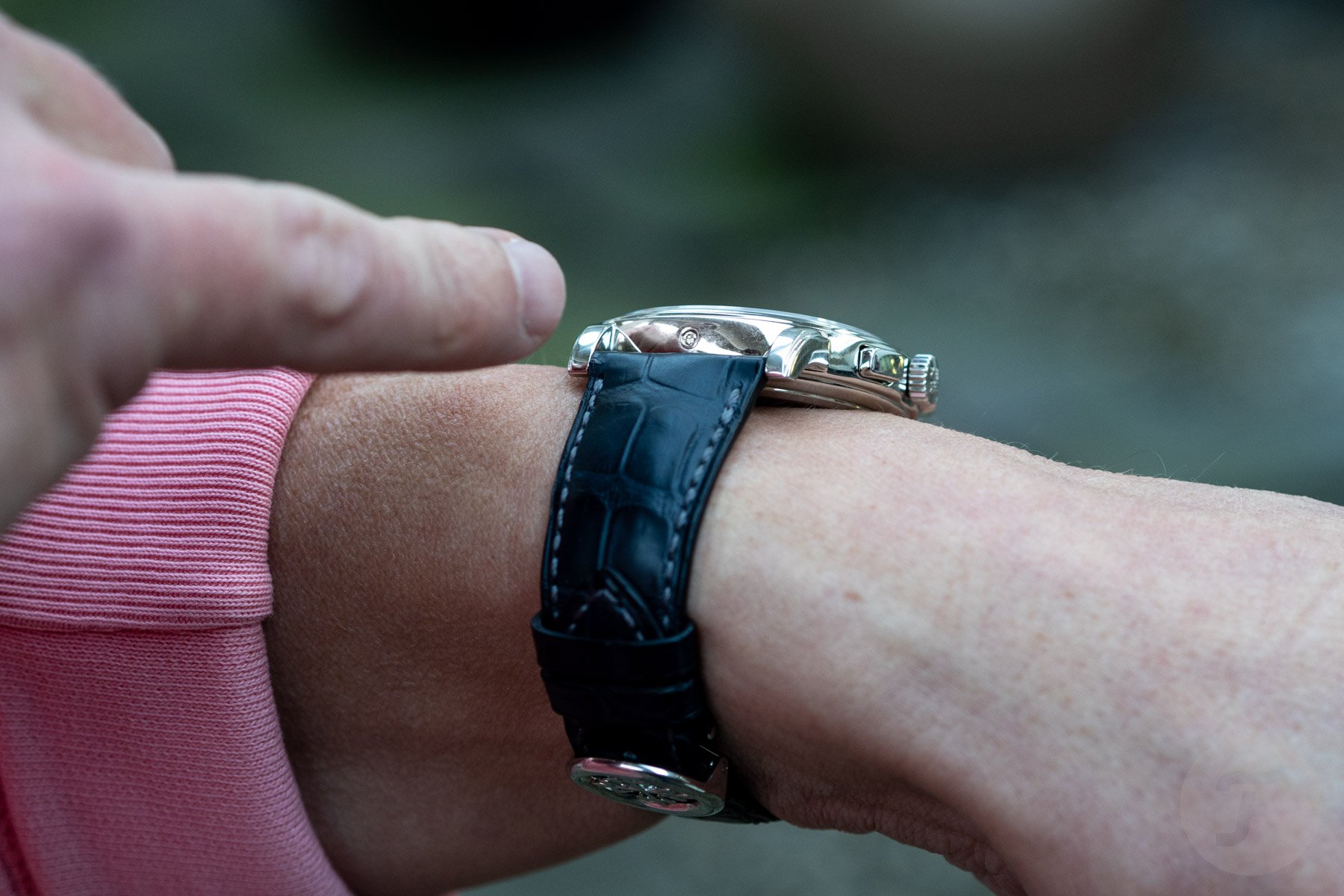 Find the diamond
Yes, the Ref. 5070P is quite big, and because of its blue dial and strap, it is also quite modern. But the designs of the case, the pushers, and the dial tell you a more vintage story. It's the paradox that makes for a dynamic chronograph that seems to be suspended in space and time. And then there's the quite literal hidden gem. Since this is a "P" execution of the Ref. 5070, there's a diamond set into the case flank at 6 o'clock. Invisible to everyone but the wearer of the watch, it's a sparkling reminder the case is not made of steel or white gold, but of the most prestigious and noblest material, platinum. When the Ref. 5070P came out in 2008 the list price was $87,500 USD.
Because the platinum iteration is the final Ref. 5070, it is easily the most sought-after version. And that, of course, raises the price. Well, that, and the fact that less than 500 examples are believed to have been produced. I found three examples on Chrono24, the cheapest of which sells for €182,594.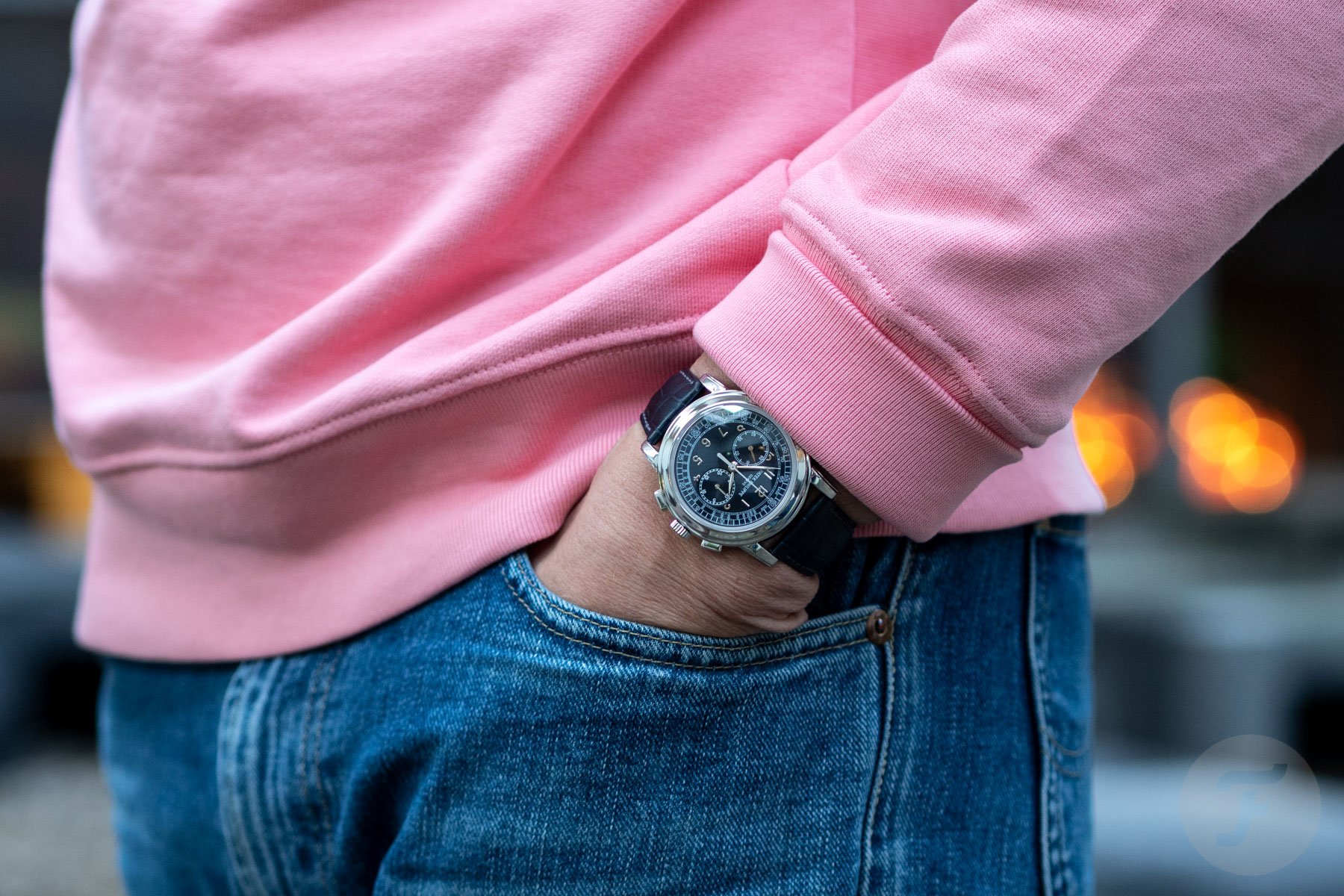 Will I ever start the quest for my platinum Patek Philippe grail watch?
Let me answer that question this way. Why would I go on the hunt for a watch that came to me without doing anything? I see this as a sign. As you might know, I believe in "Watch Karma". If a watch is cosmically destined for you, it will be on your wrist one day. I see Wesley van Schaften stopping by at Fratello HQ, carrying the Ref. 5070P with the protective sticker still on the back, as a sign of the universe telling me that someday my Patek will come. So I will go on no such thing as a quest. I won't risk life and limb, but instead, wait patiently for things to cosmically unfold. So let me conclude with my opening words: the Patek Philippe Ref. 5070P is NOT my grail watch. No, the Ref. 5070P is my destiny.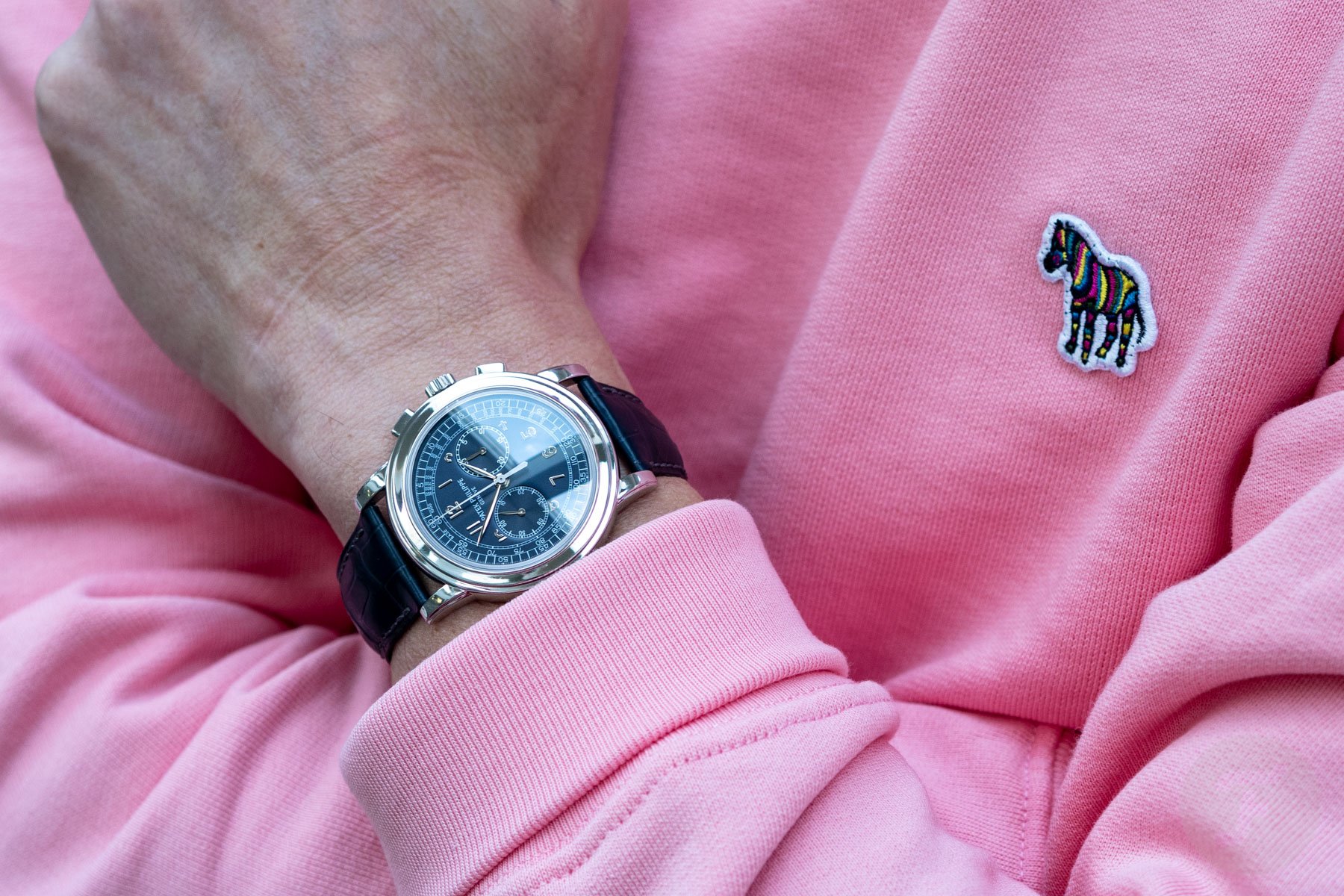 The Ref. 5070P is discontinued, but if you want to see what its "spiritual successor", the Ref. 5172G, is all about, you can check the Patek Philippe website. And you can read more about the brand right here.
Please find and follow me at Lex Stolk • Instagram