Watch Box Stories: Aashdin's IWC, Rolex, Omega, Breitling, LeCoultre, And Universal Genève Watches
Sharing the stories behind the watches you love
Submissions for our Watch Box Stories series keep on coming to our mailbox. Last week's story by Adrien about his (and his wife's) beautiful watches received some great responses! This week, we have a story contribution from Aashdin, who shows a variety of brands (and watches) in his hand-crafted watch box. Aashdin is a seasoned watch collector with over 450 watches in his collection. Included in today's story are two of his treasured watches, a double-signed IWC Favre-Leuba that belonged to his grandfather and a Universal Genève Polerouter SAS.
After we share all the stories, we will raffle off a Peli case and a few other accessories among the contributors. So far, I've seen some very interesting contributions, and I am excited to share them here on Fratello in the coming days and weeks. Without further ado, here's the story from Aashdin about what's in his watch box.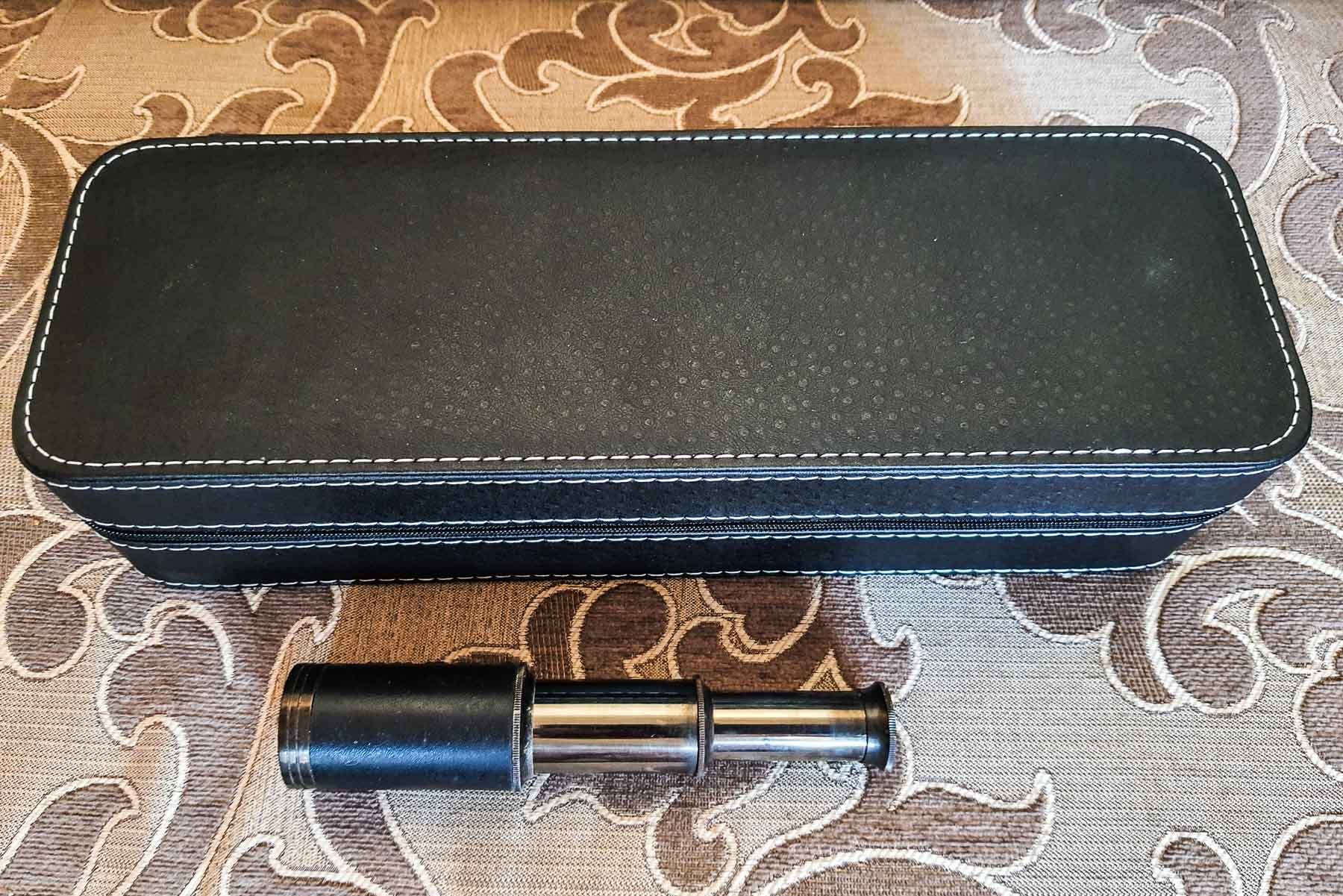 A reader's collection — Aashdin
What you see in the watch box today are a few of my favorite pieces. Some of them hold sentimental value, but all of them have a story behind how they landed in my collection.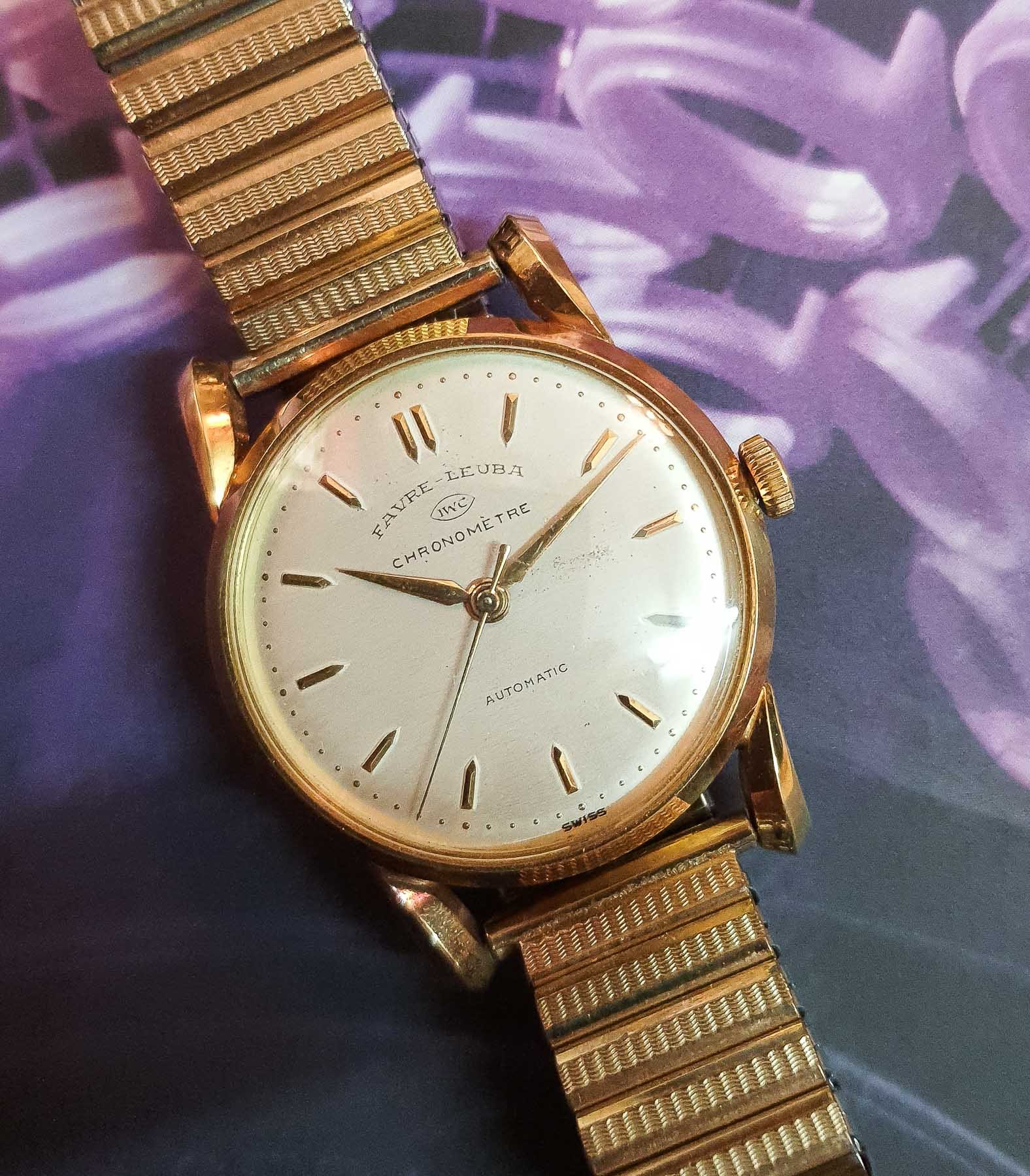 A double-signed IWC Favre-Leuba
This is my grandfather's wedding watch. Favre-Leuba was the authorized dealer of IWC watches and many others back in colonial India. My grandfather visited the showroom a few kilometers away from my house in Bombay to pick up a Favre-Leuba watch for his wedding. While he was selecting his watch, he spotted this IWC, and it was love at first sight. Being a watch collector, he picked up this 18K gold automatic beauty, even though it was way beyond his budget. This one will have a permanent seat in my box.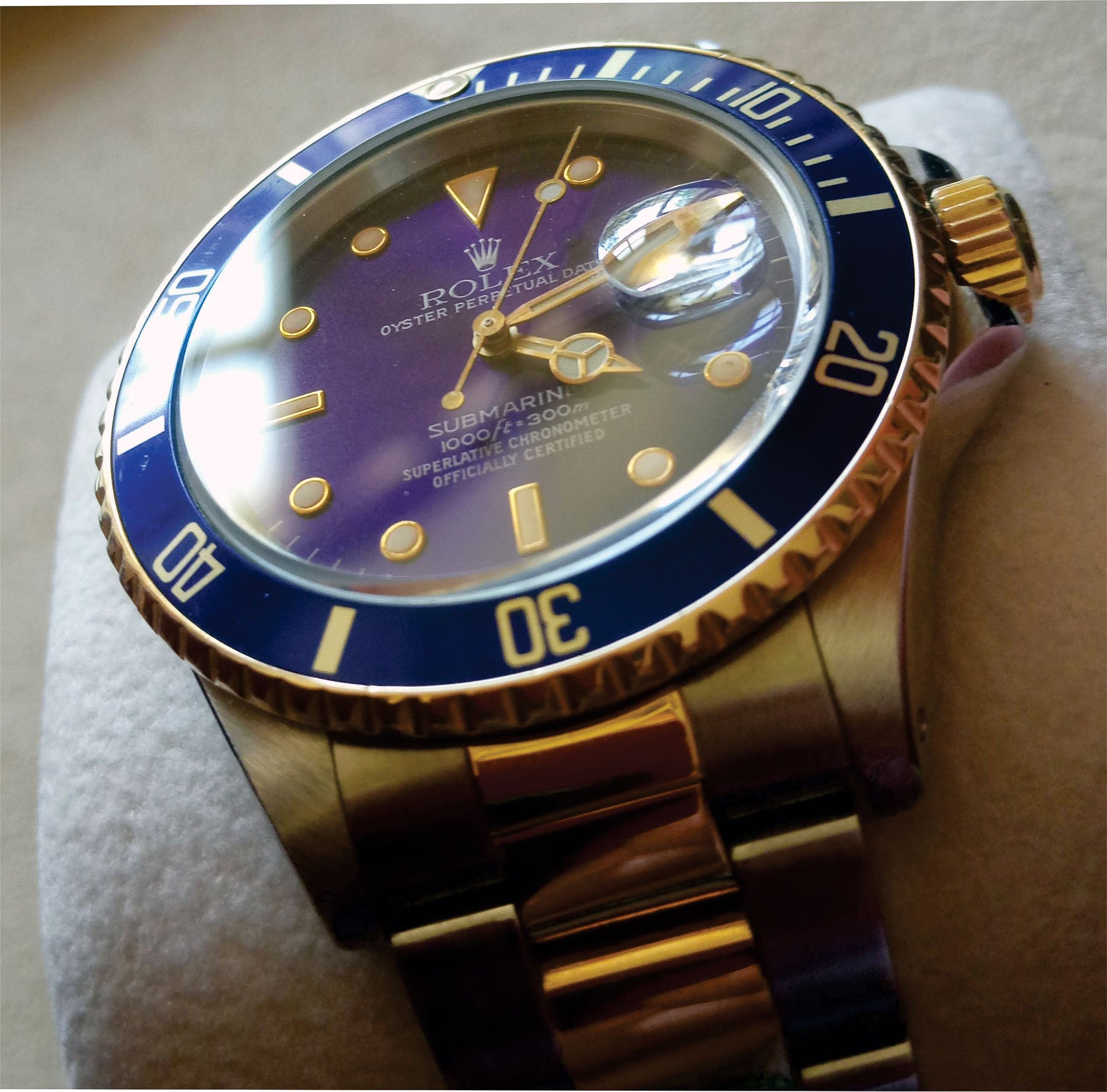 Rolex Submariner 16613
This is a Rolex Submariner "Bluesy" from the mid-'90s — my favorite Sub. I never fancied a Submariner, but about a decade ago, I happened to come across this one for a ridiculously good price, so I picked it up. Over time, this beauty developed a purple patina, which is visible from certain angles owing to the tritium on the indices and hands. This is true wrist candy.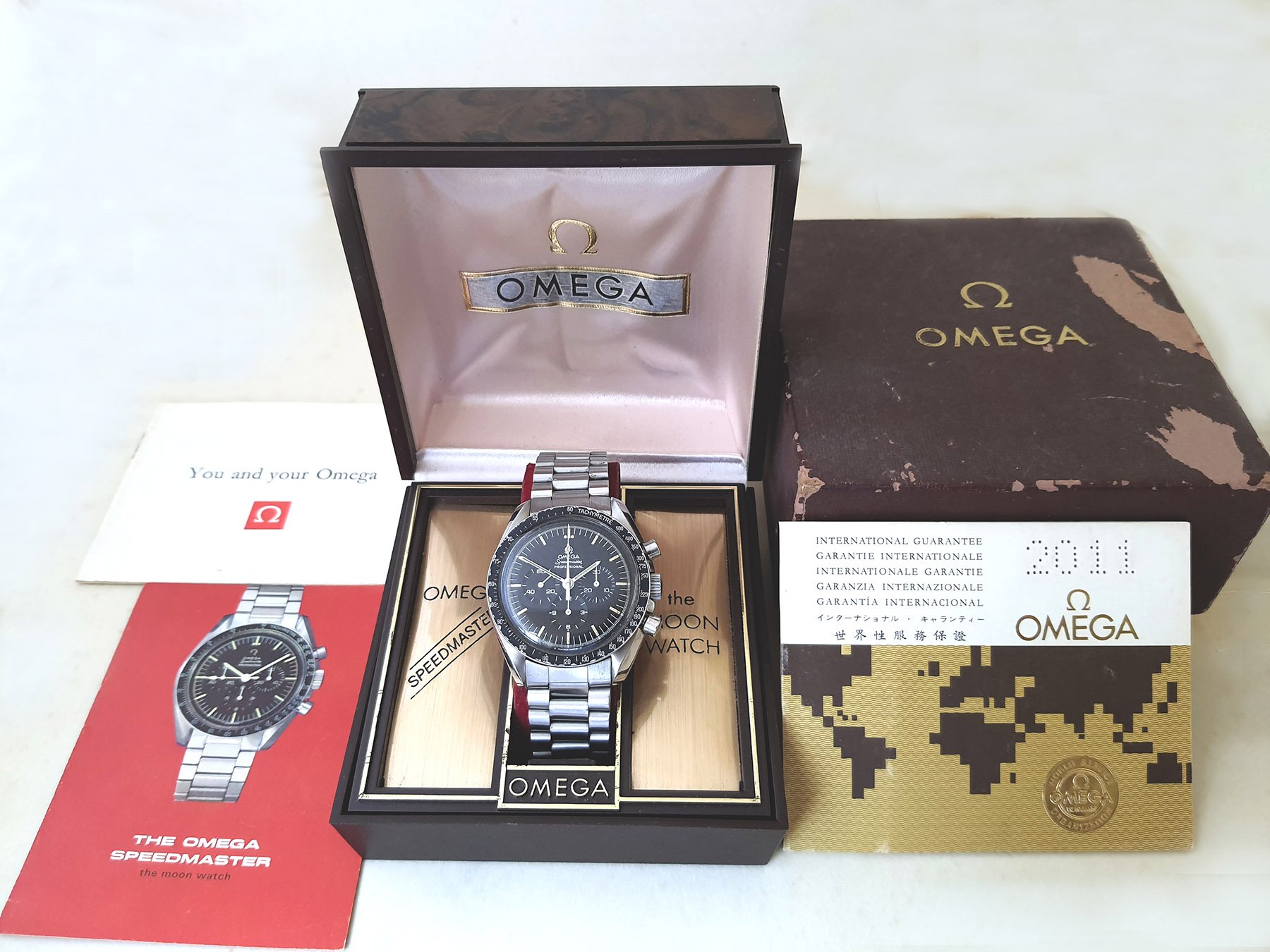 Omega Speedmaster Professional 145.022-76
I picked up this watch from the Daytona watch fair over a decade ago. I was specifically on the lookout for a good vintage Speedy. Quite a few were available in better aesthetic condition than this one. However, when I inspected them closely, I could find signs of refinishing or some minute anomalies. I wanted an honest one — a watch that had built its character over time. Lying in the corner of one of the vendor's stands was this cardboard box. Since it was pretty worn out, it didn't attract much attention. Still, I was pretty eager to see what was inside it. I asked the vendor to show me the box.
When I lifted the cover, I knew I'd found something pretty valuable for a collector like me, someone who loves a full set. I lifted the Moonwatch box out, and there was a bonus hiding below it — the original warranty card with a 2011 US country code, along with a user manual and a booklet! The 1976 Speedy which proudly sat inside was just what I was looking for. It had minor scratches, which added to the character of the watch. At that moment, I knew that this was the watch for me.
When I bought it, I just couldn't take the smile off my face. Today, you can walk into a shop and buy a new Speedy with all of the above. But no amount of money can buy the thrill of getting a vintage one with the entire set.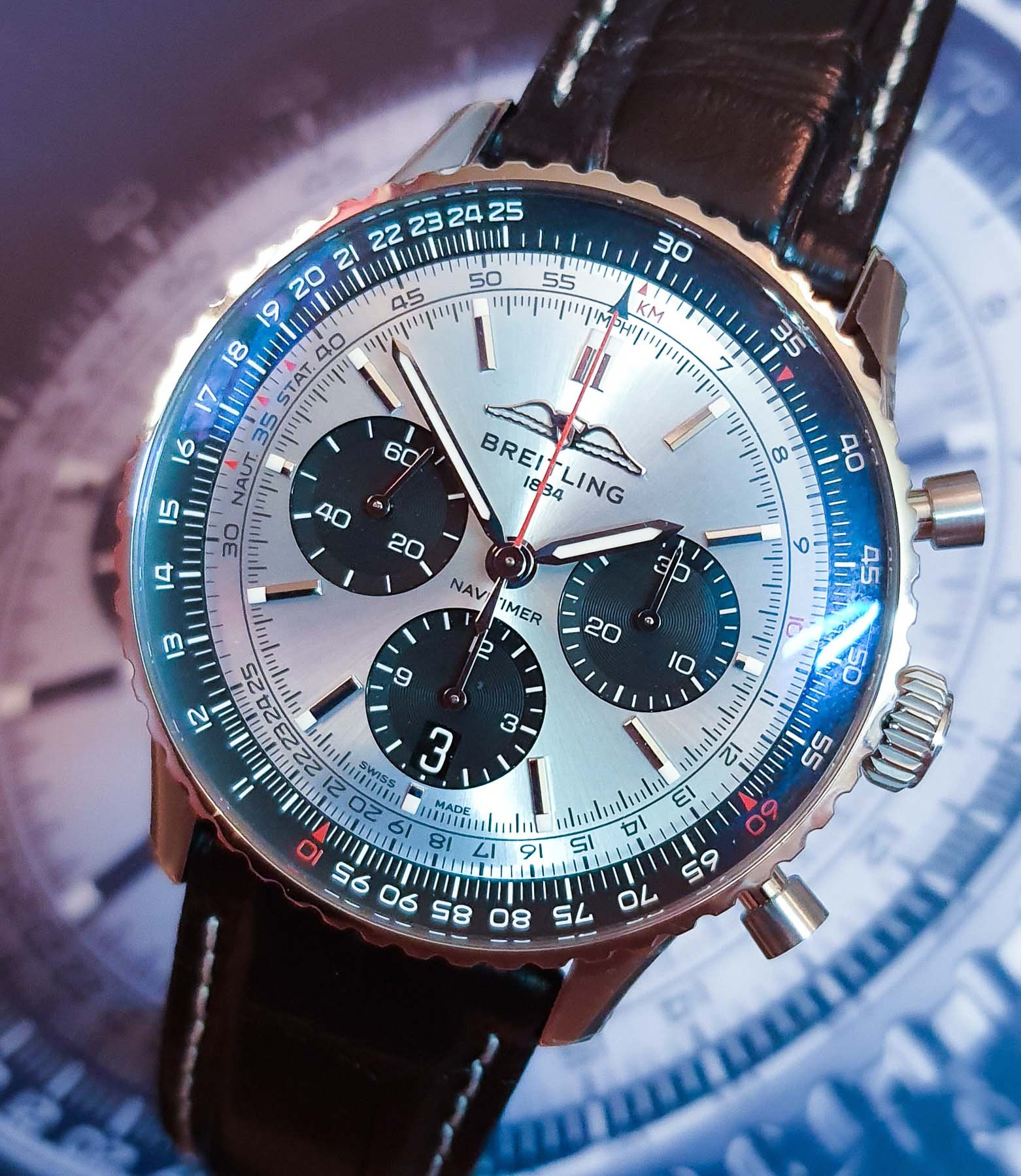 Breitling Navitimer B01 43mm 70th Anniversary AOPA
I always wanted to own this one ever since it came out. The AOPA wings were mesmerizing to me. My dad was on his deathbed last October and in a hospital for over a month. He knew very well that I wanted this watch. Before passing away, he told me to buy one for myself in his memory. When life got back to normal, I contacted my friend Fred Mandelbaum, the grandmaster of Breitling, for his advice as to which color should I go for. "Ice Blue" was his answer. It is one of the most sentimental watches in my collection.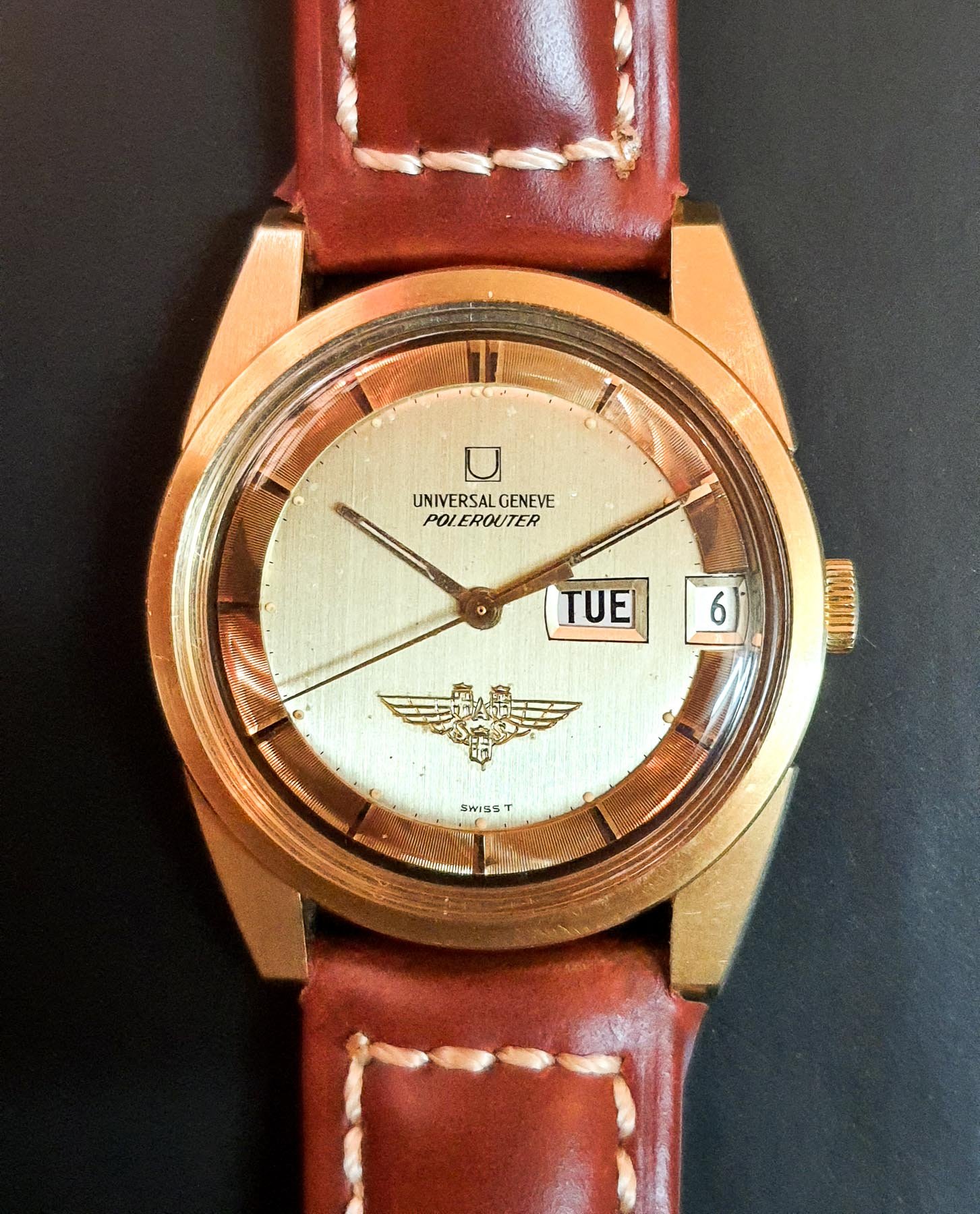 Universal Genève Polerouter with SAS logo
After a decade-long hunt, I finally got lucky and found this day-date Polerouter with an engraved SAS logo on the dial. Universal Genève made it for the American top brass of the airline, and it holds a permanent seat in my watch box. Powered by a micro-rotor caliber 72, this watch was gifted to Mr. J. McCloskey for his 20 years of service to the SAS.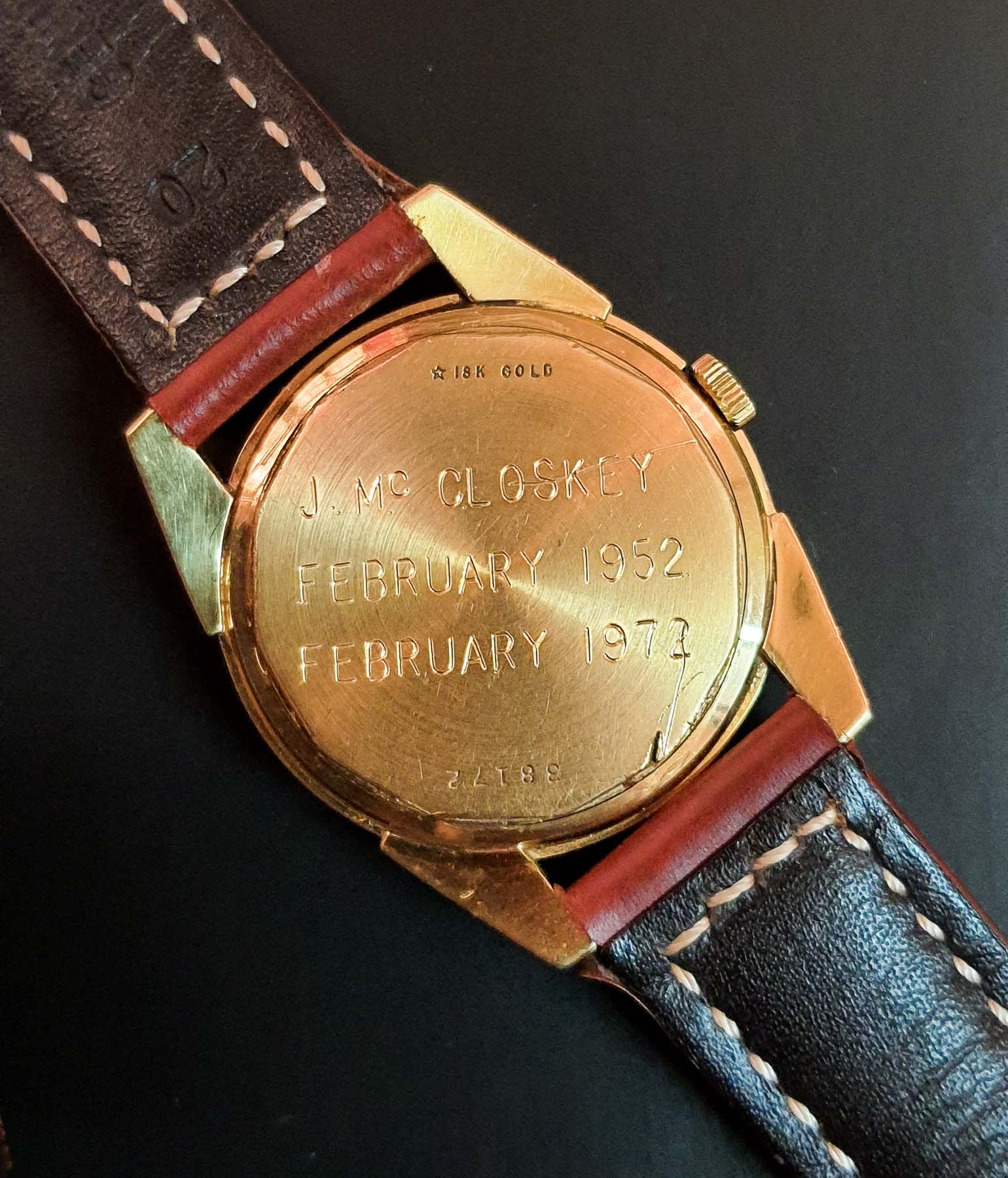 In the early 1950s, Scandinavian Airlines Systems commissioned Universal Genève to design a watch for the newly opened "polar route," which allowed planes to fly over the North Pole rather than across the Atlantic. This reduced the flight time between Los Angeles and Copenhagen. Universal Genève enlisted 23-year-old Gérald Genta, the most admired watch designer, to design a watch that would withstand the magnetic field of the polar region. And thus, the "Polarouter" was born. The first batch went to the pilots and crew of these SAS flights, and the Polarouter became the official watch of Scandinavian Airline Systems.
Introduced in 1954, the Polarouter was powered by the 138 SS bumper movement. Within a year, the micro-rotor calibers 215 and 215-1 (with date) replaced it. Henceforth, the watch became known as the Polerouter. SAS's debut flights over the polar route between Los Angeles and Copenhagen took place on November 15th, 1954, with pilots operating Douglas DC-6B aircraft. Two airplanes took off from either city (Helge Viking from Copenhagen and the Leif Viking from LA) and crossed paths over the North Pole. By flying the polar route, the pilots completed the flights in 22 hours as opposed to the conventional 36. The "Polarouter" watches presented to the crew supposedly had the SAS logo on the dial. Shortly thereafter, "Polerouter" dials bearing the SAS logo were given out as presentation watches. This one is a pretty rare bird.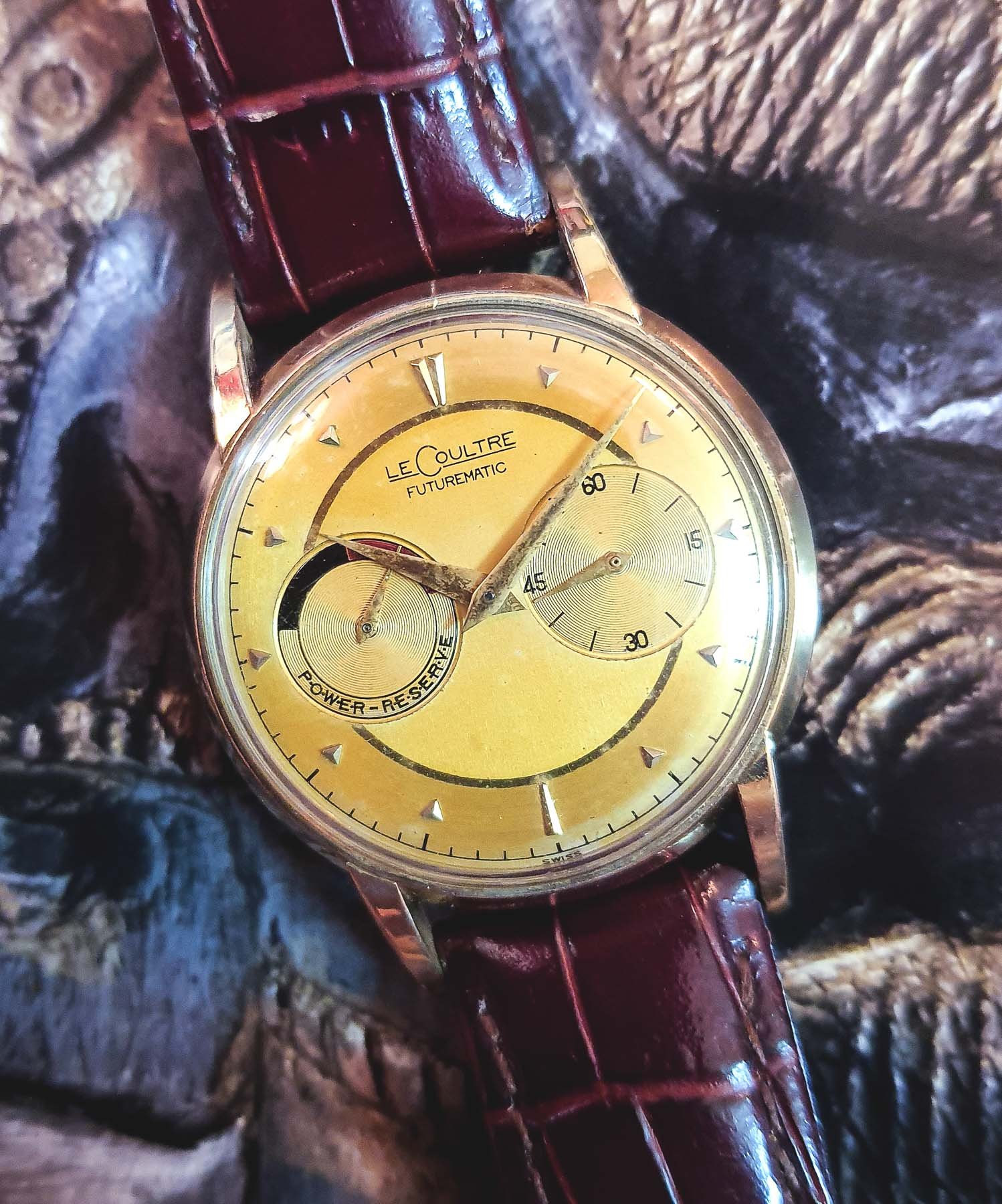 LeCoultre Futurematic
Though it launched around 1953, even today, I'd consider this a futuristic watch. Housing the bumper automatic hacking-seconds caliber 497, the oscillating weight locks into place with a little hook, preventing it from overwinding and breaking the mainspring. Jaeger-LeCoultre also included a revolutionary six-hour power-reserve indicator at 9 o'clock, which stops the movement from running when there are six hours of power left.
The most distinguished part of the design is the lack of a conventional crown at 3 o'clock. JLC created a unique hand-setting wheel that is engaged by sliding (not lifting) the coin-shaped crown on the back of the case inward toward the center of the watch. This feature also doubles as a hack lever. To set the hands, you simply rotate the crown clockwise; to get the hands going again, you slide the crown toward the outside of the case. The Futurematic was the world's first watch without a crown for winding the mainspring. This one was cased and timed in the USA, hence the LeCoultre logo on the dial.
We hope you enjoyed this story from Aashdin. Be on the lookout for more submissions from our readers coming soon.