Watch Dating Profiles: United States — A Trendy Timex, Refined RGM, And A Voluptuous Vortic
Love many, trust few, and always paddle your own canoe
"Made in USA" is a phrase that gets proudly and quite obviously stamped on the products that earn it. It may be a bit over-zealous in its marketing at times, but please excuse our enthusiasm; it gets harder and harder to find American-made products every day. When we do, we Americans are thrilled to see that they live up to the standards that the Made in USA designation rides on. I can't put my finger on exactly what those qualities are, but I know they have something to do with steel, leather, innovation, underdog determination, and excellent customer service. Coincidentally, one can find these qualities in the selections for this Made in USA edition of Watch Dating Profiles. Timex's American Documents watch, Vortic's American Artisan Series, and RGM's PS-801-BB "Baseball in Enamel" watch are doing their part to take up the mantle.
The United States, believe it or not, revolutionized watchmaking in the 1800s. Inspired by the precise machine manufacturing of gun components in the U.S. Armory, one Aaron Lufkin Dennison set about industrializing watchmaking, which had previously been an entirely hand-based craft. This led to a rapid increase in watch availability, accuracy, and ease of repair. It quickly became a model adopted by other countries, and it is still the primary model today. But hard times fell upon American watch companies. If the Quartz Crisis almost killed Swiss watchmaking, it obliterated what was left of the American craft. But today, there are still a few intrepid watchmakers keeping the American legacy alive and infusing their watches with unique American flair.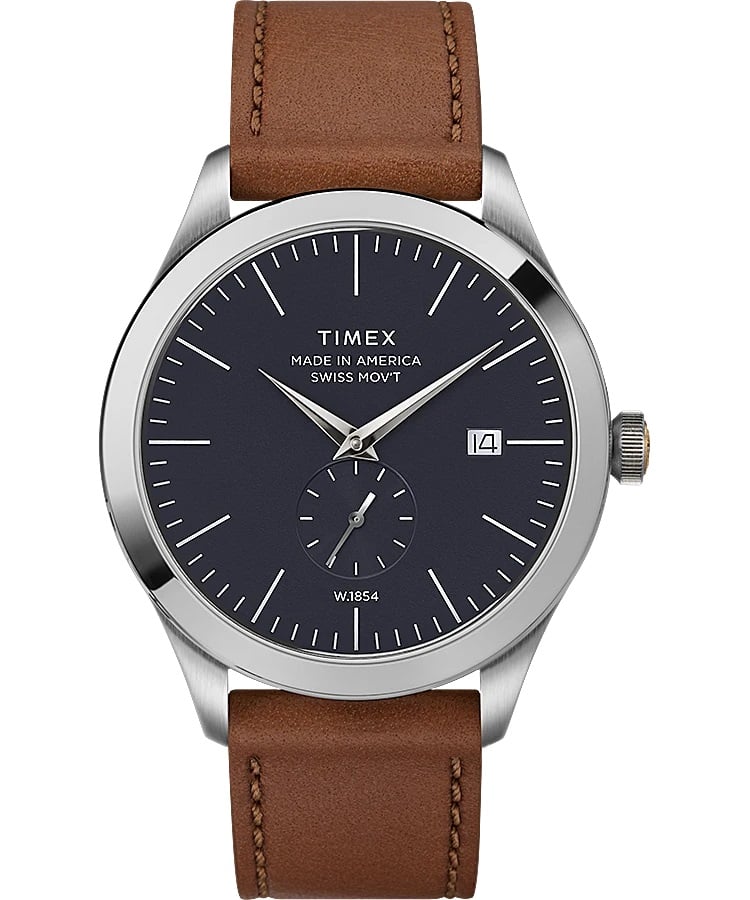 Timex American Documents
Timex is one of the few original American watch companies that has endured to the present day with its base in the United States. Although Timex now manufactures most of its watches overseas, there is one product line — the American Documents series — that brings the brand's watchmaking home.
The watch — in this case, the dark-blue-dialed variant with a brown leather strap — is hand-assembled in Middlebury, Connecticut using components and materials largely sourced from within the US. The coated brass dial and stamped brass medallion on the case back come from domestic suppliers. The leather for the strap is from an American tannery. The lovely wooden box the watch comes in is, yup, made from American cherry trees. Even the crystal is Gorilla Glass 3, a very tough product usually reserved for electronics and manufactured in the States. The one thing very blatantly not American-made is the movement, a Swiss Ronda Caliber 6004.D.
…this very striking and surprisingly elegant Timex commands one's attention.
The foreign quartz, an acceptable concession given the great lack of domestic options, has a 3-o'clock date window and small seconds sub-dial at 6. Combined with the silver-colored dauphine hands and minimalist indices, this very striking and surprisingly elegant Timex commands one's attention. The text, in a fitting sans-serif typeface, asserts "Timex" and then equally-sized "Made in America" and "Swiss Mov't". It's a fitting compromise, acknowledging what heavy lifting was done where. With a water resistance rating of 3 ATM, this watch will probably not be a daily beater for most. But the casual 41mm stainless steel case certainly wants it to be. The brass elements on the crown and case back elevate the ensemble to something special though. It is a rare breed, after all — an American-made Timex.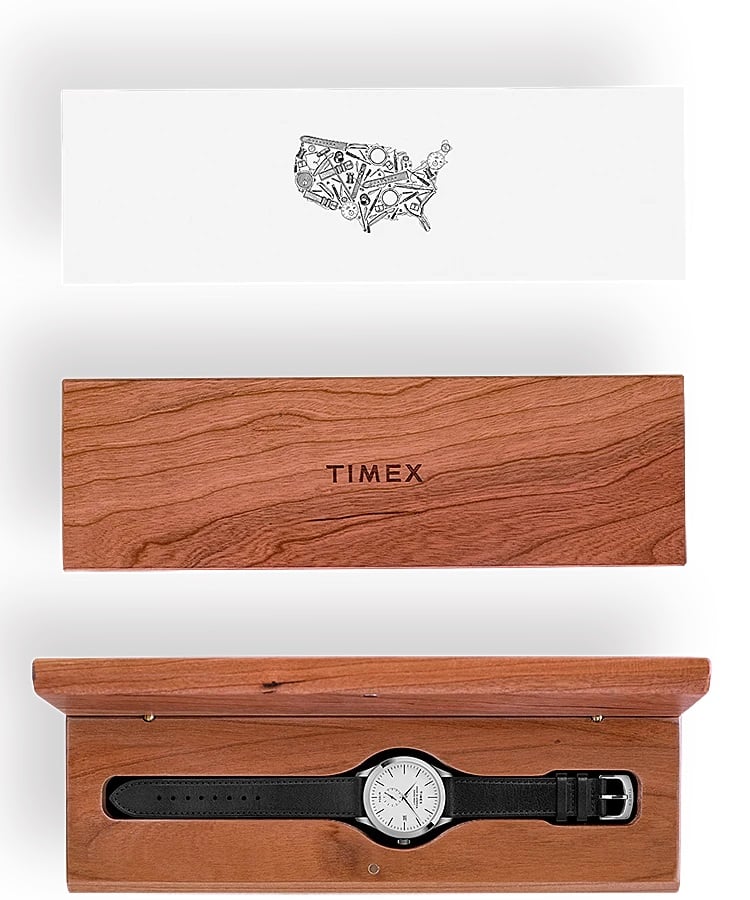 Shine your boots, we're going to the city
This watch is for the American everyman/woman (cue Copland's "Fanfare for the Common Man"). Or, alternatively, for anyone who wants a slice of American pie on their wrist. This watch is one that is either worn every day in an upstanding lifestyle full of humble professionalism and civic duty or one that is adorned solely when the occasion calls for it, all other times being unsuitable for wearing a watch what with all the wood chopping and general carpentry. Either way, it's a one-watch collection for the ideal owner, and it's one that reflects the merits of a life of hard work and simple pleasures.
The absolute ideal owner of this watch has probably already chopped, milled, and assembled their own American Cherry presentation box…
If you're the ideal owner of this watch, you own a couple of pairs of boots. If one of those pairs happens to be American-made Red Wings, you're in for an extra treat. S. B. Tanning supplies the leather for both the boots and the straps for the Timex American Documents models. The American-made boots and this Timex are truly two fitting companions and will assist and accompany the wearer for years to come. The absolute ideal owner of this watch has probably already chopped, milled, and assembled their own American Cherry presentation box for it, whistling "Yankee Doodle" the whole time. The American "can-do" attitude can do strange things to a person left unchecked.
Really, this watch is for someone who values history and craft done well, with not much room for accepting praise or garnering compliments. Simple, honest, hardworking people just want a simple, honest, hardworking watch. That watch is the Timex American Documents.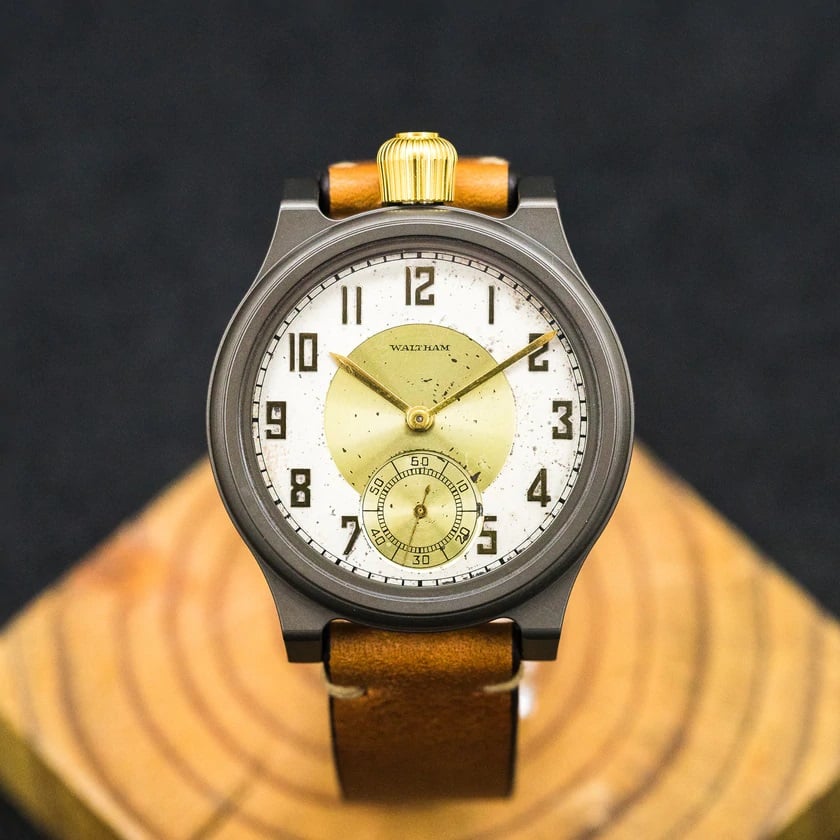 Vortic American Artisan Series
From a tradition of one kind now to another. Vortic is doing something very new in the watch world with something very old. Based in Fort Collins, Colorado, Vortic's niche is taking movements from vintage American pocket watches and refitting them to its own cases designed for that purpose. We've gone from WWI infantrymen welding wire lugs to their pocket watches to wear on the wrist to now being able to take Grandpa's pocket watch (who just may have served in a World War) and having it modified for wrist wear.
This is an ingenious business model. I have my own grandfather's pocket watch. It never gets any actual use. But it certainly would if cased within one of Vortic's designs. The brand's cases are unique, naturally. Both the size of the movement and the orientation of the crown on a pocket watch require a large case (usually 46mm) with the crown at 12 o'clock. Each piece is unique, as Vortic preserves both the dial and the movement. The case, crown, and leather material are matched to the dial of the watch or to the customer's specifications.
Because, get this: sure, you can buy an example of Vortic's American Artisan Series "off the shelf". But if you do happen to have an old American pocket watch that will work with one of Vortic's cases, you can send it in to have it fitted to its very own case. Vortic is doing more than just bringing a unique product to the table. The brand is breathing life into family heirlooms, modifying them for practical use in the modern day.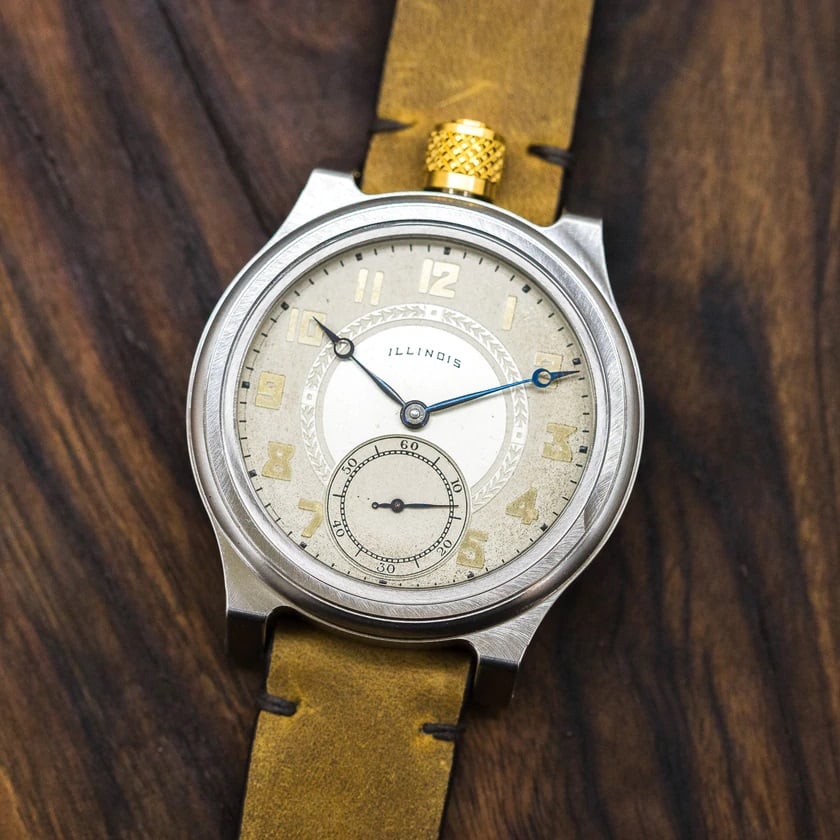 Enthusiastic historians rejoice!
Vortic watches are not for everyone. Some people love timepieces firmly rooted within the last 100 years. Some people have pocket watches they'd never dream of disassembling. But for all of the millions of pocket watches the United States manufactured from the 19th and 20th centuries, there's enough surplus around that those who do find the Vortic American Artisan Series intriguing can readily have their very own pocket/wristwatch.
This watch is ideal for history buffs, steampunk cosplayers, or bikers (that's motorcycles, not bicycles). The small population that inhabits all three of those categories is truly the perfect owner of a Vortic. The mix of masculinity, heritage, and fun in the watch should be mirrored in the owner for full appreciation to take effect. If you have a library card and a Harley, this watch is for you.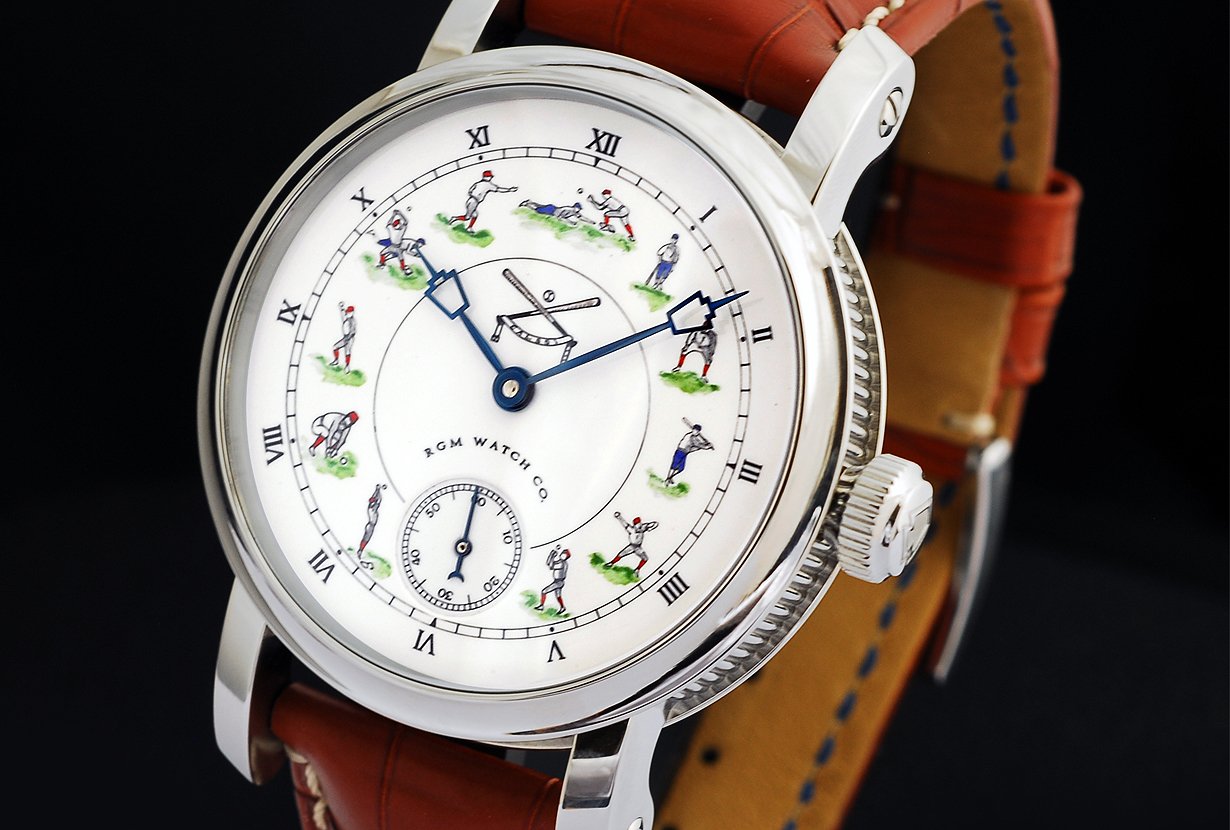 RGM PS-801-BB "Baseball in Enamel"
We now take a step toward the more traditional, though RGM's PS-801-BB "Baseball in Enamel" has some flair of its own. RGM Watch Co. was founded in 1992 by Roland G. Murphy, an esteemed American watchmaker. The catalog is surprisingly large considering the size of the operation and the quality of Murphy's craft. What makes RGM watches so special is that many of the watches are almost entirely American-made. RGM has four in-house calibers employed by various models. Cases, dials, hands, etc. — almost everything is of American materials, manufactured in the United States, and, of course, hand-assembled at RGM's headquarters in Lancaster, Pennsylvania. A sly "90% made in the USA" designation on the webpage for the PS-801-BB's in-house Caliber 801 poses a challenge to determine what isn't made in the USA. My guess is the rubies and hairspring.
The prime candidate from RGM is the Baseball in Enamel model ref. PS-801-BB. Based on the dial of a very rare American pocket watch from the 1800s, RGM's Baseball in Enamel painstakingly reinterprets the original with a Grand Feu hand-painted enamel. The stainless steel case was made in Lancaster as well, though those models are sold out. What's left at the moment are the rose gold and platinum cases, measuring 43.3mm across. The see-through case back reveals the stunning hand-finished and hand-wound Caliber 801 with Côtes de Genève.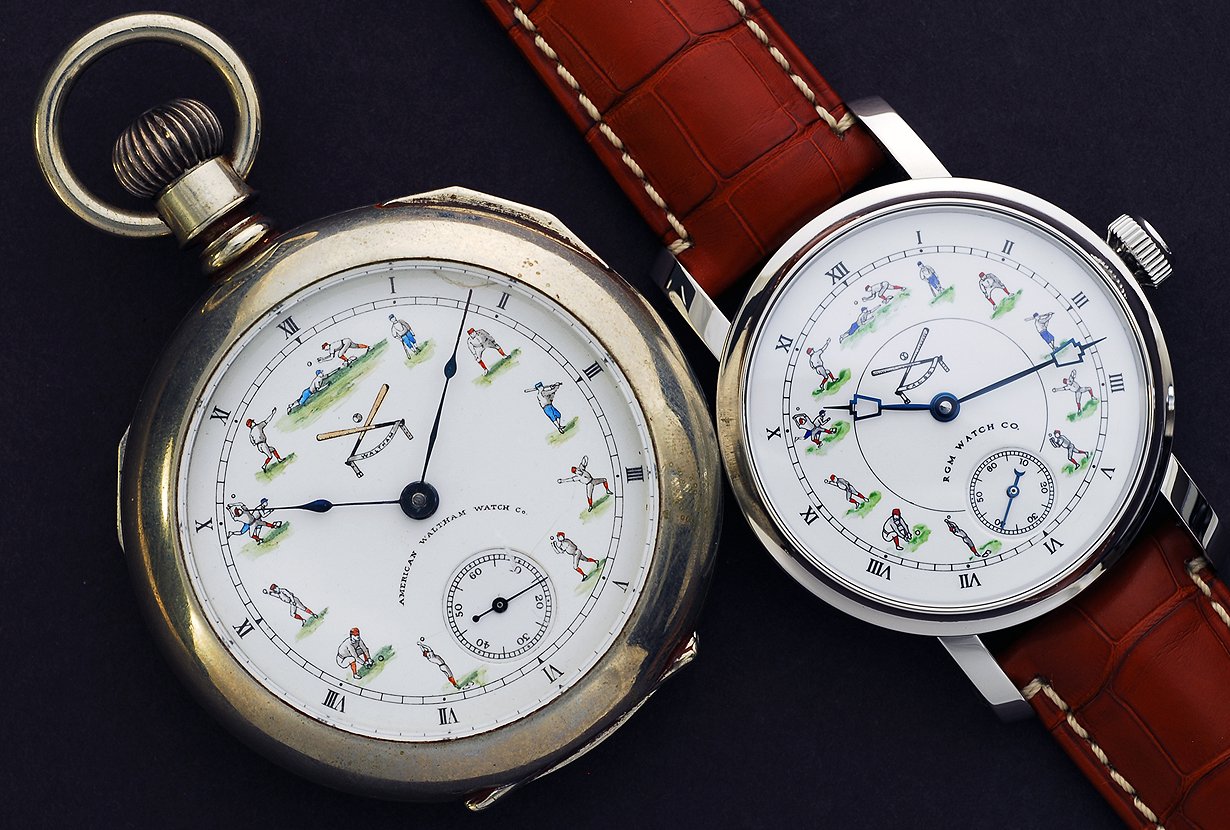 Infused with history
The dial, intricate as it is, benefits from the larger case size. Each hour is accompanied by a baseball player in a unique pose of playing the game. A coat of arms of sorts with two crossed baseball bats and a ball and rope adorn the dial space between the center and 12 o'clock. A simple "RGM Watch Co." follows the curve of the small seconds sub-dial. The minute and hour hands are RGM's blued "Keystone" hands. These follow a poetic lineage through American watchmaking, originating with the Keystone Watch Company. Murphy was gifted a set of these hands while at watchmaking school. Pennsylvania is also known as "the keystone state". Lancaster, Pennsylvania is the historic home of a long-passed Keystone Watch Company and the current home of RGM Watch Co.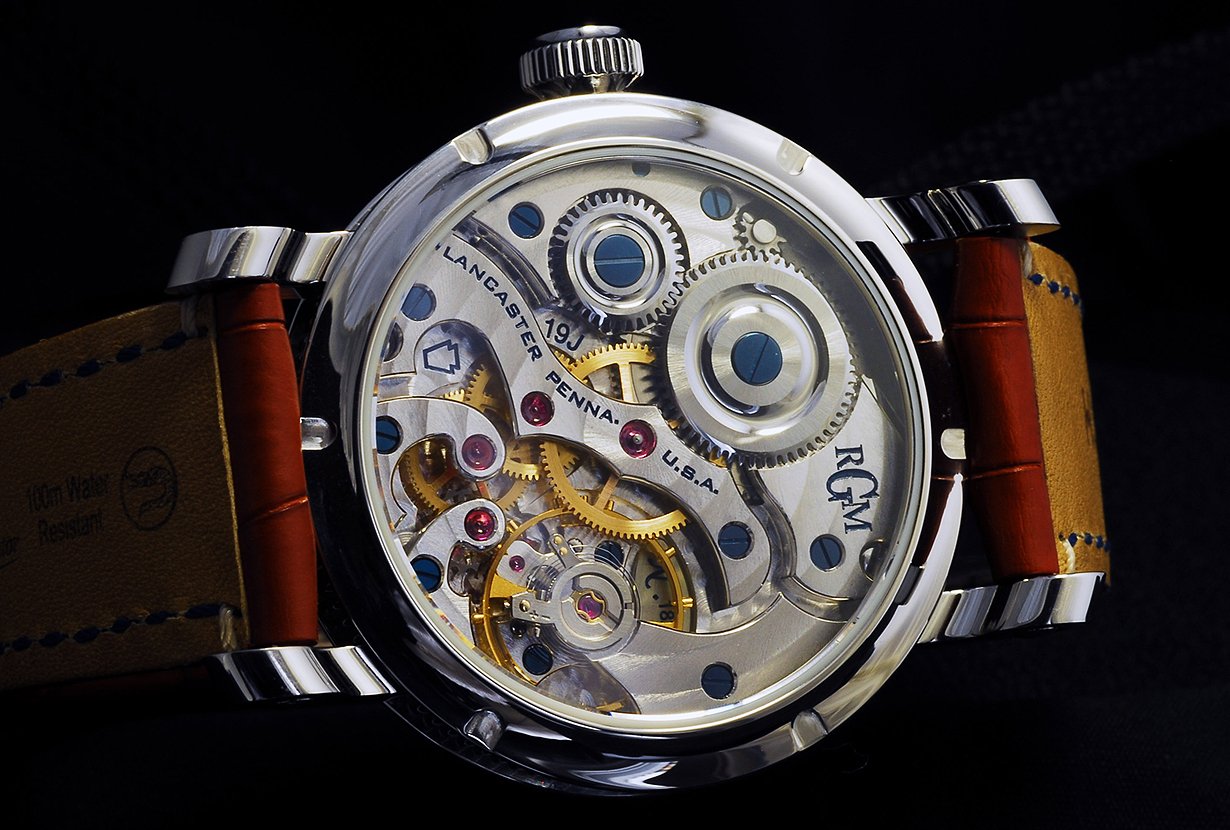 An American dream realized
Baseball is a purely American sport (though some other countries do it quite well too). What better decoration, then, for a premium American-made watch than America's favorite pastime? If you're going to wear this watch, you have to love baseball. You may have even played it professionally.
Because, everything considered, RGM's Baseball in Enamel is not a young person's watch. This is a watch for the reminiscent. This is a watch that rejoices in having achieved success. You've put in your time, you made your mark. This is a watch that markedly points to it having been earned through a life of dedication. This watch is proof of an American dream achieved.
The Dating Game!
There you have it, folks. Three very distinct American-made watches. If we can observe any trends in American watchmaking with these three examples, it's that America makes big watches. No puny 36mm cases here (and what a shame)! So which one is for you? The American standard, Timex's American Documents, or the fun resurrection of the pocket watch, Vortic's American Artisan Series? Or, have you already "made it" in life and are looking for some quiet relaxation and a good ball game with RGM's Baseball in Enamel? Let us know in the comments.