Watch Strap Review 42 — Two Stitch Straps — Four Years Later
The latest and greatest from our favorite Serbian strap makers
Almost four years have passed since we first talked about Two Stitch Straps on the pages of Fratello Watches. A lot has changed for both parties during that time. It was always inevitable, however, that we revisit the young company based in Serbia to check out its new designs. Enter; Two Stitch Straps Vol. 2.
Ivan and I see each other from time to time, during watch fairs mostly. Although he doesn't live too far from my hometown in Hungary, we have yet to catch up there. We chat every once in a while on the phone, and he even accompanied me to one of my meetings at the last Baselworld. That was back in the Swatch Group days — a distant memory now. To keep me abreast of developments in these "fairless" times, he sent me an update on his new products.
Two Stitch Straps Vol 2.
The last time we talked about Two Stitch Straps, we had a great mix of products in front of us. Ivan sent me a few "normal" straps, as well as a unique design. This seems to be the brand's thing because, this time, I also received a few of the new-but-ordinary products as well as a particularly cool project piece.
Before we talk about them, though, let's refresh our knowledge of the company. Two Stitch Straps came to the strap game in 2016 comprising only two guys. Over the years, the brand grew and started to make a name for itself in the industry. So much so that not too long ago, they managed to seal a deal with one of the industry's big names. We cannot — yet — disclose which brand it is, but, trust me, you know them. Every strap is still hand-made using traditional methods and sold at reasonable prices.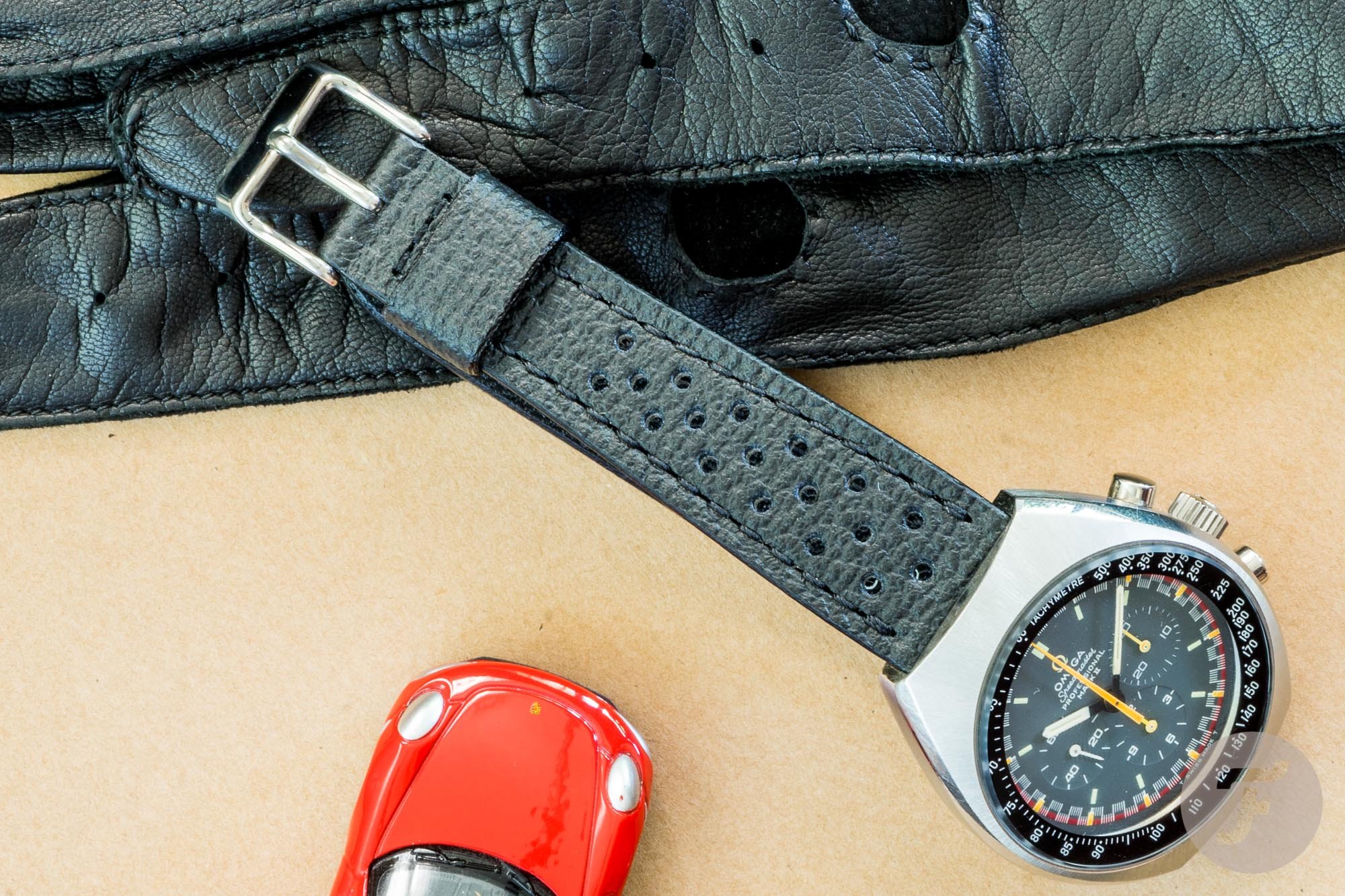 Full Stitched Strap
Although this is a new design from Two Stitch Straps, it isn't something we haven't seen from other companies. However, if you want fantastic quality, beautiful leather at a reasonable price, you had to compromise. Not anymore. These Full Stitched Straps come in either calf (€75) or Shell Cordovan (€85) leather. Speaking of which, the leather is vegetable tanned from Italy with a very even and smooth surface. I love how soft they are, although they look stiff at first glance.
…the stitching is even and done by hand all the way.
According to Ivan, the idea behind the Full Stitched Straps was to create a product that resembles vintage straps. Elegant with a strong vintage vibe. That's not something that has been the trademark of Two Stitch Straps…until now. The leather is beautiful, the stitching is even and done by hand all the way. A little but important detail is the creasing on the strap's edge following the stitching all around.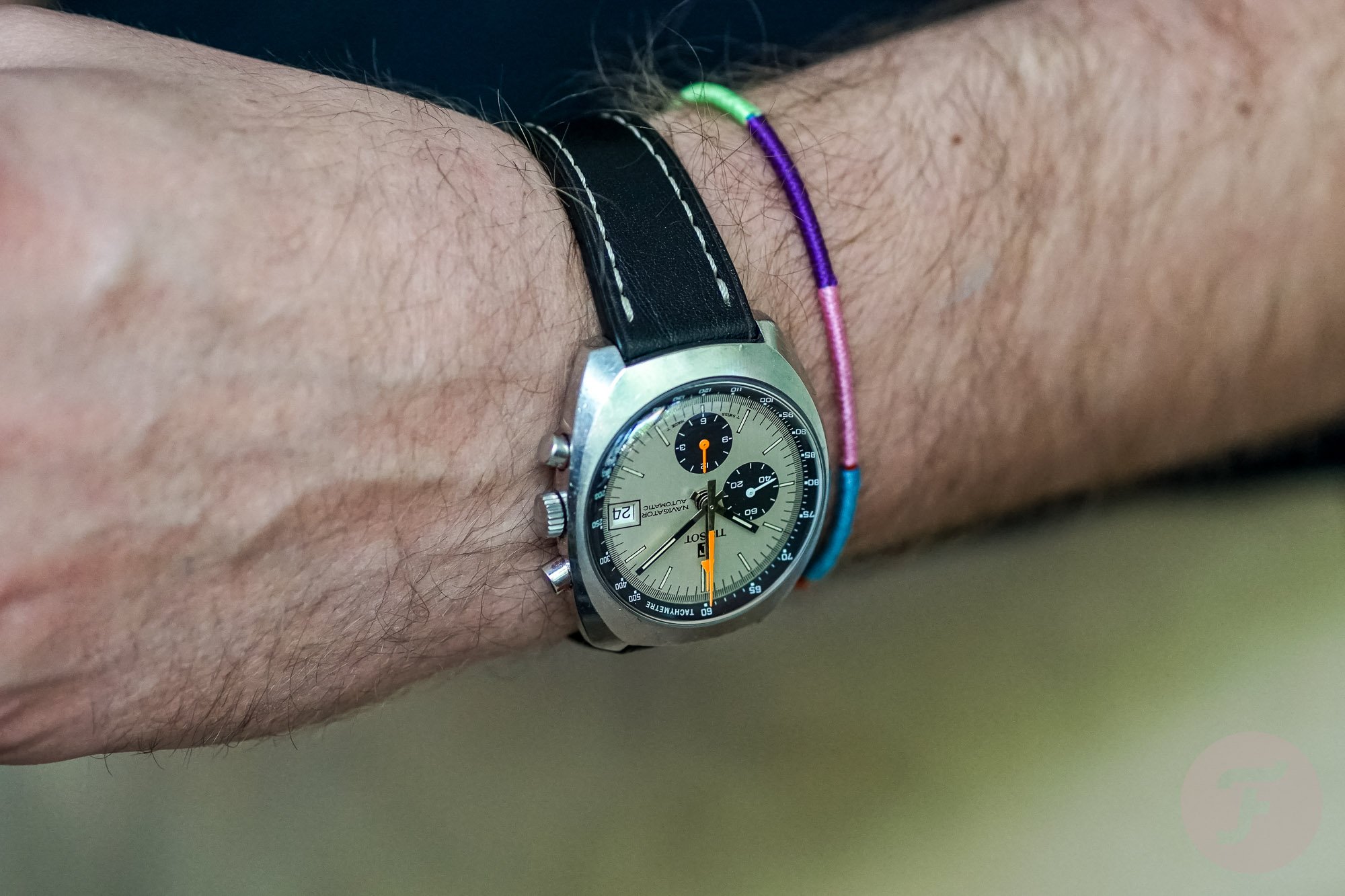 You find the same creasing on the keepers as well. As you would expect, the edges are round and painted. All in all, they are exceptional straps. Usually, straps would come in one size. Although we are seeing more and more small ateliers offering the same style of the strap in multiple sizes, it is still not a common practice. These Two Stitch Straps products come in two lengths and several lug sizes.
…you can get every measurement between 18 and 22mm.
The Regular comes in at 120/80mm, while the short is 110/70mm. The tapering is the usual 2mm. So, a 20mm strap is 18mm at the buckle end. You can order a 20 or 22mm strap with a 16mm buckle end if you desire even more tapering. As far as the lug size goes, you can get every measurement between 18 and 22mm. I love tapered straps, especially on vintage pieces. As you can see in the photos, the straps perfectly complement the watches.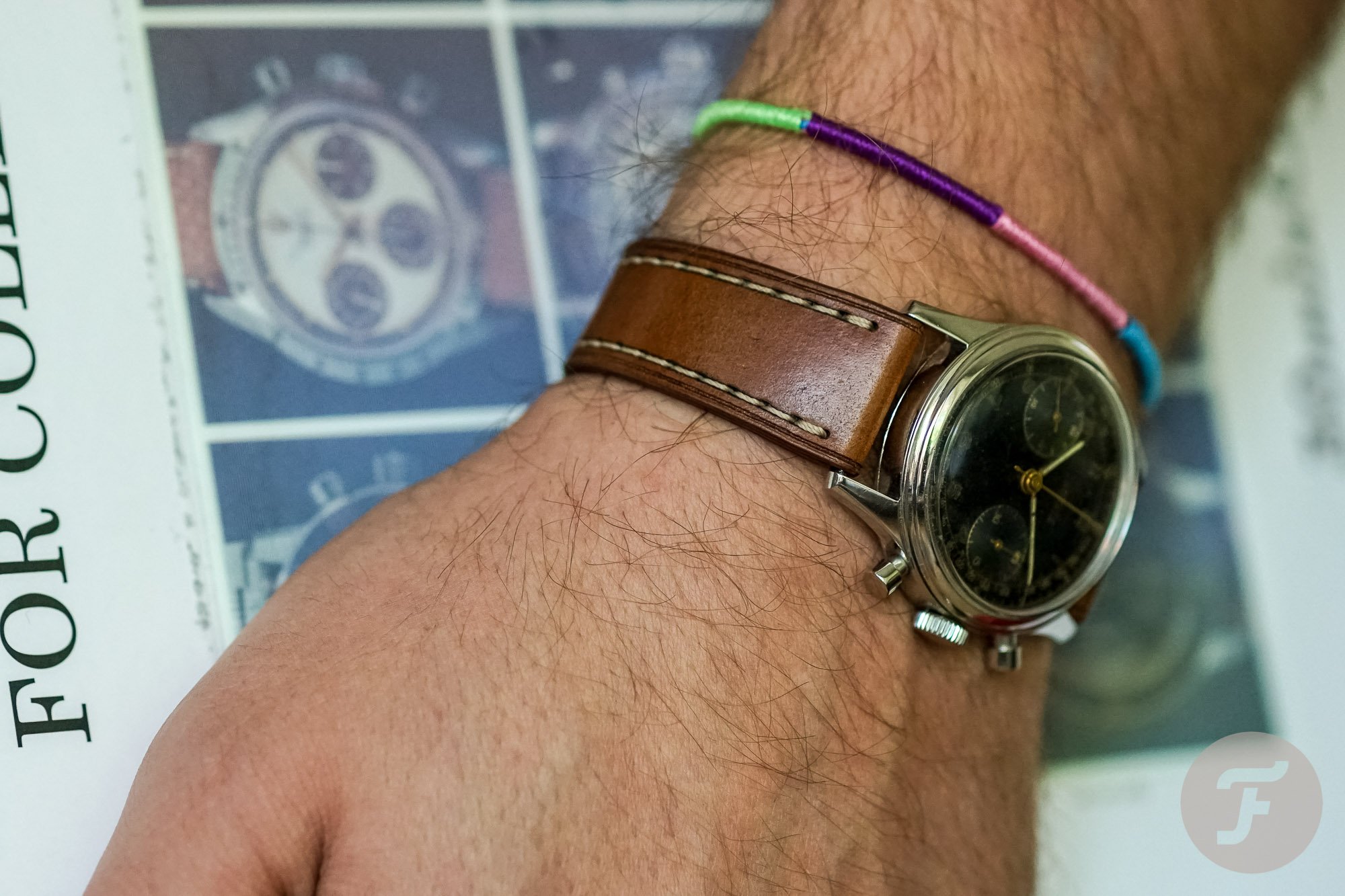 Leather Nato
I asked Ivan if he sees a decline in the popularity of NATO straps. I feel that they are not around as much as they used to be. Maybe it's only me. He told me that their numbers are steady for years. And although leather NATOs are not their best selling models, it is still popular among repeat customers. The style is very similar to Two Stitch Strap's signature product, the Honey Leather Watch Strap.
The strap is a caramel-colored Italian calf leather with black edges. Due to the strap's color, aging is inevitable. But that's part of the fun, of course! The leather is thin (only 1.3mm), so you can lace the NATO on virtually any watch, be it a modern or vintage timepiece. The length is 28cm, which is on the longer end of the spectrum. Lug size is 20mm or 22mm, and the price is €55. Not too bad at all.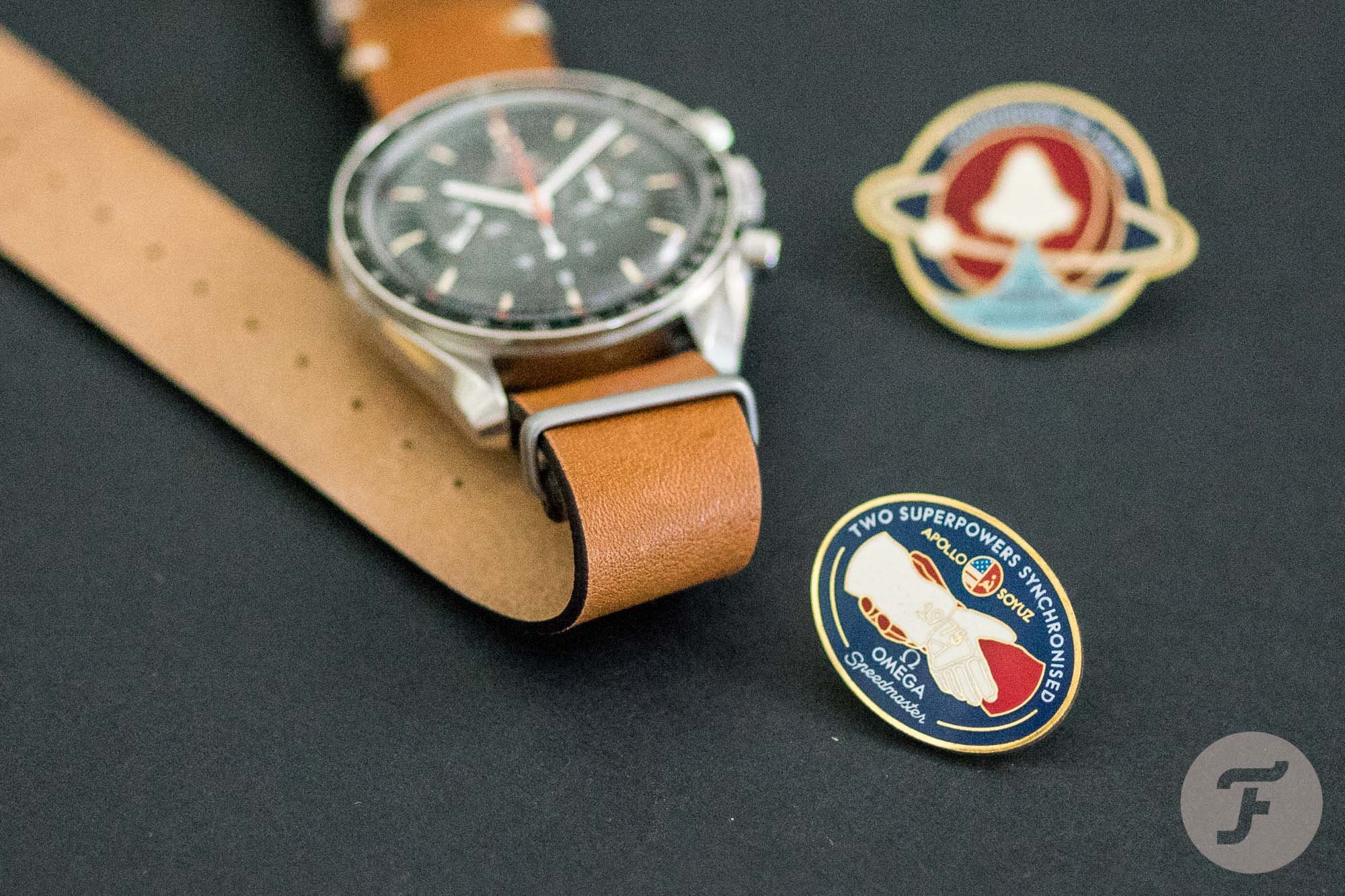 Corfam Style Straps
I saved the best for last. Vintage fans know that around the late '60s or early '70s, many sports watches came on a so-called "corfam" leather strap. Well, corfam is synthetic leather and not the sturdiest material. However, the tumble leather pattern mixed with the racing-style perforations was (and still is) a favorite of many. Most notably, Heuer used this strap on almost all of their legendary vintage timepieces.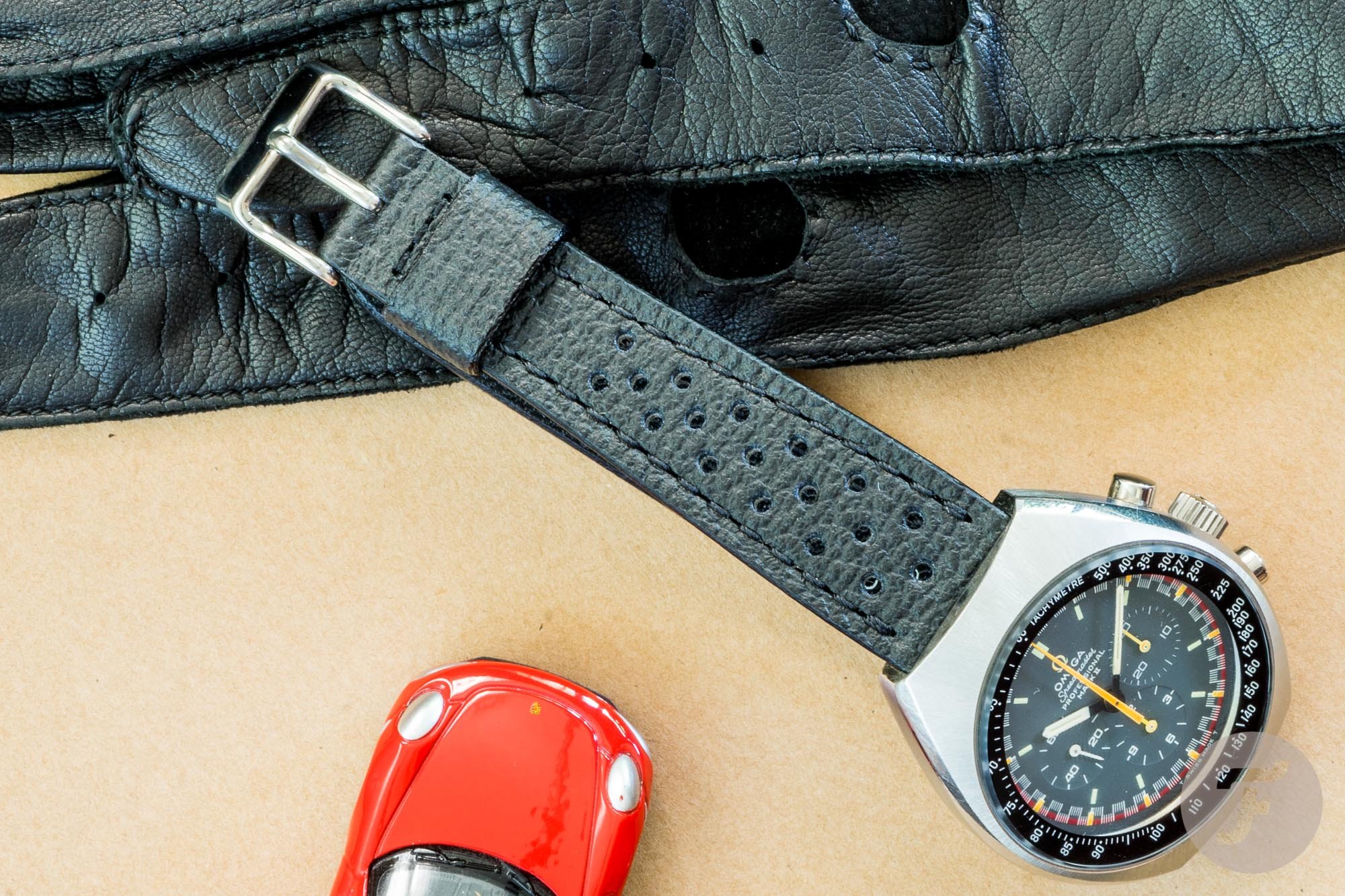 Nevertheless, other brands such as Omega also offered it as an alternative to metal bracelets. Two Stitch Straps tried to reproduce this strap but obviously in leather. My verdict? The result is about as close as it gets. Over the years, I have seen many attempts — some successful, others not so much. This strap is the best yet. The leather surface is perfect and the thickness is also very similar.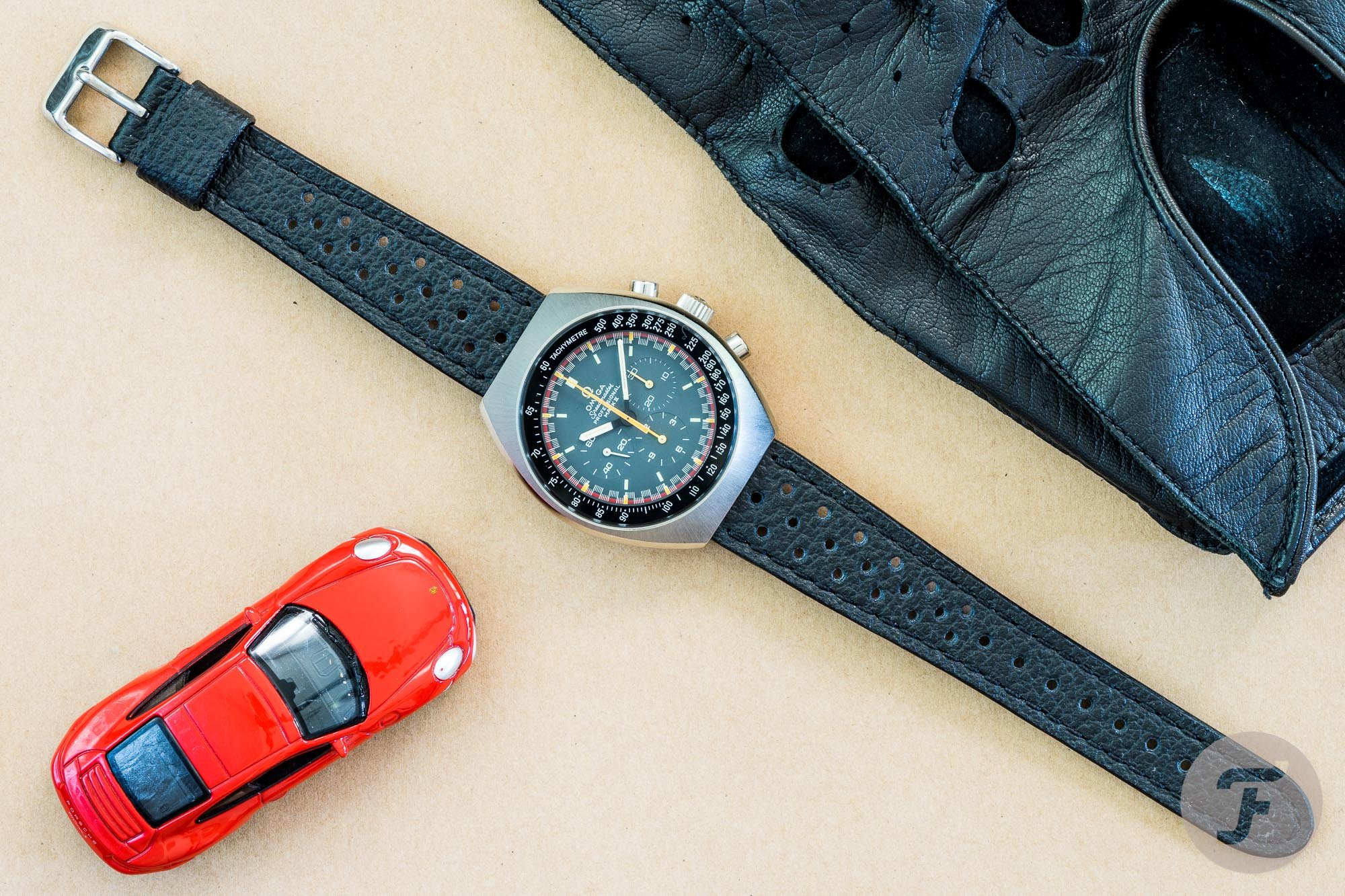 As good as it gets
The tapering is spot on. I put it on my vintage Mark II Speedy Racing. You can judge the look for yourself, but I love it. What Two Stitch Strap did, was to measure an original OEM Heuer strap and to use those measurements to recreate a modern version. The price is? €79. That's more than fair. But here's the catch. You cannot find them in the shop. If you'd like to get one or more of these, you need to send an email to the brand directly or message them via Facebook or IG.
If you cannot find a real corfam or prefer leather over the synthetic stuff, this is as good as it gets. I firmly believe that Two Stitch Straps hit a home run with this one, although it might not be for everyone. The leather is soft, the edges are painted, the stitching is excellent. If you guys would like to order a strap (or more) from Two Stitch Straps, follow this link and use Fratello2020 for 10% off of your order (not valid for custom straps).