Watches & Pencils #39 – Daily Beater
Some of you only have one watch (although we've never met you), others have a big collection of watches. But, almost everyone has a daily beater.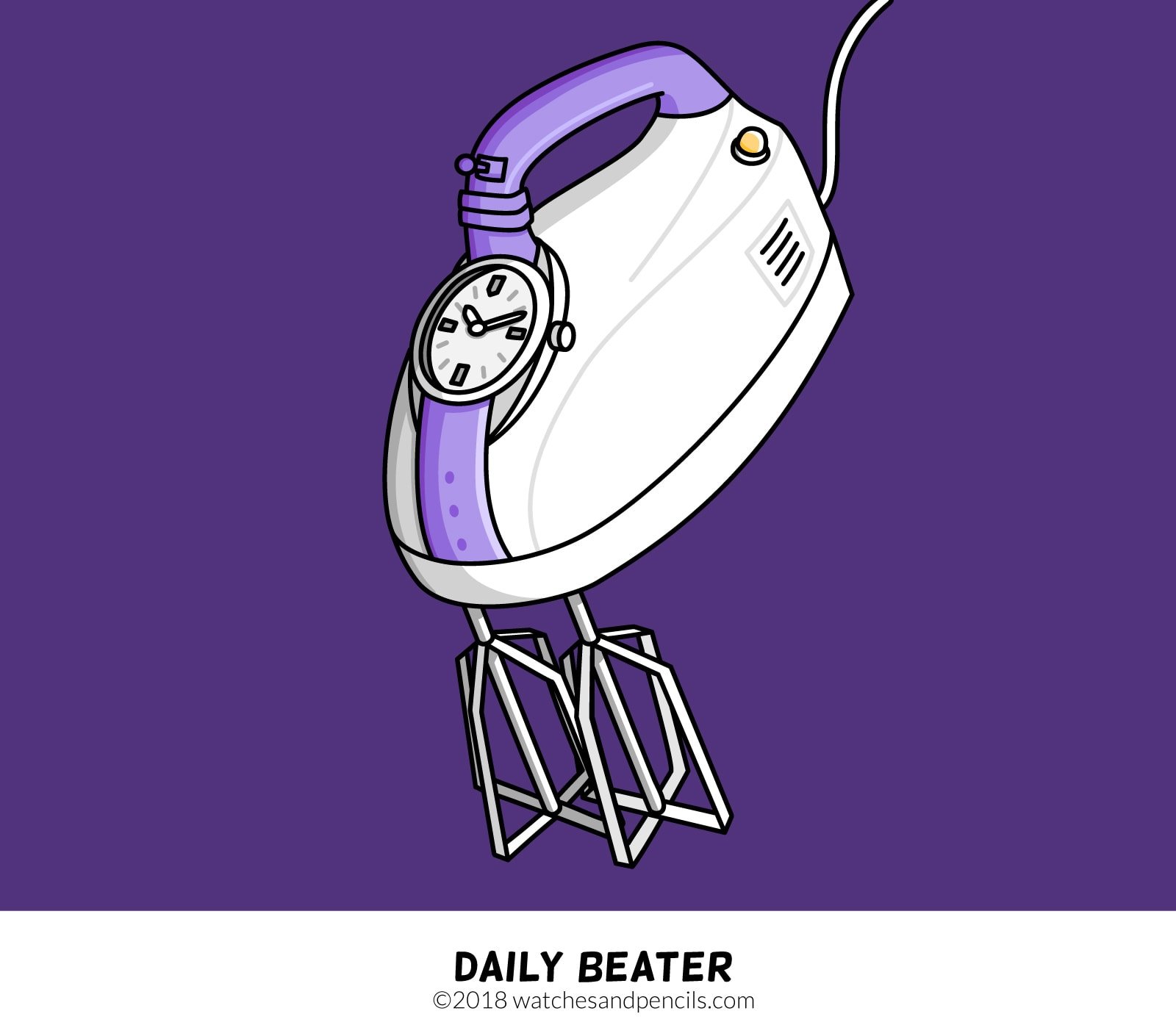 Above illustration is not only a word joke, but there is actually a deeper layer in it: brands could up end up as daily beater by "mixing" components the right way. What's the right mix? Read on.
Motivations
We often buy watches and try to expand our collection. But, like a human body, most of the time everything keeps centralized around the heart. We try to find that single versatile piece, to use as a daily beater. The watch that suits almost every occasion. It's the most valuable piece in the collection, in an emotional way. What can be the reason for a watch to get this title in your collection? Some arguments could be:
You love the design, as it pairs so well.
The daily beater gets all the dings and dangs. It's robust. It keeps other pieces pristine and lets them 'power-shine' during special occasions.
It's the most practical and legible watch of your collection. For example, a watch with hours, minutes and seconds. Plus a date.
A newcomer needs to be welcomed in the watch family. You give it a warm welcome by wearing it most of the time. Eventually, another watch will become the new daily beater…
My Daily Beater
The daily beater is a special piece to me. It's the Tudor Pelagos (two-liner with ETA movement, reference 25500TN). It was love at first sight and it is such a practical watch to wear on a daily basis: robust, automatic movement, legible, date function. This Tudor Pelagos has that utilitarian design that attracts me. It is an under the radar piece for most (not watch nerdy) people. I bought it just before I got married and it reminds me of good times. I feel truly connected to this watch. What's your daily beater and why, feel free to let us know in the comments below.
Versatility and Icons
Often, icons end up as 'daily beaters'. I assume I don't have to sum up some names… They all are different in some way, but also share higher order similarities that do increase the chance to be selected as a daily beater. One of them is versatility. Most of them dress up or down perfectly and have good dimensions. They're "bullet-proof" and were developed in a time that design was more focussed on the user's needs of reading time and actually measure time with your watch.
Series
Some collections grow so big that you could better speak of a whole series instead of a particular watch as a favourite. For example, you swap watches from a particular series from day to day. I don't think you could speak of a single 'daily beater' anymore at that point. This brings me to the question: what exactly is a 'daily beater'? A definition could be:
A daily beater is a watch in a collection that gets the most time on the owner's wrist (for a substantial period). It suits the everyday needs and desires from the owner best and is therefore selected as 'daily beater'.
As with most of these terms which are introduced by us, the watch loving crowd, it's a subjective term which is open to interpretation and variations. For example, what is the minimum time period to mark a watch as a daily beater? In my definition 6 months minimum. That's personal. But this is one of the aspects that keeps it interesting, right? So, what's your definition of 'daily beater'?
An Honourable Title
A watch really needs to earn the title of 'daily beater' in every independent collection. It is cherry-picked by the owner. Selected from what the owner all loves. Not (or less) motivated by price, brand or history. But via real experience with the watch. Daily beater, an honourable title and one of the biggest compliments from a brand perspective.