Casually Sipping A Coffee With The Legendary Patek Philippe Nautilus 3700/1A "Jumbo" On The Wrist
Plus the Reservoir × Label Noir × Popeye, the Roger Dubuis Excalibur Spider Huracán Sterrato MB, and a De Bethune book
I thought it would be a nice start to the day, having a coffee while sporting a Patek Philippe Nautilus 3700/1A "Jumbo". Ever since the Nautilus became THE hype watch, I became a Nautilus skeptic. Yes, Genta did a good job, and so did Patek, but not a $100,000 good job. Still, on the wrist, the original 3700/1A in particular is something special indeed. Yes, special enough to have a lengthy talk about it in the coffee corner. And if you want to spend some more time there before meandering back to your desk, you could also discuss the powerful Reservoir × Label Noir × Popeye, the off-roading Roger Dubuis Excalibur Spider Huracán Sterrato MB, and a very glossy book about exclusive Haute Horlogerie brand De Bethune.
This Nautilus was at HQ, so why not wear it? I did have my time with a steel 5711 a few years back, and I began to understand why the Nautilus is special — it's a mix of shape, size, color, and myth. But I never had the chance to wear the original watch, the Patek Philippe Nautilus 3700/1A "Jumbo". Now I have. I grabbed it with both hands, and I loved every minute that it was on my wrist. I did need a shot of Armenian brandy in my coffee to steady myself, though. No, not just because I looked on Chrono24 to see what a steel 3700/1A (that had an original list price of US$3,100) goes for these days. It was also because the 3700/1A is an extraordinary and ingenious creation.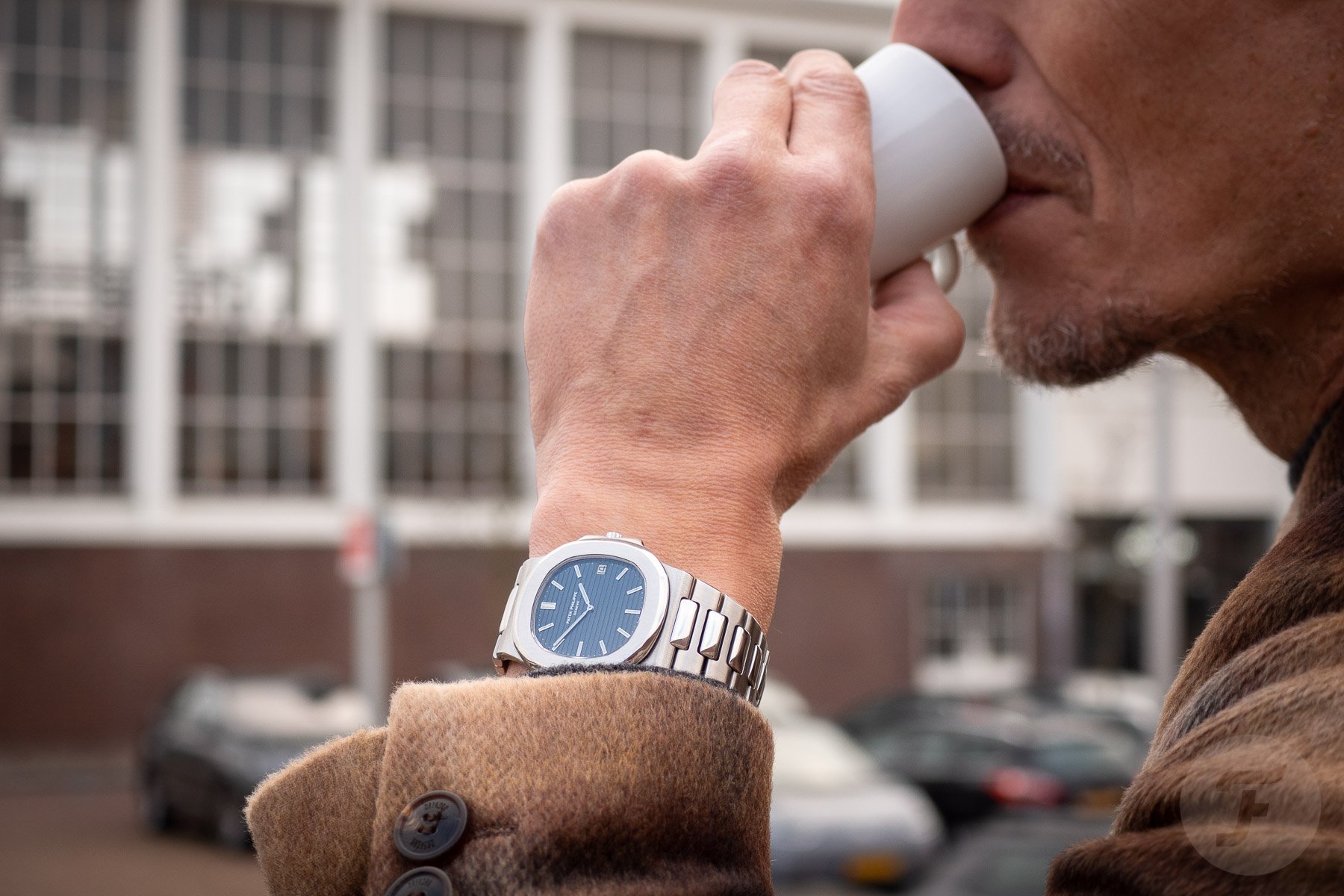 Wearing the Patek Philippe Nautilus 3700/1A "Jumbo"
The Genta design that debuted in 1976 is equal parts original, daring, and brilliant. Yes, his Royal Oak design is older, and it was the original steel luxury sports watch for the elite. But the two-piece case mimicking a porthole and the smoother shapes of the Nautilus resonate better with me. And because of its ultra-thin automatic caliber 28-255C that's based on Jaeger-LeCoultre's legendary JLC 920 movement, the watch is just 7.6mm slim. The absence of a central seconds hand not only looks clean but also keeps the movement and case super svelte.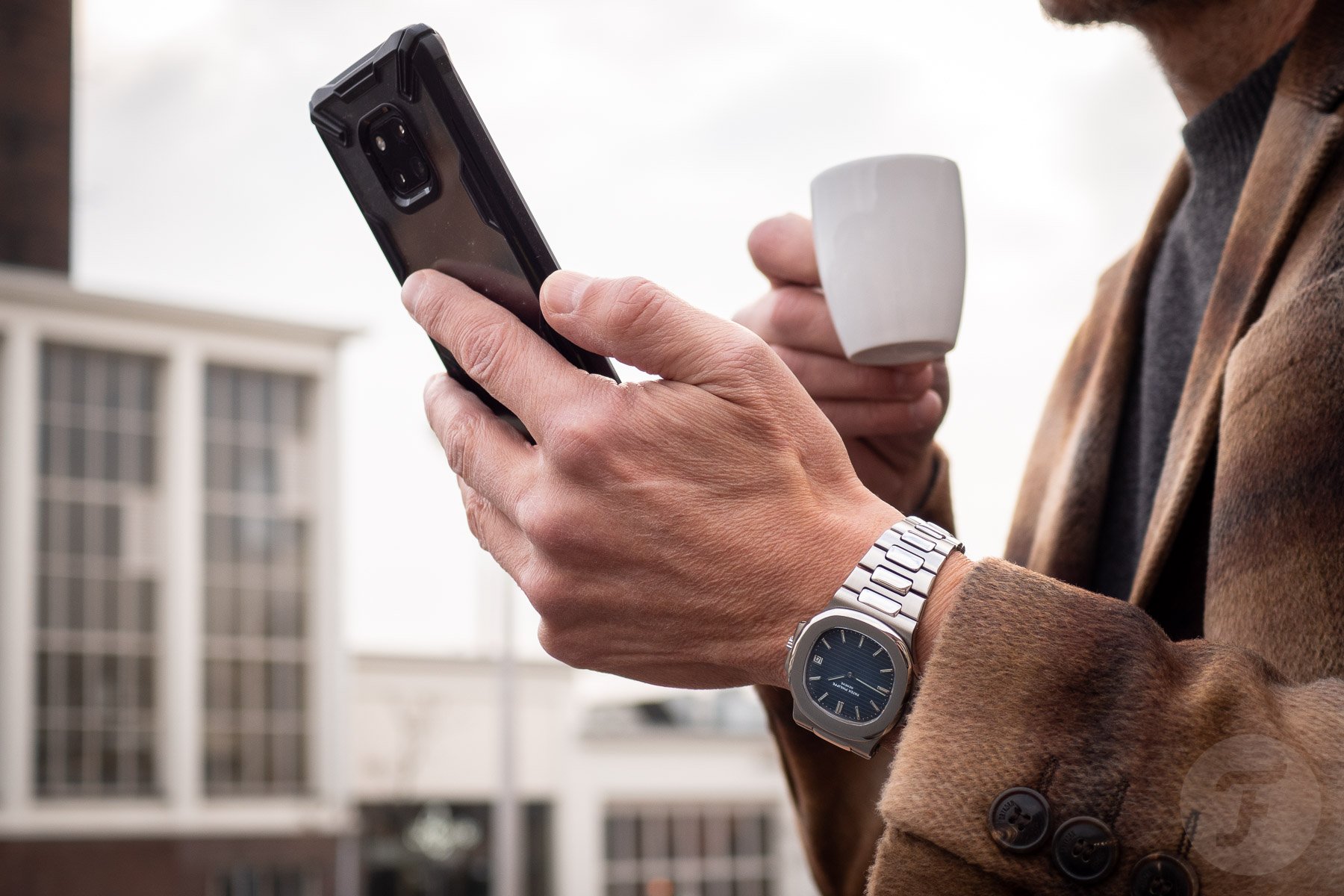 In comparison, the 5711 has a more conventional three-piece case and movement with central seconds, making it a bit thicker. Interestingly, the new 5811 reverts to the two-piece construction, but the movement is still the one from the 5711, meaning it's not as slim as the original 3700.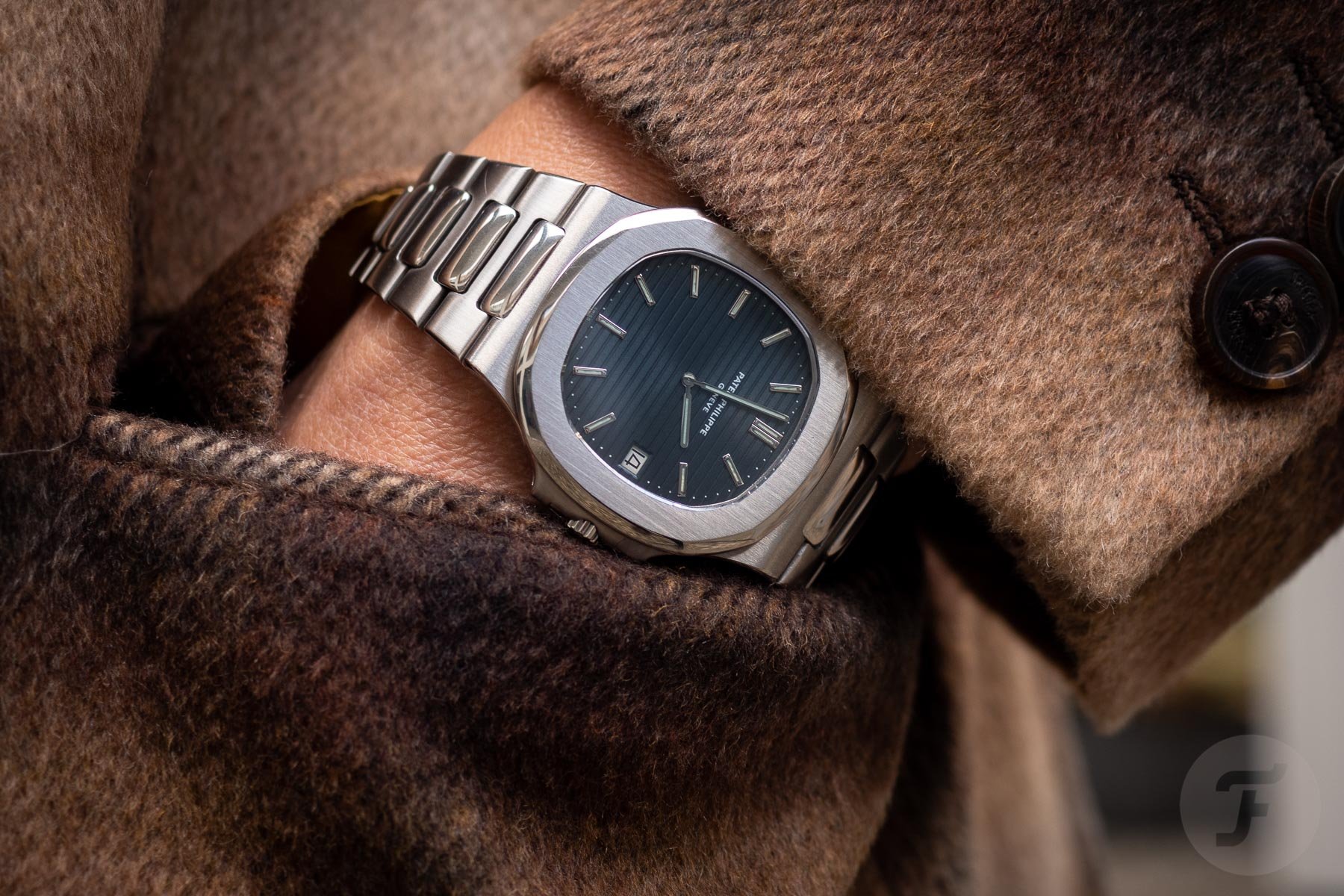 The Nautilus magic is real and tangible
This watch — one of around 4,800 steel 3700s ever made — wears like a dream. Although the size led to the nickname "Jumbo" back in 1976, 40mm is neither too big nor too small these days. And this Nautilus is also neither too thin nor outdated; the 3700/1A is just a timeless, perfect watch. Dial maker Stern Frères is also to thank for that. The grayish-blue dial with horizontal grooves is both sporty with a nautical touch and very elegant. In my opinion, this is the one watch to rule them all.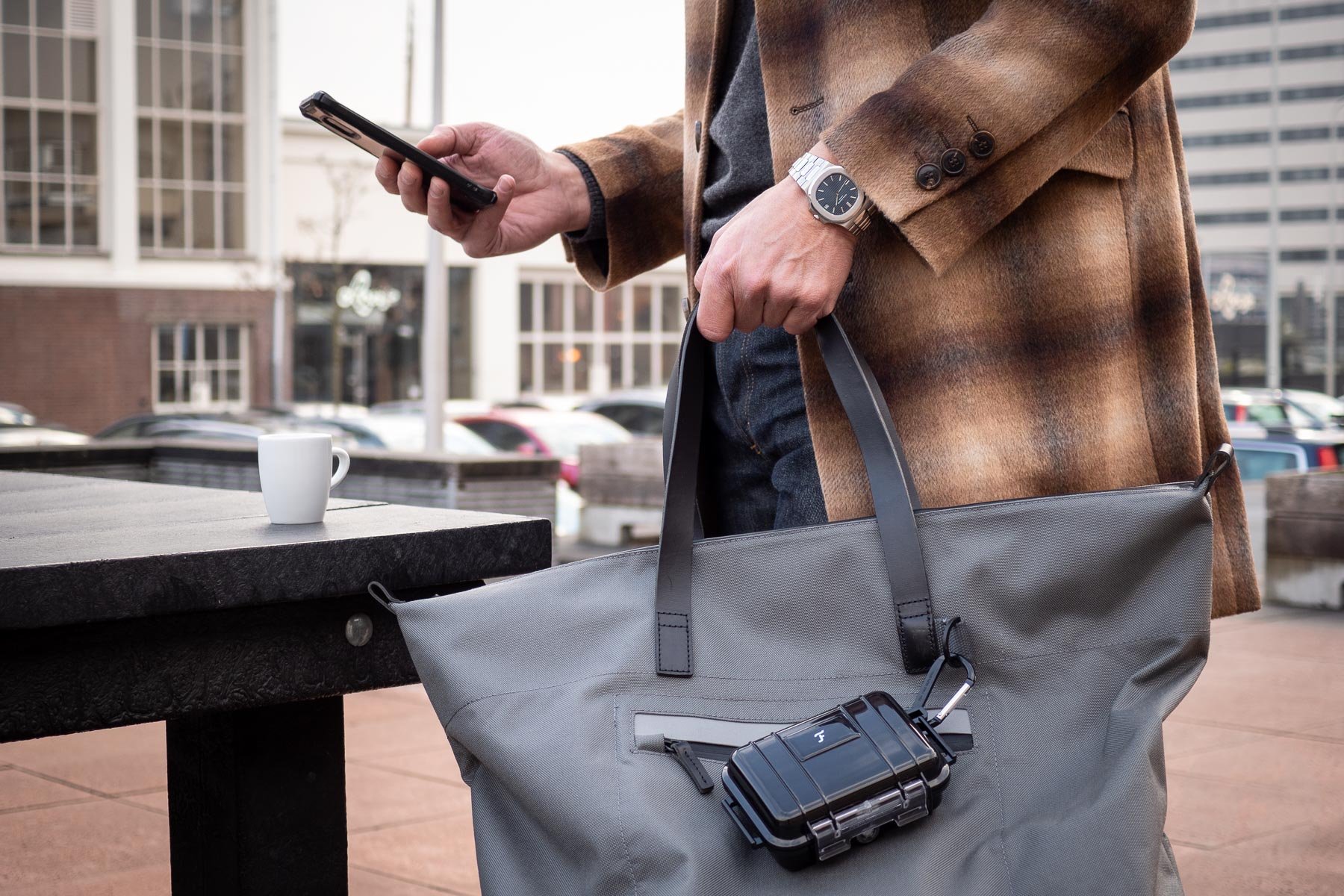 The one on my wrist is from the early '80s, and because the applied hour markers in white gold are filled with tritium, they now display a subtle vanilla color. And since I claim that this is the one watch to rule them all, that means it also rules over the 5711 and 5811. Yes, the new, white gold 5811 is "better" than the 5711. However, the blue sunburst dial with a black gradation and the central seconds and resulting "thick" 8.2mm case means that it can't beat the 3700.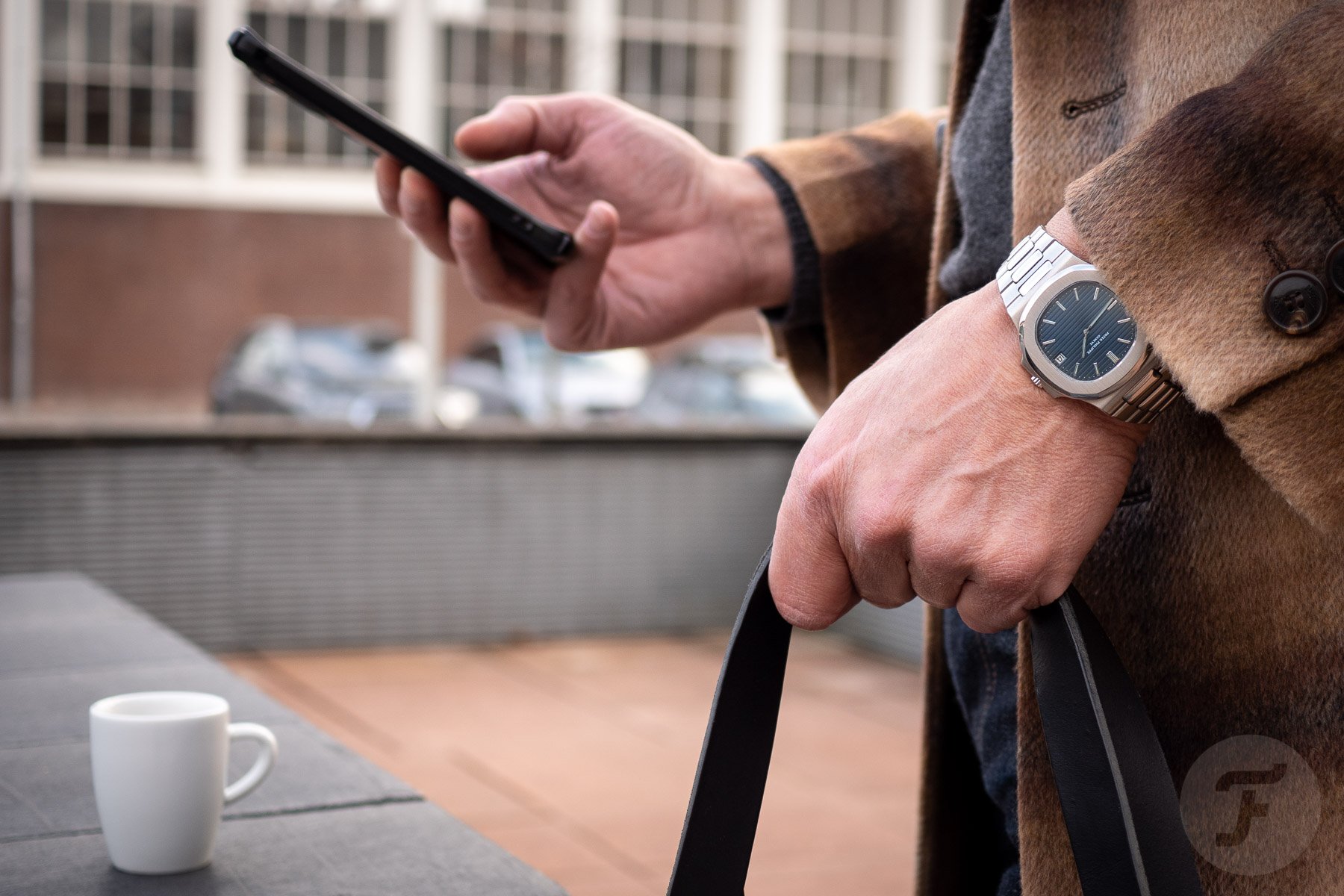 The 3700/1A is not just the original Nautilus, but it is also the best Nautilus so far. And that's not the Armenian brandy talking. That's as close to an objective observation as it gets.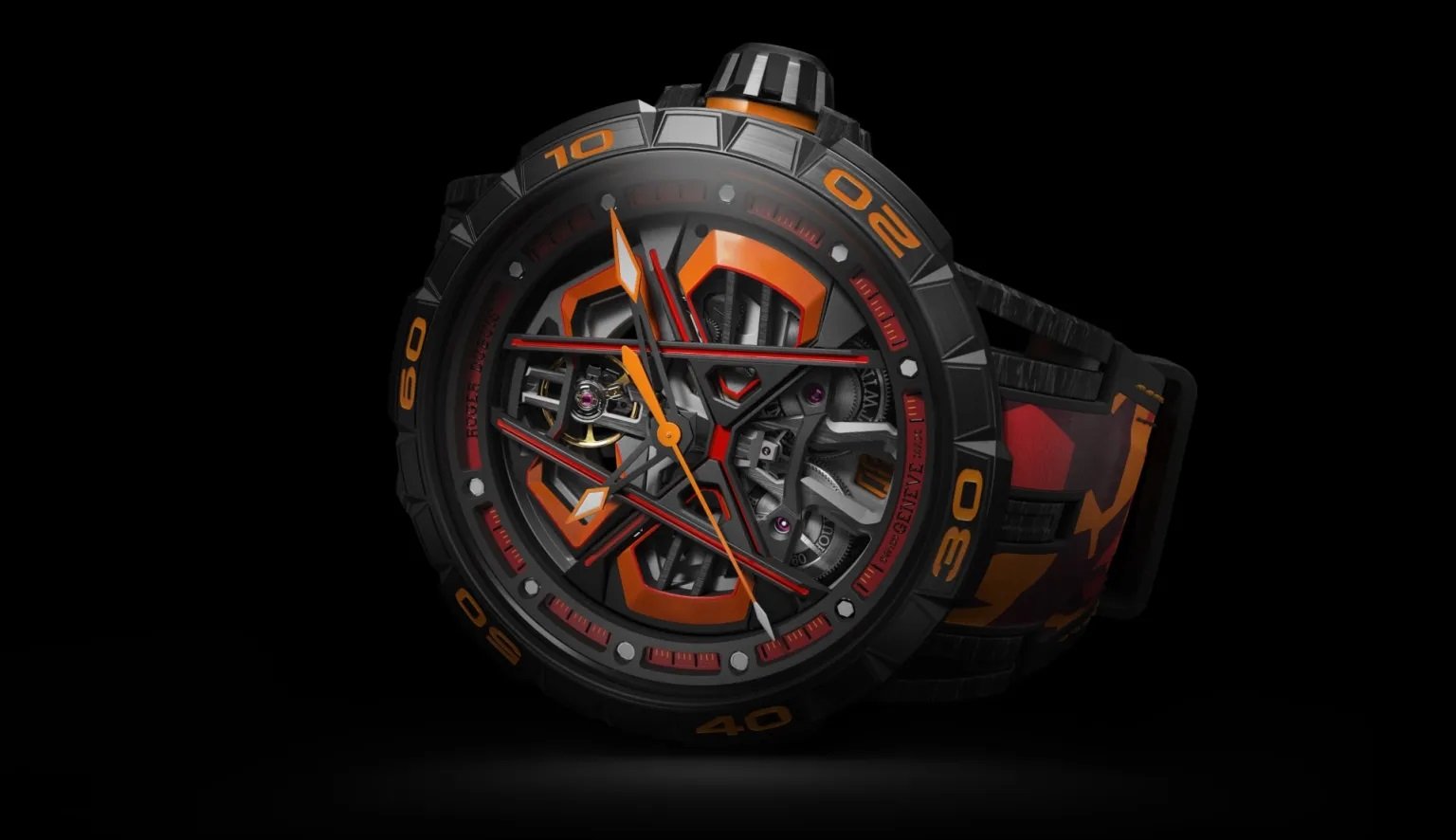 Hit the gravel with the Roger Dubuis Excalibur Spider Huracán Sterrato MB in your Lambo or on your 3T bike
During last week's Art Basel in Miami, a car and a bike stole the show. That's not a very cultured thing to write, but Lamborghini debuted a fabulously rugged Huracán Sterrato, and 3T presented its matching Exploro Racemax X Huracán Sterrato bike. Both creations are intended for use on gravel roads — sterrato is the Italian word for an unpaved gravel road.
And both in the car and on the bike, you can wear the matching watch, the Roger Dubuis Excalibur Spider Huracán Sterrato MB. The Italian-made car and the bike use titanium and carbon fiber, resulting in a lightweight and sporty means of transportation. The Swiss-made watch has a carbon case with a black DLC titanium bezel. Inside that case beats a Geneva Seal-bearing, in-house automatic movement with a 12° tilted, single balance, twin barrels, and a rotor that looks like a light-alloy rim.
The 45mm Excalibur is quite a striking watch with its colorful, open-worked dial and rubber camo strap. But if you like riding gravel and don't mind a bit of extravagance on your wrist, try to get the trio. The price of the car (limited to 1,499 units) and the watch (limited to 28) are on request, but I know that the (unlimited?) bike sells for US$15,000. That's a lot of cash for a bike, but it's way less costly than both the car and the watch. But if you can't have all three, which one would you pick? If it were me, I'd choose the car with my brain, the watch with my heart, and the bike with my soul.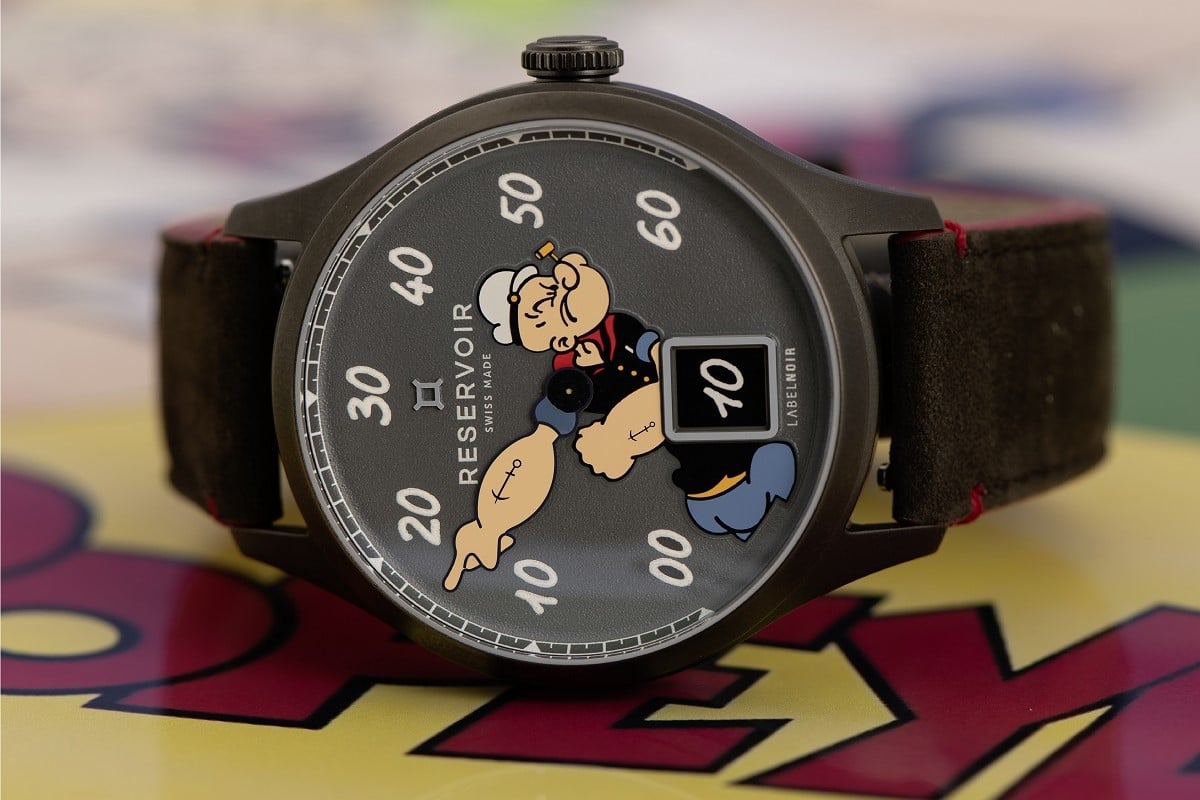 Reservoir × Label Noir × Popeye: "AAAHuuUUH GUhGuhGuhGuh!"
The Roger Dubuis is a fun watch, but it's fun at a very exclusive level. The Reservoir × Label Noir × Popeye is also fun and also a limited edition, but with a price of CHF 3,950 excluding taxes, it's a bit more within reach. You do have to like spinach, though. Anyway, Reservoir collaborated with watch tuner Label Noir and presents a watch featuring the famed cartoon character Popeye.
Popeye's bulging right arm indicates the retrograde minutes in the watch with its black case and smooth satin finish. You can wear Popeye on a gray nubuck leather strap with red and gray stitching and a matching gray DLC pin buckle. The watch is a limited edition of 200 pieces, and each numbered model comes in a very cool white wooden box. Have a look at the image of "The Popeye Family" and tell me that ain't cool. And it must be Christmas because the watch also comes with a chrome-painted figurine of Popeye eating spinach and an embroidered patch in honor of him.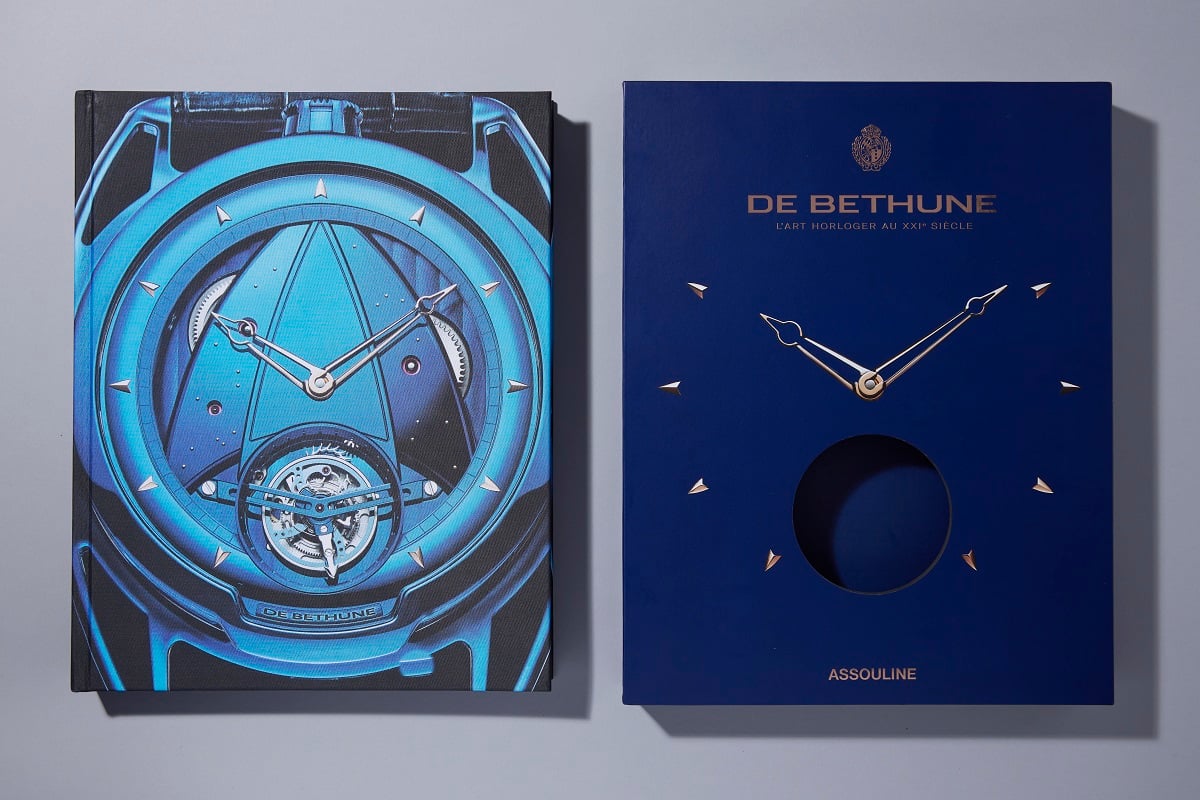 De Bethune: The Art of Watchmaking — Do you already have a book?
After gifting a book, have you ever heard the reaction, "I already have a book?" If it was a joke, I hope you smiled politely. If it wasn't, I hope you grabbed your gift back and left without saying goodbye. De Bethune: The Art of Watchmaking, produced by Assouline, is a book that you can read, look through, and use as a decorative object. Arthur Touchot, together with a bunch of other watch insiders, captured in words and pictures 20 years of De Bethune, the brand of master watchmaker and co-founder Denis Flageollet.
Over the past two decades, De Bethune has released 30 in-house movements and many very blue watches, the brand's signature color. The annual production of De Bethune ranges between 150 and 250 watches per year at price between US$45,000 and US$300,000. The result is a very exclusive watch brand with a distinct character.
If you can't have a De Bethune watch, you can have the book instead — unless you already have a book, that is. If you want to gift this particular De Bethune, please keep in mind that it won't come out until next January, so, unfortunately, it's not a suitable Christmas gift.
De Bethune: The Art of Watchmaking by Arthur Touchot will sell for US$195 / €195 / £150. You can find more details here.
Have yourselves a fantastic week in watches, and you can find and follow me at Lex Stolk • Instagram.