Will Playing Golf Damage Your Mechanical Watch?
We asked a few brands and have some answers
When I am playing a round of golf, I wear a mechanical watch. Every time I do, though, I receive comments about it from other watch enthusiasts. Either they say that I should take my watch off, or they ask me if I'm not afraid of damaging it.
My answer is always quite simple: I am not afraid of damaging my watches while playing golf. I also noticed that this only seems to be a typical concern for watch enthusiasts. Indeed, I always see quite a few "normal" people playing golf while wearing their mechanical watches. They probably don't even think about it when they tee off.
Playing golf while wearing a watch
Before I started playing golf (with a watch), I asked around to see if it was wise to keep my watch on. A lot of professional players are sponsored by watch brands (AP, Omega, and Rolex seem to be in the majority here), but you rarely see them actually play with a watch on their wrist. On the golf course, I have to admit that I see more smartwatches and golf watches (Garmin seems to be a favorite) than luxury watches. But does that mean those who keep their expensive watches on while playing golf risk damaging them? Especially when it concerns mechanical movements, is there a risk of breaking parts inside?
Watch ambassadors among the pros
Rolex, Audemars Piguet, and Omega sponsor some of the greatest golf players ever and have for many years. Rolex works with Tiger Woods, Jordan Spieth, Brooke Henderson, Justin Thomas, Matthew Fitzpatrick, Anna Nordqvist, and Rickie Fowler, to name just a few, but also holds on to the legendary Arnold Palmer, Jack Nicklaus, and Gary Player.
Omega has also had big names such as Rory McIlroy, Sergio García, Michelle Wie West, Charley Hull, Kyle Stanley, Shanshan Feng, and Stacey Lewis. In the 1990s, Ernie Els and Bernhard Langer used to be the golf ambassadors for the brand.
Audemars Piguet currently has and has had Byeong-Hun An, Darren Clarke, Paul Dunne, Andrew "Beef" Johnston, Miguel Ángel Jiménez, and many more. Some of you might remember that Nick Faldo was an ambassador for Audemars Piguet as well with a limited-edition watch of his own (and I believe that the watch even came with a signed golf bag).
However, during golf tournaments (when watching the Golf Channel), you hardly see any of them wearing a watch. One of the few exceptions is Phil Mickelson. Bucking the trend, he often wears his "slim and lightweight" Rolex Cellini on the course.
Only during some official photo sessions will you see these pros wearing watches. The reason for that is a question that pops up now and then, and it seems that most people just give personal thoughts and opinions.
What can go wrong?
According to an article in The New York Times in 2012, a managing director of Audemars Piguet claimed, "When the golf club hits the golf ball, the impact creates a multitude of vibrations which will go up the shaft of the club and finish in the arm," when asked about why top golfers do not wear their (sponsored) watches. To add, "The wrists, and therefore the watch on the wrist, receive all these vibrations — and a mechanical movement will feel them quite strongly," and "A golf pro hits not only very hard but hits many, many times," he added. "The movement has a good chance of not working so well after a while."
I asked a couple of brands mentioned in this article about watches and golf. Omega and Rolex answered, but Audemars Piguet wasn't available for comment. According to Omega, you will only reach a few hundred g (force) when playing golf, while the brand's Master Chronometer watches, for example, are tested to resist up to 5,000 g. The Master Chronometer movements seem to be up to the task, you could say.
Rolex indicates that it is well-known that most tour pros choose not to wear a watch in competition, mainly for the discomfort it brings and not for any performance issues of the watch. As written above, Rolex's Testimonee Phil Mickelson does wear his Rolex Cellini in competition.
Ultra Light
TAG Heuer, which once sponsored Tiger Woods, made a watch specifically for use during golf. However, this was a quartz watch. The brand designated it a golf watch because of the shape and smoothness of the case and the way it wouldn't stick to the top of the hands or wrist. Another brand that made a luxury watch for golf is Jaermann & Stübi. With that watch, you can keep track of the score during a golf game. Omega also released a specific mechanical watch, the Seamaster Aqua Terra Ultra Light. Not only is it a Master Chronometer-certified watch, but it's also incredibly light (as its name suggests) at 55 grams. Even the movement is made of titanium parts. Rory McIlroy can be spotted wearing this watch.
Damaging your watch
The responses from Rolex and Omega are pretty reassuring. They do not indicate that playing golf with a watch on would damage the movement or influence the watch's performance.
In the end, for these brands, the main concern is the risk of damaging the watch's exterior. I noticed that it's best to be careful when taking a club out or putting it back in your bag while wearing a watch. You don't want to hit your precious gold or steel watch with that iron. Reaching out for your clubs, folding up your golf trolley, or putting the bag in the trunk of your car are situations in which your precious watch is prone to getting scratched.
Only if you dress up like Sergio García and Rory McIlroy did during the 2017 PGA Championship does your watch stand a chance of being okay…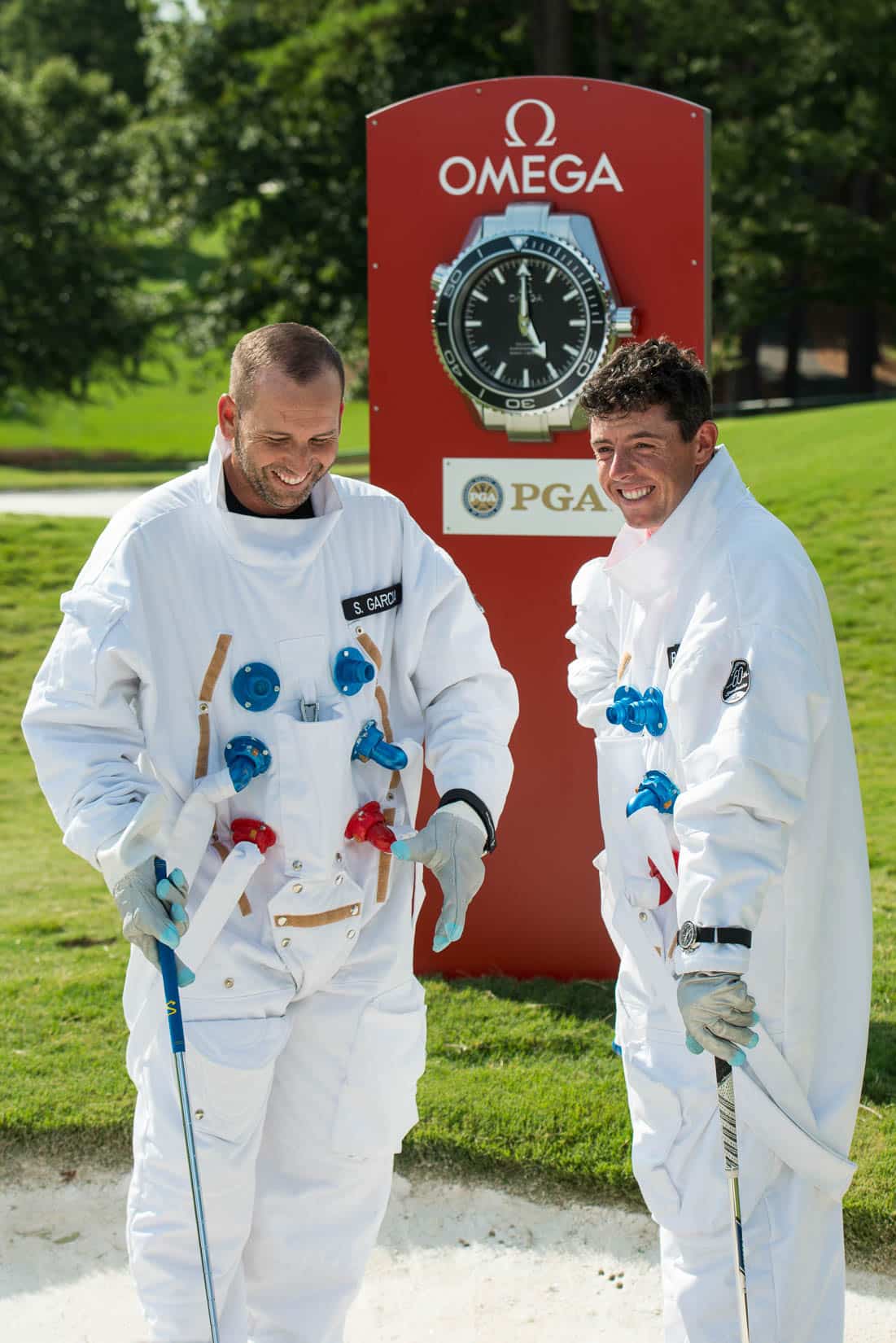 Why would you want to wear a watch while playing golf?
It leaves us with the question of why you would want to wear a watch during a round of golf if you'll risk scratching it. Assuming you are not an ambassador for any watch brand, you might want to keep your (privately acquired) watch safe. Wearing a watch on the course doesn't have much of a benefit except for keeping an eye on starting times, for example. If the lack of comfort is an issue, the use of a Garmin or any other particular golf watch won't make much sense. Your iPhone should be enough to keep track of time, perhaps, and keep it safe in your trolley or bag.
At least you know that some watch movements, such as those from Rolex and Omega, are up to the task. However, the risk of damaging the exterior of your watch remains.
You can find more information on the mentioned brands and their connection with golf on the Rolex, Omega, and Audemars Piguet websites.
*Images used are copyrighted by their respective brands. This article appeared first on August 11th, 2017, and has been revised.