William Wood Valiant Collection — 52Mondayz, Week #22-2020
An esteemed firefighter has his name immortalized by his grandson's watch brand
Brands emerge from all kinds of places. A dream, an opportunity, or a legend that deserves to be known, are all possibilities. Roll those three together and you have the story of the William Wood Valiant, created to honor the life and work of a storied firefighter.
William "Willie" Wood served in the British fire service for more than a quarter of a century. By the end of his career, he had amassed a list of merits and plaudits of which anyone could be proud. His grandson, Jonny Garrett, the founder of William Wood Watches, is one such person. Driven by a desire to commemorate his late grandfather's achievements, Garrett started a company that has since racked up a few impressive accolades of its own. The Valient collection brings a sportier, more rugged series to a catalog that previously included the dressier Chivalrous line as its only option.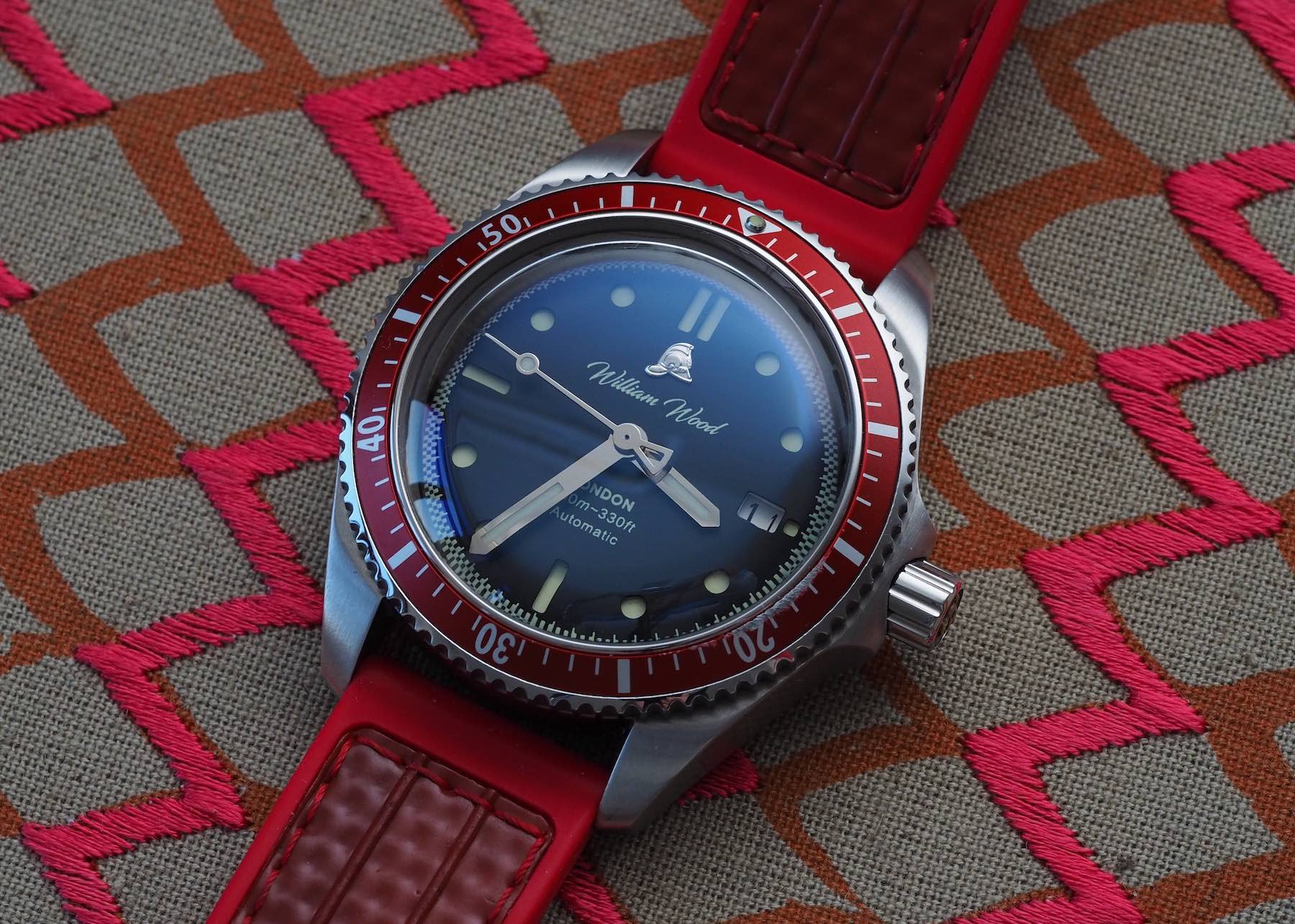 The William Wood Valiant
Firstly, the Valiant has a cool name. It just sounds nice on the tongue. I think it is very appropriate for the honored subject matter with which this watch deals. The logo, too, although a little overwrought for my usual tastes does look pretty neat. And I'm even willing to forgive the cursive wordmark — something that normally drives me mad — because it fits the overall aesthetic.
At its core, the Valiant is a bog-standard daily diver that comes in five chromatic variations. The design is derivative but neat. It blends elements we've seems a thousand times before but doesn't tread on anyone's toes too directly. The dial layout reminds me of a Blancpain Bathyscaphe. The hour and minute hands have a simplistic Panerai vibe to them. Meanwhile, the lollipop minute hand is one of the most commonly seen styles in this genre. Its counterpoise, however, is quite unusual. The "half bowtie" style is a nice little flourish that gives the handset a little more character.
…it is actually taken from the side of a British fire engine.
Perhaps the most exciting thing about the dial is the surprisingly complex minute track that encircles the straightforward center. The checkerboard style looks like it would be more at home on a chronograph but it is actually taken from the side of a British fire engine. Now that is cool.
Three lines of text between the center and six fill that troublesome gap nicely. The font is clean and complementary. As per, I would have preferred a white-on-black date wheel, but the crisp white text on the dial more than justifies the black-on-white style chosen.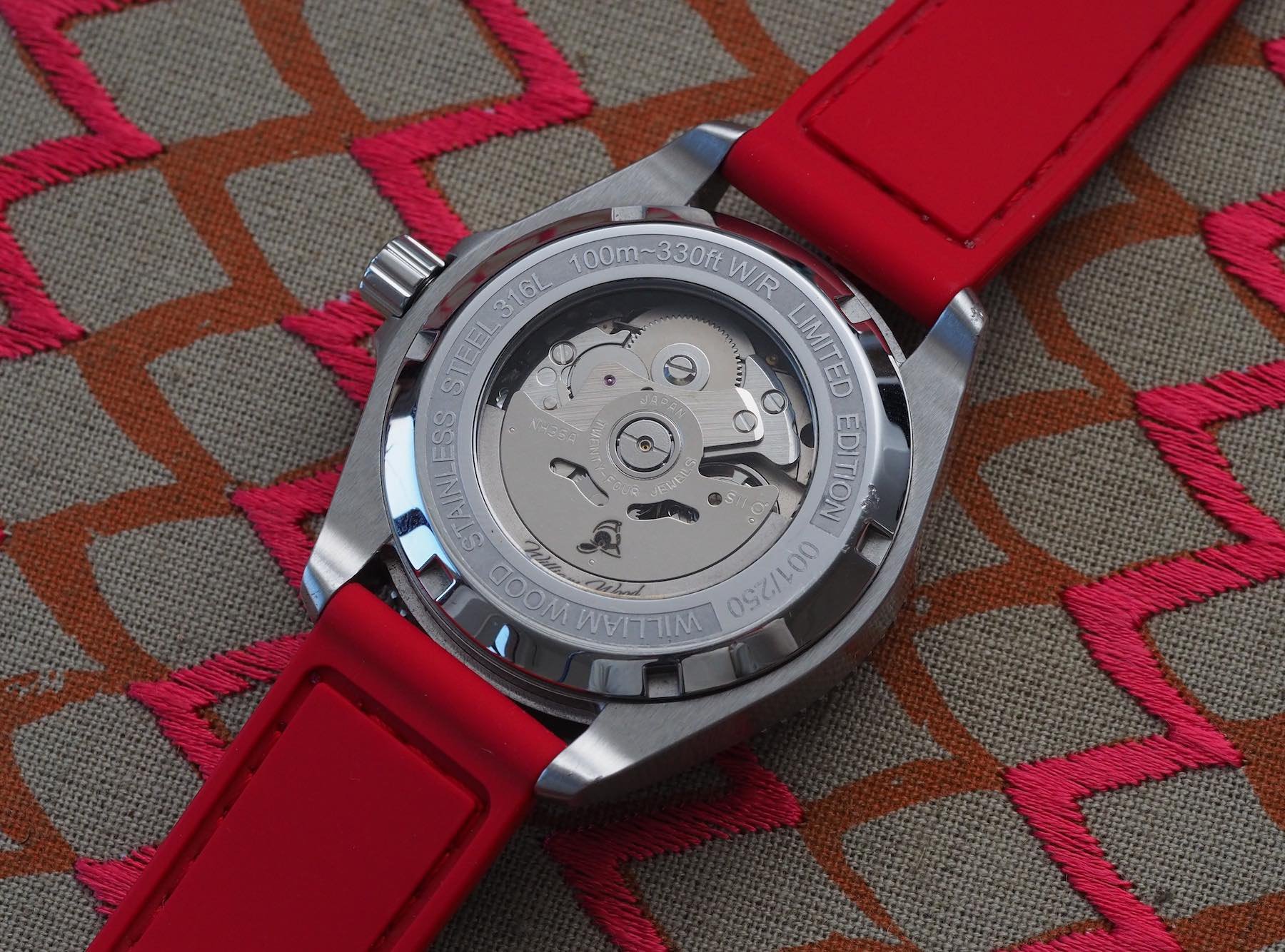 The case and movement
Here we have a wearable 41mm case that comes in at 16mm tall on the wrist. It is water-resistant to 100 meters, which is understandable given the display case back. The Valiant, unfortunately, doesn't feature the coins seen in the Chivalrous collection. I really liked that feature, but I appreciate that melting down genuine firefighters' helmets to make a bunch of commemorative coins is not something you want to be doing on the regular for history's sake.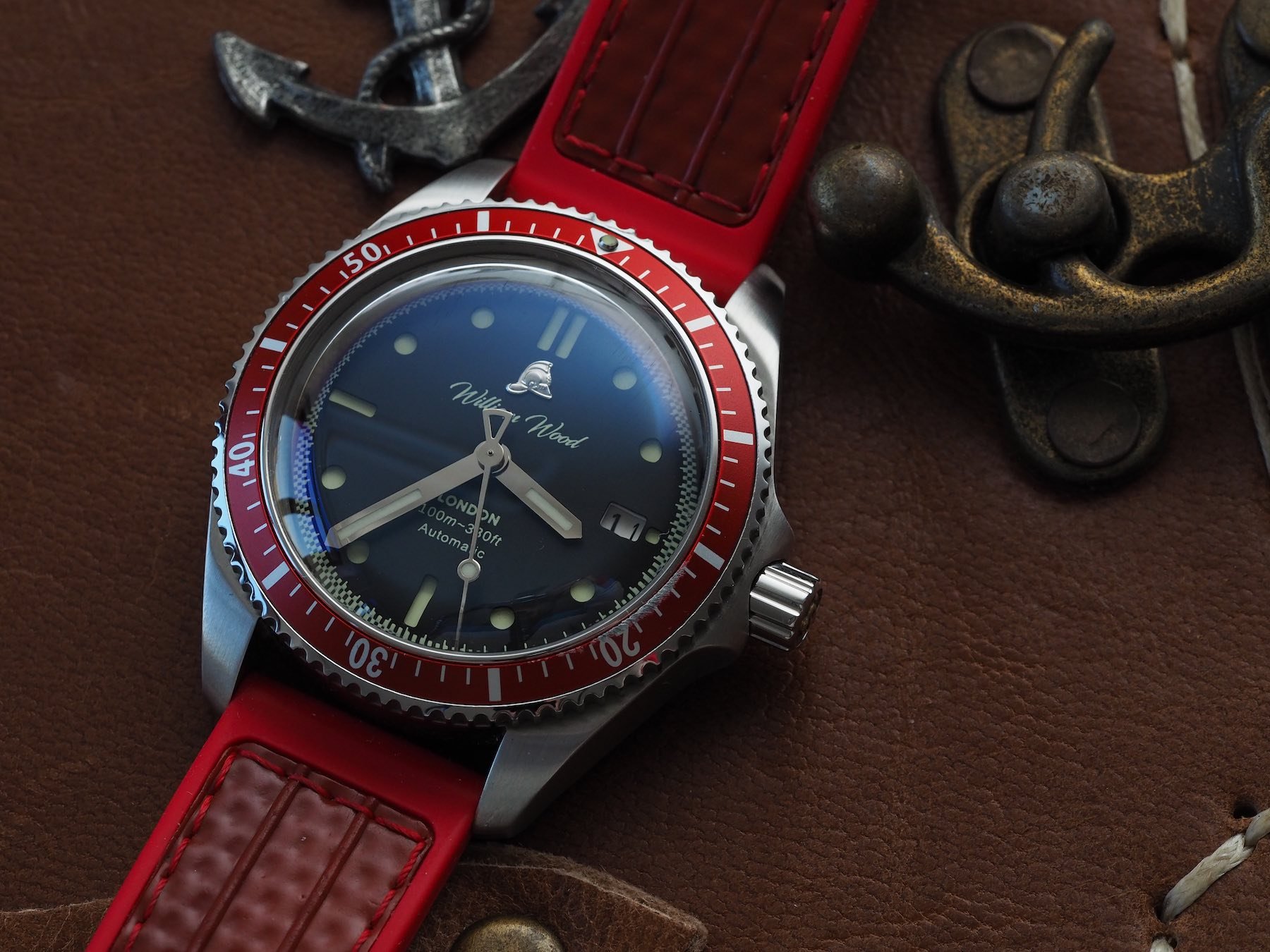 Interestingly, though, the Valiant is available with either a Japanese NH35 movement or a Swiss ETA 2824 caliber. The NH35 has a rhodium plating, while the ETA comes in gold. Both versions are limited to just 250 pieces per colorway.
…here it adds a much-needed shot in the arm.
Probably the most arresting feature of a very digestible case silhouette is visible when viewed from the side. A double-domed sapphire (with a blue-tinted AR coating) adds a bit of height and a lot of nuance to the design. There's a bit of a trend surrounding double domed sapphires right now and I very much like it. It doesn't work with every kind of case, but here it adds a much-needed shot in the arm.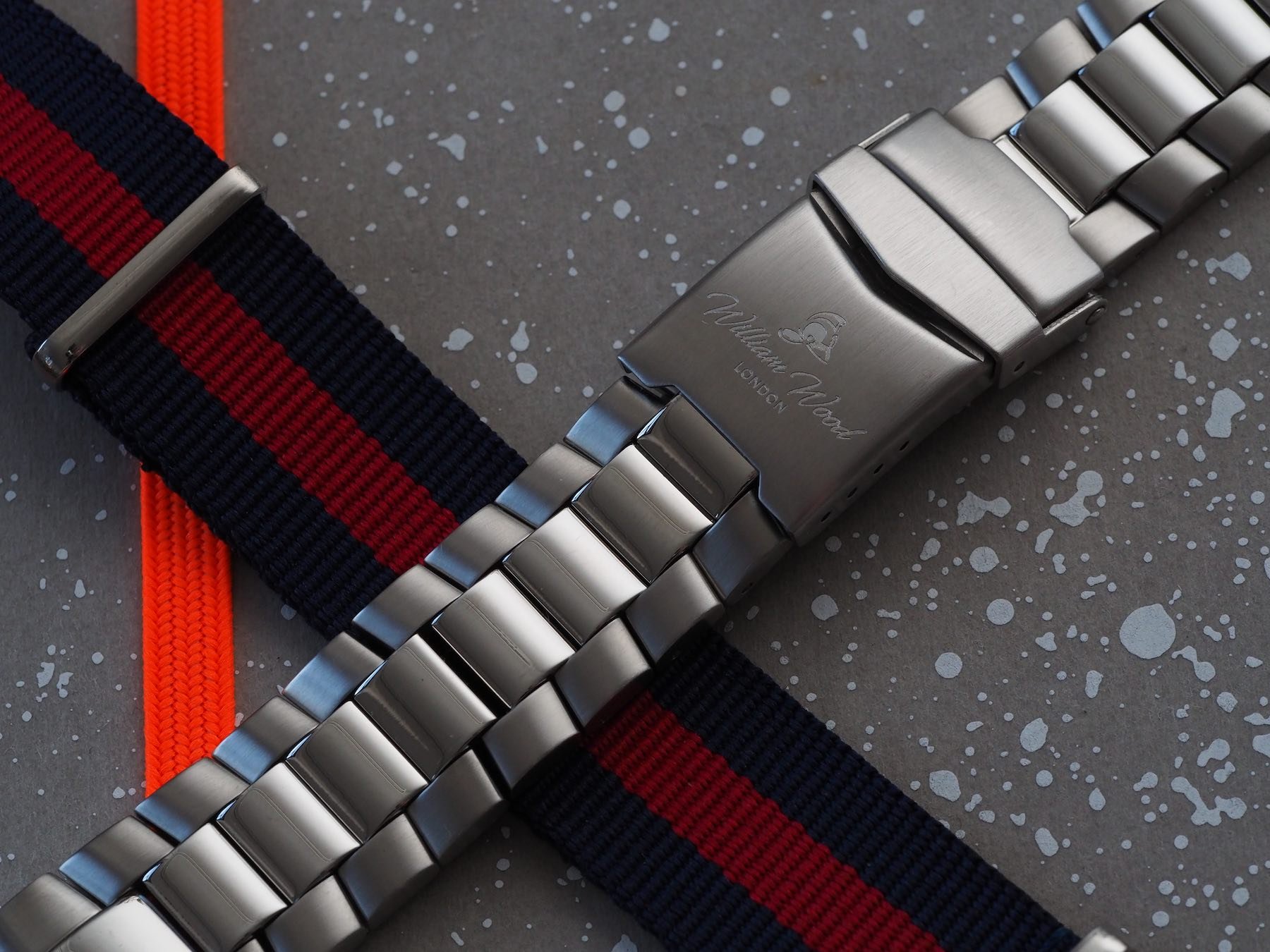 The bracelet and straps
Without a doubt, the most recognizable (and compelling) aspect of the William Wood Valiant is the fire hose strap. We'll get to that at the end. Before that, it is worth mentioning that the watch comes with the option of a striped nato and a solid link bracelet.
The bracelet is a simple, possibly off-the-shelf design that does the job very well. It has a nice, uniform brushed finished, and a really smartly engraved buckle. Is it vanilla? Stylistically, yes. But I have seen and worn far worse bracelets at this price point so I came away quite impressed by it. The fabric NATO is okay too. It is a nice, cheap option to mix things up with more casual wear.
I would rather have seen this material stitched to a leather back…
So how about that hose pipe? What we have here is a rubber strap inlaid with a slice or either red or yellow fire hose. Is it a cool idea? Yes. I think it is. Is it well-executed? Yes, well enough. The insert is neatly cut and stitched. Does it feel great on the wrist? For me, not so much. The rubber was very gummy and tacky. A dust magnet and sweat-inducer on my slim wrist. I actually love the aesthetic of the hose itself but, for once in my life, I would rather have seen this material stitched to a leather back. If I had this watch in my collection, I'd wear it on the bracelet when it got some air time. The William Wood Valiant starts at £695 for the Japanese movement version and runs up to £995 for the Swiss. Learn more here.