Wood Piano Black and Orange Watch Box
As soon as you buy (or collect) a few nice timepieces, make sure to store them safely to protect them for dust, moisture, children, hungry pets etc. The best way to store your watches would be in a safe, so make sure you pick a watch box that will fit your safe or the safe you have in the bank.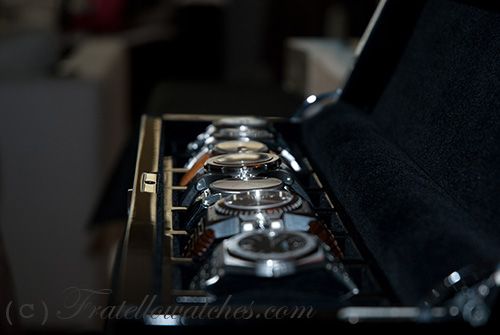 One of my favorite on-line accessory shops, watch-winder.co.uk, sells a few great watch boxes. I have ordered some watch winders from them before, but never a suitable watch box. Their black piano finish watch box with this orange effect for holding 8 timepieces was the way to go for me. The compartments are 35mm wide, which means every strap or bracelet will fit on the pillows. Since I have a collection of watches that is kind of diverse when it comes to diameter sizes (ranging 36mm till 44mm), it is a must that all should properly fit.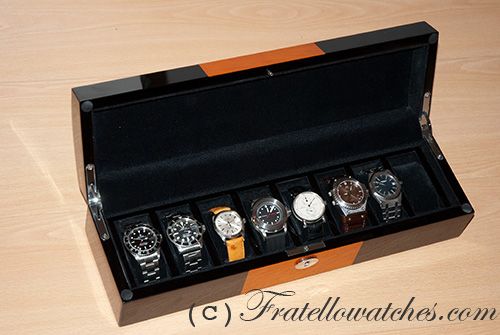 As you can see on the picture above, they all fit fine as long as you mix the watches a bit. I guess 8 x a 45mm Panerai is going to be (too) tight. The good thing is that ladies watches will fit in this box perfectly as well.
There are so many watch boxes for sale on the internet, is becomes difficult to see what's a good quality box and which ones aren't. Personally, I think the interior is very important. The black velvet should have no traces of glue or loose edges, the pillows should be nice and soft and yet sturdy enough to keep the watch in place and pay special attention to the hinges. No sharp or unfinished edges and no chromed metal, just stainless steel. This particular watch box comes with a lock that will keep the lid closed safely when moving it around or picking it up.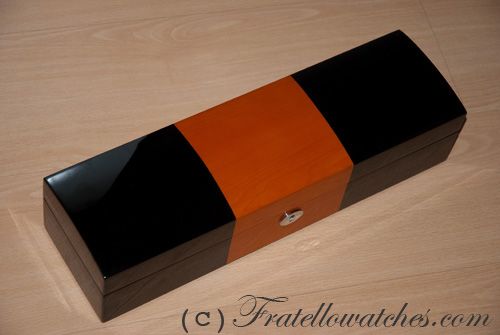 This box is for sale over at watch-winder.co.uk for just 46.99 UKP, excluding shipping costs. As I wrote before, I've done business before with them so buy with confidence. The exact link for the same box as described above can be found here.